FREE SHIPPING & RETURNS WORLDWIDE!

DUTIES & TAXES COVERED WORLDWIDE
Find your nearest boutique
Meet this week's GL Bride, the beautiful Sydney! She exchanged vows with her partner in an intimate garden-inspired ceremony, wearing the breathtaking Aelin from our Queen of Heart collection. In this interview, Sydney talks about her unforgettable wedding day and the moment she knew she had found the dress of her dreams. As told by Sydney:
A moment of your wedding day will you never forget?

One of the most memorable moments of my wedding day was ending the evening  with the song "I've Had The Time of My Life" from Dirty Dancing, which my  twin sister planned without my knowledge. We had a spontaneous lift at the very end of the night. Our photographer and videographer had already headed out for the evening, so we do not have any photos – but it was such a special moment that I will never forget – having my husband lift me into the air with my dress sparkling in all its glory! The experience will forever live on in our memories! 
One thing you wish you knew as a new bride? What advice would you give to future brides?

One thing I wish I knew as a new bride is to let things roll off of your back and  trust your gut and intuition during the planning phase. We cannot control others,  but we can control how we perceive and experience things. At the end of the day, the wedding is about you and your love and getting to start  this incredible journey together as a married couple. I was able to let loose and  have the most carefree and magical night. Don't forget to look around, soak it all, and focus on the people you love most – the rest will fall perfectly into place.
A detail that made your wedding special/unique?

One of my favorite details about our wedding was having the leaf embroidery on my dress and having the ability to bring some personalization to the mix by adding beautiful straps to the dress. My nickname for as long as I can remember has been Leaf, so these tiny details were incredibly special to me and made the evening that much more personal. My middle name is Leigh, and my maiden last name started with an F – which is where Leaf came in. It's what my husband has called me for over nine years! 




How did you know your dress was 'the one'?

My twin sister, mom, and I took a trip to Birmingham, Michigan, as we are all  based in Cleveland, Ohio. I had a dress in mind that I was convinced was the one. About 20 dresses later, I put on the Aelin, and the rest is history.  My mom and sister started crying immediately and called my Dad, and he was crying through FaceTime! I knew it was meant to be in that moment. The emotions came without thought, and it wasn't even a question. It was the perfect fit – I couldn't imagine myself in any other dress.
How did it feel when you put on your dress the day of the wedding? What was everyone's reaction to the dress?

It was incredibly surreal. At eight years old, I dreamed of marrying my now husband. We didn't get together until our Senior Year of High School, but I vividly remember writing down "Mrs. Sydney Slomovitz" in my school journal. Fast forward almost 20 years later, and I married the man of my dreams in a dress that made me feel like an absolute princess.  Our first look still brings tears to my eyes, and showing my bridesmaids for the first time made my heart skip a beat. There's nothing better than sharing this moment with your nearest and dearest and feeling the love all around. They were in complete awe and wonder; I keep getting questions about who designed my dress! It all feels like a fairytale.
Would you have done anything differently?

We were able to bask in the moment and take in every detail. There was nothing  better than celebrating our marriage with our loved ones by our side. I wouldn't  change a thing. My mom always tells me it's best not to play Monday Morning  Quarterback. It's true what they say; "Mama knows best!" Looking back, I  remember our night with such awe, and I am still wonderstruck. I had the best wedding planners a girl could ask for, my best friends – My mom and twin sister. Everything happens for a reason and what's meant to be will be – have faith in that!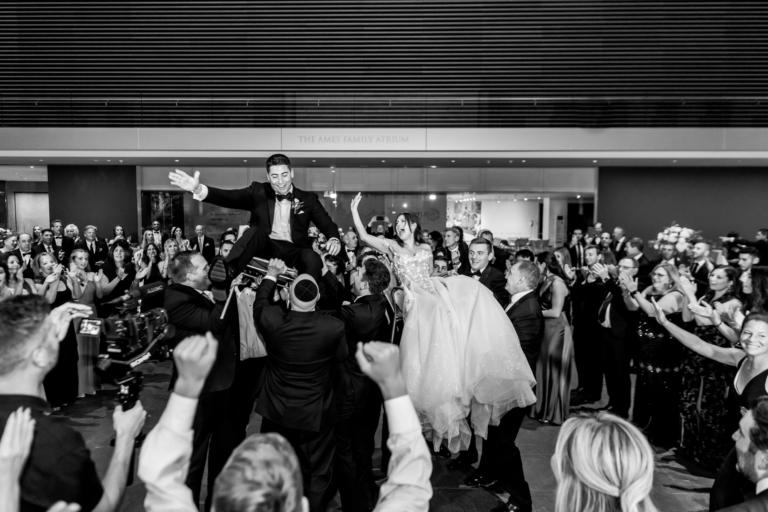 What was your favourite part of the wedding to plan/you were most looking forward to?

My favorite part of wedding planning was taking a little road trip with my mom and sister to pick out my wedding dress and help to bring all of the little details to life that we will remember for years and years to come. However, I was most looking forward to walking down the aisle, gazing at my soon-to-be husband, having him stomp on the glass that I had seen at so many weddings prior, and beginning our happily ever after together. It marked the beginning of the rest of our lives, and if the evening was any indication, there is so much more excitement and love to come! 
How did you meet your husband? How did he propose?

My husband and I have known each other since kindergarten. At eight years old, I had the biggest crush on him. As mentioned before, I had written in my school journal Mrs. Sydney Slomovitz. Manifestation is a powerful thing! We ended up dating towards the middle of our Senior Year of High School and  went off to separate colleges.

We were long-distance for four years and lived together for two before we got engaged. It had already felt like we were married, but I couldn't wait to have a celebration to express our love and admiration for one another.  He proposed to me outside of my childhood house with our dog wearing a floral  collar that read "Marry me." We are there every Sunday night for dinner and then some, so it was a no-brainer that this would be the place. 

My ring hadn't arrived yet, and he wanted to make sure my brother was there  before he had to head off back to school, so he proposed with my mother's rings. It made the moment that much more special and sentimental.  I think we both blacked out! It was a moment we had been dreaming of for so long, and I couldn't believe it had finally come. I was off to the bridal store just three weeks later!
How did you find working with the team at Galia Lahav?

Absolute perfection! I felt completely taken care of and incredibly comfortable  every step of the way. I had complete faith in the Galia Lahav team and knew they would truly make my dreams come true. As my father mentioned in his speech, I  had been planning my wedding since I was a little girl – that is no understatement. The one thing I never envisioned was my dress, and that's because Galia Lahav surpassed my wildest dreams.  

I could've never imagined the movement of the dress, the sparkle, the train, the embroidery, the bustle, the expert seamstress, and so much more because it was beyond picture-perfect. I felt comfortable and beautiful all night long, thanks to Galia Lahav! 
How many dresses did you try on before you found it?

I tried on about 20 dresses and thought, well, maybe the saying 'when you know, you know' doesn't always ring true and could be a myth. Little did I know, my sister pulled this dress out and told me, "THIS IS IT." We all gasped in awe, and the rest was history! That's twin telepathy for you! 
Finish your registration for {City} Trunk Show