FREE SHIPPING & RETURNS WORLDWIDE!

DUTIES & TAXES COVERED WORLDWIDE
Find your nearest boutique
Our #GLBride of the week is Susana Camaj, who wore our GALA 805 as she married her fiancé Joe. The couple tied-the-knot with a timeless elegant wedding surrounded by beautiful flowers and tranquil waterfalls. In the following interview, Susana shares with us the details of her special day and how her mother unexpectedly found the dress of her dreams. As told by Susana: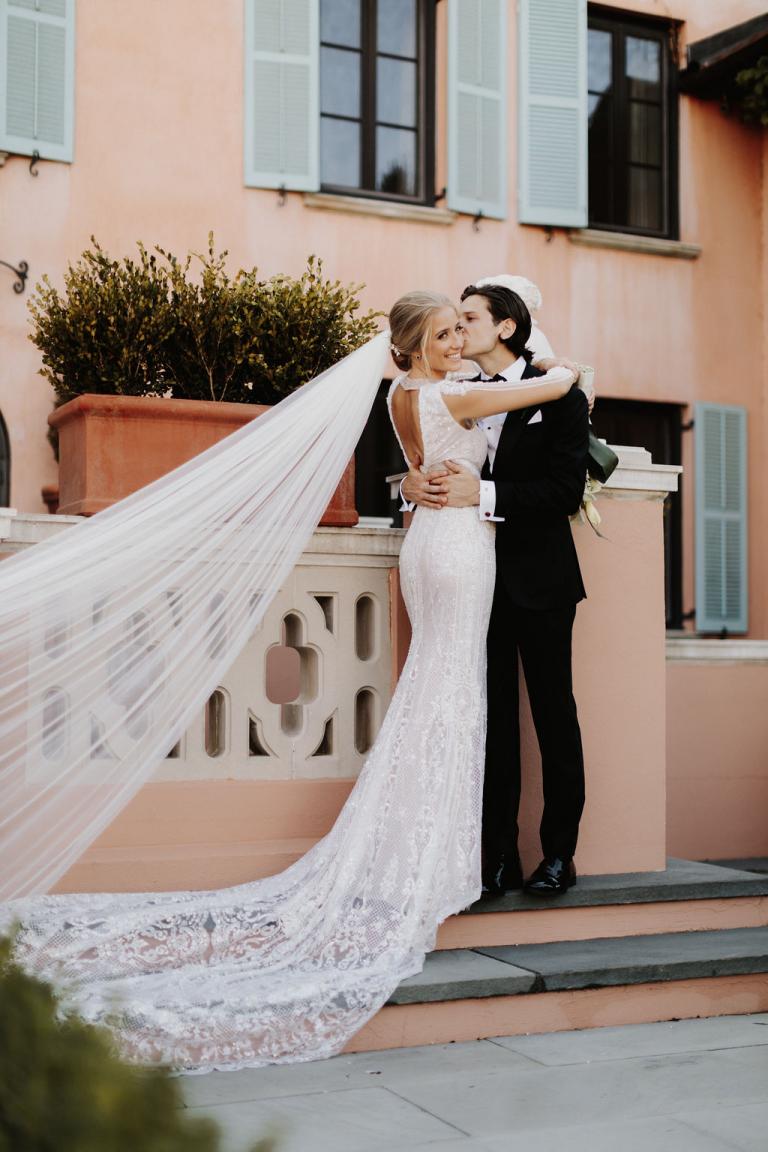 How did you meet your husband? Tell us a little bit about your relationship.

Joe and I met in college – he was on the lacrosse team and I was on the volleyball team. I was a freshman getting ready for my first college volleyball game when Joe and his team walked into the lobby of the gym. They started stretching before their practice and I immediately noticed Joe. I think my eyes were glued on him, so I'm not sure how he didn't notice. I turned to my teammate and JOKINGLY said: "Oh my god, I am going to marry that man." For the next two years, Joe and I would pass each other on campus and smile, but we never actually spoke to each other (we were both pretty shy). By his senior year/my sophomore year, we finally 'met,' exchanged numbers and started dating. Fast forward through our first year of dating, one night we were sitting around telling each other stories. You can imagine my reaction when he told me the story of the first time he saw me. Sure enough, it was that day in the lobby of our college gym. He remembered every detail down to the color of the ribbon in my hair.

Every once in a while we sit around and (re)tell each other those stories from our different perspectives. It reminds us both of where it all began.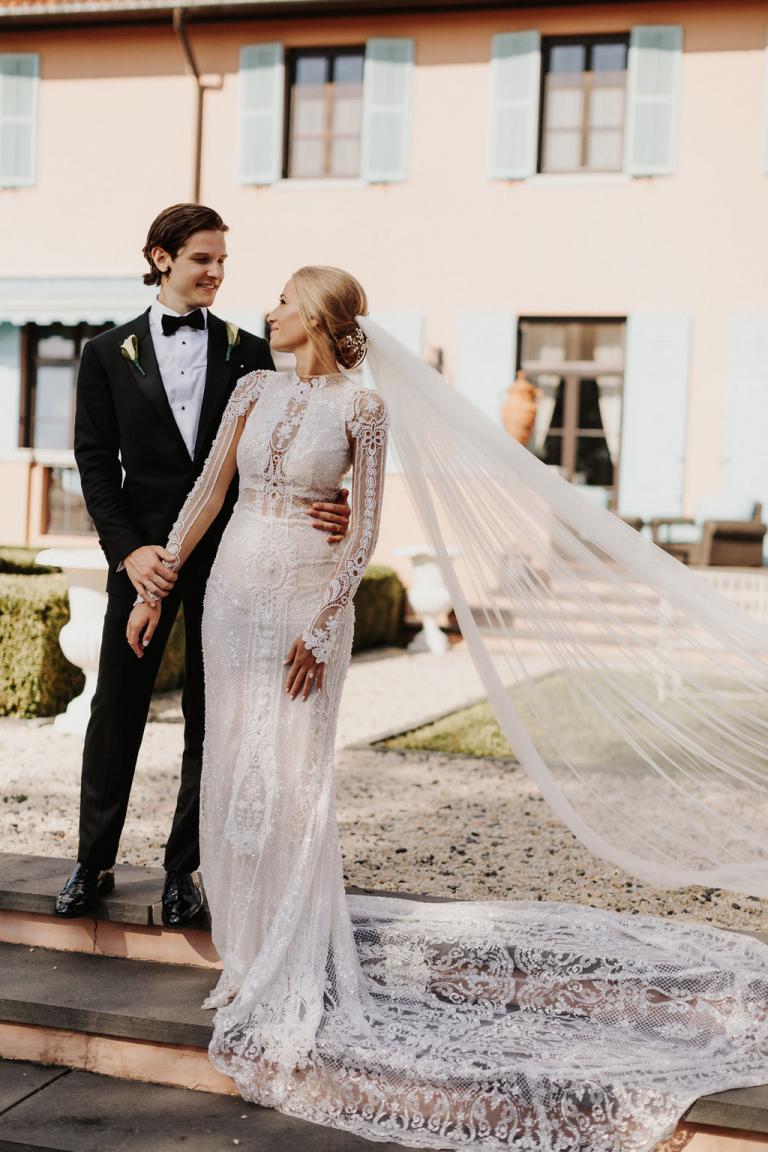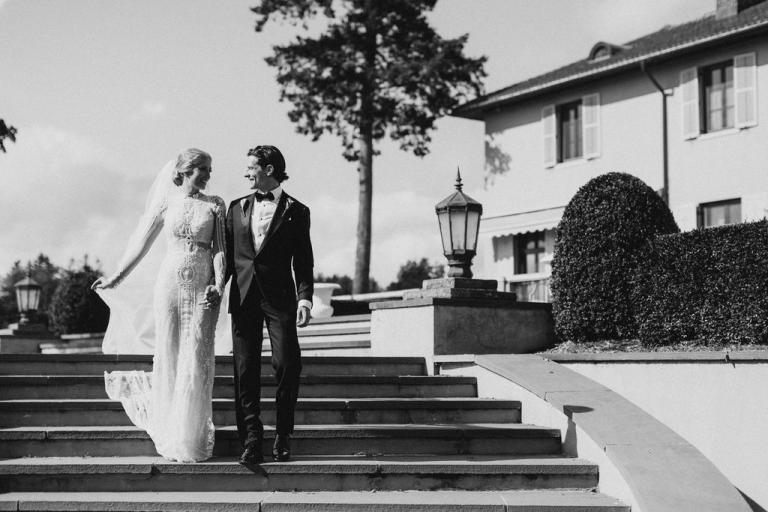 How did he propose?

Joe told me he had a gift certificate to one of our favorite restaurants and that it was expiring that weekend (I've been known to readjust plans last minute, so this is how he guaranteed I wouldn't try to change the plans). Joe made reservations for us to have dinner there on Saturday night. The restaurant is right on the water so we got to enjoy a beautiful sunset as we ate dinner. We both started with wine, but Joe drank his a lot faster than I did and before I knew it, he was already ordering a second glass for himself. Anyone who knows Joe can tell you that he is not a wine drinker. In all the years we have been together, I've never seen him order a glass of wine (let alone 2!). This probably should have tipped me off, but I honestly thought he was just enjoying the wine, the view, and the conversation. I was enjoying it all and was completely lost in conversation, so when the server approached the table with the dessert plate that said: "Will you marry me?" I thought she brought it to the wrong table. I began to tell her that she was at the wrong table, but as I turned my head, I saw Joe down on one knee.

Joe arranged to have our family and friends decorate our apartment while we were at dinner, so we came home to a mini-engagement celebration with our immediate family and closest friends.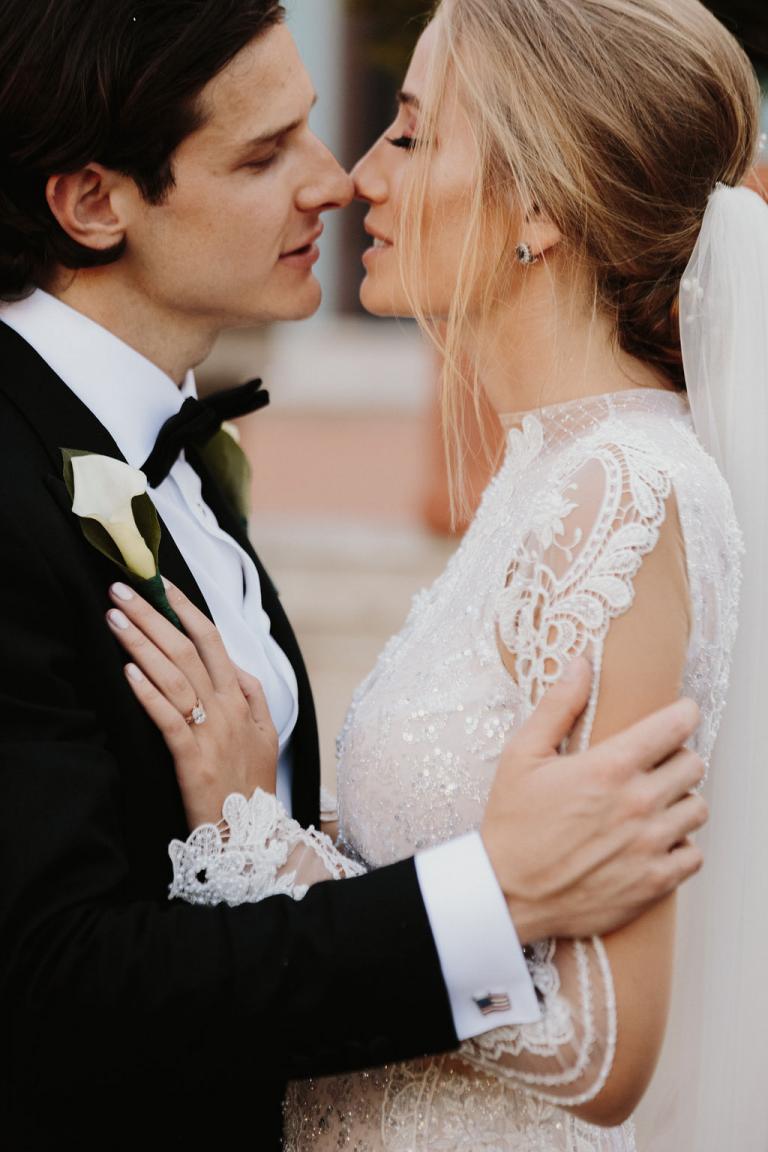 How did you start planning your wedding? What were the first steps?

Joe and I dragged our feet with wedding planning and just tried to enjoy engaged life. We didn't start planning until we approached our second year of engagement. We began with the venue and music because every great celebration needs good music (and of course, the place to celebrate).
Did you do any beauty or fitness prep for your big day?

Skincare was definitely my priority, so I never missed my monthly facial appointments!
What was your wedding theme?

Simple, timeless elegance.
How did you choose your location?

A friend of ours referred us to it. Joe and I loved the venue because the grounds were stunning. Waterfalls and gorgeous flower beds in every direction. The open tent layout awarded us with an incredible view throughout the entire night.  Definitely the vibe we wanted.
How did you decide on your bridesmaid style?

I wanted the bridesmaid dresses to match the overall theme of the wedding: simple and timeless. Finding the right bridesmaid dresses took longer than finding my wedding dress! I owe a big thanks to my sisters who helped pick them out. We decided on ivory – the gowns were simple and flowy.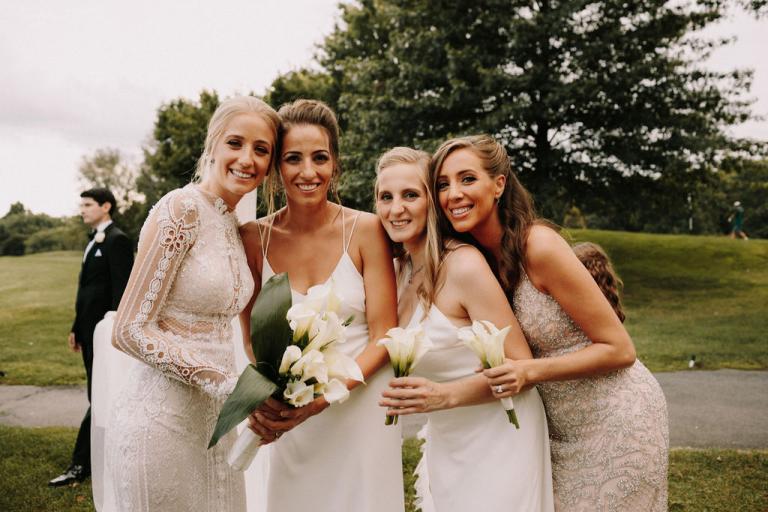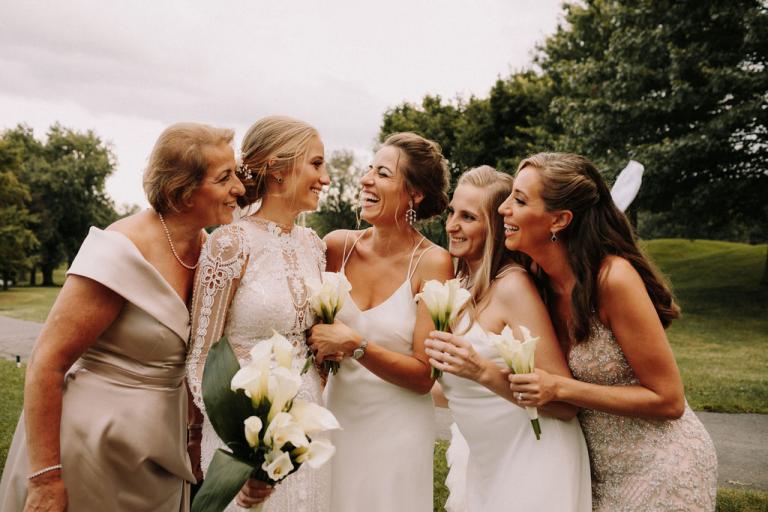 How did you find your perfect dress?

We went to Bridal Reflections for my first bridal gown appointment and I wasn't completely sure of what I wanted. I told the consultant that I didn't want a fitted dress, didn't want long sleeves and didn't want a high neckline, but other than that, I didn't know what I wanted! I started to try on a few dresses (all beautiful), but nothing clicked. My mom asked if she could browse their collection while I continued to try on gowns. Within a few minutes, she walks into the room holding the Gala 805. I began to tell her that I didn't want a high neckline, but before I could finish my sentence, she said: "Just try it on." Well, mom knows best. I tried the gown on and fell in love with it.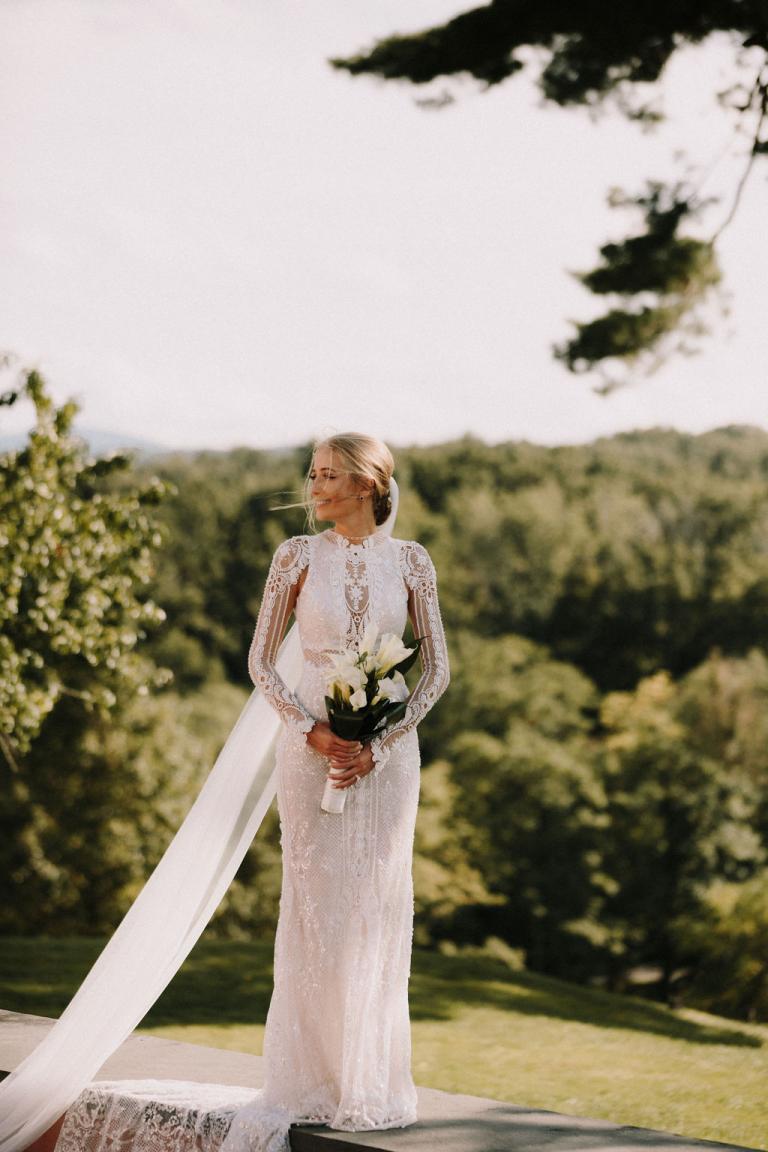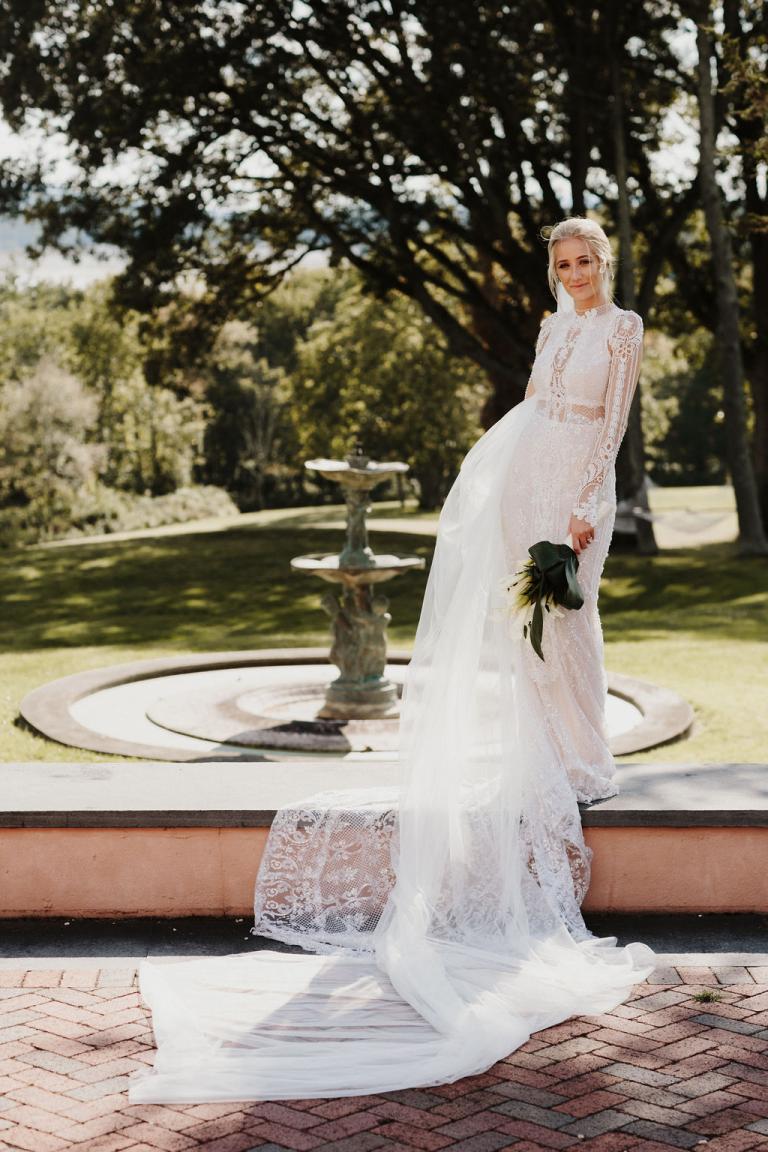 How was your experience with the Galia Lahav brand?

The details on Galia Lahav gowns are unlike any other. The Gala 805 blew me away and I knew I wouldn't find anything else like it! The fit and uniqueness of all their gowns are breathtaking. Seeing it on the hanger does not do the gown justice. It's a whole different vibe once you try it on.

Can't forget about the veil. The Galia Lahav veil was one of my favorite pieces of my wedding day wardrobe. Simple and ethereal (and a little dramatic).
What was the most important thing for you and your husband when planning your wedding?

Joe and I agreed that we wanted our wedding to be a celebration; a celebration of the journey that brought us to this day, and a celebration of the journey that lies ahead. We wanted to dance the night away with our family and friends. And we did.
What was your first wedding song?

In Case You Didn't Know by Brett Young
What did you enjoy the most about planning your wedding?

I'm not sure if I would use the word "enjoy" to describe how I felt about wedding planning. It definitely wasn't my "thing." I loved our wedding, but planning, in general, is an obstacle for me and neither of us cared to have all that attention so I'm happy the planning is over.
What advice would you give to all our future brides?

Enjoy your wedding! It will be a day you never forget, so make it memorable.
What moment from your wedding will you never forget?

So many to choose from and so many great ones. I don't think I will ever forget sitting with Joe at the altar. We tried our best to be serious and quiet, but we chatted, joked, and laughed the entire time. I was surprised by the Deacon and our parents weren't upset with us. Luckily, most of our family and friends didn't notice (or maybe they just didn't say anything).

Joe and I danced the entire night to our favorite songs with our favorite people. I don't think either of us will ever forget how much fun we had and all the love we felt.
Finish your registration for {City} Trunk Show