FREE SHIPPING & RETURNS WORLDWIDE!

DUTIES & TAXES COVERED WORLDWIDE
Find your nearest boutique
Our #GLBride of the week is the lovely Stephanie Kattoula, who walked down the aisle in our GALA 103. Stephanie and her fiancé held their romantic nuptials at the Hyatt Regency La Jolla At Aventine in beautiful San Diego, California. In the following interview, Stephanie shares with us how she created the wedding of her dreams and her love at first sight moment with our GALA 103. As told by Stephanie:

How did you meet your husband? Tell us a little bit about your relationship.

I first met my husband in high school as he is my best friends' first cousin. He was two years older than me and I always thought he was cute! Although we never dated in high school, our paths would always cross. Years later after mass one Sunday, our paths crossed again. This time he asked me out and we have been inseparable since.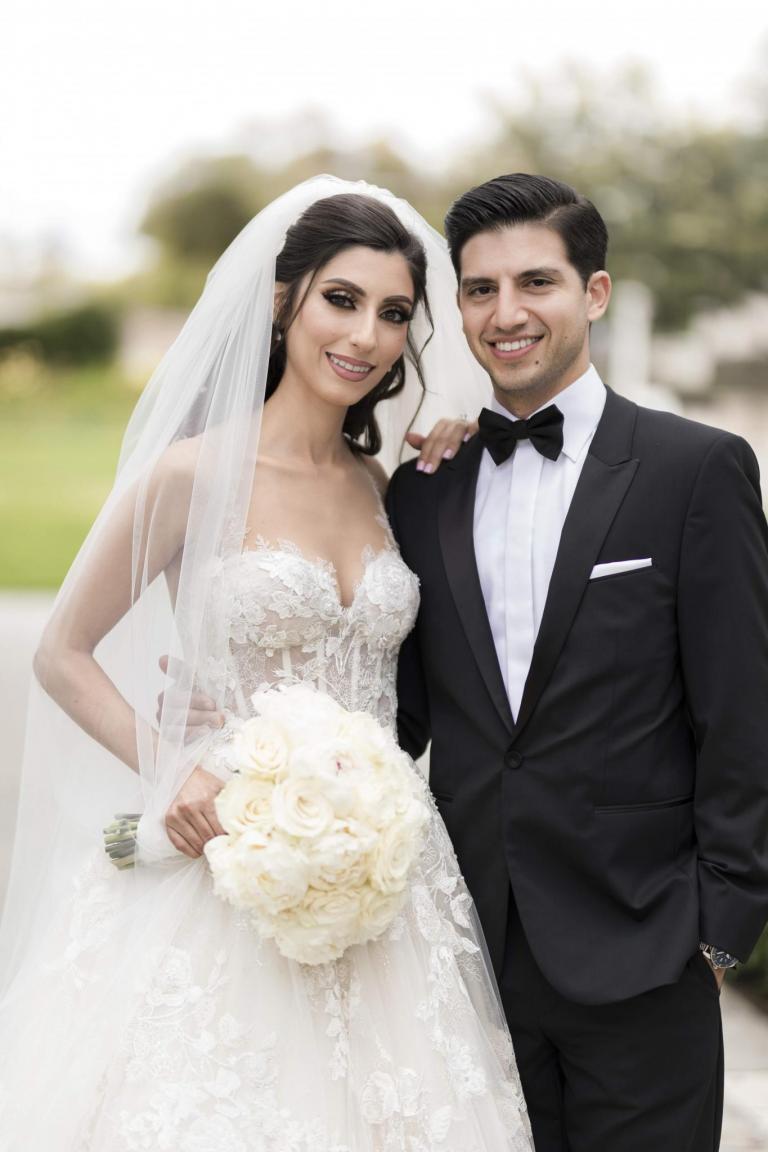 How did he propose?

My husband tricked me into thinking we were celebrating our birthdays. He had a beautiful day-date planned enjoying ourselves at La Jolla Cove. As the sun began to set, he told me that we should head over to Mount Soledad which has one of the most beautiful views of San Diego. As we walked from the parking lot to the top of the hill, I noticed that he had a basket of goodies. When I asked him what these were for, he told me that he had a surprise planned.

When we got to the top of the hill, he set out a picnic basket with champagne and chocolate. At this point, he pulled out a book with photos of us from our relationship and started to read a poem he wrote for me. When he got to the last page, he said: "If you ever question how much I love you, it's this much." He pulled out the ring, got down on one knee, and asked me to marry him! I said YES! He planned a wonderful dinner at a romantic restaurant and afterward there was a proposal party at my parents' house with all of our closest family and friends. It was a dream come true!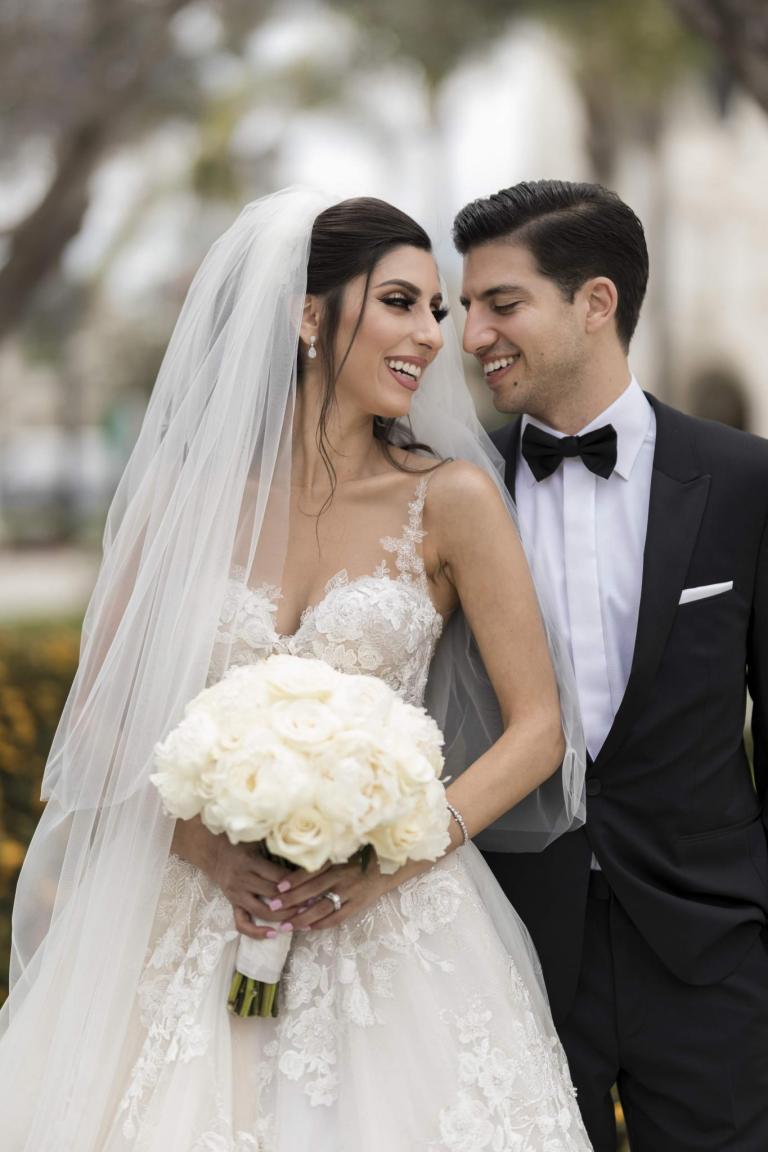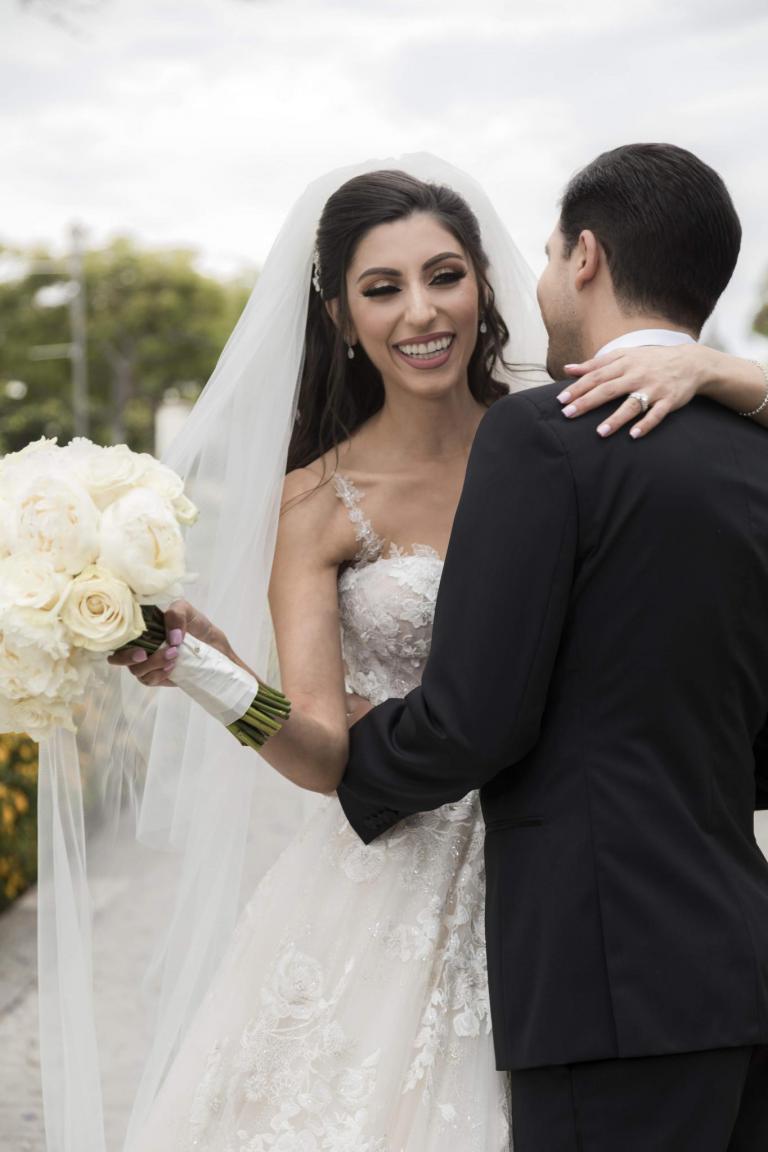 How did you start planning your wedding? What were the first steps?

Since we decided to have our wedding in the summer, we started planning our wedding the month after we got engaged. The first step that we took was booking our church ceremony and reception hall. Then, we met with several vendors to see which ones could bring our dream to life. 
Did you do any beauty or fitness prep for your big day?

To be honest, I did not do much in terms of preparing for my big day. In general, I eat healthy by mainly cooking at home and try to work out a few times a week. 
What was your wedding theme?

We decided on an elegant and romantic wedding theme. 
How did you choose your location?

Because we are both locals of San Diego, we decided to stay in the area. We had about 520 guests RSVP to our wedding so we needed a big reception hall to house everyone comfortably. The Aventine Hall at Hyatt La Jolla is a gorgeous location with grand chandelier ceilings and unique outdoor spacing. 
How did you decide on your bridesmaid style?

Because wedding planning is stressful enough, I actually allowed my sister (maid of honor) to pick out the bridesmaid dresses. My bridesmaids were kind enough to go dress shopping to find the dress that made them all feel beautiful!
How did you find your perfect dress?

I actually found my beautiful Galia Lahav dress the first time I ever went wedding dress shopping! Every dress that I tried on afterward could not even compare. Galia Lahav perfectly captures everything I was looking for in a dress! The delicate lace and intricate detailing made me feel like a princess. 
How was your experience with the Galia Lahav brand?

Galia Lahav provided me with a fantastic wedding dress experience. I recommend the team at Galia Lahav Los Angeles to all the brides I know. Kayla was my assistant at the store. She was so patient and kind when it came to making sure my dress was perfect. Kayla felt like a part of my family by the end of my last fitting. 
What was the most important thing for you and your husband when planning your wedding?

While planning our wedding, we wanted to make sure that we were also planning for our future as husband and wife. 
What was your first wedding song?

Our first wedding song was "This I Promise You" by N-Sync. We are a huge fan of the early 2000s classics.
What did you enjoy the most about planning your wedding?

We enjoyed the food tasting the most! The Hyatt La Jolla provided us with an excellent variety of appetizers, main course entrees, and dessert. We had fun mixing and matching which meals we wished to serve. The chef was wonderful and accommodated all of our needs!
What advice would you give to all our future brides?

Don't sweat the small stuff! The wedding day goes by so quickly that all of the little details don't matter in the end. Regardless, you will look beautiful and the day itself will be a dream come true! 
What moment from your wedding will you never forget?

There are several moments that I will always remember from my wedding. However, one moment that stands out the most is when my husband and I danced into our reception for the first time. The image of all our family and friends smiling and dancing alongside us makes me feel so loved.
Finish your registration for {City} Trunk Show