FREE SHIPPING & RETURNS WORLDWIDE!

DUTIES & TAXES COVERED WORLDWIDE
Find your nearest boutique
Our #GLBride of the week is the lovely Sophie Rose Leisk , who wore our Maya gown as she wed the love of her life. Surrounded by family and friends, the couple exchange vows by the beach with a romantic floral wedding. In the following interview, Sophie shares some of the moments she'll cherish forever and her experience as a GL bride! As told by Sophie:
What was your initial reaction when you first realized you had found THE dress?

My initial reaction was overwhelming happiness & excitement. I immediately thought the dress was so unique and one of the most beautiful wedding dresses I had ever seen.
How did the dress make you feel when you put it on?

I felt very confident and beautiful in it. When I put the dress on, a rush of emotions overwhelmed me as I was reminded of all the days growing up as a little girl dreaming of my fairytale wedding dress. The dress embellished floral detail and a form-fitting corset that felt very flattering on my physique. The color tones complimented my skin and it truly made me feel so beautiful and radiant. I paired the dress with the dramatic sparkle Brenna skirt and the Alma veil and felt like a real princess.
Who's reaction were you most looking forward to on the big day? How did they react when they saw you?

I was looking forward to both my husband's reaction and my Dad's. My Dad and I did a first look before the ceremony and his mouth literally dropped and he started crying, which was such a special moment. When I walked down the aisle, me and my husband's eyes locked and I could see his eyes watering and him trying to breathe through it and hold back his tears (I was doing the same). Both reactions were very heartfelt and something I will always cherish.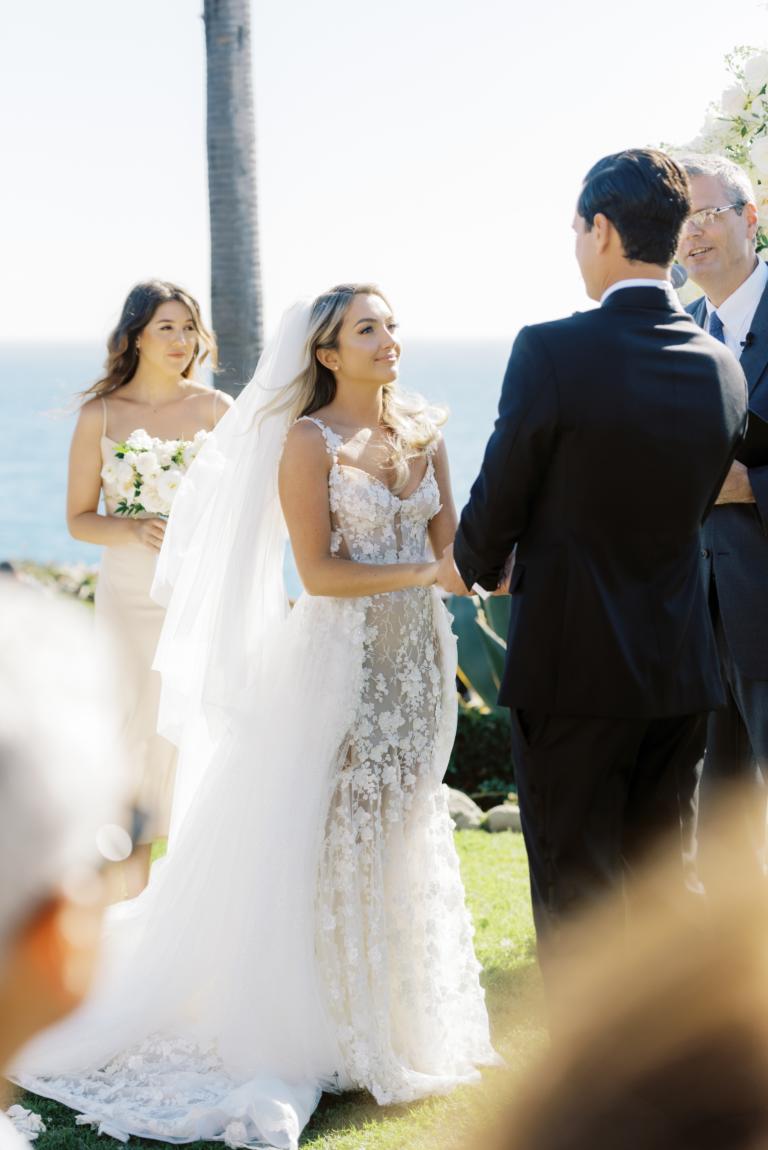 How did you know your dress was 'the one'?

I knew my dress was the one right when I put it on. I know you hear people say that all the time, but that is literally what happened. I had looked at many dresses before choosing THE one, so when I put on the dress I got a very strong feeling of admiration that I hadn't with any of the others, that's how I knew. I actually choose the MAYA dress right when it came out, I remember being one of the very first people to see it. Like I said, I fell in love with it right away, not knowing that later we would have to postpone our wedding due to COVID. Nonetheless, I still couldn't wait to wear it as it's so timeless and breathtaking. I felt so honored to be one of the first brides to wear it this last September.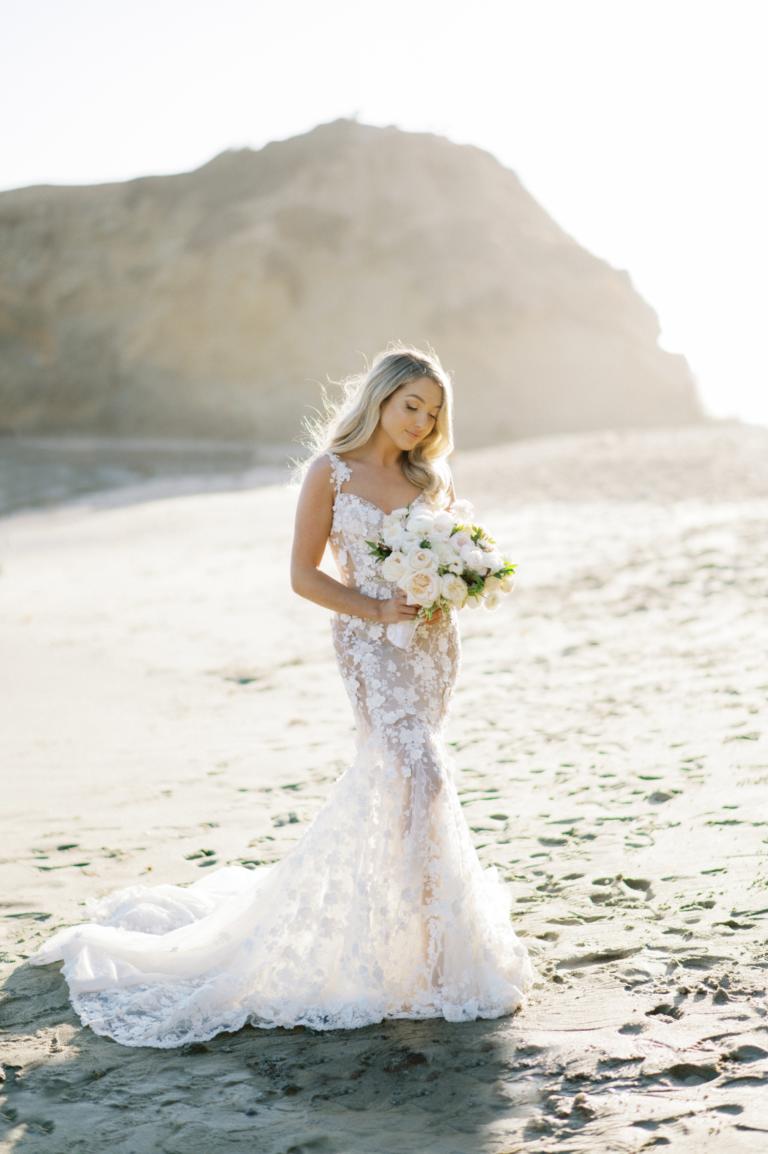 What was your favorite part of the wedding to plan?

I really enjoyed the design process, making my vision come to life. Though I will say, my husband and I are such foodies so we may have enjoyed the food tasting the most! It's such a fun and special experience to do with your loved one.
What was your favorite moment of your wedding day?

The whole day was very magical but I think my favorite moment was at the ceremony. It was very angelic with white hues and a floral arch that framed the deep blue pacific ocean. We wrote our own vows and it was so sentimental reading them to one another. We unintentionally overlapped with the same cherished memories and affectionate words. We had so much anticipation for our wedding. Not only had we been dating for 10 years, but we also postponed it twice due to COVID19, so when we were finally up there standing together, it felt very surreal and emotional.
What advice can you give to future bride-to-be's?

My advice to future brides-to-be is to stay calm, present, and enjoy every moment. It goes by so fast and can be nerve-racking at times. Breathe and remember that at the end of the day, the day is only about you and your husband and celebrating your love for one another.
How did you meet your husband? How did he propose?

I met my husband in High school, we both went to Laguna Beach High school and finally tied the knot at our 10 year anniversary back in our home city of Laguna Beach. He proposed to me in the cutest way, I truly had no idea it was coming. We went glamping up to Big Sur for his birthday weekend and he wanted to go watch the sunset, so we sat overlooking the vast ocean, and all of a sudden a plane flew over with a red banner trailing from the plane that said "Sophie will you marry me? "
What was the Galia Lahav experience and process like?

My experience at Galia Lahav was very seamless and easy. I went to both their stores in New York and in Los Angeles and both locations had many options to choose from. The employees were all very helpful with finding a dress, whether you knew what you wanted or didn't.
What is one final thing you would like to say to Galia Lahav?

Thank you so much for creating my dream wedding dress. As someone who works in fashion, you inspire me in many ways. Every single one of your dresses has stunning detail and uniqueness to it, they are all truly breathtaking. You are an incredible designer and helped make my wedding day everything I dreamed of.
Finish your registration for {City} Trunk Show