FREE SHIPPING & RETURNS WORLDWIDE!

DUTIES & TAXES COVERED WORLDWIDE
Find your nearest boutique
This week's #GLBride is the beautiful Shay Davis, who wore our GALA-805 gown on her big day. Shay and her fiancé celebrated their nuptials alongside family and friends with a stunning beachfront wedding. In the following interview, Shay shares what made her wedding day special and her journey to becoming a GL Bride. As told by Shay: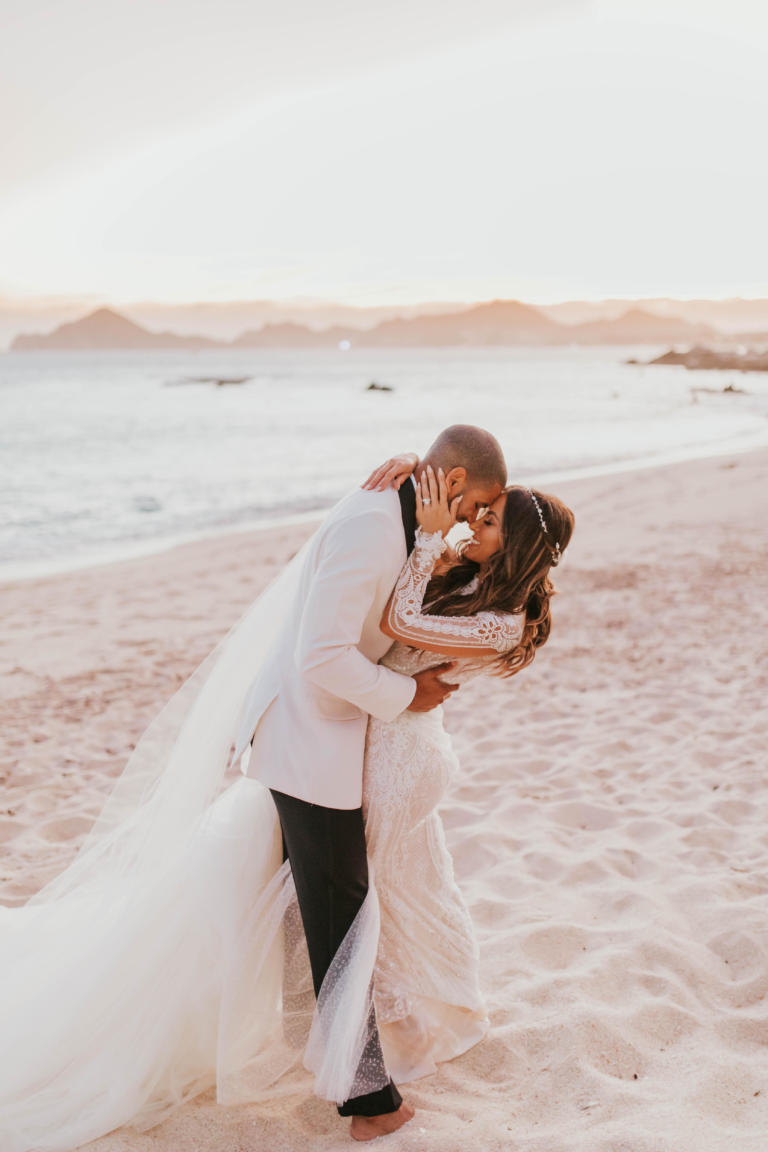 How did you meet your husband? Tell us a little bit about your relationship.

I use to hate being asked this question and secretly wanted to just make up some elaborate hopeless romantic story but….we met on Instagram. Growing up in the 90s I never imagined my love story would involve meeting online but it is very common nowadays. However, we did later discover many other close connections that made us feel like we were destined to meet at some point in our lives. Justin, at that time, lived in Chicago and I lived in LA. We managed a long-distance relationship for about a year but saw each other quite often, maybe even more than the average couple living in the same city. Whether he was visiting me or I was visiting him we were able to spend at least half of our months together. The distance actually took us back to a 90s way of dating with lots of talking on the phone, which we both love. In fact, our very first phone conversation was a little over 6 hours long.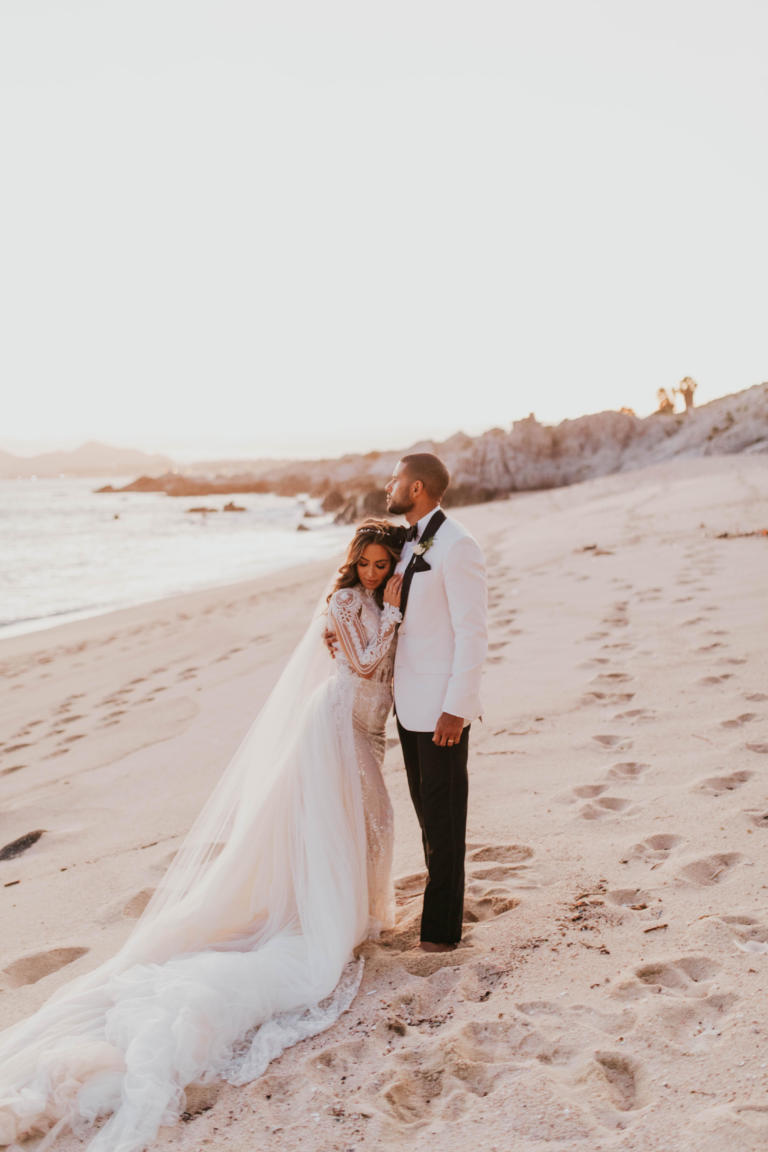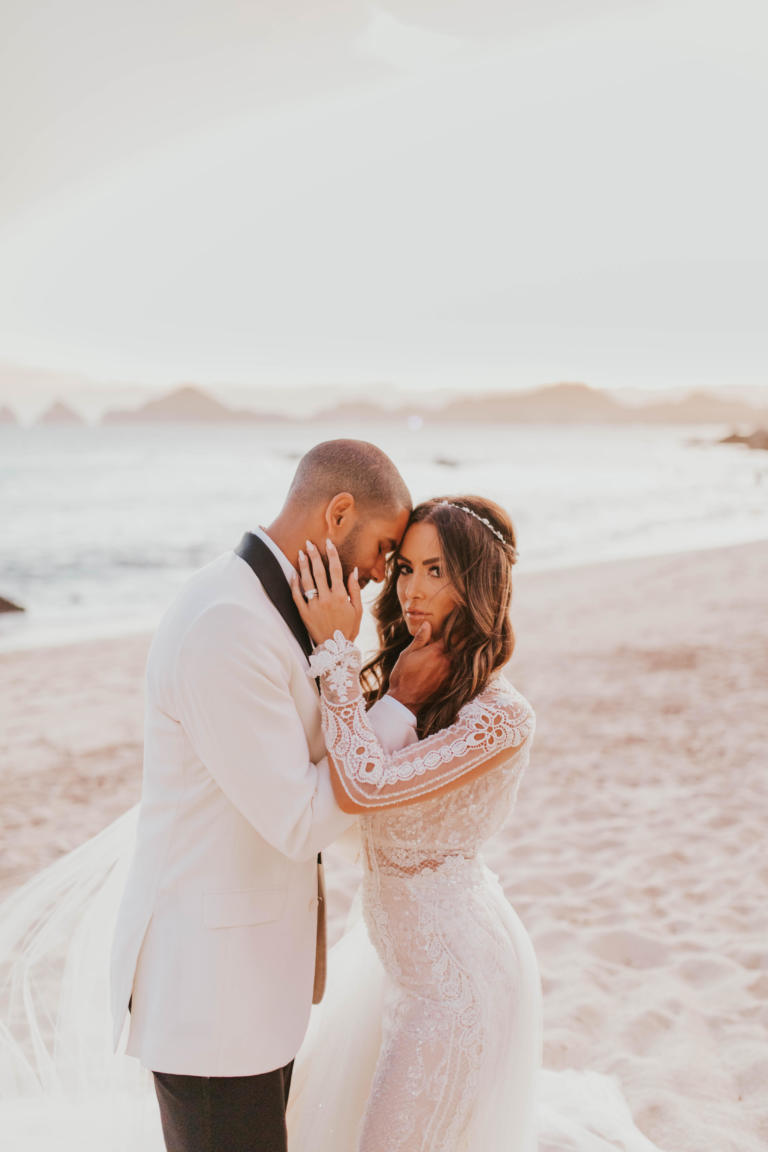 How did he propose?

July 5, 2018. We were on a mini-vacation in Cabo, staying at Hotel San Cristobal. He coordinated a whole proposal with the staff of the hotel and proposed in front of their chapel. It was quite romantic and a complete surprise, I was shaking. Oh, and he made sure to have it all documented from every angle, including a ring box camera. My husband is very thoughtful. 
How did you start planning your wedding? What were the first steps?

We started by looking at different date options. Both of our favorite numbers are 8 so we knew we wanted to try for that. It made it easy to narrow down all the days with that number. Shortly after that we started venue shopping as well as reaching out to our friends, who were married, for advice.
What was your wedding theme?

We didn't so much have a theme for our wedding; we just wanted it to be intimate & romantic. We used a very light color scheme of white, beige & soft blush. My husband created a mood board and we worked very closely with our wedding planner and florist to create exactly that. Every single detail was thoroughly thought out.
How did you choose your location?

Once we decided to do a destination wedding it was recommended to us & ended up being the first hotel we toured. During that initial tour, we knew we wanted it to be there, from the moment we arrived at check-in. It was an indescribable feeling we both had. 
How was your experience with the Galia Lahav brand?

 My experience with Galia Lahav was beyond my expectations. I was even lucky enough to meet Galia herself and have moments with her in my dress. Everyone there was so welcoming, always available and extremely patient. I don't know what I would of done without Kayla & Anthony. They really put their heart & soul in making sure everything was perfect for me; I can't thank them enough.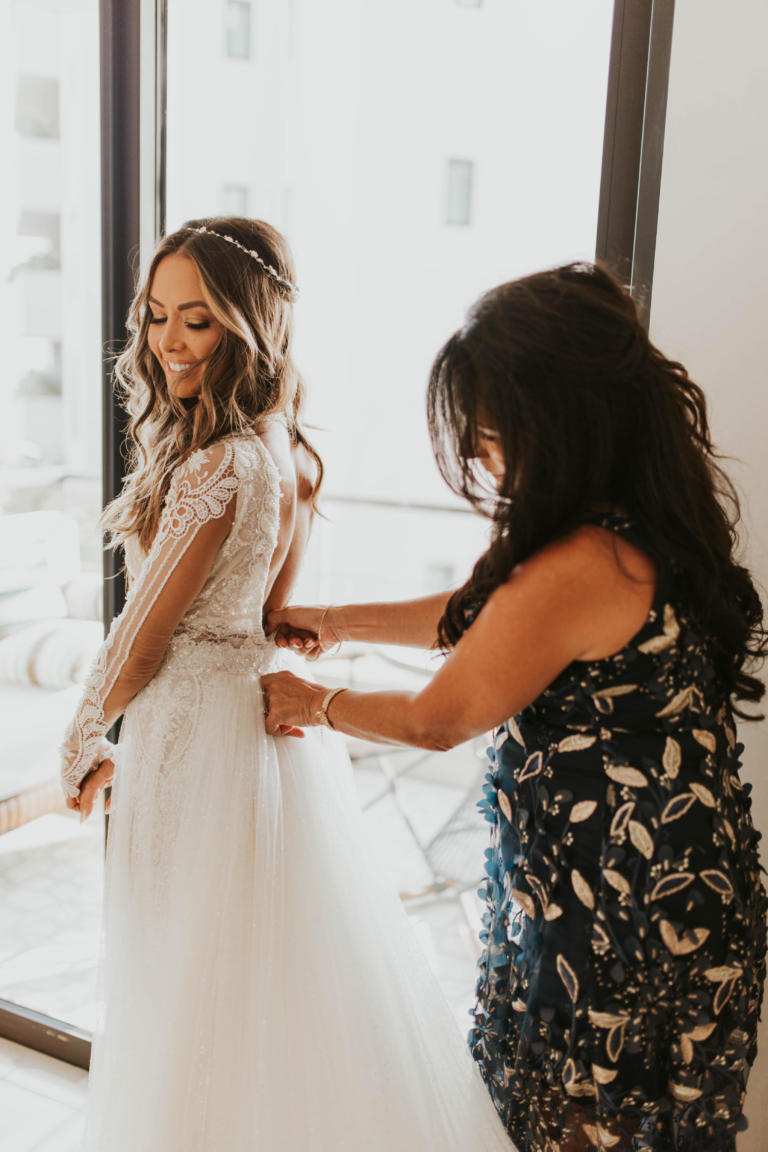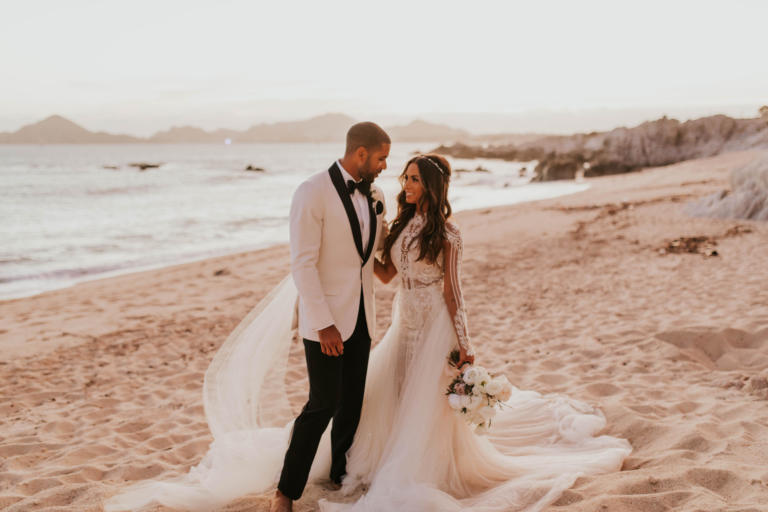 What was the most important thing for you and your husband when planning your wedding?

The most important thing to us while planning our wedding was having all of our close friends and family there. One of the main reasons we decided on a destination wedding was to, not only, keep it intimate but the idea of having all of our close loved ones on vacation with us celebrating OUR LOVE seemed like a once-in-a-lifetime opportunity and experience. The day was stretched out into a long weekend so it was nice having that time with everyone, in addition to our special day.
What was your first wedding song?
What did you enjoy the most about planning your wedding?

Gosh, I actually enjoyed a few different things. One was definitely dress shopping and every time I was able to try my dress on, especially my last fitting when I was able to take it home. Another moment I enjoyed was our trip to Cabo to finalize a few things with our wedding planner, bringing our ideas to life with our florist and, of course, our favorite was stuffing our face at our tasting. But overall, just seeing everything come to life as you get closer to the day and the excitement that runs through your body as you anticipate sharing it with all your loved ones is so special.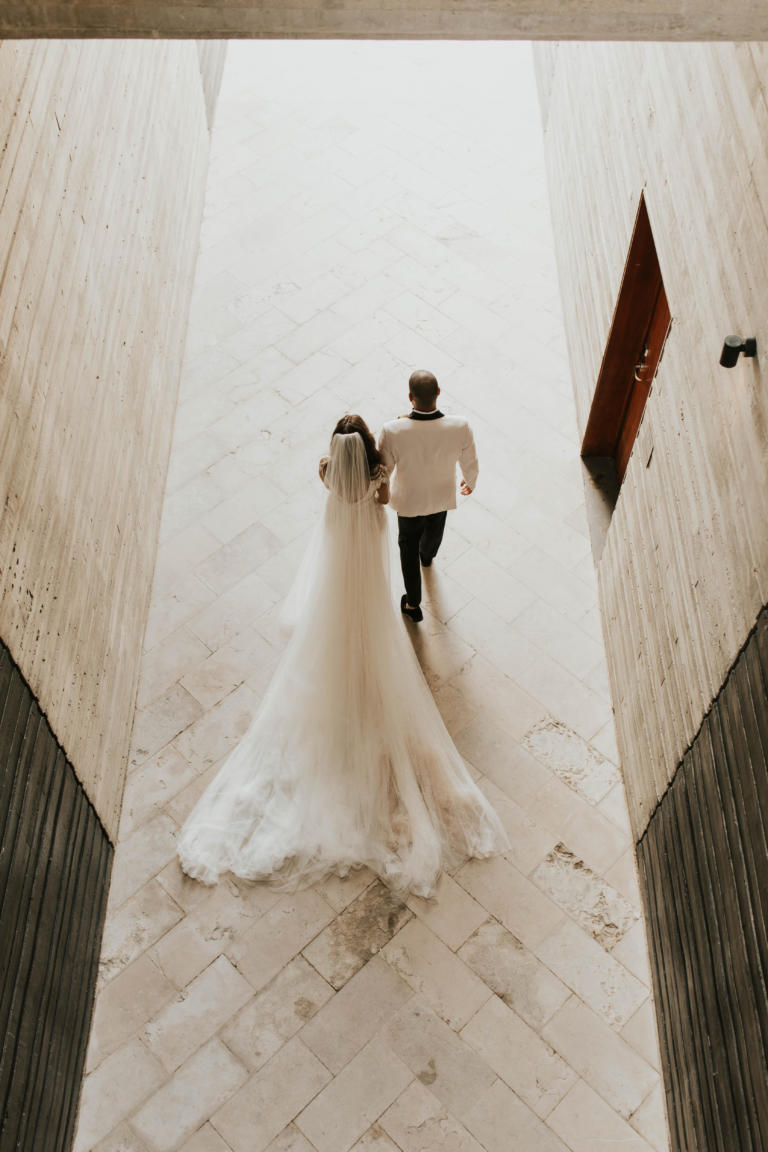 What advice would you give to all our future brides?

The little things you think are important don't matter. Don't allow the stress of wedding planning to take you away from the enjoyment of it. BE PRESENT!! The day goes by SO FAST!! My husband and I made it a point to take many moments throughout the night, where we kind of just stopped time by taking a step back, allowing ourselves to take it all in.

We also didn't allow the night to divide us; we made sure to stay together as much as we could. Lastly, the best investment for your wedding will be the videographer that can capture your WHOLE ceremony, the reception, and everything in between. THAT is what will truly allow you to relive that day and TRUST ME, you're going to want to relive it plus it's something your kids can watch later.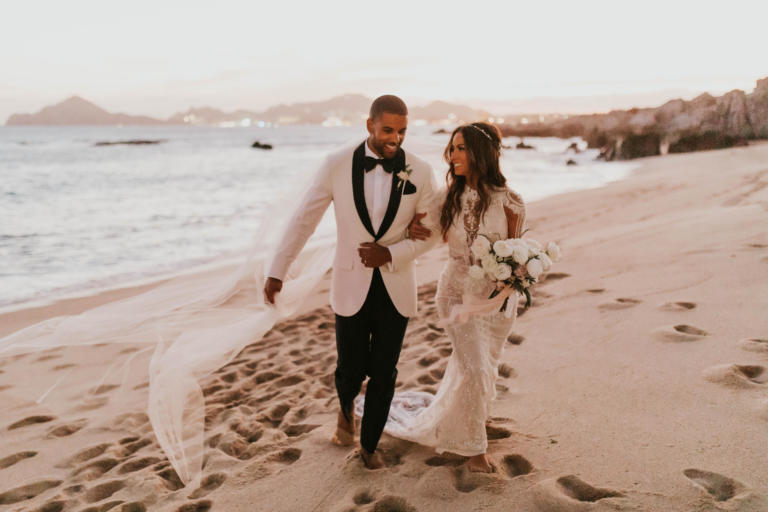 What moment from your wedding will you never forget?

The moment I will never forget was when I realized it was my soon-to-be husband playing the saxophone as I was walking down the aisle. I turned the corner to lock eyes with him and instead lost complete control of my emotions. My brother, who was walking me down the aisle, thought I was going to collapse.

I was so shook; it was an extremely emotional moment and felt like a scene out of some hopeless romantic movie. I had never seen him play until that moment. He had discretely been taking private lessons for the past 8 months. The song he played was "Always Remember Us This Way" by Lady Gaga. 
Finish your registration for {City} Trunk Show