FREE SHIPPING & RETURNS WORLDWIDE!

DUTIES & TAXES COVERED WORLDWIDE
Find your nearest boutique
Our #GLBride of the week is the lovely Sabina Gadecki, who tied-the-knot with her fiancé Tyler in our Fabiana gown. Complete with pampas grass, teepees, and vintage rugs, the couple held their hippy inspired wedding with a boho flair at the Saddle Woods in Tennessee. In the following interview, Sabina shares with us the moments she will cherish forever and the story of how she found her dream dress with us. As told by Sabina: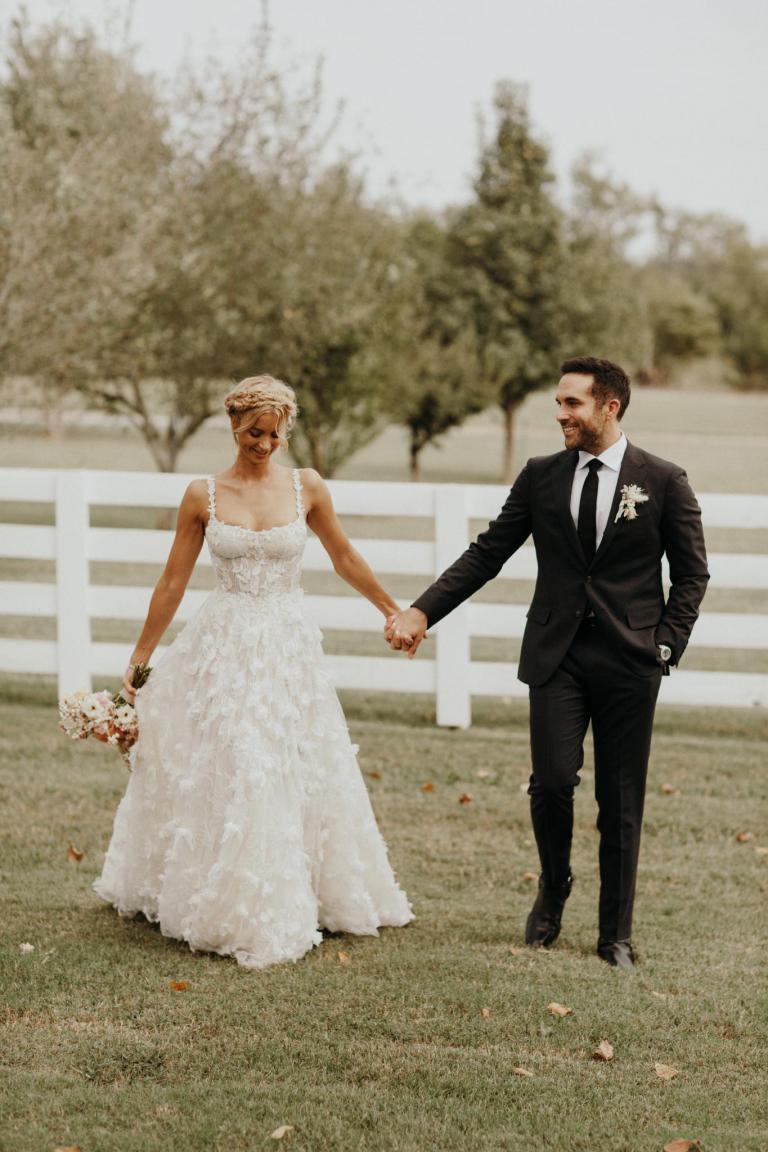 How did you meet your husband? Tell us a little bit about your relationship.

My husband Tyler is a country singer, so a lot of our life is spent together on the road at shows, festivals, etc. So, it only seems fitting that we met at a music festival. I went to Stagecoach Festival in Palm Springs with a few girlfriend's and met him there. He tells the cutest story about seeing me in the pit from the side stage and coming down to find me. It's just so sweet. He said he purposely put him and his friend in front of us and tried to look like the funniest two guys there to try and attract our attention. I actually have a few videos of my friends and me during the show, with Ty in the background, moments before we even knew each other. Our lives revolve around music, fun, and soaking up each minute, so meeting somewhere like Stagecoach could not be more "us".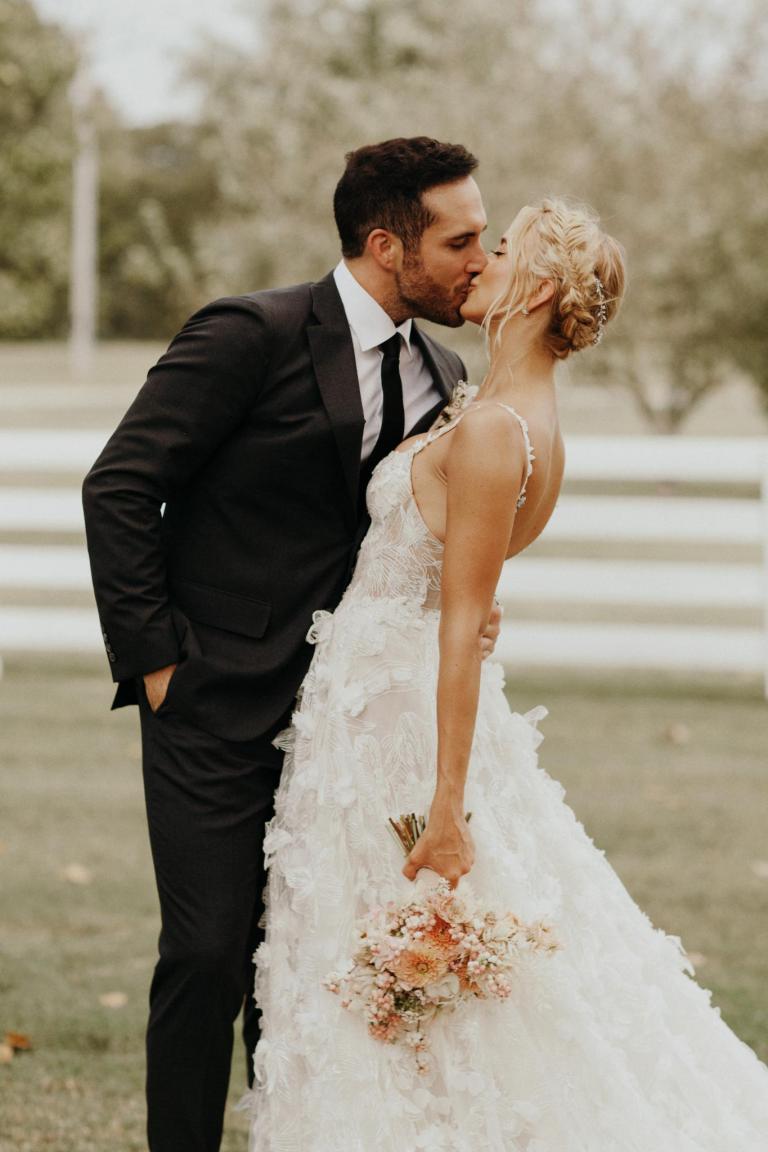 How did he propose?

We were in Jamaica, and he set up this elaborate plan with the hotel leading up to our trip. He lined up all these little things that collectively became the proposal in the middle of day #2. He made sure to have the hotel explain they were giving us all these upgrades on arrival for an Instagram promotion – hilarious but seemed believable.

One of the upgrades was this cabana lunch overlooking the ocean. The head chef of the resort prepared us a beautiful lunch, and then we looked across the property and see this local reggae artist walking around playing for tips. Turns out, this is the musician Tyler hired to come up and sing us our song (Coldplay, "Yellow") so he could propose. But, he didn't want me to figure it out ahead of time, so Ty hired him for an hour to walk around and pretend to be playing for tips to all the guests at the hotel.

We also saw a hotel photographer and videographer walking by taking pics of the musician with the guests handing them cards to get their pictures later. These were also hired to capture the big moment. Once he got close enough he yelled up asking if he could come to play us a song. I was so excited and invited him up right away! He played a Bob Marley song and asked if there was anything else. Ty asked if he knew any Coldplay. The artist then pretended to try and figure something out and started playing "Yellow". I immediately started crying just because it was our song and so perfect.

Then Ty started crying and couldn't really talk, and then started to stand up, and then I knew. Polish is also my first language, and he's been learning since he met my family for the first time. And in Polish, he said, "May I have your heart forever." He couldn't be any more romantic and thoughtful. It was perfect.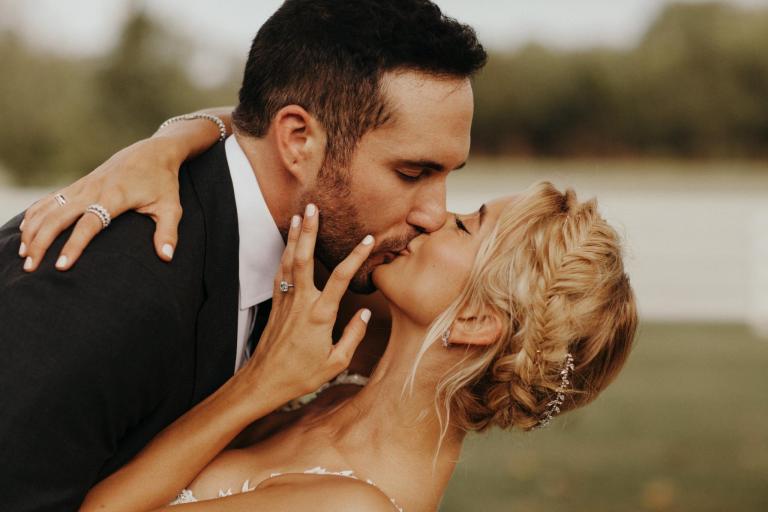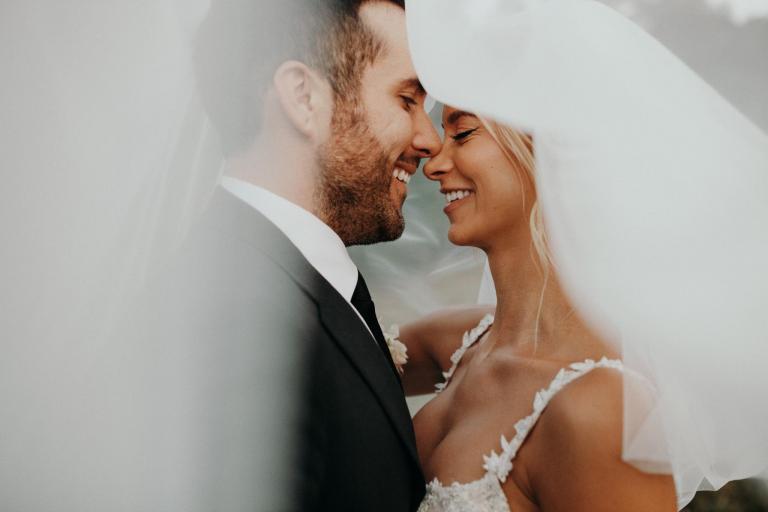 How did you start planning your wedding? What were the first steps?

We decided with all the crazy ideas we had, there was no way we could do it on our own! So, we immediately met with a highly recommended planner in Nashville, Sara Fried, to discuss our options and vision! I wanted something that felt like us, like a music festival, so our friends and family could step into our world for a night.

We wanted teepees, vintage rugs, and pampas grass. We wanted live Bluegrass/Americana early on, and then a DJ for the party that would play the type of music we actually party to, and not the chicken dance over and over. There was a lot in our minds, and we needed to figure out how to make it a reality, so we created a private Instagram account that our vendors and planner could follow, and Tyler and I would post pictures to that account of our inspirations. I recommend all couples to do this!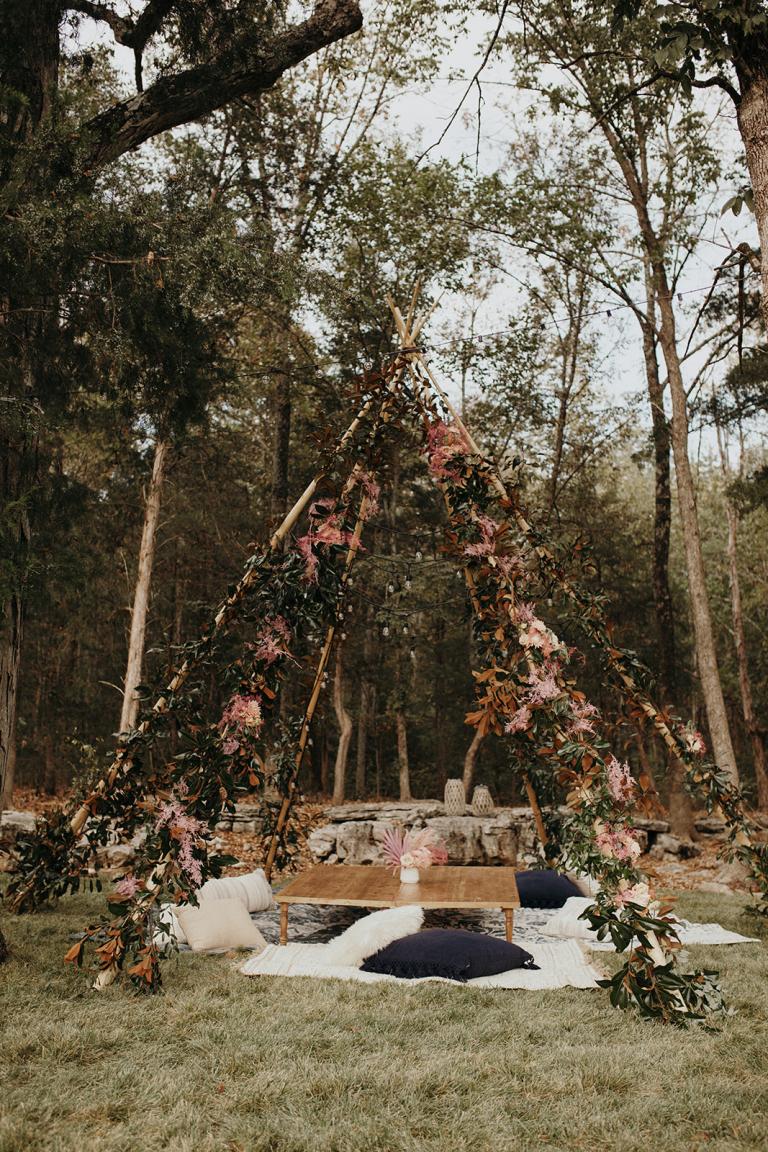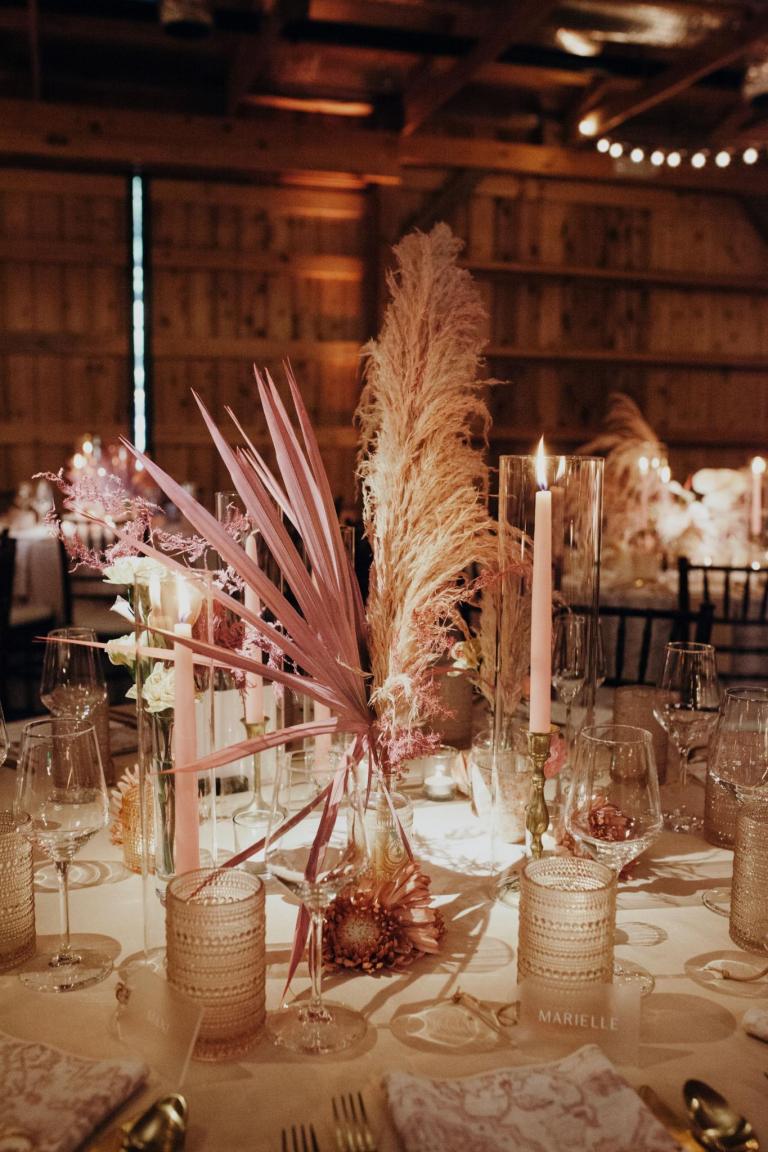 Did you do any beauty or fitness prep for your big day?

Tyler and I are the absolute worst influence on each other. The fact we are long-distance so often, makes us just want to be lazy and eat like crazy when we see each other. But, we knew we needed to crack down for the wedding, and for me to be able to fit in these gorgeous custom dresses! I'm vegetarian, so I eat primarily a very green diet (aside from the pizza and eating pasta as much as I can).

I'm a big advocate for pilates at studios with the mega-former machines. Truly the best full body and core workout that still gives you a crazy cardio sweat. Tyler can barely make it 15 minutes without dying, and he's very active, so give it a try! It got me in amazing shape quickly for the wedding with the right diet. 
What was your wedding theme?

We wanted it to be as hippy as possible, with a bohemian flair! Teepees, neon signs, vintage rugs, pampas grass, and Americana/Bluegrass music. 
How did you choose your location?

We knew we wanted a barn, something that felt true to the southern culture of Tennessee. We found this insane property about 40 minutes from Nashville called Saddle Woods, and it was just perfect. It helped that it was operated by the owners Jayne, Gary, and their daughter Morgan. They were so kind and invited us in for dinner with their family during the holidays when we visited the venue for our first time, and we were sold right then and there. It helped they had goats and horses for us to visit with as well! 
How did you decide on your bridesmaid style?

It was really important to me that all the girls felt happy and comfy in their dresses. I sent them so many options for months. Had my NY friends even go try stuff on for me and send pics, while my LA friends went with me in person and sent pics back to them. It was a very tedious and mutually involved process, and it was so worth it.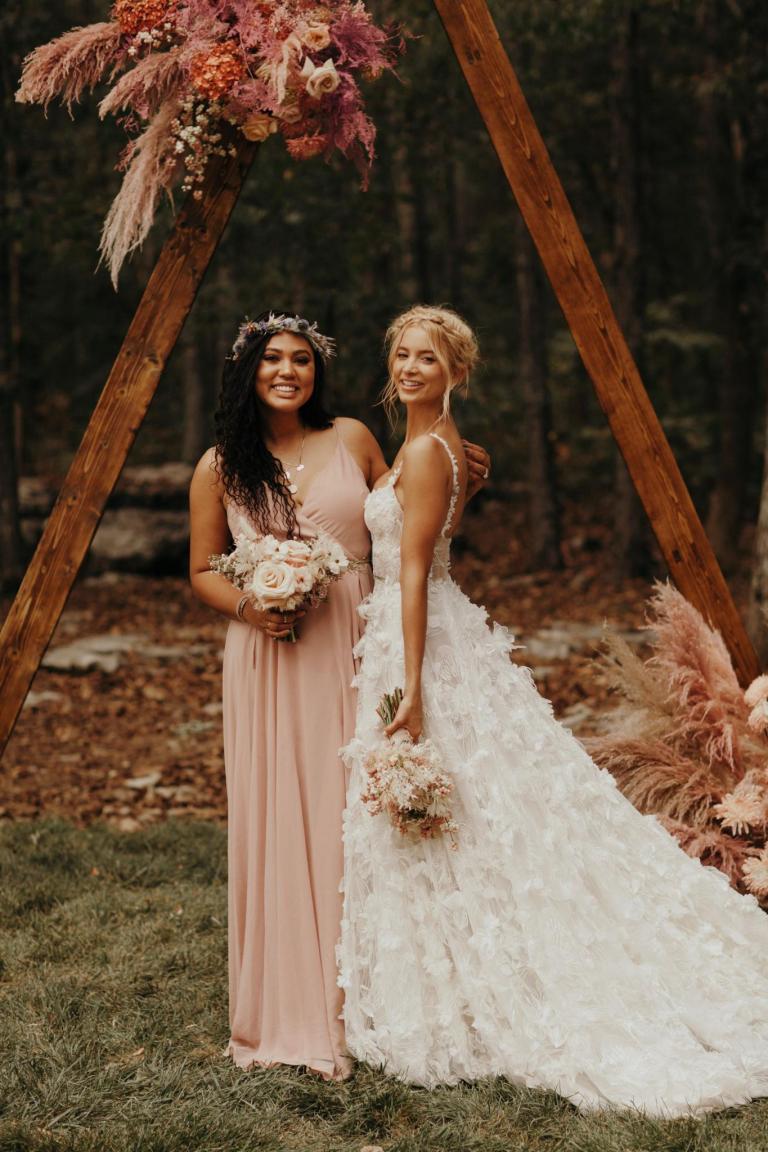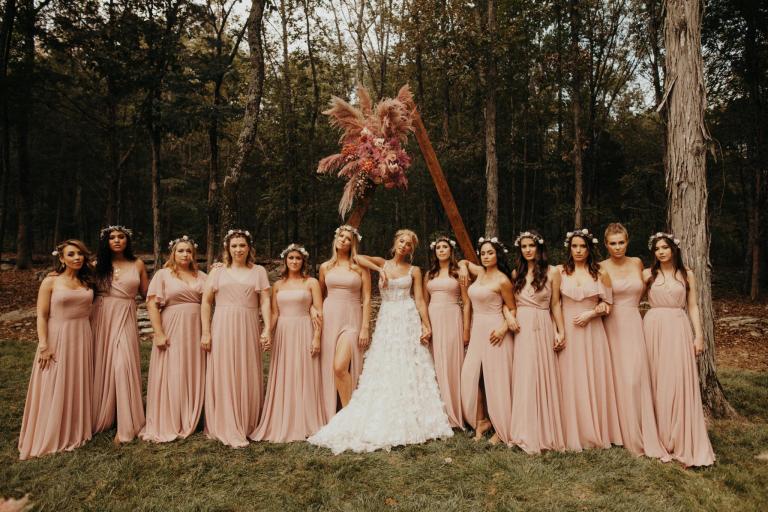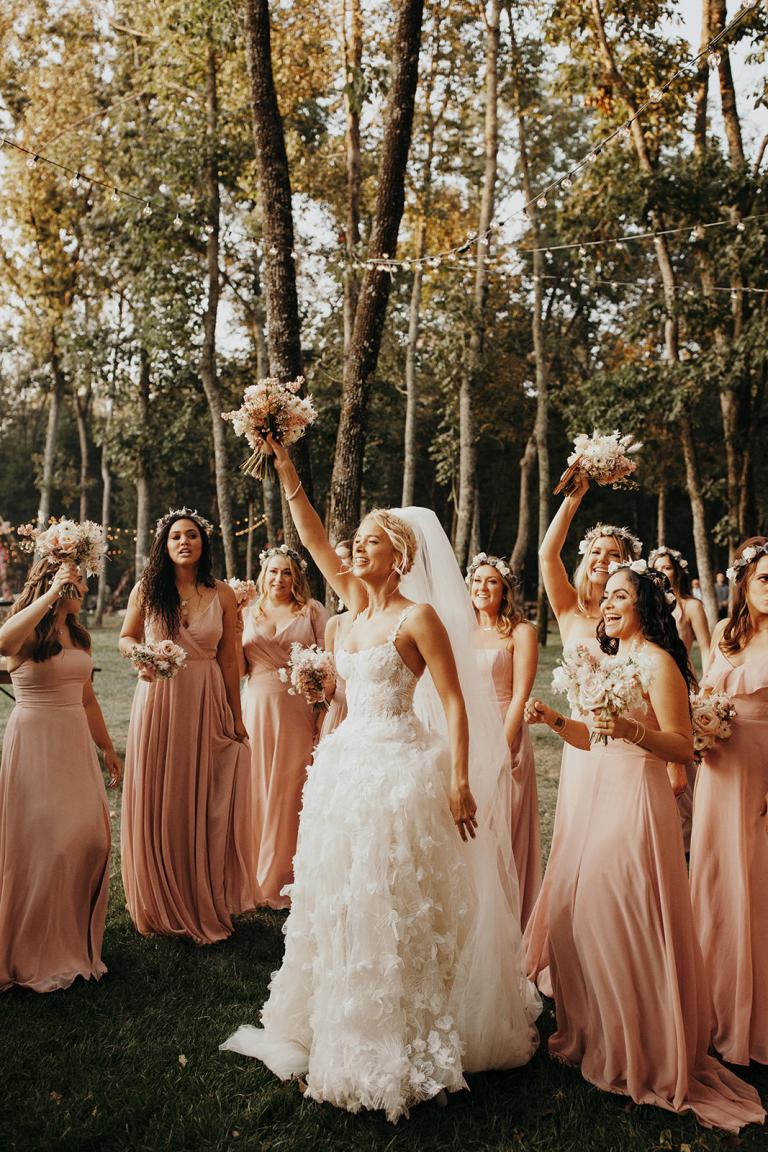 How did you find your perfect dress?

I am the most indecisive girl ever, so you can only imagine how difficult it was for me to find the "perfect dress." The best thing that I did throughout the process was to make little albums on my Instagram, and as I fell in love with something I would save the dress, the florals, etc into these albums. I was unintentionally creating mood boards along the way without even knowing it.

When it came time to go wedding dress shopping I noticed I had saved the same Galia Lahav dress in this album time, and time, and time again. But one thing I also learned in this process, is that I may love a dress on Instagram, but something about it didn't always feel right in person. There was construction happening at Galia Lahav over the few days that I was wedding dress shopping with my Mama, and my bestie Ayesha Curry, so Galia Lahav was our last and final stop. And, needless to say, it was a no brainer. No other dresses or team was quite like it.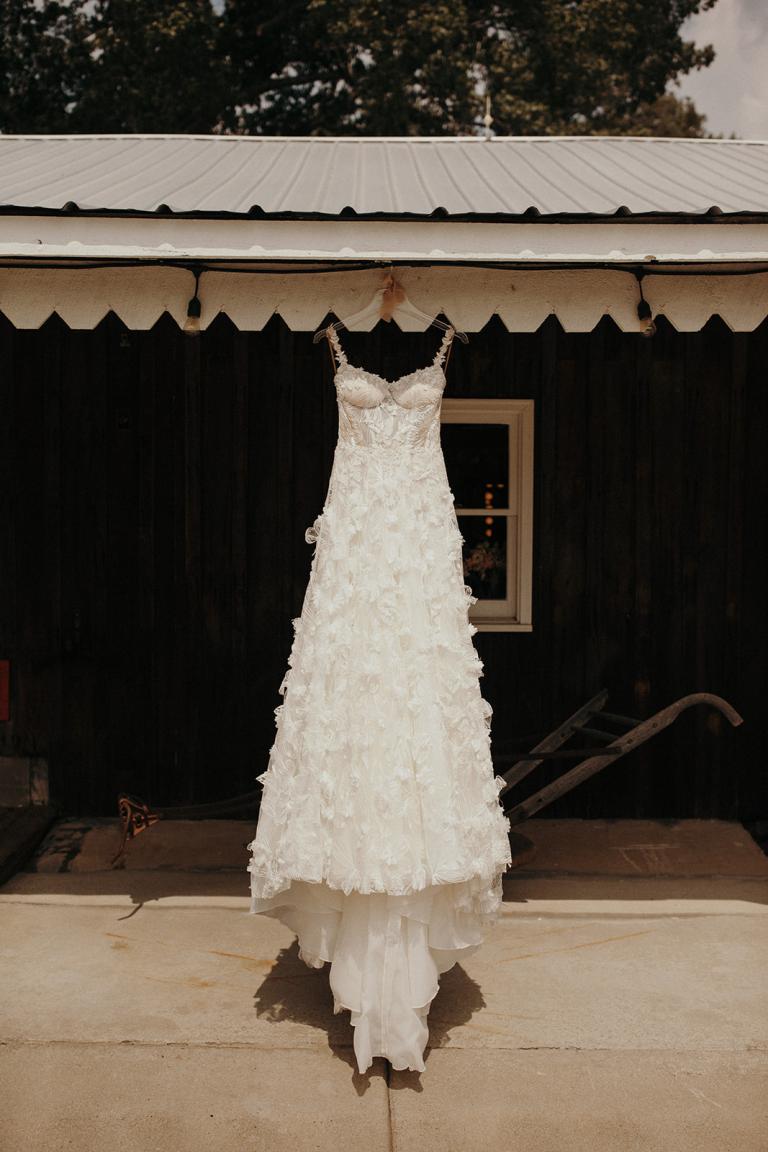 How was your experience with the Galia Lahav brand?

From the second I walked into the store, I felt an immediate warmth and sincerity from everyone working there. I worked with Kara personally, and she could not have been any kinder. I didn't feel like I was another bride walking through the door, she was so lovely, patient, and thoughtful throughout the process. 

I was also lucky enough that my wedding dress shopping weekend happened to land on the same weekend that designer Sharon Sever was in town from Israel. We worked hand-in-hand to create two of the most beautiful wedding gowns I've ever seen. I will forever be thankful for this incredible experience and his graciousness.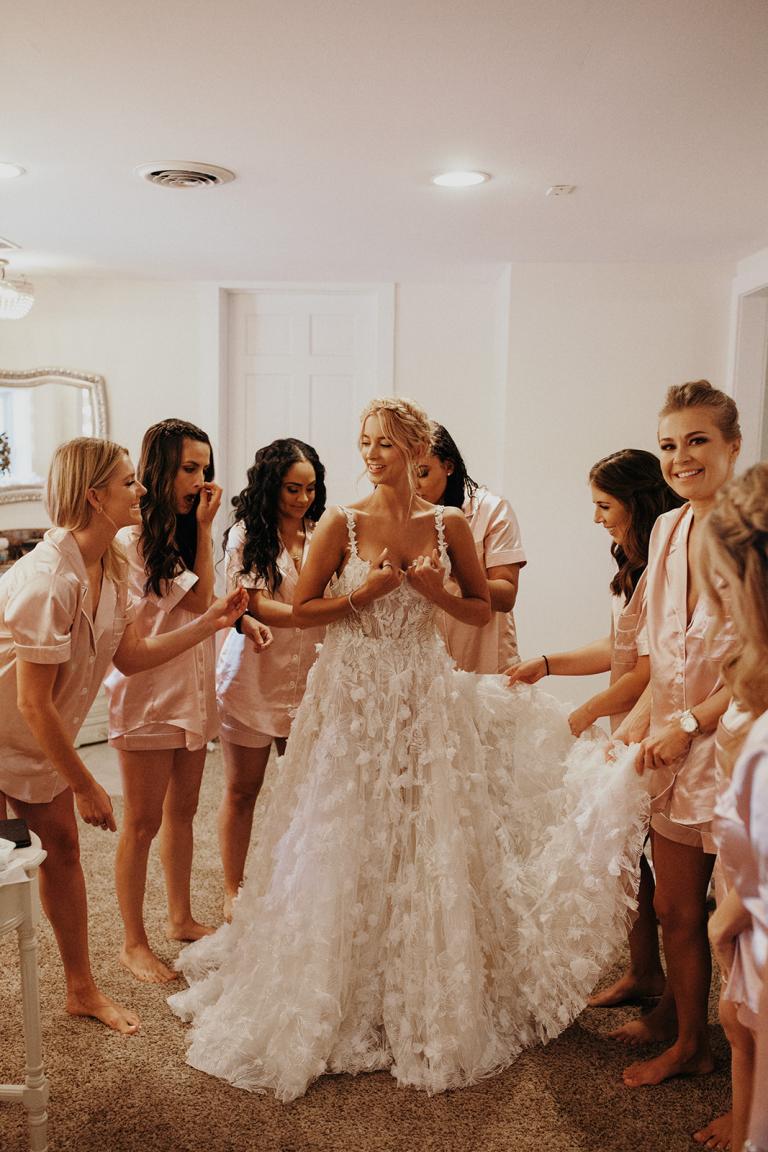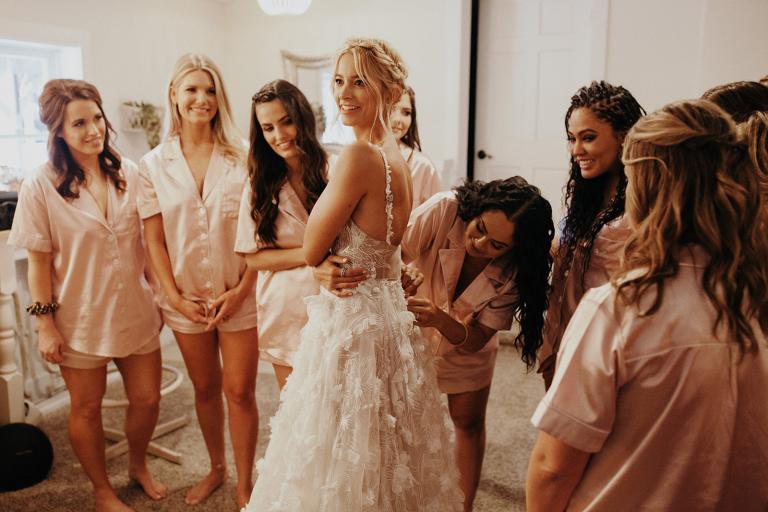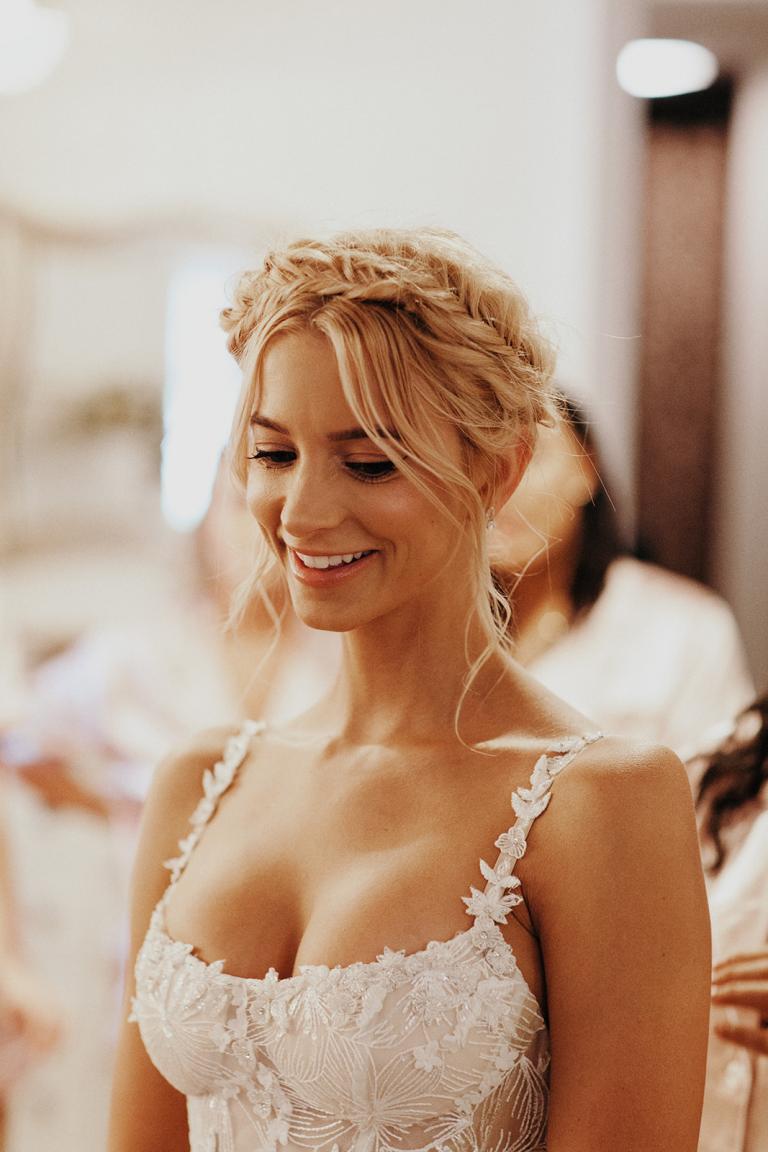 What was the most important thing for you and your husband when planning your wedding?

Music is so important to us. Nobody wants to go to a wedding and listen to the same music at every wedding. We wanted everything from the music, to the vibe, to even the food to completely represent us as a couple. So many couples get wrapped up in making sure everyone else is happy. But, it is literally the one night of your life that you get to be completely selfish as a couple, and your family and friends are forced to cheer you on regardless, so embrace that!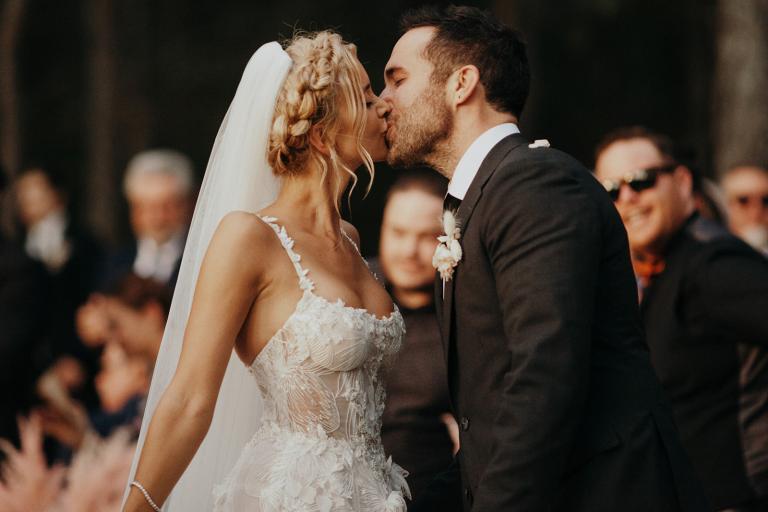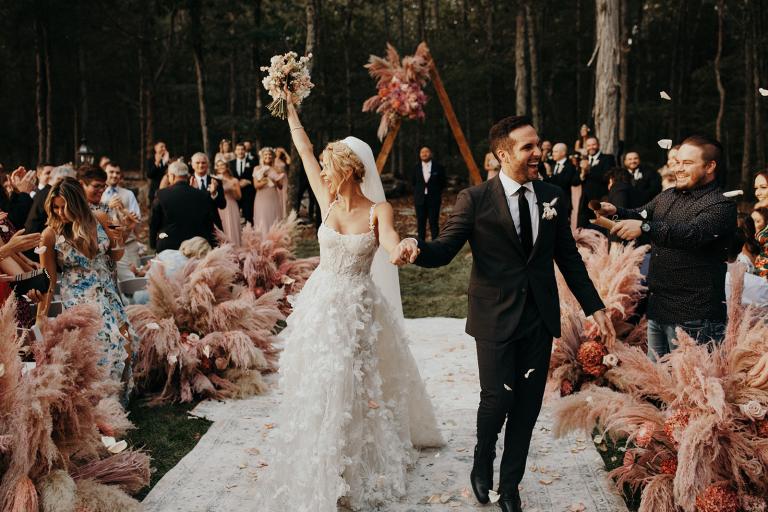 What was your first wedding song?

Our song is Coldplay "Yellow". We specifically said "I Love You" for the first time at Bonnaroo during a Chainsmokers set when they played a remix of the song. It was slow, ambient, and epic. Thousands and Thousands of phones came up and lit up the sky and it was this perfect moment. So, we tried to recreate it at our wedding. Tyler somehow found that remix from the original producer, and we danced under the stars, and about 50 hanging Edison bulbs outside. The version starts slow and ends in a full energetic moment. Our friend and dance choreographer, Joy Spears, worked with us to make the 3-minute dance one that we could never forget.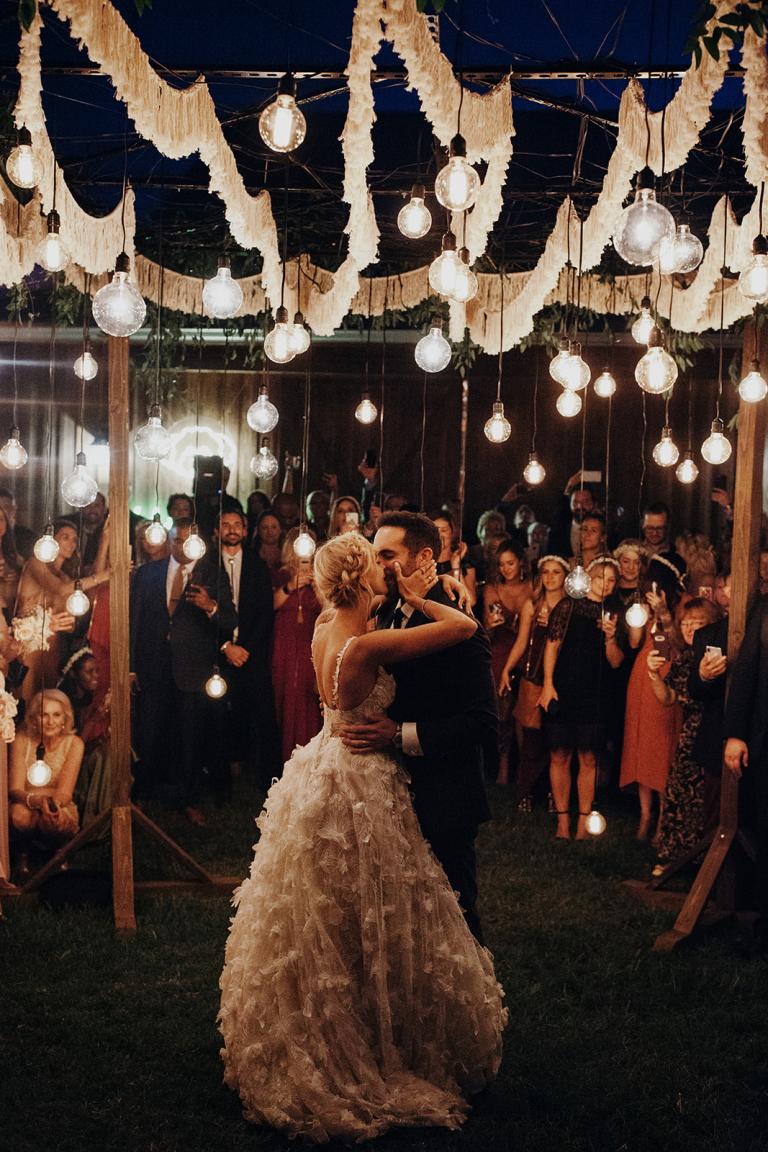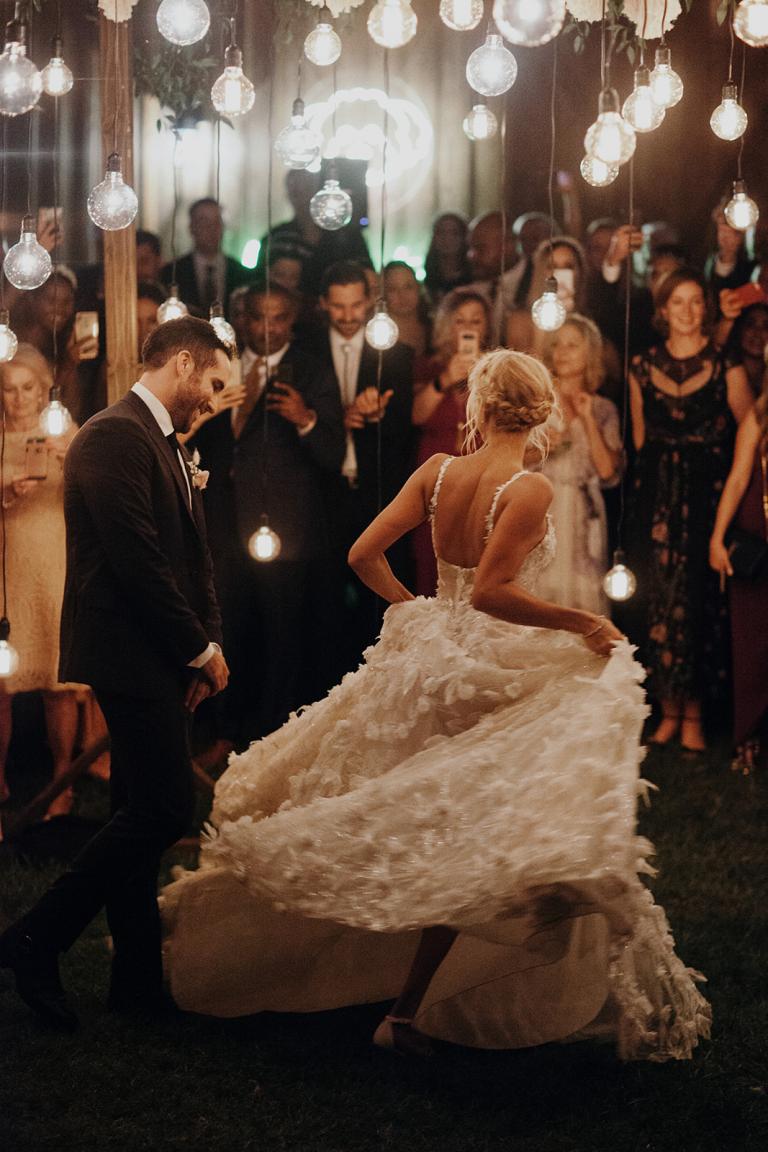 What did you enjoy the most about planning your wedding?

Just watching everything fall into place. It's crazy to have so many ideas and be so stressed trying to put them all together, and then watching it come to life. The day dates doing simple things like picking out plates, and couches for the cocktail area, all of it, is moments we all wish we could go back and live all over again.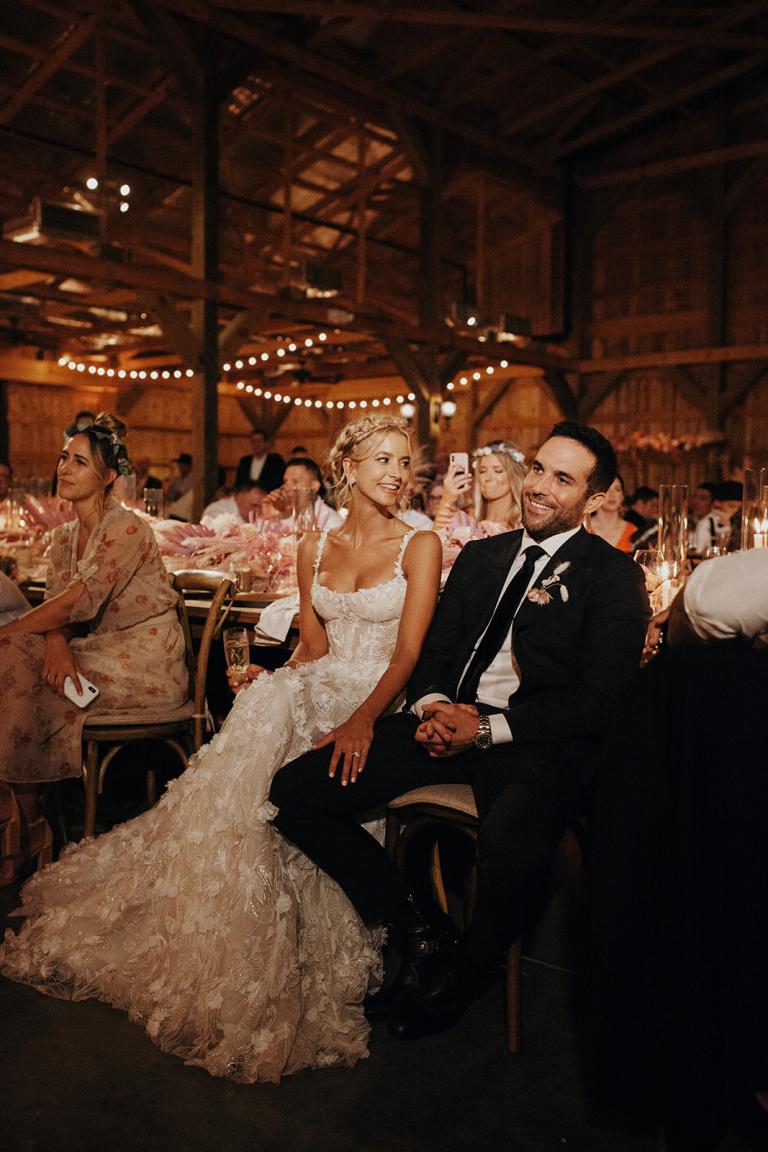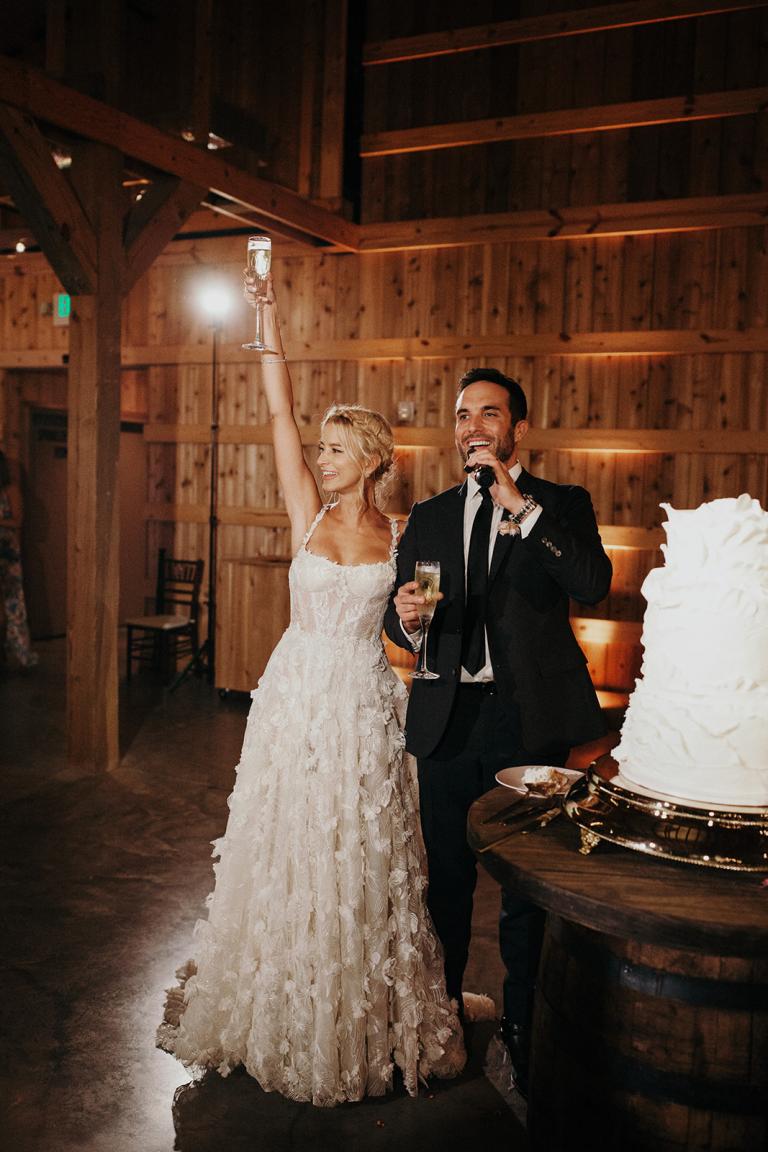 What advice would you give to all our future brides?

Time and time again everyone reminded us to take moments throughout our day, and be present with each other. We have a very hard time slowing down, and we're always trying to make everyone else happy before ourselves. Those reminders were crucial when we started to feel overwhelmed and pulled in a million different directions.

Another tip I am so thankful that we listened to, was allowing ourselves to be persuaded into a first look. We were completely against the idea, but I am so happy that we were convinced otherwise. That sweet private moment being together was more special than I could have ever imagined.

And lastly, I had a hard time with this one. But, not everything is going to go according to plan, and that's ok. Nobody knows that the song didn't start at the right time, or that one of the bridesmaids forgot their shoes. What every single person at the wedding feeds off of, is the bride and groom's energy. If you're living it up on the dance floor, everyone will be by your side too.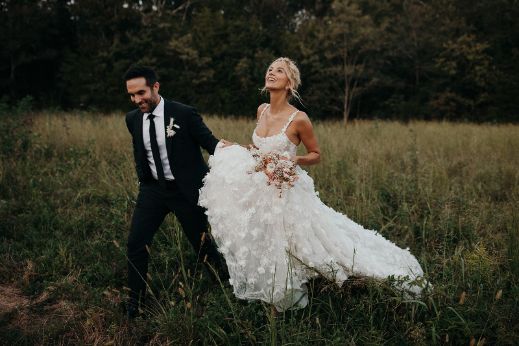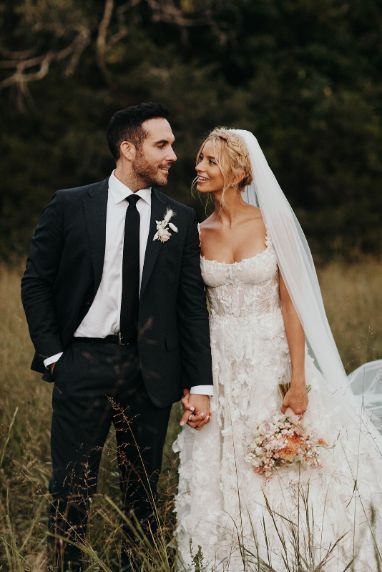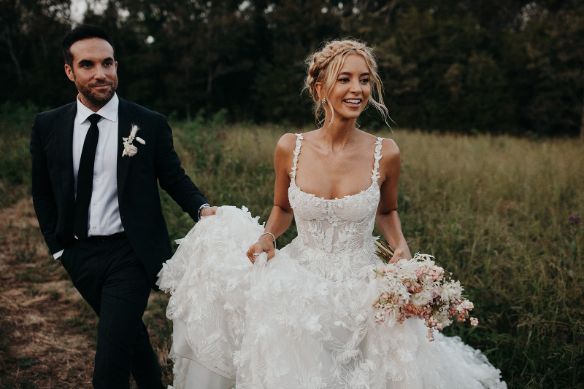 What moment from your wedding will you never forget?

I lost my little best friend (my doggy), Charlee, just a couple of months before our wedding. I had him for 11 years. He was supposed to walk down the aisle with Abby, Tyler's 14 years old husky. But, he sadly passed shortly before our big day. Tyler planned a couple of surprises. He put a picture of Charlee around Abby's neck for when she walked down the aisle. And, in our first dance area, Tyler had a surprise giant neon sign made of Charlee's face and the words "Look At The Stars" right under it. The first lyrics of our first dance to "Yellow", and also a notion to look up at the stars to see my boy watching us. Nothing more special than that. 
Finish your registration for {City} Trunk Show