FREE SHIPPING & RETURNS WORLDWIDE!

DUTIES & TAXES COVERED WORLDWIDE
Find your nearest boutique
Our #GLBride of the week is the gorgeous Ronké Marie Essien, who said her forever nuptials in our Gia and celebrated in our Alexandra. The couple decided to say 'I Do' at the Julia Thompson Smith Chapel at Agnes Scott College and hold their opulent 'Diner en Noir' themed reception at Ronké's favorite restaurant, STK Steak. In the following interview, Ronké shares her favorite wedding details, moments, and how she decided on not one but two GL gowns. As told by Ronké:


How did you meet your husband? Tell us a little bit about your relationship.

I met him at a popular bar hanging out with my girlfriend one evening. He was with a friend of his. He said when they walked in and saw us, his friend told him to talk to the "mean one" – me. Ironically, he was born on the exact day my parents were married. This August 16th would have been my parents' 50th wedding anniversary. My husband will turn 50 that day.
How did he propose?

He made a video by my dad's bedside asking his permission to marry me. My father was ill and unable to speak and my mother was his caregiver for 15 years. My husband used to go by the house to read to him when we were dating.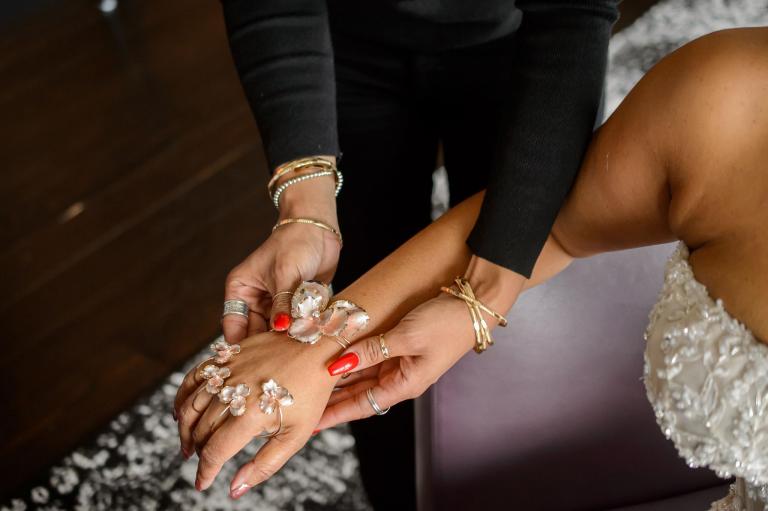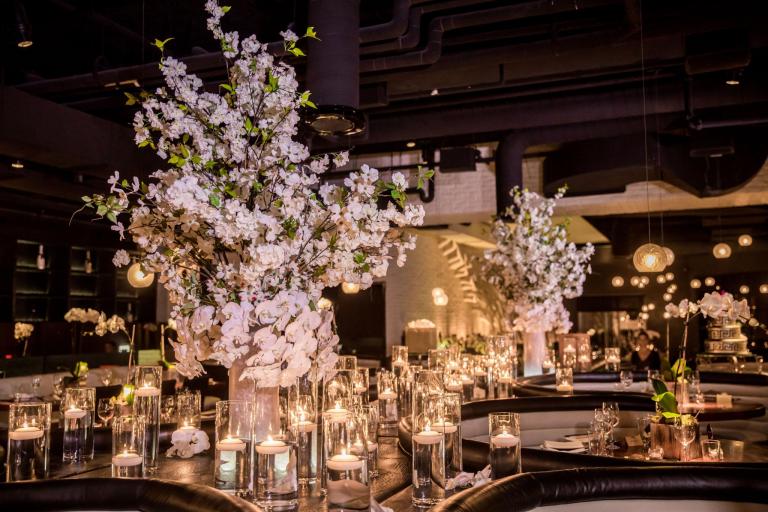 How did you start planning your wedding?

I got engaged in October 2016 in the middle of a full renovation of our home. I had no wedding date in mind because I decided if we could survive the renovation we could do anything. A year later I found the dress.  I went to the boutique by myself because I didn't want any pressure. After my reaction, I wanted to make sure  I wasn't just overwhelmed by the experience so I did not purchase that day. I flew back to ATL to ponder my decision. I then became ill and had a terrible car accident totaling my father's favorite car. My father passed the week of Christmas and we had a memorial service at the end of January. Once I had a moment to breathe, around March I woke up one day and decided it was time to plan my wedding. We got married in November.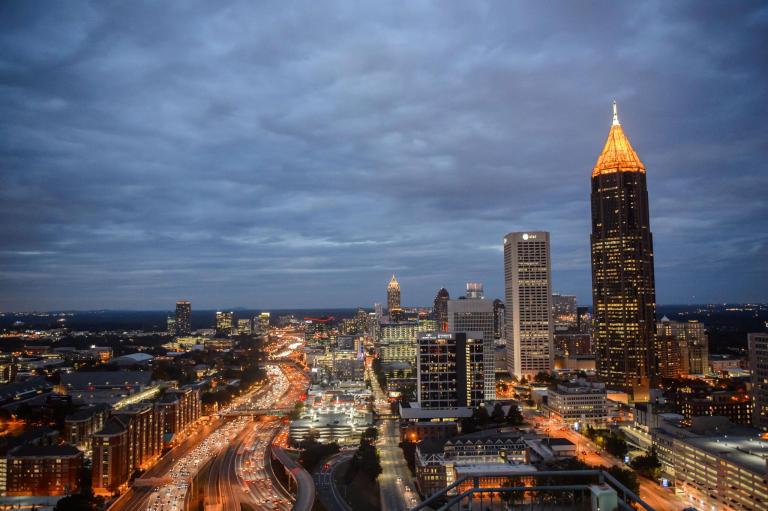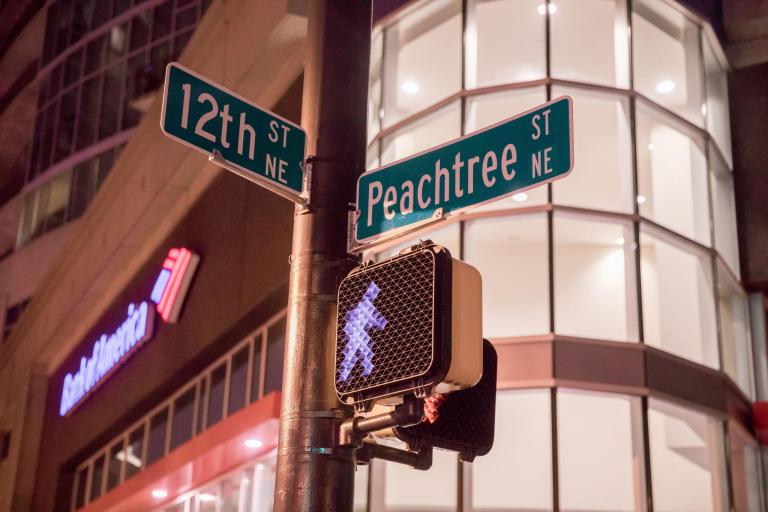 What were the first steps?

Picking a location and a date. I knew I wanted to get married that year because I had pushed the wedding off long enough. I wanted to get married in the fall/winter. We're die-hard football fans so I had to be strategic so we wouldn't miss any games. I chose the chapel for the ceremony which was going to be very traditional, but I wanted the reception to be sexy and modern. My colors were black and white with gold as an accent. I wanted all my guests to wear black and the theme of the reception was "Diner en Noir" so I chose STK Steak restaurant and negotiated to close down the restaurant for my reception. It was perfect. I knew I wanted phalaenopsis orchids to be the flower de jour and I started designing my save the date card around the orchid and everything evolved from there.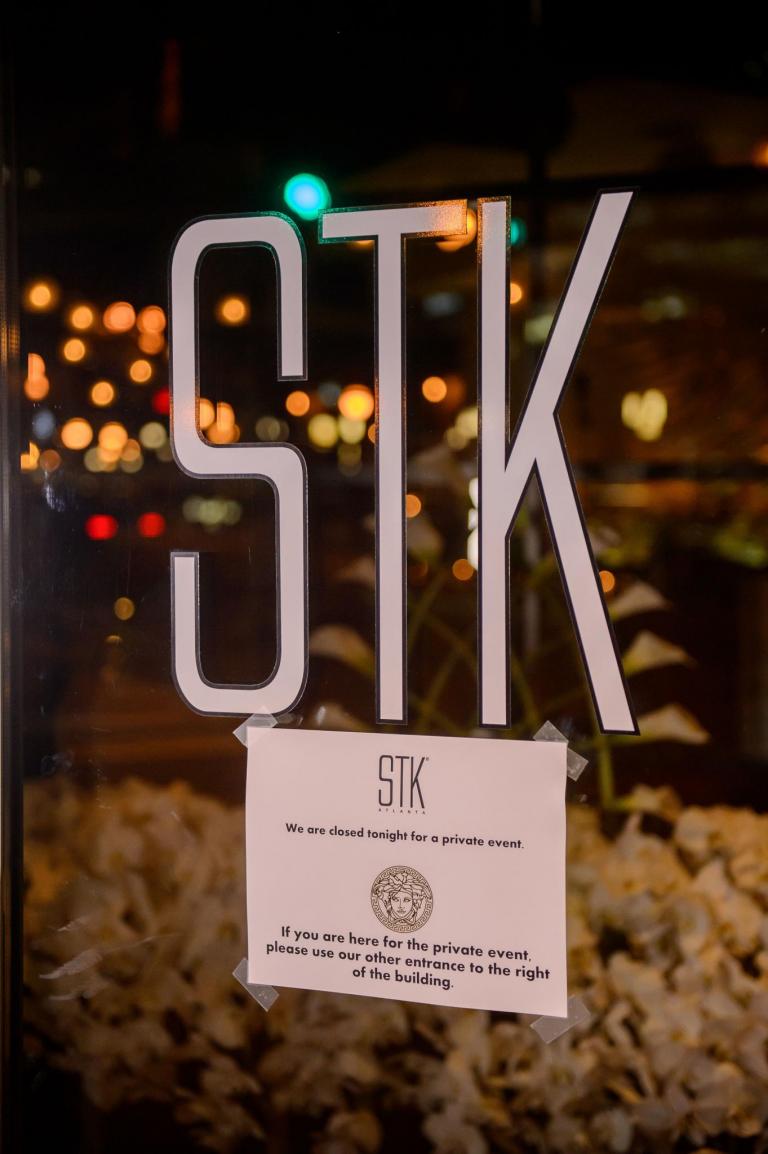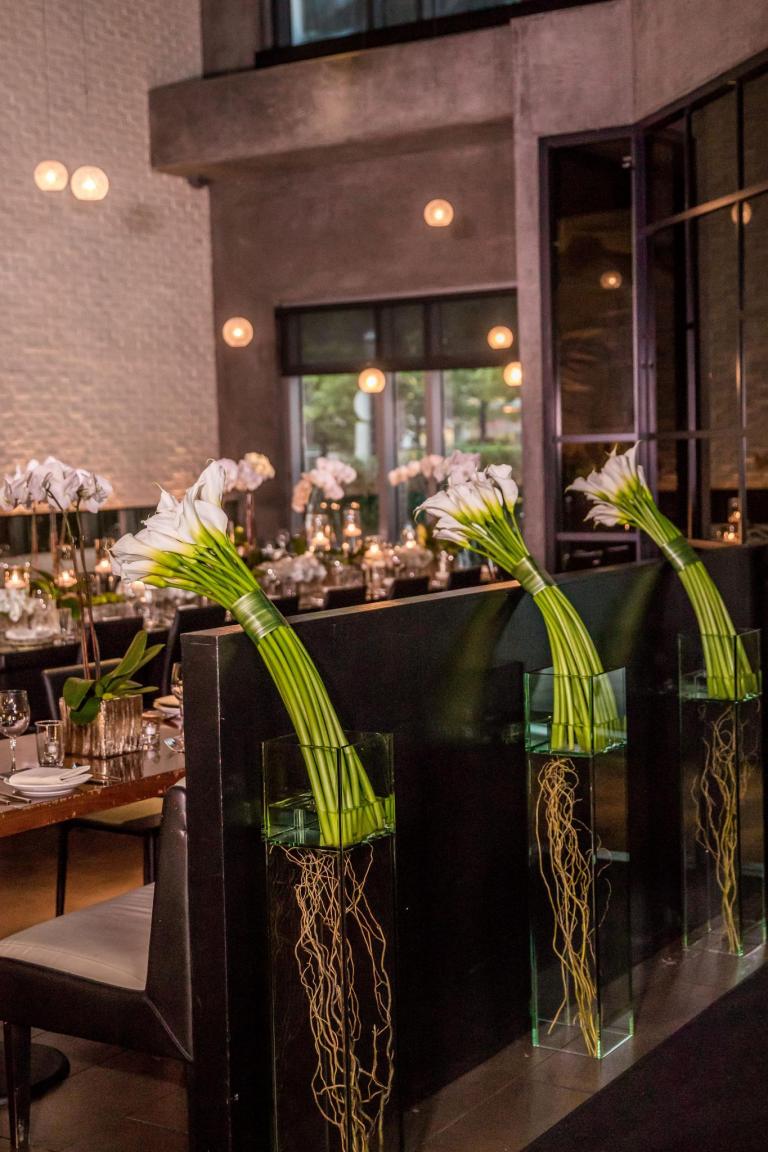 Did you do any beauty or fitness prep for your big day?

 I went on the HCG diet and lost 20 pounds. I ran in the neighborhood every day and worked in some stretching and light toning at home during the week.
What was your wedding theme?

Black, Versace, and orchids.
How did you choose your location?

I wanted to get married in a small chapel in the Ozarks that was an architectural dream. But after coming back to reality, I decided to get married in the chapel where my father's memorial service was held (The Julia Thompson Smith Chapel at Agnes Scott College). It was perfect.
How did you decide on your bridesmaid style?

There was no wedding party.  I am an older bride and I wanted my guests to enjoy themselves and celebrate our day.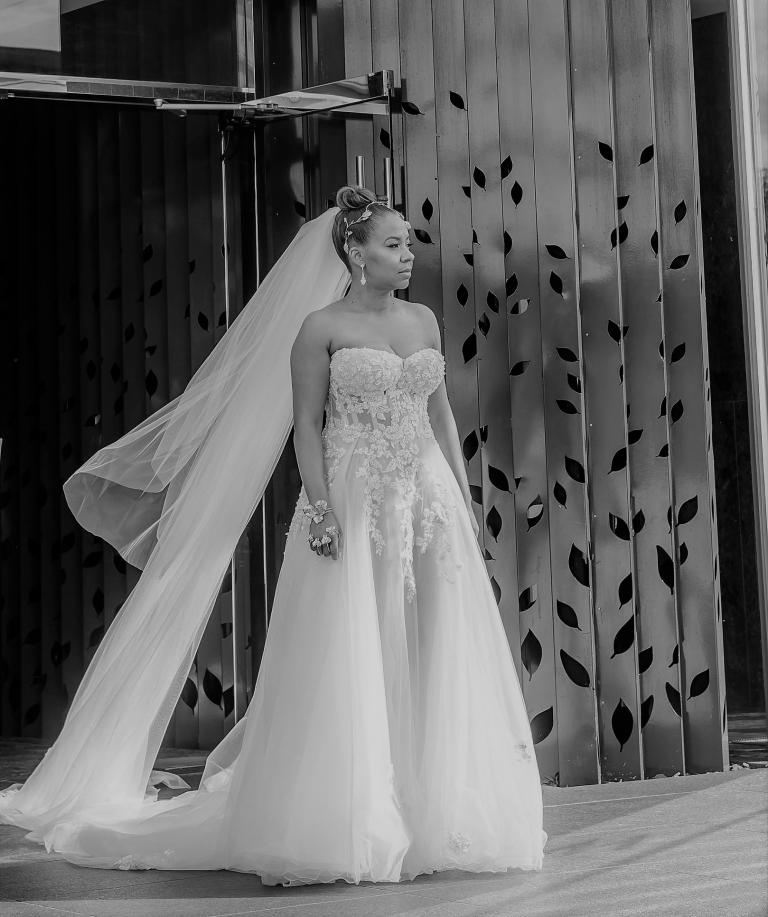 How did you find your perfect dress?

I never expected to find my dress in Atlanta, so I sat down at the computer one day. I don't remember what I typed in the search bar, but Galia Lahav came up in the findings. I was not familiar with the brand but I remember going through the website and thinking these were the most elegant and detailed gowns. However, I am short and busty, and I always joke that I'm shaped like a coke can and not a coke bottle so I said these dresses were not made for me. But my alter ego is about 5'9" and can wear anything.

I saw that the only flagship boutique in the US at the time was in LA, and I was going to visit my aunt who lives in PV, so I decided to make an appointment to see if I could actually pull off one of the GL creations. I tried on 3 dresses, the 3rd being GIA. I always imagined I would wear something fit and flare, no lace, very architectural. GIA was none of those things but for some reason, I kept staring at it in the boutique. I tried it on just to prove it was a ridiculous option. There was no mirror in the dressing room.

When I came out to stand on the riser the stylist asked if I would like some water and she went to get it. When I stepped up on the riser and turned around in the mirror I completely involuntarily started crying. I had no idea what was happening, that is not characteristic of me at all. I used to watch say yes to the dress and always thought that would never happen to me. But I can testify it is true. When the stylist came back and saw my ugly cry, she said, "Oh my goodness what happened?"  I told her I have no idea but I love this dress.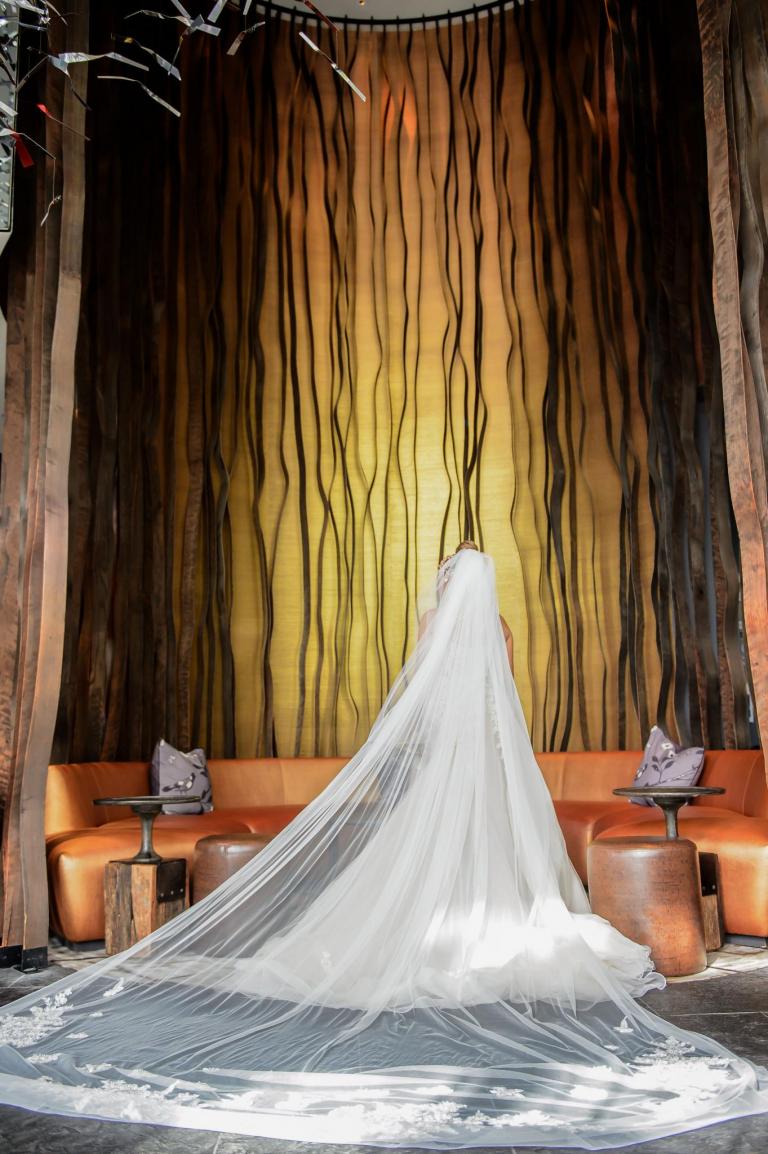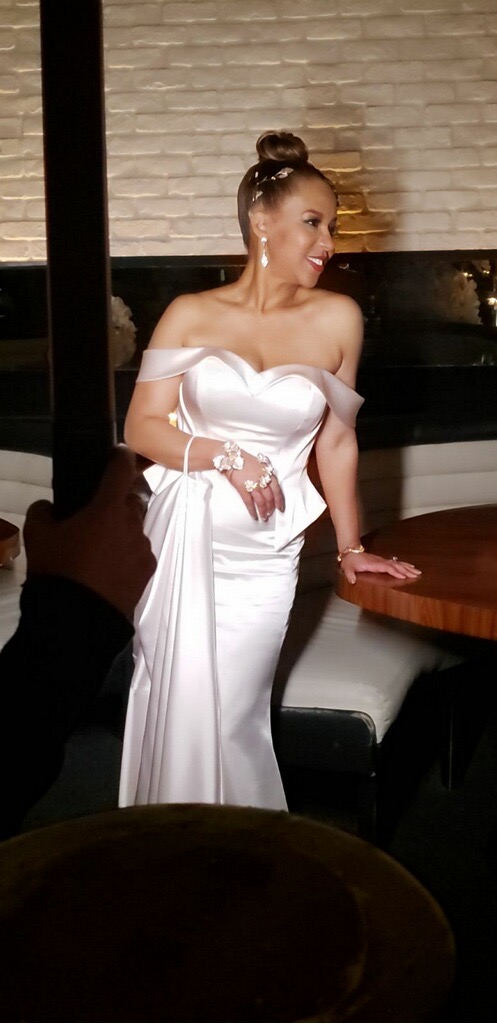 What was the most important thing for you and your husband when planning your wedding?

That I had what I wanted. This was my first and last wedding so it had to be as I imagined.
What was your first wedding song?

Reception intro "Paid the Cost to Be the Boss" James Brown,  First dance "Lady in My Life" Michael Jackson.
What did you enjoy the most about planning your wedding?

 I designed and sourced every aspect of my wedding. I did not have a planner.
What advice would you give to all our future brides?

Do exactly what you want to do. Do not plan your wedding for anyone else. It's your day and it comes 1 time. Have no regrets!
What moment from your wedding will you never forget?

I hired a choir to sing my husband's favorite hymn while we took communion during the ceremony. He cried and I had to hold him by the arm to keep him from breaking down. He nor my guests had any idea that there was a choir in the chapel. One of my guests said she thought it sounded like angels and she couldn't figure out where the sound was coming from until she turned around and saw the choir standing on the balcony behind everyone. 
Finish your registration for {City} Trunk Show