FREE SHIPPING & RETURNS WORLDWIDE!

DUTIES & TAXES COVERED WORLDWIDE
Find your nearest boutique
Our GL Bride of the week is the beautiful Natalie Pack, who wore our Tony gown. Natalie married her fiancé Aaron O'Connell in Italy last summer at the charming Villa Erba. In the following interview, Natalie shares with us the moment she knew our Tony gown was the one, and how she planned her dream wedding by Lake Como. As told by Natalie:
How did you meet your husband? Tell us a little bit about your relationship.

Five years ago I was briefly introduced to Aaron by a mutual friend during a Thirst Project Charity event. One year later, while I was in South Africa with the charity, that same friend reconnected us. Since our first date in Santa Monica, a few days after I arrived back to Los Angeles, we've been "inseparable" in the sense that we love to share every moment together whether we're physically together or not. Aaron's an actor and I'm a model, so we travel quite a bit for work and are SUPER thankful for FaceTime! But when we are home together, we love spending time with our 4-year-old Vizsla Fig, who fills our days with outdoor adventures like hiking and days at the beach.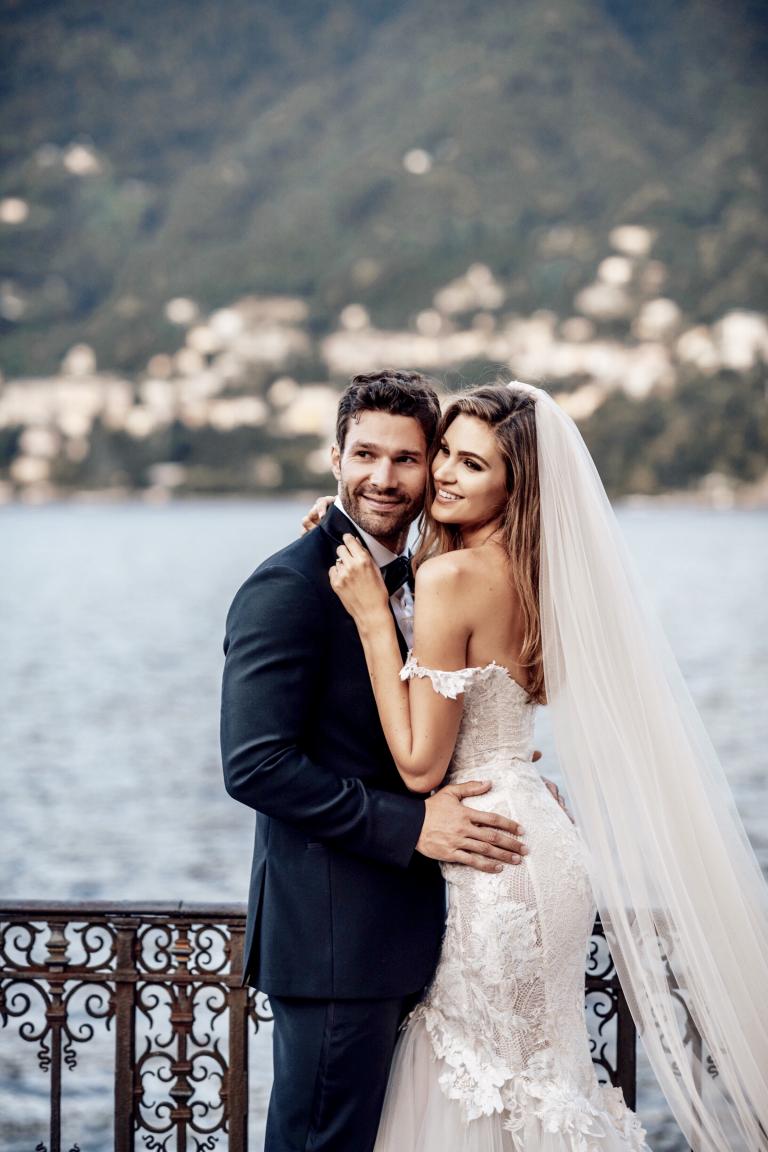 How did you he propose?

Aaron had planned this huge surprise for me in the Bahamas by telling me we were going there for a photoshoot our good friend had asked us to be in. I jumped on the opportunity because what's better than shooting with your best friend in the Bahamas?! Well, I guess, a surprise proposal with all of my friends and family and an awesome photographer that captured every moment took the cake!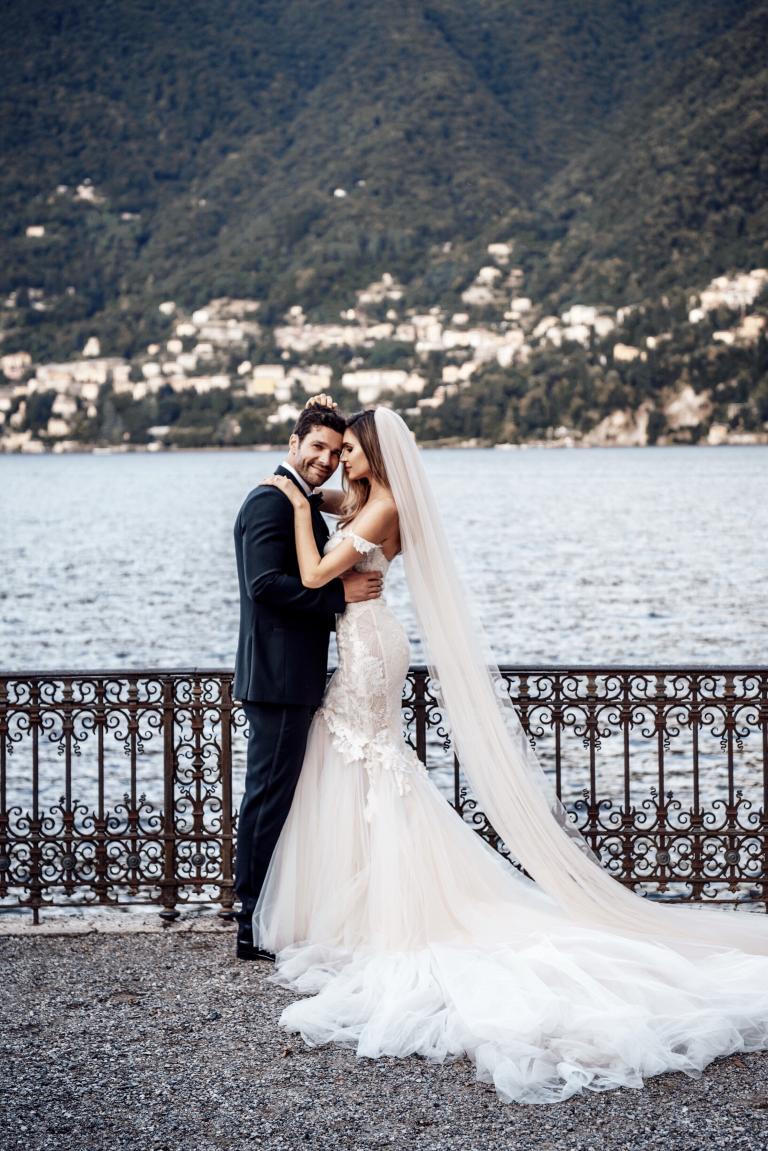 How did you find your perfect dress? And how did you decide to buy it?

As soon as we were engaged I started following a bunch of different bridal designers on Instagram. I thought that if I bombarded myself with all of these different dresses on social media, that one designer would stand out as the designer for me! It became so clear that Galia Lahav was exactly the style I wanted in a wedding dress.

I gathered up my mom and bridesmaids and we made an appointment for the trunk show at the La Brea location in West Hollywood. I tried on only 2 dresses, which I was torn between until a girlfriend snapped a photo from behind of the 2nd dress with the train flowing behind me like a scene out of a fairytale and that sealed the deal!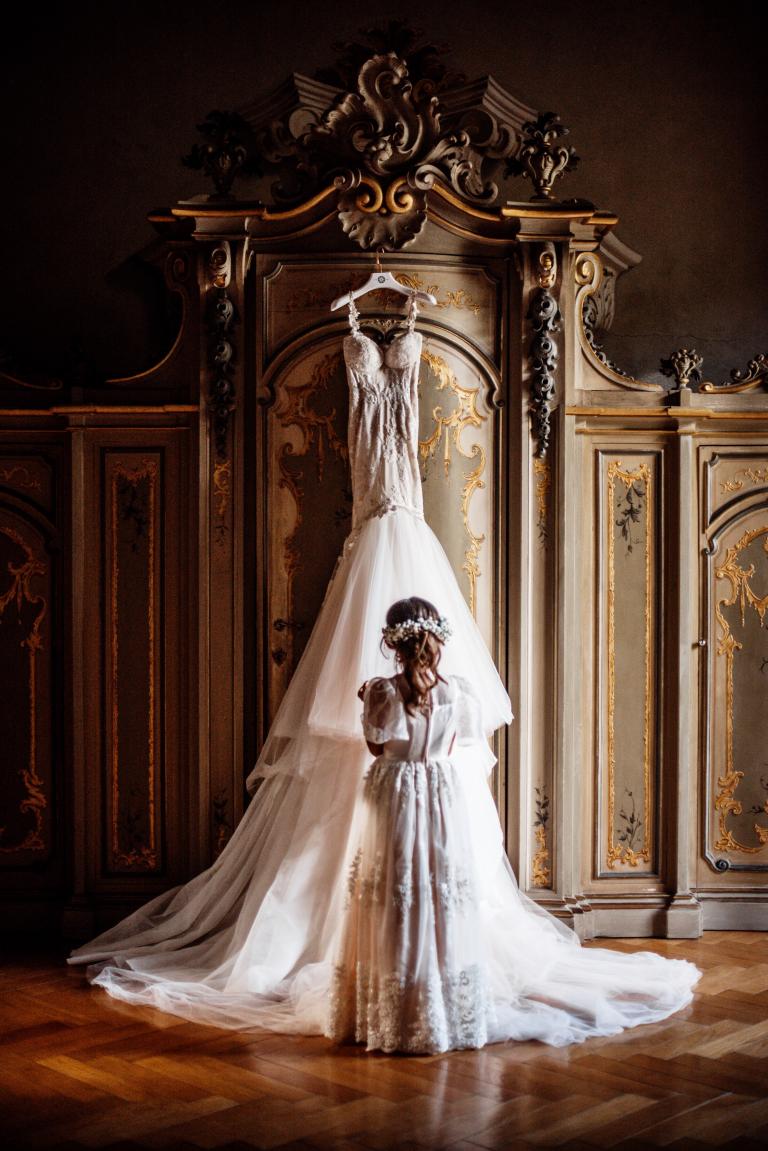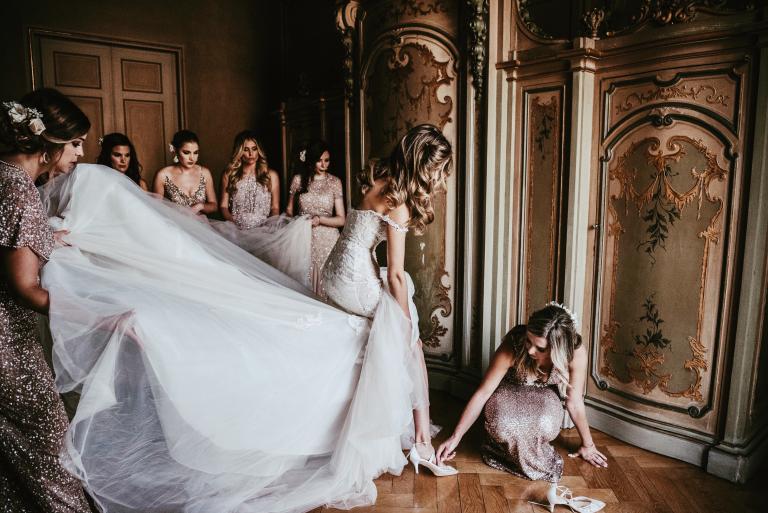 Where was your wedding?

We decided on a Villa on the shore of Lake Como. I had walked in a fashion show at Villa Erba the previous summer and was enchanted by its beauty and old-world charm, and thought to myself after the show when I get married it would be a dream come true to have it here.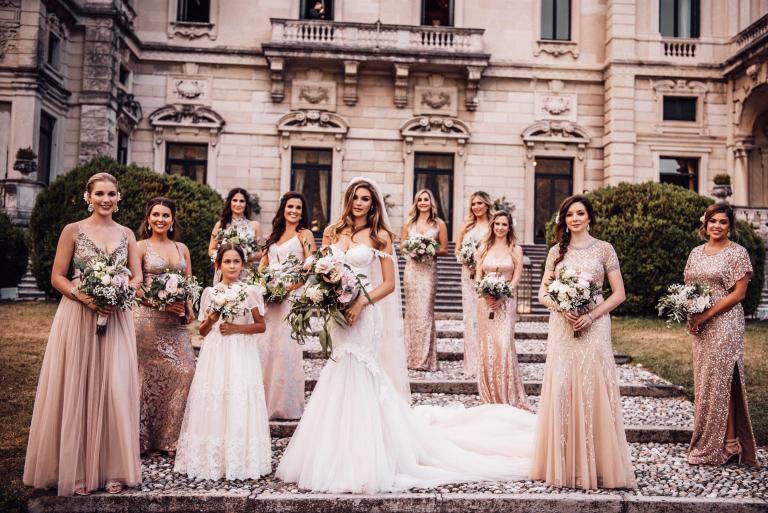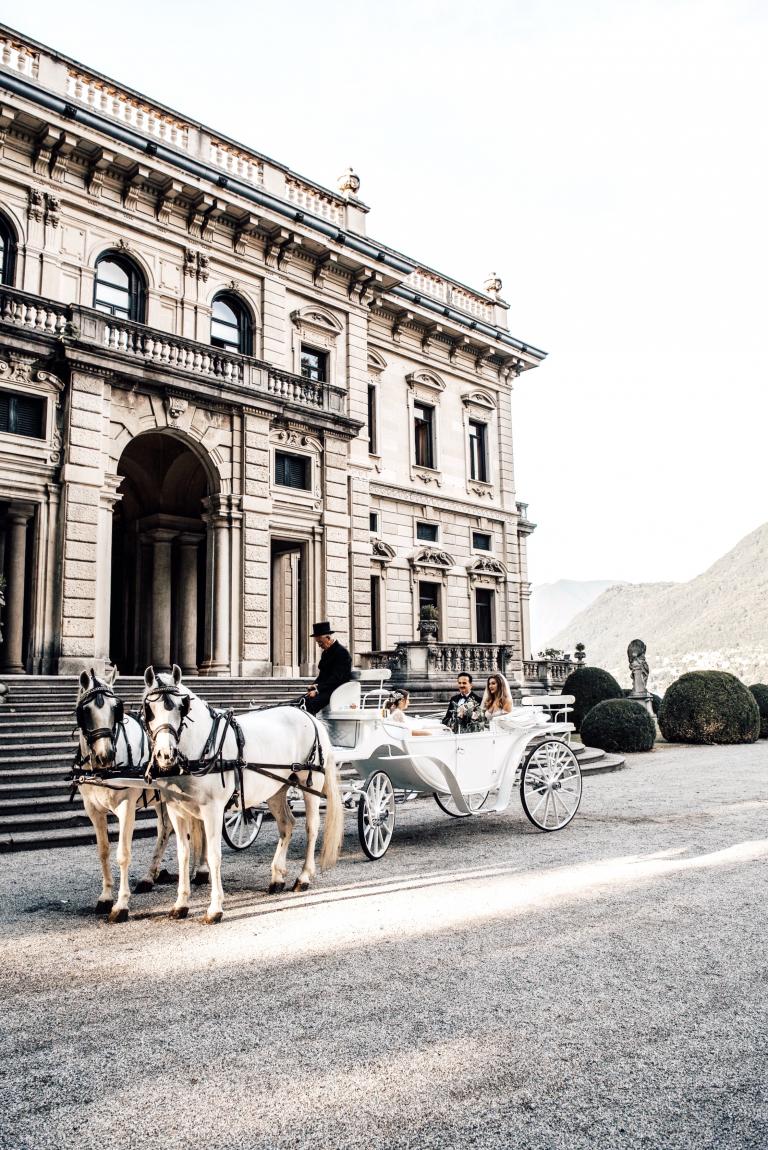 What was the theme? Did it require special planning? Share with us.

Our theme was "Perfectly Imperfect". I told my wedding planner, Tony Conway of Legendary Events, that I didn't want to let myself feel stressed over all the details during the wedding planning process. I just wanted to take in and enjoy such an amazing time in our lives. I didn't need the flowers to be perfect—in fact, I wanted everything to look natural and slightly messy like you walked into a beautiful overgrown escape for the summer. I didn't need my bridesmaids to be matching—I let them all pick their own dresses so everyone was comfortable. I didn't need anybody to rehearse what was being said at the ceremony because I wanted it to come from the heart. It was perfectly, imperfect.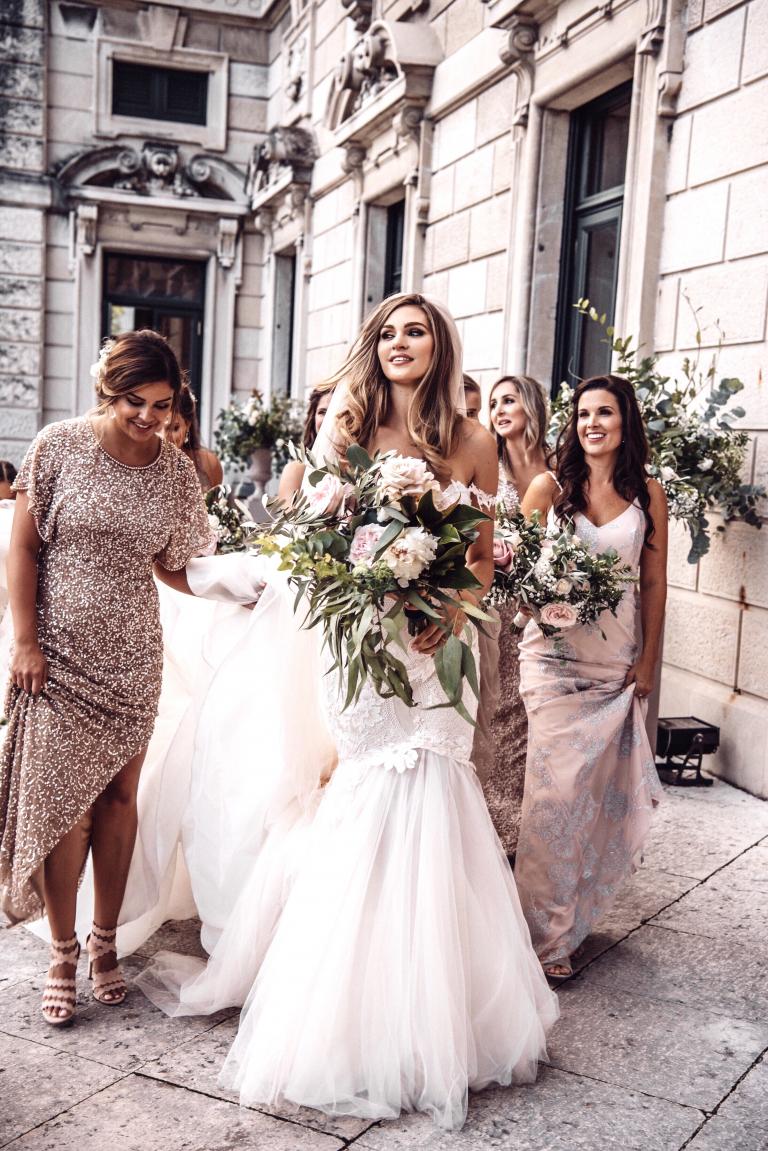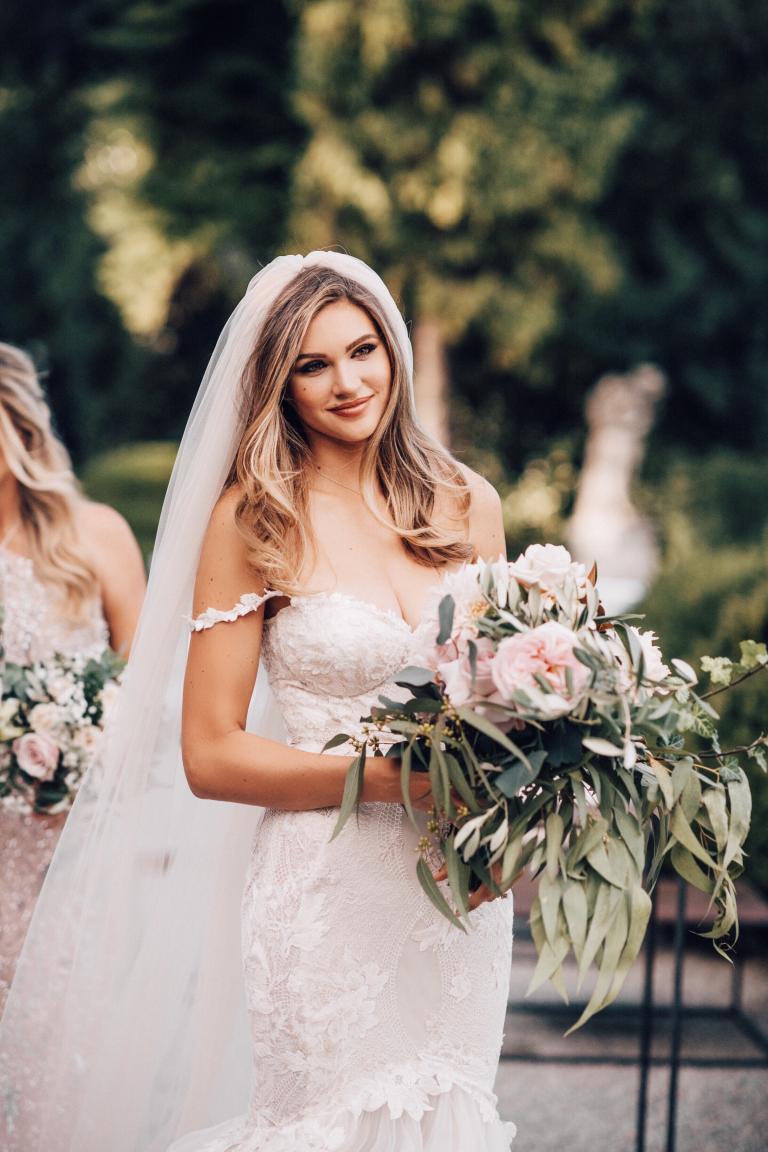 Which was your favorite part?

Right as Aaron and I were about to start our first dance, a dance we spent many lessons learning as none of us had any dancing ability, a friend of ours surprised us with a live performance of our song "Can't Help Falling in Love" sung by the artist herself, and one of my absolute favorite singers, Haley Reinhart. It was such a jaw-dropping surprise and can't help but to smile every time I think of it.
How was your experience with the Galia Lahav brand?

Galia Lahav did a great job keeping me informed about the status of my dress and when I could expect it to be ready. They also did many alterations like changing out the cups in the dress so that it fit me better, or making some of the appliqués smaller in areas that were standing out too much. They also spent over an hour with me teaching my mom how to bustle my massive train. It was a huge help!
Where did you purchase the dress?
What did you enjoy the most about planning your wedding?

Every part of it. It consumed my life in such a fulfilling way. I would get so excited thinking about seeing all of our friends and family together in Italy! Many of our guests had never left the US, so watching them experience Italy for the first time was a huge joy for Aaron and me.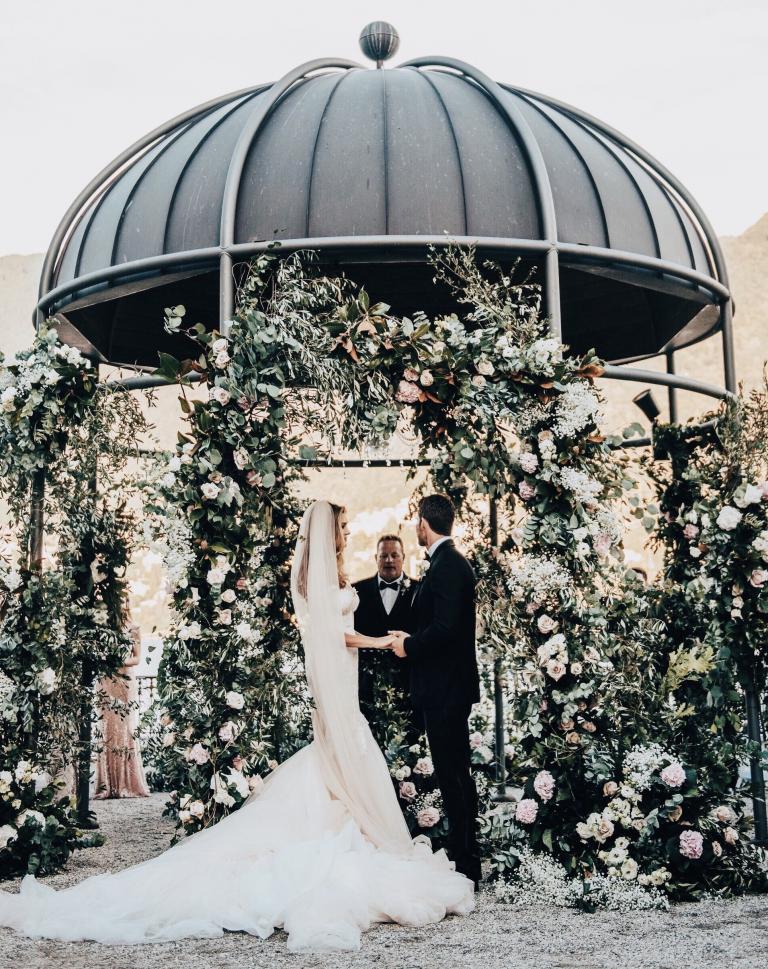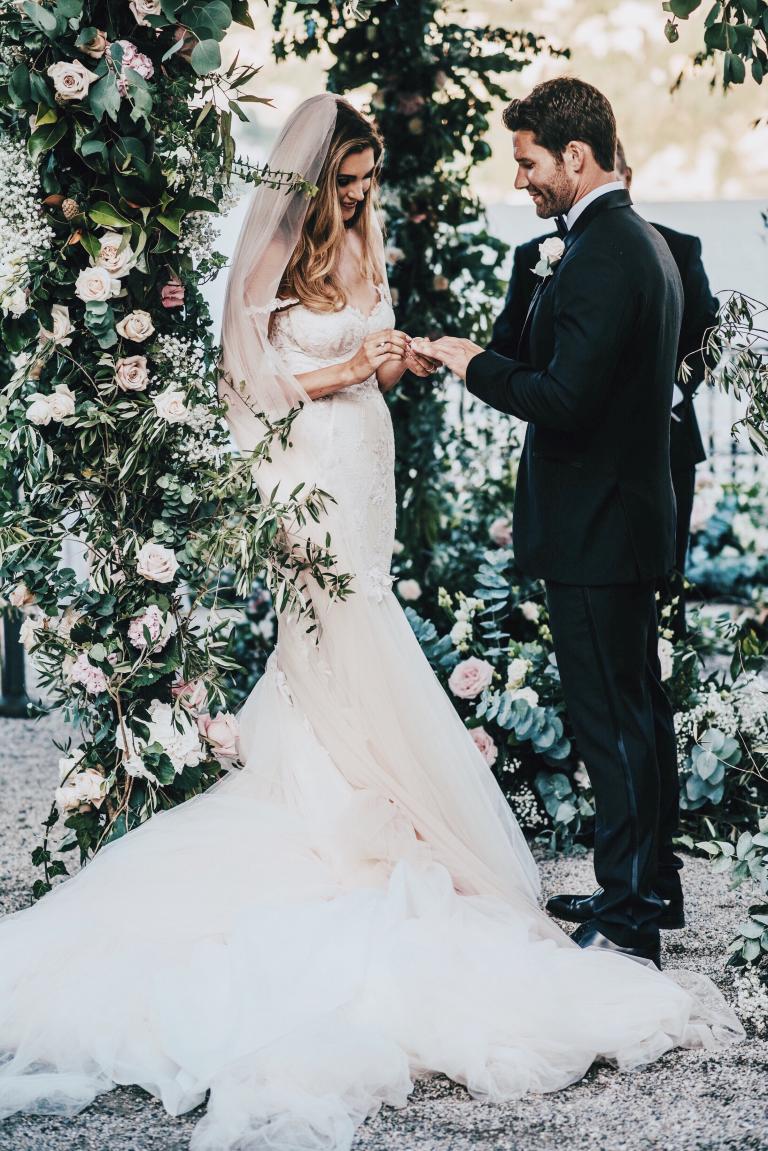 What advice would you give to all our future GL brides?

To slow down and not sweat the small stuff. I had hired a designer to make me 3 custom outfits for my wedding weekend for all the events we had planned and he procrastinated on making the outfits for me. He promised I would have them mailed to me the day I arrived in Lake Como and it turns out they never arrived and it was all just a lie! I was left with nothing to wear, so I opened up my honeymoon suitcase and picked out the best I could and just took a deep breath in and LET IT GO. As mad as I was at this guy when I returned home after my honeymoon, I would not let him ruin my wedding weekend. Plus nobody cared what I was wearing — it wasn't about that at all. It was about spending time with my favorite people and feeling so grateful that all of them were there for us.
Was your wedding the way you dreamed it?

It was better than I could have ever imagined.
Finish your registration for {City} Trunk Show