FREE SHIPPING & RETURNS WORLDWIDE!

DUTIES & TAXES COVERED WORLDWIDE
Find your nearest boutique
Our #GLBride of the week is the gorgeous Mica Javier, who said "I Do" to her fiancé JayR in our GALA 1003 gown. The couple tied-the-knot in front of family and friends on the beautiful sandy white shores of Boracay Island. In the following interview, Mica shares with us the wedding moments she will cherish forever and her unique GL experience. As told by Mica: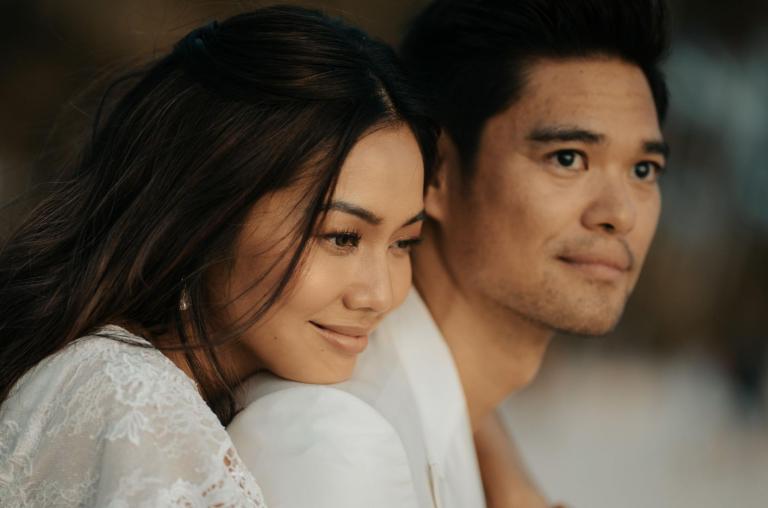 How did you meet your husband? Tell us a little bit about your relationship.

I met my husband JayR at an Apl de Ap (from Black Eyed Peas) fundraiser in Manila. I was a guest of Apl's and JayR was one of the performers — I actually said hi to him first, thinking that I knew him when I realized I didn't know him, he just looked familiar because he was a big R&B star in the Philippines. I had been living in NYC for years prior to that time so I didn't know.

We ended up exchanging info as we were both artists that were keen on working on music together — we collaborated, wrote a duet called "Tonight" which became a hit in the Philippine radio and TV charts, and we got to perform it while opening for JLO during her Dance Again Concert Tour in Manila. This became the beginning of my career in the Philippines, and we ended up supporting each other in everything, falling in love, and the rest is history.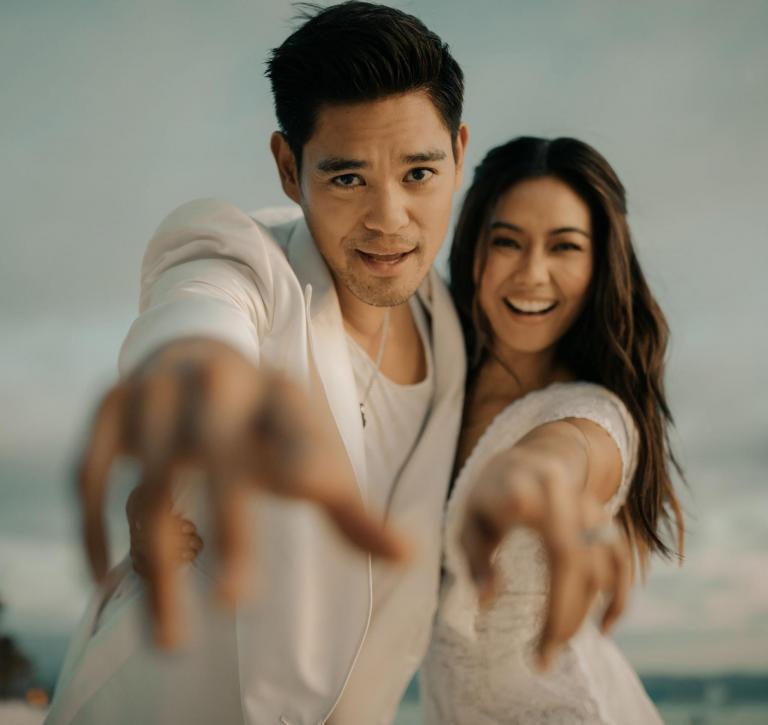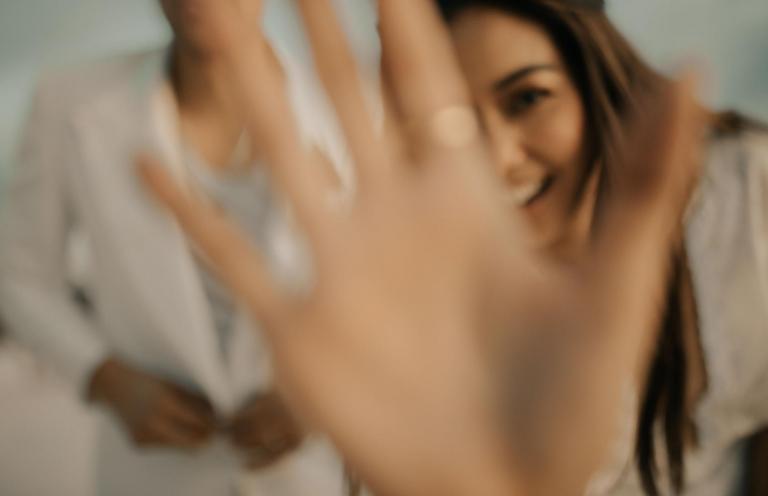 How did he propose?

He set up an actual music video shoot for his song "Habang Buhay" (translated "For Life"), which talks about the different kinds of love we experience in life — parent to child, boyfriend/girlfriend, newlyweds, older couple/grandparents. I was to play a role in the video as the 'girlfriend', and he invited all our closest friends and family to be part of a "performance" scene at the end of the video, which I thought nothing about. Little did I know everyone was in on his plan to surprise me with a proposal that happens during the end scene—I was in complete shock and confusion because I thought it was part of the music video, which, it was, and so was our actual proposal. It was perfect— link to music video here.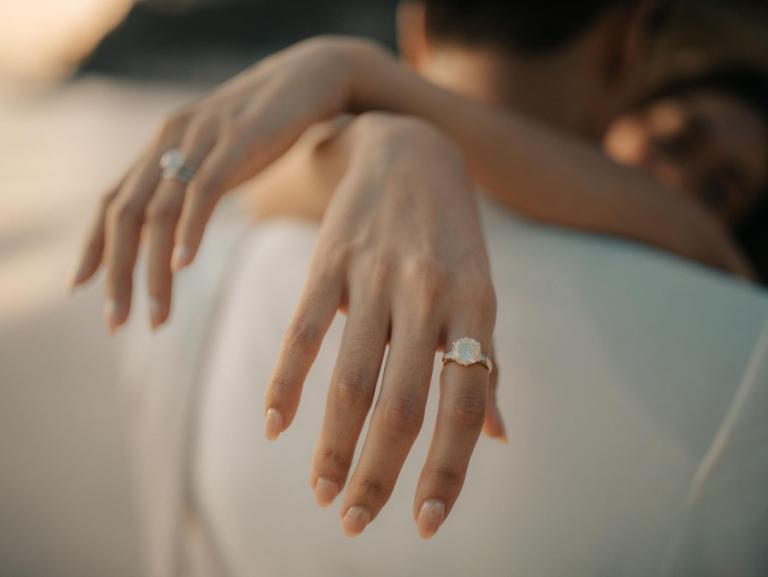 How did you start planning your wedding? What were the first steps?

My first step was to call my wedding planner and dear friend, Amanda Tirol,  she is the queen of wedding planning in Boracay Island, where we wanted to get married, then we booked our wedding venue (@thelindhotels), and then booked our dream photo (@mayadstudios), video (@bobnicolas), event styling suppliers (@teddymanuel).

We decided on those fairly quickly as we already had an idea of what we wanted, but the next big step was to find my wedding dress — Galia Lahav! When I got my dress, every other detail for our wedding, aesthetic, color scheme, decor, etc.,  just fell into place.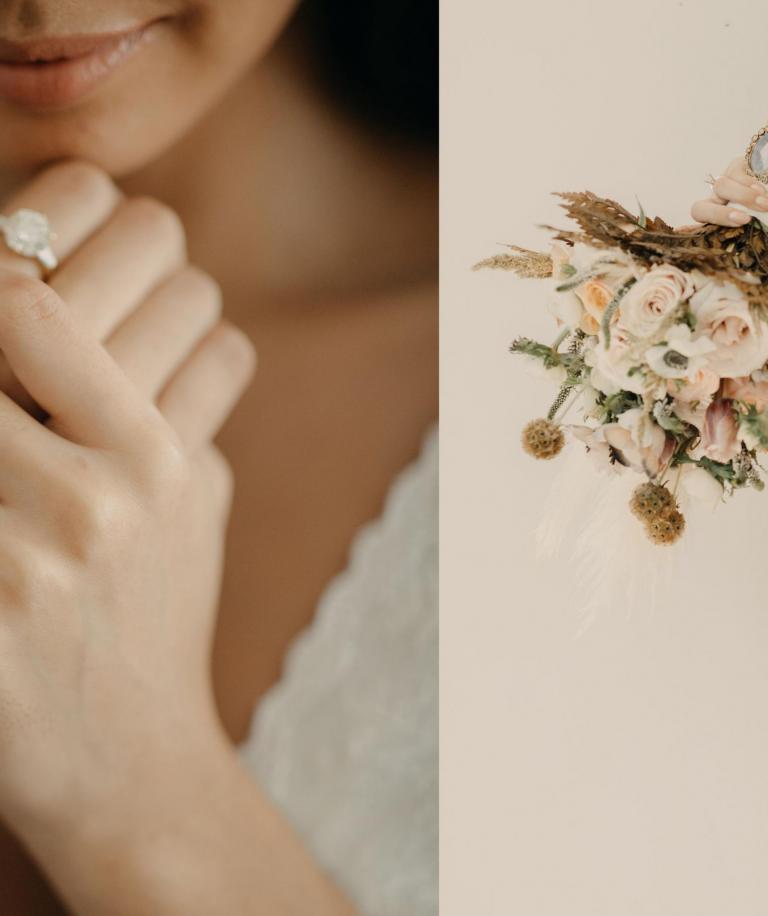 Did you do any beauty or fitness prep for your big day?

I was busy shooting for my TV show, Los Bastardos, the entire year of planning my wedding so that busy schedule really helped in keeping me active and in shape. But three months before my wedding day I decided to get strict with my routine and I put myself on a very clean diet, no carb, no sugar, no junk food and indulgence, and worked out with my trainer three times a week. I would also regularly visit my skincare clinic, (@cathyvalenciaskinclinic) for facials and laser treatments to keep my skin clear, fresh, supple, and glowy for my big day. 
What was your wedding theme?

Our wedding theme was a rustic, earthy, bohemian beach vibe.
How did you choose your location?

Boracay Island has one of the best, most beautiful white sand beaches in the world, and it happens to be a place my family and I frequent, and a place JayR and I would vacation at often when we started dating. It played a role in our love story and we both wanted a non-traditional wedding that fit both of our adventurous, easy-going personalities — Boracay was remote enough yet easy access enough for our nearest and dearest, so we didn't think twice about getting married there! 
How did you decide on your bridesmaid style?

I wanted everyone's personalities to shine through with how they dressed, and I wanted them to feel comfortable in their dresses. I'm not a fan of the one-style-fits-all way of dressing the entourage, so I worked with a local Filipina designer (@aureavinluan) who helped me create the dresses based on each one's style and personality.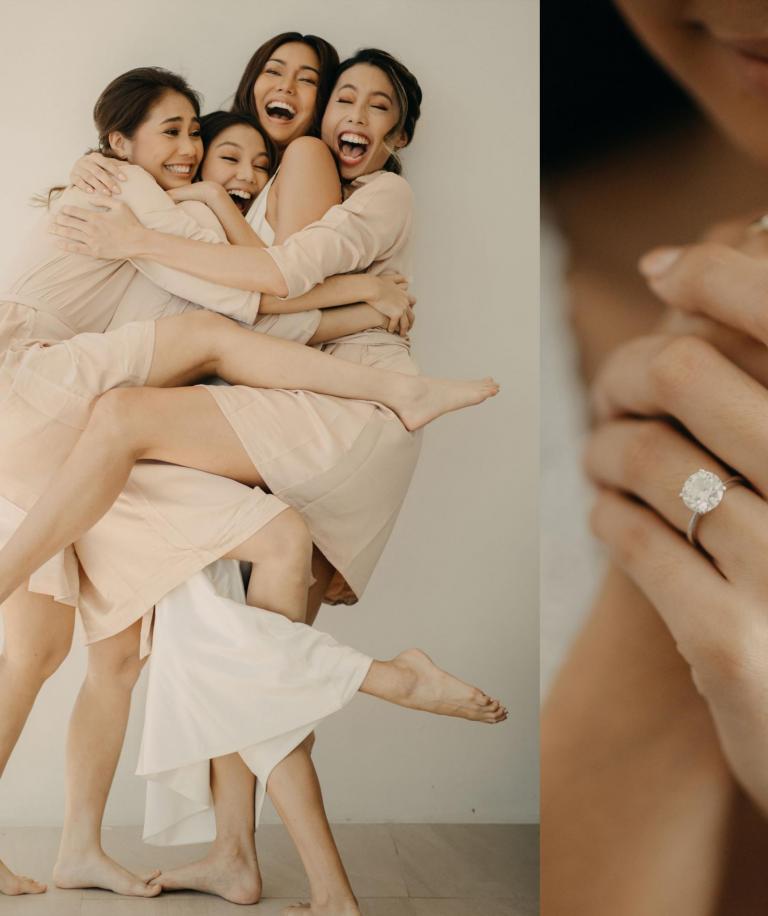 How did you find your perfect dress?

I was on a trip to LA in April 2019, and at the time I hadn't begun my search for my wedding dress yet. I had saved some dress ideas on Pinterest, not realizing most of the designs I saved were Galia Lahav. I found out Galia had just opened their flagship store in LA, so since I was already in town, I popped in for a quick visit, not knowing it was by appointment only.

I rang the bell anyway and was greeted by the amazing Anthony Beltran, who proceeded to welcome me in despite not having an appointment. He asked for what I was looking for, showed me some dresses that I had saved on my phone, and then helped me book a private appointment the next day (urgent because I was leaving back for the Philippines soon after).

When I came back for my appointment, I tried on around 12 dresses from the Gala line—my wedding was going to be by the beach, hot and tropical, so Gala's lighter fabrics suited me best. Once I put on the Gala 1003, I didn't want to take it off, I got emotional (which I never thought would ever happen to me over a dress), and I remember saying to Anthony, "I could walk out of this store right now in this dress and marry my man and be happy."

Anthony was so helpful, he was sincere with his approach, fun, excited, and asked all the right questions to help me find my dress! In fact, when I had already decided on the dress, he told me that it was one of the first ones he pulled out and quickly showed me on a hanger the first day he let me into the store, and I didn't even notice.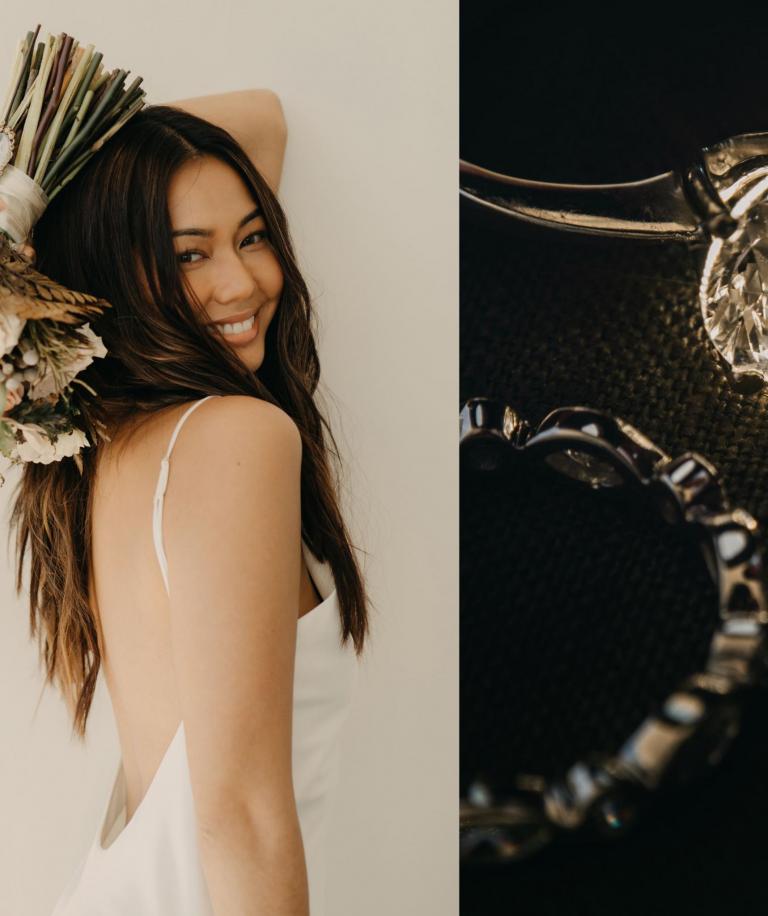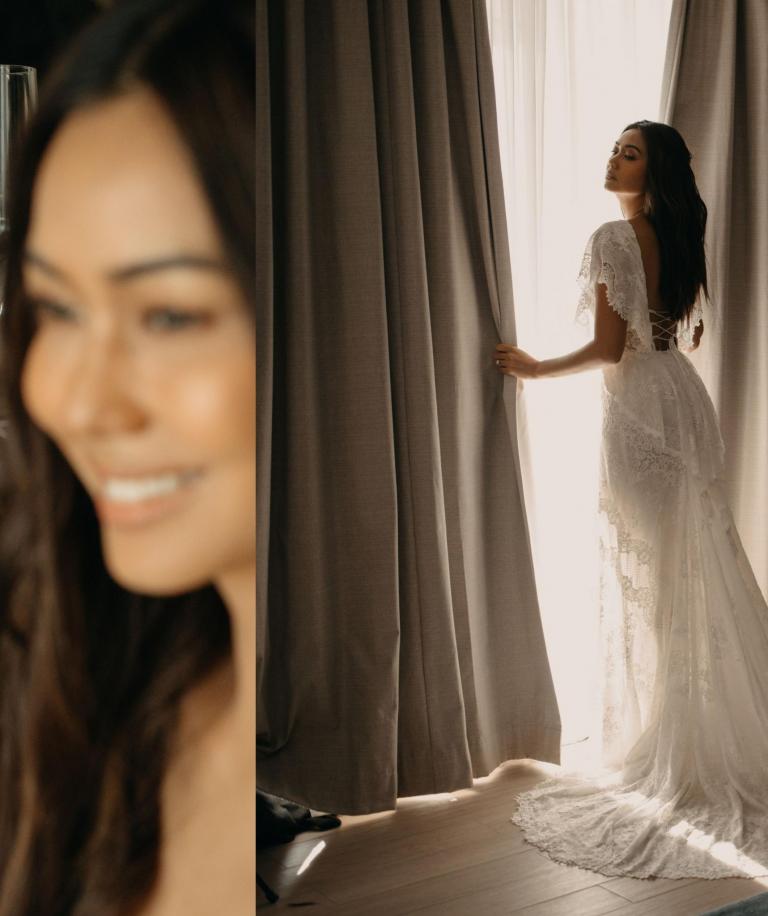 How was your experience with the Galia Lahav brand?

My experience with the Galia Lahav brand has been exceptional. Living in the Philippines, halfway across the globe from where I purchased my wedding dress, it would be daunting to think of the process of coordinating with my designer, being so physically far away. One, it isn't cheap to travel for all the fittings, and two, my schedule was tight and I only had a small window of time to fly back for fittings. Team Galia was so helpful even via email or over the phone. All my questions and concerns were answered and I felt the care that they put into their brides from start to finish. We encountered a major hurdle, 2 months prior to my wedding, where I was supposed to fly in for my final fitting where they needed to hem my dress to my final wedding shoe height.

When news of the Coronavirus hit in in January, I was unable to fly to LA for my final fitting as a safety precaution, and I was forced to coordinate with the Galia staff via email to figure out the measurements to hem my dress properly — I was so nervous for this because I wasn't going to be physically there to have them hem perfectly, and we were going to have to ship my dress over to make it in time for my wedding. I had to put my faith in Galia's team to make sure the dress would be okay. They treated me so well from the beginning that I knew they wouldn't let me down — their seamstress Gabby took care of it, and she totally nailed it. It was absolutely perfect.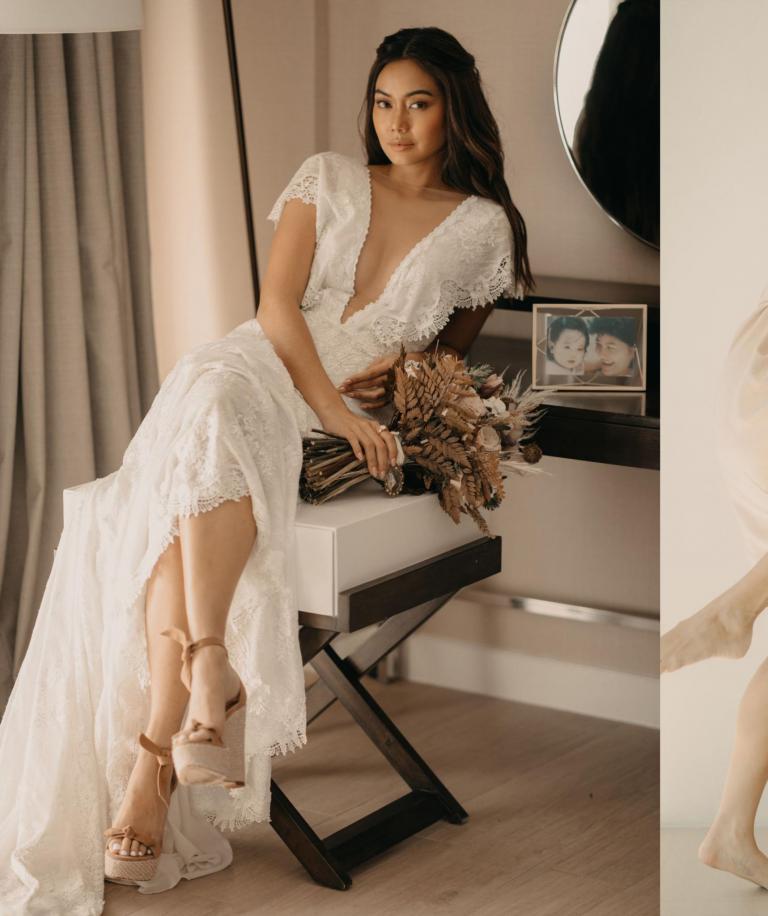 What was the most important thing for you and your husband when planning your wedding?

The most important thing for us was that we got to do things our way, to celebrate our love for each other the way we wanted to. Oftentimes it gets difficult to block out opinions of others, traditions that certain family members tend to impose, among other things. We really centered ourselves on the essence of our relationship, who were as a couple, and made decisions together for what we wanted, while still making sure we respected our families and ensured our closest friends would be comfortable as well. The outcome was magical—so real and true to JayR and I.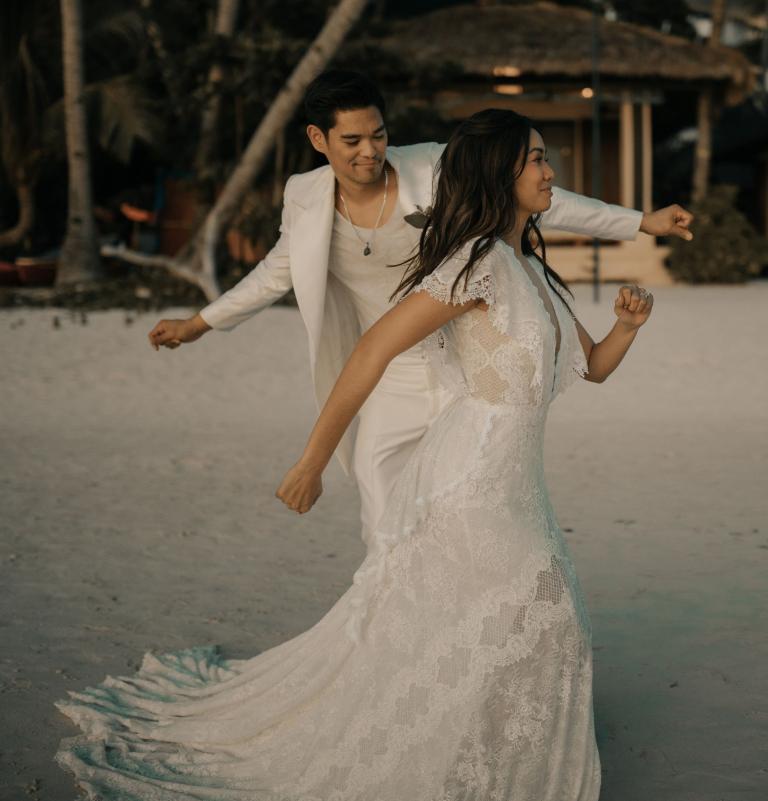 What was your first wedding song?

As musicians/artists, JayR and I opted to use our own songs that we've written, make acoustic arrangements for them, and have them played live by our guitarists during our wedding ceremony. The entourage walked down to "Heart Song" by me, a song I wrote for my mom who passed away when I was 13, I walked down the aisle to "Boo" by JayR, a song he wrote for me—Boo is our term of endearment, and we exited the ceremony to "Tonight" by JayR and I, the first song we ever wrote, recorded, and released together when we first met. 
What did you enjoy the most about planning your wedding?

Everything. But picking out my dress and then creating our wedding aesthetic (colour palette, flowers, event design) would take the cake!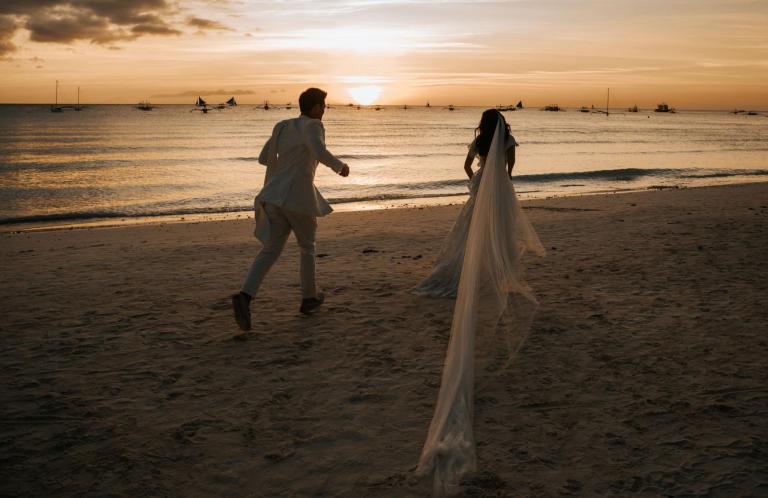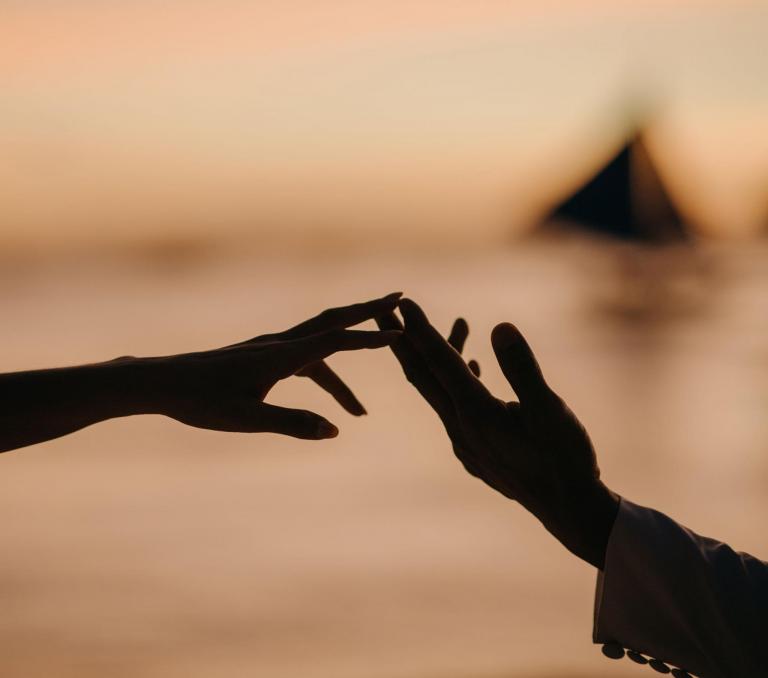 What advice would you give to all our future brides?

I would advise all your future brides to already have an idea of what they want. It doesn't have to be definitive, but have visual/photo/mood board ideas with you—it makes it easier to explain to your supplier exactly what you want, to avoid miscommunication, and it also helps declutter your mind and make it easier to make decisions. In terms of picking out the dress, there were dresses I thought I loved in photos, but when tried on, they didn't compliment my body shape as well as I hoped.

Then there are some dresses you think wouldn't look as good on you, but they actually fit perfectly for your shape—be open to those options! Do not stress—there is always a way to communicate well when there is an issue, and there are always solutions to every problem. Lastly, enjoy every second of the process! It is so much fun if you make it so!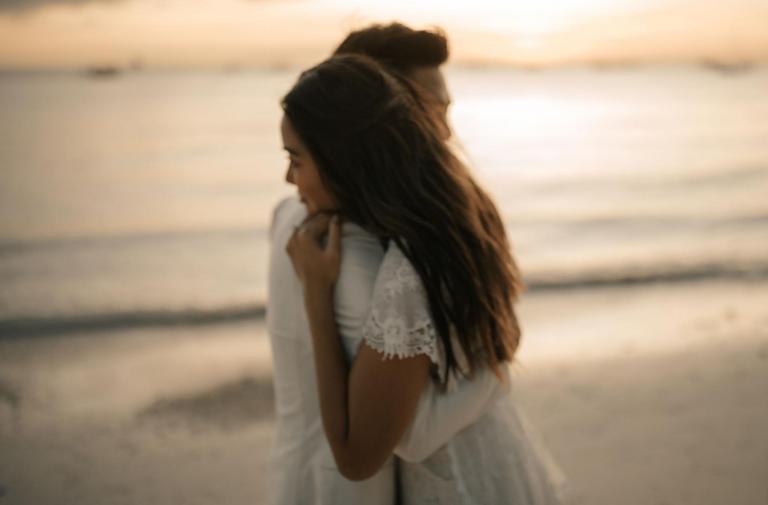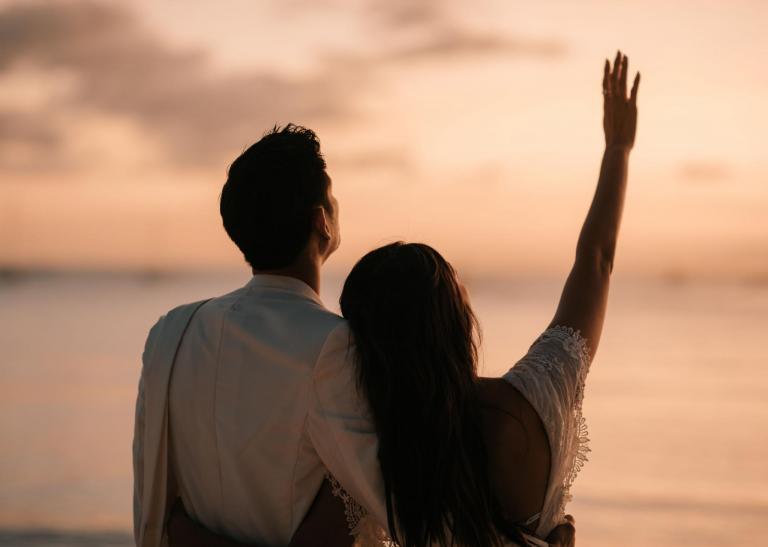 What moment from your wedding will you never forget?

Too many unforgettable moments, but one of the highlights for me was when my dad did his speech—it was so full of heart, grit, and realness. Then we proceeded to do our father-daughter dance, for which I asked my planner to project a photo of me and my mom (it was a photo of me as a little ballerina hugged by my mom) on the giant LED screen, as our backdrop, as my dad and I danced hugged up. I lost my mom when I was only 13 and for my wedding wanted to honour her, and have a moment shared with just me, my mom and my dad—it was that moment. It was beautiful and there was not a dry eyeball in the room. 
Finish your registration for {City} Trunk Show