FREE SHIPPING & RETURNS WORLDWIDE!

DUTIES & TAXES COVERED WORLDWIDE
Find your nearest boutique
Our #GLBride of The Week is the gorgeous McCall Goehner, who fell in love and married her fiancé in our G-210 gown. The two decided on a small intimate wedding at the stunning RiverHaven Center in the groom's hometown of Moorhead, Minnesota. In the following interview, McCall shares with us how she planned a safe and beautiful wedding as well as the moments that made it incredibly special. As told by McCall: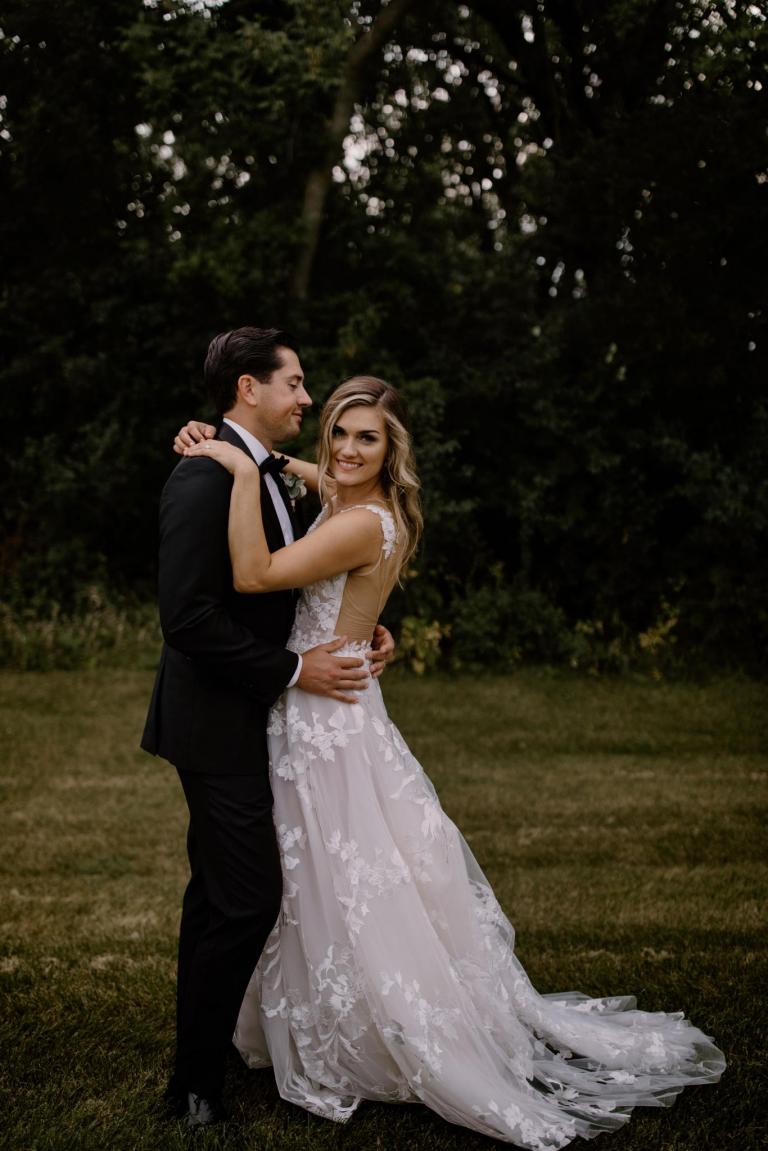 How did you meet your husband? Tell us a little bit about your relationship.

I actually was friends with a lot of his high school friends. We had met and briefly hung out at a few parties together, and I always told everyone that he was "Striking" with his looks. A few years went by and we both happened to be single, then one of his friends suggested that we should hang out. So we went on a blind date at my apartment! It went so well we ended up talking until 2:30 AM on a Sunday night and I've been hooked ever since. We are opposites in nature, but we literally complement each other in so many ways. We have a balance that both of us need in each other.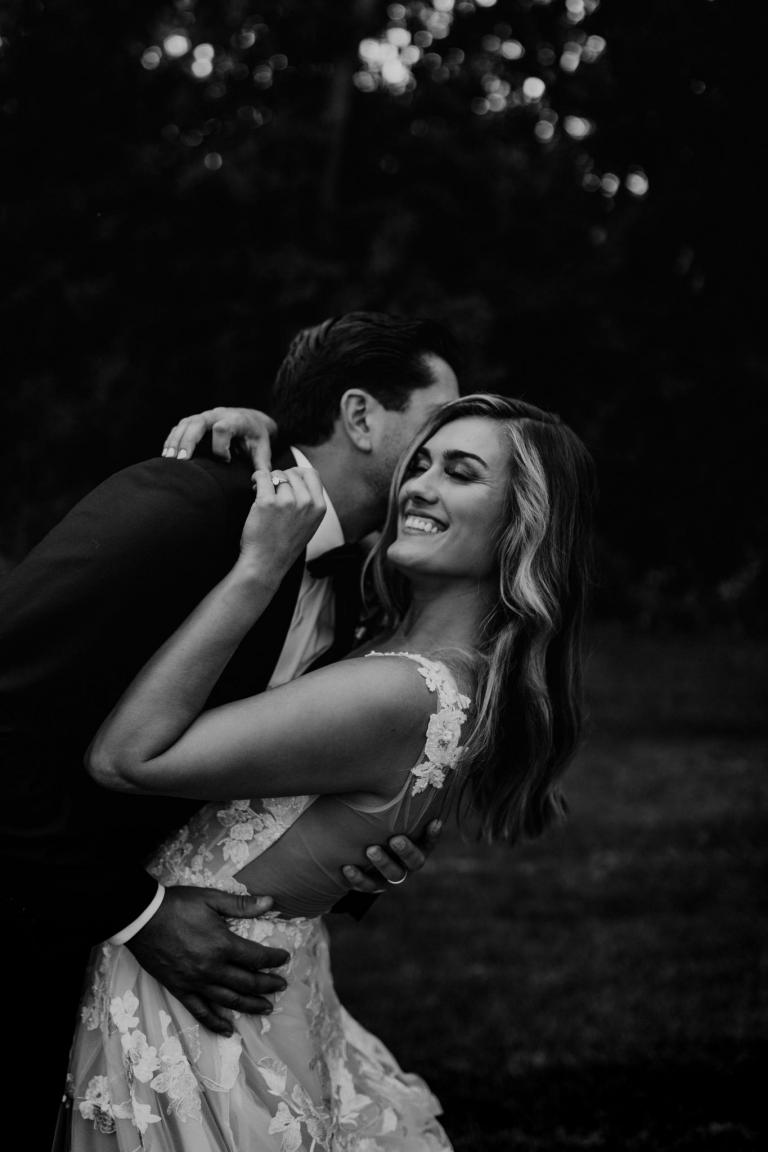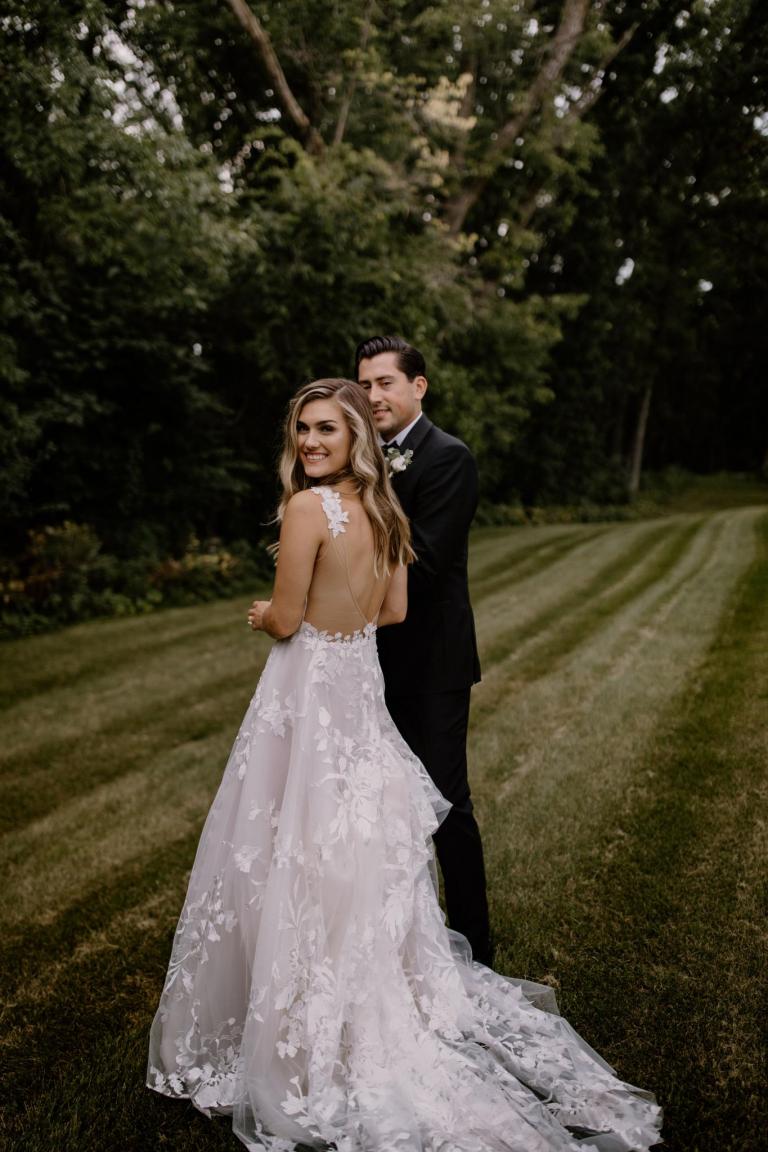 How did he propose?

We ended up buying the childhood home he grew up in and remodeled it to make it our own, and he put the ring in our dog's favorite toy while we were at home grilling on a Friday night in August 2019. I wasn't expecting it at that moment (but I was expecting it overall because he took FOUR years) and I couldn't understand why he wanted me to squeeze the dog toy. It was simple, sentimental, and perfect. 
When did you first hear that your wedding day couldn't go as planned?

We knew since May that things were going to be different and that we might have to make some changes.  Essentially we were on the fence about having it until 5 weeks before the wedding. It was extremely stressful not knowing if we were going to make the right decision about moving forward with the wedding, but we ended up cutting the headcount back by 30-40 people and sent out the invites about 4 weeks before.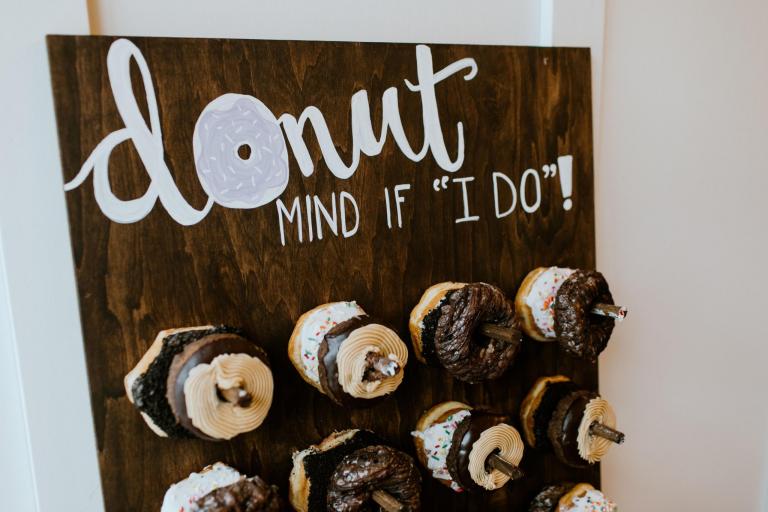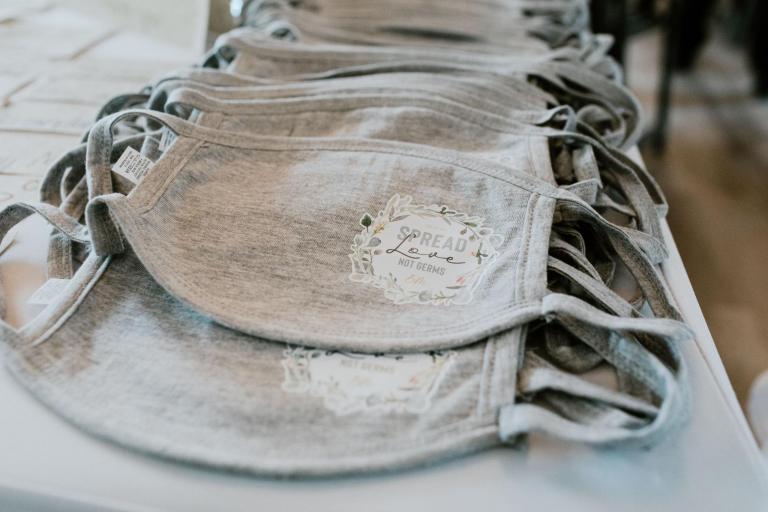 How did this make you feel?

Lucky for me, I am already a procrastinator so this gave me a reason to work better under pressure. The biggest fear was about having our grandparents at the wedding and worrying about their safety. To be honest, it kept us both up at night and even after we officially made the decision to move forward it was still worrisome if we made the right decision. But, we decided that whoever didn't feel comfortable we completely understood their choice and our love was going to come first over COVID.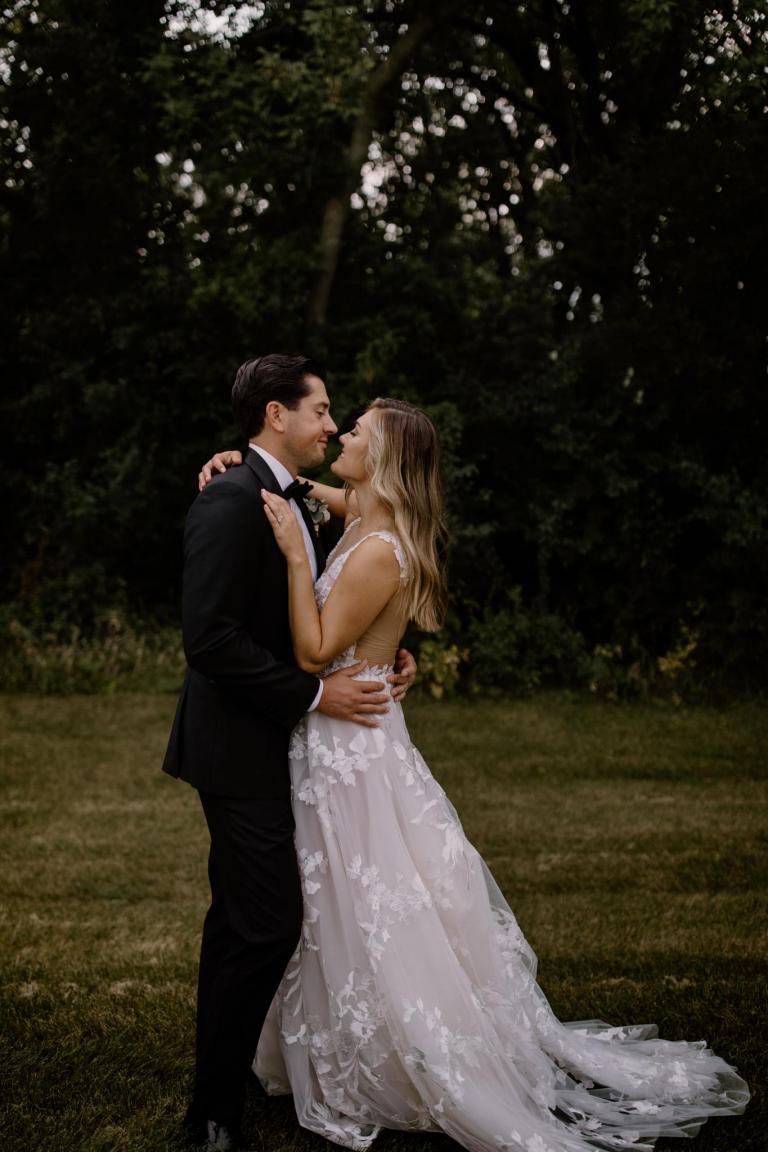 How did you choose your wedding location/venue?

Brady was born and raised in Moorhead, Minnesota so we knew we wanted to find somewhere close to home. We also were looking for a more modern and classic style over a rustic outdoor barn look which is what's mostly available in our area. There was a brand new renovated venue that held history in Moorhead. Once we walked in and saw it we just knew it was perfect and spoke to us.

Honestly, I think both of us didn't worry about the details. The most important thing was writing our own vows. We wanted the ceremony to be meaningful and intimate. We also did a wine ceremony over a traditional sand ceremony which is very much us! We held onto a bottle of wine from when we went on a trip to Napa Valley three years ago that we opened during the ceremony. Just thinking about it makes me tear up.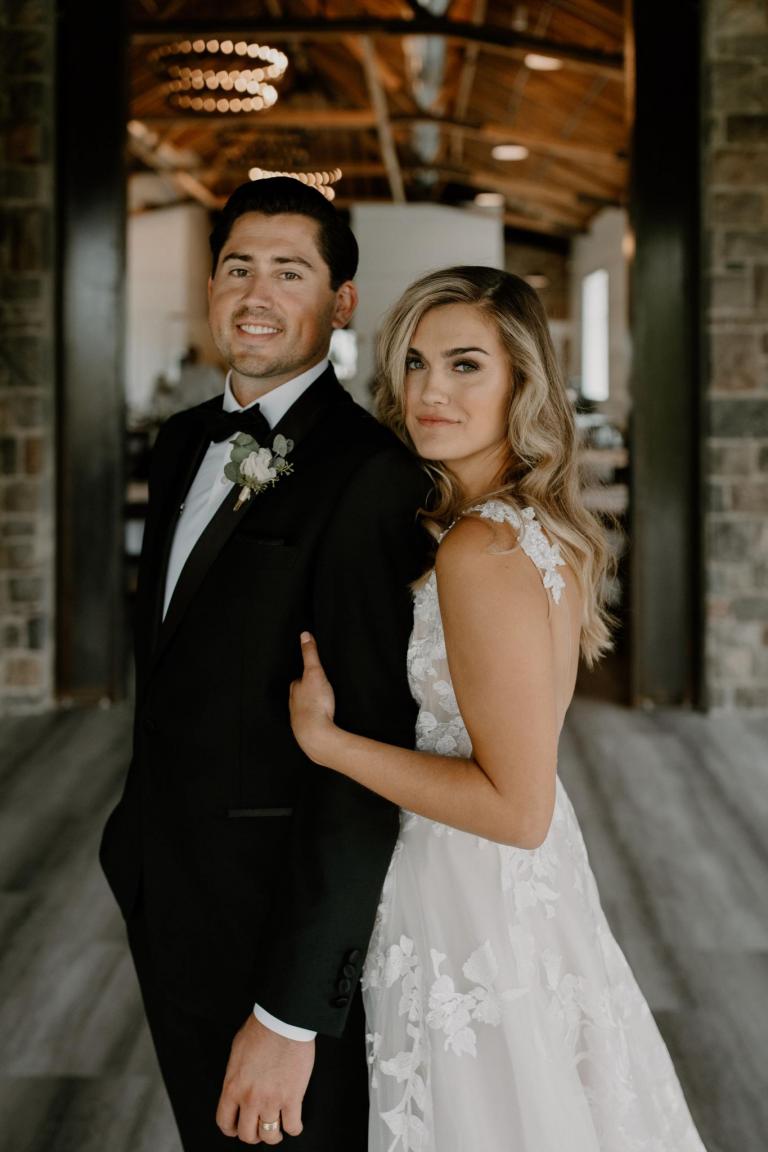 How many guests did you have? Were your family able to make it to your smaller event?

We ended up having about 130 people in total. We did have some family from California that didn't end up making it, but otherwise, we had family from Colorado and Pennsylvania and the rest lived within driving distance. We are so lucky!
Looking back, would you have rather had the original wedding you planned or the smaller ceremony you ended up having?

We would've liked to keep the original 160-170 people we invited, but it ended up being an absolutely perfect and intimate setting for our smaller venue.
How did you find your perfect dress?

I went to Annika bridal in Edina, Minnesota and I was dead set on a simple, no-lace, sleek, type of dress. The only dress I tried on that my sisters, mom, and best friend cried to was the Galia Lahav dress. It came down to literally feeling like a princess in my dress and I knew it was the one. 
What was your first wedding song?

I wanted something deep and meaningful, "Breathless" by William Prince gives me goosebumps every time I hear it. Give it a listen, it's gold.
What advice would you give to brides during corona that are having the same experience as yours?

Make the decision on what's best for you two and not everyone else. It will all fall into place the way it should. The most important thing is the love you have for one another and that will always win.
What moment from your wedding will you never forget?

The ceremony was honestly my favorite part. During the vows we had to repeat from the friend ordaining us, they read the entire "Brady, Repeat after me, McCall, I give you this ring." and my husband goes, "Wait, that was too much can you repeat that" and the whole entire room giggled. There is a picture of me leaning over laughing standing up at the altar in that exact moment. 
Finish your registration for {City} Trunk Show