FREE SHIPPING & RETURNS WORLDWIDE!

DUTIES & TAXES COVERED WORLDWIDE
Find your nearest boutique
Our #GLBride of the week is Mariel Armstrong, who walked down the aisle to marry her fiancé Alex in our Gia gown. The couple tied-the-knot surrounded by family and friends in their hometown of Vancouver, British Columbia. In the following interview, Mariel shares with us her most unforgettable wedding day memories and when she knew our Gia was the dress for her. As told by Mariel: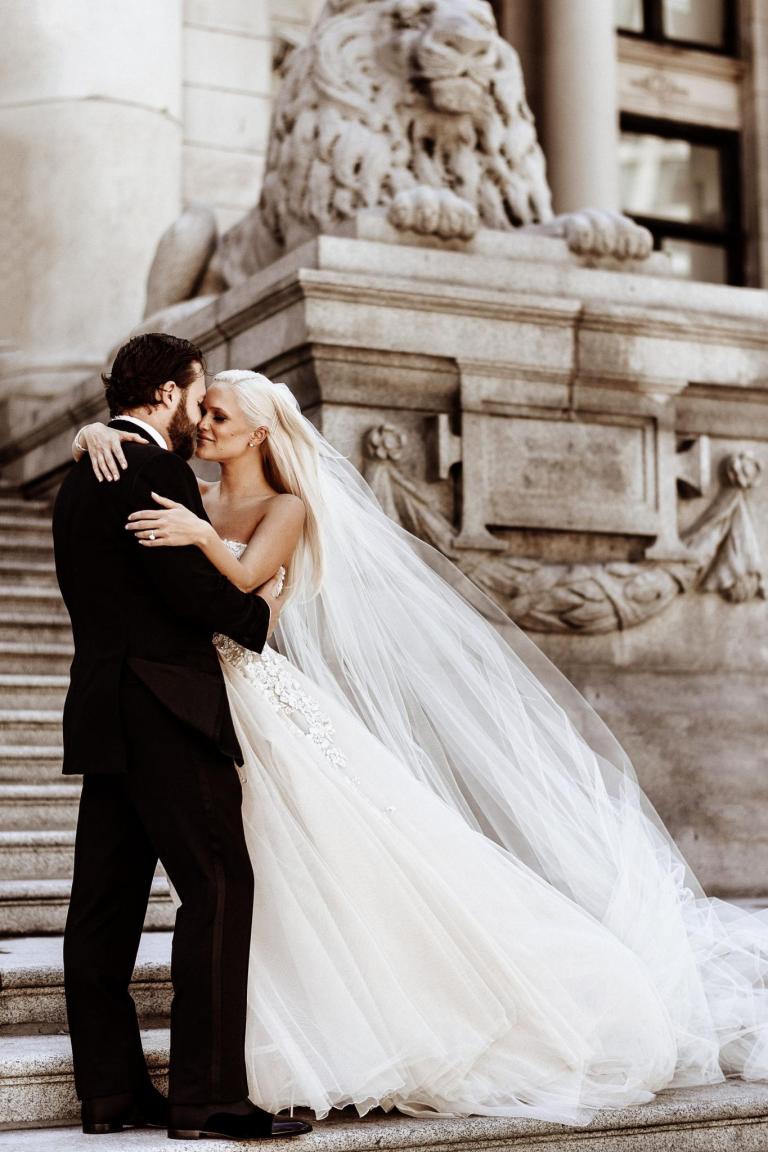 How did you meet your husband? Tell us a little bit about your relationship.

My best friend was going down to Cabo for NYE to stay in a house with a group of friends. Alex, (my husband), had rented a house and she was invited to stay. She kept urging me to come since we had spent NYE in Cabo together in previous years and always had a great time. After quite a few phone calls and with only one week until New Years, I booked a flight to Cabo. I immediately felt a connection with Alex and when the clock struck midnight, Alex came over to me and gave me a little kiss. From that moment on we barely left each other's side. The rest is history.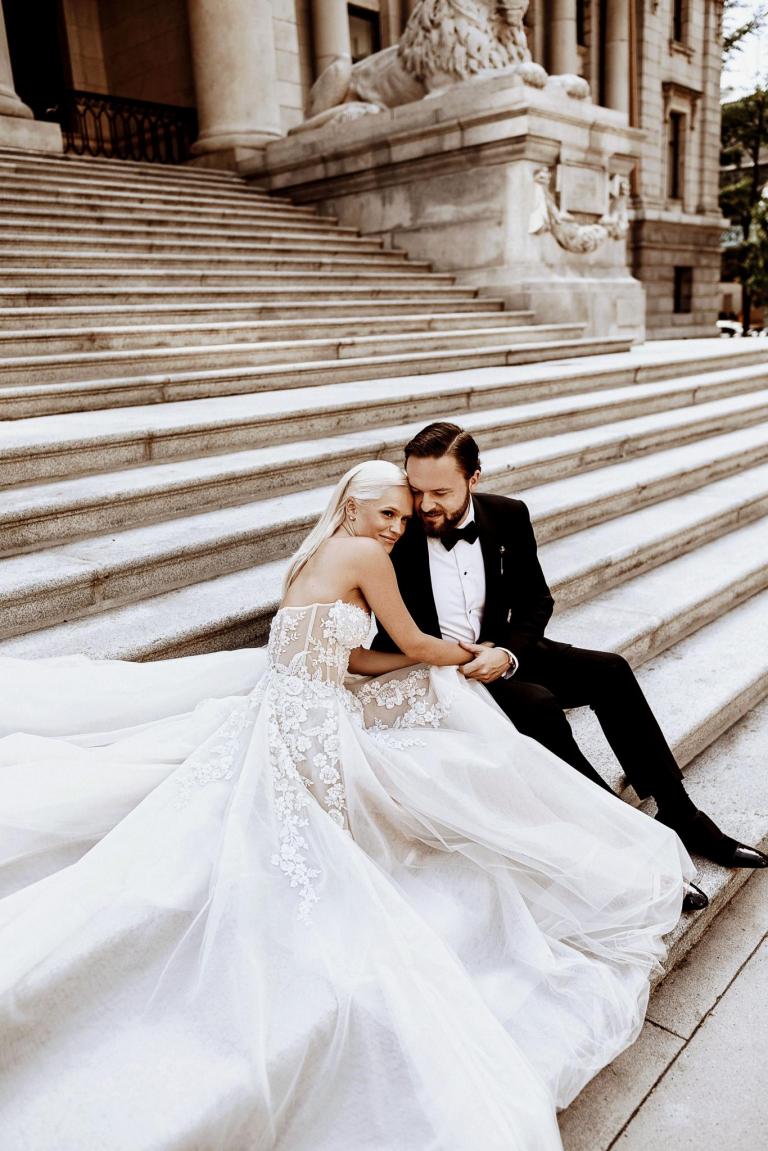 How did he propose?

At home! It was a Friday afternoon I had been visiting my cousin's baby. I called him on my way home and he made it seem like he was still at work. I walked in the front door and he was in the kitchen with a bouquet of roses. I quickly asked what the flowers were for and why he was home. He stood up quickly and got down on one knee and proposed. I cried so much I had to have him re-propose once I calmed down.
How did you start planning your wedding? What were the first steps?

The first thing we did was pick a date and then confirm a wedding venue Then we hired our wedding planner! We knew we wanted to work with her so it was a fast and easy decision. From there she really helped us figure out exactly what we needed to do and when.
Did you do any beauty or fitness prep for your big day?

I did! I focused a lot on trying to get my skin the best I could. I didn't want to feel like I had to wear too much face makeup since it was a hot day in Vancouver. I did regular facials as well as cold lasers. For fitness, I continued on with what I normally was doing but just increased how much I worked out. I also become more aware of eating a healthy diet.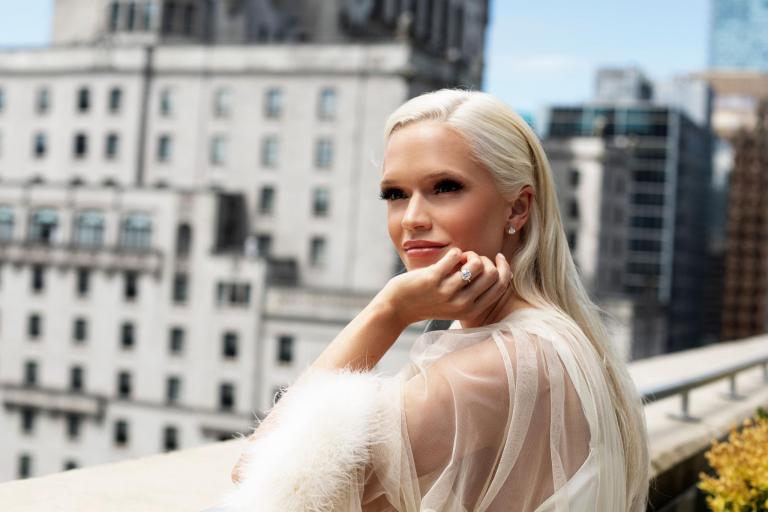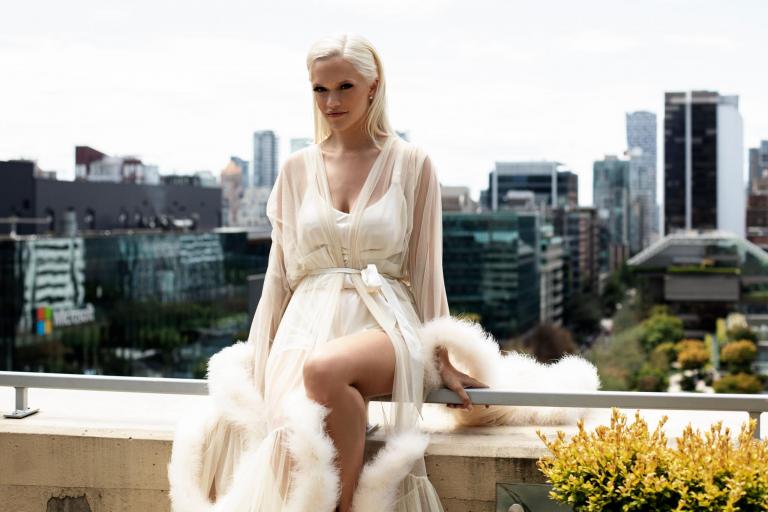 What was your wedding theme?

I would say our theme was Chic, Modern and Whimsical. The wedding reception was held in an industrial train station which we completely draped into two separate areas. The dining area and the dancing area. The dinner area was totally white and illuminated with lit-up plexiglass-glass tables, with white tablecloths and a balloon cloud above that had lights throughout. Lots of beautiful tall white flower arrangements added warmth to the room. The other side was draped in all black with little twinkle lights everywhere. We wanted the white dining area to feel like day and then when you entered the dance area, it would feel like you stepped outside and were dancing under the stars.
How did you choose your location?

We knew we wanted to get married in Vancouver, BC as it is where we both grew up and where we live now.
How did you decide on your bridesmaid style?

I really wanted the bridesmaids to pick their own dresses as I wanted everyone to be as comfortable and happy as possible and wearing something they would have picked to wear that day regardless.  We went back and forth on colors but ended up choosing black as it suited the whole look of the wedding the best.
How did you find your perfect dress?

Very shortly after I got engaged, I was eager to try on wedding dresses. I emailed a local store in Vancouver and asked how soon I could come. They made time to see me that week. I walked in and I picked a couple of dresses and my mom picked a couple of dresses. The GIA gown was the first dress I saw and I thought it was so beautiful. I knew out of all the dresses we had selected it was the one I wanted to try on first. I am glad I did because it set the bar very high and after trying quite a few more I came right back to it!
How was your experience with the Galia Lahav brand?

It was great! They were very accommodating to change a few small things such as adding the undergarments I wanted and lining the bra. It also arrived early! It was nice to know it was waiting for me!
What was the most important thing for you and your husband when planning your wedding?

We wanted to have fun! We knew we wanted our wedding to be the best party all our guests attended this year. We tried to always stay in the moment and be present. We never wanted to feel stressed about the planning since this really was supposed to be a day to celebrate our love and a day to have fun with the people we love the most. I would stay we achieved that. Thinking back on the day I didn't feel stressed once. We really had SO much fun.
What was your first wedding song?

Feeling Good by Micheal Buble. We had a confetti cannon go off at the trumpets in the song and it quickly switched to Higher Love by Kygo and Whitney Houston and we had everyone join us on the dance floor.
What did you enjoy the most about planning your wedding?

I think the most fun part was coming up with the concept of the space and the decor elements that we were going to have.
What advice would you give to all our future brides?

Stay present and have fun with it! You are about to plan the best party of your life so it should really be so much fun! Oh, and get a wedding planner! I tribute a lot of my enjoyment and lack of feeling stress to knowing I had someone who was going to have everything under control for me leading up to and on the day of the wedding. I was able to just show up and everything I had envisioned was there and had come to life.
What moment from your wedding will you never forget?

That's a hard one! There are really so many special moments from that day. I think seeing Alex for the first time when we did our first look will always remain very high on the top of my list for that day.
Wedding Planner: Erin Bishop- Filosphi Events @filosophi
Decor Rentals and Florals: Koncept Events @Koncept.events
Balloon Cloud: Frankie & Co Shop @frankieandcoshop
Lighting: Innovation Lighting @innovationlighting
Food: Railtown Catering @railtowncaters
Makeup: Claudia Pooley @theglamoury
Invitations: Swell Press @swellpress
Venue: Rocky Mountainer Train Station @rockymountaineer
Photographer 1: Dennis Gocer @thecollectiveyou
Photographer 2: Linas Dambrauskas @linasdambrauskas
Finish your registration for {City} Trunk Show