FREE SHIPPING & RETURNS WORLDWIDE!

DUTIES & TAXES COVERED WORLDWIDE
Find your nearest boutique
Our GL Bride of the week is the gorgeous Lizzy, who married the love of her life Nick in our GALA-1002. The two held a picturesque destination wedding in Mammoth California surrounded by family and close friends. In the following interview, Lizzy shares with us the details of her intimate wedding and the magical moment she found her dream dress. As told by Lizzy: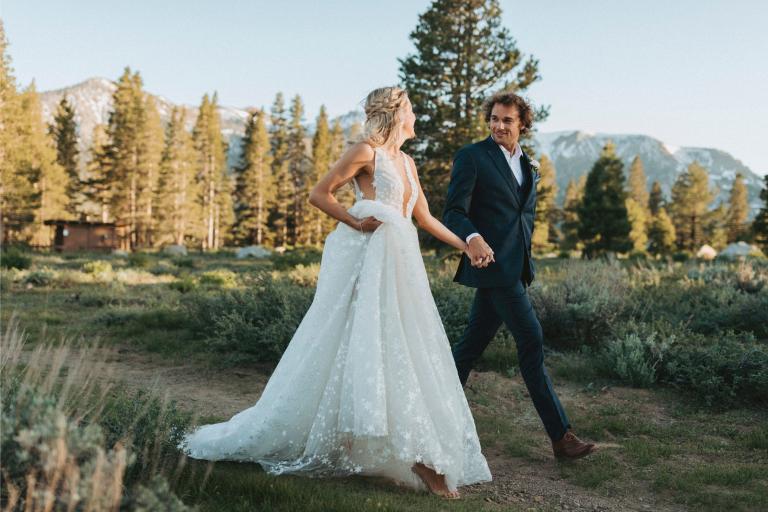 How did you meet your husband? Tell us a little bit about your relationship.

Nick and I met in Aspen, CO January 2016. I was heading to Aspen to take a side gig with ESPN to work the XGAMES for 2 weeks in hopes to get my foot in the door and Nick was there competing in Slopestyle Skiing. When I was driving through Glenwood Canyon toward Aspen there was a moment where I stopped and said to myself – this next week will change your life. Little did I know that change wouldn't be with my career, but I would meet the love of my life!  I kept busy and worked hard without distractions the first couple of days…and then Nick walked into the room, our eyes locked and the rest is history!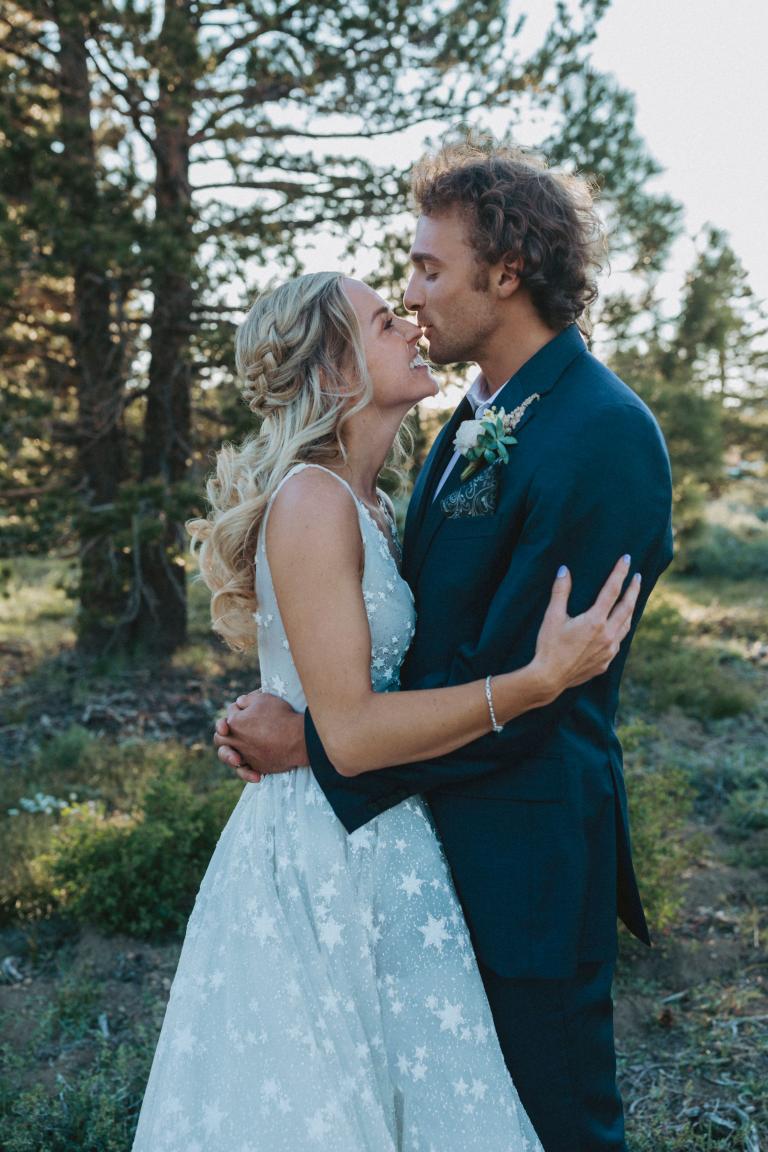 How did he propose?

Nick and I went on a nine-day road trip camping through Colorado, Wyoming, Utah, Arizona and we wound up in California. It was the last day of our trip and we were in Santa Monica where we had dinner on the pier and went on the most beautiful, yet cold, walk along the beach during sunset. We had never talked about an engagement so to my surprise when Nick dropped to one knee and proposed to spend the rest of our lives together with a mood ring I hugged him and with tears in my eyes I said yes. It was a perfect moment! Right after, we had flights to catch and we had to sprint across the beach to catch a cab to the airport.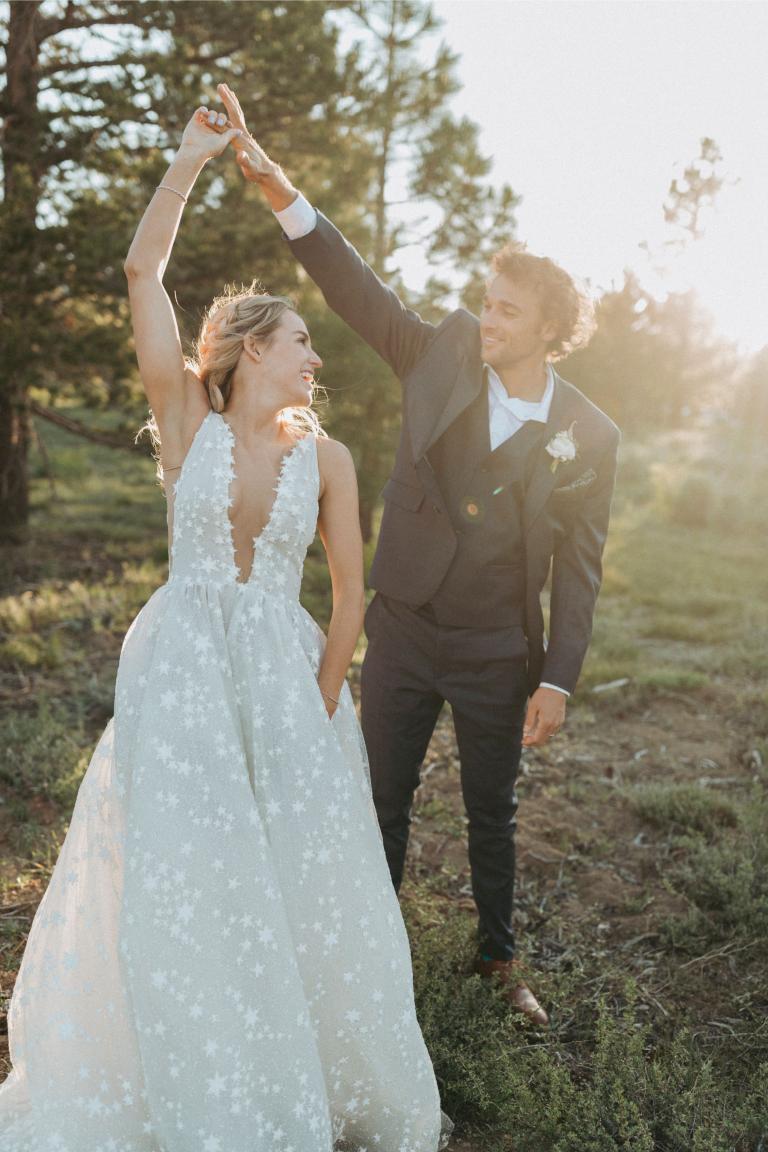 How did you start planning your wedding? What were the first steps?

In typical fashion, Nick and I gave ourselves two months to plan a wedding! We were engaged for a year and then decided lets do this and have the most epic and intimate wedding in a place that is special to both of us. So we called our parents and made sure June 15th worked for all of them, got the green light, called my girlfriends to let them know and the next day we went out wedding dress shopping!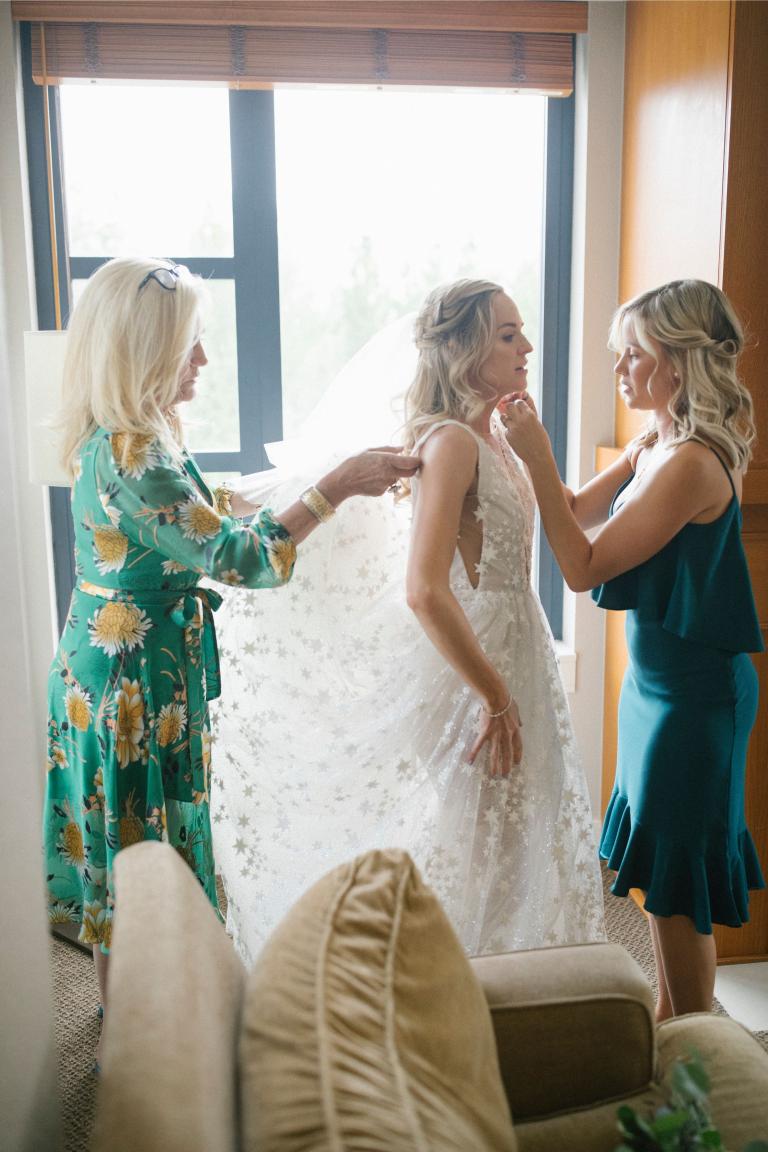 Did you do any beauty or fitness prep for your big day?

After we got engaged I had a feeling once we set a date we wouldn't have a lot of time, and I was right!  I wanted long blonde hair so about 7 months prior to our wedding I put extensions in so it wasn't too obvious my hair was fake the day of! I've also been a huge skincare advocate making it a top priority so when we got engaged I really amp'd up taking care of my skin. That included tons of vampire facials, hydra facials, chemical peels and dermaplaning. As for fitness, that has been a priority so I maintained my normal routine of HIIT workouts and going to Cyclebar a couple days a week!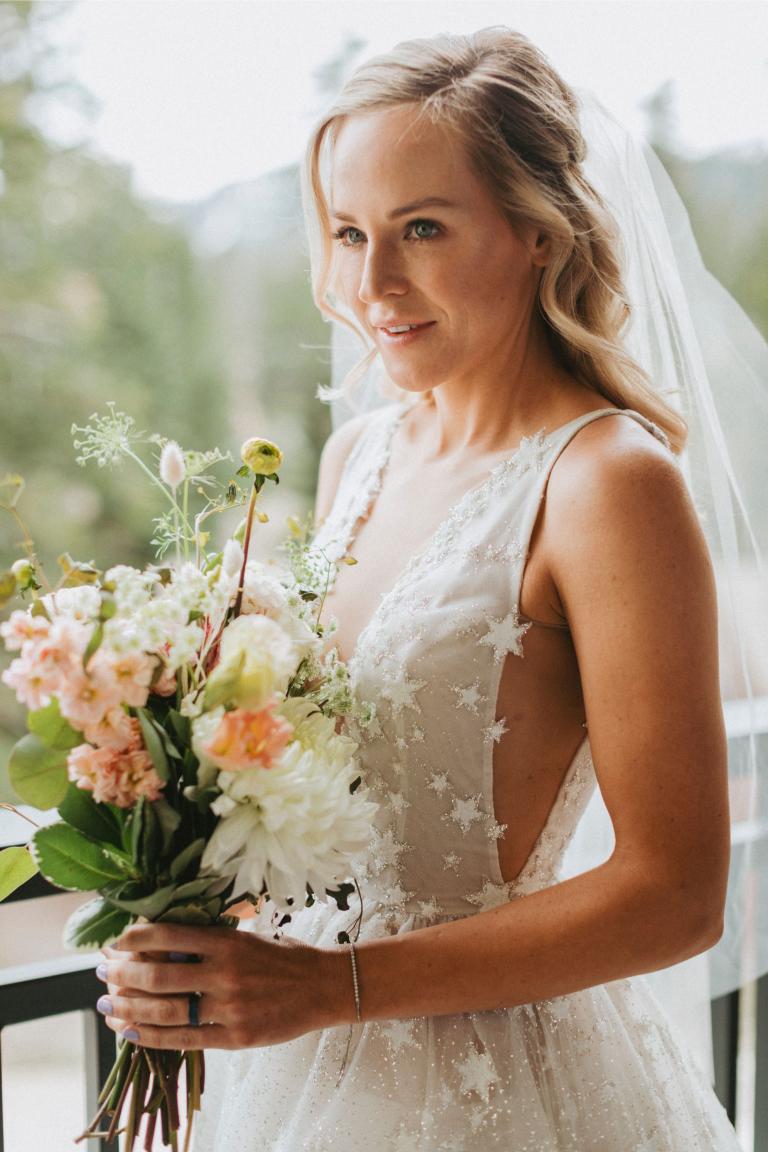 What was your wedding theme?

We didn't necessarily have a theme but our goal was to show our guests the time of their lives and make sure everybody was happy and could feel the love. Since this was technically a destination wedding, we rented a giant house where a third of the guests stayed at, everybody went spring skiing the day before, and that evening my husbands family hosted the best BBQ for all of our guests. Family and a whole lotta lovin was the theme!
How did you choose your location?

From the very beginning of our relationship, Mammoth, CA held a special place in our hearts. We always have called it Magical Mammoth. Being from Idaho and Indiana we thought having a destination like Mammoth would be awesome so we could share that magic with everybody close to us!
How did you decide on your bridesmaid style?

Being so last minute and wanting to have an intimate wedding we didn't have a wedding party. My best friend assisted my dress and I down the aisle and Nick's twin best friends married us / played the guitar.
How did you find your perfect dress?

It was magic! The same way I met Nick, I walked into Alta Moda Bridal, saw the Galia Lahav star dress and that was it. It was the first wedding dress I had ever tried on and it brought so much happiness and joy I knew that was the one for me! To be sure, my girlfriends and bridal stylist gave me FIFTEEN other dresses to try on, and if you know me, trying clothes on is NOT my cup of tea so we cranked those gowns out in 45 minutes! I kept coming back to the Galia Lahav star dress and finally, they let me say yes to the dress!!
How was your experience with the Galia Lahav brand?

There definitely were some contenders after I tried on my dress and all of them happened to be Galia Lahav dresses! The attention to detail, the fit, and uniqueness of the gowns differentiates them from any other bridal brand out there and when you put on one of their dresses you immediately feel like a princess and that dress was made specifically for you.
What was the most important thing for you and your husband when planning your wedding?

The important thing for us was to make sure this was the wedding we wanted, not what everybody else wanted or expected and to not be too serious and have fun doing it! We had the most amazing wedding planner and we told her our vision and stayed true to what we wanted.
What was your first wedding song?

My husband and I had one of his best friends play the guitar during our ceremony. When I walked down the aisle he played the song, Turning Page. It was my 'something borrowed' because one of my girlfriends walked down the aisle to the original version and the other to the acoustic version. That song in general is the most beautiful song and to have Nick's best friend play it and for it be borrowed from my two best friends meant the world to me.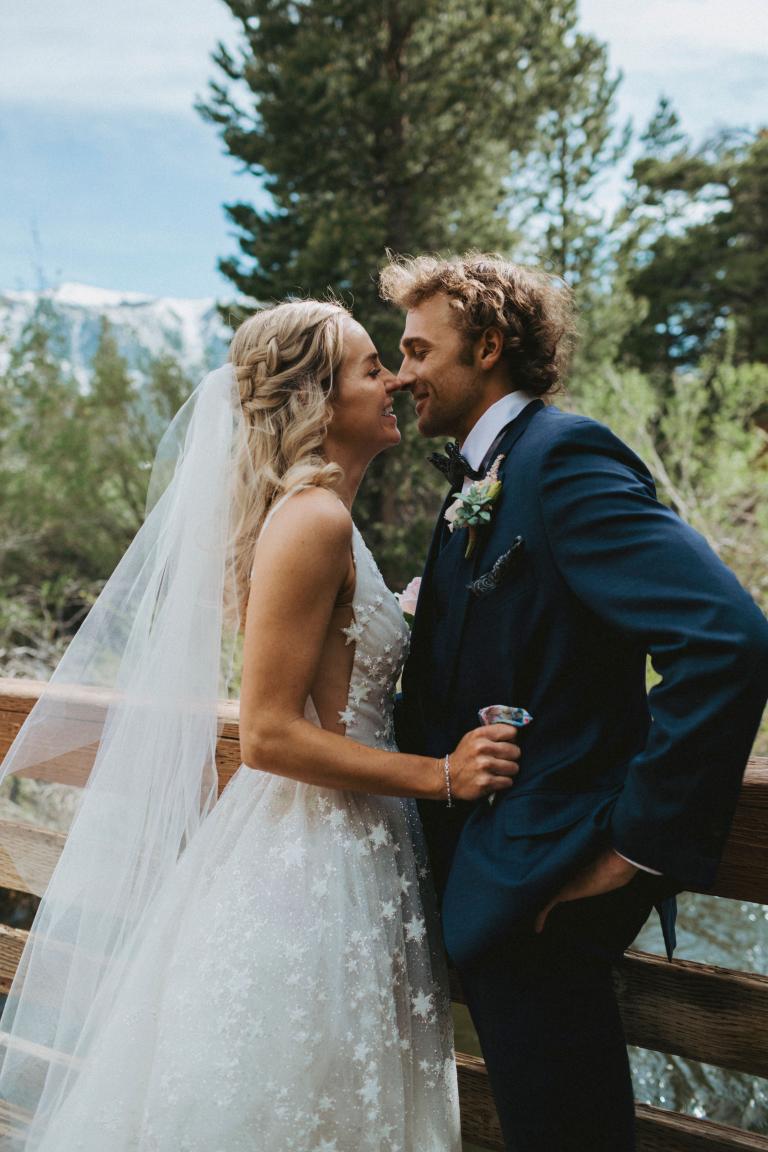 What did you enjoy the most about planning your wedding?

That this was our party and we could design and do whatever we wanted! And we did! Our wedding was at a bowling alley of all places. My first request was to get married with nothing around except the backdrop of the Sierras and a ton of flowers everywhere. So we found an amazing French restaurant that so happened to be above this bowling alley that just so happened to have the most beautiful empty field with a river running through out back! And mind you, this is not your typical bowling alley from the 70s!
What advice would you give to all our future brides?

Have so much fun! People get funny during weddings and at the end of the day – none of it matters! You and your husband are all that matter. Be kind to everybody, make sure you communicate all the details so there are no surprises and just know what truly matters are the moments with your significant other!
What moment from your wedding will you never forget?

Sneaking a peak of Nick before the wedding. I peeped out the window and saw him at the altar and my heart was overflowing with happiness, all butterflies went away and I couldn't wait to get down that aisle to be with him! It nearly brought me to tears if our wedding planner hadn't intervened and sent me on my way!
Finish your registration for {City} Trunk Show