FREE SHIPPING & RETURNS WORLDWIDE!

DUTIES & TAXES COVERED WORLDWIDE
Find your nearest boutique
Our #GLBride of the week is the beautiful Lisa Lafferty, who walked down the aisle in our GALA 1009 gown. The two made it official with a romantic rooftop ceremony overlooking the ocean at the Capri Palace in Anacapri, Italy. In the following interview, Lisa shares with us the details of her breathtaking destination wedding and how she found THE dress of her dreams. As told by Lisa: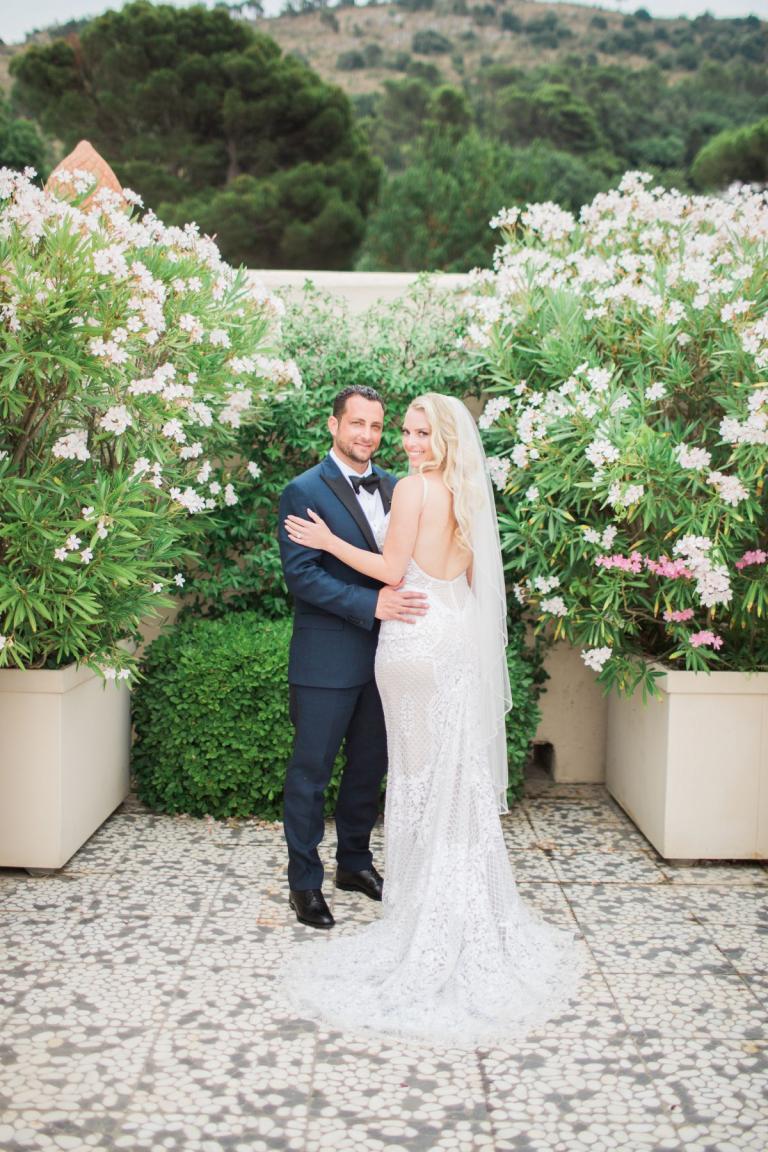 How did you meet your husband? Tell us a little bit about your relationship.

Chris and I connected on Facebook in 2014, after being FB friends. Chris happened to notice a specific picture of me and gave it a simple "like." I then "liked" his profile picture and an online chat quickly ensued. After 45 minutes of a flirty and great online conversation, Chris asked me to meet. We met two days later on our first date in Malibu. Chris explained that when he first saw me, he beamed and couldn't stop smiling, because, at that moment, he knew he had met his future wife. When I first saw Chris, I felt excited and optimistic, since we had such a great connection online, and I was hoping that we would hit it off just as much in person. Our first date was magical and 2 weeks and many dates later, we decided that we would be in an exclusive relationship and never looked back from there. 
How did he propose?

Chris proposed to me after 3 amazing years. He took me on the most romantic trip to Europe, first to Paris and then finally to Venice, Italy, where he proposed. He had secretly hired an engagement planner and on the day of the engagement, there was a huge rain and thunderstorm, which derailed his plans to propose on a gondola with a photographer in tow. The planner was able to secure a water taxi instead and the couple boarded the boat mid-rain storm. After 30 minutes of boating through the storm on the Grand Canal, we reached the island of San Giorgio.

As soon as we docked, the rain miraculously stopped and we, and the photographer, found ourselves alone on the island, which would usually be bustling with tourists. The photographer began an impromptu photoshoot and after 20 minutes he placed us in front of the Church of San Giorgio, where Chris dropped to one knee and asked me to be his wife. I was excited, nervous, and full of love/joy, all at the same time. Of course, I accepted and the tears came rolling.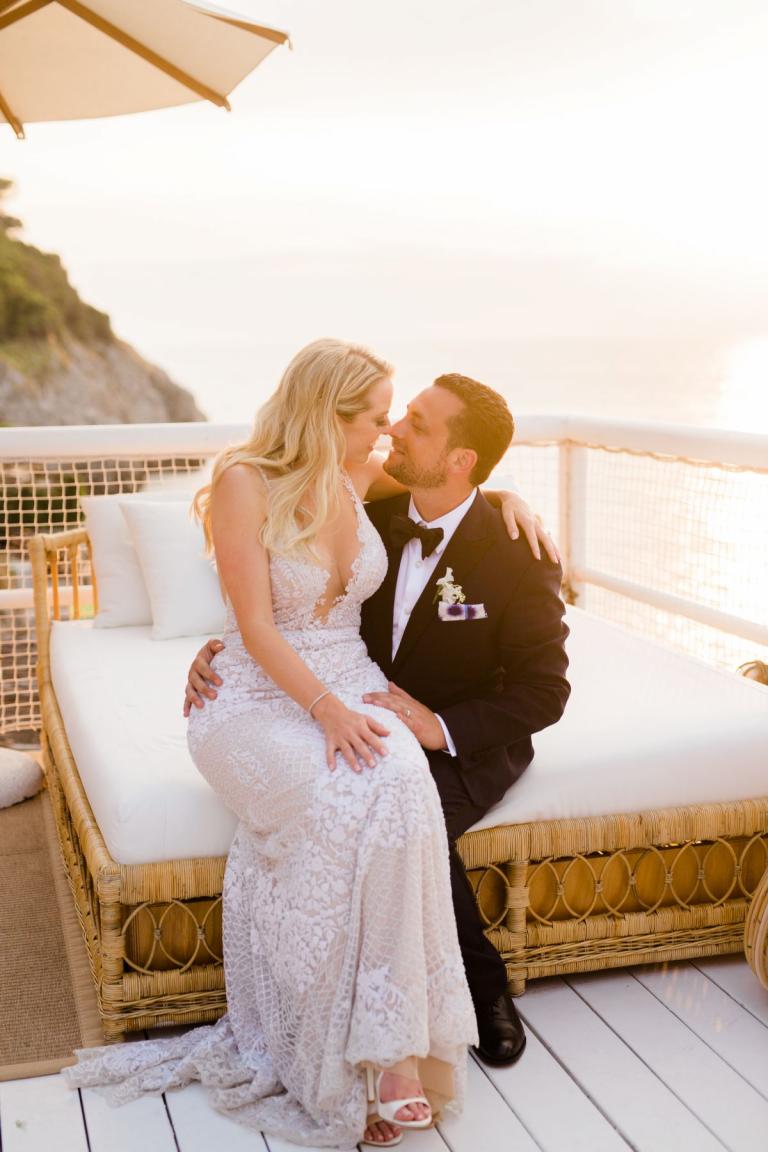 How did you start planning your wedding? What were the first steps?

As a luxury wedding and event planner myself, it came a bit easier to me than maybe it would to other brides, though our decision to do a destination wedding provided its fair share of challenges. Our first step in the wedding planning process was figuring out where we wanted to do it. We knew we wanted an intimate destination wedding and we love Italy, so we chose the island of Capri on the Amalfi Coast. This beautiful island was one that we had visited 2 years earlier and we fell in love with it. The charm of the town, the culture, and the incredible food immediately connected us to Capri. We then started interviewing local vendors on the island, scheduling calls, and video chats. Our second step was to confirm our venue. We wanted a beautiful location, with fantastic views overlooking the island, with top-notch service and amenities to make our guests feel very well taken care of. Not to mention their incredible Michelin Starred restaurants.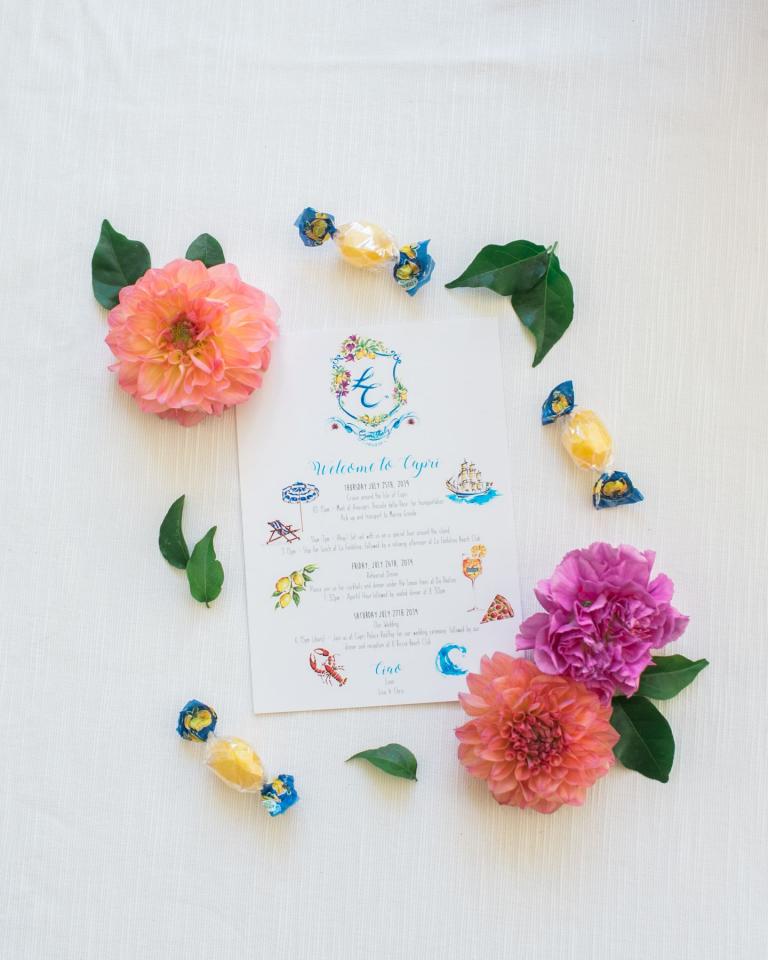 Did you do any beauty or fitness prep for your big day?

I did a bit of dieting and exercise for our nuptials and tried to eat as balanced as possible through a very busy event season. Before we left for Italy, I made sure to see my amazing hairstylist and nail technician to make sure I was ready for the big day. I had an incredible beauty team in Italy for my wedding day.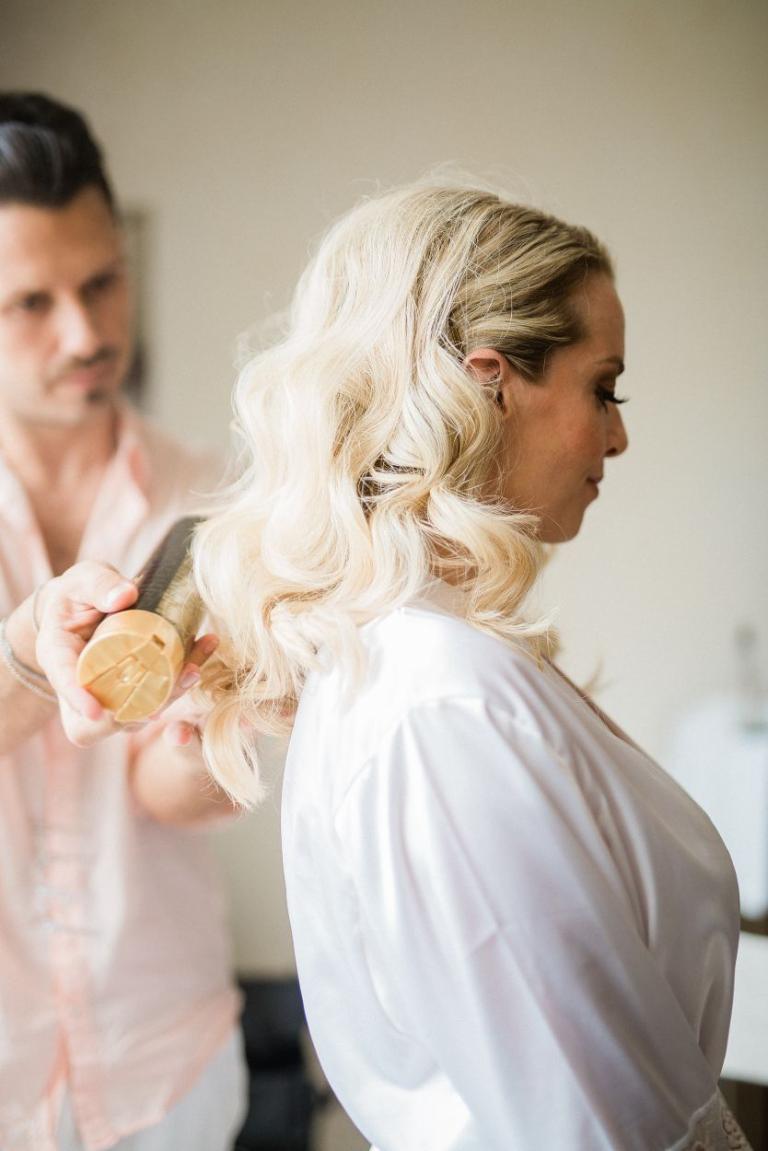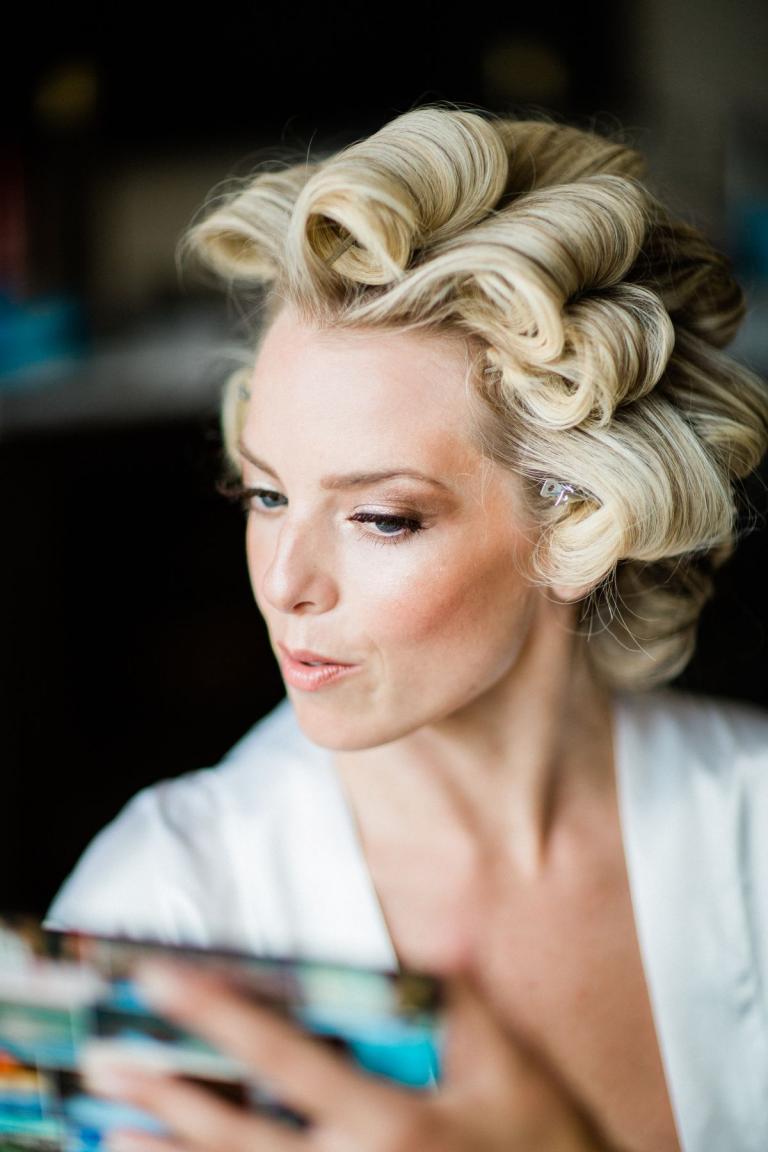 What was your wedding theme?

For our ceremony, we opted for an ethereal and romantic all-white ceremony on the Capri Palace rooftop. The décor and theme for our wedding reception and activities, leading up to the big day, was very much tailored to the beautiful Capri island style. We focused on fun and bright-colored elements that complimented shades true to the island: The crystal blue waters, the bright shades of wildflowers, and overgrown bougainvilleas, the bounty of lemons grown in the Amalfi coast, and all of the region's fresh seafood.

We opted for the vibrant Capri color scheme to complement the island's natural habitat. We looked to encapsulate that into all aspects of our wedding, including the invitations, custom hand-drawn illustrated menus, hand-painted ceramic serve-ware, gift bags, the itinerary, and the flowers at the reception.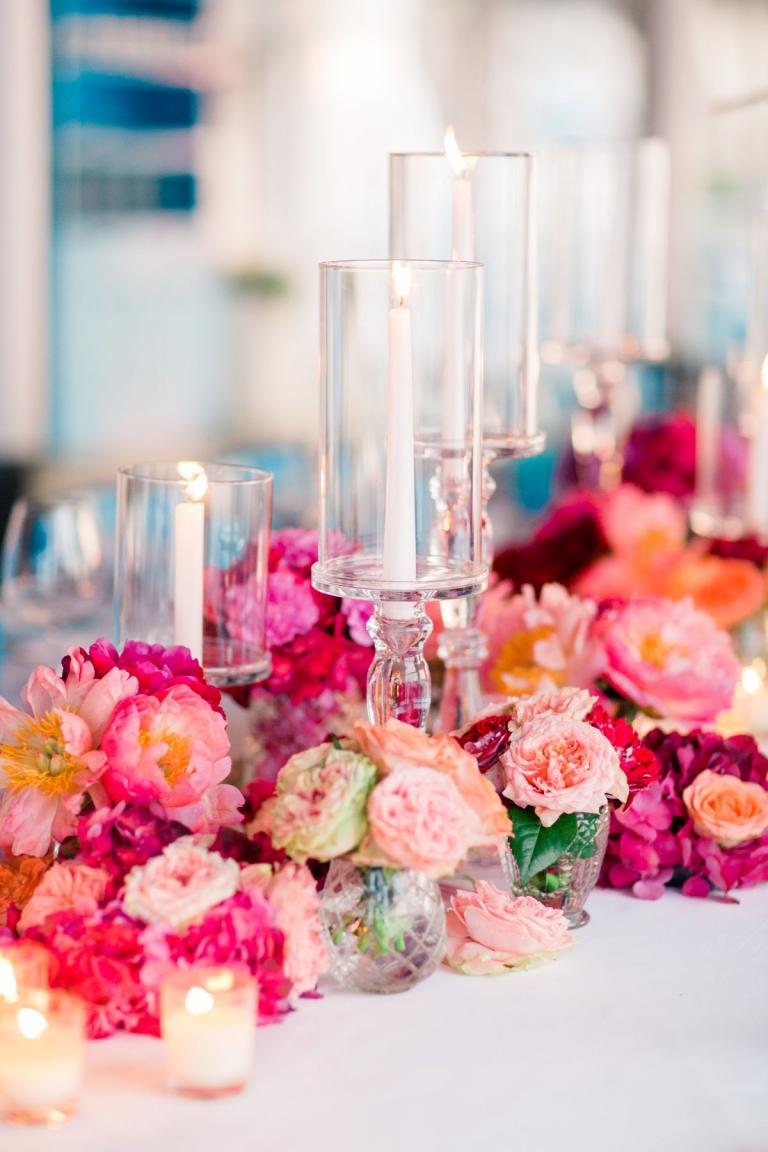 How did you choose your location?

After careful consideration and a lot of research, we chose the 5-star resort Capri Palace (with Michelin starred restaurants) for our ceremony and accommodations.  Our reception was held at their oceanfront sister property, Il Riccio Beach Club. 
How did you decide on your bridesmaid style?

We opted for no bridal party, although we had my adorable 2-year-old nephew as the ring bearer, wearing the cutest navy blue suit and tie. I, of course, walked down the aisle with my father and Chris escorted his mother to her seat. 
How did you find your perfect dress?

I knew I wanted a Galia Lahav gown for my wedding, but I felt like I wouldn't have given any other dresses or designers a chance, if I was to go to the GL boutique, first. So, I decided to shop around a bit to see what else was out there from other designers, but I quickly realized my heart was set on a GL gown. Once I made my appointment to visit the GL flagship store in Los Angeles, there was no way I could have chosen another designer for my big day.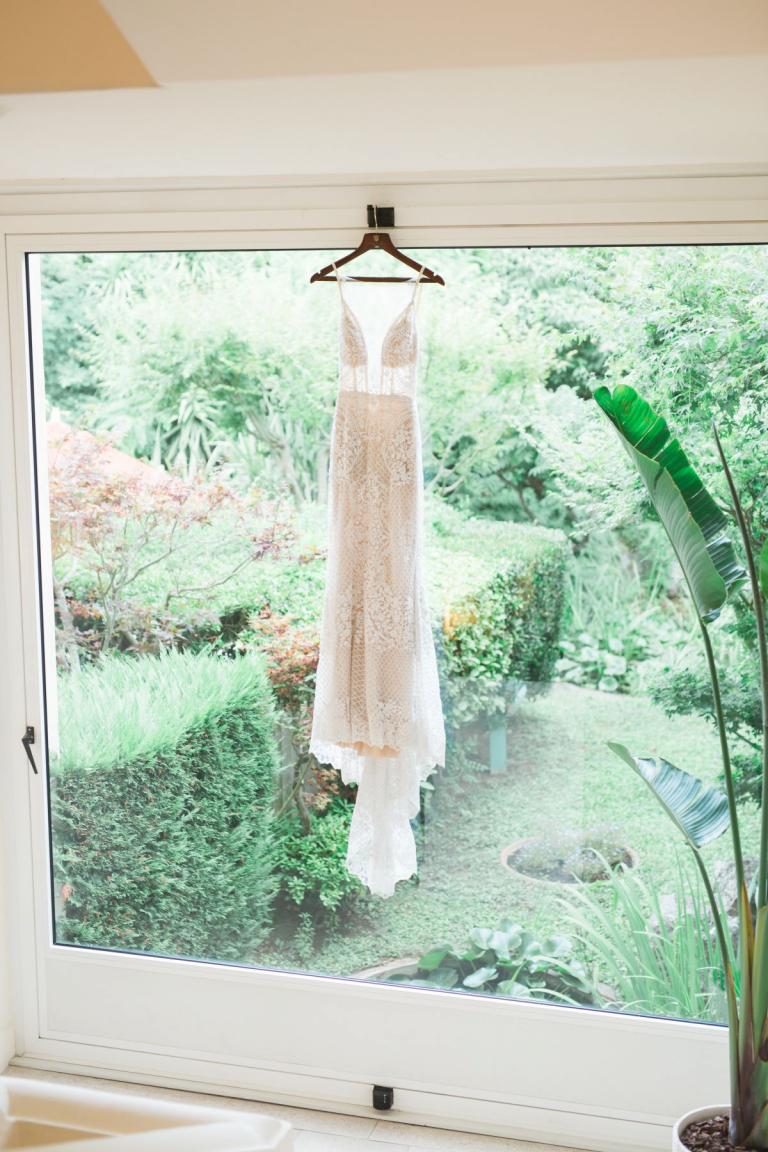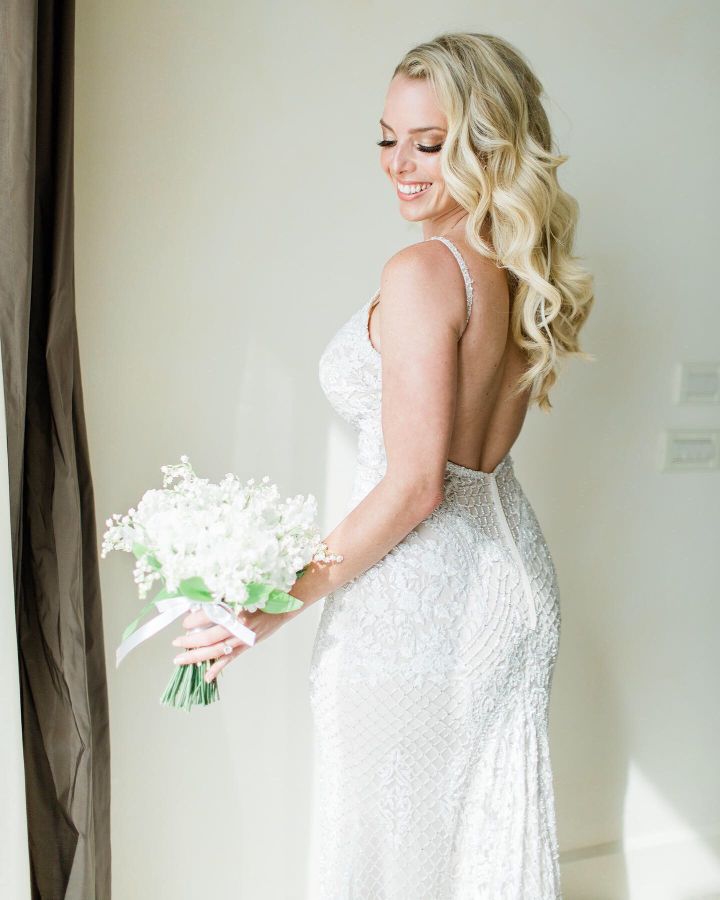 How was your experience with the Galia Lahav brand?

I had the most exceptional experience with Galia. From the moment I walked into the GL flagship in Los Angeles, I knew it was a perfect match. The team at the boutique quickly turned into family. They were so sweet, accommodating, and understanding with any questions or concerns I may have had. (Let's be honest, I didn't have many concerns with GL, but definitely had a few bridal jitters when selecting 'the one!') They have a dress/design for every bride's taste. All of the designs are dreamy and elegant, with luxe fabrics and materials. I also love how Galia's dresses have the finest details and are always well-fitted and very flattering!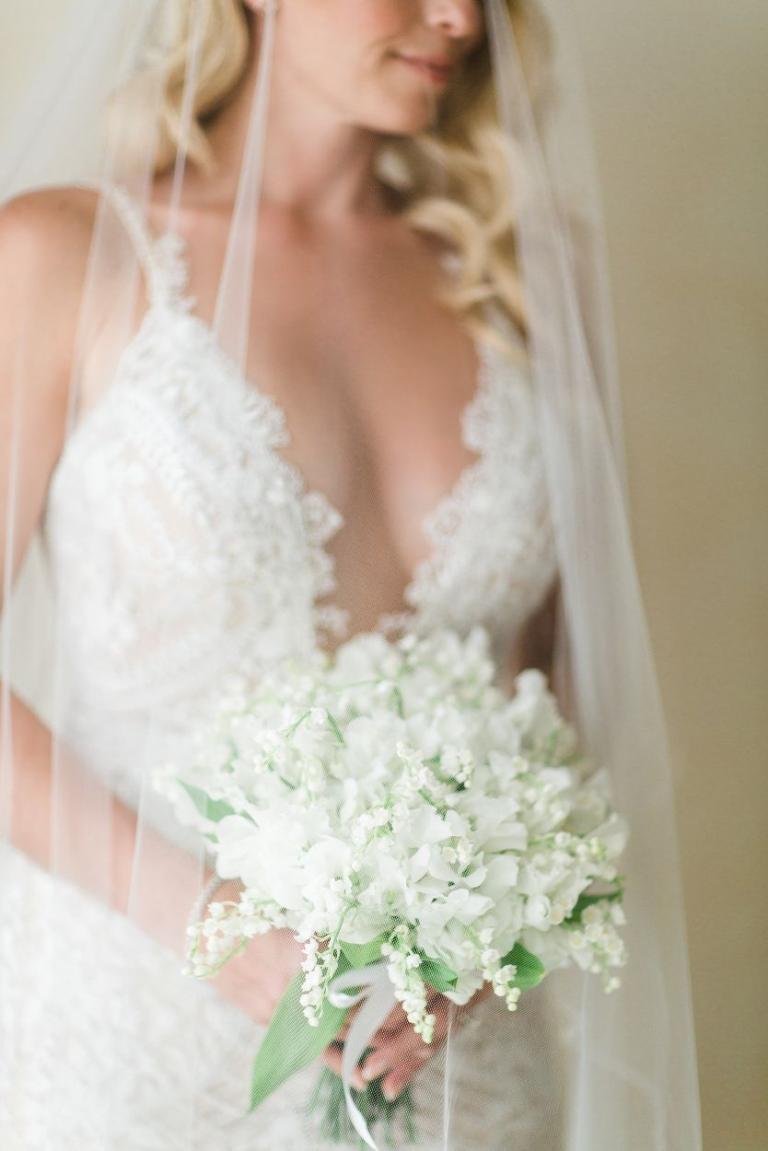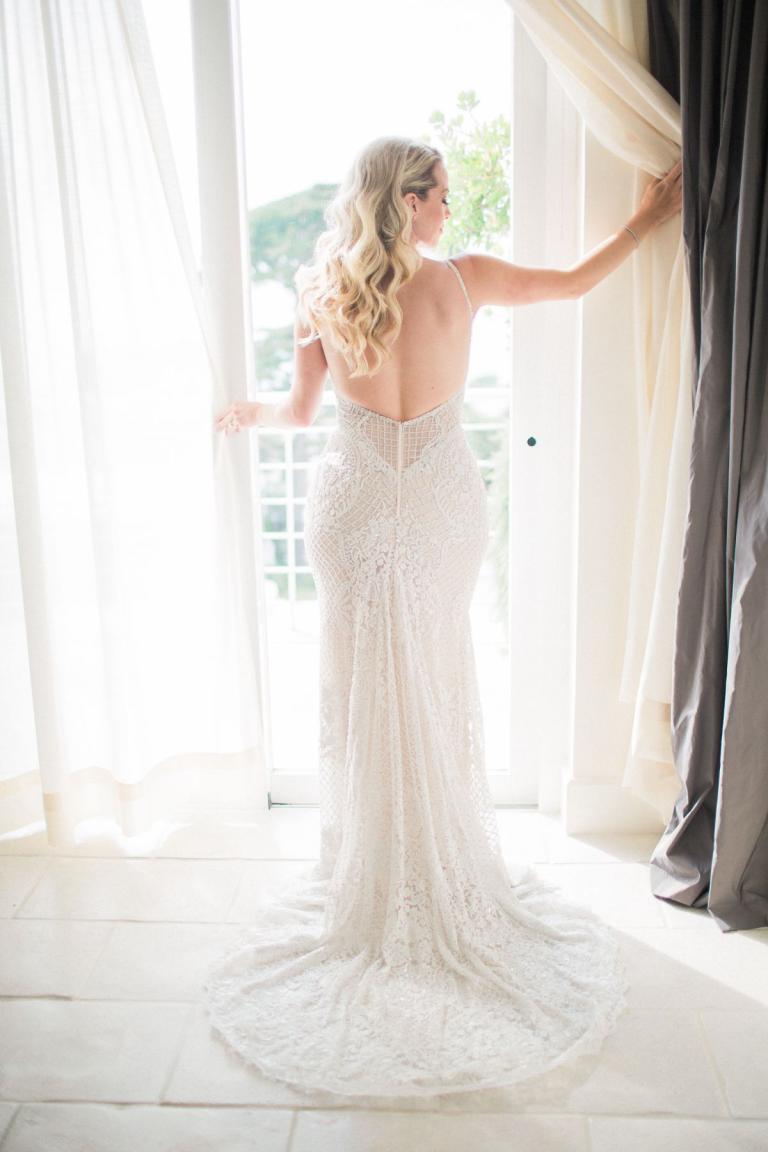 What was the most important thing for you and your husband when planning your wedding?

We really wanted to provide the most special and amazing experience that we could for all of our family and friends – one that they would remember forever. Since we did a destination and they were all so kind to join us halfway around the world, we wanted them to feel extra special, so we planned three incredible days of events, leading up to the wedding.
What was your first wedding song?

Our first wedding song was " Latch" (acoustic version) by Sam Smith.
What did you enjoy the most about planning your wedding?

Having fun with it and being the bride, for once. I got to make all of the fun decisions and create every detail to fit my own taste. I also met some incredible vendors, who are now good friends of ours in Capri.
What advice would you give to all our future brides?

Make sure to remember that it is your special day, as the bride, and just have fun with it! It can be a very emotional and stressful process but try not to get caught up in the stress of things. Everything will come out perfectly if you have the right team and support around you. I would also definitely suggest hiring a wedding professional to help you along the way. 
What moment from your wedding will you never forget?

The moment that I said "I do" to my husband. I felt like the luckiest girl in the world to be able to marry my best friend in our dream location, in front of all of our closest family and friends.
Finish your registration for {City} Trunk Show