FREE SHIPPING & RETURNS WORLDWIDE!

DUTIES & TAXES COVERED WORLDWIDE
Find your nearest boutique
Our #GLBride of the week is the lovely Lindsey Caldwell, who made it official with her fiancé Michael in our Aelin gown. Surrounded by countless flowers, the couple held their whimsical romantic wedding at Lindsey's family ranch, Stillwaters Ranch. In the following interview, Lindsey shares with us the wedding moments she will never forget and how she discovered her dream GL dress. As told by Lindsey: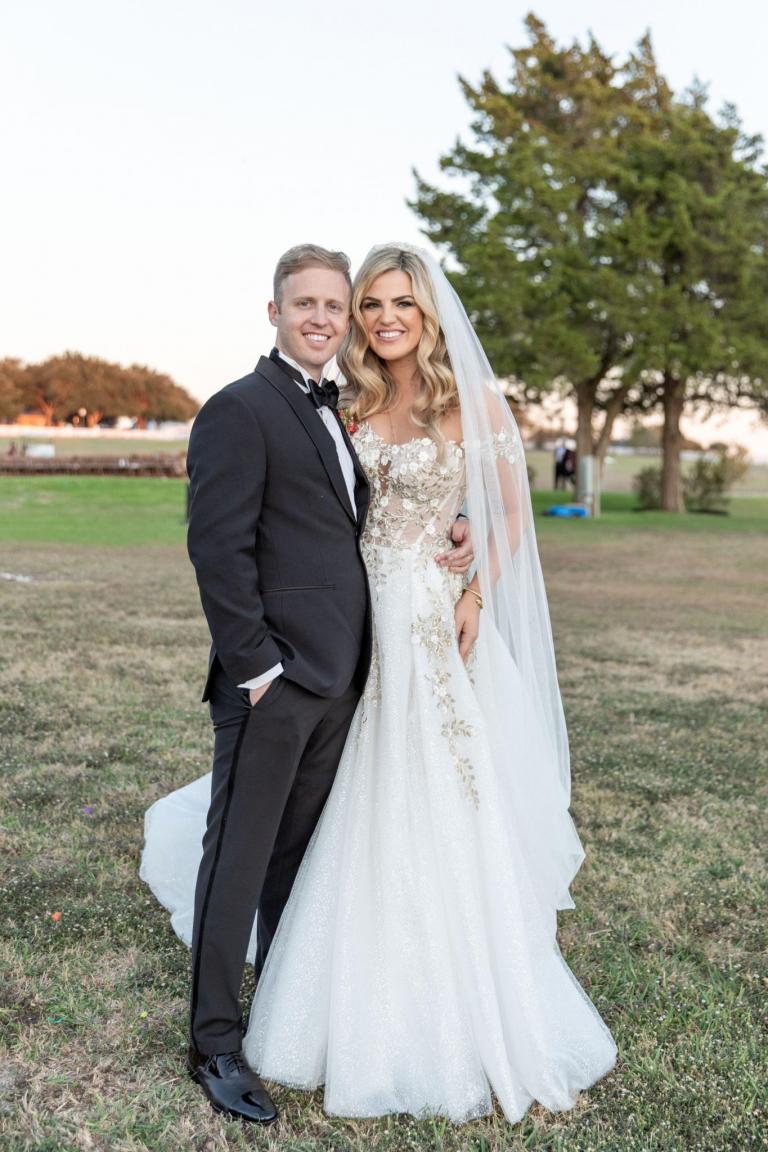 How did you meet your husband? Tell us a little bit about your relationship.

We met on Bumble, #ModernRomance. From our first date, I knew Michael was different. He didn't play games, he pursued me, and I just felt a sense of peace I had never known until meeting Michael. We both share so many core values, our faith, our love for our family, and our desire to dream big and pursue crazy paths God takes us on. Michael is someone I knew early on I wanted to be with forever. He's kind, he's loyal, he loves his friends and family in a way I've never witnessed, and he is truly my best friend. We're also pretty goofy, which makes the mundane parts of life fun because he always keeps me laughing.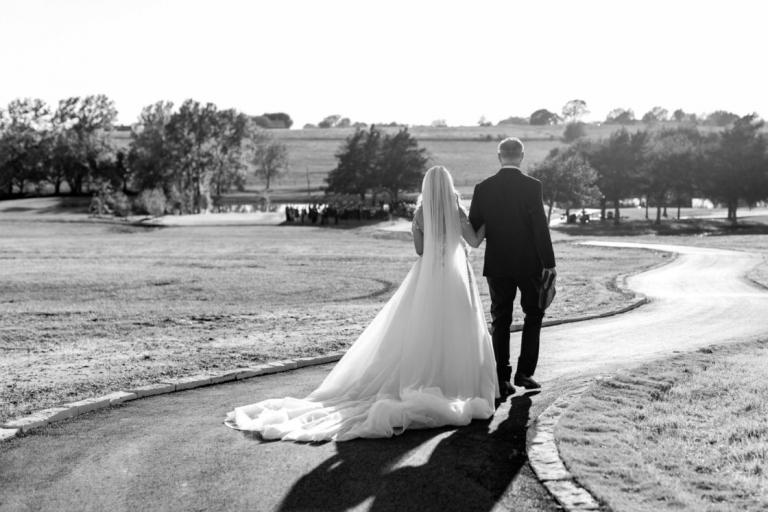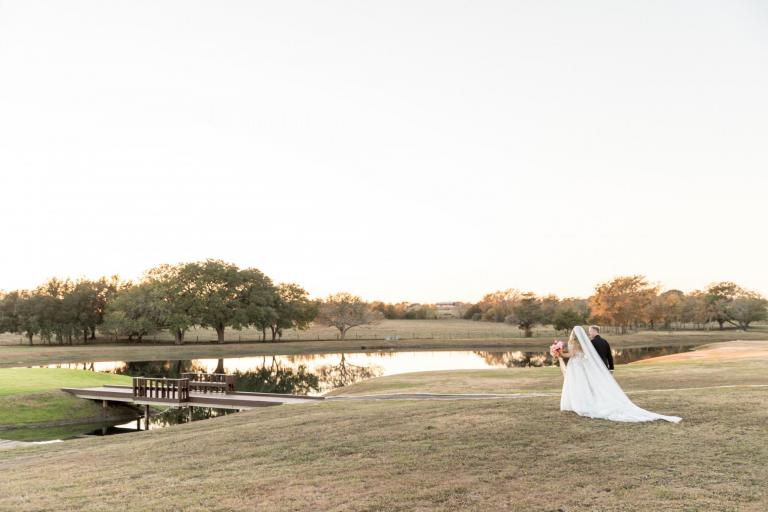 How did he propose?

Michael took me back to the first place we met. We were in a bible study together, so he smoothly told me we were going to the park to finish up on some answers for the week. He told me to dress up if I wanted to because we were going to go on a brunch date after. The park we were walking to was connected to the first place we met, and as we walked by he dropped on a knee and popped the question.

I know I should have put it all together, but I just did not see it coming this day. I was legitimately barefoot walking to the park and sipping iced coffee when it all went down. The coffee went flying when I realized what was happening, I got on both of my knees too, and forgot what hand the ring went on. Michael hired a photographer to capture it all, and he had rented out the venue where we first met, so we got to take pictures for the next 30 minutes.

During the proposal, I cried and my makeup had melted all over him, so I suggested we run over to his house so he could change his shirt before brunch. When we got to his house both of his families were waiting outside, and my sister had a flower crown for me. My mom mentioned something about some people were waiting in the back, and I took off running. Over 60 of our friends and family were there waiting for us, and some flew in from New York in Nashville.

It was the most overwhelming day I have ever experienced. Every detail was so thought out, so how Michael is. From the cookies at the party being my favorite color to the secret photographer, to the friends he called to see if they could fly in. I felt so known, and so loved. Michael also sent a note to all of my closest friends and asked them to write letters if they weren't able to make it. So, after the party died down, he handed me a stack of letters from some of my best friends from Los Angeles, New York, and lots of places in between.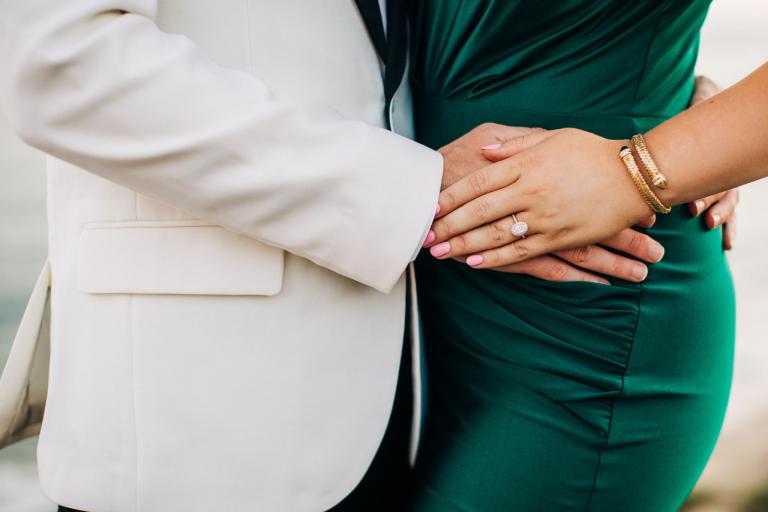 How did you start planning your wedding? What were the first steps?

Overall, I started with a vision of what we wanted. I really wanted guests to have FUN with lots of colors and a Palm Springs twist tying in our Southern roots. The ceremony was also really important to us we wanted the ceremony to be full of Jesus and love, and for the evening to not feel stuffy one bit. I also love getting dressed up, and I wanted our guests to feel like a 10 and wanted a non-traditional twist, so I started looking up Ferris Wheel vendors early on.

One wedding planner we talked to (Rachel, Wed & Prosper) actually gave really great advice early on and told us to write down the top 3 things that were important to us for the big day. This was a lifesaver throughout the process because there are so many decisions to be made. It's a great foundation to go back to when you're in the thick of wedding planning. Highly recommend to all brides, because there are so many decisions, it can get easy to get lost in them, but this will help remind you of what is most important to you!

Once we determined the overall vision, colors were really important to me, so I actually pulled together inspiration photos from Palm Springs, downloaded a Sherwin Williams paint app, and used this to help steer me when talking to vendors. We were planning this West Coast-inspired wedding in my hometown of Houston at our family ranch, and it seemed like everyone had a different opinion of what "Palm Springs" inspiration meant to them, so the inspiration images really helped guide me when talking to vendors and staying within the theme I was inspired by.

Lastly, it was very important to both of us that guests felt closer to Jesus in the ceremony, and left the entire evening thinking, 'Wow that was FUN!' It's one of the coolest things as a bride, to see so many guests change their Facebook and Instagram profile photos to photos from our wedding.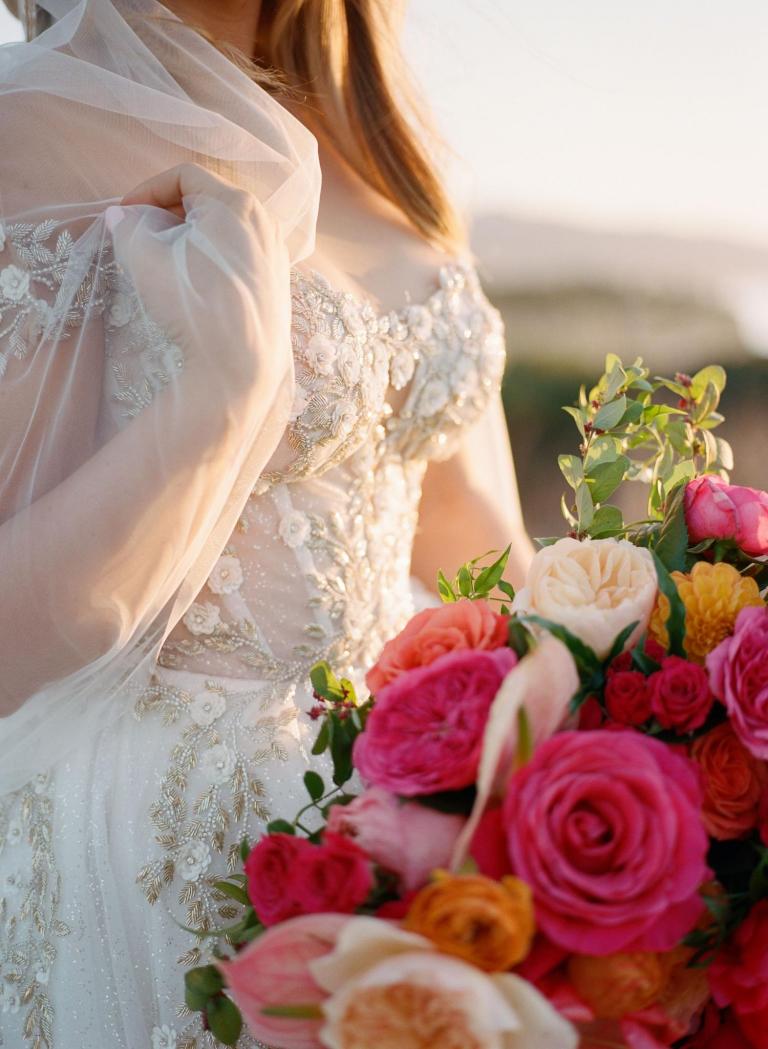 Did you do any beauty or fitness prep for your big day?

My friend, Tayler Cargill, is a Cycle Bar teacher, and I really enjoyed burning lots of calories during spin with tunes that kept me motivated, shoutout to Lizzo. I also was very conscious of carbs and cut them out quite a bit. I definitely set a goal and weighed myself every week, but the last month I just stepped off the scale, because you can drive yourself crazy! Don't let the pursuit for the perfect body get in the way of you enjoying the fact that you are getting married to your best friend.

As far as beauty at my bridal makeup trial, my skin was pretty dry, so Erica with Hey Lovely Makeup suggested upgrading my moisturizer. The Drunk Elephant Baby Facial totally smoothed my skin over, and their B- Hydra Serum really moisturized my skin in a way I'd never experienced before. These two products have completely changed my skin texture, so the makeup went on super smooth!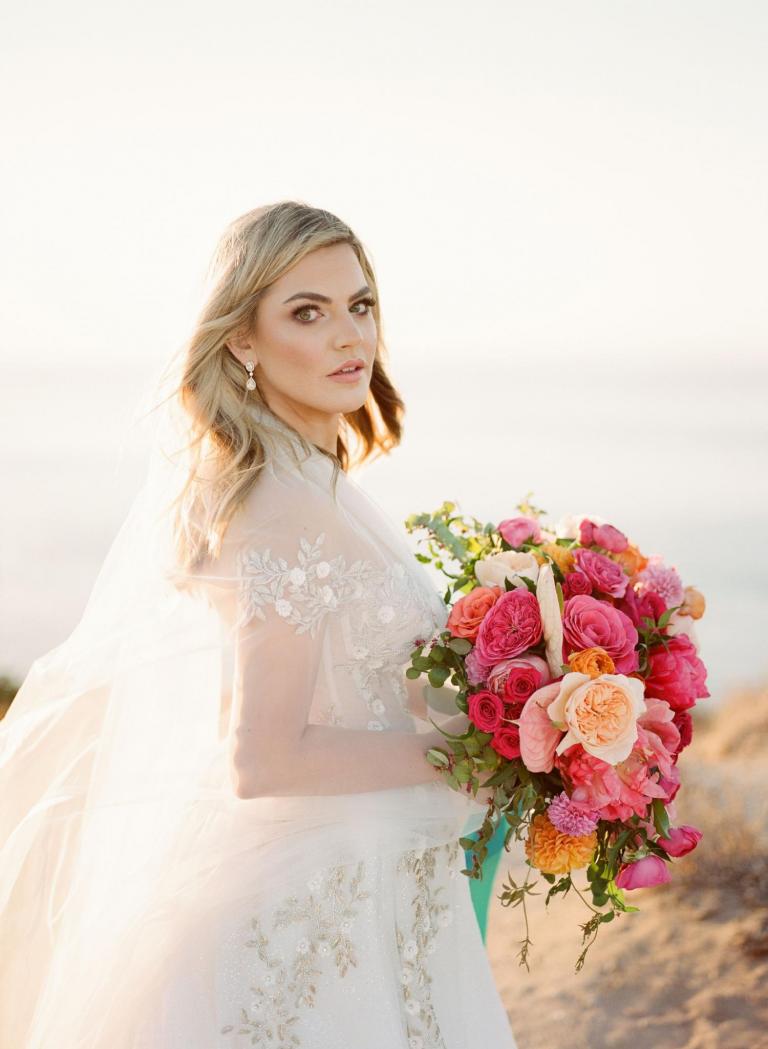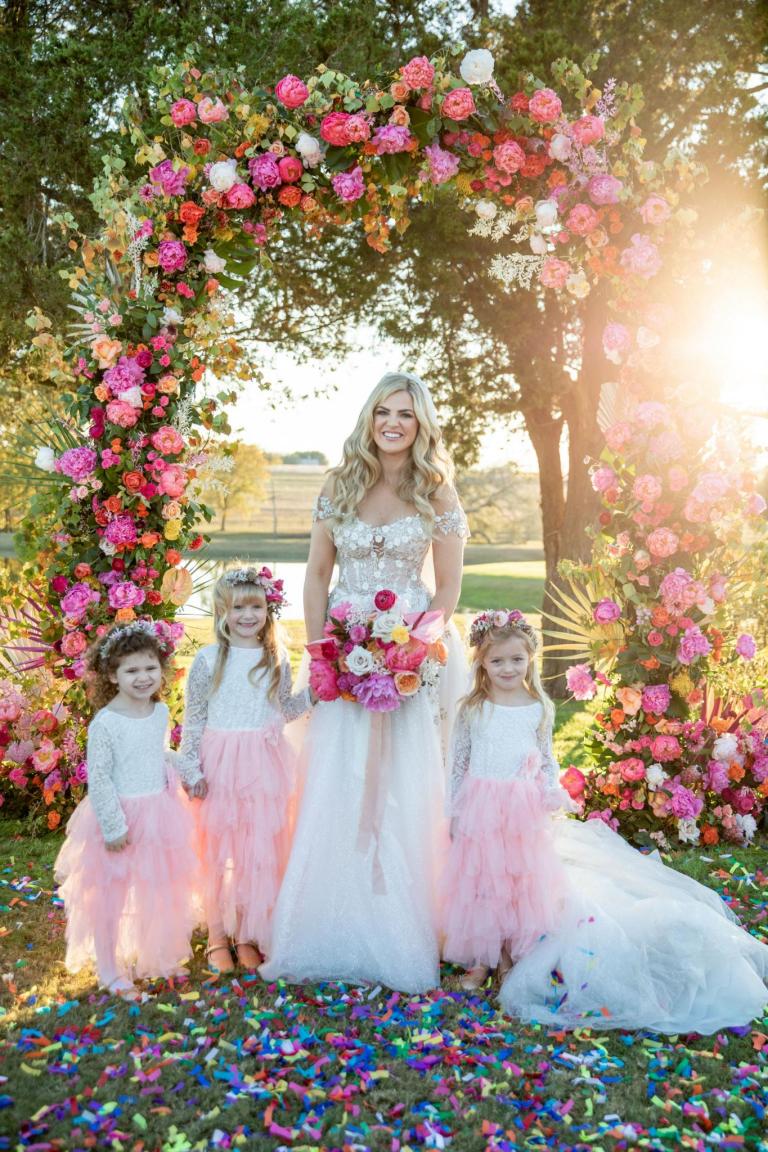 What was your wedding theme?

We wanted lots of colors, so the overall theme was Palm Springs with a southern twist. My Dad actually called me one day, and said, I think the word for the wedding is whimsical, and it really was! The caladium is also really significant to us, so there were touches of the flower throughout the day. You can read the crazy cool story here. We also had a monogram made with lots of fun symbols that are integral in our story, and we incorporated this on our napkins, on cornhole boards, and even on our photobooth.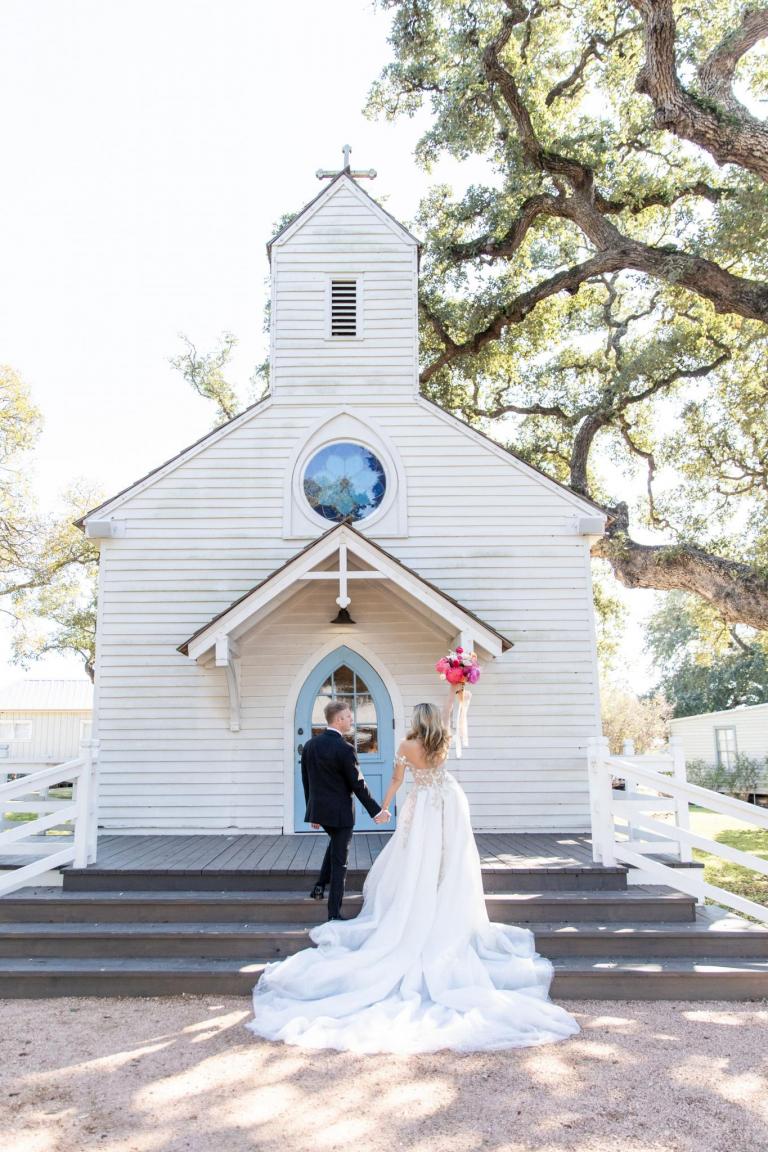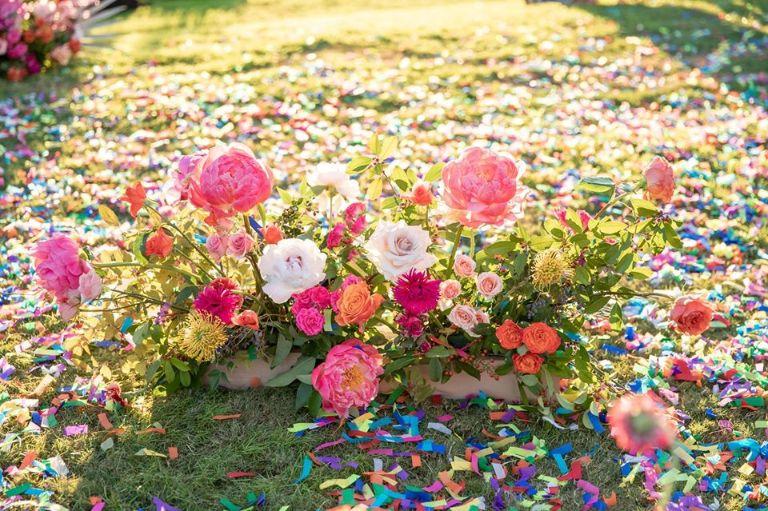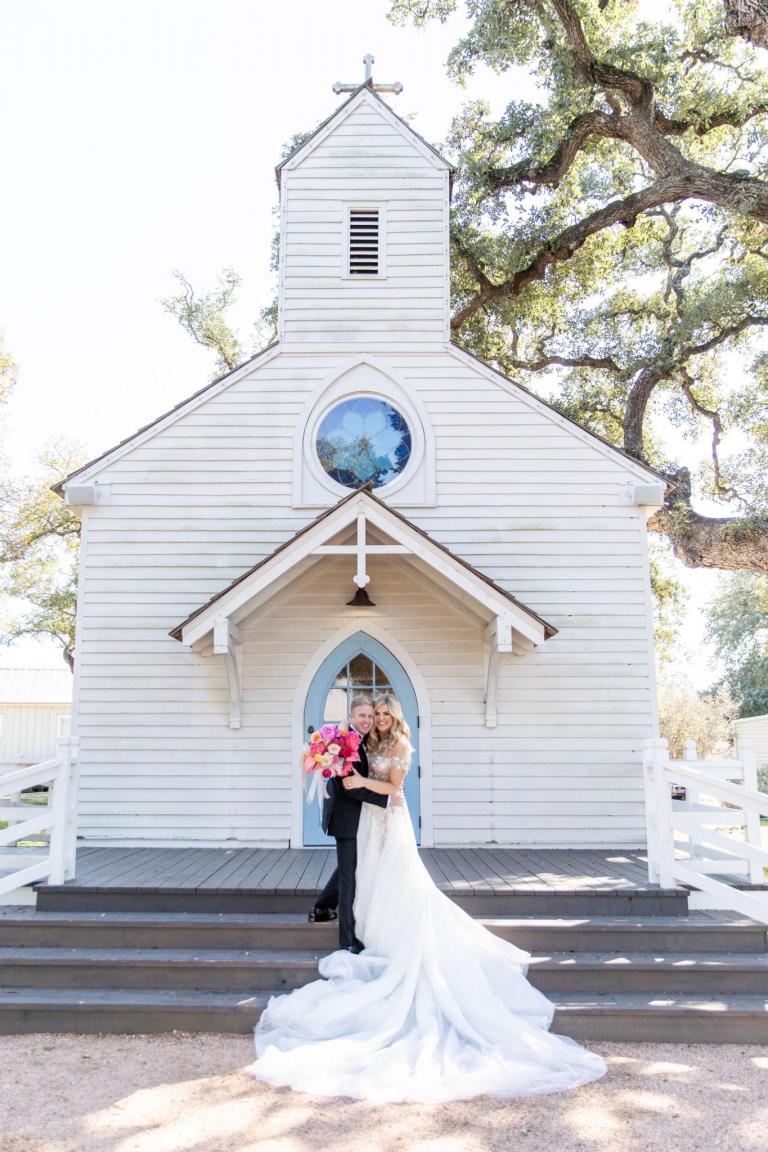 How did you choose your location?

I will not lie, this was very difficult. I grew up in Texas. Michael grew up in Louisiana, so we are both from the south. However, I lived in LA for 8 years, and have a real affinity to the West Coast, and I very much feel like it is a home for me as well. So I kept flip-flopping between the south and the West Coast. We ultimately chose my family ranch, Stillwaters Ranch, and I'm so glad we did. It was really special to see it all come together. My parents worked tirelessly to get it ready for the big day, and it was so fun to have guests from all over the US at the ranch.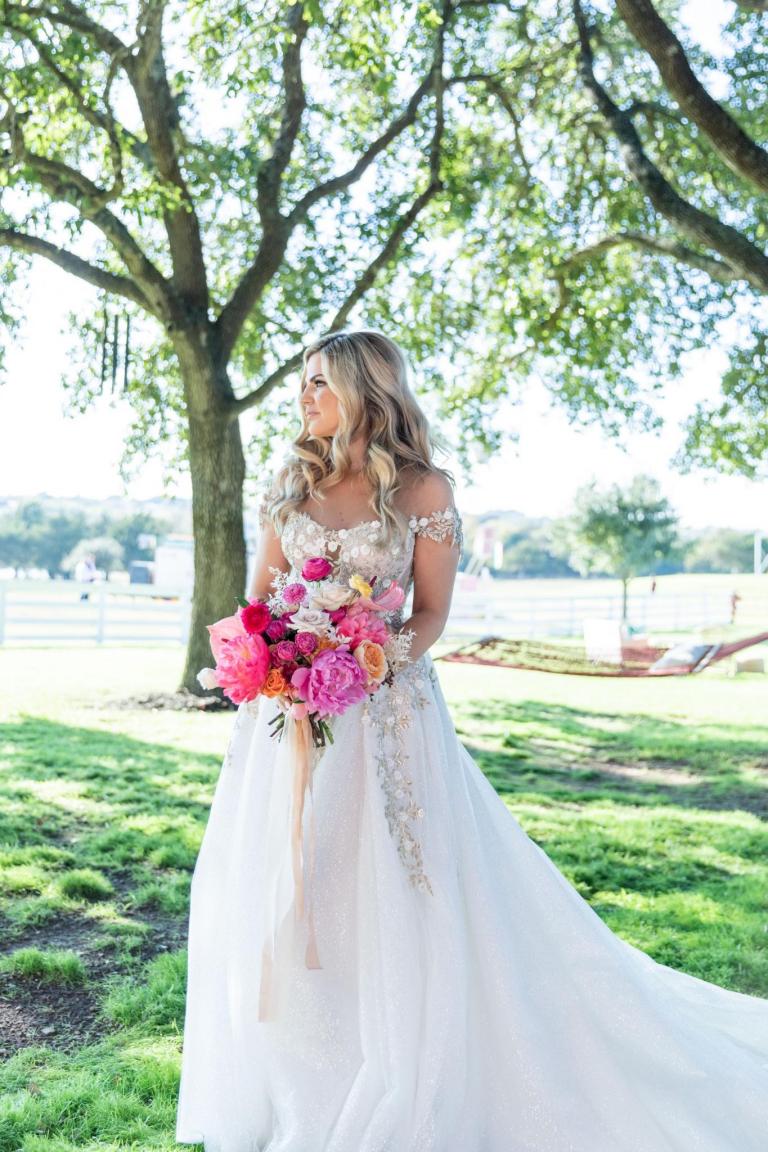 How did you decide on your bridesmaid style?

I ordered a LOT of dresses and tried on so many different designs, but nothing ever felt "right." I didn't want all matching chiffon dresses and really struggled with the colors that bridesmaid dresses came in because there weren't really many colorful options. So, about two months before the wedding, I emailed all the girls and told them to choose their own dress in a shade of pink, and encouraged sequins, prints, and other fun details. The girls all texted me photos of their dresses, so no one would have the same one, and it turned out to be the perfect mix. We had a little sequin, floral, blush, hot pink, bows, and one of my bridesmaids even designed her own!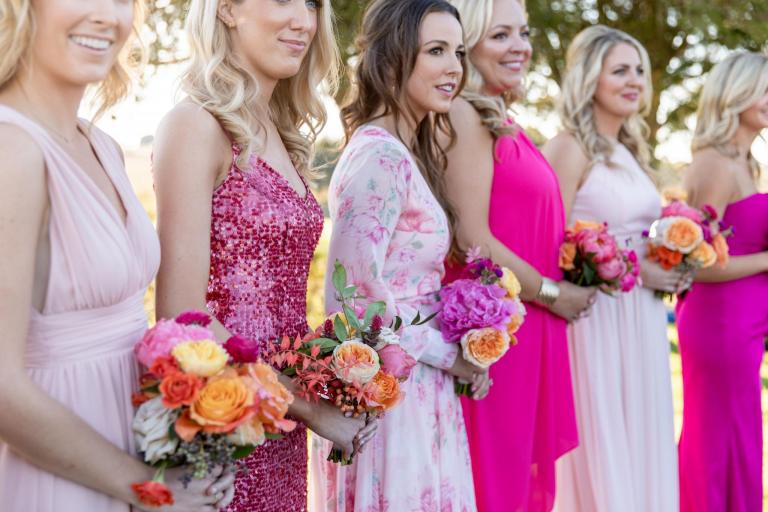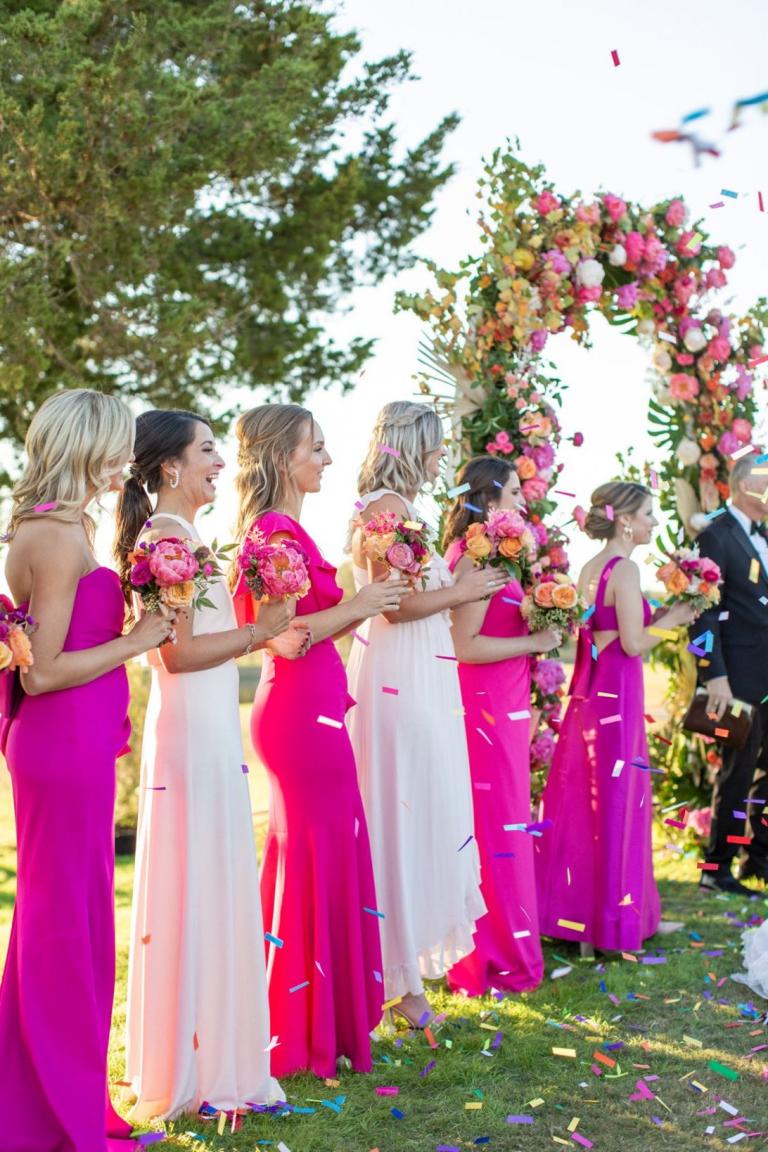 How did you find your perfect dress?

I've had friends wear Galia Lahav, and every time I have seen them they always looked so different. Once we chose the ranch, I really wanted something that felt whimsical, something that moved easily, and I felt glam in. I tried on lots of dresses but kept going back to the Galia designs, the shape of the dress, and the details. I loved how light the train was, and the gold, mixed metallic beading. The dress was unlike anything I had tried on, and as soon as I walked out, my mom and I knew, 'this is it!' It also was such an incredible experience to be able to customize the dress a bit. I didn't want strapless, so we were able to make the dress off the shoulder and it was held up by a t-shirt shaped tulle, so there was no adjusting or fixing the straps at all.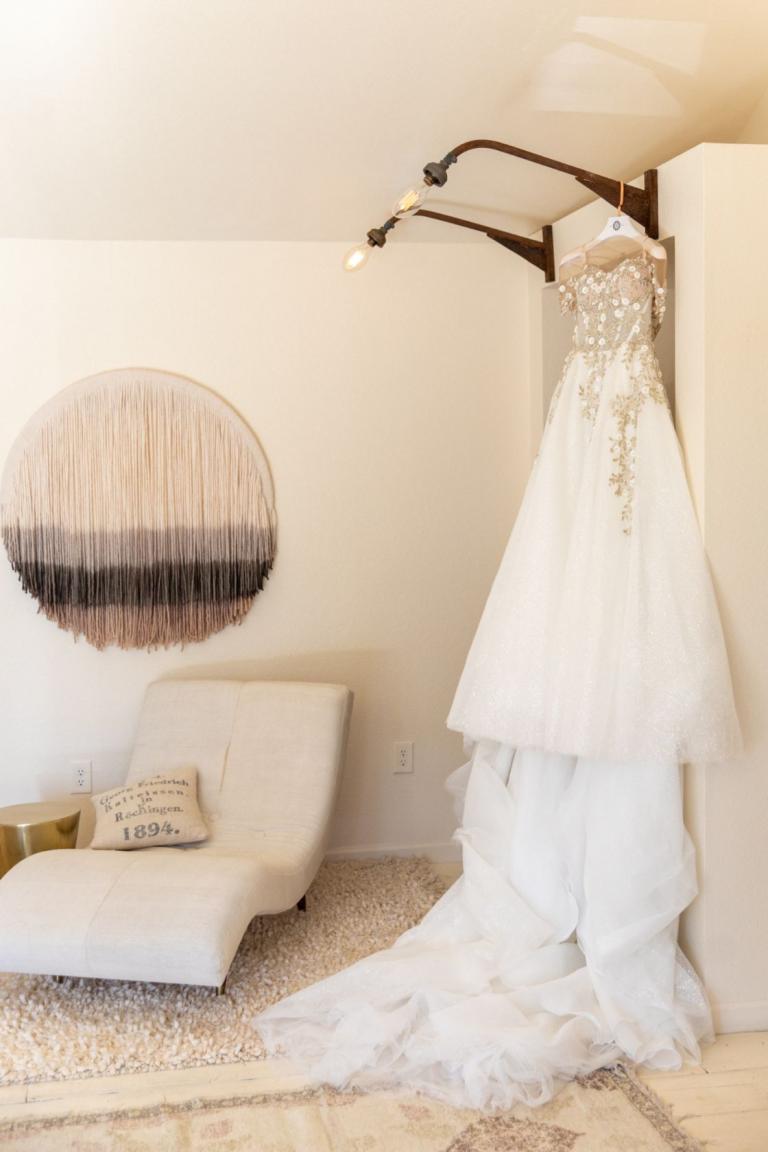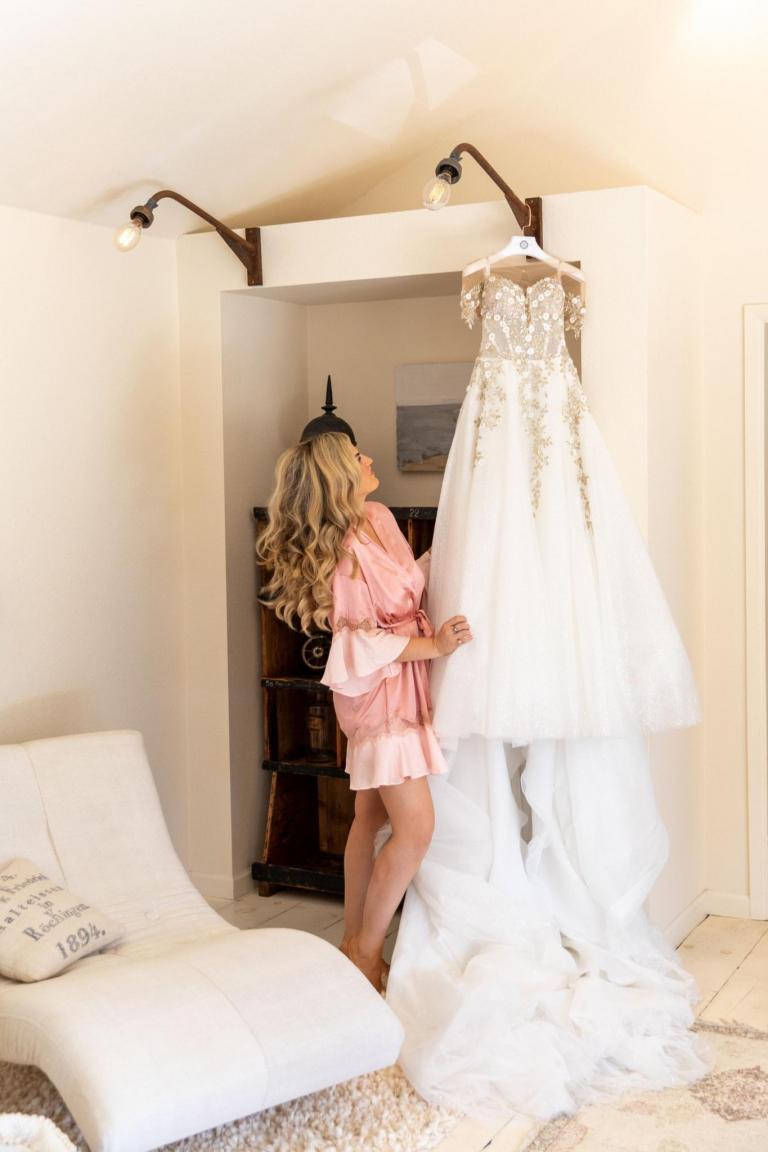 How was your experience with the Galia Lahav brand?

The details on the gowns are phenomenal, and truly unlike any other designer. I love following GL on Instagram and seeing the behind the scenes clips of how they're truly setting and creating bridal trends. The work that goes into their gowns is simply incredible, and you will feel the difference. The beading on the gown I received was just so intricate and even more elaborate than the sample I tried on!
What was the most important thing for you and your husband when planning your wedding?

Keeping Jesus at the center of the ceremony, honoring our families, making sure guests had FUN, and truly creating an experience.
What was your first wedding song?

"God Gave Me You" When Michael and I first started dating, he prayed for clarity, and then this song came on the radio during that prayer. The song has sort of followed us around throughout our dating adventures, popping up on restaurant speakers and radios.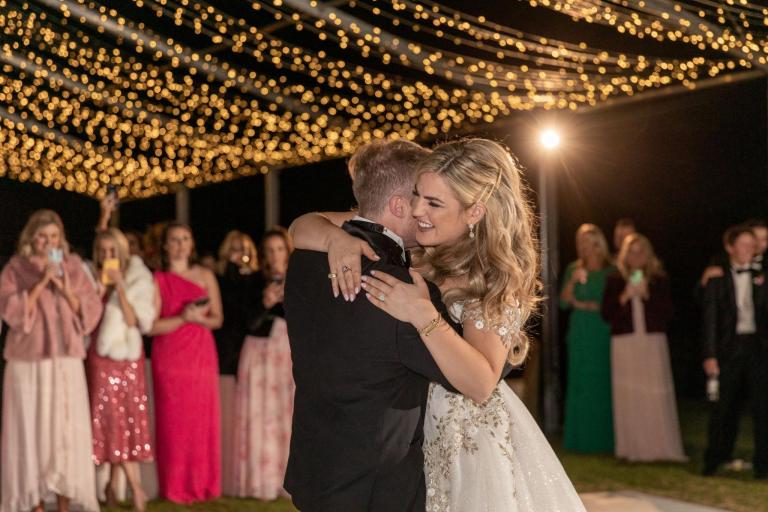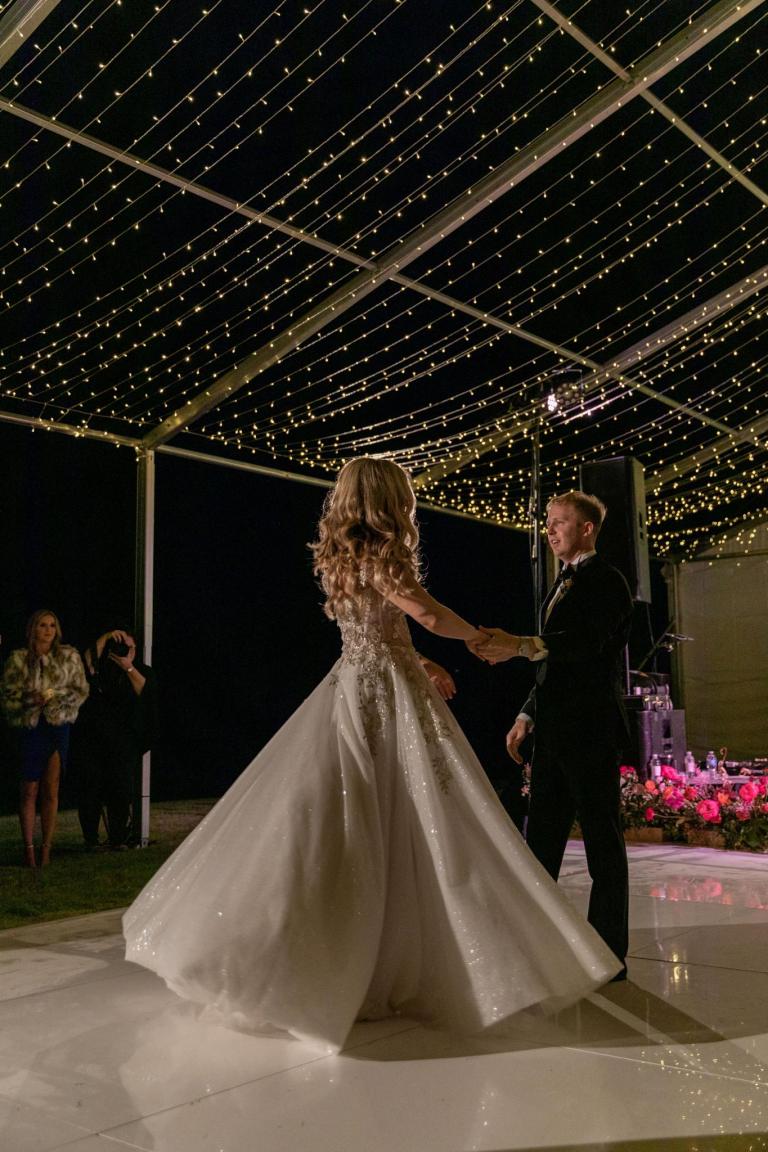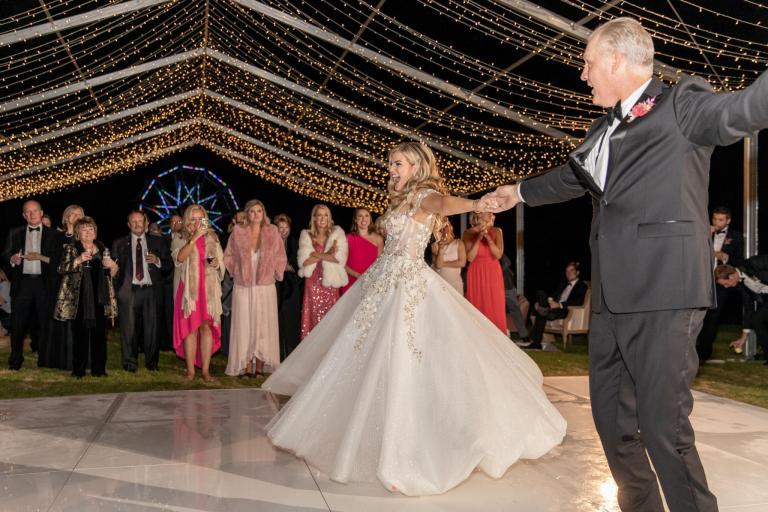 What did you enjoy the most about planning your wedding?

I enjoyed working with our vendors and really collaborating on the overall vision. I love the creative process! I had a lot of specific ideas, so we pulled from a number of vendors to achieve the look I was dreaming of, rather than having just a few. I'm super visual, and never lack ideas (sometimes too many for my own good). We did a mock-up of our table, and the colors started to look a little bit like a birthday or a fiesta. We kept swapping things out, and Alicia with Bows and Arrows Flowers actually grabbed my chunky turquoise ring and slid it on the napkin. It just pulled it all together, and I am always wearing turquoise, so it was such a fun personal touch.

My mom and my Doe (grandma) then glued over 350 slabs of turquoise we found online on to clear napkin rings to bring it all to life! It was just one big collaborative process, even the palm leaf print, my fiance found online, and his mom (my mother in law) actually sewed pillows for the reception! We then took that print and carried it on to our band backdrop. It was just really fun finding, sourcing, creating, and collaborating with everyone!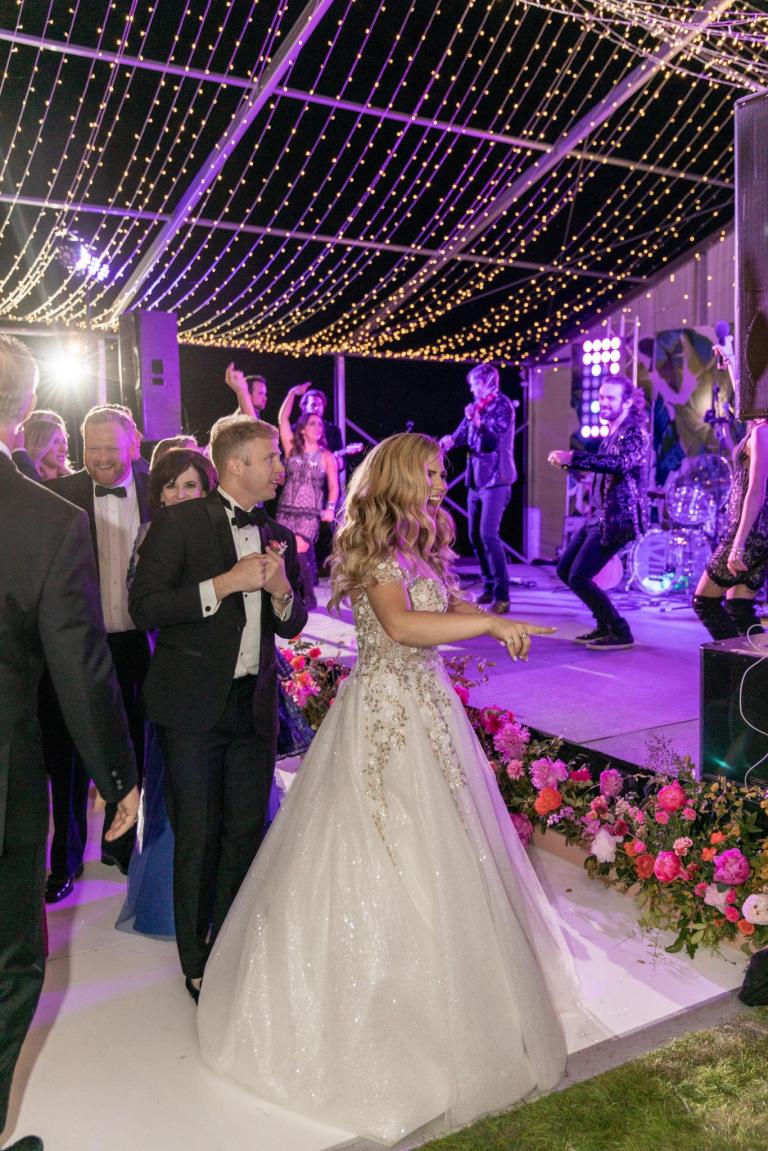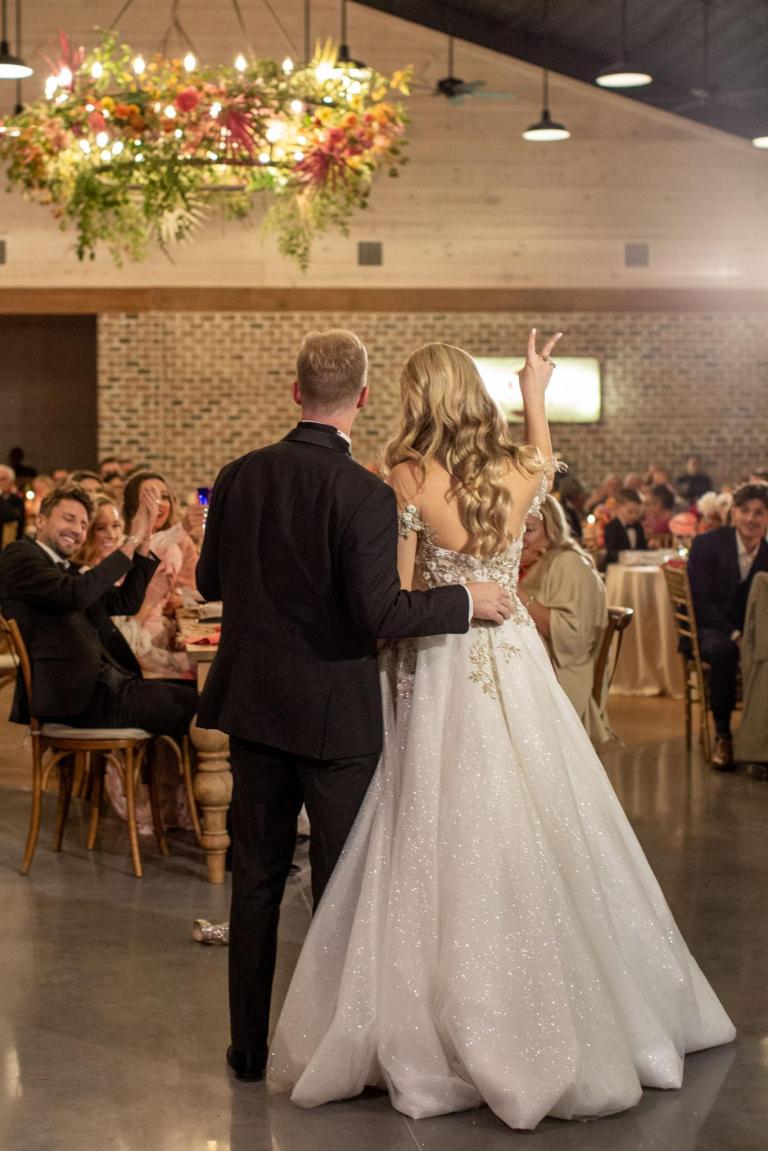 What advice would you give to all our future brides?

Listen to your gut and go with it. I actually booked our videographer, Pen Weddings, without a venue, without a 100% confirmed date, and without our wedding planner hired yet. It was just one of the few things I knew I wanted, and I just went for it.

I read on a wedding blog once to plan the day as if you were a guest, and that actually was great advice when walking through the decisions, and deciding what would make more of an impact.

Finally, at the end of the day you are marrying your best friend, never forget or lose sight of that very special and sole reason you are planning this special day! There are tons of trends, lots of places to find inspiration, it's easy to get lost. Don't forget who you are, what's important to you, and plan the day for you two!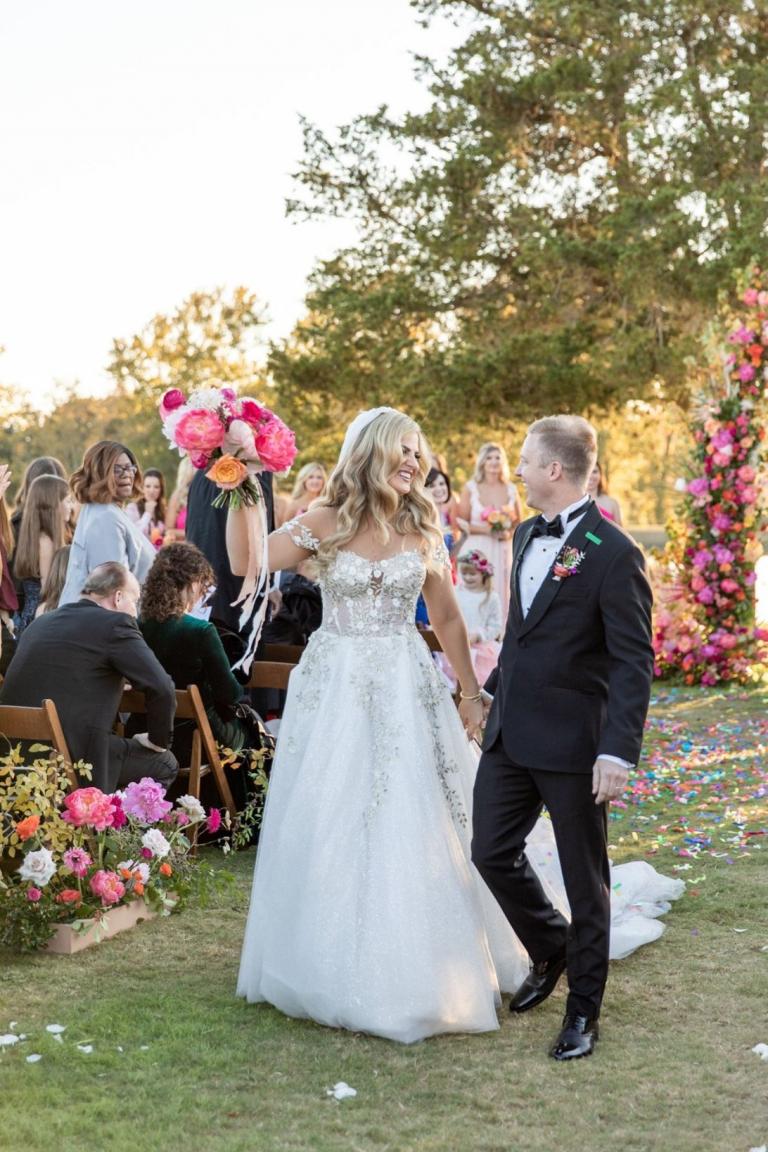 What moment from your wedding will you never forget?

My dad married us and we ended up making the entire pathway from the top of the ranch down to the lake the aisle. I'll never forget that moment walking down. I'm very close with my parents, and I just remember crying happy tears with my Dad as we made the journey down, and he was proud of me.

The other reality is my dad has prayed daily for my sister and me, and on that list has always been for Godly husbands, it was such a special moment just realizing it had all become an answered prayer. Since the aisle was so long, I was able to really see everyone's face, see friends and family from all over, and will never forget that. It meant the world to me to see so many friends from New York, LA, and all over to help us celebrate.
Finish your registration for {City} Trunk Show