FREE SHIPPING & RETURNS WORLDWIDE!

DUTIES & TAXES COVERED WORLDWIDE
Find your nearest boutique
Our GL Bride of the week is the stunning Lindsay Liptok, who walked down the aisle to marry her fiance Matt in our Gia Gown. The couple chose to wed at the historic Smye Building with a chic garden theme. In the following interview, Lindsay shares the details of her romantic garden wedding and how she found her dream dress with us. As told by Lindsay:
How did you meet your husband? Tell us a little bit about your relationship.

Matt and I met in our last year of university. We were put into the same group for a semester-long project. We quickly realized that we had a lot in common and after spending many hours working on our project together – the rest is history!
How did you he propose?

One of our favourite places to travel is NYC and we typically stay at the Roxy in Tribeca. We spent the weekend with friends and planned to go out for dinner on the Sunday evening before heading home the next morning. As we were leaving our hotel to head to the restaurant, Matt asked me to stop for a photo out front. We walked out the front door and the next thing you know he's down on one knee! I was extremely surprised and in shock – luckily he hired a photographer to capture it all. We talk more about this trip in our wedding video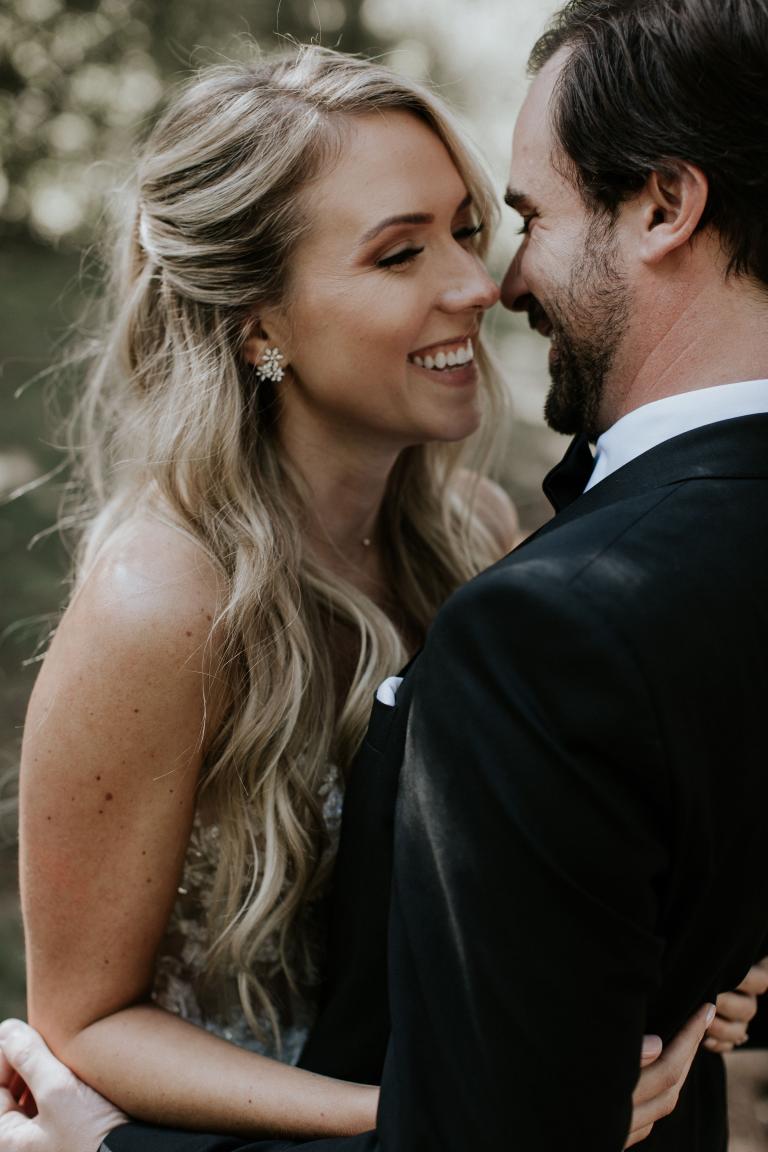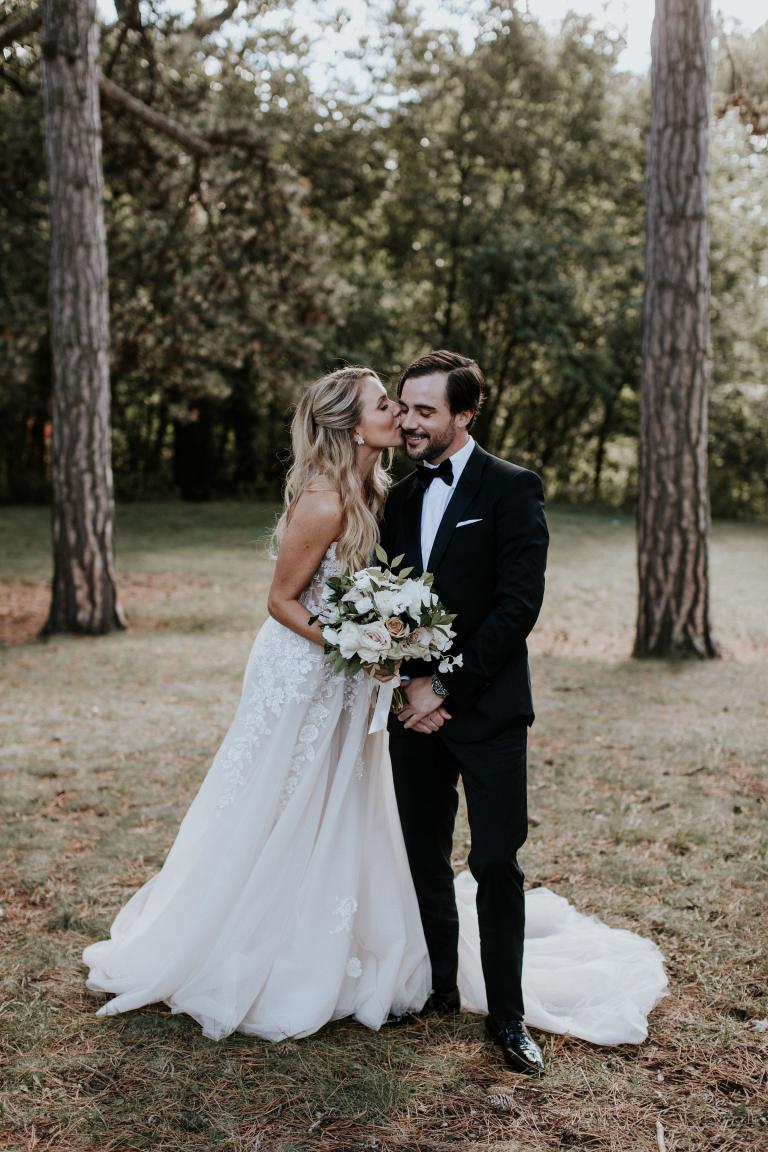 How did you find your perfect dress? And how did you decide to buy it?

It sounds cliche but once you know, you know. I had no idea what type of dress I wanted. After trying on a ton of beautiful dresses, nothing was truly making me excited. I started to try on different fits and styles that I wasn't naturally gravitating towards and relied on the recommendations of the people working at the dress shops to help. It got me out of my comfort zone and helped narrow options. I knew instantly the Gia was for me when I put it on. I couldn't stop thinking about it afterwards.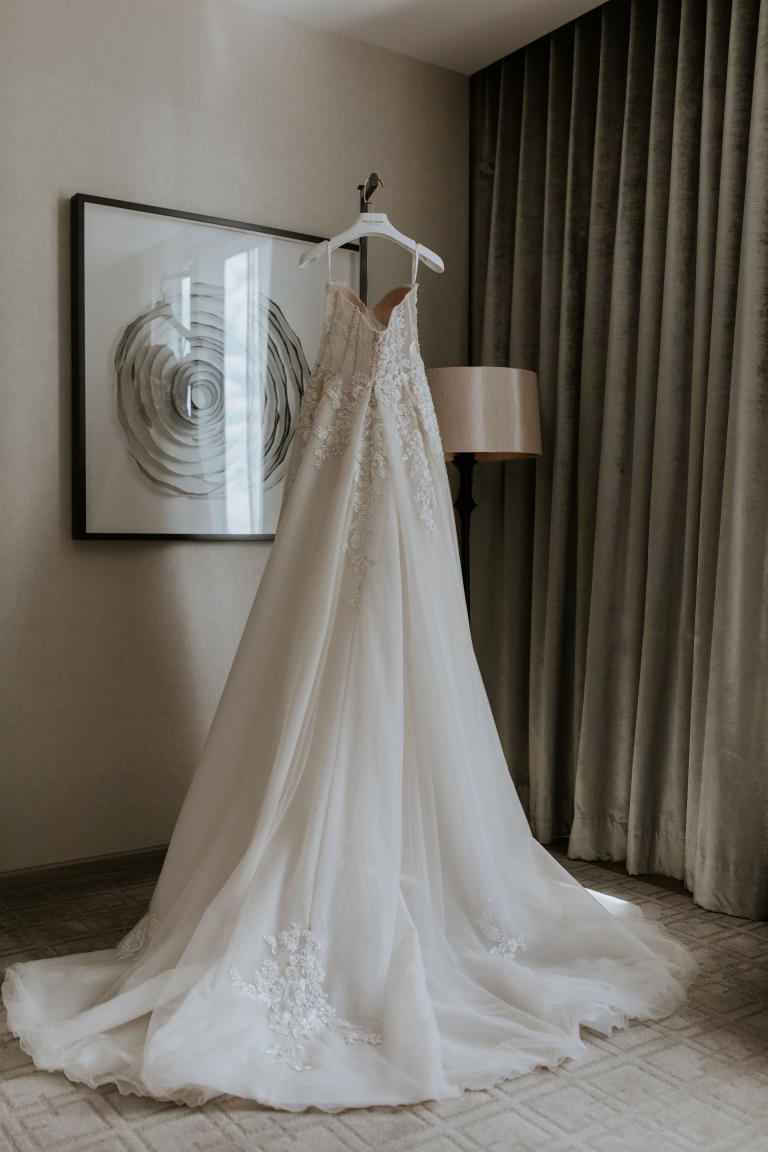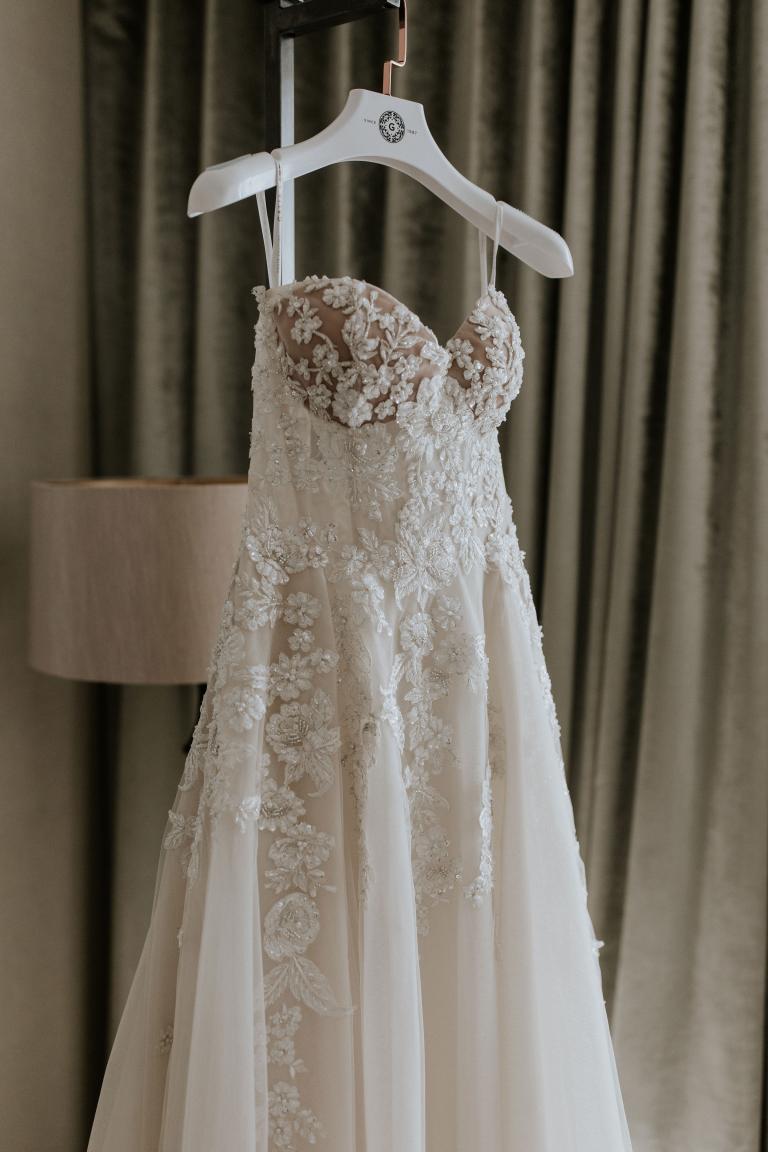 Where was your wedding?

The Symes Building was restored from the 1930s, so you get the best of both worlds – timeless beauty that comes with historic spaces and the amenities of a brand new event space. We loved all the character the venue had to offer with the red brick walls, exposed ceilings, and distinctive windows throughout. Yet it was still a blank canvas that we could make our own. We had enough space to make the ceremony, cocktail hour, and reception individually special and catered to the experience we wanted our guests to have.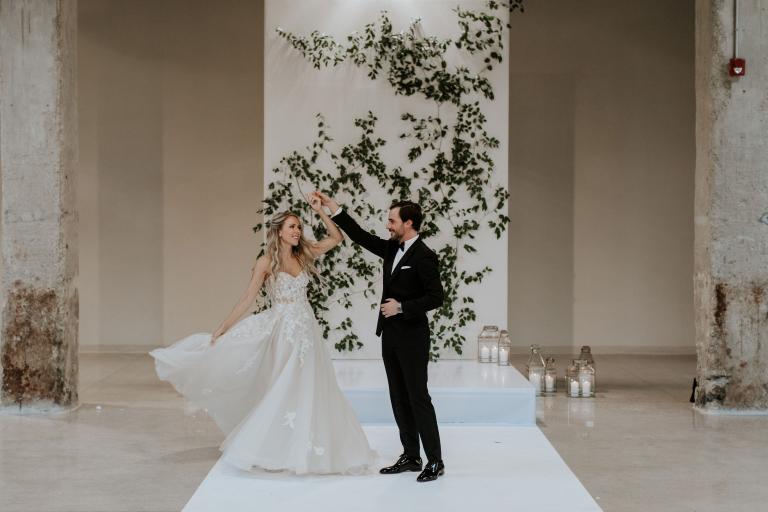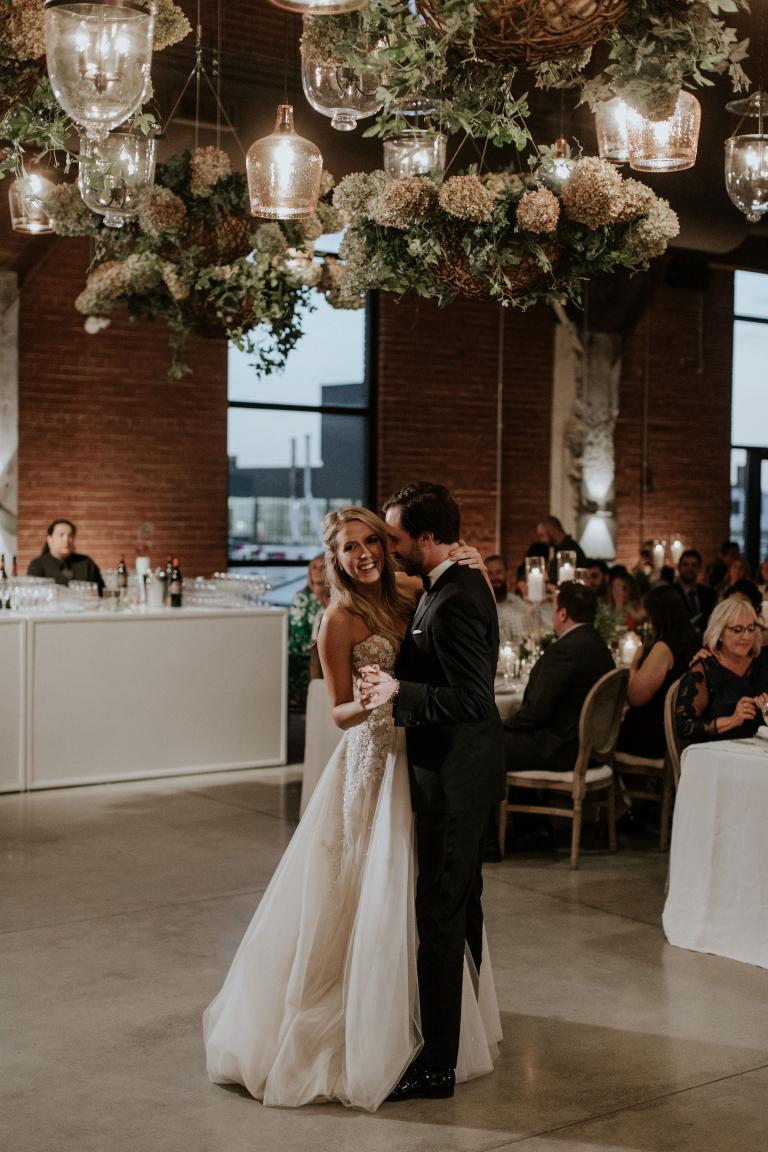 What was the theme? Did it require special planning? Share with us.

I would describe our theme as chic garden. We used a lot of greenery, blush florals and candlelight. If you have a busy schedule and you have the financial means, 100% hire a full-service wedding planner. We worked with Lexi from Lexington and Co. Working with someone that has industry relationships, understands what needs to happen when, and can give candid feedback on how to make your wedding the best it can be is invaluable. It allows you to focus on what really matters to you.
Which was your favorite part?

Our first look. We've been together for 10 years, so getting married felt surreal. After getting ready, we were so anxious to see one another so we could start celebrating and having fun with our friends and family. It was an incredible moment to finally realize we were about to get married after dreaming about for so many years.
How was your experience with the Galia Lahav brand?

It was fantastic. The first time I tried on my dress, it was so special. The quality and detail is truly unmatched – it really is a piece of art. It required minimal alterations and fit me like a glove. I got so many compliments about the dress the day of the wedding. It was worth every penny and I will hold onto it forever.
Where did you purchase the dress?

White in Toronto, Ontario, Canada.
What did you enjoy the most about planning your wedding?

I loved the wedding design and decor process. It was fun to work with so many creative people.
What advice would you give to all our future GL brides?

Don't get too overwhelmed about little details in the planning process. Focus on what you really care about and what will make a difference to your guests. While the decor, food, and music are all important decisions – at the end of the day, you're going to remember the people and how you felt.
Was your wedding the way you dreamed it?

Yes, even better than I had dreamed it. It's truly magical to have so many people come together to celebrate your love.
Finish your registration for {City} Trunk Show