FREE SHIPPING & RETURNS WORLDWIDE!

DUTIES & TAXES COVERED WORLDWIDE
Find your nearest boutique
Our #GLBride of the week is the beautiful Lenore Coer, who wore our gown as she wed her fiancé Goke. The couple decided to exchange their vows at the sophisticated Georgian Terrace in Atlanta with a romantic African-American and Nigerian fusion wedding. In the following interview, Lenore shares the details behind her unique wedding, and when she fell in love with our gown. As told by Lenore: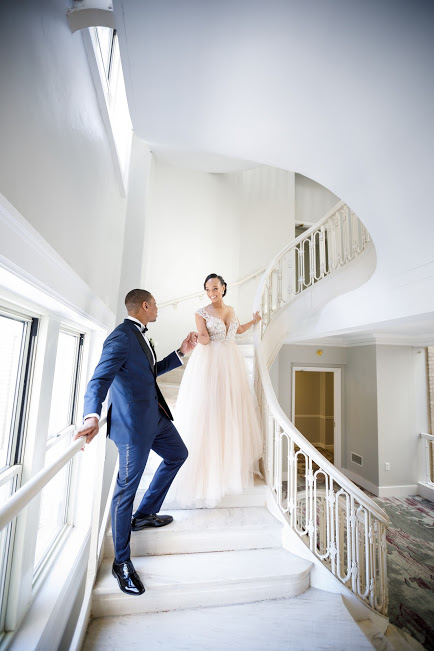 How did you meet your husband? Tell us a little bit about your relationship.

Everyone's heard the story, "Guy sees the tall girl across the room, walks over, and they live happily ever after." But this NOT that story.

Although our love story did start that way, a casual party with some friends, it was a full 3 years before I'd decide to go on a second date with my husband. But by that time, he'd have to travel 3000 miles to California where I'd recently moved, in order for me to say 'Yes'. 

That 'Yes' evolved into an almost 3 years long-distance relationship with frequent trips between NY and LA and a beautiful wedding surrounded by our close family and friends.

I stand by that choice.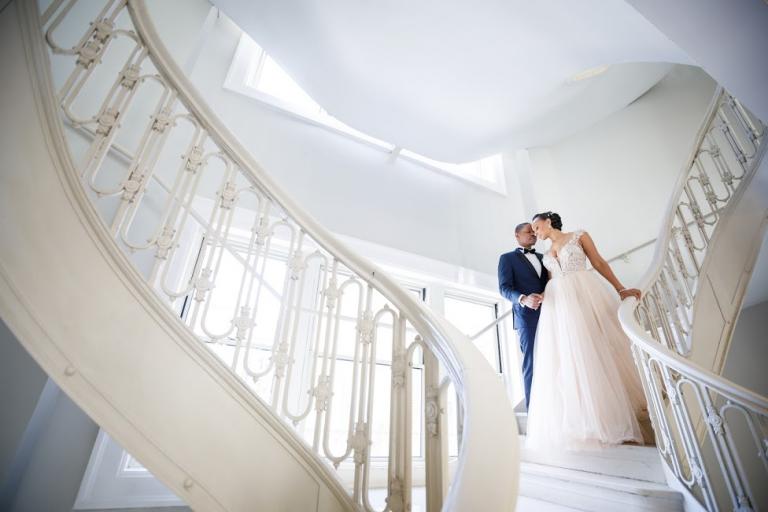 How did he propose?

Goke and I still laugh about our proposal story, it is not a traditional one by any means and I think best reflective of our relationship.

Days before Christmas, I was still decorating our new place for the holidays and he'd ordered stockings to add to the design. Confused, I opened them and wondered why he'd gone through so much trouble and couldn't understand why we needed them.

Towards the end of the night, over a plate of mediocre Chinese take-out, he finally admitted that something special was supposed to go in my stocking this year. Still curious and never one to stop asking questions, I asked what that was and then he pulled out the most beautiful ring I'd ever seen. I stand by that choice too.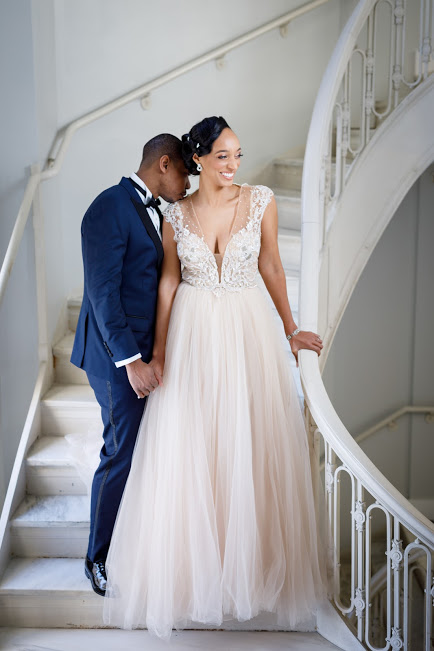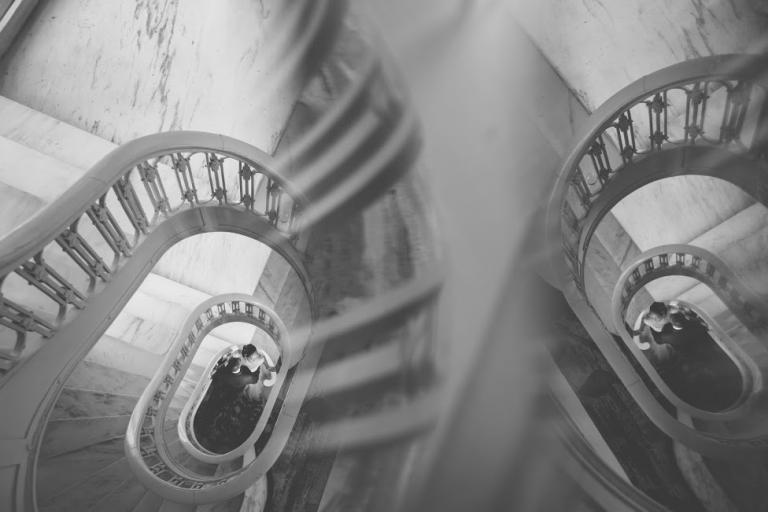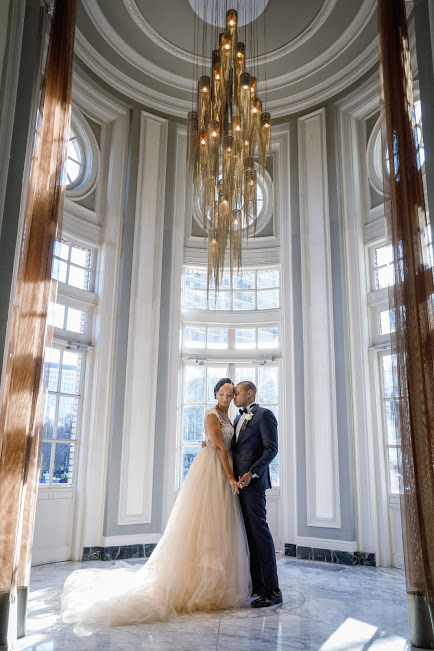 How did you start planning your wedding? What were the first steps?

I started dress shopping first, which wasn't intentional, I was simply excited. I purchased my dress over a year before our wedding and definitely before we'd set a date.

My next step was to find a location so that we could set a date.  I knew that I wanted to get married in the south and my fiance insisted that we host our wedding weekend in a city with an international airport so that it would be easier for his friends and family to travel from Nigeria.

We compromised (our first of many) and chose Atlanta, GA, which is not too far from my hometown. My next step was selecting the perfect venue.
Did you do any beauty or fitness prep for your big day?

I was training for the New York City Triathlon months before the wedding so I was really active leading up to our big day. I also started getting monthly facials to make sure my skin was as radiant as possible.
What was your wedding theme?

I wouldn't say we were very specific on a theme or with our colors for that matter. I knew I wanted a classic space already naturally beautiful so that the architecture could shine and I knew I wanted white decor. Our wedding was a fusion of African-American and Nigerian culture in a romantic setting.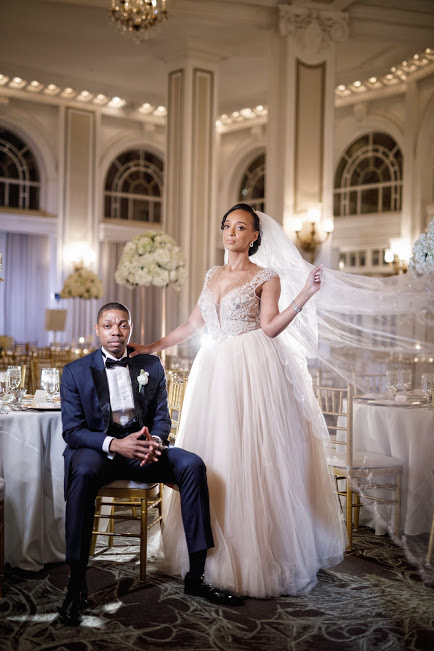 How did you choose your location?

My mother and I – not an exaggeration – visited over 12 locations in the greater Atlanta area trying to find a location that suited me and my fiance's very specific needs. My mom also visited 3 locations on her own.

Not convinced I'd find what I was looking for, and seriously reconsidering Atlanta as our city, we decided to look at the Georgian Terrace on a whim, on the very last day I was in town — initially only considering it as a possible wedding block hotel for guests.

Once we walked into the ballroom, however, we looked at each other and immediately fell in love. It was everything I'd dreamed and more. It was beautiful.

We were grateful to find a space that could also host a night for our traditional Nigerian celebration and give us the classic southern traditional warmth for our wedding day that was special to me.

It was also not lost on us that Hattie McDaniel, the first African-American woman to win an Academy Award in 1939, was denied entrance to her "Gone with the Wind" premiere reception hosted in the very ballroom Goke and I recited our vows to each other.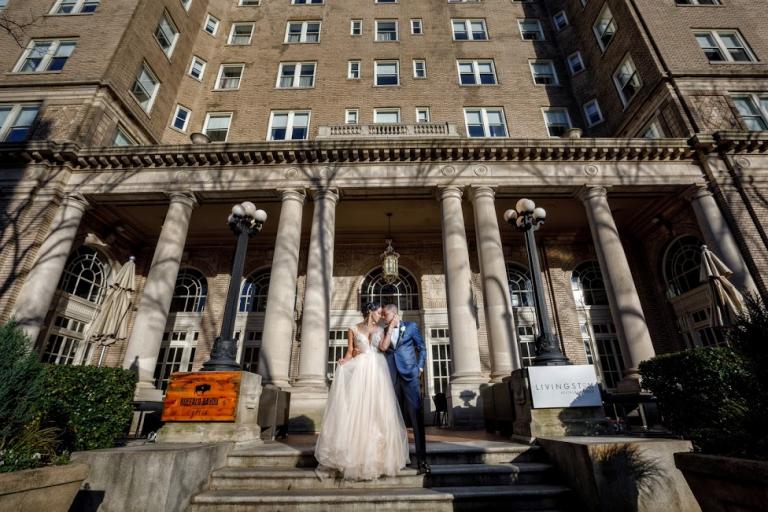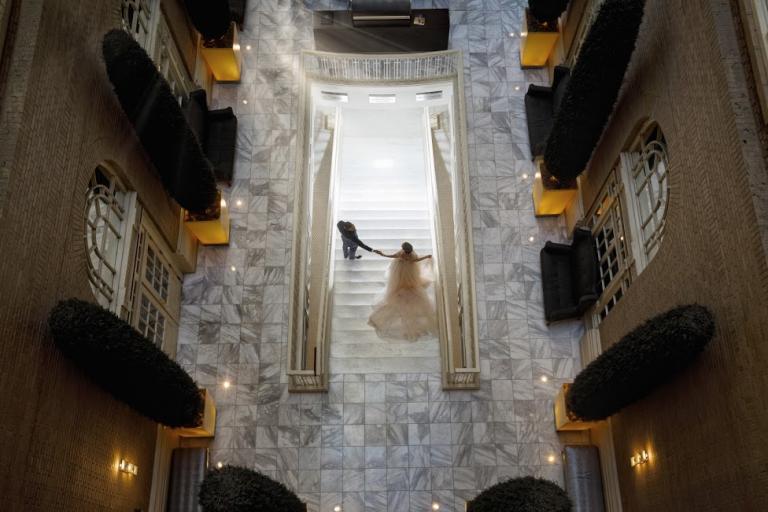 How did you decide on your bridesmaid style?

I didn't.  I called in back-up.  One of my best friends (and bridesmaids) has worked in luxury fashion retail for as long as I've known her and I knew she was the perfect person to spearhead this very complicated task.

I wanted long, flowy, navy dresses for my girls. I knew absolutely nothing else.

My friend Aisha took what little I offered her and chose a number of fabulous styles from the Vera Wang Collection at David's Bridal for each of my bridesmaids to select from so they could feel their ultimate best in the gown.  My girls looked beautiful in tailored silhouettes that enhanced their curves in all the right places.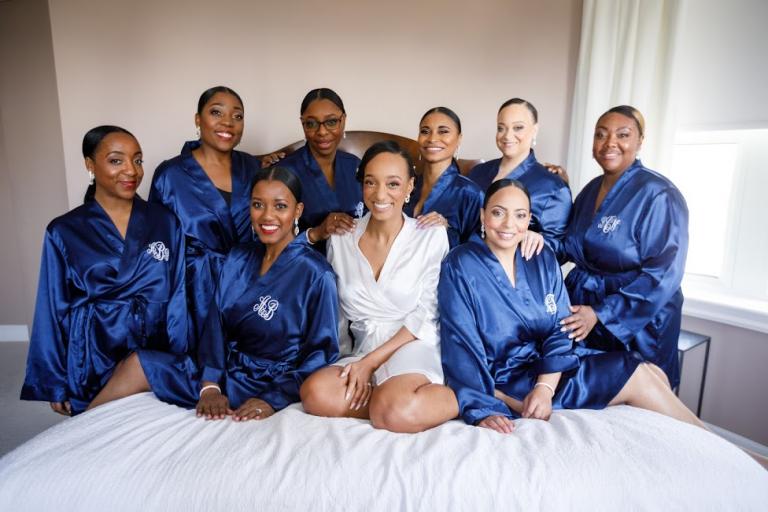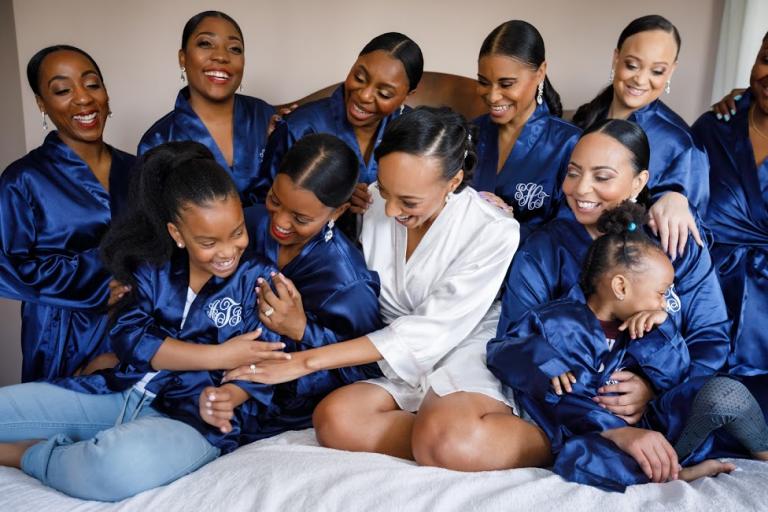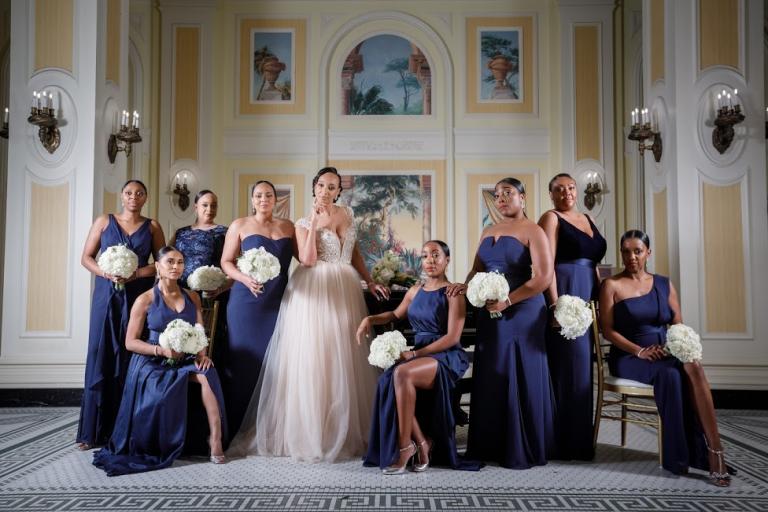 How did you find your perfect dress?

I never subscribed to the old notion that "when you know you know". But that is EXACTLY what happened. Years ago, probably long before Goke and I reconnected, I'd saved a gown as "my wedding gown" on Instagram and sent it to my friend Aisha to help me track down the designer. That designer just so happened to be Galia Lahav.

Years later, when Aisha and I started shopping for my wedding dress as an afternoon activity, we were simply going to try on different styles to get a feel for what I wanted and what looked best on my body. I had no intention of picking out my dress that day.

But when I walked into Manhattan's Bridal Reflections and they had several designs from Galia Lahav, I figured I might as well try it on and see…

Once I tried on my dress, I did not want to take it off. In fact, I took the dress off, tried on several other dresses, and asked to try on my dress again. Same reaction. I knew it was the one — it was even a two-piece which completely blew my mind — and the way the embroidery made my eyes sparkle was a dream. My dress was light as a feather and never weighed me down.  It was everything I'd asked for in a dress and I liked the way it looked on me.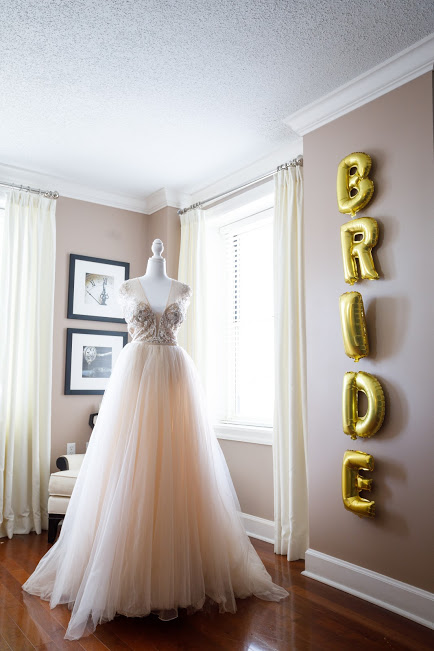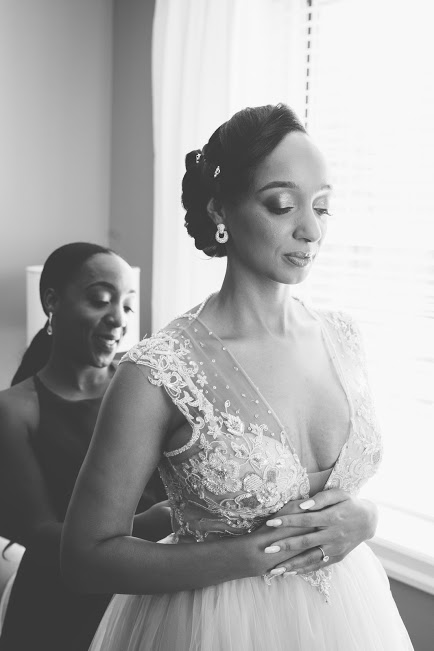 How was your experience with the Galia Lahav brand?

Wearing a Galia Lahav gown on my wedding day was literally a dream come true. 
What was the most important thing for you and your husband when planning your wedding?

Remembering that a wedding is really only a big party with your closest friends & family and not to sweat the small stuff. We wanted our guests to feel welcome and at ease and have a ball at our celebration because after-all that's what this is – a celebration!

I think it's really easy to get distracted with all of the trappings and upgrades available but at the end of the day, it's just Goke and I headed home to each other. And we didn't want to lose sight of that.
What was your first wedding song?

We had a harpist during our ceremony and my husband walked down the aisle to "The Gift of Love". I walked down to Wagner's  "Bridal Chorus from Lohengrin".

Our first dance was a transition from Beyonce's "Homecoming Crazy in Love" to "African Queen" by 2Face Idibia.
What did you enjoy the most about planning your wedding?

The best part about wedding planning was hiring my incredible wedding planner Khiara Cureton of The Fete Loft.

It was such a reassuring feeling to have her support in conversations with vendors, advice on making decisions, and ensuring that our day went as beautifully as it did. I truly believe that my wedding planning experience went as stress-free as it did because I had an amazing planner and my best friend/Matron of Honor in my corner to make sure I was on track when I'd get overwhelmed with options.

When I checked into the hotel, the front-desk staff couldn't believe that I was the bride as call and happy as I was. I also really loved finding quirky and unique ways to showcase the blending of our cultures and traditions.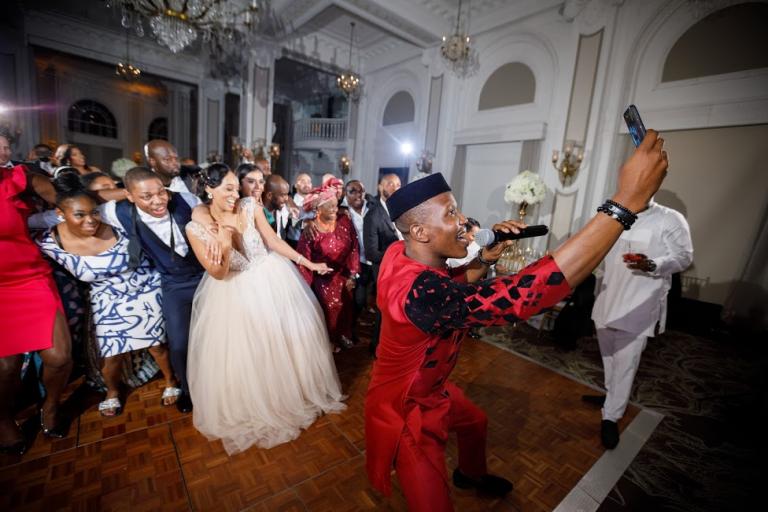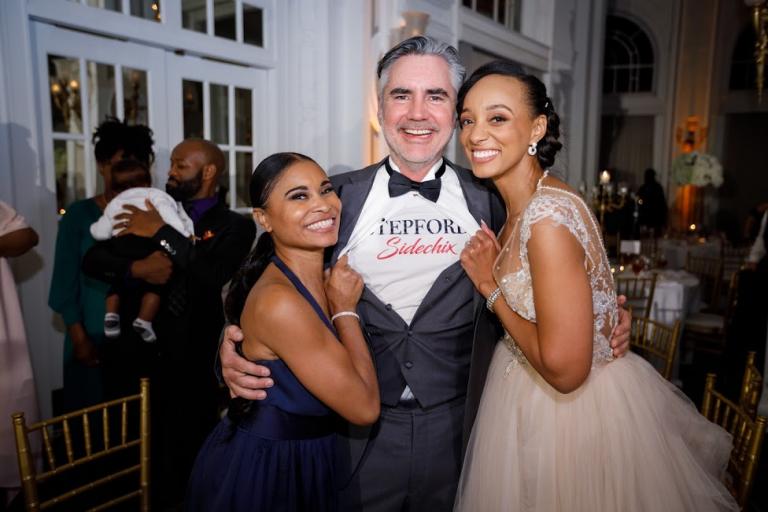 What advice would you give to all our future brides?

My advice would be to lean on your girlfriends as much as possible. A bride won't always agree with their fiance and family members may have their own personal opinions about what the couple 'should' do.

But every overwhelmed bride needs a sister-friend not to wear matching dresses on her wedding day, but so when she wants to hurl herself out of the window in the months leading up to it, she doesn't.

Lean on them. Confide in them. And give them tasks to take the load off your plate. If you picked the right girls or guys, (which you did) you'd be surprised how many will rally around you and are excited for you at every turn.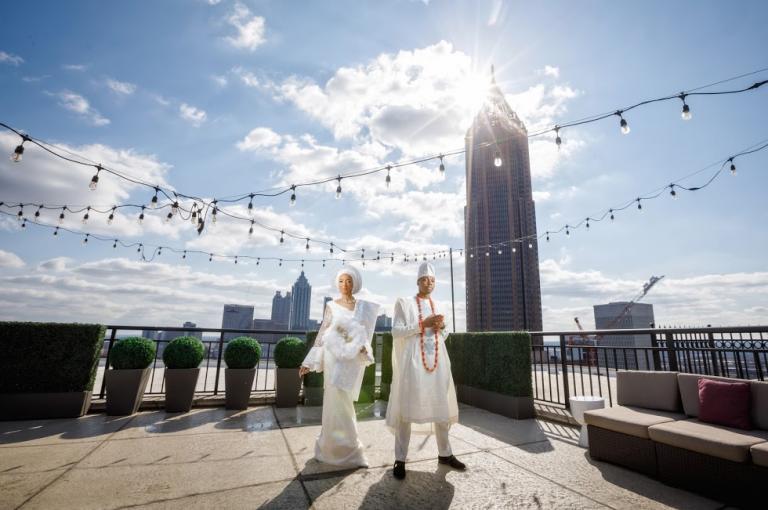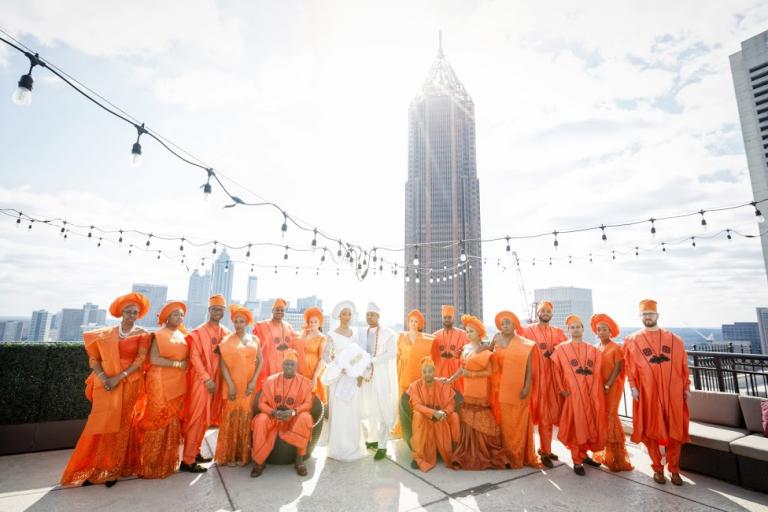 What moment from your wedding will you never forget?

The moment I will never forget is dancing during the father-daughter dance to "Butterfly Kisses" by Bob Carlisle.

I was in middle school the first time I heard that song on the radio and I knew in that moment that song would be the daddy-daughter song at my wedding.

It was truly a full-circle moment for me. And re-affirmation that the dreams of a little girl from a small town in Georgia really do come true.

So of course, I cried right through it.
Finish your registration for {City} Trunk Show