FREE SHIPPING & RETURNS WORLDWIDE!

DUTIES & TAXES COVERED WORLDWIDE
Find your nearest boutique
Our #GLBride of the week is the gorgeous Lauren Elizabeth Vos, who walked down the aisle to marry the love of her life in our Camilla gown. At the breathtaking Hedsor House in the countryside of Buckinghamshire, the two tied-the-knot in front of friends and family with a classic themed wedding. In the following interview, Lauren shares with us the details of her big day and how she discovered our Camilla gown. As told by Lauren: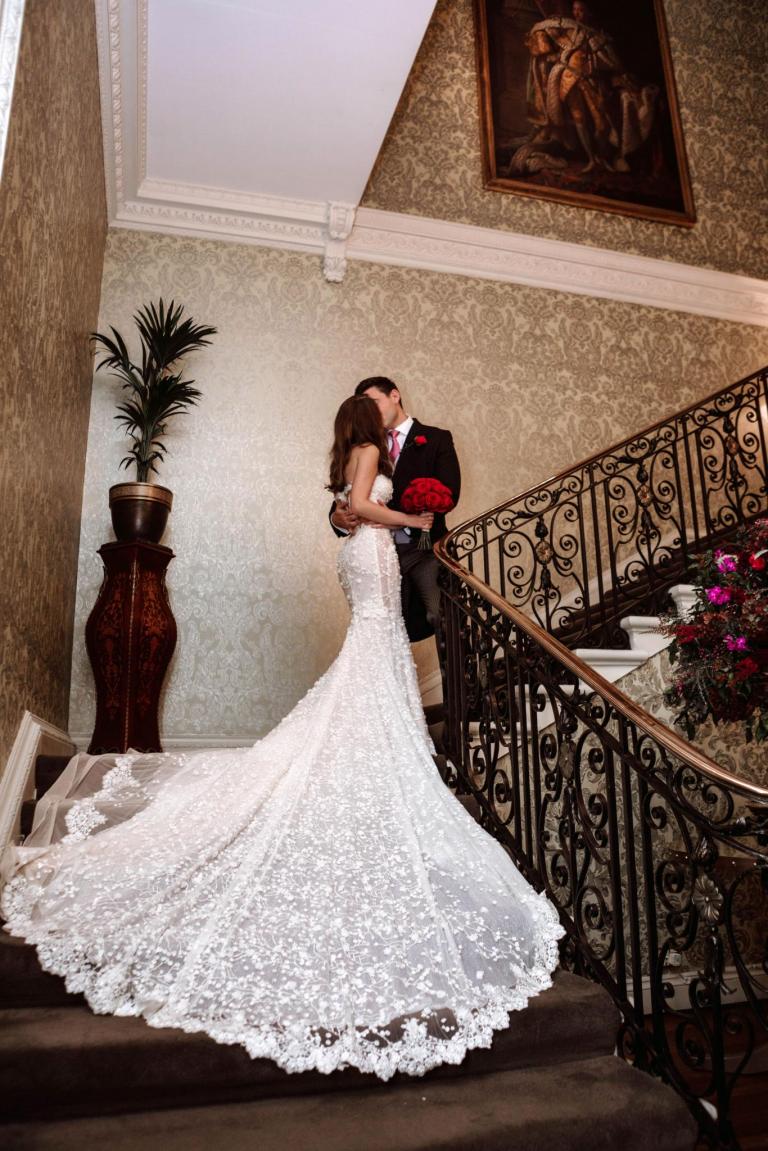 How did you meet your husband? Tell us a little bit about your relationship.

My husband and I met at work 4 and a half years ago. Initially, I didn't think he was that keen on me but after a few months he asked me to go to a rugby match with his "brother and a few friends". He "forgot" to mention his entire family would be there so on our first date I met his mum, sister, brother, sister-in-law, and cousin! I think the reason our relationship works so well is that in many ways we are opposites but also because we had similar life experiences before meeting, so we relate well to one another.
How did he propose?

Ross proposed at the Belmond Mount Nelson Hotel in Cape Town, South Africa. I was in a dressing gown sipping on a cup of Earl Grey at the time. It wasn't the typical romantic Hollywood proposal but I'm not a particularly romantic person and drinking tea is my favorite activity, so it was absolutely perfect for me. A public gushy proposal would have been my worst nightmare!
How did you start planning your wedding? What were the first steps?

Much to my husband's bemusement, I started planning the wedding a few days after the proposal. I had been following the wedding venue, Hedsor House, on Instagram for a few years and I instantly knew I wanted to get married there so getting that booked was the first step. Next on my agenda was obviously the dress.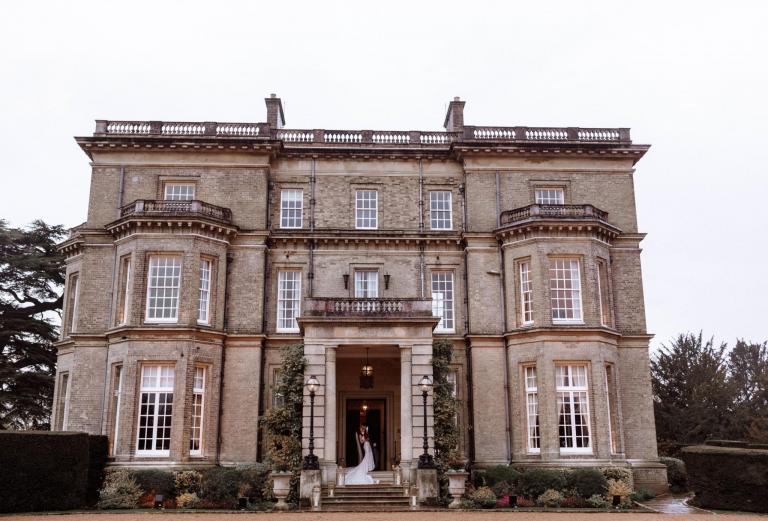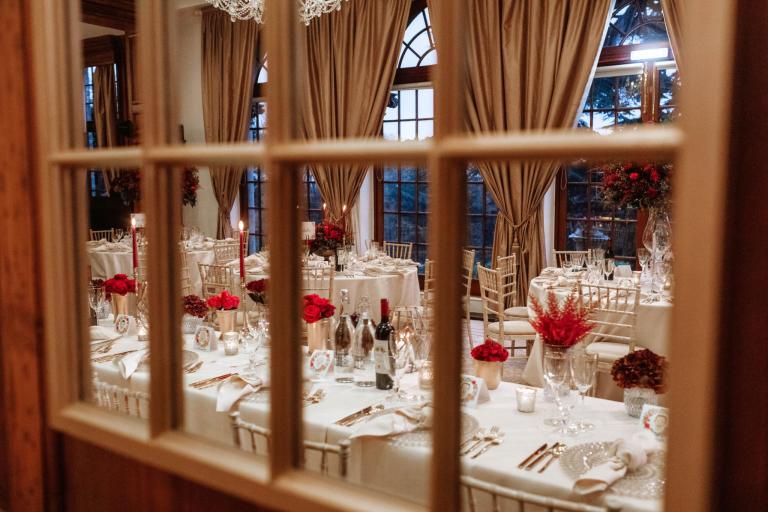 Did you do any beauty or fitness prep for your big day?

Nine months before the wedding I started seeing a personal trainer, I started using tretinoin cream prescribed by a dermatologist and I stopped using any heat on my hair. A few weeks before the wedding I got an LVL lash lift and some hair extensions to fill in the front of my hair. A few days before I visited DryBy in London for my bridal nails.

Despite all of my preparation I got sick a couple of months before the wedding, so couldn't see my personal trainer as much, and then, having had clear skin for months, I broke out more than I had in years. I think you can do all the beauty prep in the world but even a tiny bit of stress can really show in your health and appearance. Self-care is key!
What was your wedding theme?

We wanted a very classic wedding with a touch of glamour and dark colors to match the gloomy UK weather!
How did you choose your location?

We always knew we would get married in the South East of England as that is where we both grew up. I had fallen in love with Hedsor House on Instagram. I was unable to get back to the UK to visit Hedsor, so after our parents visited and were really impressed we went ahead and booked the venue. Looking back this was quite risky but it all worked out perfectly. What you see in all of Hedsor's amazing pictures is genuinely what you get, it's an amazing venue. I also liked that it's privately owned. So many beautiful houses in the UK are now owned by hotel chains or turned into apartments.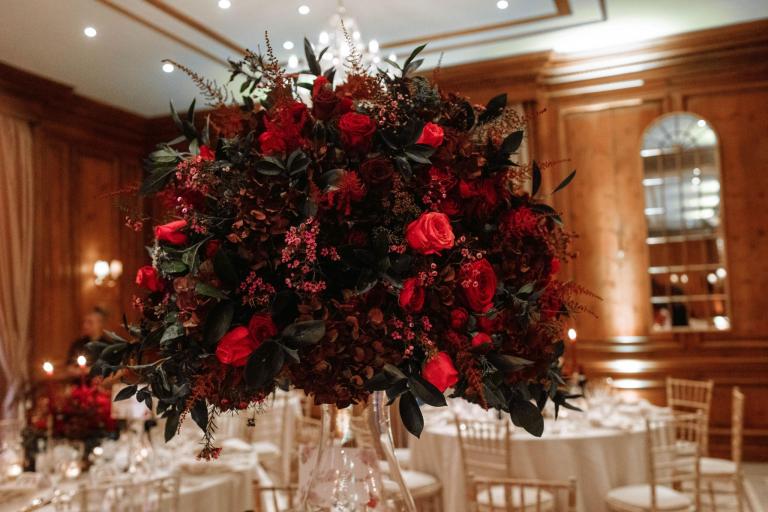 How did you decide on your bridesmaid style?

I love the contrast between burgundy, reds, and pinks so I knew from the off I wanted dark bridesmaids dresses to compliment the floristry. It was really important to me that all of my bridesmaids felt comfortable and happy on the day, and I knew it was unrealistic that one style of dress would suit 4 different people. I was therefore over the moon to discover Ghost London's Dye to Order service which meant the girls could pick one of eleven styles and we could order them in the same colour.

For their hair I asked them to send me pictures of styles they liked and then I showed the pictures to my amazing hairstylist Ky Wilson. He looked at the pictures and worked out a way to give each bridesmaid what they wanted, whilst also ensuring that all styles worked well together. For make-up, I completely trusted Stacey Lincoln so told her to do what she liked. They all looked stunning!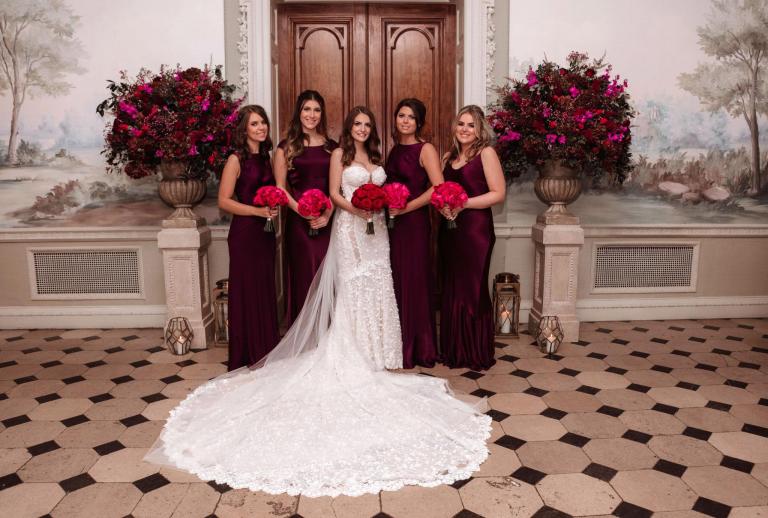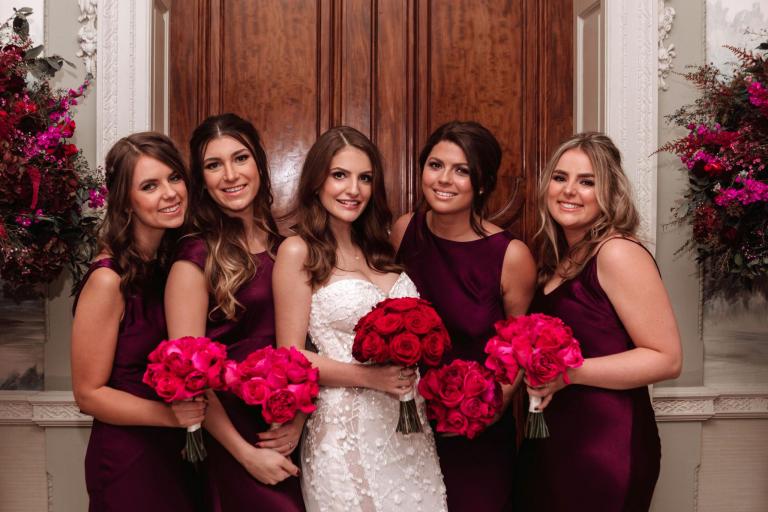 How did you find your perfect dress?

As soon as I saw a Galia Lahav gown I knew that's what I wanted for my wedding. I loved how classic yet dramatic and full of glamour each Galia gown was. I visited Browns Bride in London and mentioned I wanted to try on Galia Lahav. I think the Camilla gown was the third of the fourth gown I tried on and in all honestly, it wasn't one I had initially picked to try. Lauren at Browns Bride recommended I tried it on and I immediately fell in love. I visited two more bridal shops that day, as I was wary that I didn't have much to compare it to, but it's safe to say nothing else compared. The next day, I ordered the Camilla gown.
How was your experience with the Galia Lahav brand?

My experience with the Galia Lahav brand was incredible. You can see how much care and love has gone into each gown and they are all a work of art. My wedding would not have been the same without my Galia gown. It was a dream come true.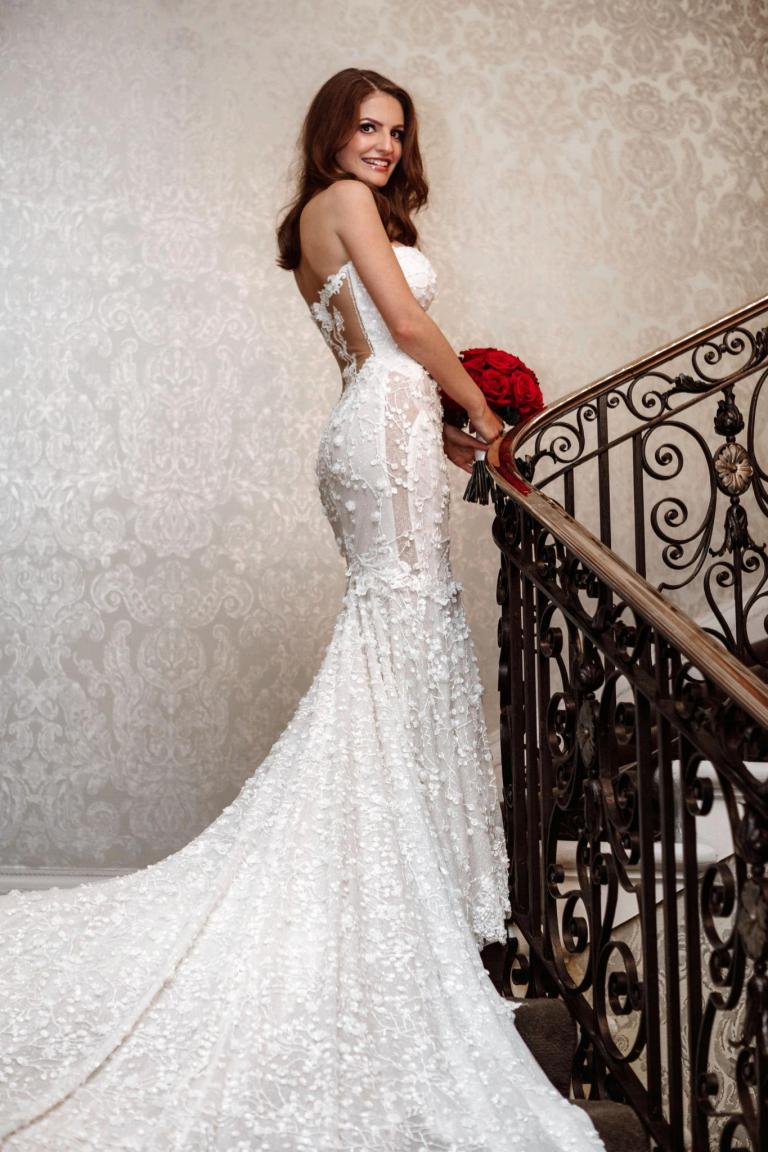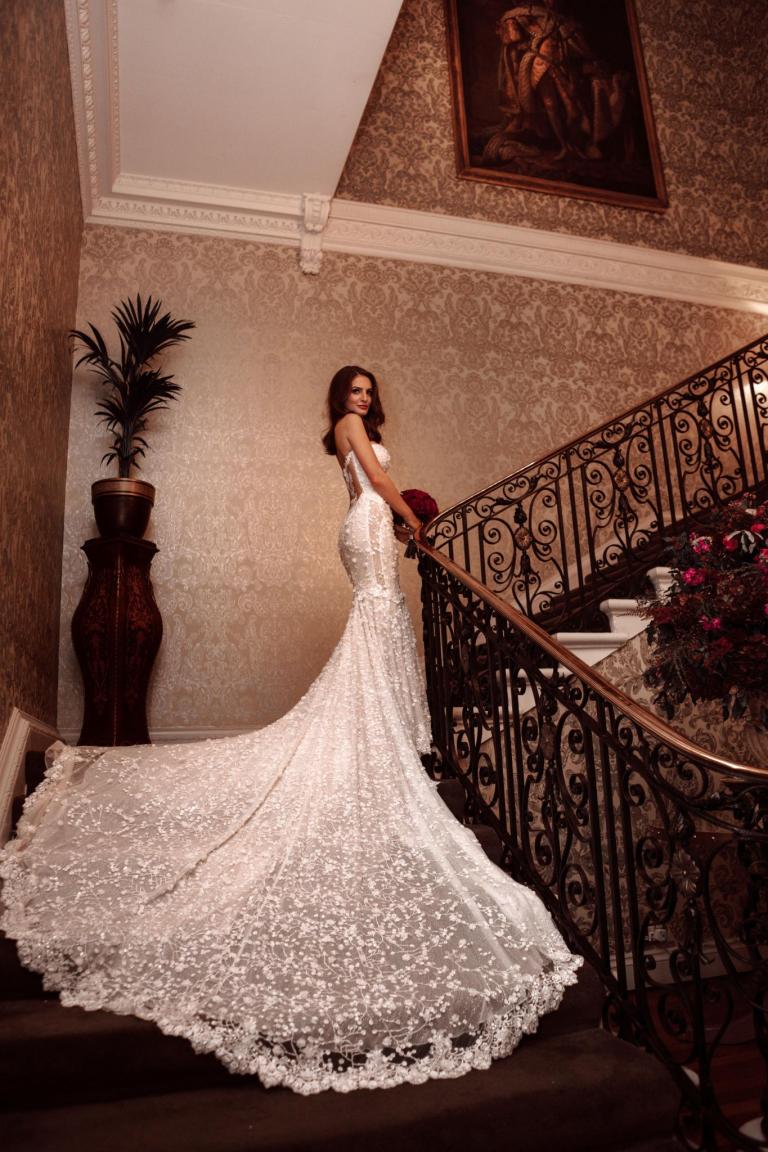 What was the most important thing for you and your husband when planning your wedding?

The most important thing for us was that our guests had fun. I personally felt like music was a really important part. After seeing The Function Band on our videographer's website I knew I had to have them at our wedding. They are on a whole different level and really put on a show for our guests. The photo booth was also a fun addition and we had roast dinner sharing platters for the main course. I hired Hey Draw me to draw a caricature of every guest to use on the table plan. Collecting and collating photos of every guest was very time consuming but probably the most rewarding part of the wedding. We are currently getting the table plan framed and we can't wait to put it up in our home as a reminder of our wonderful guests and the magical day we shared with them.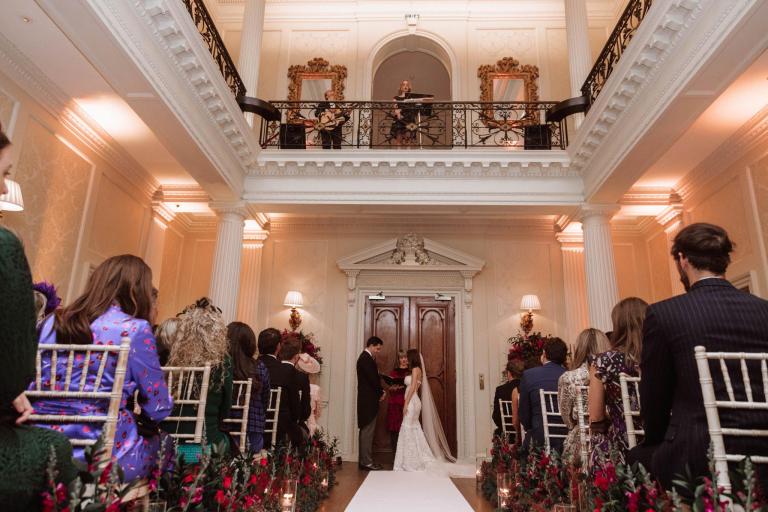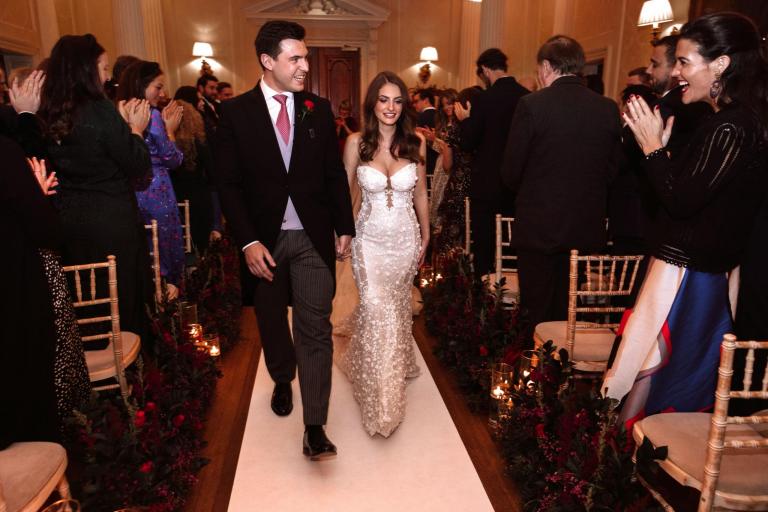 What was your first wedding song?

The John Mayer version of XO by Beyoncé performed by the amazing Function Band. We had dancing lessons but I don't think they helped much. 
What did you enjoy the most about planning your wedding?

The thing I enjoyed the most about planning our wedding was having an outlet for my creative side and the anticipation of our guests seeing everything we had planned.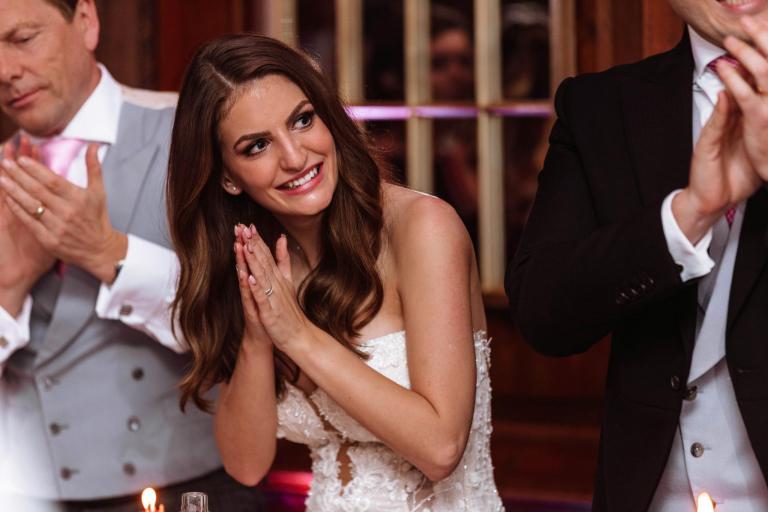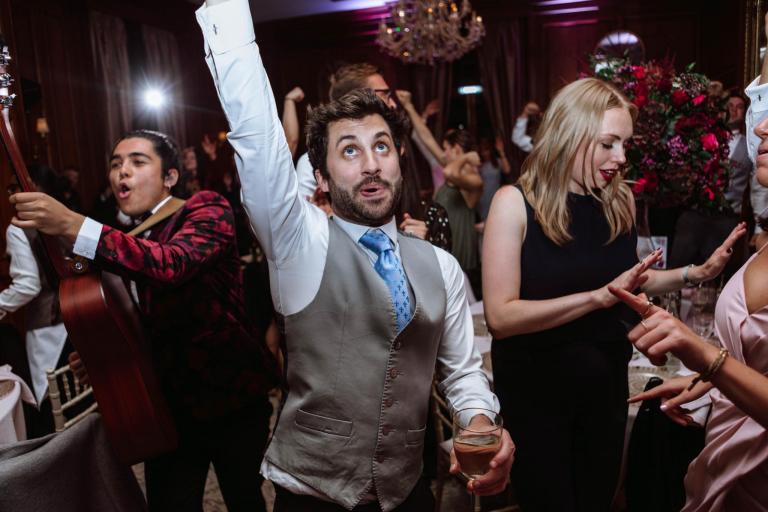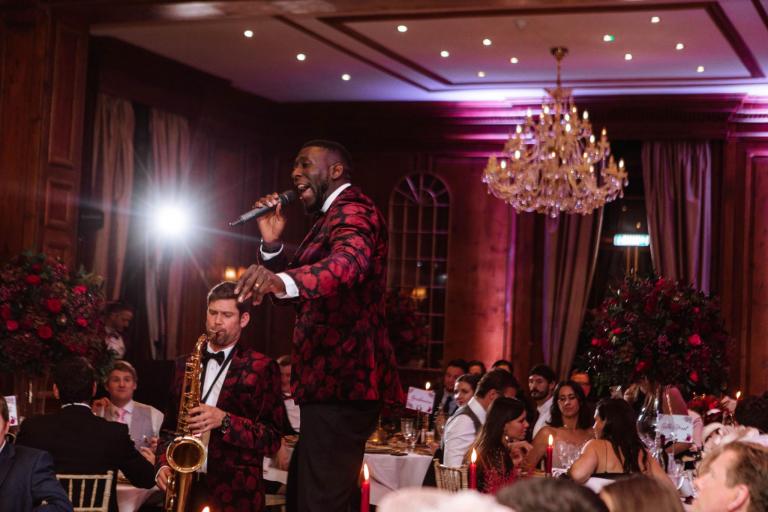 What advice would you give to all our future brides?

Involve as few people as possible in the planning process. That may mean you take on more yourself but the opinions can be overwhelming and its easy to lose sight of what you actually want as a couple. I would also highly recommend involving an on the day coordinator if you don't want to use a planner. I knew I was too much of a control freak to hire a planner and I also really wanted a project. Instead I used Kate Thomas from Katrina Otter Weddings on an ad-hoc basis, whenever I needed advice, and she also ran the wedding on the day itself. Her assistance and advice was instrumental and really eased the pressure in the run up to the wedding. Our wedding day ran perfectly and nobody asked me a single question, which was incredible!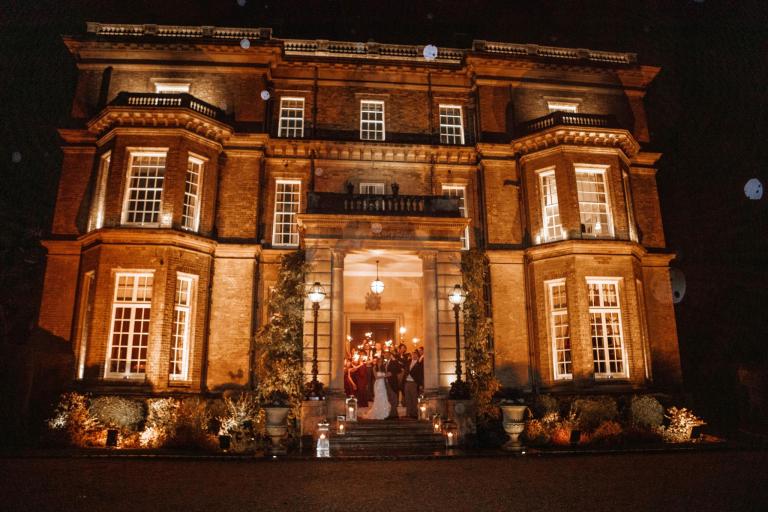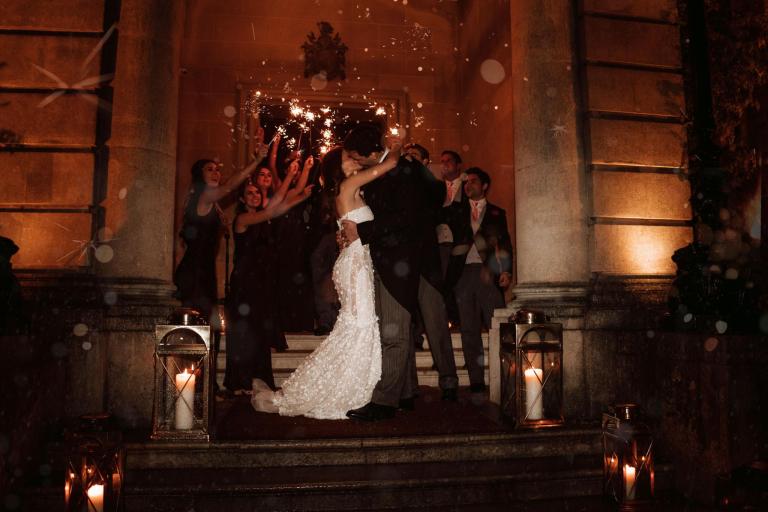 What moment from your wedding will you never forget?

For me one of the best parts of the day was getting ready with my best girlfriends, knowing I was about to marry the love of my life. There was such an amazing positive vibe in the room and all of the girls made me feel really loved. I wish I could get ready like that every day.
Finish your registration for {City} Trunk Show