FREE SHIPPING & RETURNS WORLDWIDE!

DUTIES & TAXES COVERED WORLDWIDE
Find your nearest boutique
Our #GLBride of the week is the lovely, Lauren Damelio, who wore our Querida, Arden, and G-105 on her wedding day. Lauren and her fiancé Sal held their ceremony and reception among the rolling hills of Sonoma County at the St. Francis winery. In the following interview, Lauren shares with us the details of her rustic glam wedding and how she found not one, but three GL gowns for her special day. As told by Lauren: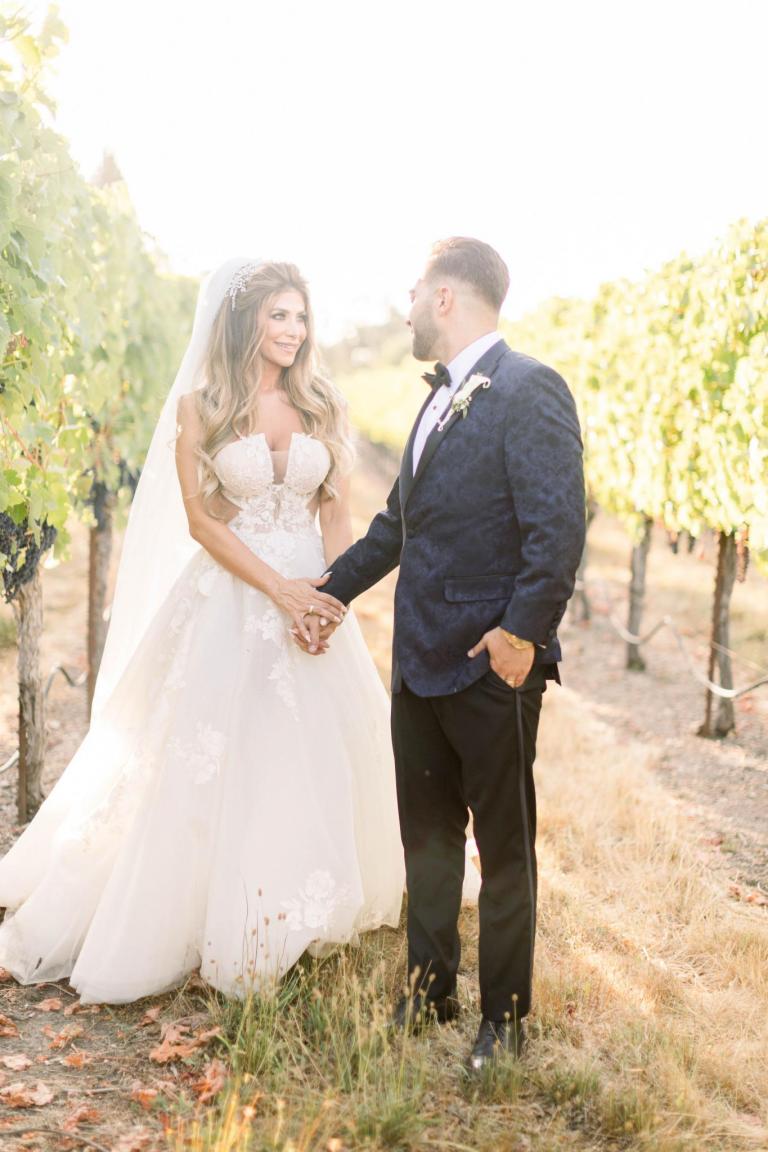 How did you meet your husband? Tell us a little bit about your relationship.

Sal and I met down the Jersey shore, he was walking out of a restaurant and I was walking in. I actually stopped him and asked, "Are you leaving?" He said, " I was but not anymore!" We exchanged information and went our separate ways. Two days later while on my way to the beach I passed a billboard with a very handsome man on it (Sal's a real estate agent). I turned to my friend Dana and said, "OMG it's the guy from the other night!" – Then I decided to answer his 3 unopened messages he sent me.  I truly felt like fate how the universe brought us together. We went on our first date later that week and have been together ever since. 

He grew up down the shore area of New Jersey and I grew you in North Jersey about 2 hours away. We have been inseparable ever since. We both have very busy work lives and we balance each other extremely well.  He is the best man in the world, sweet, loving, patient, hard-working and very intelligent. I am so blessed to have married my best friend and soul mate!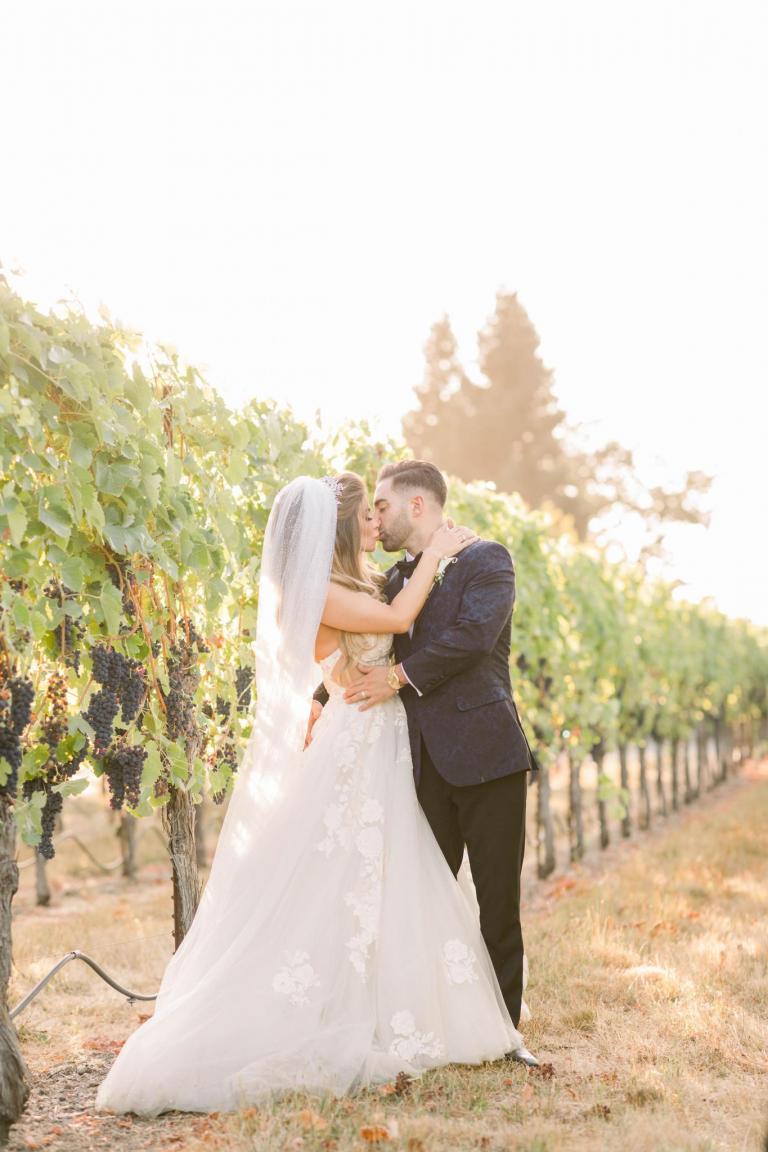 How did he propose?

Sal proposed to me on our very first trip to Napa Valley California at the breathtaking Castello di Amorosa Winery.  He had it all planned out; he hired a privet photographer and booked a beautiful wine tour! It was truly something out of a fairytale. 
How did you start planning your wedding? What were the first steps?

We instantly knew we wanted to share this beautiful experience with all of my family and friends! So we decided to plan a destination wedding in California! We started researching venues and vineyards that hosted weddings out there trying to find the perfect one. We originally wanted to have it at Castello di Amorosa but they do not host weddings there so we had our Rehearsal dinner there instead! It was magical.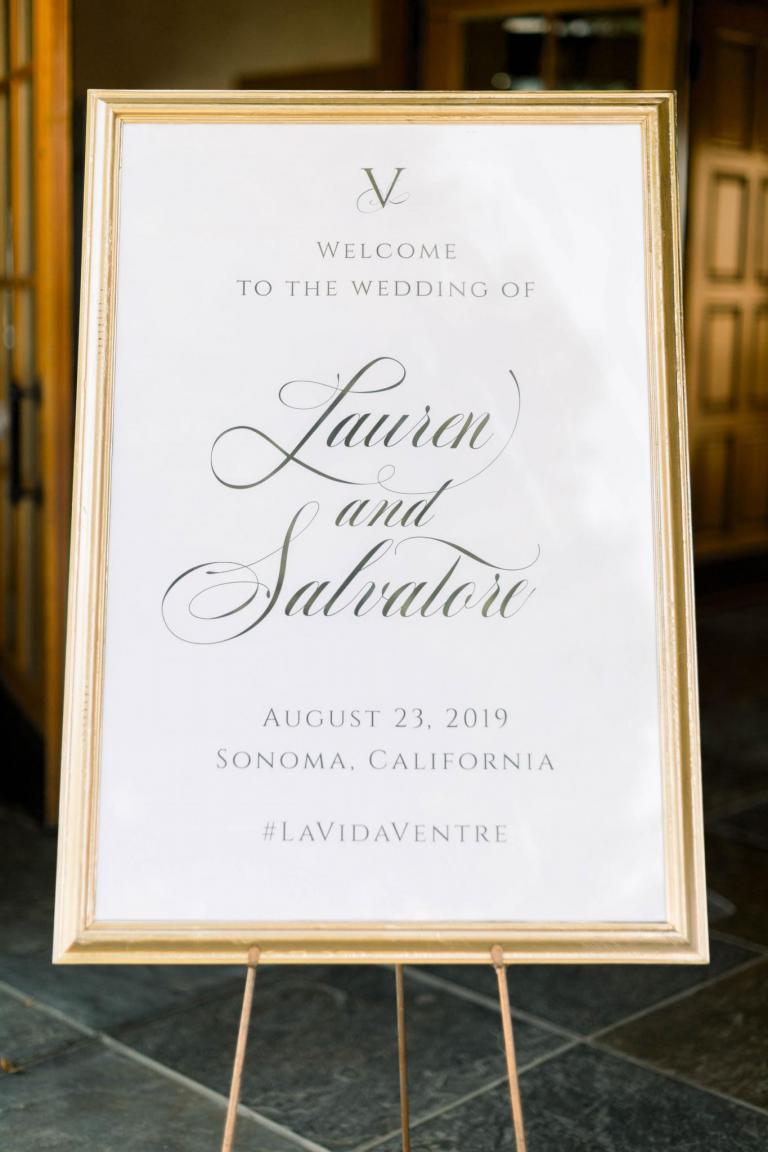 Did you do any beauty or fitness prep for your big day?

I am actually a Makeup Artist in the Wedding industry myself so luckily I knew what I needed to do to prepare for my own big day!

I went to Dr. Kaga of The Kaga Institute in New Jersey for all my skincare needs prior to the wedding, she did many different facial treatments and lasers as well gave me an at-home skincare regimen to have my skin looking perfect for my wedding day ( I always recommend my clients to go to a Skincare professional at least 6 months prior to ensure their skin is on point for their big day)!! 

I worked out 4 to 5 times per week and chose to do intermittent fasting 6 mounts prior. I highly recommend signing up for classes or getting a trainer, this way you feel obligated to get to the gym.
What was your wedding theme?
How did you choose your location?

We did a lot of online research since we are not from the area. We found that Sonoma County has a better sound ordinance for outdoor weddings. We went back out there to see Sonoma and look at a few places. We went to St. Francis Winery and fell in love with the landscape there! 
How did you decide on your bridesmaid style?

I chose Hollywood glam for my bridesmaids, I wanted them to look and feel beautiful that day as well. 
How did you find your perfect dress?

I work with over 200 brides a year and see many different designers and styles. Every single time my brides would have a Galia Lahav dress I would fall in love! They are so elegant and detailed. I just knew I had to go to Bridal Reflections on 5th avenue in New York City to try them on! I chose 3 beautiful Galia Lahav dresses; 1 for my rehearsal dinner, one for my ceremony and one for my reception! 
How was your experience with the Galia Lahav brand?

My entire experience with Galia Lahav was incredible. They are beautifully made and remarkable quality. I couldn't be happier! The Staff at Bridal Reflections made this one of the most effortless parts of wedding planning! 
What was the most important thing for you and your husband when planning your wedding?

I didn't want to feel like I was working and knew I couldn't have a typical venue wedding. The most important thing for us while wedding planning was to give ourselves and guests an unforgettable experience. 
What was your first wedding song?

"Can't Help Falling in Love" by Kina Grannis 
What did you enjoy the most about planning your wedding?

I loved my entire Dress experience. I also loved flying out to California for food tastings and venue selection. We also had a lot of fun picking out décor! 
What advice would you give to all our future brides?

Keep your ceremony and reception close to each other – you do not want to spend part of your day in traffic or stressed about timing! Pick reliable and professional vendors. Trying to save money on venders will cost you more in the long run. Don't sweat the small stuff and take it all in!
What moment from your wedding will you never forget?

We found out we were pregnant a little over a month before our wedding (Surprise!) So we actually did our gender reveal at our reception. It was truly a moment I will never forget. Once I found out the news I did have to modify some of my fitness and beauty routines.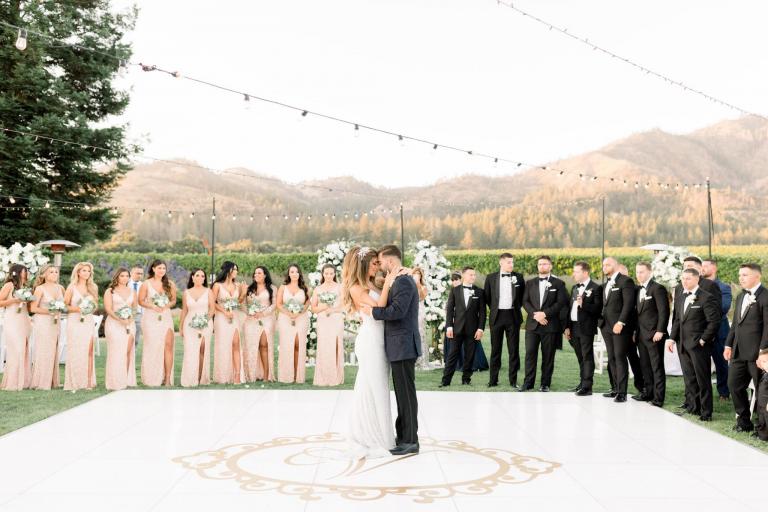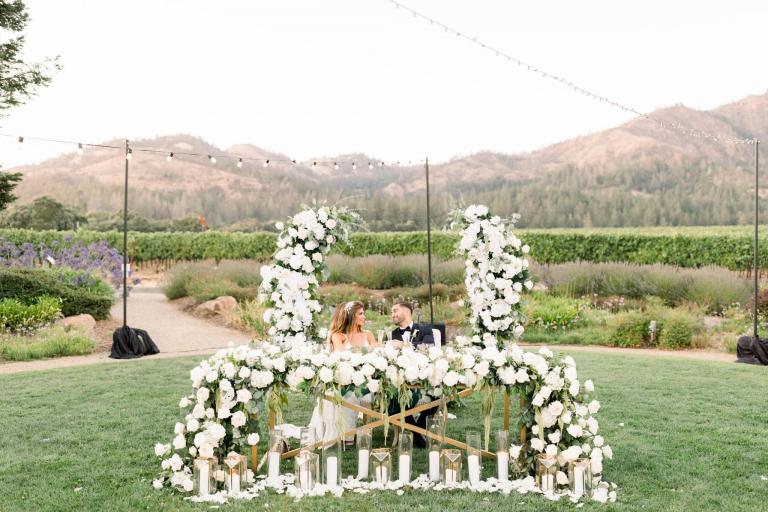 Ceremony Venue:  Saint Helena Catholic Church, St. Helena California
Reception Venue: St. Francis Winery, Santa Rosa California
Wedding gown: Galia Lahav, Bridal Reflections 5th ave NYC
Bridal shoes: Christian Louboutin – Follies, Coco Pari in Red Bank NJ
Bridesmaids Dresses: Mac Duggal, Nordstrom online
Groom's attire: Chazmatazz Formalwear, Toms River NJ
Groomsmen attire: Rented from Chazmatazz Formalwear, Toms River NJ
Photographer: PhotoDH – Jaymo, Brooklyn NY
Video: AVR Films 
Head Piece: Bridal Styles Boutique – Brooklyn NY
DJ: Erica Landia California
Caterer: Elaine Bell Catering California (707) 756-3458
Hair: Senada K. Ceka, Staten Island NY
Makeup: Lauren D'Amelio Ventre (me), Red Bank NJ
Invitations: Katherine Elizabeth Events, Red Bank NJ (732) 924-5154
Decor & Flowers: Wedded Events, Ridgefield NJ
Wedding planner: CC Events (Recommended by venue) 
Wedding bands: Evan John Custom, Red Bank NJ
Transportation: Classic Convertible Wine Tours
Favors: Turkish towels from Amazon – Great for outdoor Receptions in case guests get chilly 
Cake: Flour and Bloom Cakes, Napa California
Finish your registration for {City} Trunk Show