FREE SHIPPING & RETURNS WORLDWIDE!

DUTIES & TAXES COVERED WORLDWIDE
Find your nearest boutique
Our GL Bride this week is the beautiful Kristen, who walked down the aisle in our Maya gown. She and her fiancé tied the knot with a romantic wedding ceremony and stunning reception. In the following interview, Kristen shares her love story and how she became a GL Bride! As told by Kristen:
A moment of your wedding day will you never forget?

Too many but my favourites: My mum and dads reaction seeing me the first time dressed in my gown, as well as seeing my husband down the aisle. 

Seeing my students from my class come to the church to watch me get married was so special, and finally- walking into the reception for the 'first look' I remember feeling so happy and proud of everything I had planned for over a year, it all came to life!
One thing you wish you knew as a new bride? What advice would you give to future brides?

My biggest advice is to be HAPPY, soak up every feel in a positive way and always trust your gut. Choosing vendors is super important as they play a big part of your day- choose ones who are your people that are going to be easy, positive and happy throughout the whole journey, it's a long one, you don't need added stress – you and the groom are the main people so make sure you are happy with every service you get.

Also – you'll never stay within the budget hehe, embrace it I say, take in every moment and be proud for everything that you have planned! Seeing it all come together is the best!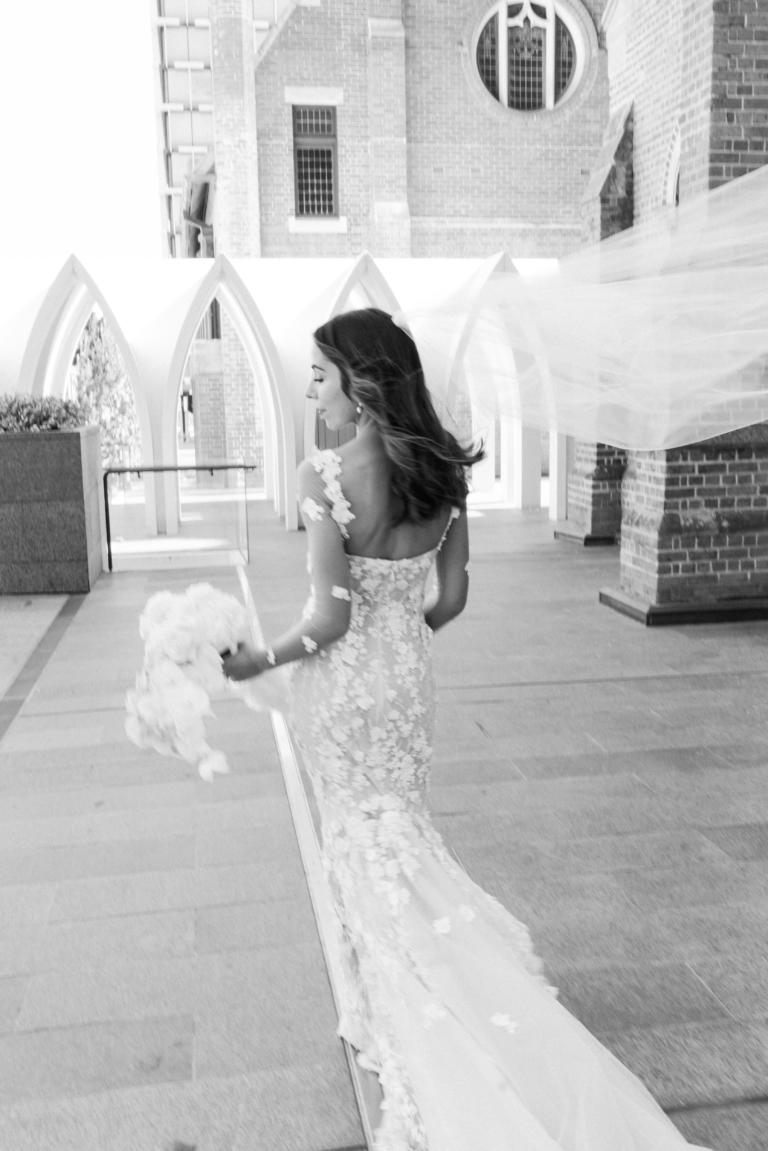 A detail that made your wedding special/unique?

My bouquet – I had 3 charms attached of my loved ones who have passed. Seeing my bouquet arrive on the day and see my charms with them with me – was a special and emotional moment I loved.

I also got my students to hand write on cards what 'love is'. I placed these on my table arrangements. The answers were so cute and honest. Some of them wrote down that love is all about 'washing the dishes every night' or 'taking away the nightmares'.
How did you know your dress was 'the one'?

Before I was even engaged, I saw the dress online – I created an album 'future wedding dress', and I said to my sisters – this is 100% my dress in future, and I'll add be adding a sleeve. That is exactly what I did!
How did it feel when you put on your dress the day of the wedding? What was everyone's reaction to the dress?

EVERYTHING I could ever ever ever imagine my dress to be. Everyone said the dress was made for me. Which meant so much because I was so in love with every single detail. The sleeves were my favourite!
Would you have done anything differently?
What was your favourite part of the wedding to plan/you were most looking forward to?

I was most looking forward to seeing James! My photographer had just left him in the morning to come to me, and when she arrived I remember saying to her- TELL ME EVERYTHING! Isn't he great, what does he look like!?? 

Definitely the flowers, I loved planning this, and I knew exactly what I wanted from day one. I was most looking forward to seeing what the flowers and the room looked like on the day too.
How did you meet your husband? How did he propose?

Ha ha we went to school together, I knew James being Mr Popular in the whole school, he didn't know me. My dad was his teacher. 10 years later after school, we bumped into each other and he persisted on taking me out for a date. I was so nervous and ready to drive around until my sisters told me to snap out of it…I'm glad I went.
How did you find working with the team at Galia Lahav?

AMAZING! Everything was perfection, obviously!
How many dresses did you try on before you found it?

My dress was the first dress I tried on. I knew it was the ONE, so did both of my sisters and mum. I tried on about 8 because I wanted to have fun and know I tried all styles. There was no way I wasn't saying YES to Maya.
Finish your registration for {City} Trunk Show