FREE SHIPPING & RETURNS WORLDWIDE!

DUTIES & TAXES COVERED WORLDWIDE
Find your nearest boutique
Our #GLBride of the Week is the gorgeous Kelly Binder, who walked down the aisle to wed her fiancé Bryan in our Magnolia gown. The two celebrated this new chapter in their life with a romantic wedding at the historic Burden Kahn Mansion. In the following interview, Kelly shares with us the memories she will always cherish and how she knew our Magnolia was the one for her. As told by Kelly:
How did you meet your husband? Tell us a little bit about your relationship.

Bryan and I first met in New York City thanks to a little help from the dating app The League. Our first date was at a quaint Italian restaurant located in the heart of the West Village, coincidentally close to where we actually live now (back then we lived in 2 different and far apart boroughs), and the night concluded with us listening to some jazz in an underground speakeasy.

We found in each other shared a love of life – travel, family, music, and the desire to "chart our own course." We split our time between Manhattan and East Hampton with our dog (best friend) Bowie by our side. Since the wedding, we have been in relax mode – focusing on work and what we want to dive into next!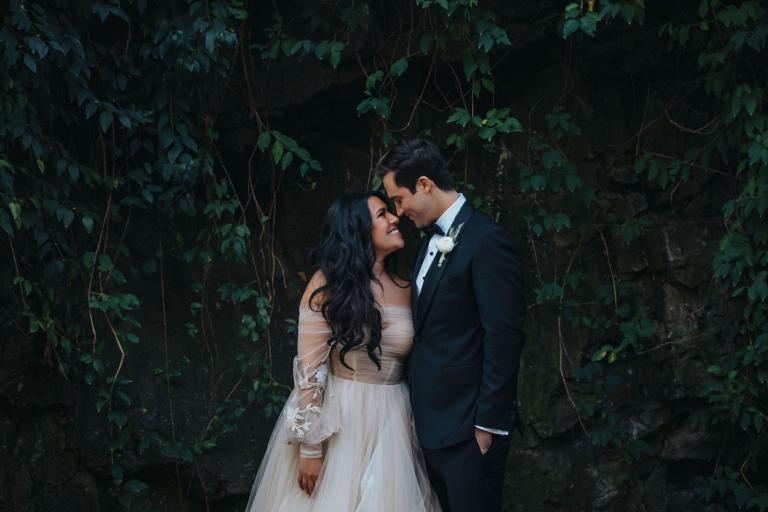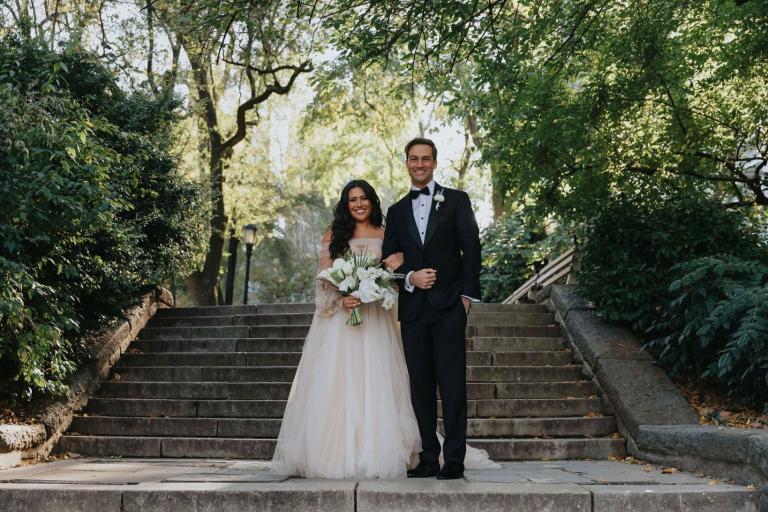 How did he propose?

After about a year of dating, we traveled across the world to Sri Lanka to a small surf town called Weligama. Little did I know, Bryan had scheduled a private dinner atop a peninsula overlooking the Indian Ocean. With the waves crashing behind us, he proposed! To this day we can't remember exactly what words he said, we were both so immersed in the moment, but we know we will never forget the happiness we felt. It was a truly incredible experience!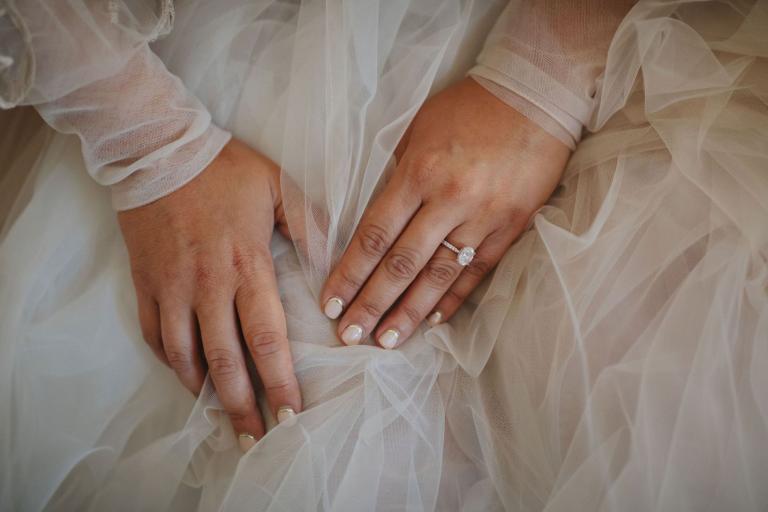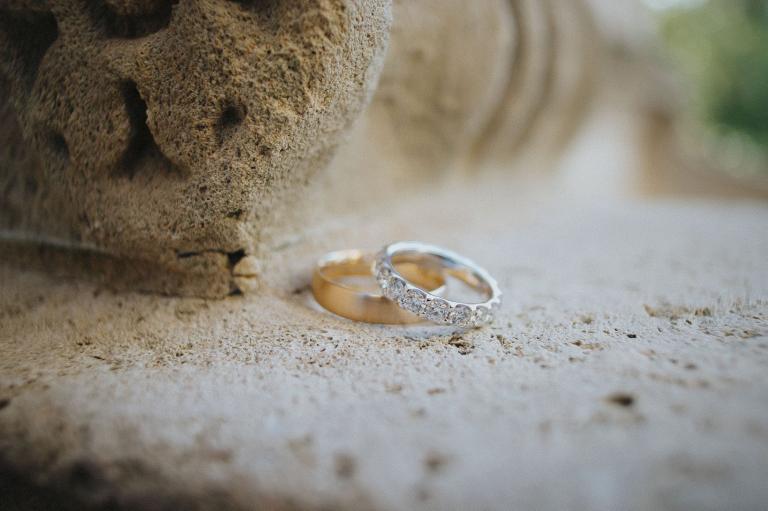 How did you start planning your wedding? What were the first steps?

For us, being "practical" New Yorkers it was something less than romantic and was determining the budget. For any couples who may have different levels of experience in wedding planning (before this I was a bridesmaid for 7 weddings),  I suggest doing some research separately and coming back together to start defining what your wedding day/weekend will look like. Once we were on the same page with the budget we linked with Kyle Michelle Weddings as our planner and started looking for the venue and our photographer.

After locking in our venue, things started to fall into place, typically, your venue or planner will have a list of either approved or suggested caterers, bands, florists, etc. Luckily for us, both of them had an amazing list and we were able to find our caterer (Eventful) which then led to our florist (Three Notch Florals)!

We found our photographer from a post on the @galialahav Instagram page, Parker Young was everything we dreamed of and more – his clean, architecture-based photography style coupled with how he captures natural colors and lighting aligned exactly with our taste.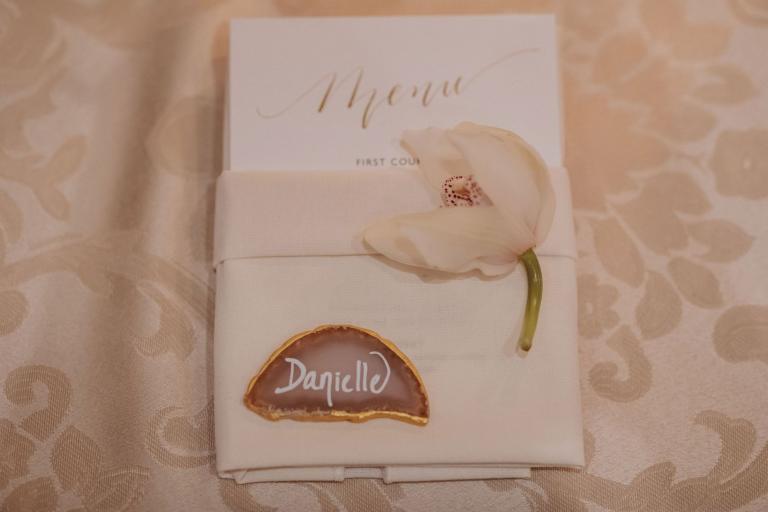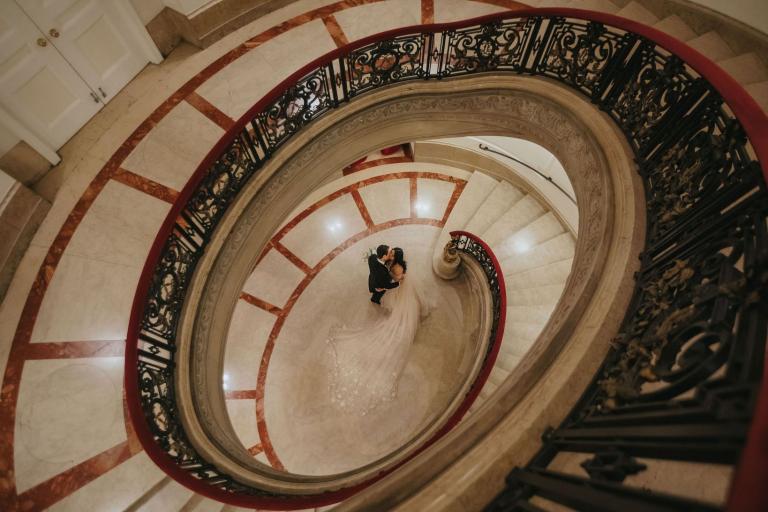 Did you do any beauty or fitness prep for your big day?

Of course! For fitness, what worked best for me was a mixture of running (short and long distances) and Solidcore (pilates). Originally, I was not on the "pilates train" but after a few short weeks really saw my body responding well to it. I am now fully obsessed and have continued it post-wedding.

For beauty, I went right to my sensei, Dorina, at Maris Dusan on the Upper East Side. We started a regiment of alternating facials and micro-needling every 6 weeks. Microneedling is one of the best non-invasive procedures that helps you naturally rebuild collagen.

I think what often goes unsaid is if you make this process about you and your partner you have the ability to find new routines that you will want to continue post-wedding. Be focused on the life you are building for each other and not only the day.
What was your wedding theme?

Old world romance. Our venue was a historic, renaissance styled mansion on the Upper East Side of NYC and was the perfect venue for a Saturday night wedding – candlelight dinner and drinks followed by a live band playing our favorite rock n' roll classics!
How did you choose your location?

Bryan and I attended a wedding event hosted by New York Magazine that brought together vendors from inside and outside of the city. Bryan almost seemed like a pro, talking with multiple vendors and booking us tours, while I quietly sipped champagne and was overwhelmed. However, towards the end of the night, we met Dana Randall from the Burden Kahn Mansion and almost decided right there that was the location we were going to be married at!
How did you decide on your bridesmaid style?

I always saw my beautiful best friends in something elegant but modern and sexy. We went with a black, high-neck, long-sleeve, open back and form-fitting dress from MissGuided! Everyone was happily surprised by the affordable price and incredible fit. We paired the dress with black heels, the Tiffany's earrings I gifted them, and a single stem calla lily to finish the look.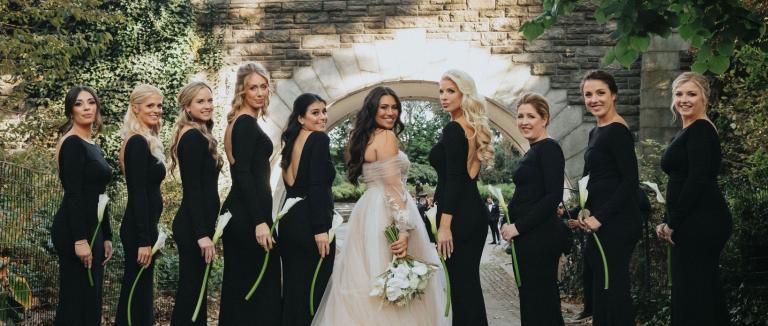 How did you find your perfect dress?

I kept my dress shopping "entourage" to just my mom and I. I knew as excited as I was for the experience I was going to be nervous and potentially, slightly indecisive. We scheduled 2 weekends of wedding dress shopping so I could explore the brands and styles I thought I liked. It's true what they say, you never really know what you want until you try it on! One of our first stops was to Bridal Reflections on 5th Avenue. I tried on the Magnolia almost immediately and loved it so much! I told myself to keep looking only because it was day 1 and dress shopping couldn't be that easy, could it? 

The following weekend we canceled our appointments and only made one with Bridal Reflections. Once I put the Magnolia back on was an easy "say yes to the dress" moment.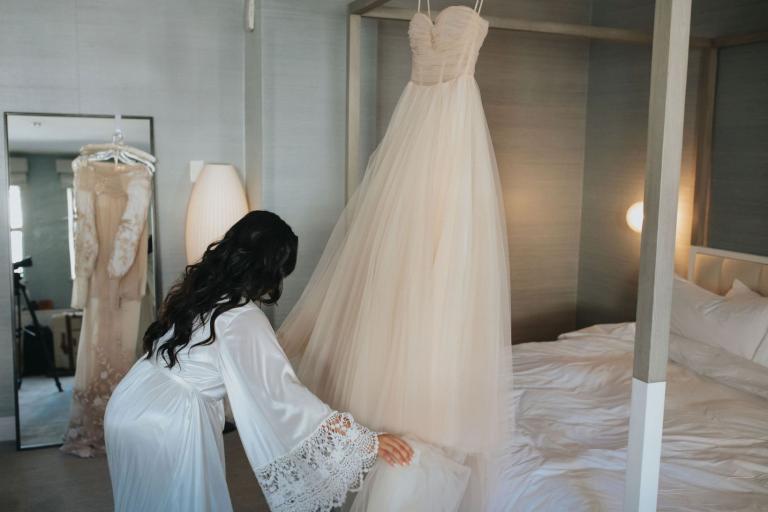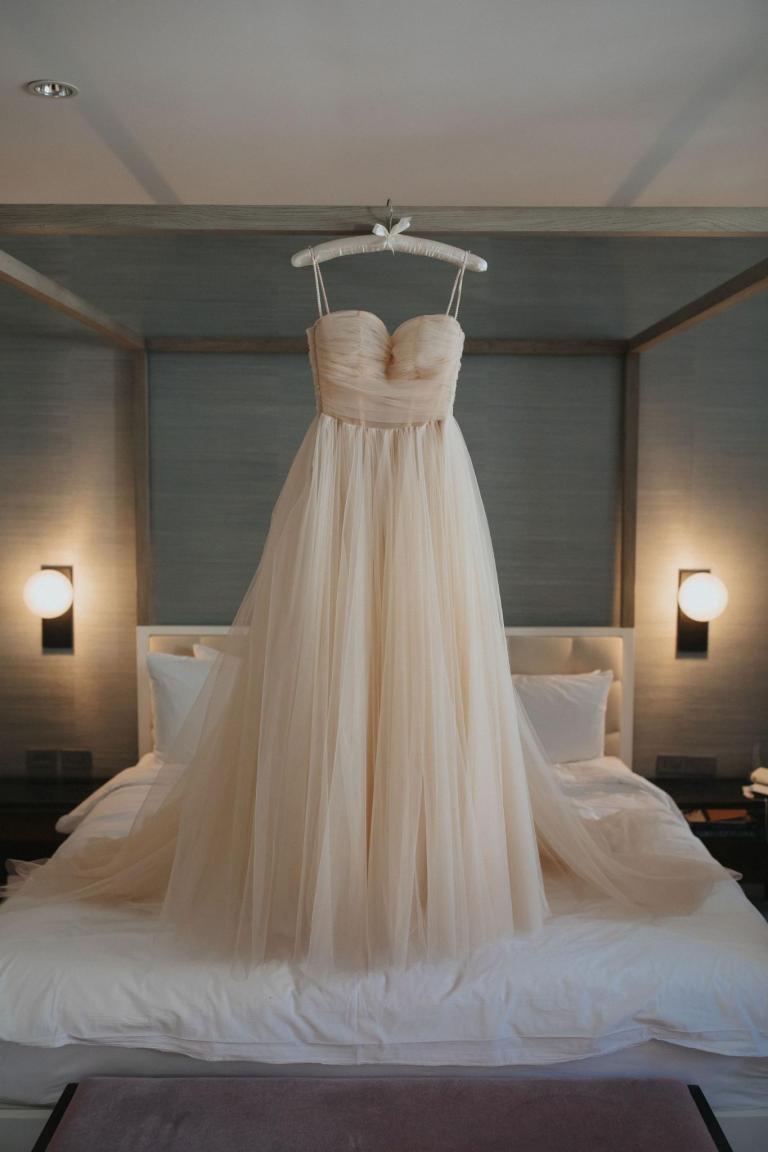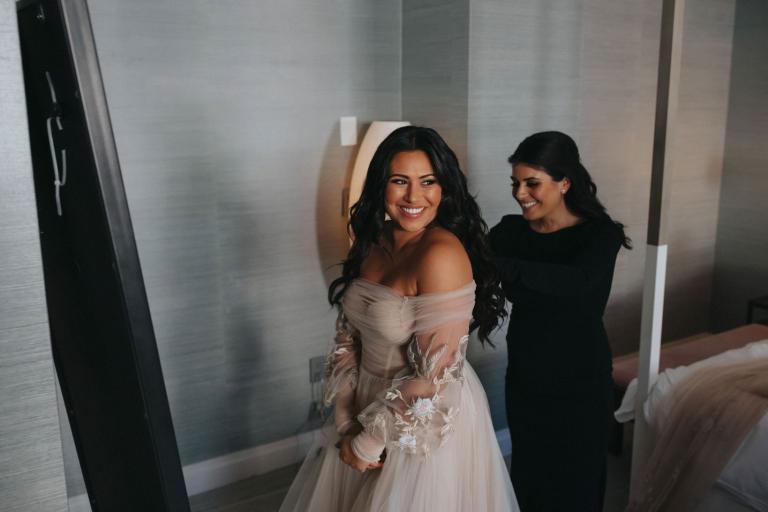 How was your experience with the Galia Lahav brand?

Incredible from the very first moment! When I first tried on my dress, Sharon Sever, Galia Lahav's Head Designer, was there with me in person! He described the detail that goes into every dress, making each one custom to the bride. Once I made my choice, the team at Bridal Reflections was amazing – always communicating with me and answering any questions my mom and I had with kindness. My fittings with Bridal Reflections expert tailor, Michael, helped ensure it was a perfect fit (thanks to Pilates I needed a few inches taken in!). 
What was the most important thing for you and your husband when planning your wedding?

It's easy to look back and say – everything is important but for us, it was that the wedding was a clear representation of us and our style together.
What was your first wedding song?

Dream A Little Dream Of Me, The Mamas & The Papas recorded version, played by our amazing band The Engagements. 
What did you enjoy the most about planning your wedding?

Seeing our collective vision come to life! We wanted our guests to feel like they were brought back in time, surrounded by candelabras, great food, and drinks, close friends, and family – I am confident we achieved that. 
What advice would you give to all our future brides?

Be true to who are as a couple. Whether it is your dress, your venue, or any detail of your wedding, you will enjoy it so much more if it is a true representation of you and your partner. The day will be pure magic – make sure to take time to sneak away to take it all in away from the crowd.
What moment from your wedding will you never forget?

Bryan's vows just blew me away – the way he articulated his love for me and our life together is something I will treasure forever.
Finish your registration for {City} Trunk Show