FREE SHIPPING & RETURNS WORLDWIDE!

DUTIES & TAXES COVERED WORLDWIDE
Find your nearest boutique
Our #GLBride of the Week is Kasi Rosa Wicks, who married her fiancé in Mexico wearing our GALA-604. The couple chose sunny Cabo Azul as the location for their modern destination wedding with a welcome dinner at the Flora Farms. In the following interview, Kasi shares with us how she achieved an unforgettable laid-back wedding and the moment she knew she would be wearing our GALA-604 down the aisle. As told by Kasi:
How did you meet your husband? Tell us a little bit about your relationship.

My husband and I had been at several music industry events at the same time since he and my brother are both in the country music industry.  We had noticed each other before but had never really been introduced. After an awards show in Las Vegas, we ended up at the same after-party and once again didn't speak, but definitely "noticed" one another.  Once we got back to Nashville, he started commenting on my social media post and definitely gave me the idea that maybe he was "interested". (Thank God for social media these days! Haha!) Luckily, Nashville is a fairly small, "big" city.  I had been to brunch with girlfriends and he had friends in town from out of town and we randomly ended up at the same bar. We immediately both walked to each other…and that was it…we were attached the rest of the evening and before he put me in a cab to head back to my house (alone), he asked if we could do dinner the next weekend.  We tried to take things slowly and really build the relationship along the way. The great thing about our relationship is that there was immediately a sense of attraction but more importantly a larger sense of "likability" on both ends. We truly LIKE and respect one another and love to be around each other no matter what we are doing, whether it's getting fancy and walking the red carpet at an award show or riding to the grocery store and browsing the aisles together for an evening at home.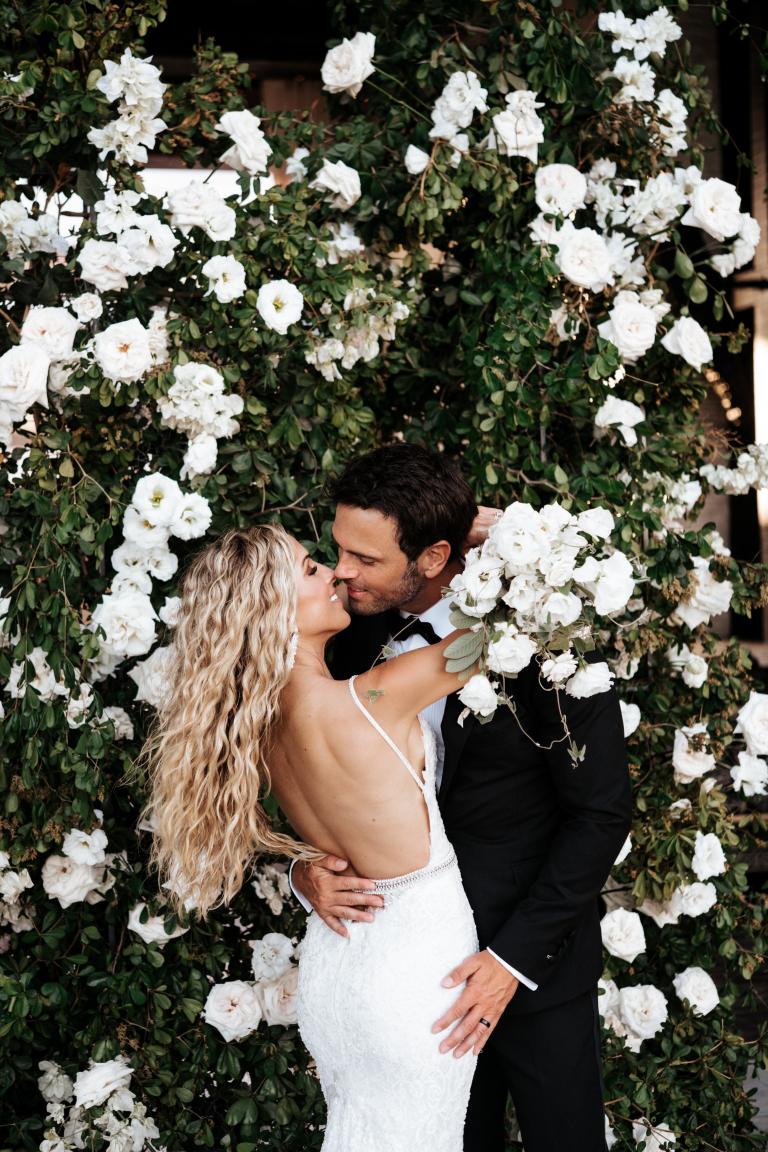 How did he propose?

We both wanted to go on a fun trip during the winter, so we looked at several places. I brought up that I had always seen pictures of the beautiful resort in Canada, and had always wanted to go there. It was the Fairmont Chateau at Lake Louise. As soon as he saw the pictures, he didn't hesitate… He booked the trip immediately and was just as excited as me to go!  We, at this point, had discussed marriage numerous times and dreamed about how we would want our marriage to be one day. It definitely was inevitable that this was going to be the person I would spend the rest of my life with. My husband is very much into details, and he definitely did not disappoint with our trip to Canada. He had numerous activities planned for us before we arrived… Dog sledding, horse sleigh ride, skiing, dinner reservations, etc.  He had it all planned out. My immediate thought was… if he is going to ask me to marry him on the trip, "surely he will ask me to marry him on the sleigh ride". The sleigh ride was the first thing we did when we got there that afternoon around dusk. It was truly a magical experience riding around a frozen lake, surrounded by the largest mountains I had ever seen, to the bells on the horse-drawn sleigh, with snow falling perfectly from the sky. However, he actually didn't ask me on the sleigh ride… he waited until later in the evening and we walked to a beautiful location down a secluded trail in the woods. It was just him and I. It was so quiet you could hear the snowflakes hitting the ground. And THAT was where he asked me to marry him and be his wife. It's a moment I will never forget.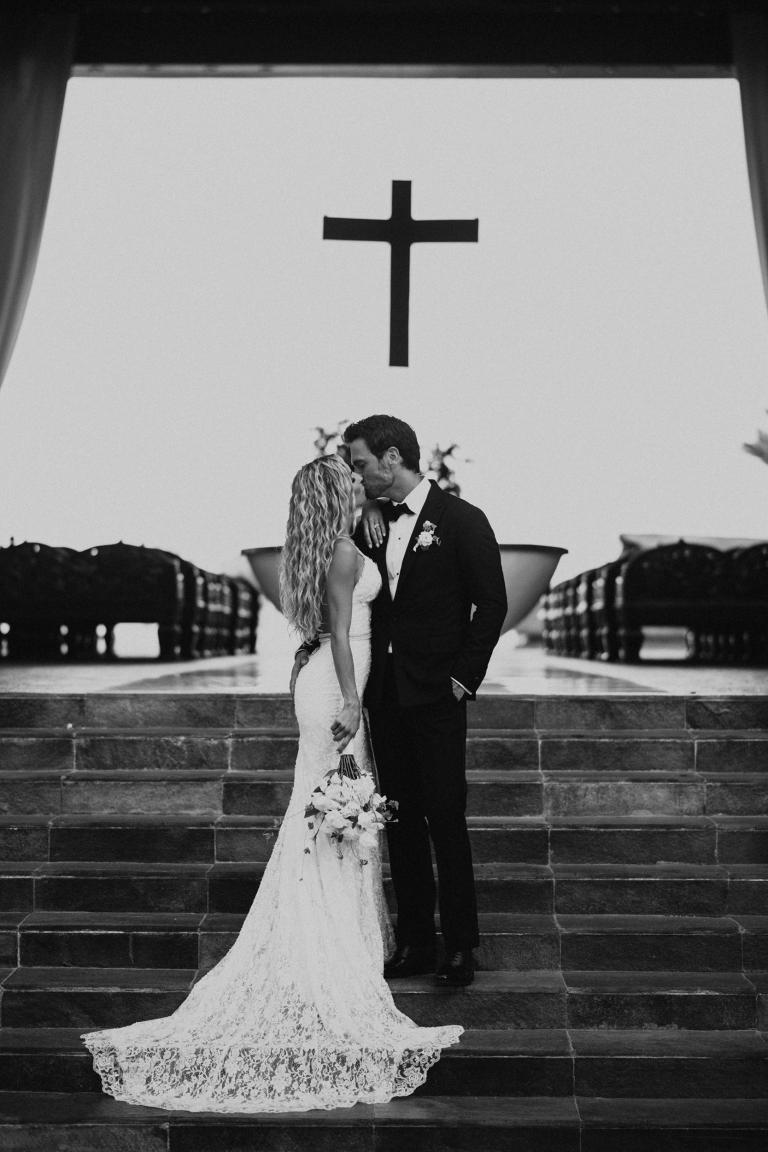 How did you start planning your wedding? What were the first steps?

We knew that we didn't want to wait too long to get married. And we knew we wanted a destination wedding. We quickly booked the location in San Jose del Cabo, Mexico. I thought that I would be able to plan the wedding myself, however, my husband quickly encouraged me to get a wedding planner.  We found Amy Abbott with Amy Abbott Events and knew immediately after speaking with her that she was going to be perfect. We planned our entire wedding weekend in less than 4 months. Every single detail was perfectly orchestrated by Amy and her team to create the most magical experience my husband and I have ever had with our closest friends and family.
Did you do any beauty or fitness prep for your big day?

A few months before I had 2 micro-needling appointments with PRP and then a hydrafacial a week before the wedding. I truly feel like it made my skin glow on my wedding day!  I tried to eat healthy and squeeze in a few workouts before the wedding but I tried to not let it stress me out that I didn't have the time to workout every single day leading up to the wedding.
What was your wedding theme?

Our wedding theme was "modern, sexy, beach vibe".  I wanted lots of candles and a neutral color scheme.  Everything was white, gold or natural.
How did you choose your location?

I had actually never been to Cabo before but had so many friends that had been and loved it. Originally, we were going to go there for a joint bachelor/bachelorette party, but once we started looking into the ceremony venue at Cabo Azul and the welcome dinner site at Flora farms, the more we fell in love with the idea of having our wedding in Mexico. It's beautiful there, with great weather, and a fun atmosphere for our guests.
How did you decide on your bridesmaid style?

We had a smaller guest list at 100 people, so I found it far too difficult to choose bridesmaids since EVERYONE we were inviting were our closest friends, some since childhood.  I did, however, ask all of my closest girlfriends to dress in a similar color scheme from nude to Rose gold tones. I also asked that no short dresses be worn. I love how all of my pictures with my girlfriends turned out.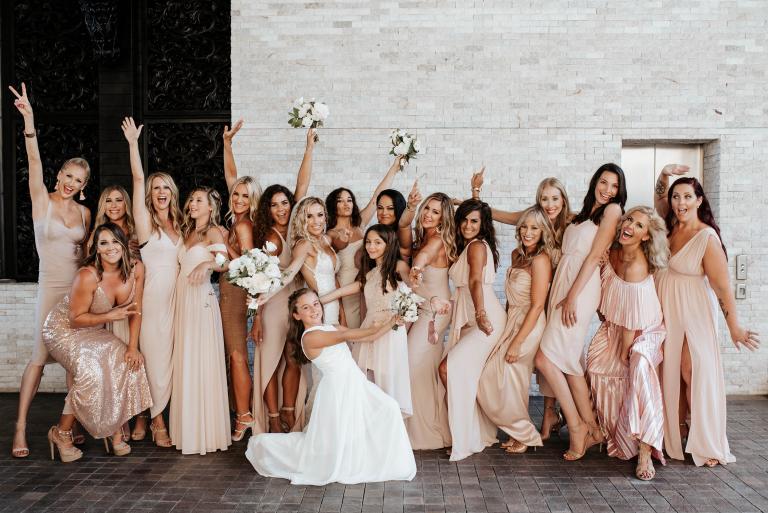 How did you find your perfect dress?

I went to just get an idea of what I wanted in a dress with my sister in law and a close friend, never expecting to actually find a dress that day.  My mother was not even with me since she was on vacation in Spain. The first dress I tried on was the Galia Lahav dress that I ended up wearing for my wedding.  As soon as I put it on, I immediately teared up and felt so beautiful and confident. I knew my husband would love it too! Nothing I tried on after felt the same after that first dress. I didn't want to purchase my dress without my mother there.  So when she returned from her trip, two weeks later, we went back together and face-timed all of my aunts and EVERYONE agreed that this was  THE DRESS.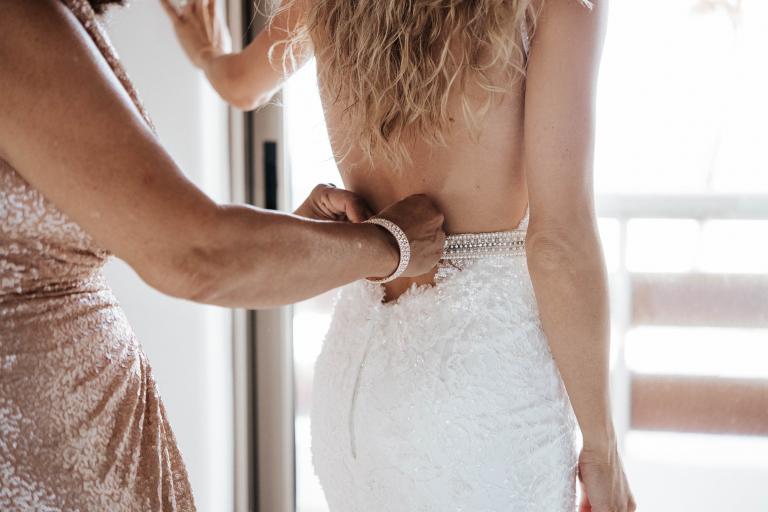 How was your experience with the Galia Lahav brand?

I consider Galia Lahav a dream brand that I always hoped I would be able to wear one day.  The Galia Lahav style is so unique and beautiful. It was truly a dream to walk down the aisle in my dream dress. I love the brand and how supportive they are of all the brides that choose to wear them on their special day.
What was the most important thing for you and your husband when planning your wedding?

We had several things that were extremely important when planning our wedding.  At the top of the list was to hire great videographers and photographers, and to make sure that we had everything planned for our guest to have a fun, laid back, experience that was stress-free. We wanted to hire great planners and vendors so that all we had to worry about on our wedding day was to show up, be in love and enjoy every single moment.
What was your first wedding song?

We had a violinist and cellist at our ceremony.  My husband and wedding party walked out to Ed Sheeran, "Perfect".  I walked down the aisle to "I will always Love you". Our first dance was to "Can't help falling in love" -Kinna Grannis' version
What did you enjoy the most about planning your wedding?

I loved how involved my husband was with every single detail. We loved talking through different aspects of our wedding and what we dreamed that day would look and feel like.  When it was finally the day of our wedding, it was so amazing to see everything we spent countless hours discussing come together exactly how we wanted.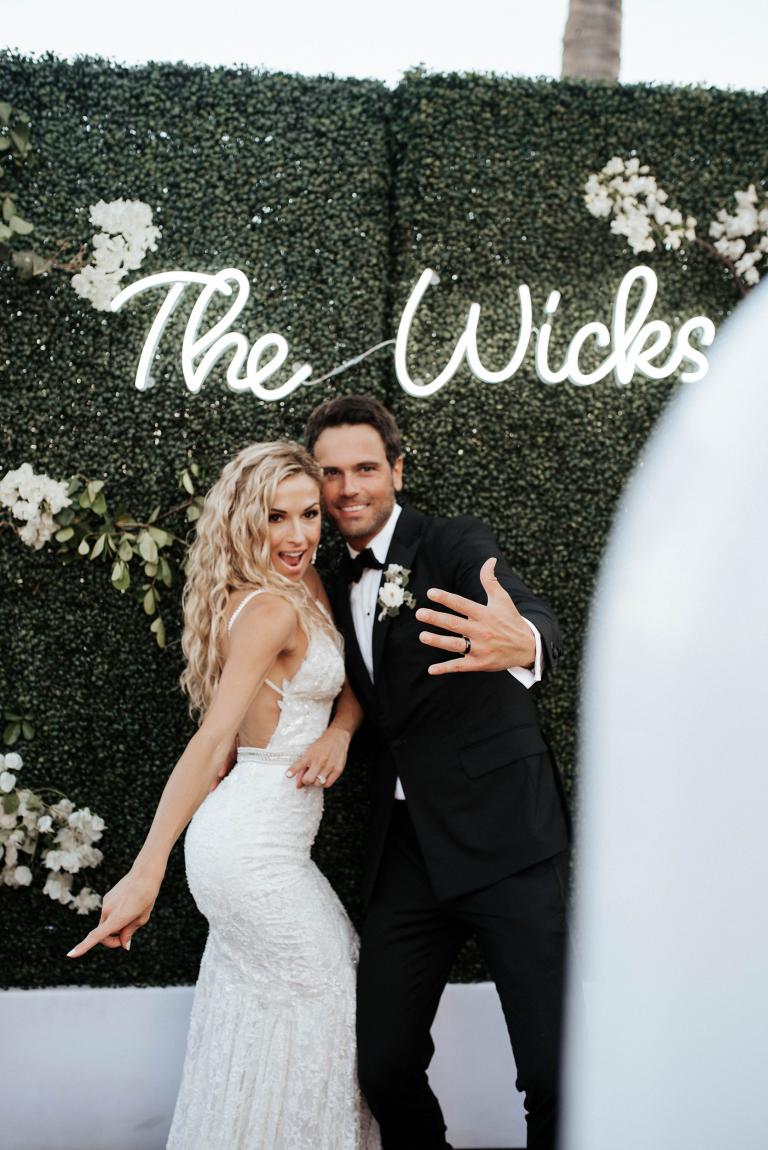 What advice would you give to all our future brides?

Have fun with the planning process!  Try to have a specific idea of what you want your wedding to be like and how you dreamt it would be. But on the day of the wedding, no matter what, try to relax and truly SOAK in every single minute.  Be present and appreciate all of your loved ones that are there to support you and your spouse. Most importantly make sure that you plan to have moments with just you and your spouse to truly appreciate the day together. One thing that I was so glad that we did was to have a sweetheart table at our reception.  Weddings and receptions can be overwhelming at times. It's so important to enjoy the moment with your new spouse every step of the way throughout the day. It takes forever for the day to get there, but once it does, it goes by so quickly!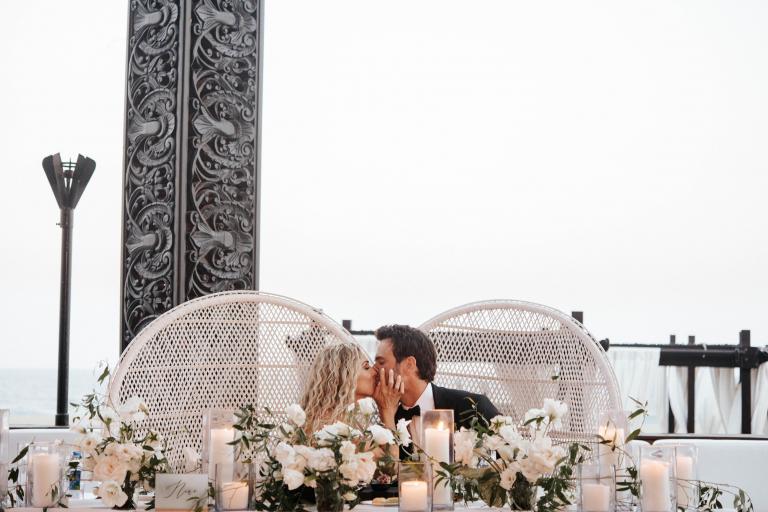 What moment from your wedding will you never forget?

I will never forget the first moment my husband and I saw each other when I walked down the aisle. The love I felt that day was like nothing I can explain.  Once I reached him and we were able to hold hands, I felt this sense of calm that he gives me and in that moment I was so thankful for the man that I was about to marry. He is my forever person.
Finish your registration for {City} Trunk Show