FREE SHIPPING & RETURNS WORLDWIDE!

DUTIES & TAXES COVERED WORLDWIDE
Find your nearest boutique
Our #GLBride of the week is Jessica Madama, who wore our Georgia dress as she married her fiancé, Alistair. Inspired by the 17th baroque palace they visited while in St.Petersburg Russia, the couple held a luxurious, elegantly themed wedding at the Beverly Hills Hotel. In the following interview, Jessica gives us a behind-the-scenes look of her fairytale wedding and the story of how she found the gown to match. As told by Jessica:

How did you meet your husband? Tell us a little bit about your relationship.

Alistair and I were introduced by a common friend, and after just a few hours of talking, we instantly became best friends. We immediately felt comfortable enough to totally open up to each other, even giving each other dating tips and life advice. We soon realized that our friendship was growing so quickly that we were actually falling in love, and that love that has been growing more and more ever since.
How did he propose?

I had mentioned very early on to Alistair that I had always dreamt of being proposed to in France, so for their first anniversary as a couple, Alistair took me on a trip to the south of France with the secret intention of proposing. We were in Cannes during the Cannes Film Festival, and Alistair proposed on the balcony of our hotel room on La Croisette overlooking the water, sunset, and the Cannes Film Festival red carpet.
How did you start planning your wedding? What were the first steps?

The biggest surprise about the task of wedding planning was how painless it could be when you know your budget, have a great wedding planner and stay organized and relaxed. Working with reputable and reliable vendors also takes away a lot of stress.
Did you do any beauty or fitness prep for your big day?

I have always felt that stressing the body at an already stressful time is not a good idea, so I made sure not to do a crash diet or do an aggressive workout routine. Instead, I made sure to eat six small meals throughout the day with planned out mini-meals that contained a balance of protein, healthy fats, and complex carbs. I also made sure to work out 3 times a week and to sleep at least 7-8 hours a day for a month before the wedding.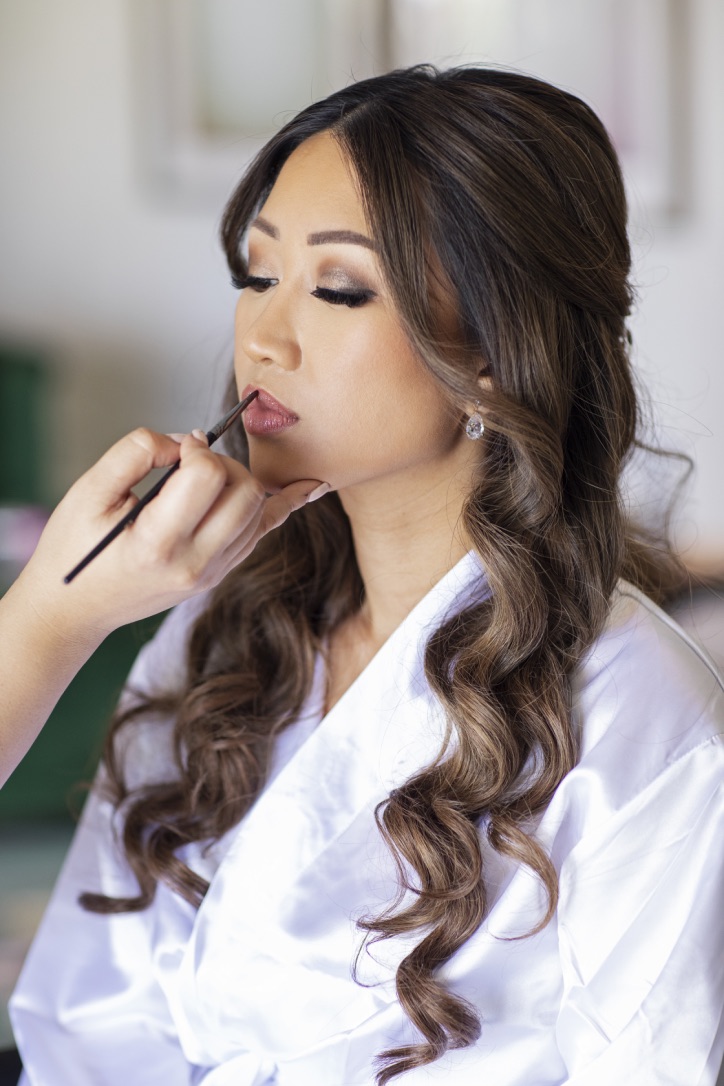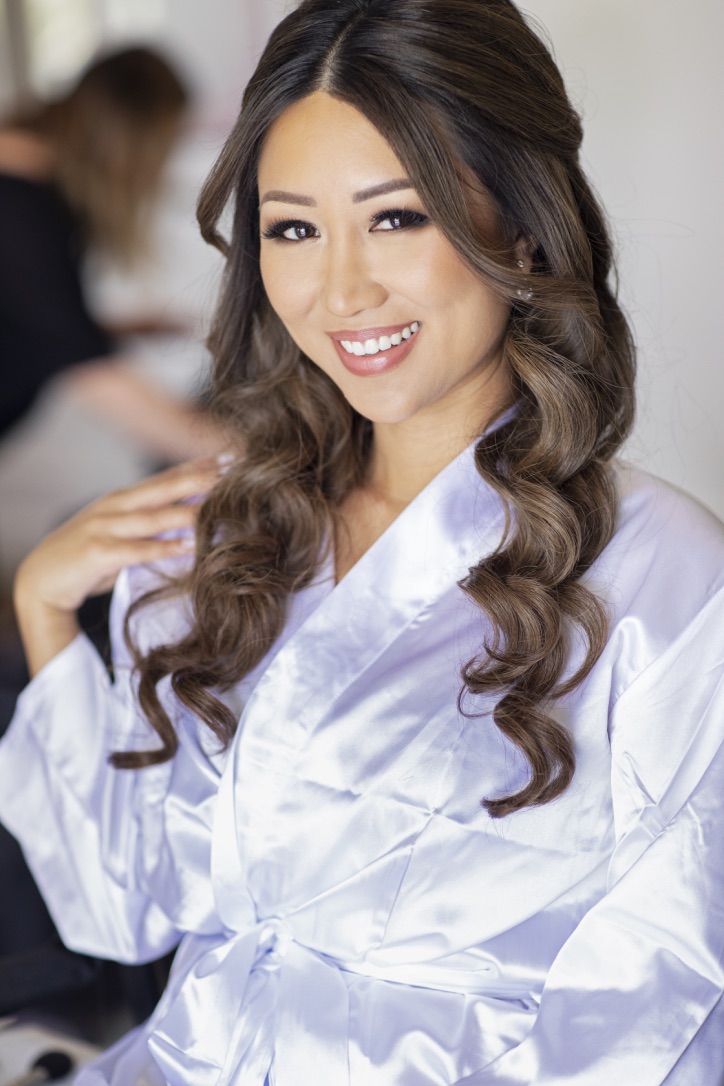 What was your wedding theme?

The vision for the wedding reception was that of a dream or a fairytale, something that had an ambiance of classic luxury and timeless elegance. We were inspired by the 17th-century baroque palaces that we have visited during their trip to St. Petersburg, Russia. Upon entering the cocktail reception, guests were greeted with an ornately gold framed mirrored seating chart surrounded at the base by pillars of candles, like a baroque dream. The entire floor was covered with a white dance floor, and the walls were encircled with flowing white drapes. All of the dining tables also had gold-accented mirrored table tops that perfectly reflected the gorgeous white and blush florals and flickering candelabras.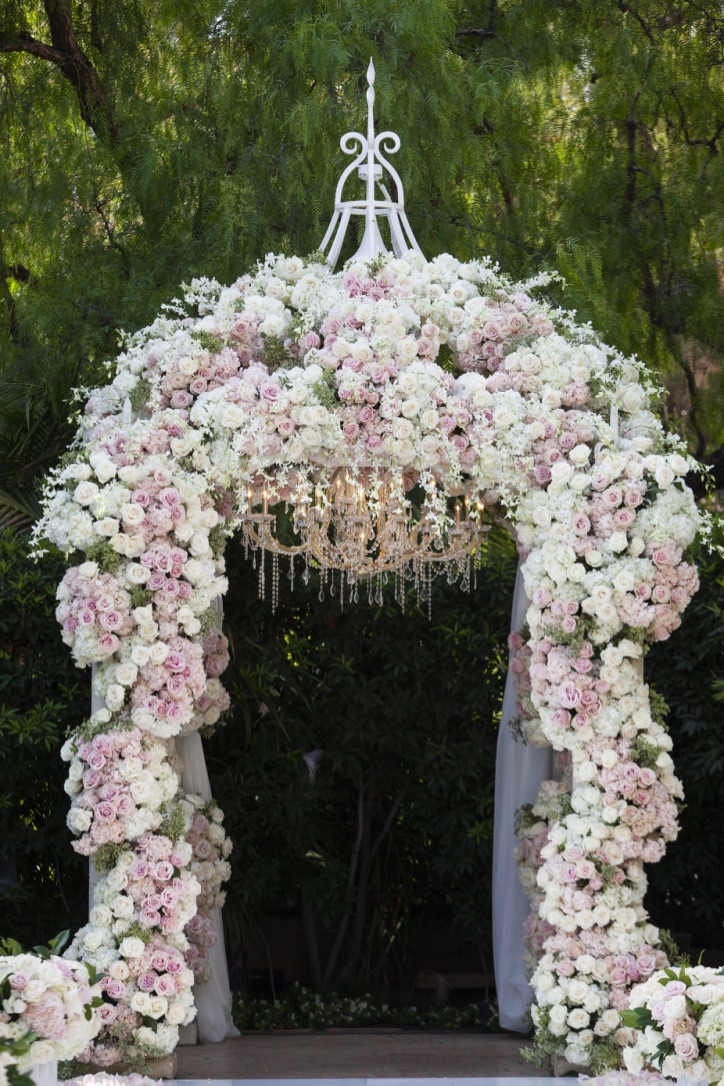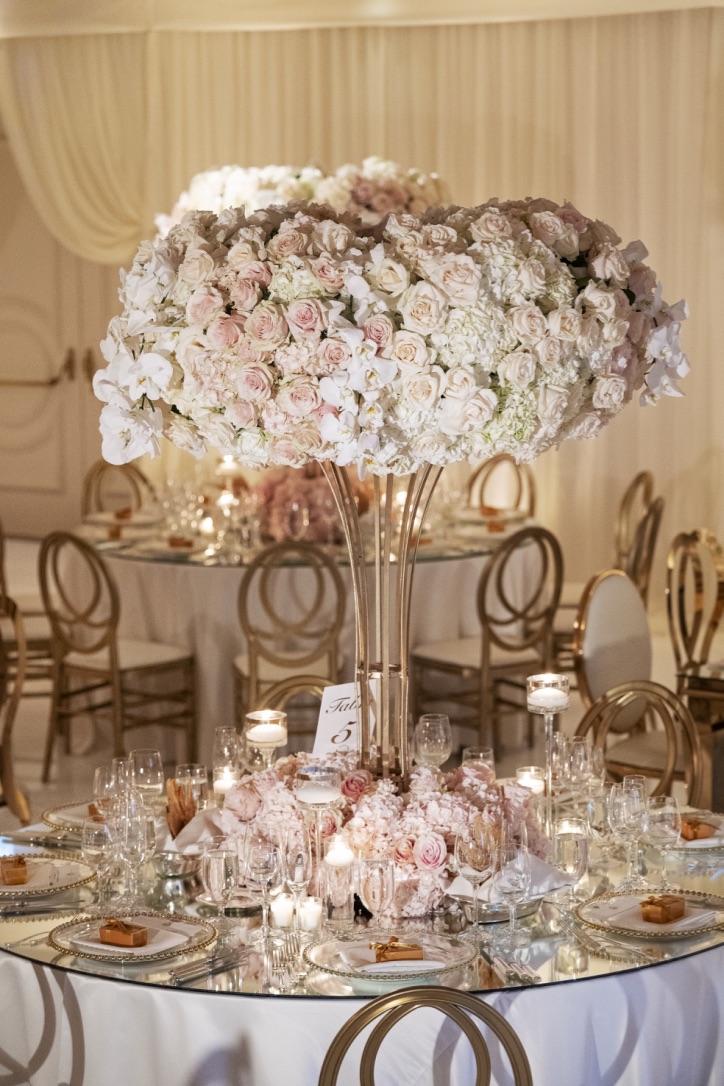 How did you choose your location?

We knew we wanted to get married in Beverly in Hills was because this is where we met and first began dating, so this location represented a lot to us and was symbolic for the start of our relationship. The Beverly Hills Hotel was the perfect venue to transition from our dating relationship to our married life.
How did you decide on your bridesmaid style?

The bridesmaid style was chosen based on the color scheme for the wedding, making sure that the exact shade suited the complexions of my bridesmaids.

While the dresses of the maid of honor and bridesmaids were of similar color, both being a blush pink fabric with an ethereal style, the maid of honor had a different style being a Bardot embellished sweetheart neckline for an added touch of glamour to complement the bridal gown and the wedding theme.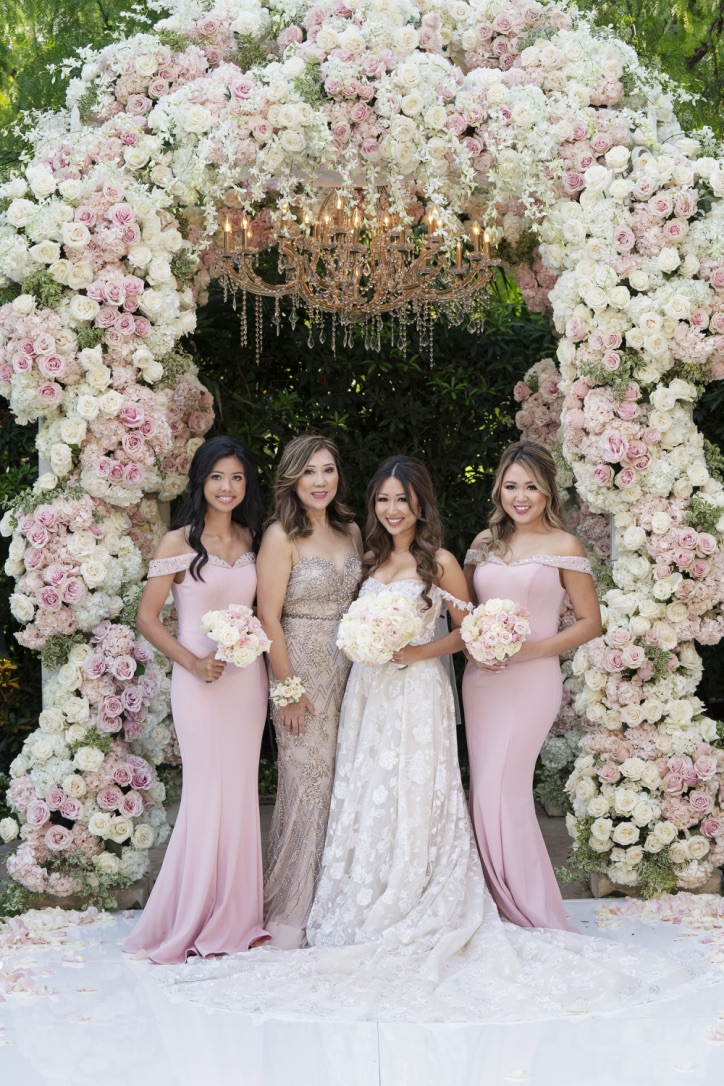 How did you find your perfect dress?

I have always admired the quality and artistry of Galia Lahav dresses, and when I learned that Mrs. Galia Lahav herself would be in her Los Angeles store, I knew that I had to meet her in person!

Mrs. Lahav was kind enough to suggest several of her beautiful gown styles, and I loved them all, but when I first tried on the Georgia gown, I knew it was the one. The Georgia gown was truly elegant and luxurious, but it also had a spark of sultriness. The A-line silhouette and sheer bodice style had a sweetheart neckline, an embroidered tulle with caviar-pearl sequins in a rose pattern, and Swarovski crystals embedded throughout. It not only embodied my personal style and flattered my figure, but it did so without compromising comfort whatsoever.

The Georgia gown was everything I could have ever hoped for in a wedding gown.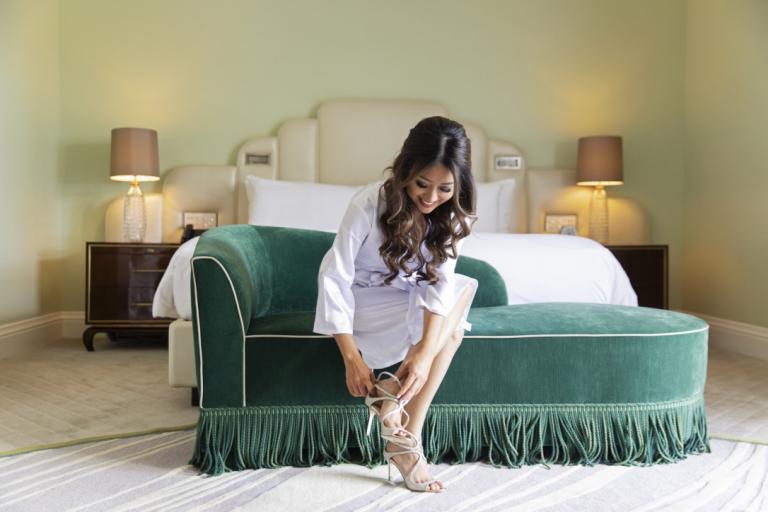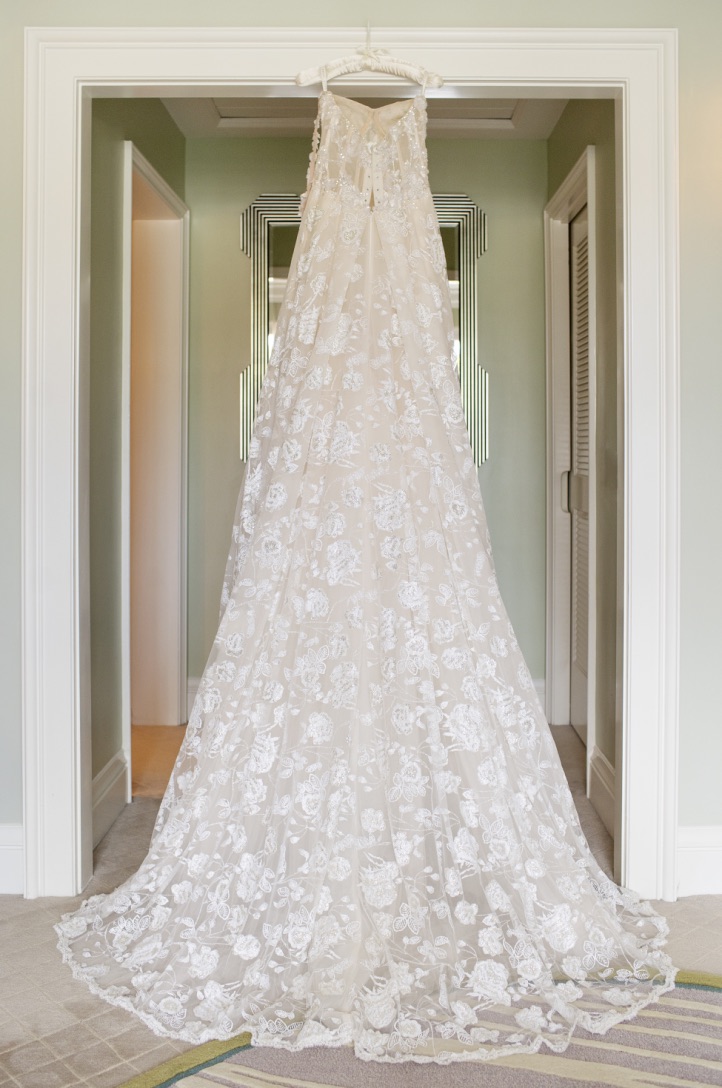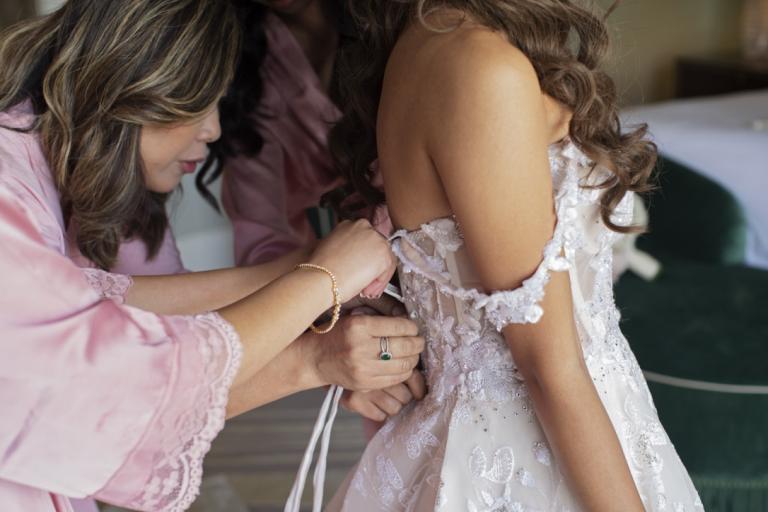 How was your experience with the Galia Lahav brand?

It is no surprise to anyone that wedding planning can be stressful and overwhelming at times – but the Galia Lahav Los Angeles team took a huge amount of that pressure off the wedding! I am so amazed at the reliability and responsiveness from beginning to finish. They provided me with the best service while providing me with a high-quality well-crafted gown.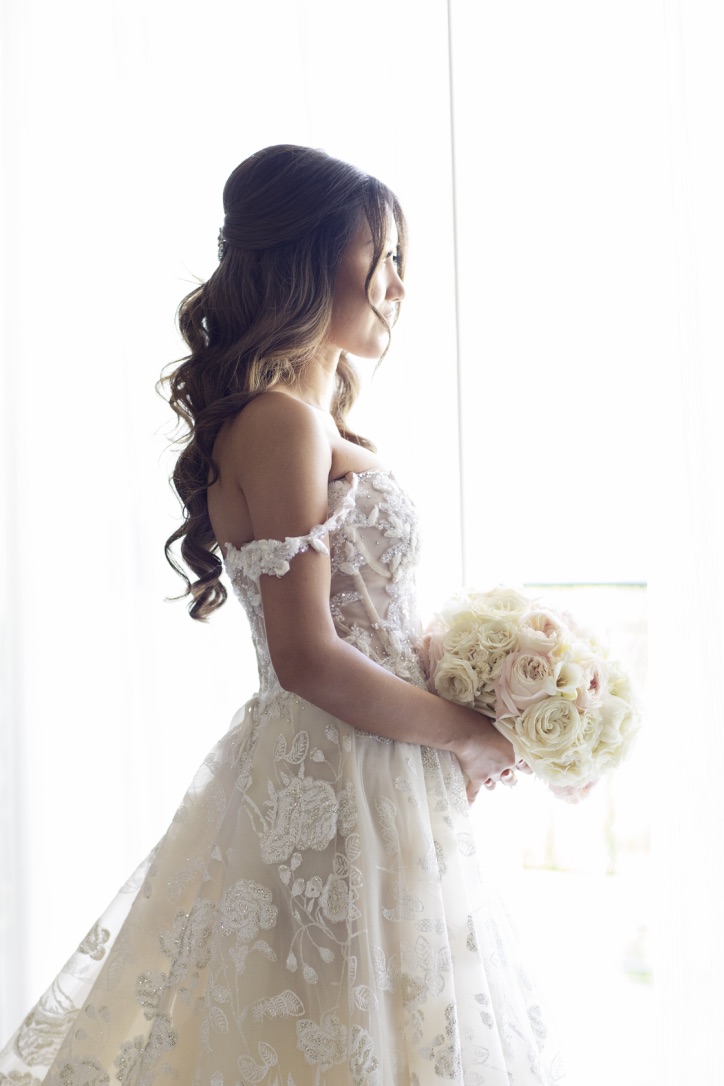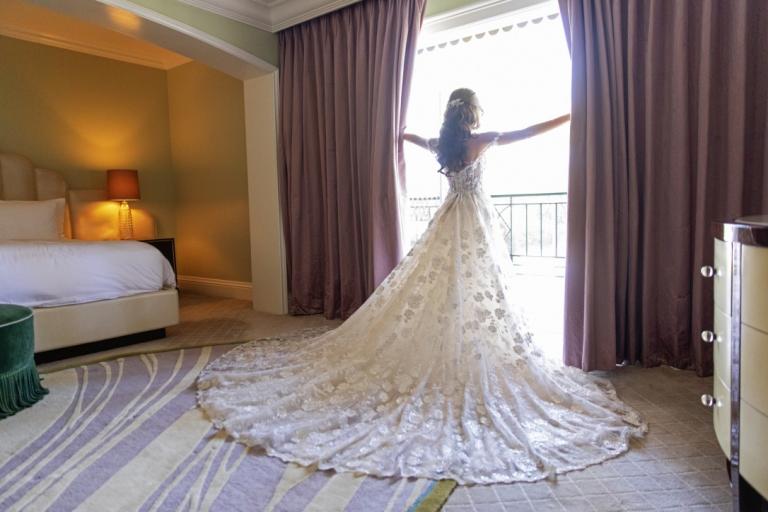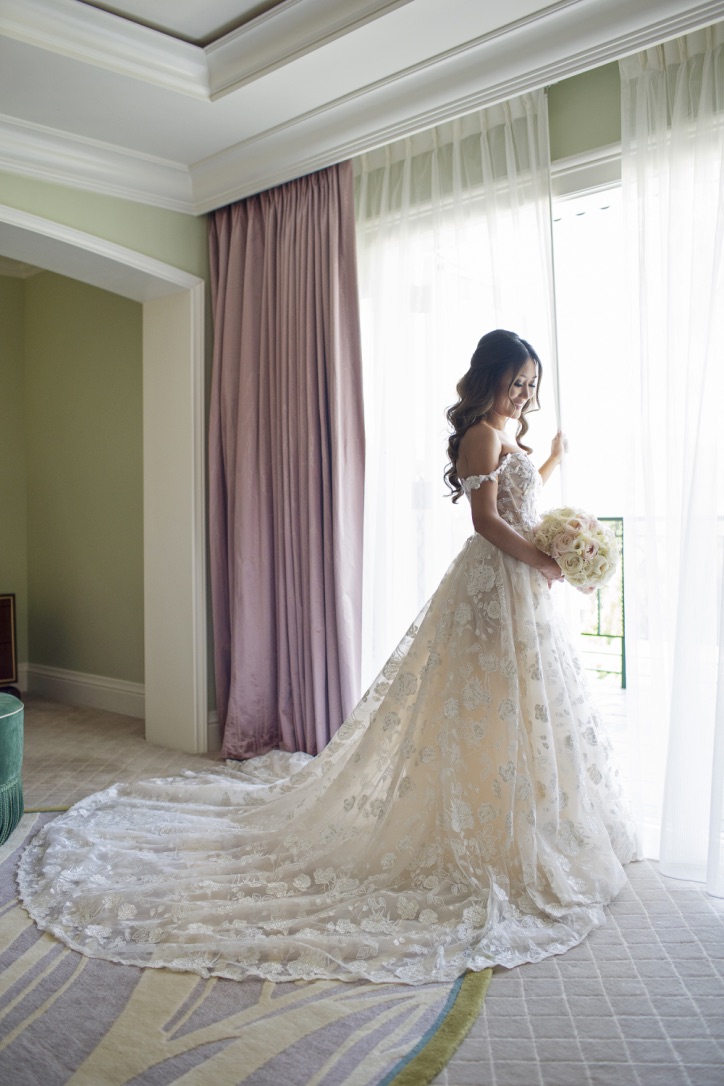 What was the most important thing for you and your husband when planning your wedding?

So many parts needed to come together to realize our vision for the wedding, but the highest priority for us was for our guests to enjoy a wonderful venue and to have a delicious meal with outstanding service. The area we placed the most budget emphasis on therefore had to be the venue since the venue provided the ambiance, the food, and service. A close second was flowers because this was a key factor in forming the ballroom's allure, and a close third was the entertainment since the right band provides the right energy for the entire event.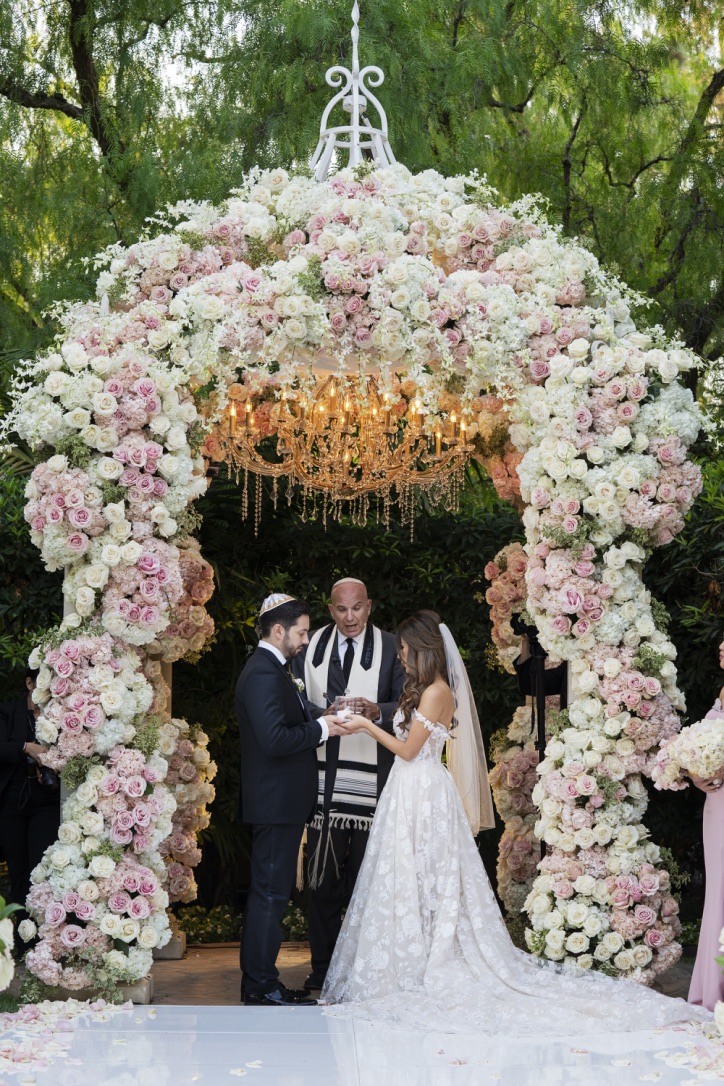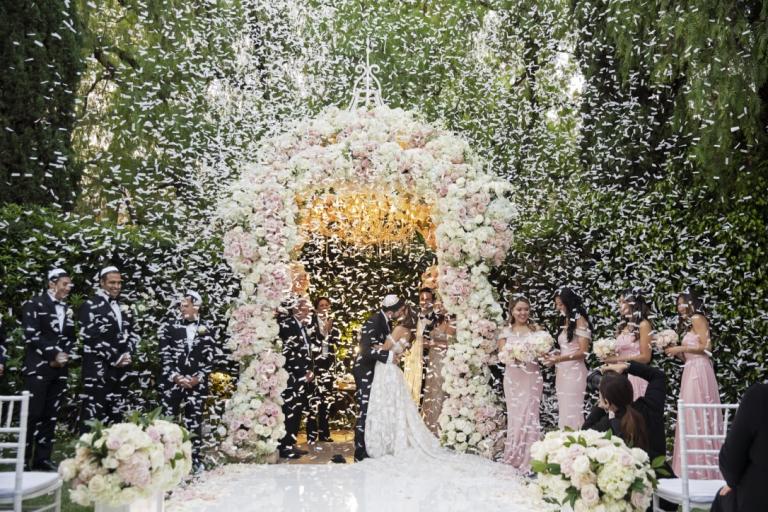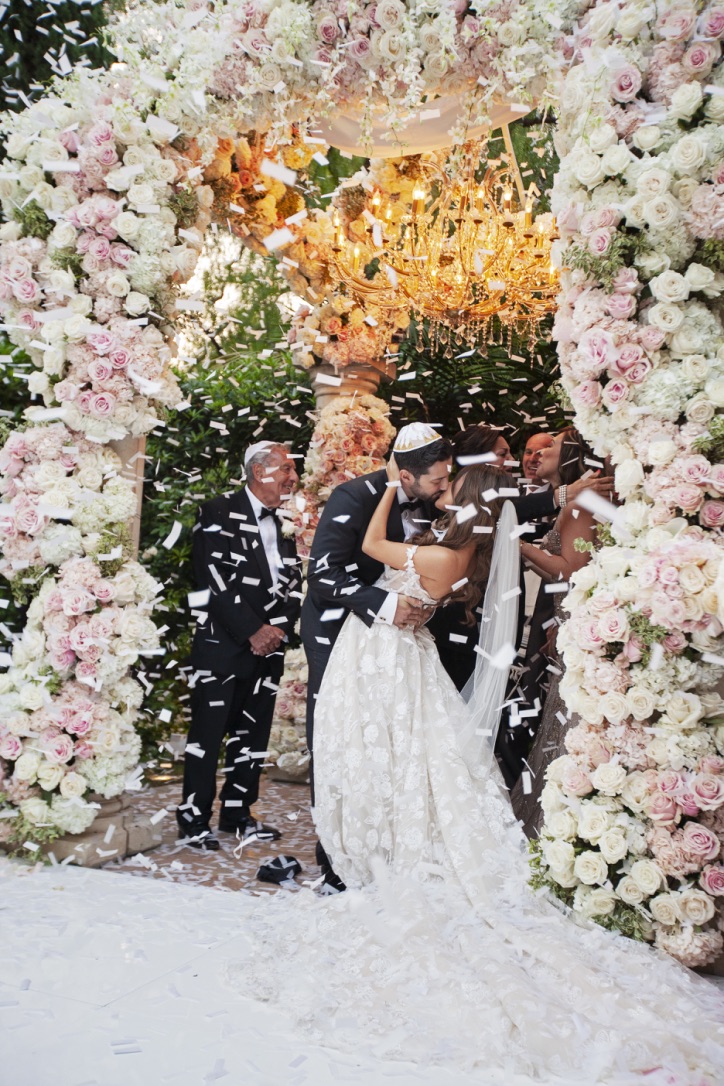 What was your first wedding song?

After months of agonizing over what our first dance would be, we finally chose our song the evening before the wedding, and we had not rehearsed our dance at all. When we heard the opening notes of

Can't Take My Eyes Off You, we just went with it, had fun, and danced in the moment! By the middle of the song, our guests were so energized that they surrounded us on the dance floor and began throwing what seemed like endless petals on us, cheering and dancing until we finished the dance with a spontaneous dip and a kiss!

 
What did you enjoy the most about planning your wedding?

The most enjoyable part about planning the wedding was coming up with how to blend elegant, romantic, and baroque motifs into a style that was timeless yet welcoming, while finding a perfect gown to not only match this theme but also to embody it.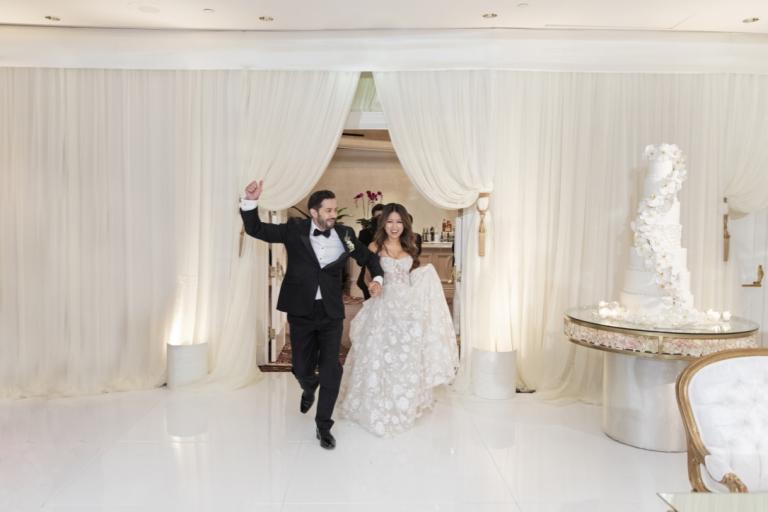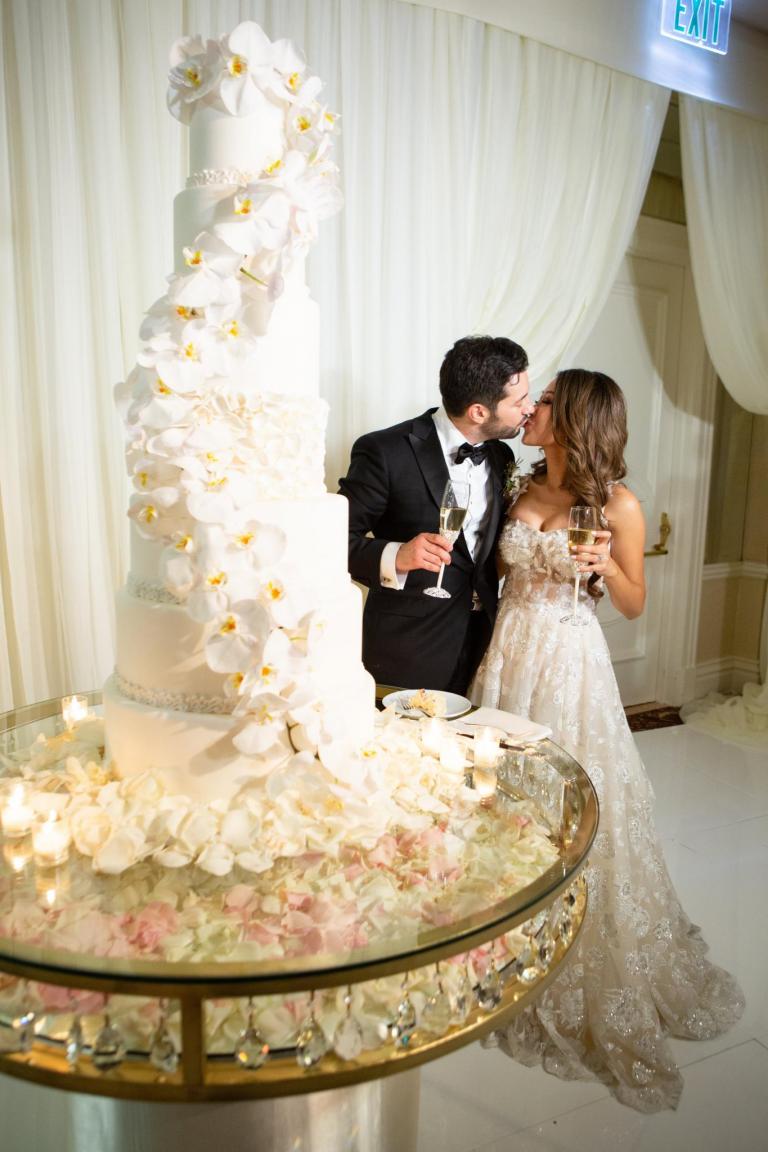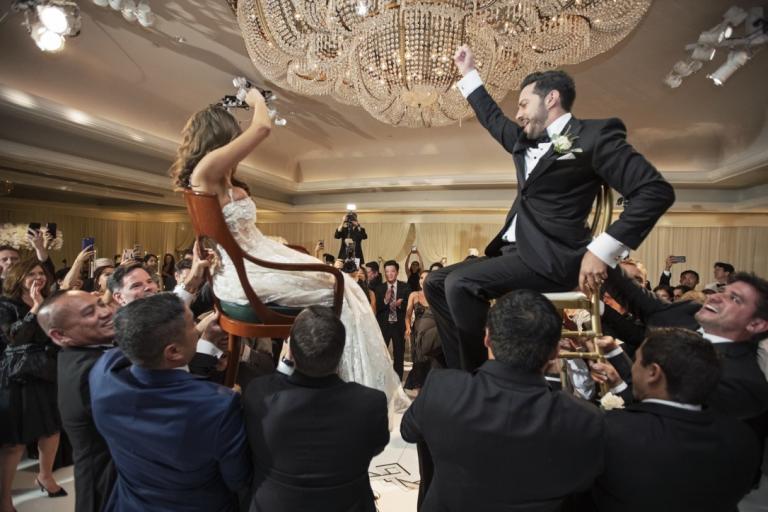 What advice would you give to all our future brides?

The best advice we received was to know your vision for how you want the wedding to be, to convey this to your wedding planner, and to work together openly to achieve that vision.

I actually made a PowerPoint presentation of how I  envisioned the wedding to be, and our wedding planner went over this with us in detail to figure out how we could translate that vision into reality.

 Another piece of advice that we found invaluable was to just relax and enjoy the wedding planning process, rather than get stressed about creating perfection. Keep the focus on creating the ambiance you desire, trust your planner, and just go along for the wonderful ride!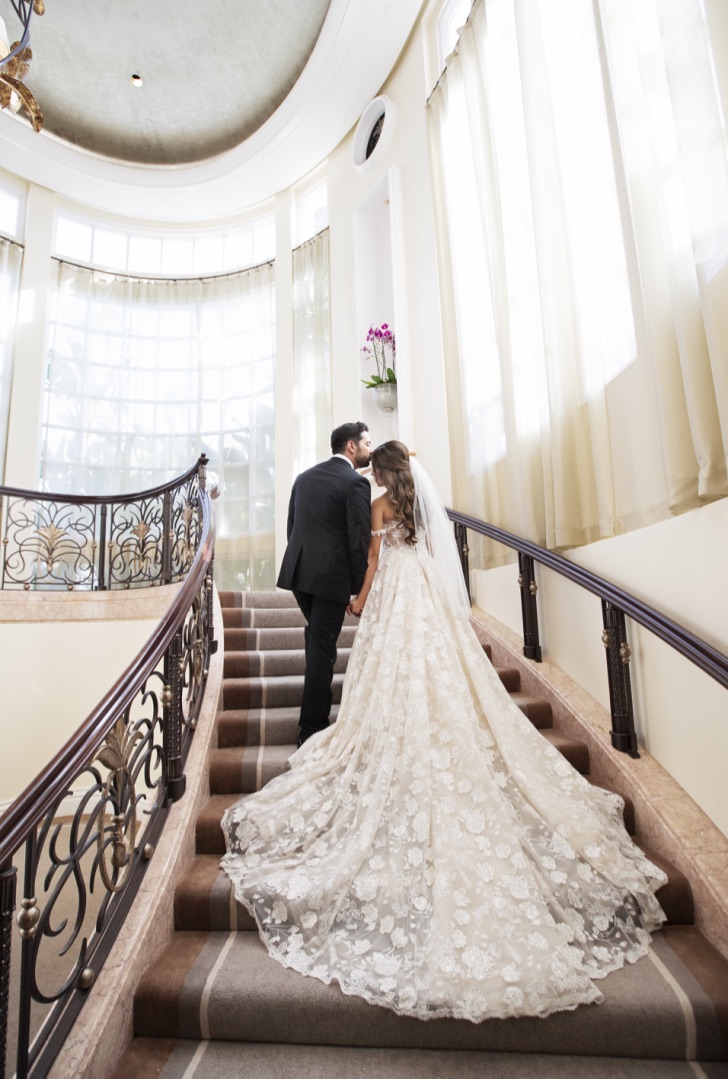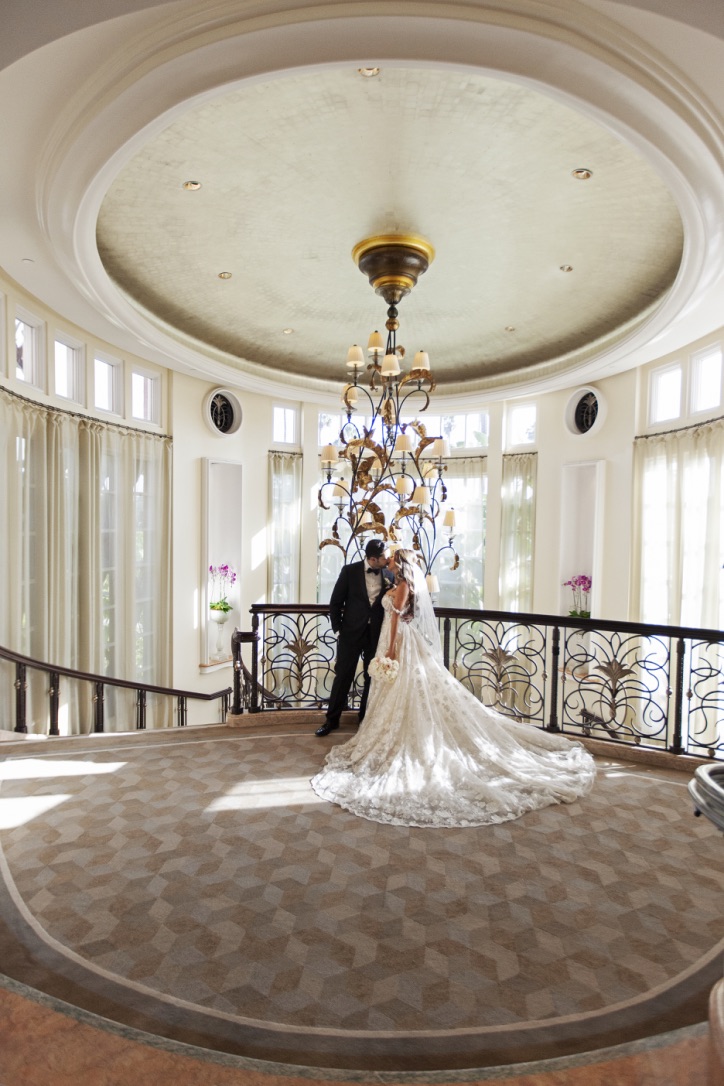 What moment from your wedding will you never forget?

One of the most special moments of our wedding ceremony was to be pronounced husband and wife underneath a beautiful blush and white floral chuppah with an elegant, lighted crystal chandelier hanging above our heads. It completely blew us away and was better than we could have ever imagined!

Our wedding was also a multicultural and interfaith marriage, with Alistair being Jewish and Jessica being Catholic. Our officiant, a rabbi who specialized in interfaith marriages, incorporated elements of both traditions in a heartfelt and powerful ceremony that incorporated unique and distinct elements from both faiths while at the same time unifying both faiths by highlighting their common history, themes, and insights.
Finish your registration for {City} Trunk Show