FREE SHIPPING & RETURNS WORLDWIDE!

DUTIES & TAXES COVERED WORLDWIDE
Find your nearest boutique
Our #GLBride of the week is the stunning Jessica Abecassis, who married her better half in our G-1010 gown. Surrounded by loved ones, the two had a romantic backyard wedding complete with sparkling lights, white flowers and candles. In the following interview, Jessica shares how she found the dress of her dreams along with her favorite wedding day moments. As told by Jessica: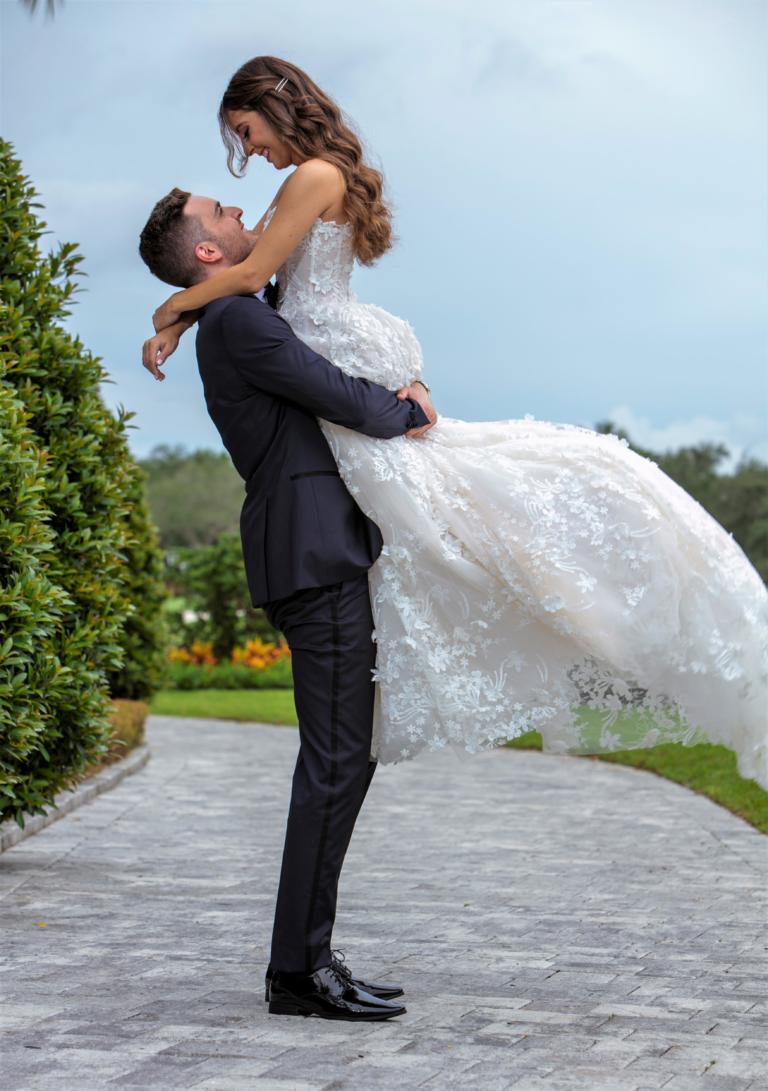 How did you meet your husband? Tell us a little bit about your relationship.

We met at a mutual family friend's wedding in Montreal! Our families have known eachother forever but somehow we never met. He was living in Montreal and I lived in Florida. Towards the end of the wedding my aunt had some sort of revelation and ran up to Anthony, said I have to introduce you to my niece, you would be perfect together! I'm dancing with my cousins and see my aunt storming across the dance floor dragging this insanely tall man behind her and she stops in front of me and says "Jessica this is Anthony, Anthony this is Jessica, take a picture together!" We ended up talking the rest of the night and every day since! We dated long-distance Montreal to Florida for about 2 years before he proposed!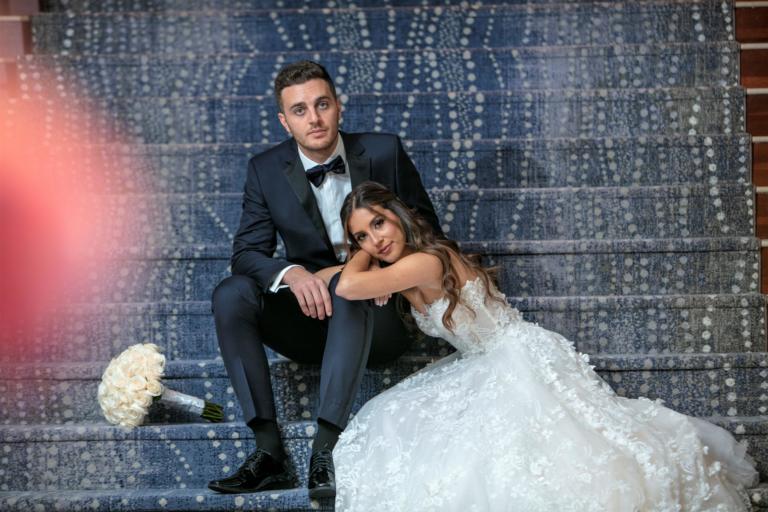 How did he propose?

We took a trip to Maui after my grad school graduation. On our second night, we had dinner plans at this beautiful restaurant on the beach and we had some time before our reservation so wanted to take pictures in front of the sunset. We brought a little tripod to take pictures with our phones and a photographer saw that and came up to us and offered to take pictures for us. She said if we like any we can buy them from her. So I said sure why not maybe some will be nice. After a few minutes of taking photos, she tells us to face opposite directions. When she instructed me to turn around, Anthony was on one knee with the ring in hand. He had the whole photographer run-in planned weeks before our trip!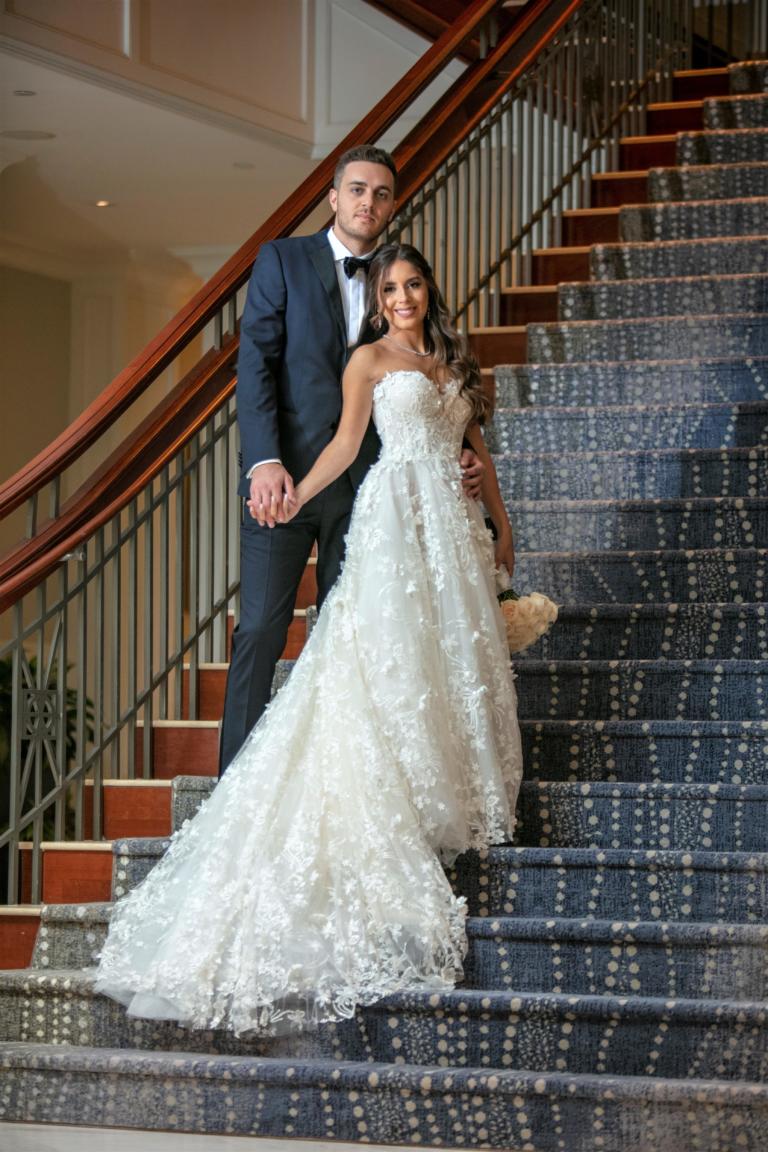 How did you start planning your wedding? What were the first steps?

We were 7 hours behind our families because of the Hawaii time difference so by the time we woke up the morning after the engagement our parents already had 3 dates and a venue picked out! We both wouldn't have expected anything less from them! My brother had been married in Montreal the year prior so luckily we knew most of the vendors we wanted to work with already. Once I got back home I immediately started dress shopping and had my dress picked out within a few weeks! Unfortunately, our Montreal wedding was canceled 2 months before it was set to happen because of Covid. I ended up planning a much smaller wedding in Florida a year later in my parent's backyard which turned out to be so beautiful and exactly what we wanted!
Did you do any beauty or fitness prep for your big day?

Honestly, after the year of postponing and multiple dates being canceled, I was just so excited for the day to finally happen! Beauty prep consisted of fresh highlights and haircut, and browsing instagram for the perfect makeup and hair inspo; I had my day of makeup done by the incredible Sabrina Ouknine @makeupbysabouk. She made all of my Pinterest wedding makeup dreams come true! As far as fitness goes it was really more of a mental prep for me. I tried to take walks everyday and just clear my head and feel healthy before the big day!
What was your wedding theme?

I didn't have a specific theme but I wanted a very romantic setting. Twinkly lights, white flowers, and lots of candles! Our colors were white and silver and baby blue for the bridesmaid dresses.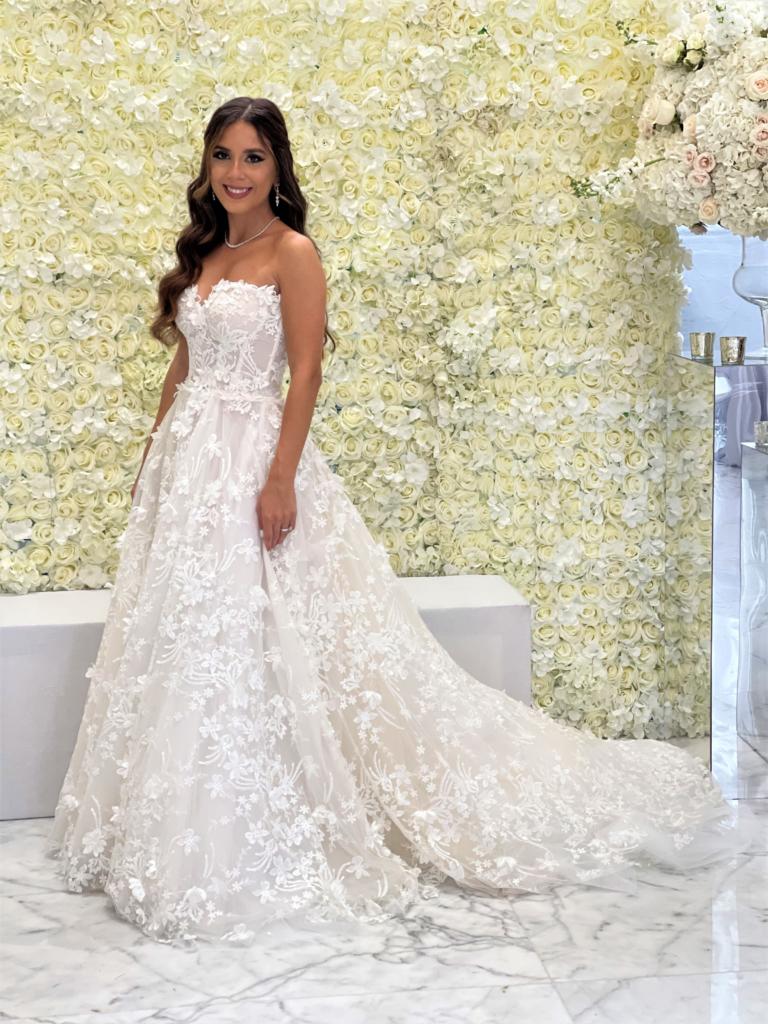 How did you choose your location?

After our Montreal wedding was canceled we kept trying to choose new dates at the same synagogue but after months and months of the borders still not reopening and those new dates coming and going we decided it was best to move our wedding to Florida where the restrictions weren't so heavy. Rather than doing a venue in Florida I really just wanted to have our wedding at my parent's house where we wouldn't have to worry about things shutting down again. We also held our engagement party/henna at my parent's house which turned out so beautiful so I had all the confidence in the world that we could still have our dream wedding there.

Depending on the situation at the time of the wedding we would either have just our immediate families or more if we were able. Fortunately, things were much better at the time and we were able to have about 160 people and it was the best night with all of our closest family and friends! We had the ceremony on the side of the house in one tent and the party in another tent in the backyard. We covered the pool to make a dance floor and completely transformed the backyard into a fairytale wedding!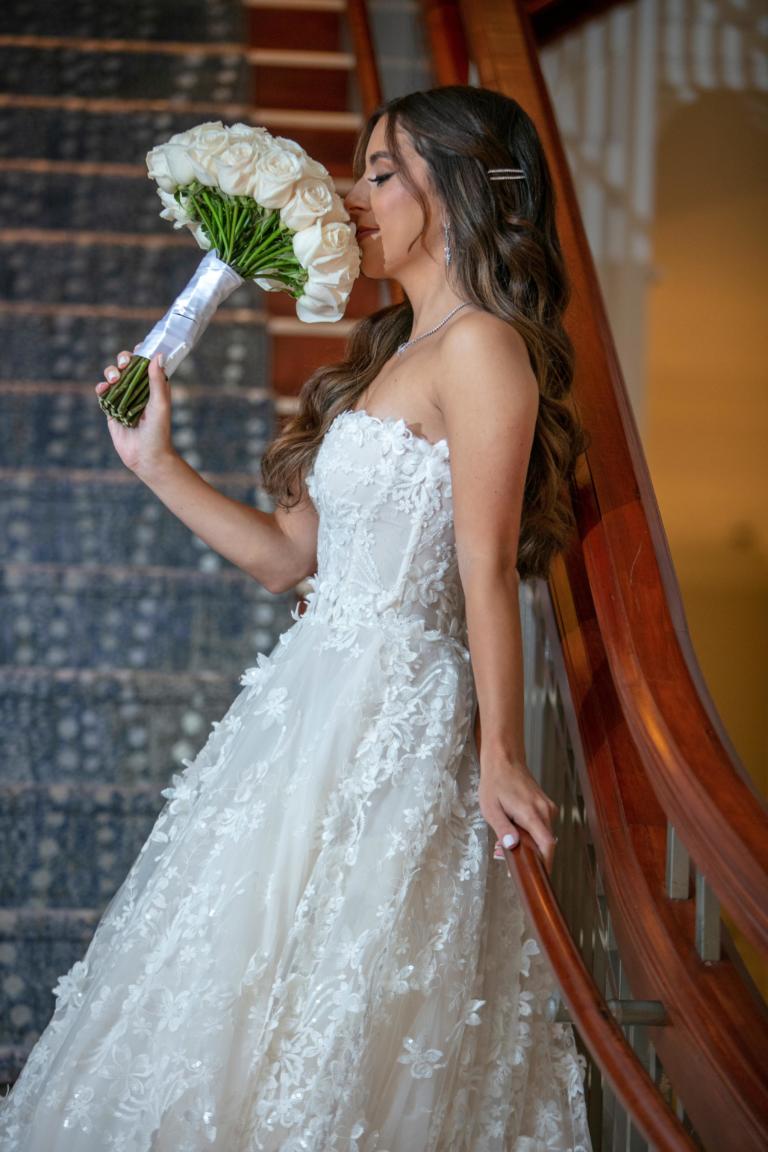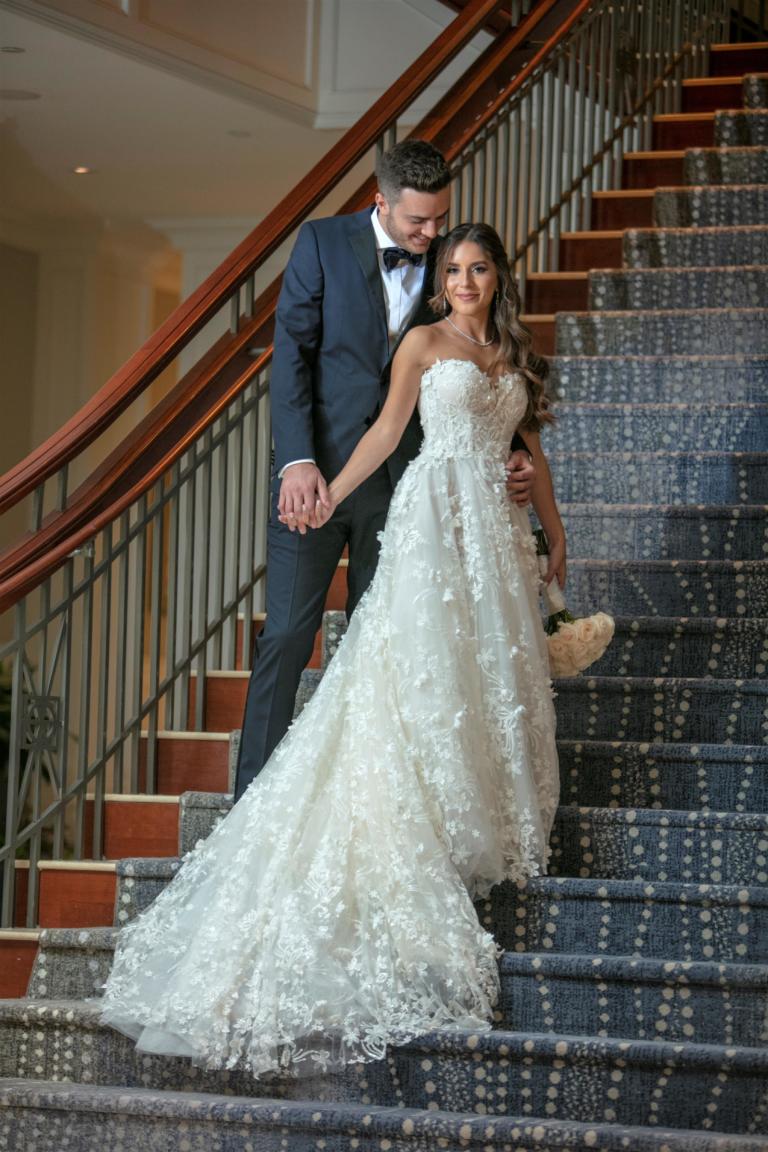 How did you decide on your bridesmaid style?

I chose a light blue color for my bridesmaids because I wanted it to be summer-y for our June wedding and I loved the color. My wedding colors were mostly white so I wanted something light and soft, not too dramatic. Rather than choosing one dress for everyone to wear I just gave them a color and they were able to choose whatever dress they wanted as long as it was a black tie. I love the way it turned out with everyone wearing slightly different hues of blue!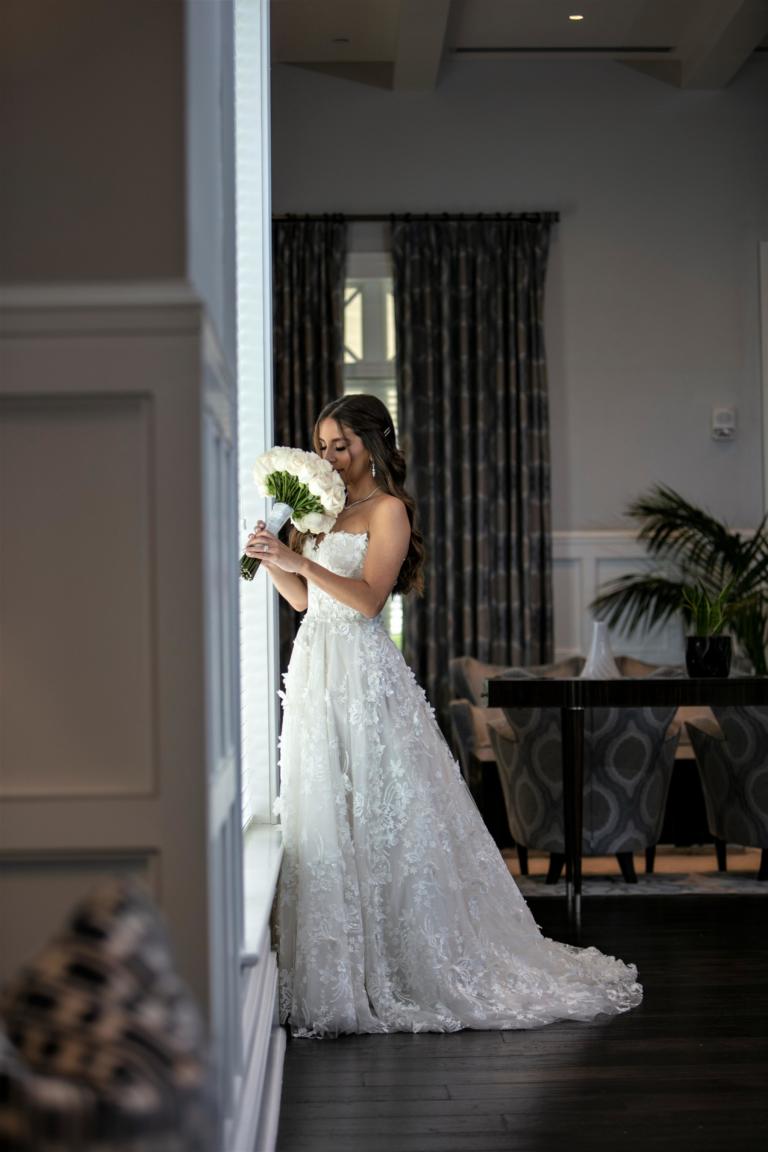 How did you find your perfect dress?

I made sure to look at every single designer and wedding dress store before making my decision because I didn't want to have any dress regrets! I looked in multiple stores in New York then finished my search in Miami and Boca. I found multiple stunning dresses that I loved but in the end, I knew I would end up with Galia Lahav. I had so many pictures of dresses I loved going into my search but actually ended up with one that I had never seen before on GL Instagram or anywhere else! I found the dress at Boca Raton Bridal and the day I tried it on for the first time, I tried on at least 10 others but I saved that one for last because I knew it would be the one. I was worried that after a year and a half of having the dress I wouldn't love it anymore, but I put it on again for the first time about a month before my postponed wedding and It was even more beautiful than I remembered!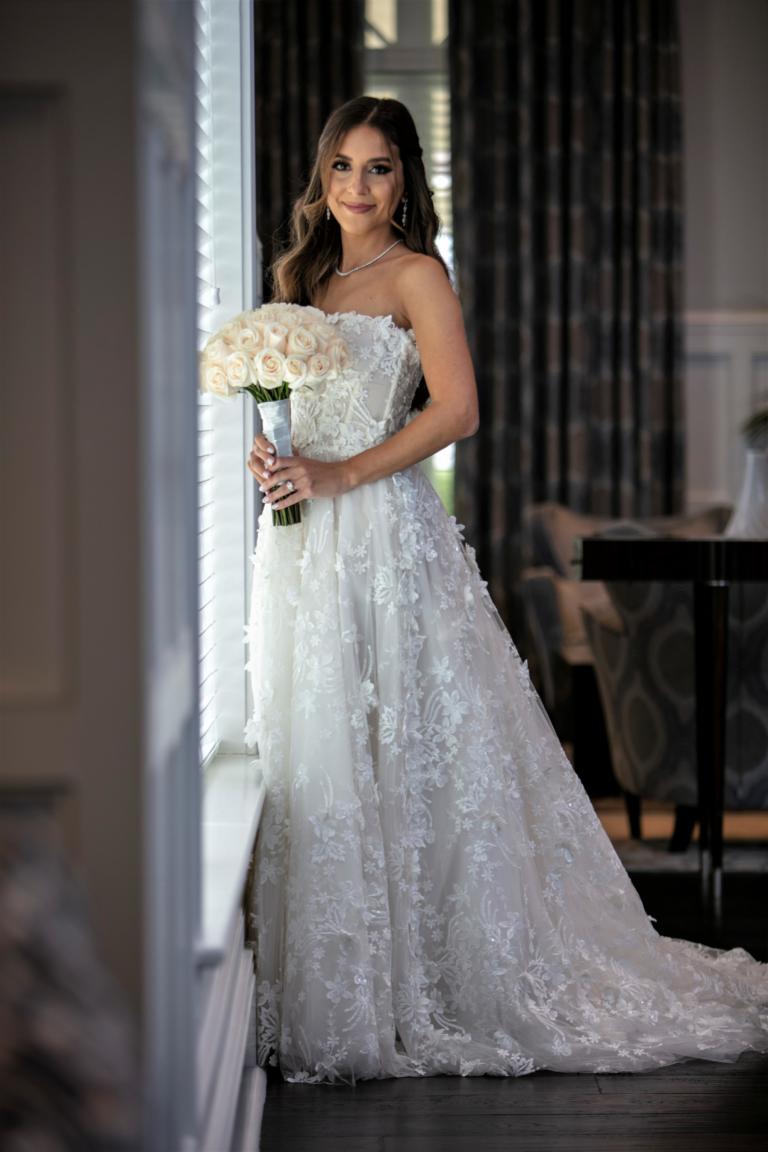 How was your experience with the Galia Lahav brand?

I have been a fan of Galia Lahav for a long time and was always looking forward to trying on their dresses! The process of getting my dress was so seamless and amazing I have absolutely no complaints! Once my dress came into the store I had a few fittings to make it fit perfectly and the team at Boca Bridal was incredible!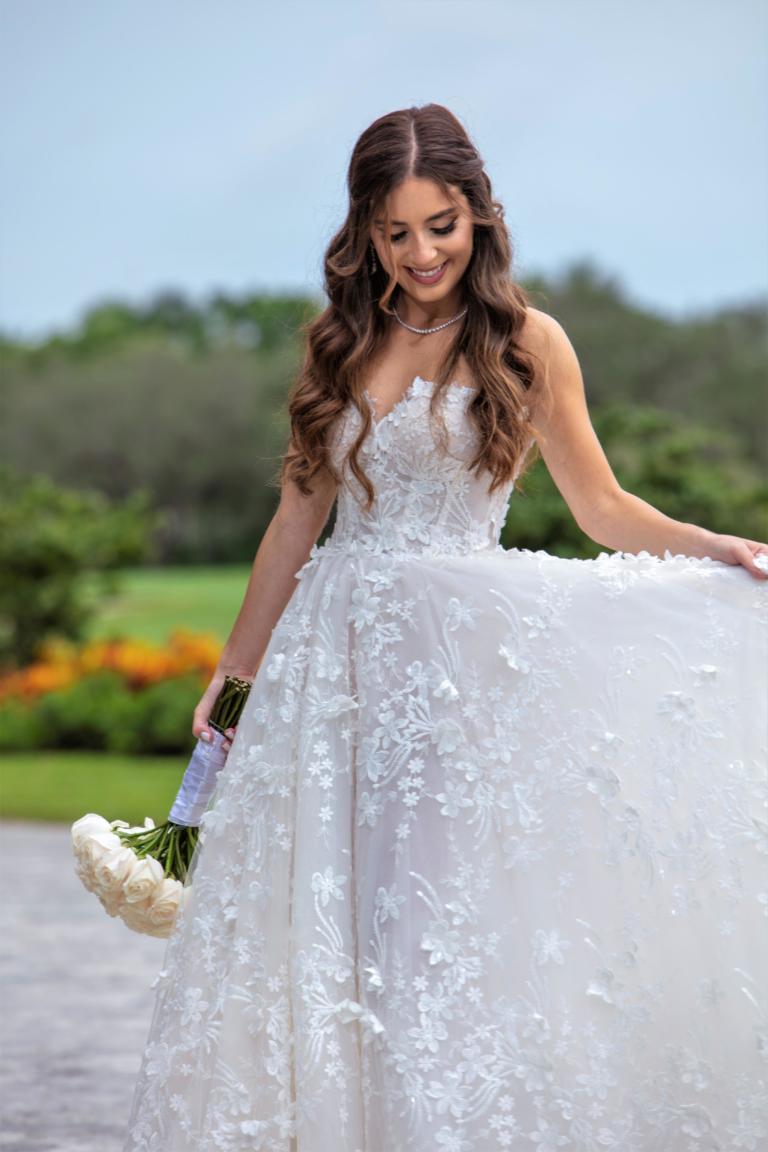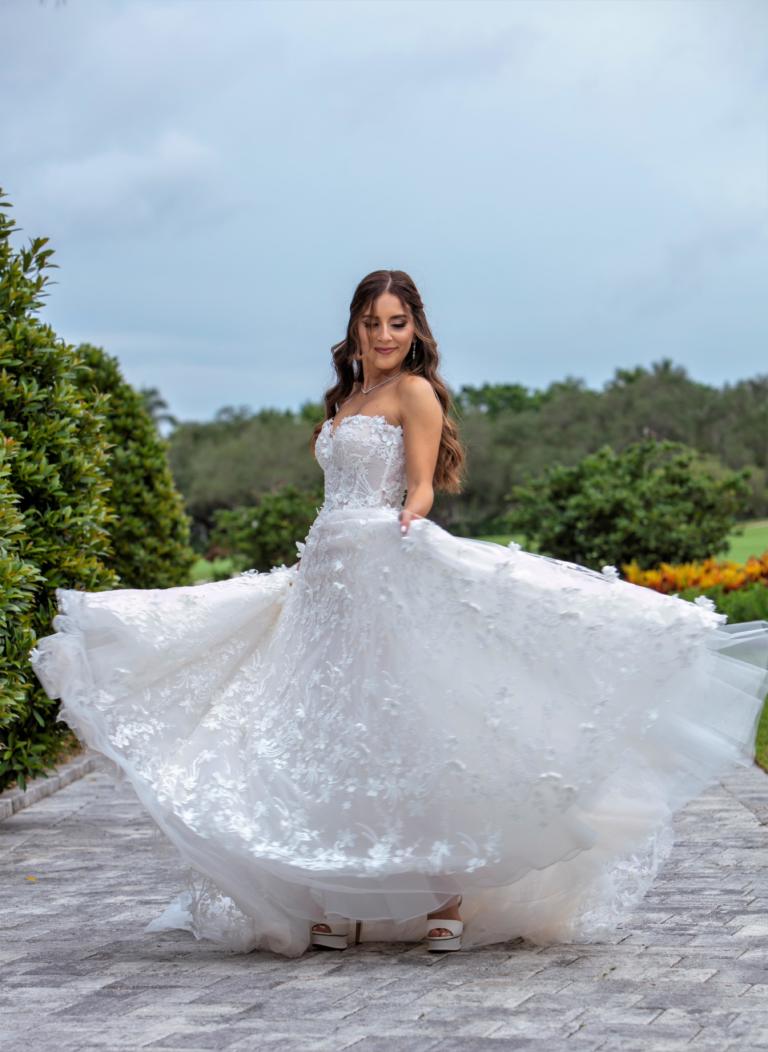 What was the most important thing for you and your husband when planning your wedding?

The most important thing for us was making sure our closest family and friends were able to attend. The fact that half of our guests live in Canada made things complicated with the borders being closed for over a year. My husband moved to Florida a few months before our wedding and it was very important to both of us that his family and best friends were able to be there. In the end, they were all able to fly in and it was perfect! His friends didn't leave the dance floor the whole night and it absolutely would not have been the same without them there!
What was your first wedding song?

Our first dance song was Lifetime by Justin Bieber. It changed a few times from when we started planning but this song came out a few months before our wedding and we both loved it so much!
What did you enjoy the most about planning your wedding?

It was so rewarding for me to see all of the little pieces finally come together in the final days before the wedding. There are so many different vendors and so many tiny details that go into a wedding but somehow, when the day finally arrives, everything comes together so seamlessly. Even hours before the wedding began the room still seems so unfinished and people are running around working so hard to get everything together but when the clock strikes and the guests start to arrive the room looks so magical.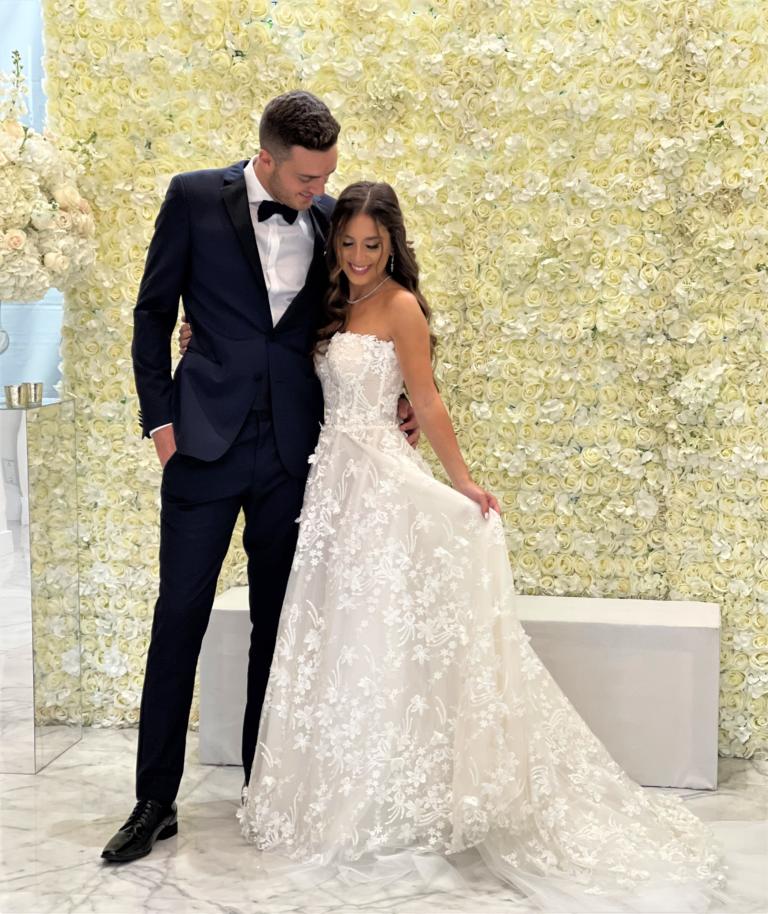 What advice would you give to all our future brides?

My advice would be not to stress over things you can't control. I know that is much easier said than done but I wish I had followed that advice while I was planning! You just have to make the best of your situation and remember that the most important thing is that you're getting married to the love of your life and this is just one step in a very long, happy future together. Also on the day of your wedding try to soak in every moment because it flies by so quickly!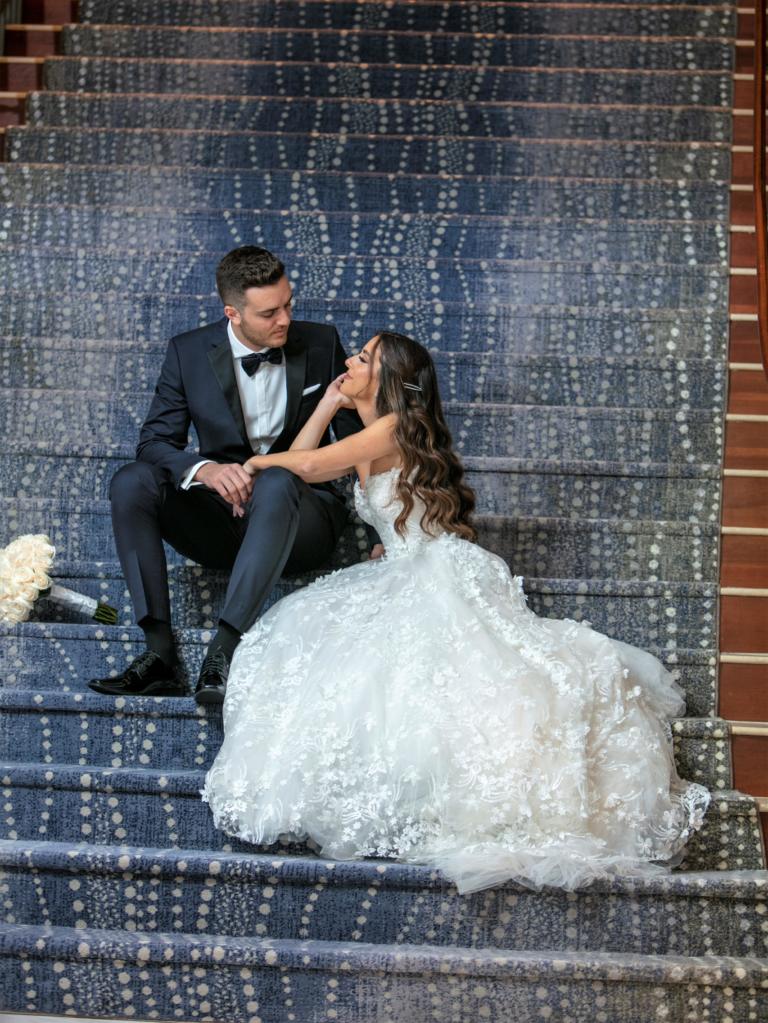 What moment from your wedding will you never forget?

I will never forget the moment I walked down the aisle. I had insane anxiety about that moment since the day I got engaged. I don't love when the attention is all on me and I had major fears about that moment. As the bridal party started to walk down my heart was pounding knowing that my turn was almost up. My parents told me it's time to go and as we turned the corner to step onto the aisle, it was like all of my emotions just hit me at once. The fear completely went away and I just got so emotional as I walked down the aisle to my husband. I don't remember seeing anyone besides him in that room. And once I made it to the Chuppa I just remember feeling a huge weight lifted off my shoulders and I was finally able to fully enjoy the moment and the rest of the night! I regret spending so much time filled with anxiety because I could never have anticipated the power of that moment. It is definitely something I will never forget.
Finish your registration for {City} Trunk Show