FREE SHIPPING & RETURNS WORLDWIDE!

DUTIES & TAXES COVERED WORLDWIDE
Find your nearest boutique
Our #GLBride of the week is the lovely Jenna Hartley, who enjoyed her wedding day in our Fabiana gown. Surrounded by love ones and friends, the couple held their elegant and romantic wedding at Claridge's Hotel in London the day before Christmas. In the following interview, Jenna shares with us the wedding moments she'll remember forever and what made our Fabiana gown 'The One' for her. As told by Jenna:
How did you meet your husband? Tell us a little bit about your relationship.

Boris and I met in the pub, in London. I was there with friends to watch the Six Nations rugby match between England and Ireland when he came in to meet a friend of mine. He had just moved over from Zurich. A week later he called me when I had just landed in Geneva for a work ski trip, and we've spoken to each other every day since. 
How did he propose?

We were at home in London and surprised me one morning, totally out of the blue. He called me down for breakfast and he had laid flowers everywhere and made from lego, I love lego, "Will you marry me?" along with a bride and groom at the altar. He had been making it for weeks when I wasn't at home. 

He had also organized for our closest friends to come to London for a surprise engagement lunch, they flew in and traveled from all over. It was such an amazing day.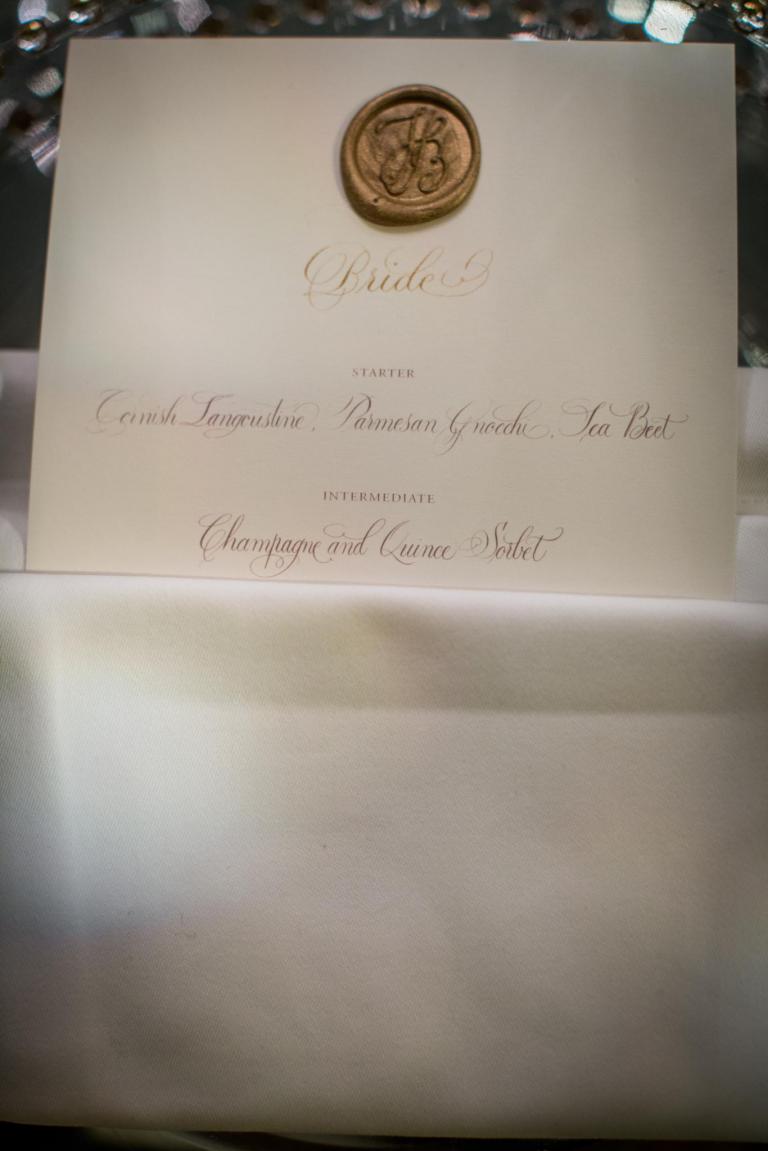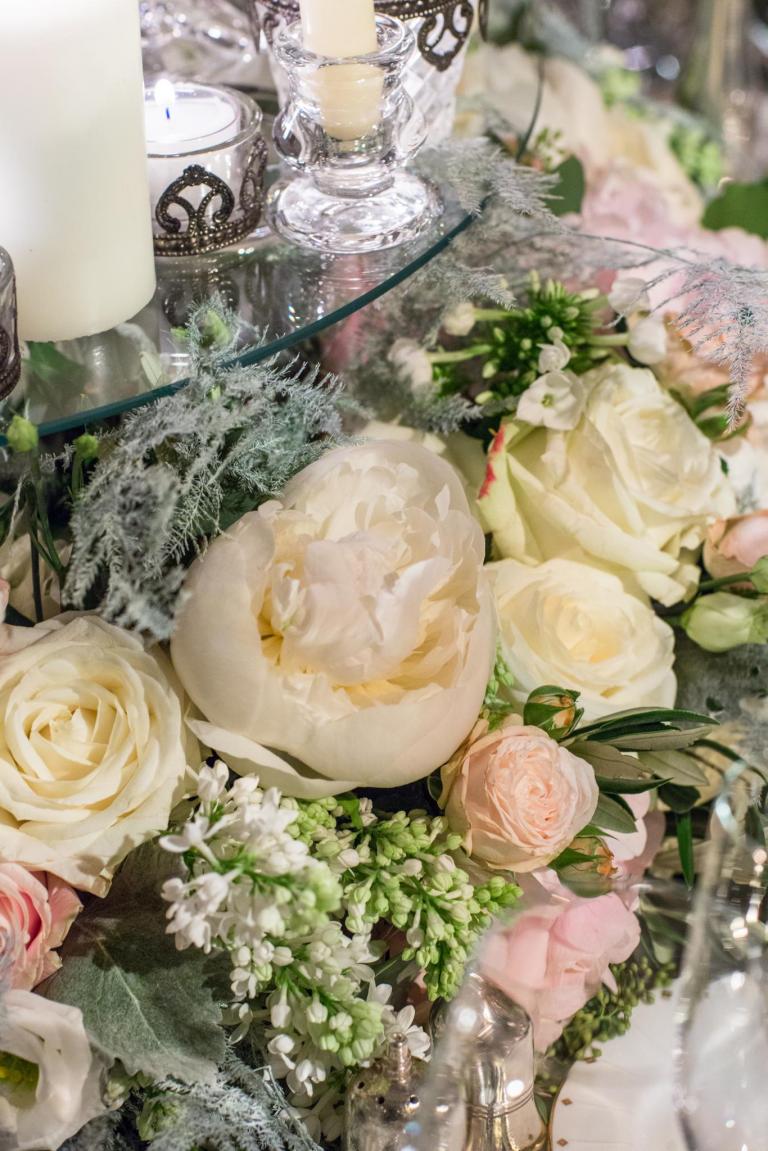 How did you start planning your wedding? What were the first steps?

We started with the location and knew that the location and venue that we chose would dictate many things to follow such as the size of the wedding, the time of year that we would get married, and the dress code.

We both love Italy and looked into that initially but having got engaged at the end of March we were a little short on time for a summer wedding and didn't want to wait until the following year. We then turned to Vienna, Boris had lived there for years and, having visited a few times with him, I loved it too and liked the idea of marrying in one of the palaces there. Logistics were going to make it tricky though and us traveling back and forth didn't appeal to us. 

In the end, we opted for London. I had always dreamed of getting married around Christmas time in Claridge's and we were very lucky to find a free Saturday just before Christmas was still available. As soon as we saw the room and met the events team we knew it was perfect for us. 

I was really lucky that I received a job offer the week after getting engaged and was then on gardening leave for two months and able to throw lots of energy into planning the wedding. I work in banking and would normally have been tied to my desk five days a week with no time to plan anything. 

As soon as the venue was booked and we knew it was going to be just before Christmas we were able to make progress quickly. We were also very fortunate to have the best event planner in Mathilde Maitre, Head of Events at Claridge's, on hand to guide us every step of the way. We thoroughly enjoyed every element of the process and were blessed with the team of people we could work with.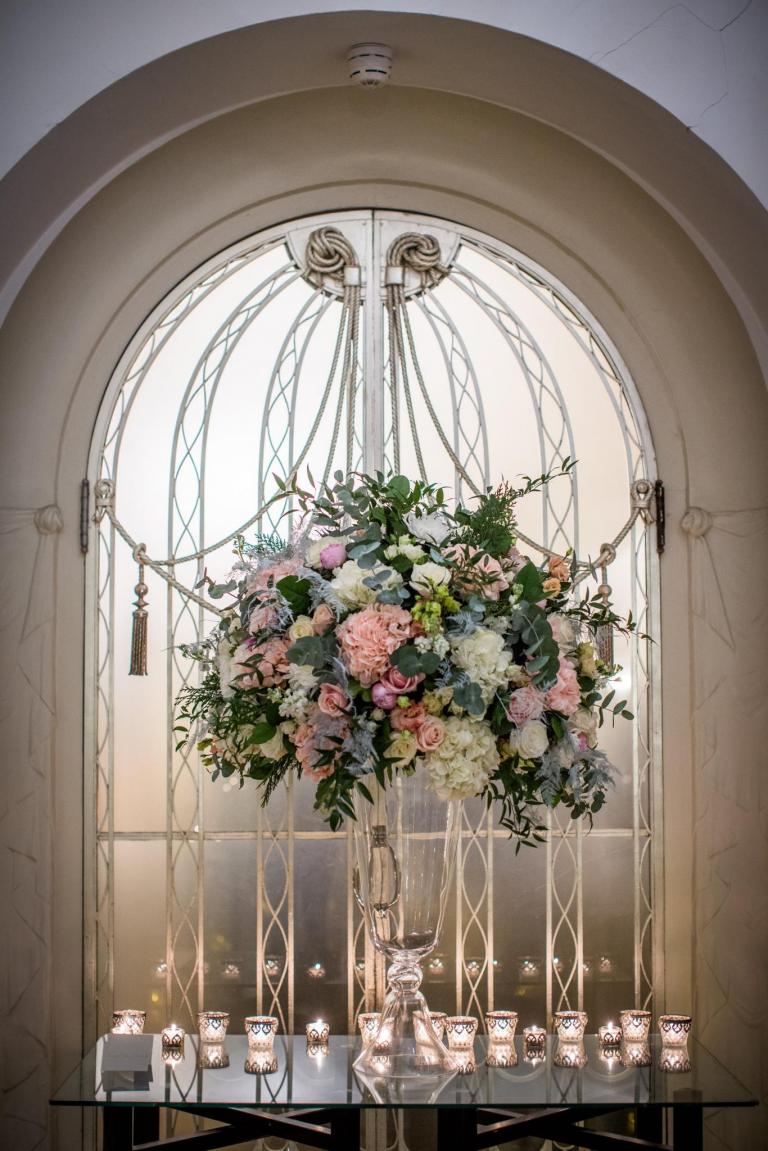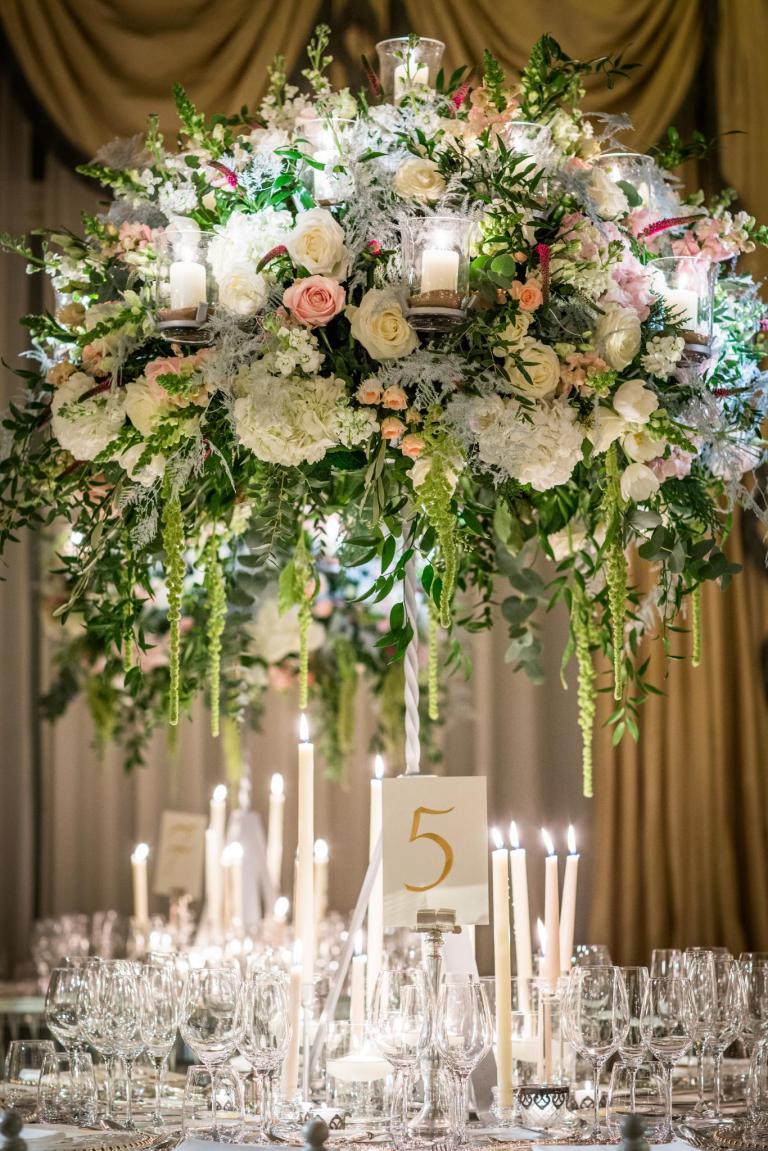 Did you do any beauty or fitness prep for your big day?

Absolutely, I wanted to make an effort and feel the best version of myself on the day so I upped my skincare routine leading up to the wedding and hired a personal trainer to help me to get in shape. 
What was your wedding theme?

We didn't have a theme as such but we aimed for it to be sophisticated, elegant, and intimate. 
How did you choose your location?

We live in London and hold it very dear to our hearts, we met there and built a home together there and loved the idea of a city wedding. London is particularly beautiful at Christmas and easy to get to for most people, as we had friends and family scattered across Europe and beyond, we wanted it to be accessible.

To us, Claridge's represented everything that we were looking for. It is the epitome of timeless elegance and luxury. We knew that every last detail would be taken care of with their incredible team and that the food and wine would be equally as amazing.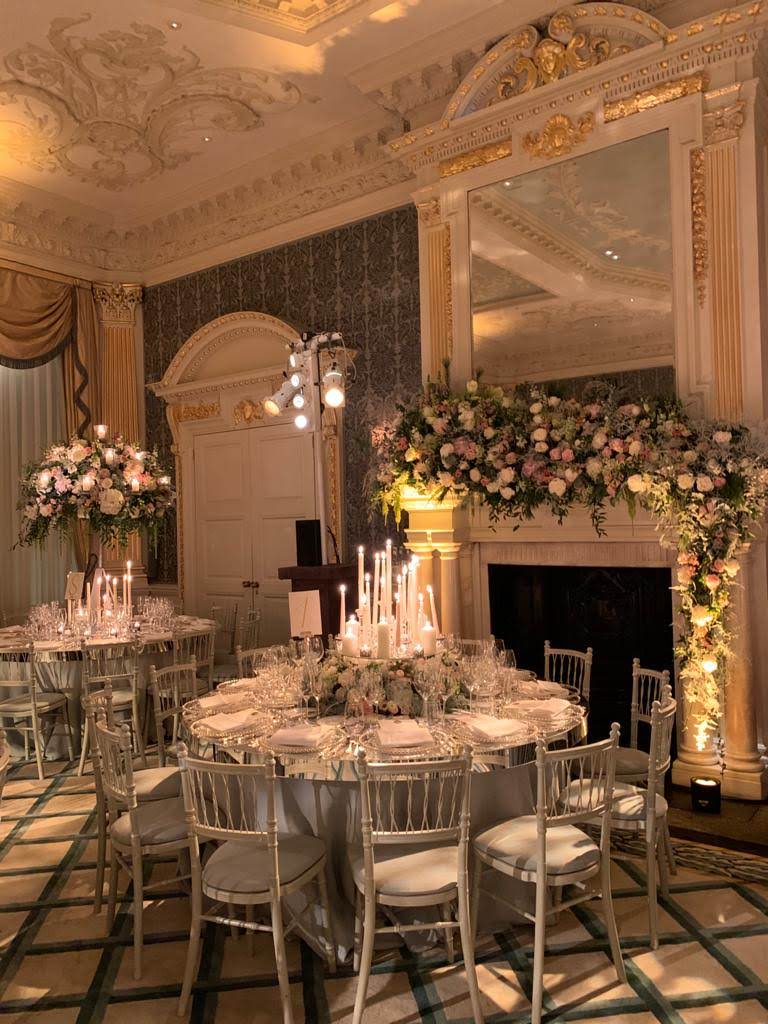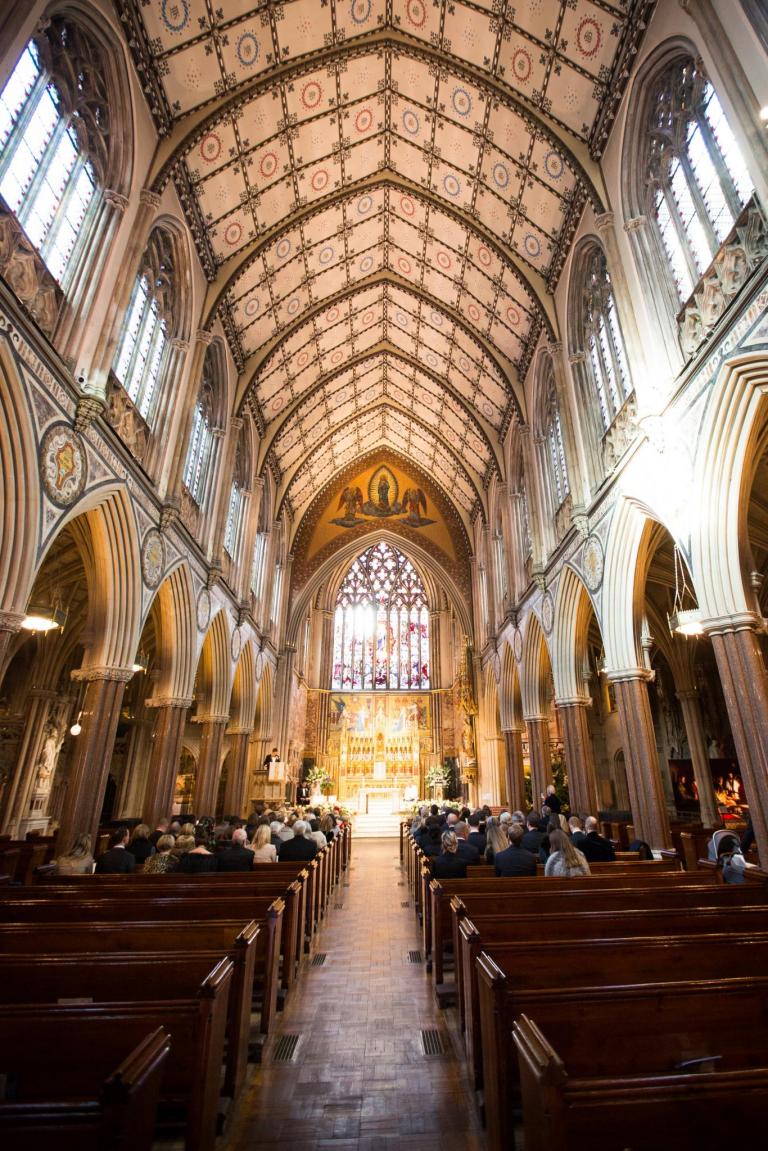 How did you decide on your bridesmaid style?

Having decided on a black tie, Christmas wedding, it was important to me that the bridesmaids had dresses that made them feel glamorous and that suited all three of them. They all have great figures and blonde hair so it wasn't too hard to find a style that would suit them all. I knew that I wanted them to have gowns and not a "bridesmaid" dress as such. I found some beautiful Rebecca Valance dresses in Harrods and they all seemed to like them, they made it very easy for me. 

My flower girl wore a fabulous tutu dress and cape from Tutu du Monde. It reflected her own eclectic style which made her happy. She looked like a fairytale princess!
How did you find your perfect dress?

My mum and I went to most of the bridal boutiques in London, I was so lucky to live in a city where there was so much choice. I didn't have any preconceived ideas before I went so I was quite open-minded. I had looked online at some of my favourite designers but knew that you had to try them on to really know what suited you and what didn't. 

Whilst many of the traditional ones suited me I wasn't excited by them. I wanted something that reflected me and my style, something that would suit the occasion and the time of year. My sister actually found my Galia dress in the shop and told me to try it on. The detail on it was incredible and it was so flattering, also a little more fashionable and less traditional which I was looking for. It definitely had the wow factor and was really unique.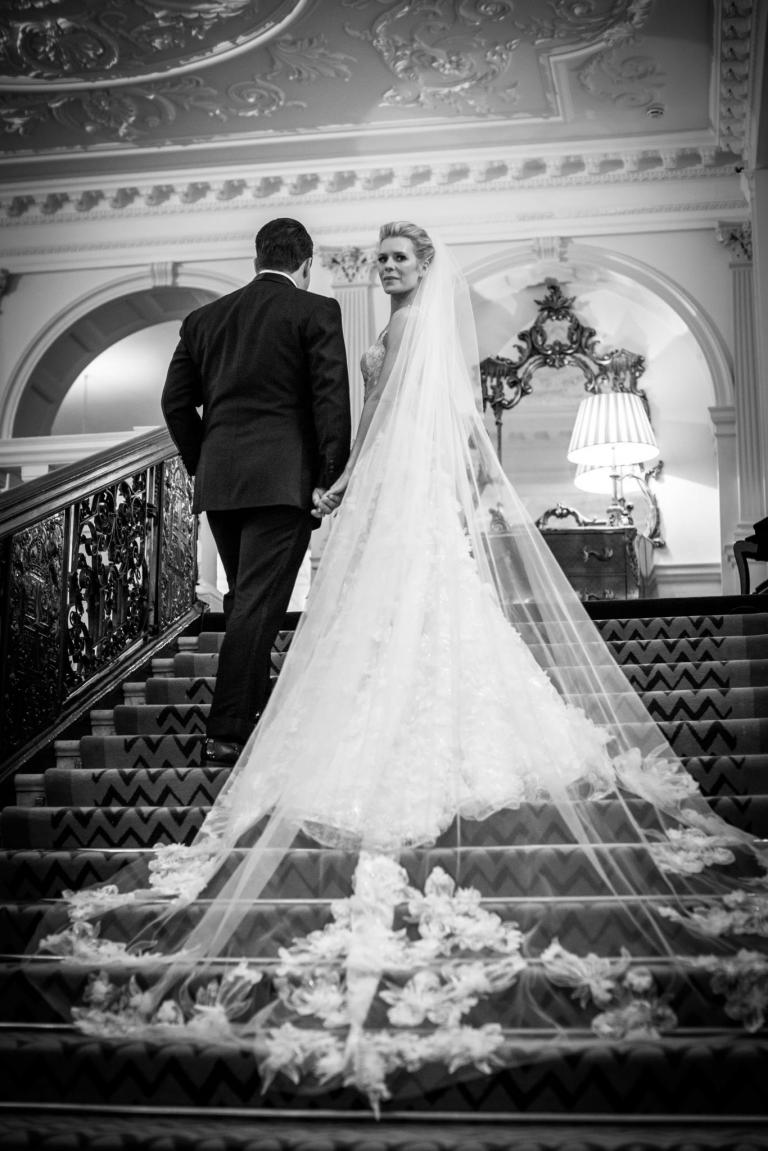 How was your experience with the Galia Lahav brand?

It was fantastic, I had a couple of bespoke requests and they came back saying everything was possible. I had the most beautiful cathedral length veil made to match the dress, the lining was just how I had wanted it and they made the corset super comfortable for me.
What was the most important thing for you and your husband when planning your wedding?

It was really important to us that the wedding represented the two of us, from our style, our favourite foods, and wines, our favourite flowers, and music. We paid a lot of attention to the small details and wanted everything to be perfect. We wanted to make it a fabulous day for all of our guests and a memorable one for us too.
What was your first wedding song?

Our first dance was to Aretha Franklin, You Send Me. We didn't plan a routine or take it too seriously.

We walked into our wedding breakfast to Coldplay, Every Teardrop Is a Waterfall. I am a huge fan.
What did you enjoy the most about planning your wedding?

I love organizing things so for me I found most of it heavenly. It is rare that you host such a huge event and dedicate so much time to organizing every last detail. I loved being able to bring our ideas to life and creating something so beautiful. 
What advice would you give to all our future brides?

Make the most of the experience and the journey you go on to make that special day come together. It is such an enjoyable time of your life and it doesn't last long. Choose suppliers that you get on well with, it is important that you understand each other and share a vision. We literally had a dream team to work with, many of whom had worked with each other before, everything ran so smoothly and it was never stressful. 
What moment from your wedding will you never forget?

Sitting in the dining room during the wedding breakfast and looking around seeing all of our friends and family in one room. It was just stunning and so memorable.
Finish your registration for {City} Trunk Show