FREE SHIPPING & RETURNS WORLDWIDE!

DUTIES & TAXES COVERED WORLDWIDE
Find your nearest boutique
Our GLBride of the Week is the beautiful Jeanne Frei who walked down the aisle in our Gia gown. Jeanne and her fiance Spencer were married at a quaint little church in Corona Del Mar, CA and held a beachside reception in Dana Point. In the following interview, Jeanne shares with us her most memorable wedding moments and how she found her dream dress with some help from Galia Lahav herself. As told by Jeanne:
Tell us a little bit about you and your husband. How did you two meet?

Spencer and I met through mutual friends; however, at that time we were both seeing other people. We ran into each other three years later and the rest was history!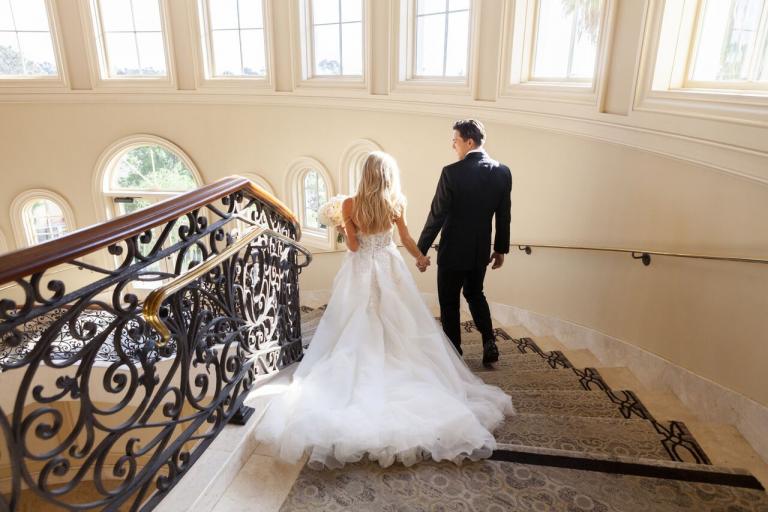 How did you he propose?

On 7/7/17, Spencer told me we were going to visit my grandpa in Santa Barbara for dinner. We pulled up to one of my favorite hotels, The Biltmore, and he said he wanted to stop for a quick drink and appetizer. He then said he wanted to walk down to the beach. I thought he was acting funny so I literally asked him if he was going to propose and reached for his back pocket. Thankfully he hid the ring in his boxers! We walked down the beach for a few minutes and before I knew it he was on one knee! I was so excited I threw my purse in the sand, almost in the water. He had a photographer document the entire moment. Afterwards I couldn't contain my excitement I wanted to call my family right away. They were so happy for me and said they couldn't wait to celebrate when I was home. When we got to the restaurant to meet me grandpa, my entire family and Spencer's entire family was there for a surprise celebratory dinner! We stayed at the The Biltmore for the weekend with our families soaking in our engagement.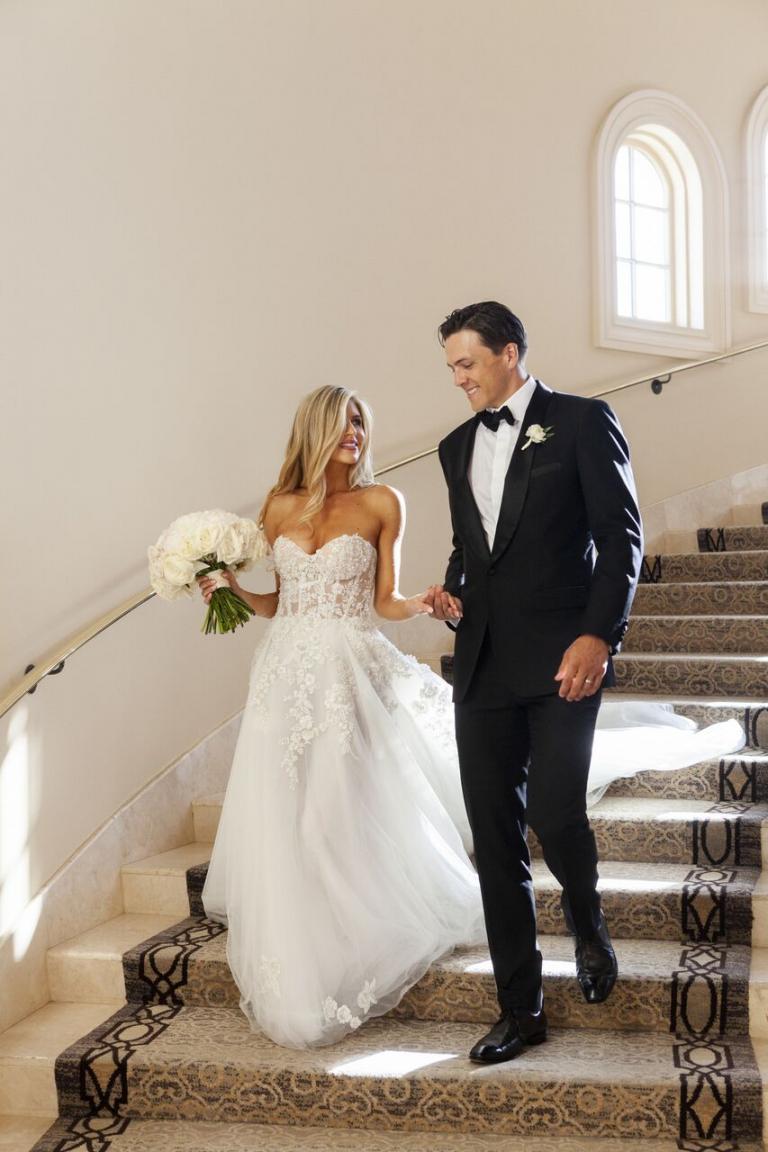 How did you find your perfect dress? And how did you decide to buy it?

I have always loved Galia Lahav wedding dresses. I love how beautiful, glamours, and sexy Galia's designs are. I went to a few wedding dress stores, but when I went to Galia Lahav, I knew these dresses were made for me! I wish I could have bought 7, they are all so gorgeous! I initially wanted a very fitted gown from top to bottom, but when I tried on the Gia dress I really felt like a princess and knew this was my wedding dress. Galia Lahav herself helped me pick out my dress for my big day, which was an incredible experience.
Where was your wedding?

My ceremony was at a charming, quaint little church called Community Church Congregational in Corona Del Mar, CA. My reception was at the Monarch Beach Resort in Dana Point.
What was the theme? Did it require special planning? Share with us.

I always wanted an outdoor wedding with a beach view. I wanted to dance under the stars with my husband and all my favorite people. Our color scheme was primarily white with pops of blush and greenery. It did require a lot of planning and attention to detail, but thankfully I had an amazing wedding planner, Sarah Stowell from Details Details, who made the process seamless.
Which was your favorite part?

My favorite part was definitely walking down the aisle and seeing Spencer for the first time that day. We decided not to do a first look, and the emotion we got to share in front of all our family and friends is a moment I will never forget.
How was your experience with the Galia Lahav brand?

My experience with the Galia Lahav brand was exceptional from start to finish. I tried on so many gowns at the flagship store and they were so helpful throughout the entire process. They couldn't have been sweeter helping me find my perfect dress. After purchasing the dress they made it such an easy process to schedule fittings and make sure the gown was perfect for the big day.
Where did you purchase the dress?
What did you enjoy the most about planning your wedding?

There were so many enjoyable moments of planning my wedding, but I'd have to say the most fun part was purchasing my dress! I decided not to show anyone my dress except my mom and my sister, so the day of my wedding it was so exciting for all my bridesmaids to finally see the gown!
What advice would you give to all our future GL brides?

I would tell future GL brides that they are going to look radiant in any dress they choose from Galia! Wedding planning can be stressful, but try to enjoy every step of it because before you know it the day will be over!
Was your wedding the way you dreamed it?

It was more than I could have dreamed of! It truly was my most favorite, perfect day.
Finish your registration for {City} Trunk Show