FREE SHIPPING & RETURNS WORLDWIDE!

DUTIES & TAXES COVERED WORLDWIDE
Find your nearest boutique
Our #GLBride of the week is Jade Holland Copper, founder and head designer of the British fashion brand 'Holland Cooper'. The beautiful Jade wore a customized GALA 805 that took our breath away to her intimate yet stylish wedding. And now we have all the details. As told by Jade:
How did you meet your husband?

I have known Julian for many years, we both live in the Cotswolds. We met through a mutual friend at one of his local restaurants, No 131, a beautiful Georgian townhouse hotel in the heart of Cheltenham.
How did you he propose? Or did you propose? How long did you date before he proposed?

We started dating about 18 months ago. We both enjoy traveling and try and get away most weekends – usually to Europe. Paris still has all the right ingredients for an unforgettable rendez-vous, nothing is more romantic than a weekend at our favorite Hotel Costes. Julian took me there for my birthday in December, here he popped the question. Place Vendome is home to the most fabulous jewels in the world, the next day we shopped for rings!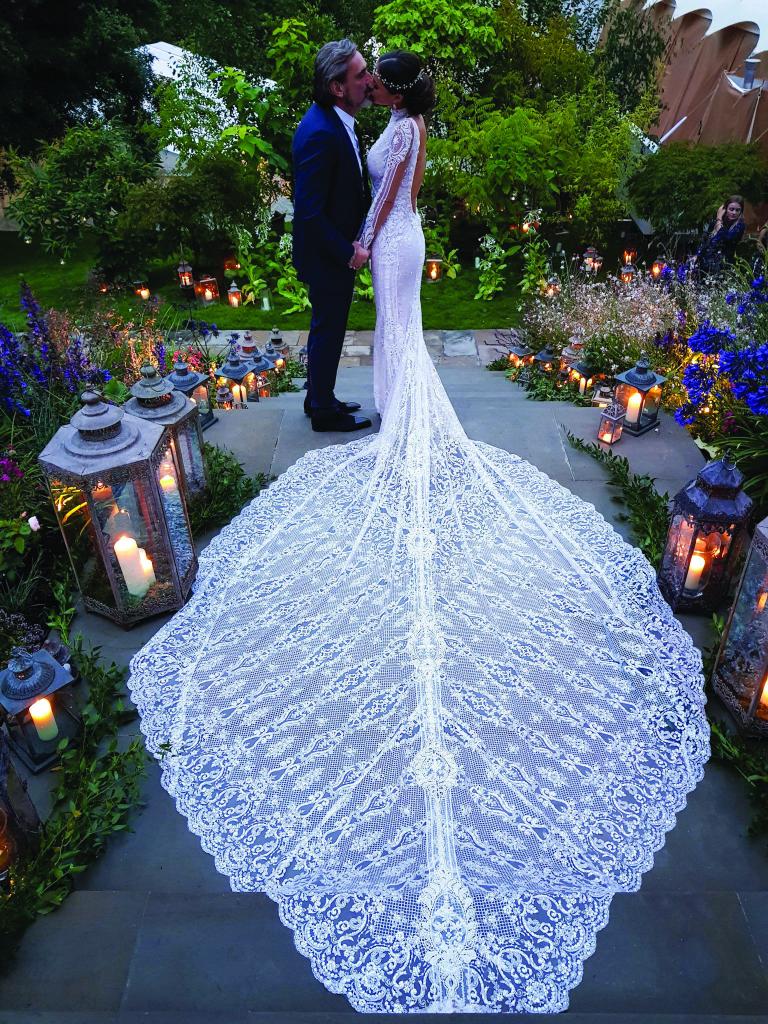 How did you find your perfect dress? And how did you decide to buy it?

I always had a style and vision in mind, being a designer, I know what suits my body shape. I wanted something sleek and glamourous but also wanted a traditional white wedding that was unforgettable. Galia Lahav ticked all those boxes for me. Running my own fashion business, I am very aware of social media, I am constantly scrolling through Instagram, looking for inspiration, garment details, and images. I do however take inspiration from everywhere – whether it's a fashion magazine, photographers book or social media. This time I found some amazing Galia Lahav images on Instagram.
Where was your wedding?

We have a tiny and charming church right on our doorstep, after the service, we could celebrate with our friends and family at home which meant so much to us both
What was the theme? Did it require special planning? Share with us.

There was never really one theme for us – both of us have a keen eye for detail and design and a very a clear vision, this wedding was romantic, the style had to suit not only our Cotswold home, but also our modern style which is an eclectic mix most probably honed from our love of travel, hotels, and restaurants. Think St Tropez chic mixed with Tuscan countryside. We removed all formality as we wanted an intimate setting where all our guests could feel comfortable and relaxed. The gardens and flower design was an intricate part, music, candles enhanced the whole experience.
Which was your favorite part?

Impossible to say a favorite part, I was blown away by the full day, every aspect was perfect and a dream come true. From walking down the aisle to the spectacular cocktails, fireworks, DJ's and party – I just didn't want the day to end!
How was your experience with the Galia Lahav brand? How did it start? Did you know the brand prior to your engagement? Where did you meet the brand initially?

As I said earlier I fell in love with some stunning images on Instagram – it wasn't until I tried various styles that I 100% knew for certain the intricate design, cut and attention to detail was for me! Working with Galia I was extremely privileged that he allowed me to adapt his dress to my own specification.
Where did you purchase the dress?

Browns Bride in London; I worked closely with seamstress Maria King for my fittings she was instrumental in getting my dress to perfection. Maria and the Browns team ensured the process was simple professional and enjoyable. They understood my requirements and their support was amazing!
What did you enjoy the most about planning your wedding?

We love dining out in beautiful and stylish boutique hotels and restaurants; good food, great décor is important to us both. Choosing a wedding banquet, wines and music was never a chore, although there was always so much to do it was always exciting, we chose almost everything together (apart from the dress!) and that was real fun!
Was your wedding the way you dreamed it?

It was everything and more the perfect day which will always have a special place in my heart
Finish your registration for {City} Trunk Show