FREE SHIPPING & RETURNS WORLDWIDE!

DUTIES & TAXES COVERED WORLDWIDE
Find your nearest boutique
Our GL Bride of the week is the beautiful Hollie Kane Wright, who wore a customized Inez gown down the aisle to marry her fiance Josh. The couple chose to wed at the stunning La Fortaleza island venue in Majorca Pollenca Spain. Hollie shares with us the moments she will always cherish and how our designer Sharon Sever created the wedding dress of her dreams.
How did you meet your husband?

Years before Josh and I met our families knew each other. So end of April, beginning of May bank holiday 2009, Josh's cousin Alix was having a birthday party and invited us all. Me and my sisters are triplets so Joshes mum took a photo of all three of us and sent it to Josh who wasn't at the party and said to him do you remember the triplets from when you was younger. And he replied who's the one on the Left, which happened to be me. We met at a Polo event a month later and he walked up to me and asked for my BlackBerry pin, which back then was a popular way to send messages, haha I'll never forget it and the rest was history as they say.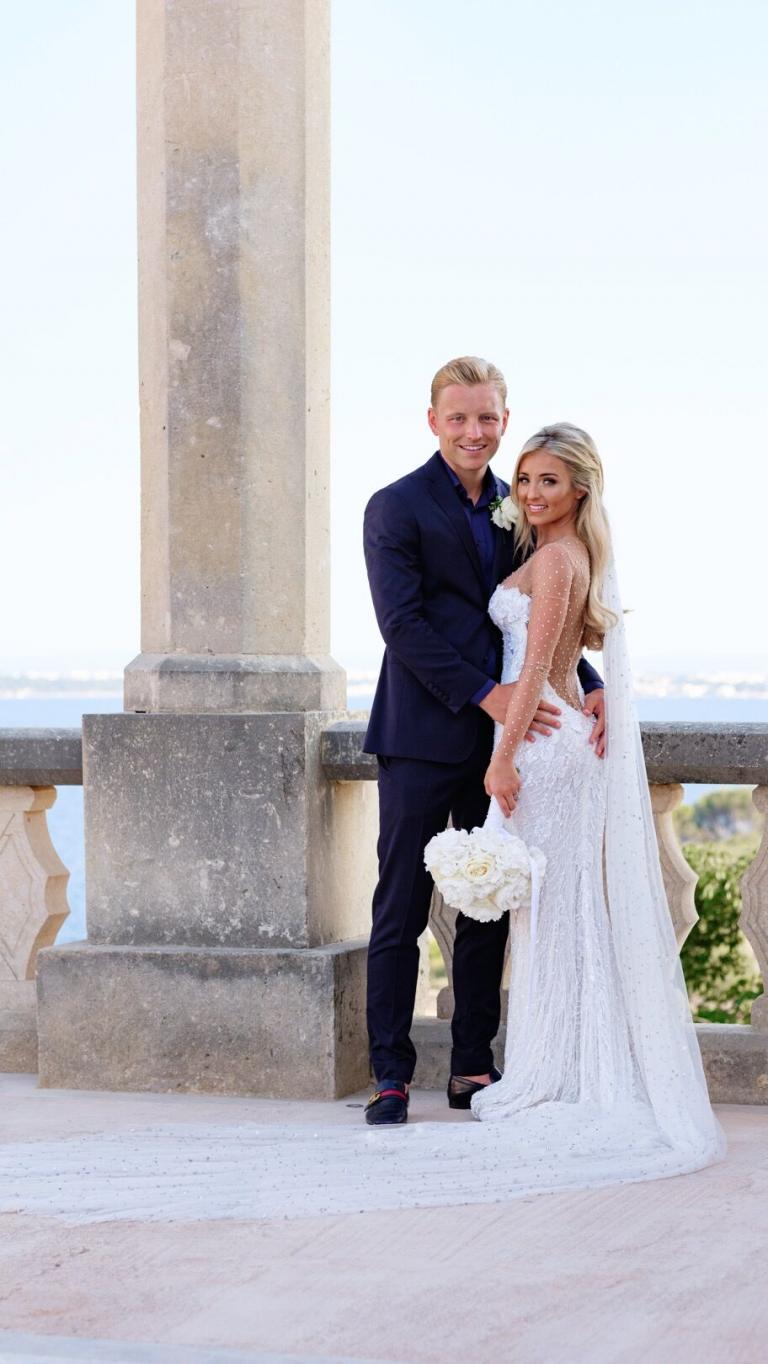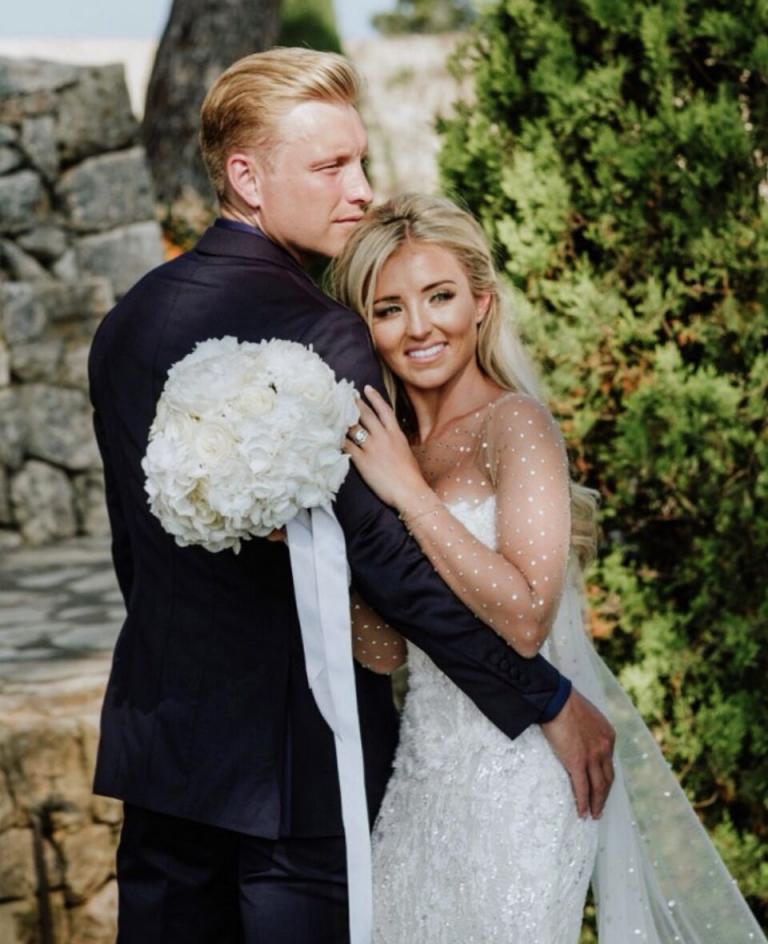 How did you he propose?

Josh and I met very young I was only 16 and Josh was 19 back when we met. On our first holiday in 2010 Josh booked Dubai for me and we went to a restaurant called Pai Thai, we both loved it there and so every time we go back to Dubai we go back to the same restaurant. So in 2017 we had been together 8 years and we went to Dubai again but this time with both our families with us and Josh asked me to book our favourite restaurant Pai Thai for the Sunday 7th May. So little did I know when we got to the hotel you take these little boats around the hotel to the restaurants and the family was on the boat in front waiting for us and as we arrived we got off the boat and Josh dropped on one knee and asked for my hand in marriage in front of all our family I was so shocked. It couldn't of been more perfect if he tried, definitely one I'll never forget.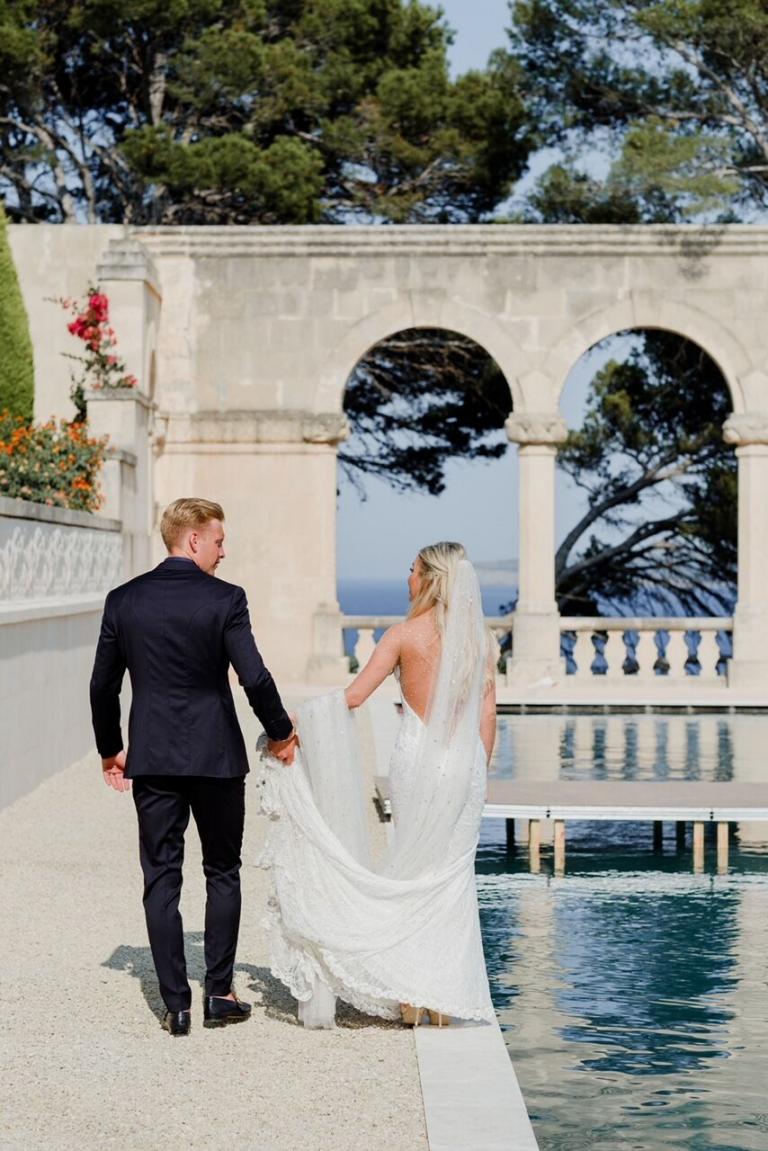 How did you find your perfect dress? And how did you decide to buy it?

I have always heard good things about Browns Brides and I knew they stocked Galia Lahav Dresses which has always caught my eye whether it's been in magazines or social media, I think they're so unique and detailed. We decided to get married quite quickly and I had under a year to get planning so I booked an appointment with Browns Brides in December 2017. The wedding was going to be 6/7 months later June 22nd, 2018. I went on the Galia Lahav Trunk show weekend and wow what an experience it was. I also had the honour of meeting the designer himself Mr. Sharon Sever with my mum and triplets sisters, Sophie and Katie Kane. I tried on a lot of dresses as they are all so stunning but couldn't pick out of the last two and the amazing Sharon said what if I combined what you love about each dress together for the final dress and it was the most PERFECT dress I could ever wish for. When we saw the dress for the final time my mum Jackie and sisters Sophie and Katie all cried and couldn't believe how stunning the dress was so I can not thank Mr. Sharon Sever enough for making my dream dress come true!!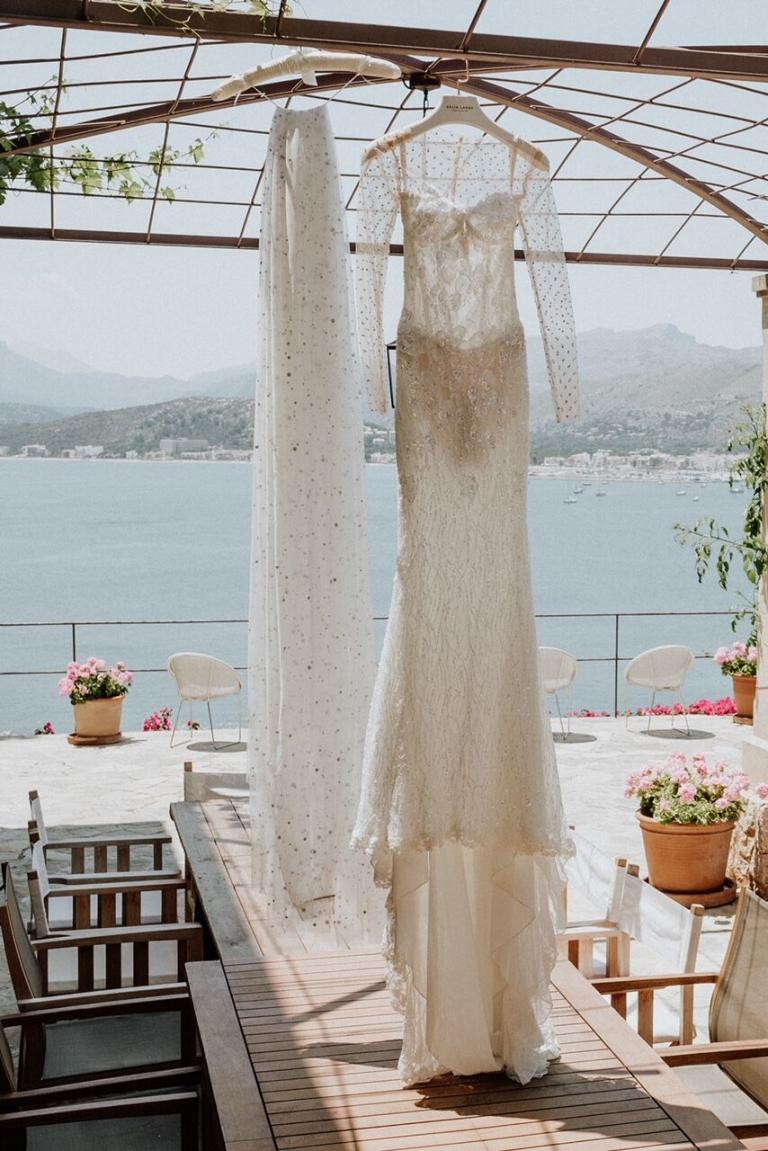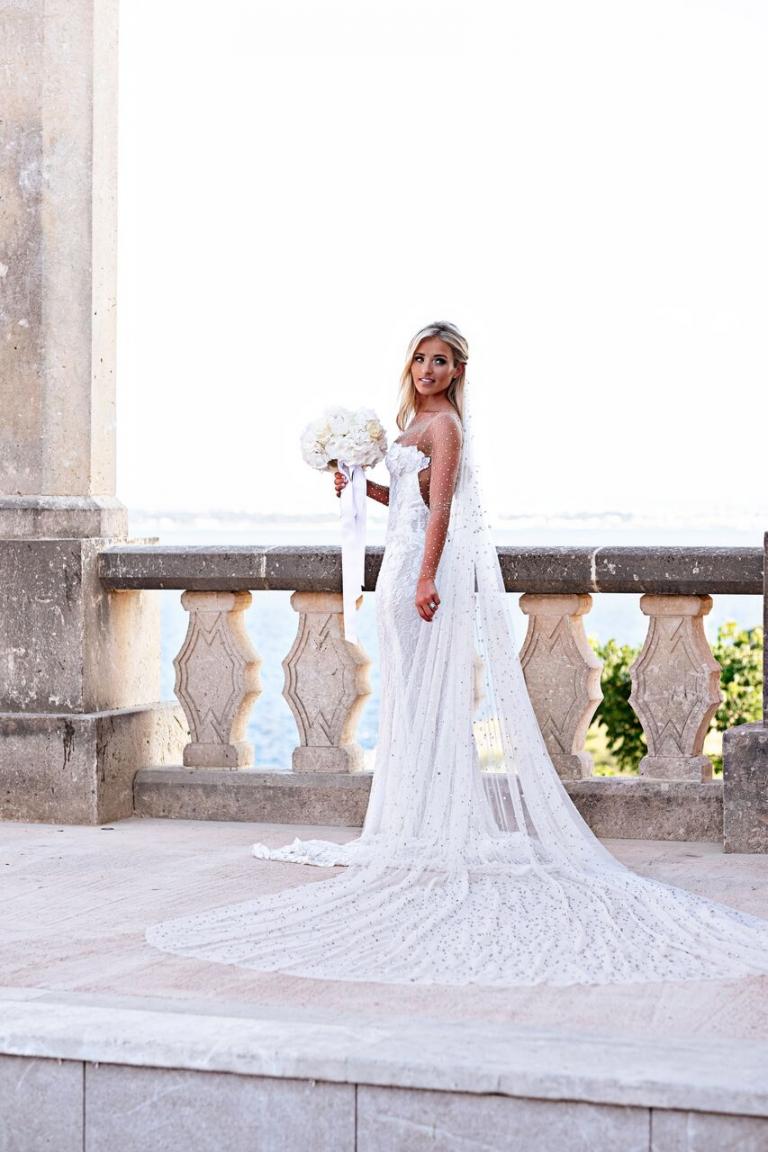 Where was your wedding?

We decided to get married in Majorca Pollenca in a stunning venue called La Fortaleza.
What was the theme? Did it require special planning? Share with us.

For such a breathtaking venue and views I thought the theme had to be quite glamorous to match so we went with blush pink tones and gold which suited the decor there. I flew to Mallorca only twice to view the venue and do some planning with the amazing Alago Events Planners who just made the wedding so spectacular it was like a movie!
Which was your favorite part?

I have a few favourite moments as it's hard to pick one but I think one of my favorite parts was my first dance with my Husband we got to relax and have a laugh as the sunset and my dress really sparkled through the sunlight it was magical!

Also, my walk down the aisle with my dad is a moment I'll cherish forever. And finally getting ready with my mum and sisters was a special moment that every girl dreams of.
How was your experience with the Galia Lahav brand?

I was so lucky I got to meet Mr. Sharon Sever himself and he made every second of our visit so special. Sharon and the staff at Browns Brides couldn't have been more helpful to my mum, sisters and I throughout the day. No other brand compared to the way the dresses fitted and how they complimented every body shape whether it was a fitted dress to a more flowing dress, they all sparkled with the most intricate detailed lace or stunning silk trails they are just incredible.
Where did you purchase the dress?
What did you enjoy the most about planning your wedding?

Josh and I most enjoyed viewing the venues.
Was your wedding the way you dreamed it?

No, it was way more than I could have ever dreamed of and I'm so grateful that it all turned out to be the most incredible day and the most special dress and veil I have ever seen. A huge thank you to Browns Brides and Galia Lahav.
Finish your registration for {City} Trunk Show