FREE SHIPPING & RETURNS WORLDWIDE!

DUTIES & TAXES COVERED WORLDWIDE
Find your nearest boutique
Our GL Bride of the week is the beautiful Haley Gleeson, who walked down the aisle to marry her fiancé John in our Arabella gown. The couple held an elegant rustic wedding at the Zingerman's Cornman Farms in Washtenaw County, Michigan. In the following interview, Haley shares with us her modern-day love story and the moment she fell for our Arabella gown. As told by Haley:

How did you meet your husband? Tell us a little bit about your relationship.

John and I are the modern-day millennial love success story – We met on Tinder! I used to love to get embarrassed by this, but as John would say, "here we are now!" We have moved several times since our relationship began, but we always welcome any adventure life brings us!
How did he propose?

John proposed by telling me that his client had won a night of romance package at a silent auction and that we got to use the date night package! The "date night package" meant we had a rented gazebo in the Fort Worth Botanical Gardens with champagne waiting for us. Little did I know there would also be a photographer hiding in the bushes. Right when we got there I reached over to grab the champagne but he pleaded with me not to open it and I asked, "What are we waiting for?!" When I turned around he was on one knee. It was the most intimate setting in the city we first met, and I couldn't have been more surprised.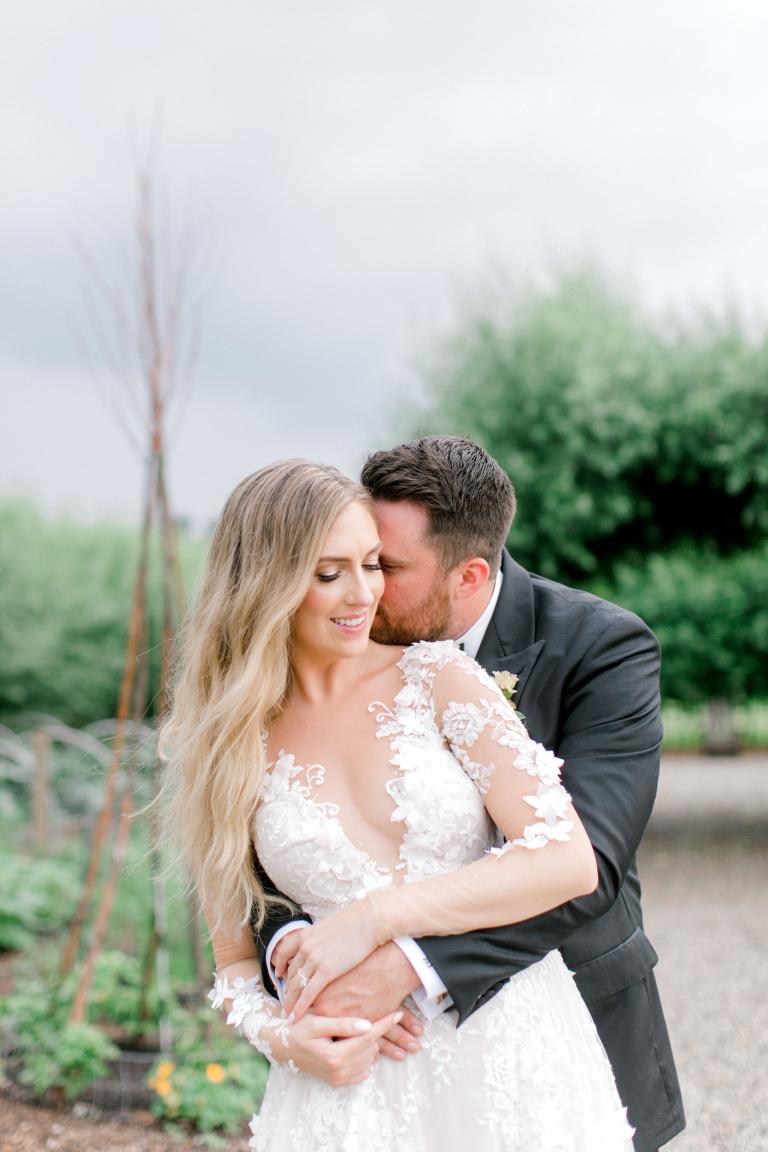 How did you start planning your wedding? What were the first steps?

We knew immediately we wanted Camryn Brook Events as our wedding planner so that was our important Step One. From there, the rest of our planning fell easily into place! Because of her, we knew exactly what decisions we needed to make and by when, the vision that we would see beginning to develop as invitations were selected, and that everything was going to be OK. 
Did you do any beauty or fitness prep for your big day?

The biggest beauty tip I focused on leading up to our big day was to not sweat the small stuff and just be excited! That may sound silly, but I know my complexion is at its best when I am happy, rested, hydrated and relaxed – so that is exactly what I focused on. I booked a relaxing hydrafacial ten days before the wedding, and I set reminders to drink plenty of water to help give me a glow! 
What was your wedding theme?

Our wedding was designed to complement the rustic charm of the property, while keeping a refined and elegant aesthetic. Lush, garden-inspired florals in a soft, summery palette elevated the design, while the farmwood tables and vintage details kept it feeling natural.
How did you choose your location?

Both having grown up in the midwest spending much of our childhoods on a farm, a wedding under the Michigan sky at Zingerman's Cornman Farms was the perfect setting to join our stories together. Zingerman's was the first restaurant I took John to on our very first visit to Michigan as a couple and will always be special to us. Everything they do is farm to table, and we were able to have a beautiful rehearsal dinner in their 1830s farmhouse the night before the wedding. The countryside and venue is both effortless and welcoming, and made us feel right at home.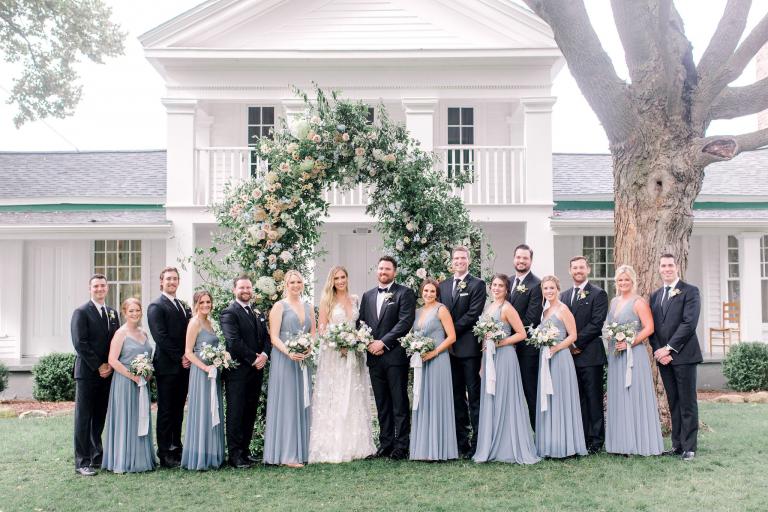 How did you decide on your bridesmaid style?

I wanted something classic and elegant, with a nod to summers in Michigan. I ultimately decided on Jenny Yoo dresses in the color Mayan Blue, it was the perfect muted tone that still reminded me of picking blueberries near the lake every summer growing up. It definitely helped having such beautiful girlfriends who would make any bridesmaid style a perfect choice!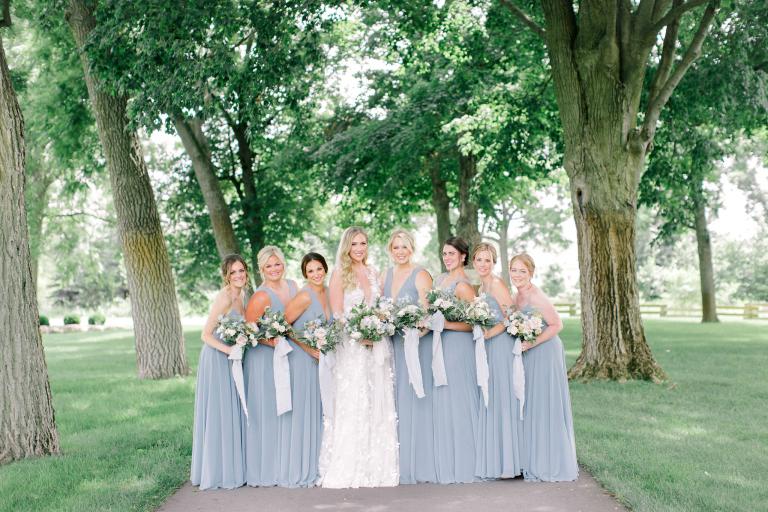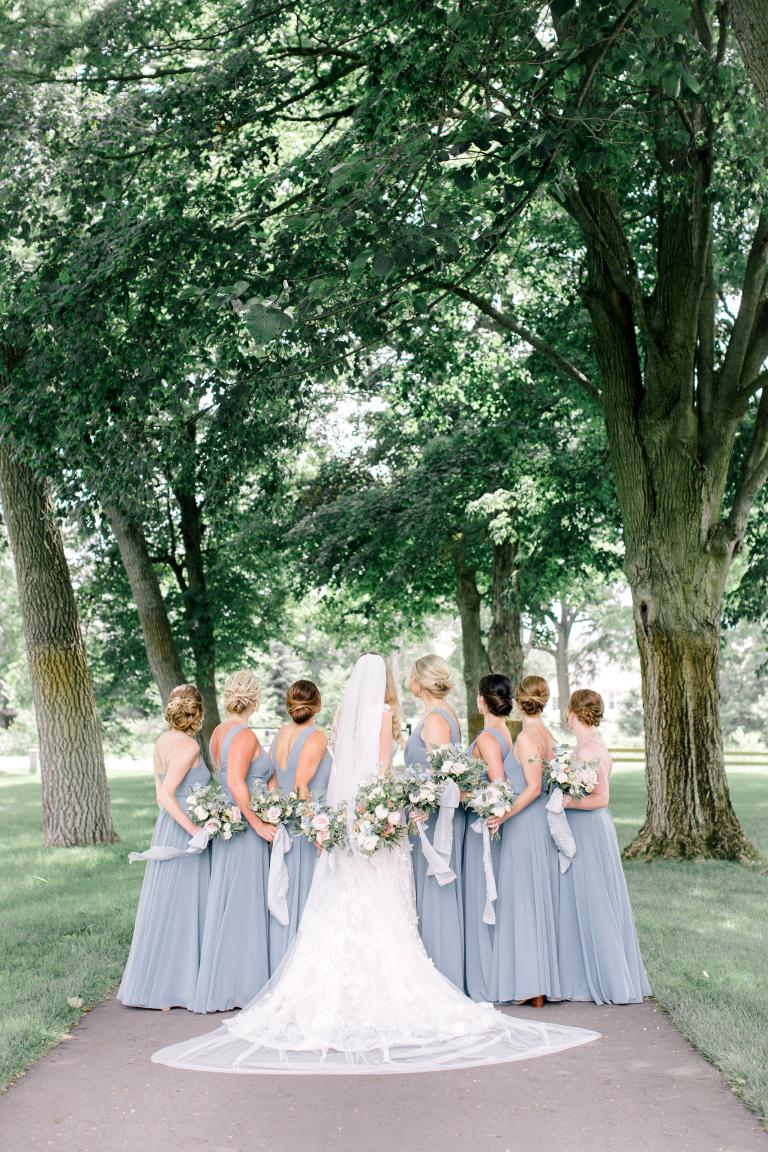 How did you find your perfect dress?

Finding my perfect dress was one of my favorite adventures in the planning process! I had known all along I wanted a Galia Lahav dress but I didn't know how special they were until I tried my very first one on. Each one is a work of art, and I was blown away by the detail. I wanted something classic but different, and the Arabella dress was everything I had always dreamed of. It had whimsical lace detail wrapping around the arms down to the wrist, a modern plunging neckline, and the classic scalloped lace bottom skirt making it the most romantic and regal dress I tried on. I received so many compliments from my wedding guests saying they had never seen another wedding dress like it!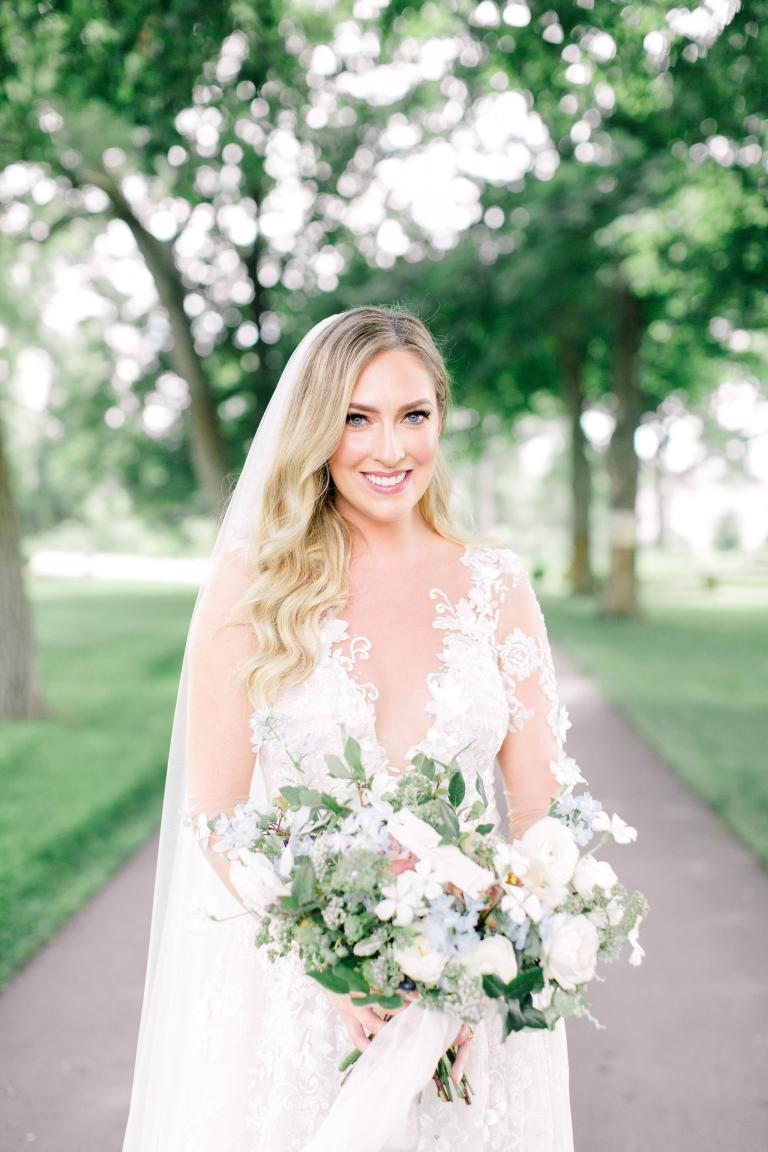 How was your experience with the Galia Lahav brand?

Incredible! I wanted to try the Arabella dress that I saw online but my local store, Stanley Korshak in Dallas, didn't have it. Galia Lahav, without hesitation, had it shipped for free from the Flagship LA store to Dallas overnight, and I was able to try it on the next day. It was love at first site and I knew immediately it was THE ONE!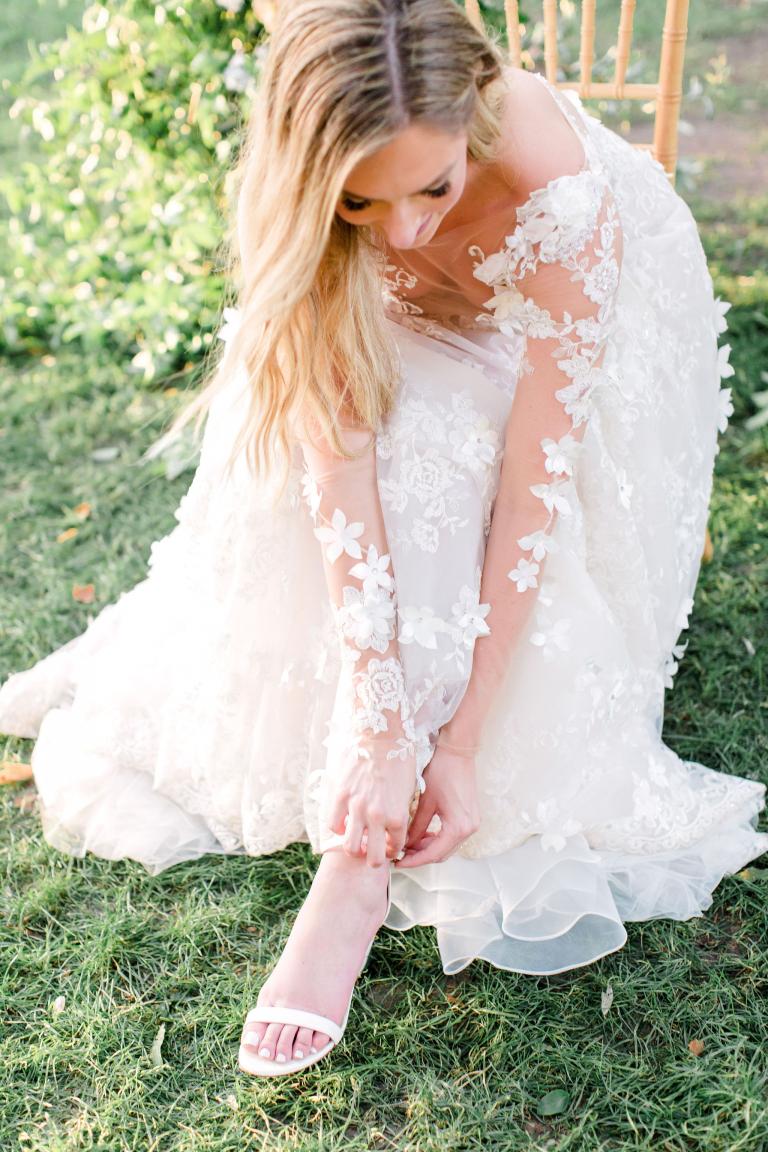 What was the most important thing for you and your husband when planning your wedding?

First, we wanted the wedding to truly feel like "us". Equally as important, we both wanted to make sure that every guest was going to have a blast from the moment they arrived. Since many of our family and friends were traveling for the nuptials, ensuring they had a great time was paramount. From the moment guests arrived, they were greeted with a glass of champagne before taking their seats for the ceremony. The rest of the evening, we wanted a nice flow so there were no gaps where either the bar was closed or guests didn't have entertainment. 
What was your first wedding song?

We danced our first song to "You Are The Best Thing" by Ray Lamontange. We wanted something that reminded us of late night talks on the patio from the summer we first met, but also a romantic song that was upbeat and summons guests to sing along.
What did you enjoy the most about planning your wedding?

John would definitely say his favorite part was tasting all sorts of delicious food and desserts! Overall, I loved watching the vision come together piece by piece. We had amazing vendors that made it so much fun throughout the entire process. With our planner and the vendors we selected, the process was seamless, and I would love to go through it all over again. If I had to pick one thing, it would be the planning of our ceremony. John wrote the entire script of our ceremony, from our opening prayers to the exchanging of rings, he did it all. Seeing him excited about writing our marriage message, and happily taking on the daunting task of writing a homily and carefully choosing our vows – made me even more excited to call him my husband!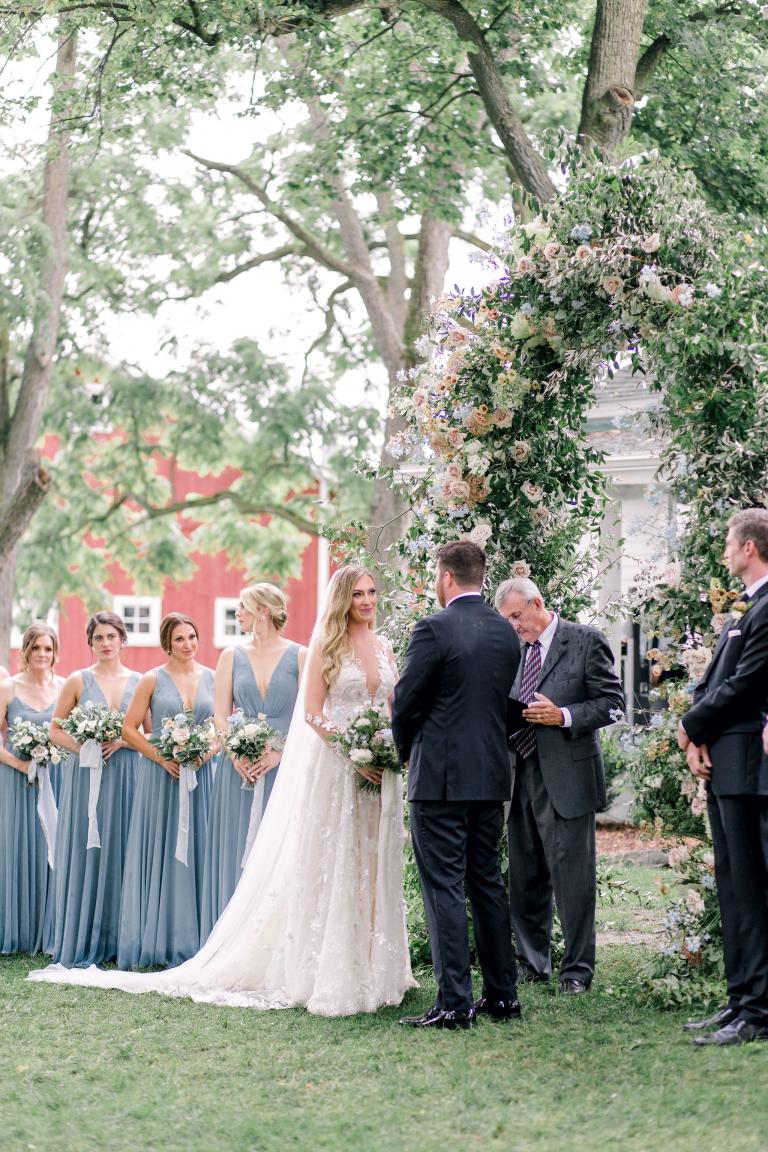 What advice would you give to all our future brides?

Enjoy the ride!! Wedding planning can be overwhelming at times, but it is such a short season of life that you won't want to wish away. Don't get caught up in the comparison game and always be true to what your wishes and intents are. Every wedding is so unique because it represents you and your love story, a story that can never be replicated.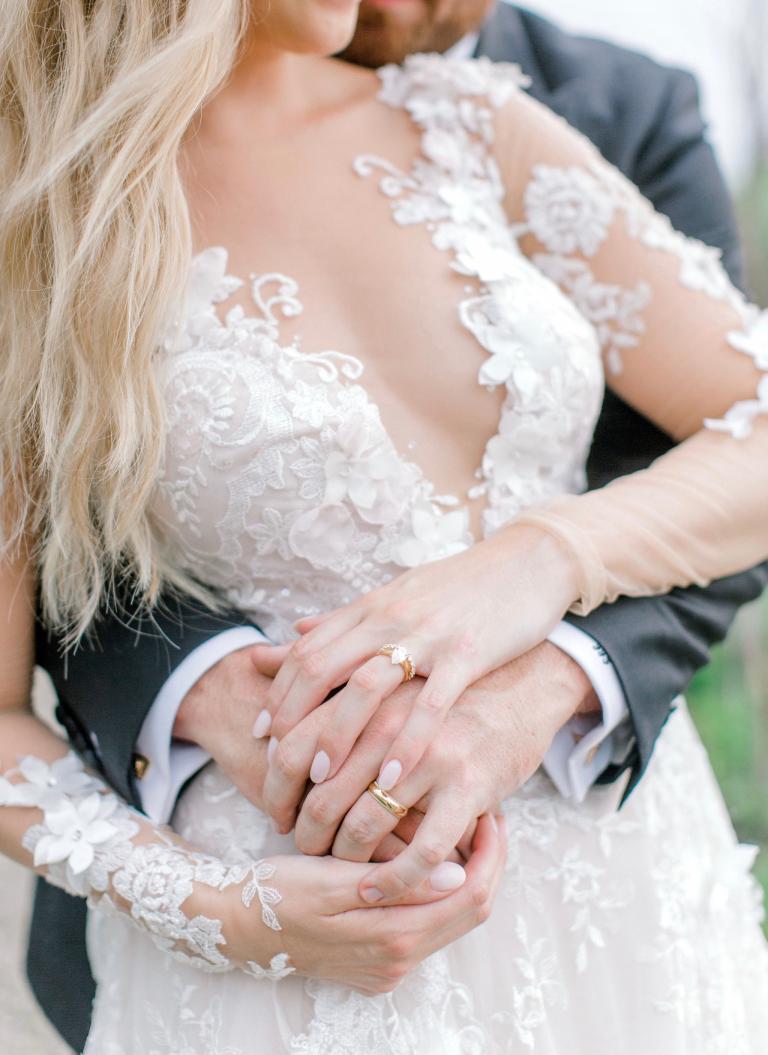 What moment from your wedding will you never forget?

Having almost everyone that has had an impact on your life be in one place together to celebrate your marriage is a surreal feeling. We will never forget the moment where we both realized how loved we are and how blessed we were to have such wonderful friends and family to celebrate with. We had a private carriage ride right after the ceremony where we had a few minutes to ourselves to soak in the day. We were able to take a breath, and talk about how grateful we were to have been loved so much in our lives by so many people. We will always cherish those first moments alone together, before we returned to get the rest of the party started!
Finish your registration for {City} Trunk Show