FREE SHIPPING & RETURNS WORLDWIDE!

DUTIES & TAXES COVERED WORLDWIDE
Find your nearest boutique
Our GL Bride of the week is the beautiful Grace, who married her fiancé Marshall in our Gala 708 gown. The couple held their boho-chic nuptials beachside at the Garza Blanca in Puerto Vallarta, México. In the following interview, Grace shares with us the details of her scenic destination wedding and how she found her dream dress. As told by Grace: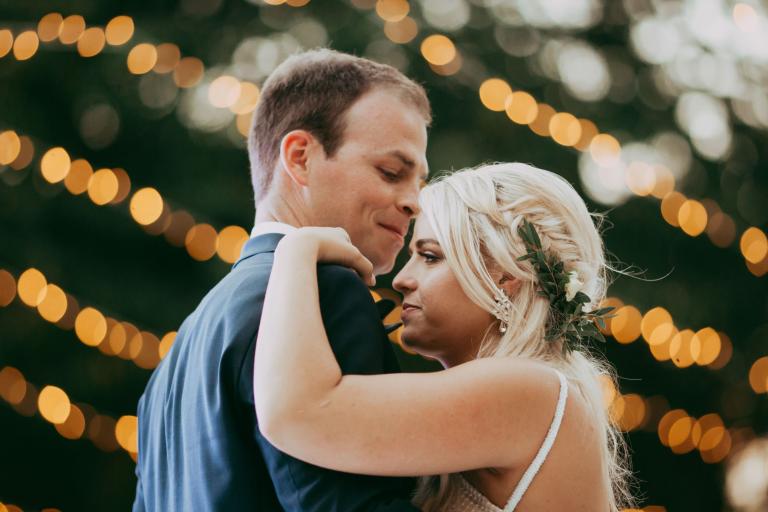 How did you meet your husband? Tell us a little bit about your relationship.

Marshall and I met through mutual friends on a group trip to New Orleans. We had the best weekend getting to know each other and started dating immediately when we got back to Houston. We are both Aggies and have several mutual friends which made us a perfect match! We LOVE to travel. One of the best things about our relationship is both of us are down for anything. We love trying new things and seeing new places. We had been together for over 5 years when he proposed and it just keeps getting better! We have a perfect little fluffy Maltipoo, Sophie, who we adore. We live in East Downtown Houston.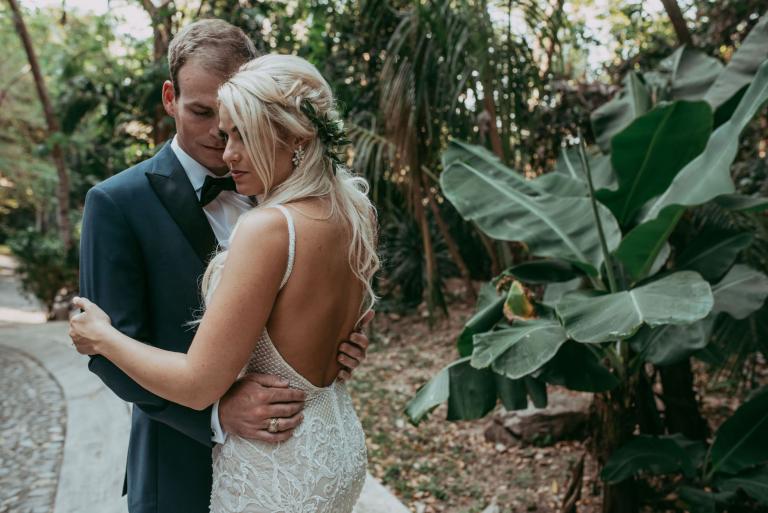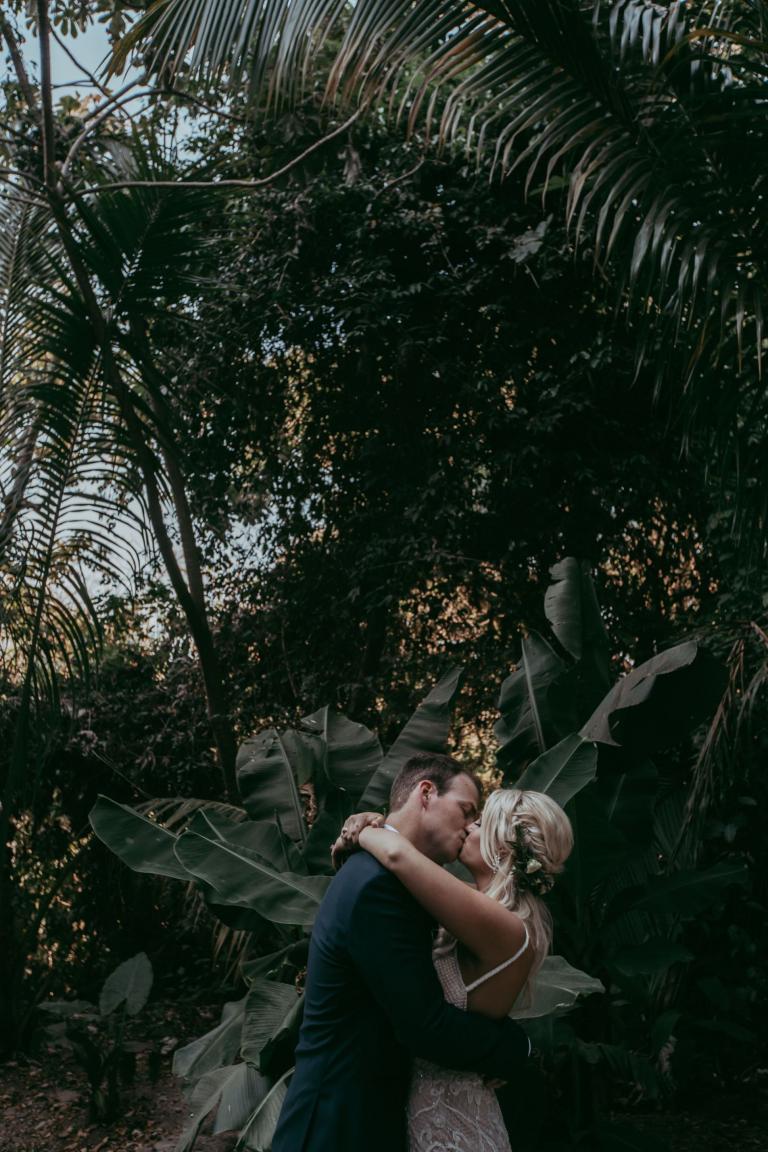 How did he propose?

Marshall took me back to New Orleans to a spot near and dear to us. He proposed in Jackson Square where we first met on Friday, November 3rd, 2017. I had NO idea it was coming as we were in NOLA visiting Marshall's brother who played football for Tulane at the time (this was all planned so I wouldn't be suspicious). After he proposed we had a nice dinner and stayed at Hotel Monteleone. On Saturday, we walked into brunch (again, I just thought we were meeting Marshall's brother) and all of our friends were there to help us celebrate. We hung out in the French Quarter all day. It was perfect.
How did you start planning your wedding? What were the first steps?

We knew we wanted a destination wedding in a beach location that had more of a jungle scene. First thing we did was research potential cities. We planned a trip to Puerto Vallarta to check out venues. We fell in love with Garza Blanca immediately and picked a date about a year and a half away (May 18th, 2019).
Did you do any beauty or fitness prep for your big day?

Yes! I love Orange Theory! I would go 2-3 times per week. I also ran 2 half marathons from the time I got engaged to married which would make me run 3-5 miles a couple times per week as well as a long run on the weekends. I got a new skincare routine also. I made sure to cleanse (using a foreo), tone, and hydrate morning and night daily. Hydrafacials are key! I got several of these before the big day.
What was your wedding theme?

The wedding theme was Boho Chic. I wanted lots of long flowing greenery and neutrals.
How did you choose your location?

I wanted the beauty of the location to be the biggest decoration. Choosing Puerto Vallarta was easy. The greenery of the jungle was exactly what I wanted while also have a stunning view of the ocean. It was also amazing having 4 days with our guests. We planned a welcome cocktail event on Thursday evening, the rehearsal dinner on Friday where everyone was invited (slide show and fireworks to end the night), and then the wedding on Saturday. The locations of each event was in a different spot around the resort.
How did you decide on your bridesmaid style?

I wanted the Bridesmaids to wear a long dress in a neutral color that would match our theme so we went with Taupe dresses from Azzazie. I allowed each one to choose the style that they felt best in. I wanted them to feel beautiful!
How did you find your perfect dress?

I tried on 1,000s of dresses. Gala 708 was the one. My bridesmaids said that when I was wearing this dress my whole face lit up in a completely different way than any others. I loved it so much.
How was your experience with the Galia Lahav brand?
What was the most important thing for you and your husband when planning your wedding?

The most important thing when we planned the wedding was the destination. Since our guests would all be traveling in for several days we wanted it to be a vacation for everyone. Garza Blanca was perfect. From the scenery to the service, to the food and drinks everyone had nothing but great things to say.
What was your first wedding song?

Crazy Love – Van Morrison
What did you enjoy the most about planning your wedding?

The most fun part of planning our wedding was the "planning" trips we had to take to our venue in Puerto Vallarta, Mexico. We would spend the mornings planning and then get a little vacation time also. We really enjoyed the menu tasting day (yum!).
What advice would you give to all our future brides?

Try to enjoy every moment. Sometimes it's hard not to get stressed out but this is the most amazing day and planning it should be fun too! I also was told to take a few moments during the wedding to take deep breaths and take it all in. The day goes by SO FAST, these moments really matter.
What moment from your wedding will you never forget?

I will never forget Marshall and I's first look. When he turned around and teared up, it was the best moment. Also, I will always remember when we were announced into the reception with all of our loved ones cheering and had our first dance to Crazy Love. It was perfect.
Bride: @ggnewman32
Photography: @fulleredgestudio
Finish your registration for {City} Trunk Show