FREE SHIPPING & RETURNS WORLDWIDE!

DUTIES & TAXES COVERED WORLDWIDE
Find your nearest boutique
Our #GLBride of the Week is the elegant Giselle Williams, who married her love in our Rosewater and Bella gown. The two tied-the-knot in Dubai with a gorgeous romantic wedding to celebrate this new chapter with family and friends. In the following interview, Giselle shares some of the moments she'll never forget and how she found not one, but two GL gowns of her dreams! As told by Giselle: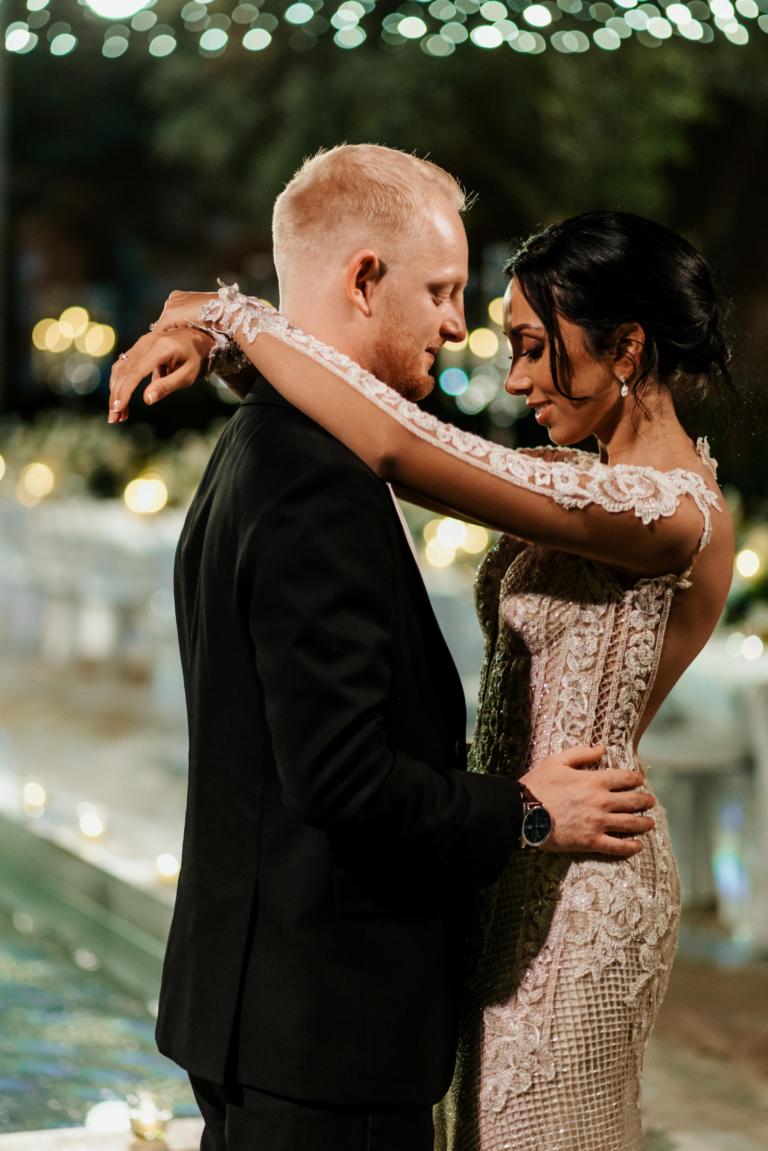 A moment of your wedding day will you never forget?

When planning our day, we put our own spin on a few wedding day traditions. Instead of a first dance, we opened the dance floor with a performance from a group of Bhangra dancers. It was so much fun – all our guests were on their feet straight away and the dancers hit the floor with us after their performance.

There was a beautiful water fountain running through the center of the courtyard where we held the dinner and after-party. One of my favorite moments of the day was watching all our guests line the fountain with the bhangra dancers, just dancing, smiling, and laughing. The happiness at that moment was totally infectious.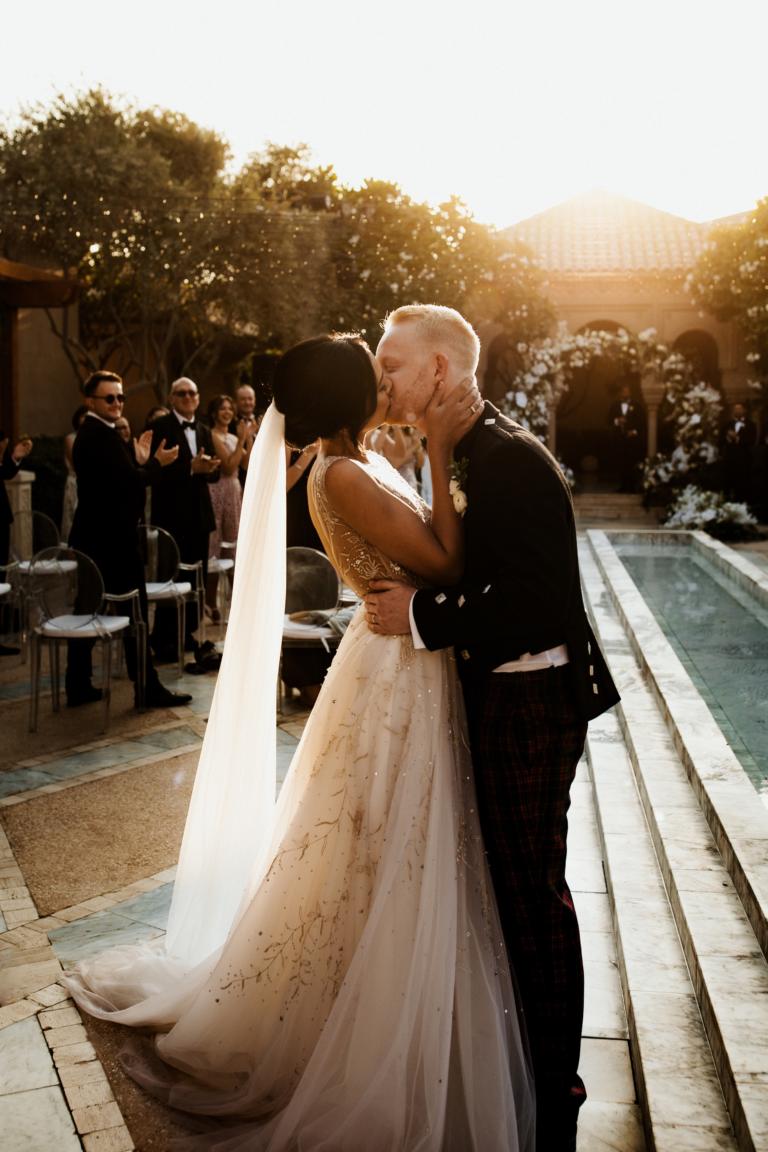 One thing you wish you knew as a new bride? What advice would you give to future brides?

The wedding day will be completely perfect, even if not everything goes to plan. The day before, a friend sent me a message with the advice that I should try and take 20 minutes for myself on the morning of the wedding before all the excitement begins. It was the best piece of advice. I used that time to reflect on everything: the day ahead, my future with my husband, and all the special moments that had led us up to that point. It was definitely a moment of calm before the (most exciting) storm!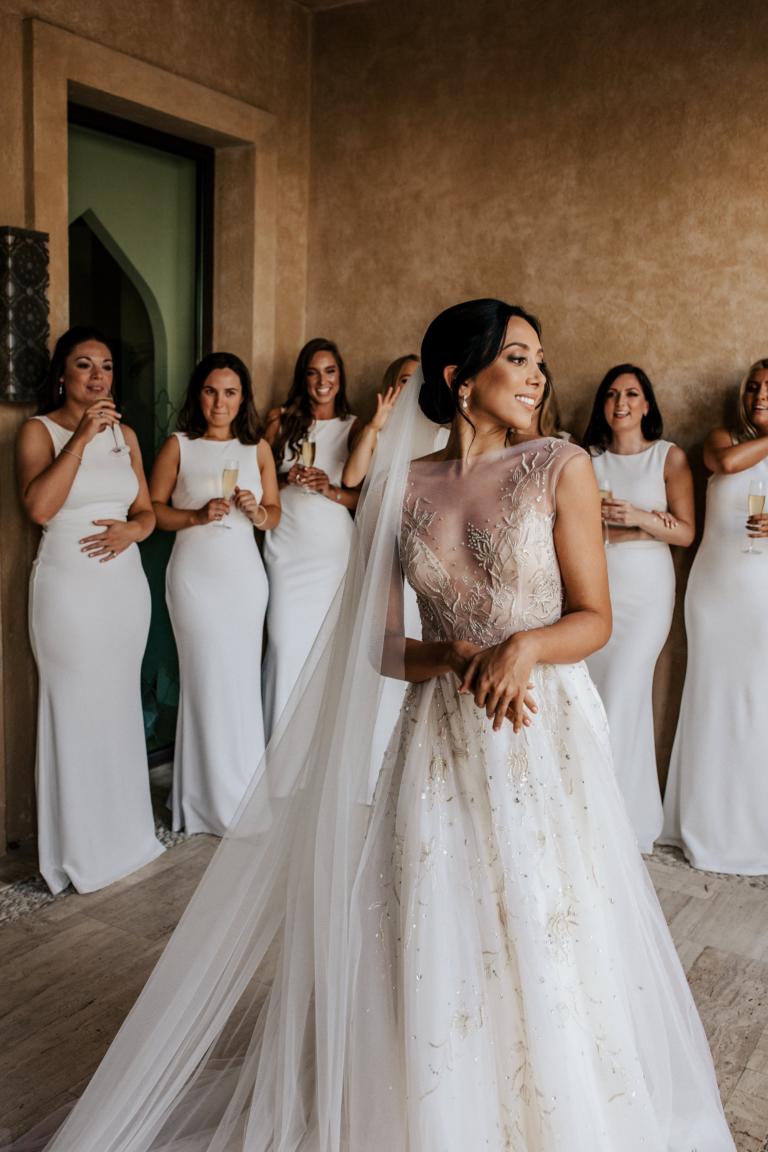 A detail that made your wedding special/unique?

The best man at our wedding was also our celebrant! It was really amazing to share that experience with someone who knew us both on such a personal level. We sat down and planned the whole ceremony together, and he passed on lots of tips and tricks he had learned from planning his own wedding. Having him standing up there with us was the perfect antidote to the nerves, and made the experience of exchanging our vows even more special.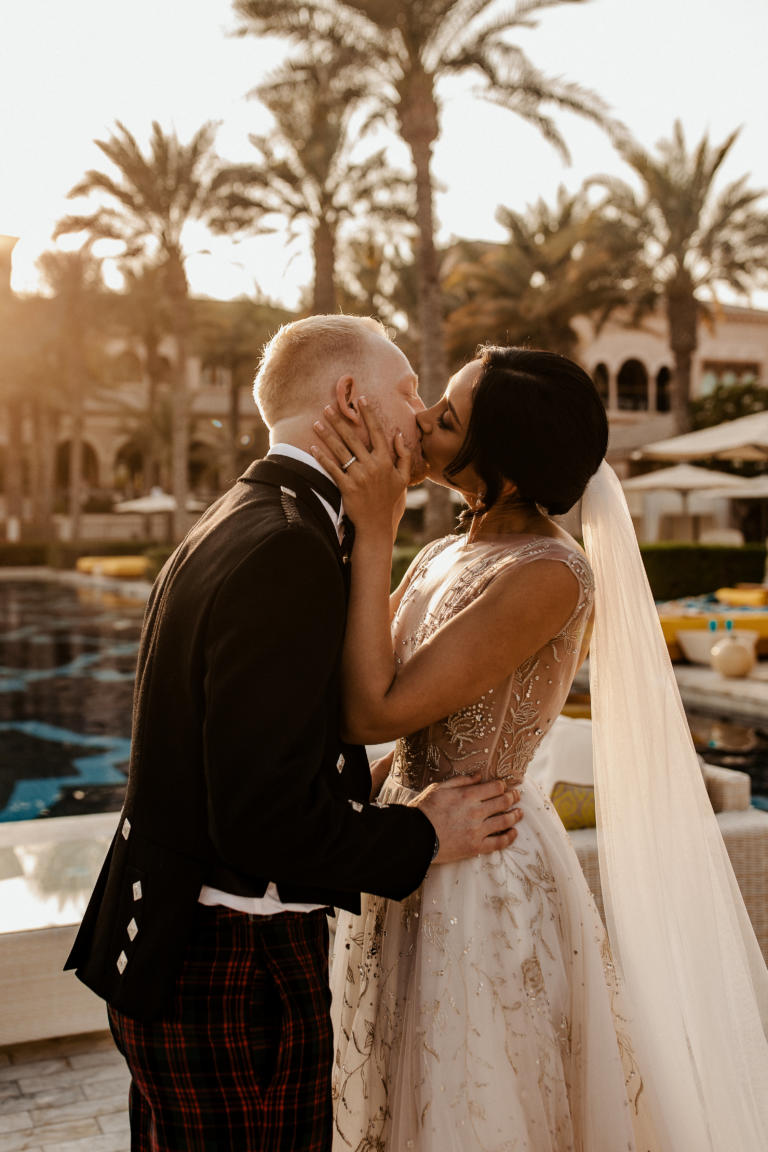 How did you know your dress was 'the one'?

I fell in love with the Bella gown as soon as I laid eyes on it. It was a delicate balance of contemporary elegance and opulence – a perfect fit for our wedding in Dubai. I loved the striking glamour of Bella, but I also adored the softer silhouette and stardust effect of the Rosewater gown. I could immediately picture it in the tranquil courtyard where we would be saying our I Do's. With a simple silk veil, it felt even more special; every crystal glittered and every layer of fabric flowed. Pure magic!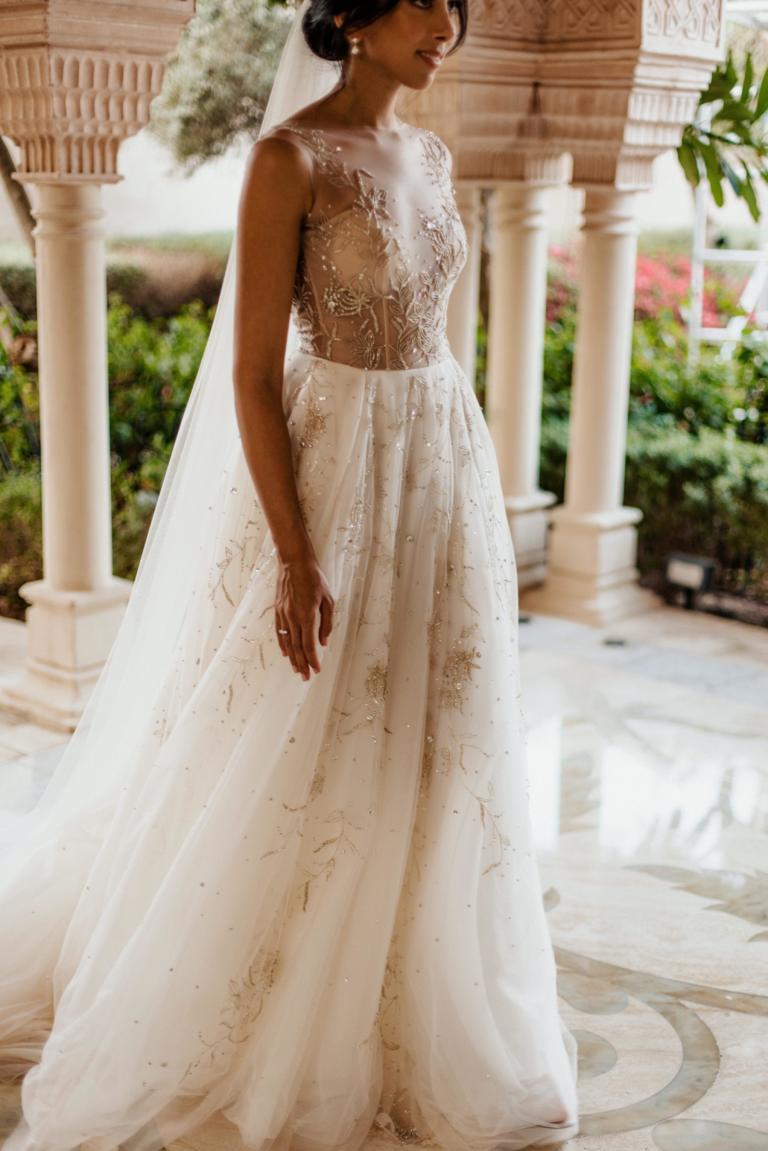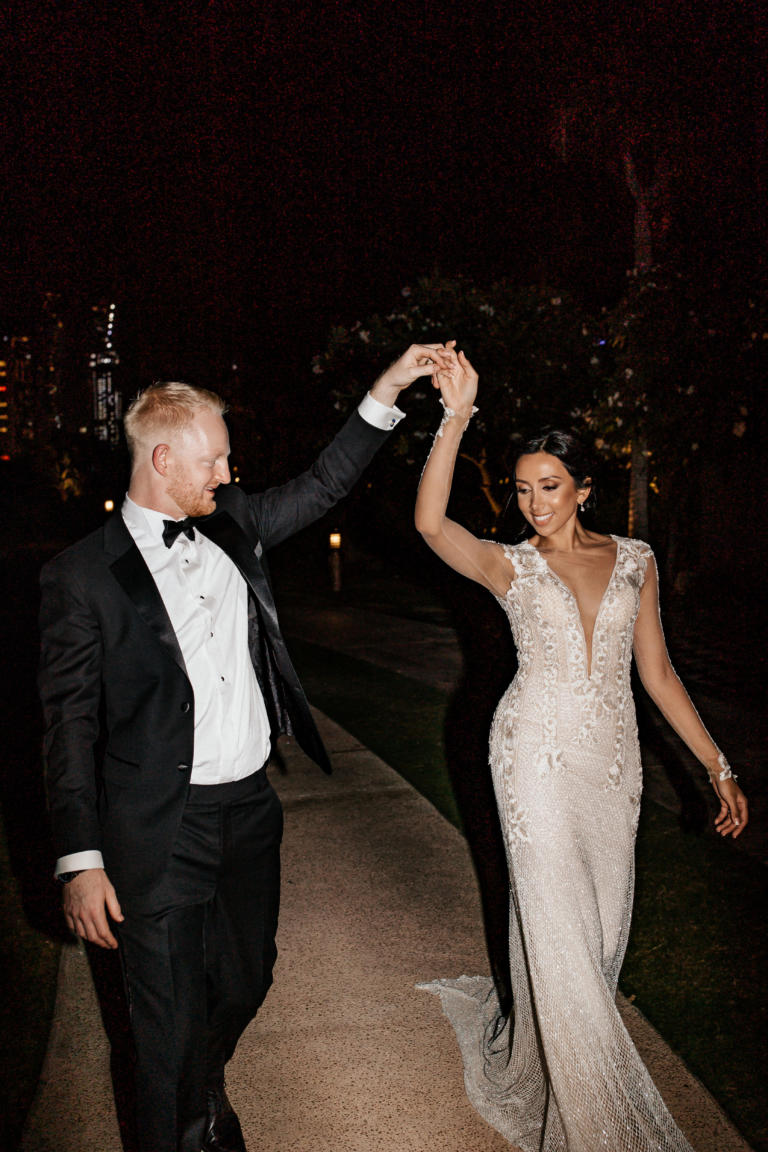 How did it feel when you put on your dress the day of the wedding? What was your favorite reaction to the dress?

Even after all the fittings, nothing compared to the moment I looked in the mirror once all the details had come together. All the months of planning seemed to culminate at that moment. It was a tidal wave of emotions: love, excitement, butterflies, and everything in between. My husband's reaction to each dress was definitely my favorite. He had endured months of mysterious hints and seen my unfiltered excitement after each fitting; he had no idea what to expect by the end. As I walked down the aisle in Rosewater there was so much love and emotion in his eyes. It's a look I'll never forget. When he saw me in Bella he just said, "Wow." And after that… he was speechless!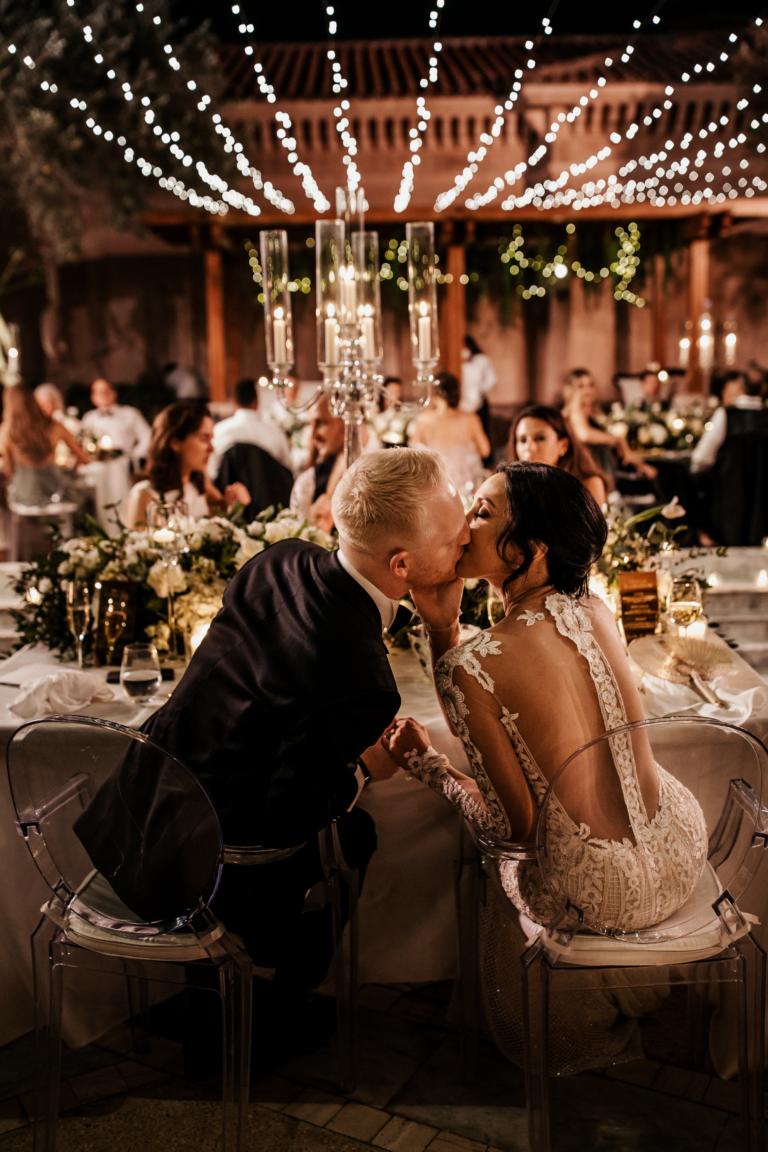 What was your favourite part of the wedding to plan/you were most looking forward to?

My husband and I are such foodies, so we were really excited to choose the menu for our guests. A few weeks before the big day we did a food tasting to select all the courses, canapés, and – of course – cocktails. Everyone knows I have the biggest sweet tooth, so having the perfect excuse to eat three desserts in a row was definitely a highlight!
How did you meet your husband? How did he propose?

We met at law school in London. After a year of sitting in the same classes together, he asked me on our first date. He proposed late at night on a rooftop in London overlooking the River Thames. I remember walking outside and seeing a pathway lit with candles and rose petals. It was such a thoughtful and romantic moment. In the city where we first met. Just the two of us.
How did you find working with the team at Galia Lahav?

Working with the Galia Lahav team was such an exciting and collaborative experience. There is so much scope for creativity and individuality in the process. By the end, each dress was truly one of a kind, and my vision for them both had come to life.
How many dresses did you try on before you found it?

I tried around 10 dresses before deciding on "the one" (or two..!), but I still ended up choosing the ones I fell in love with at the start. It's true what they say: when you know, you know!
Finish your registration for {City} Trunk Show