FREE SHIPPING & RETURNS WORLDWIDE!

DUTIES & TAXES COVERED WORLDWIDE
Find your nearest boutique
Our #GLBride of the week is the beautiful Gina Franklin, who walked down the aisle in our GALA 902 gown. Gina and her fiancé held a whimsical wedding surrounded by friends and family in California's scenic Redwood Forest. In the following interview, Gina shares with us the details of her big day and the moment she fell in love with our GALA 902. As told by Gina:

How did you meet your husband? Tell us a little bit about your relationship.

We met when we were in highschool, at a summer art camp that we both went to. He lived four hours away from me and after the camp ended he would drive every weekend to come see me since I didn't have my license yet. He lived in Naples, FL and I lived in Orlando. Once I was able to drive we took turns visiting each other on the weekends. We did this until a few years into college and he moved into the house I was living in.
How did he propose?

We love theme parks, it's kind of been our thing. He surprised me with a trip to Disney World one Christmas and proposed in front of Cinderella's castle after the firework show. He carried the ring around all day, through all the rides, and I had no idea.
How did you start planning your wedding? What were the first steps?

We knew immediately that we wanted to get married on our ten year anniversary, which gave us about three years to plan. I was a senior in college and needed to focus on that before digging deep into our wedding planning.

We started by deciding what three things were the most important to us, and to focus on those things first. Those things were the location, the photography, and the dress (duh). Knowing what things were the most important allowed me to not obsess over every last detail, and to spend the bulk of my time making sure what we wanted was in there.
Did you do any beauty or fitness prep for your big day?

I tried to keep to a plant-based diet, not really for weight loss, more for stress management.
What was your wedding theme?

We tried to keep it eclectic, romantic, and whimsical. I wanted lots of jewel tones and gold.
How did you choose your location?

We have always loved the Redwoods of California, so we did a mini-tour of some of the venues that are in the redwood forest. We fell in love with Big Sur because it has the best of everything (redwood trees, beaches, and mountains), so there would be lots of opportunity for great photos. We booked a stretch of cabins in the park so our guests would get the full forest experience all weekend.
How did you decide on your bridesmaid style?

I let my girls pick their style! I had two colors picked out from Joanna August, and the bridesmaids took it from there.
How did you find your perfect dress?

There was a Galia Lahav trunk show in my area and I thought it would be fun to try on some couture dresses. It was originally just for research purposes, I had no idea that I would actually find my dress (but I'm so happy that I did).

I picked out a few dresses to try on, and then all my girls and my mom picked out dresses for me. Of course all of the dresses I picked out didn't look the way I imagined, but the dress my Maid of Honor picked out ended up being perfect. I kept the sample on for an hour and danced around the boutique, and I never wanted to take it off.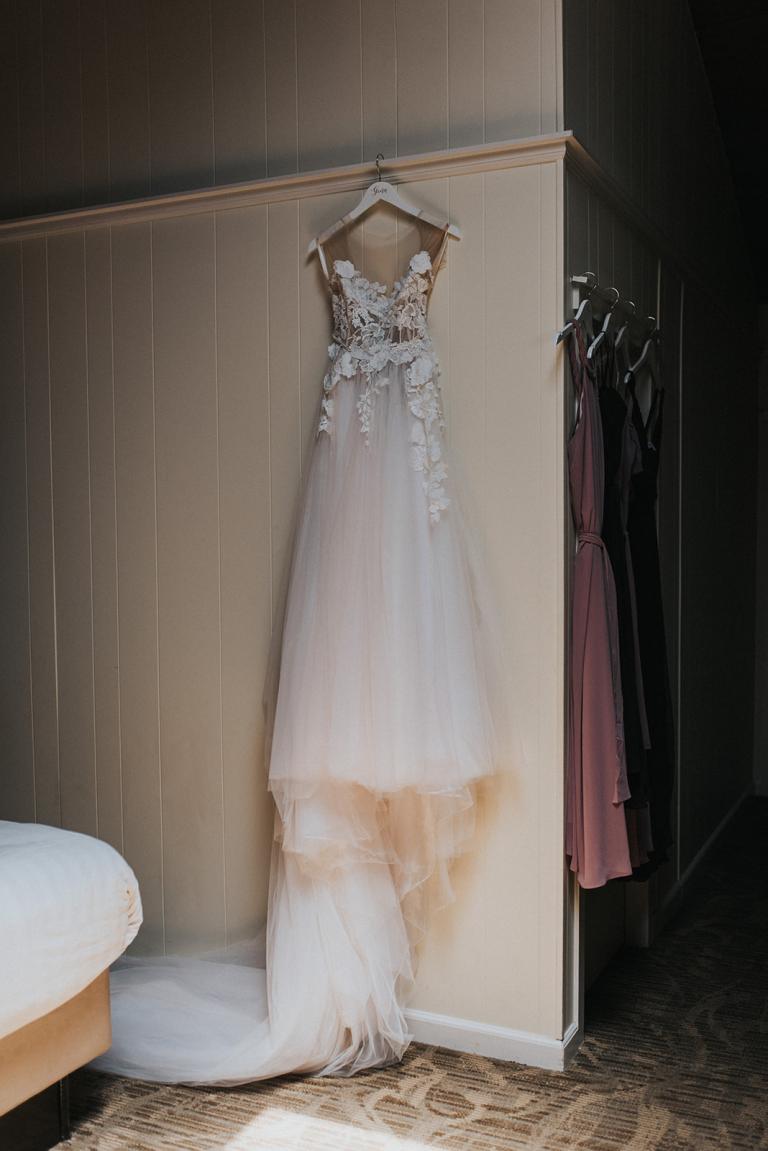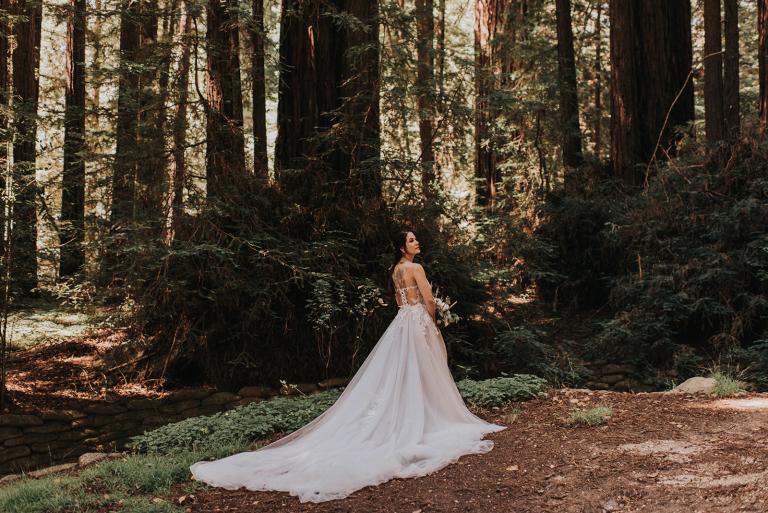 How was your experience with the Galia Lahav brand?

Amazing! There were a few things that I wanted to change on my dress when I ordered it, and it was not a problem at all. The dress was made specifically to my measurements and custom specifications so it didn't really need any alterations. Even though the train was so long and it looked really big and heavy, it was so light and comfortable. I had no issues wearing it all day.
What was your first wedding song?

I've Been Loving You Too Long – Otis Redding
What did you enjoy the most about planning your wedding?

Trying on dresses! I had so much fun with my girls!
What advice would you give to all our future brides?

Authenticity is more important that being unique. It's easy to get lost over the weddings you see on instagram or pinterest, and people will always have suggestions or something negative to say about the decisions you make. Just stay true to yourself and your wedding will naturally reflect the life you have with your partner.
What moment from your wedding will you never forget?

My husband and I didn't see each other all day before the ceremony, and we didn't do a first look. He wanted the first time he saw me in my dress to be when I walked down the aisle. I missed him all day, and all I wanted to do all morning was go see him. I had to hide in my MOH's car before walking because the forest didn't have any "hide the bride" spots. I will always remember the moment I walked down the aisle and we saw each other. We both cried like babies the entire ceremony.
Finish your registration for {City} Trunk Show