FREE SHIPPING & RETURNS WORLDWIDE!

DUTIES & TAXES COVERED WORLDWIDE
Find your nearest boutique
It was a sudden and unplanned glimpse at our window display at 'Eternal Bridal' which sparked Germaine Ong in finding her perfect wedding dress. Our #GLBride of the week, Germaine, who was recently featured in Harper's Bazaar Australia shares all the details about her magical destination wedding in Paris. As told by Germaine:
How did you meet your husband?

Sam and I met at work. Funny story: I applied for a job on his team where he interviewed and hired me. I remember thinking to myself, "My boss is really funny and good looking!" We worked really well together and made a great team but shortly after, he moved on to another job. It wasn't until some time later when we crossed paths again and were both single that we started exploring the possibility of a relationship. Until today, we still joke about how he was actually interviewing for a wife when he interviewed me!
How did you he propose? Or did you propose? How long did you date before he proposed?

He proposed after about a year of dating. It sounds like a cliche, but I think it's really true that you don't have to date for years when you know the person is right for you. It was a regular weeknight when he proposed. I went for Pilates in the evening, and after the session, Sam came to pick me up to go for a simple dinner. I was tired, hungry and not expecting anything special to happen that night. So imagine my surprise when we got home, I opened the door and saw our stairway lit with candles and decorated with rose petals, my favorite music playing in the background. Our two dogs—who were dressed in little doggy tuxedos—came to greet us at the steps and Sam went down on one knee to pop the question. I had to say yes quickly as the dogs were starting to eat the vanilla scented candles!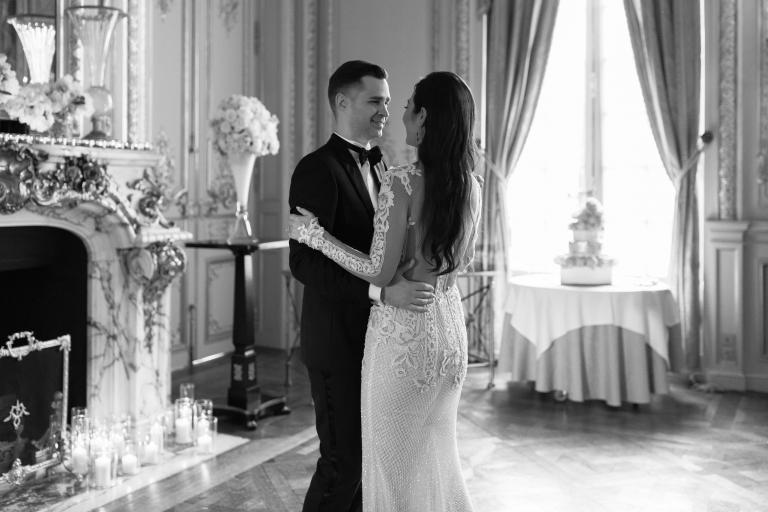 How did you find your perfect dress? And how did you decide to buy it?

While on an interstate work trip to Sydney, I walked past the Eternal Bridal store and saw the dress hanging in the display window. I went in and tried it on 10 minutes before the store was closing. It was super rushed, but I fell in love immediately and could not stop thinking about it. Once I got back to Melbourne, I booked myself in for the Galia Lahav trunk show where I tried on about five different gowns, but my heart was set on the one I fell in love with – the Bella. It was glamorous without being over the top, beautiful with just the right amount of sexy.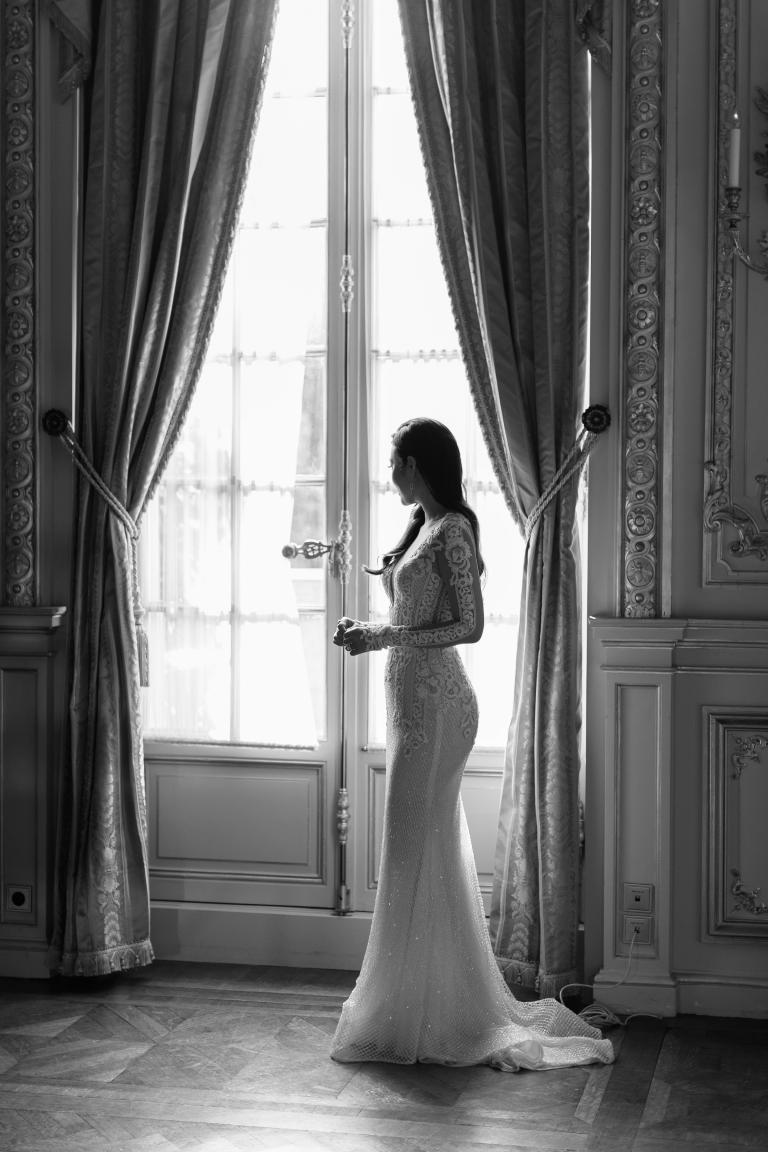 Where was your wedding?

The whole wedding was over three days in different parts of Paris. First, we had a welcome event at the cutest little French bistro along the River Seine called Chez Julien. Then we had the hens and bucks at Hotel Costes and Frenchie restaurant. The actual wedding itself was at the Shangri La hotel, which used to be Prince Roland Bonaparte's private residence. We had the entire floor of historical salons to ourselves, and the ceremony, cocktail, and dinner reception were held in three different spaces. The afterparty was at the Bagatelle Mansion, a chateau in the middle of Paris with great music!
What was the theme? Did it require special planning? Share with us.

I didn't have a specific theme, but since the wedding was in Paris, we added a few Parisian touches like Ladurée macarons, French truffles, champagne and wine, and a French Jazz band. The vision was a timeless, ethereal elegance as I want to be able to look back at our wedding in twenty years and still be in love with our choices. We used classic and timeless elements like lots of fresh flowers, gold candelabras and a soft, pleasing palette of white, gold and pale pink. The rooms were so ornately decorated with gilded walls and stunning crystal chandeliers that we didn't need to add much more.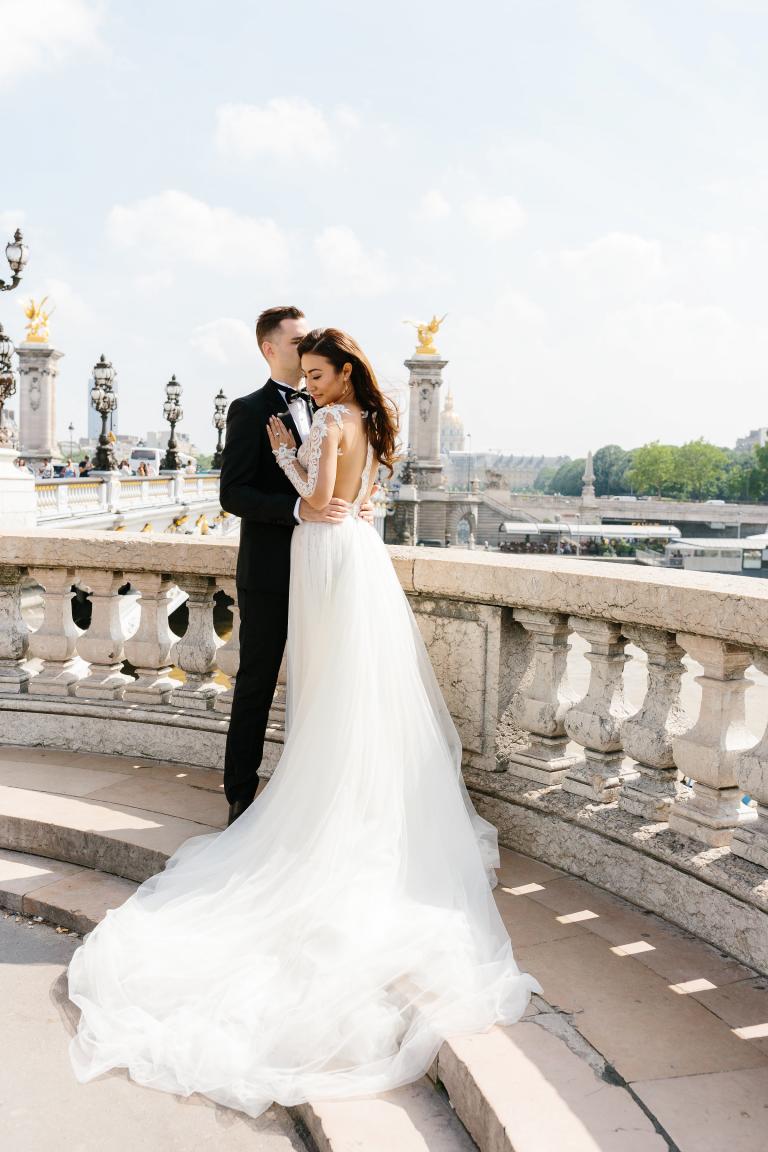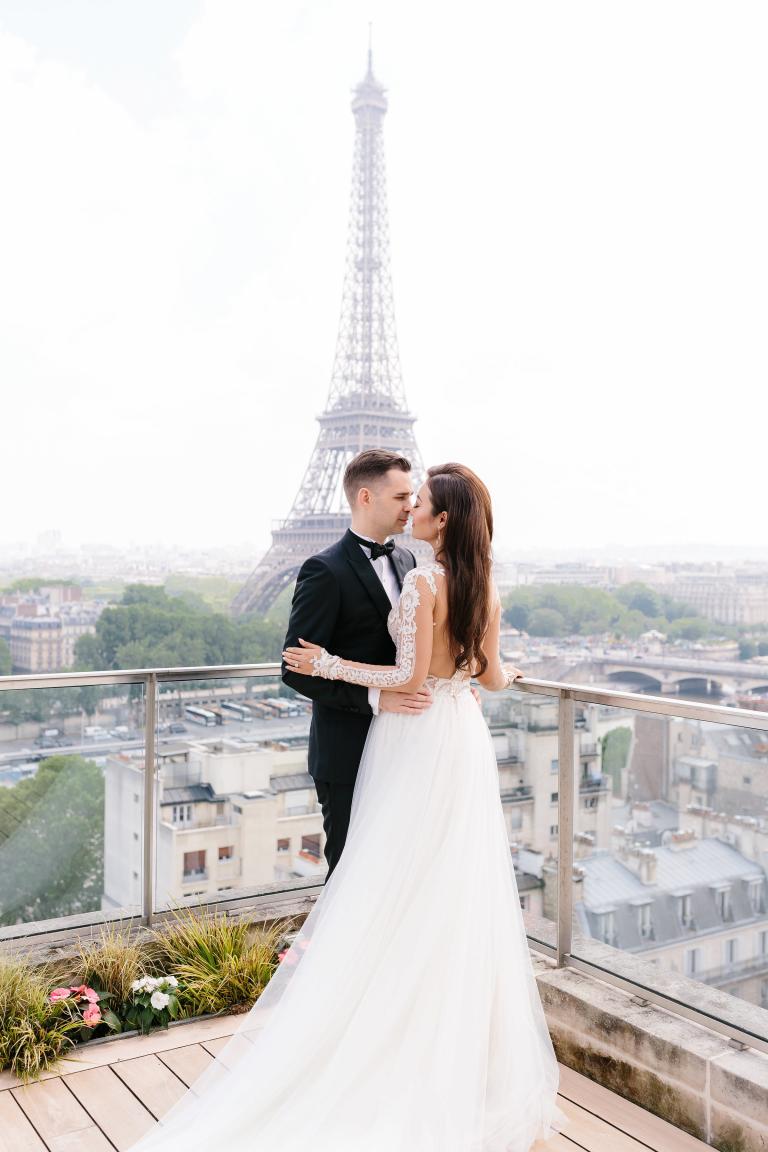 Which was your favorite part?

My favorite part of the day was during the dinner reception when Sam and I looked around us and saw that everyone was having a great time enjoying the food and music. We were so glad that everyone was having fun and felt very loved and honored that our friends and family flew halfway across the world to spend the week with us in Paris.
How was your experience with the Galia Lahav brand? How did it start? Did you know the brand prior to your engagement? Where did you meet the brand initially?

The experience was great from the start when I chanced upon the dress at Eternal Bridal. The ladies in the store were extremely patient and helpful, even though I walked in without an appointment ten mins before they were meant to shut for the day. From the first moment I tried on the dress, I could tell that the workmanship of the Galia Lahav gowns are immaculate. Every piece of lace and every bead was hand sewn to perfection. I had seen Galia's dresses online prior to finding THE dress for me and have admired all the different styles, but it is a whole different level when you see it on yourself. The tailoring is incredibly customized to help you look like the best version of yourself possible. I felt like my dress hugged me in all the right places and made me look taller and slimmer.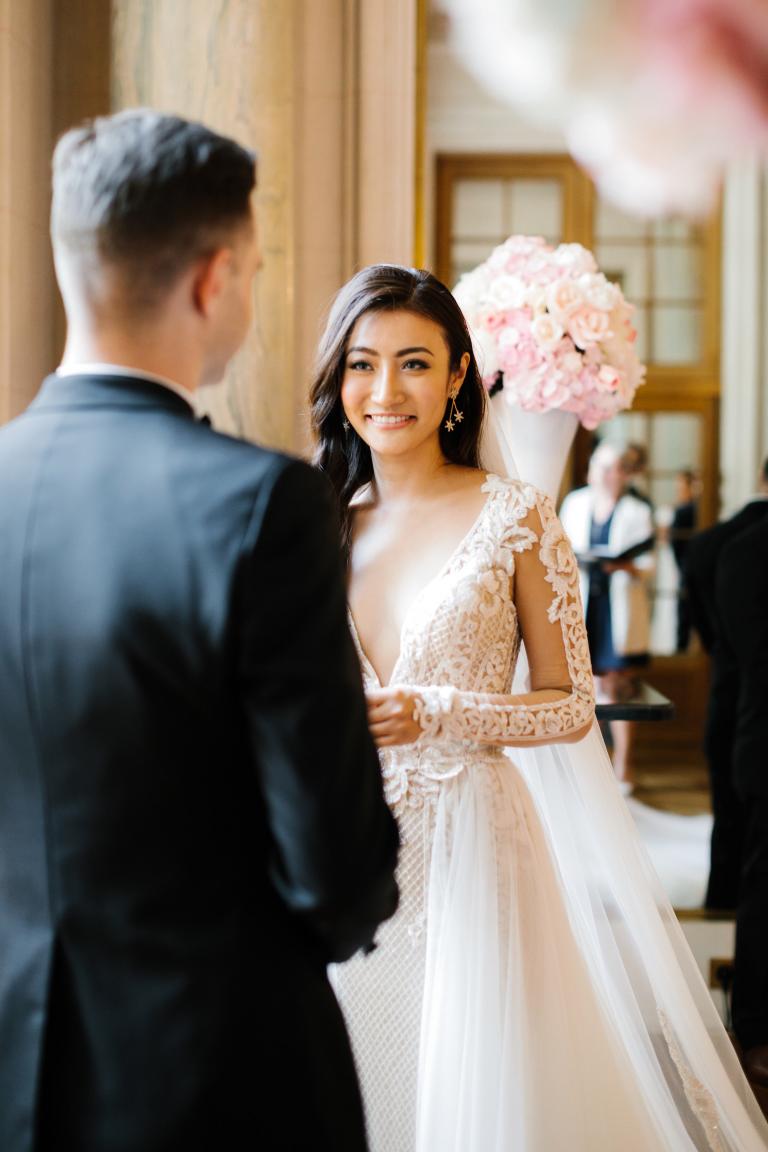 Where did you purchase the dress?

I purchased it at the Galia Lahav trunk show in Melbourne. It was a lovely experience with lots of pretty dresses and yummy champagne!
What did you enjoy the most about planning your wedding?

I won't lie – it is not easy planning a destination wedding and is frustrating not being able to be there and look at the locations or inspect the supplies yourself. You just have to trust the process and trust your vendors. For me, my favorite part was looking for the dresses, shoes, and accessories as well as dressing my beautiful bridesmaids. Planning the food and wine menu was also good fun as everything was so delicious!
Was your wedding the way you dreamed it?

It was everything that I'd dreamt of and more. Sure, not everything is going to go your way on the day. I woke up with a zit on my chin, the lifts broke down in the middle of the day, things that I ordered did not arrive on time…. but all of those trivial things don't matter when you are surrounded by your nearest and dearest who chose to travel from far and wide to be with you on your special day. Spending a week in Paris with our loved ones was such an amazing experience – it was all we could've asked for, and we received the love in spades.
Finish your registration for {City} Trunk Show