FREE SHIPPING & RETURNS WORLDWIDE!

DUTIES & TAXES COVERED WORLDWIDE
Find your nearest boutique
Meet Gabriella, our beautiful bride in the Tokyo gown, a choice confirmed by Galia herself! At the scenic Hotel Villa Cimbrone on the romantic Amalfi Coast, Gabriella married the love of her life surrounded by family and friends. In the following interview, Gabriella shares her favorite moments, and how she and her sister found their GL gowns for the big day! As told by Gabriella:
A moment of your wedding day will you never forget?

Without a doubt, it was the moment I made eye contact with Ryan right before I began walking down the aisle of Villa Cimbrone's beautiful infinity terrace. I had the craziest adrenaline rush (the ultimate heart beating out of chest moment). Ryan was standing there grinning from ear to ear with the backdrop of the Amalfi Coast behind him, and I couldn't contain my joy — a once in a lifetime feeling.
One thing you wish you knew as a new bride? What advice would you give to future brides?

Don't sweat the small stuff, let it all go by the time your weekend festivities begin and trust that all the planning, coordinating and people managing the details have everything covered. Give your phone to someone (or better yet leave it at home) and just soak up the present. Allow yourself to feel every emotion and let the experience take over.
A detail that made your wedding special/unique?

We had our very talented singer friend serenade us during our first dance. In order to surprise and delight our guests, we began our dance to Ed Sheerin's "Perfect" and then our friend casually walked onto the dance floor and began belting what is normally Andrea Bocelli's part of the song in Italian while our friends and family stared in disbelief.
How did you know your dress was 'the one'?

Galia told me! I had the honor of trying on the (fairly new) Tokyo dress for the first time while Galia was at her Soho boutique. It wasn't something I pulled from the rack myself but that Jackie insisted on pulling for me (and I'm so glad she did!). The reaction of everyone in the room was unanimous — we had found it, nothing would compare.




How did it feel when you put on your dress the day of the wedding? What was everyone's reaction to the dress?

The dress was dazzling to everyone in the room — it glistened like a diamond in the sunlight as I stood on the balcony in the late afternoon sun (perfectly fitting the ambiance of our dreamy Italian backdrop). My mother began bawling her eyes out, completely overtaken by emotion.  




Would you have done anything differently?

Nothing. Ryan and I were so pleased with the way the day unfolded. It felt so smooth and natural, never rushed and our guests ecstatic faces told us how genuinely happy they were to be there and how magical the experience we created was.  




What was your favourite part of the wedding to plan/you were most looking forward to?

The ceremony. We fell in love with the venue because of its insanely beautiful infinity terrace that overlooked the equally breathtaking Amalfi Coast. It wasn't super typical to host ceremonies in this area of the property, but the second we saw it, we knew we had to exchange our vows in that very spot and proceeded to work with Villa Cimbrone to design the rest of the day around that pivotal moment.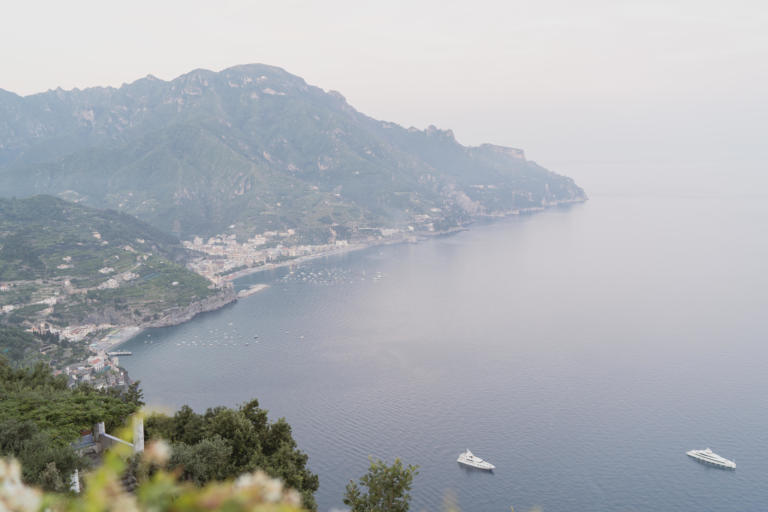 How did you meet your husband? How did he propose?

Ryan and I met when we were 19 years old at Boston College. Mutual friends brought us together and it didn't take us long to start formally dating when he showed up at my family home the summer after our freshman year to meet my very traditional Italian family and ask their blessing to date their daughter. We dated from that point on (10 years), through undergrad, internships, first jobs, first apartments, etc — truly growing up together until one day (under the guise of dinner with friends) he took me to the roof of our apartment building (our first home together) and popped the question. He had dressed up the space with roses, candles and proposed with the backdrop of Boston at sunset behind us (the city we met and grew up in together).
How did you find working with the team at Galia Lahav?

Absolute dream team. I felt extremely supported throughout the entire process — from the initial selection through my fittings and final pick up, Jackie guided my sister and I through it all (my sister wore the Elise). We both felt extremely special and cared for.
How many dresses did you try on before you found it?

About a dozen (I really didn't know what I was looking for), but only a few before I realized I wanted a Galia. The fit, quality and craftsmanship was inimitable, which brought me to the flagship in Soho.Tokyo was the 2nd dress I tried on in Soho and I knew that was it — nothing would top it. It hugged my petite frame perfectly and fit like a glove.
How did both you and your sister end up choosing a Galia Lahav Gown, what did you like most about it?

At my initial appointment in Soho, after I fell in love with my dress, we requested the Elise for Isabella (we had seen it online and featured prominently) and knew it would achieve that elevated, MOH look we were going for. The second she put it on it was a no brainer, it hugged and flowed in all the right places – we decided and purchased on the spot.

We loved how complementary the looks (Tokyo & Elise) were to each other, fitting together so nicely, and how perfect they were for the venue & location — that classic, chic Italian villa feel that set the tone for the event and rest of the guests.
Finish your registration for {City} Trunk Show