FREE SHIPPING & RETURNS WORLDWIDE!

DUTIES & TAXES COVERED WORLDWIDE
Find your nearest boutique
Our GL Bride of the week is Francesca Ward Ramos, who wed her fiance Jack in our Emma gown. The couple chose a modern-day fairytale theme for their nuptials held at the Vineyard at Florence in Texas. In the following interview, Francesca shares with us the details of her wedding and her experience finding the gown of her dreams at our flagship store in LA.
How did you meet your husband? Tell us a little bit about your relationship.

My husband and I met in high school when I moved to Austin, Texas in 2010. Jack was in tech and I was in drama so we spent a lot of time together and had the same friends, so we naturally became friends; but just friends, nothing more! It wasn't until 4 years of University, that I would message him on Facebook after telling a story to my circus duo partner about high school. It turned out he had also ended a recently fling that same Friday I had, and proceeded to ask me out on a date! After that night, it was evident he was my person. He pulled me out of darkness and helped me grow into vibrancy.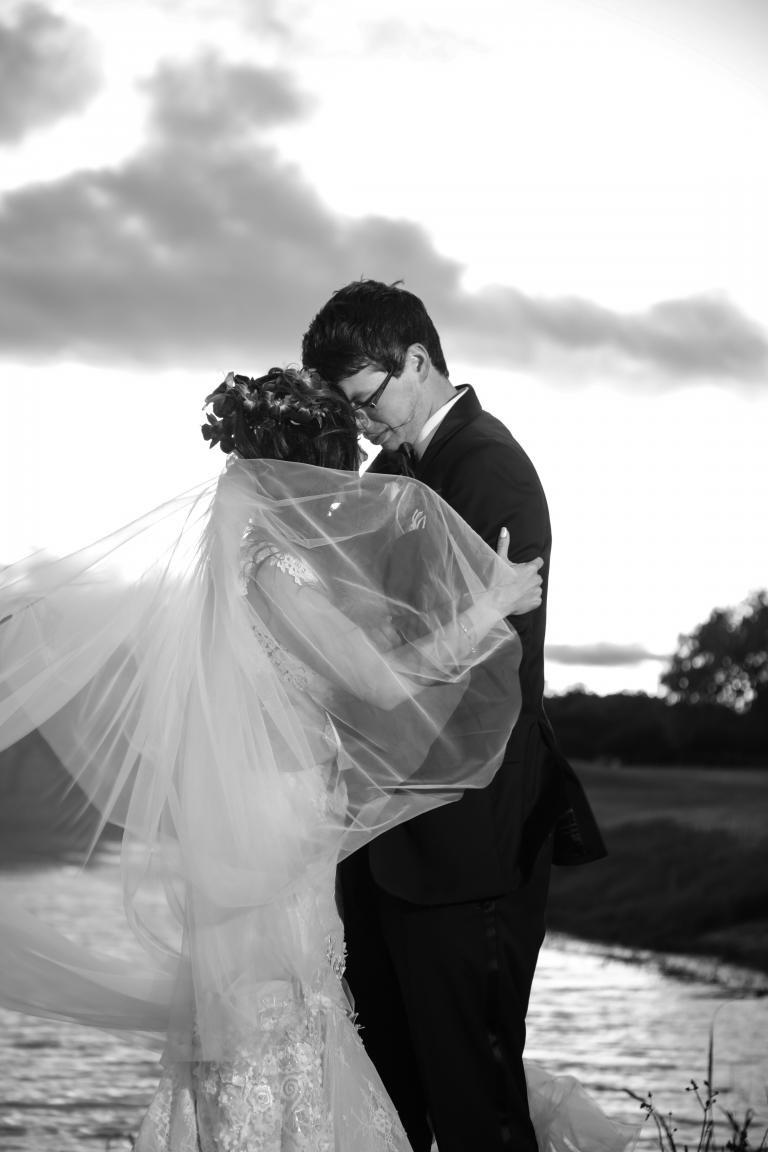 How did he propose?

He didn't! He asked my dad for my hand in marriage in November and then we eloped in Kauai, Hawaii over Christmas Break! When we got back and decided to tell people, most responses were "How could I not be there?!" That's when we decided to have a wedding party and I got to plan a salute to love, with the people we love!
How did you find your perfect dress? And how did you decide to buy it?

I actually saw a beautiful picture on Instagram of Ella and knew immediately it was going to be my wedding dress! It is the photo of a girl looking out a large window from May 2017. It would take about 2 years but I finally got to try it on and personalize it to my visionary perfection! I never imagined my rehearsal dinner dress would also be patiently waiting for me to adopt it, as it slid on like a tailored glove. Both dresses embody different sides of me serendipitously.
Where was your wedding?

Our wedding was held at the Vineyard at Florence in Florence, Texas.
What was the theme? Did it require special planning? Share with us.

The theme was a modern fairytale and I knew exactly how I envisioned things and where I wanted artistic freedoms for collaborative creativity. I hired the amazing Rosa Gibson, owner of Austin Wedding Planning. She connected me with all the vendors other than a dress, the shoes, and the cake. I grew up watching The Food Network Challenge and admiring Bronwen Weber, not only the extravagant works of art she put up every competition but the synergetic positive energy she brought to creating each curio. We were honored to have her bakery, Frosted Art Bakery & Studio in Dallas, Texas make our cake. The shoes helped inspire the dress-fitting spirit and I am American so something blue, something white, and something red!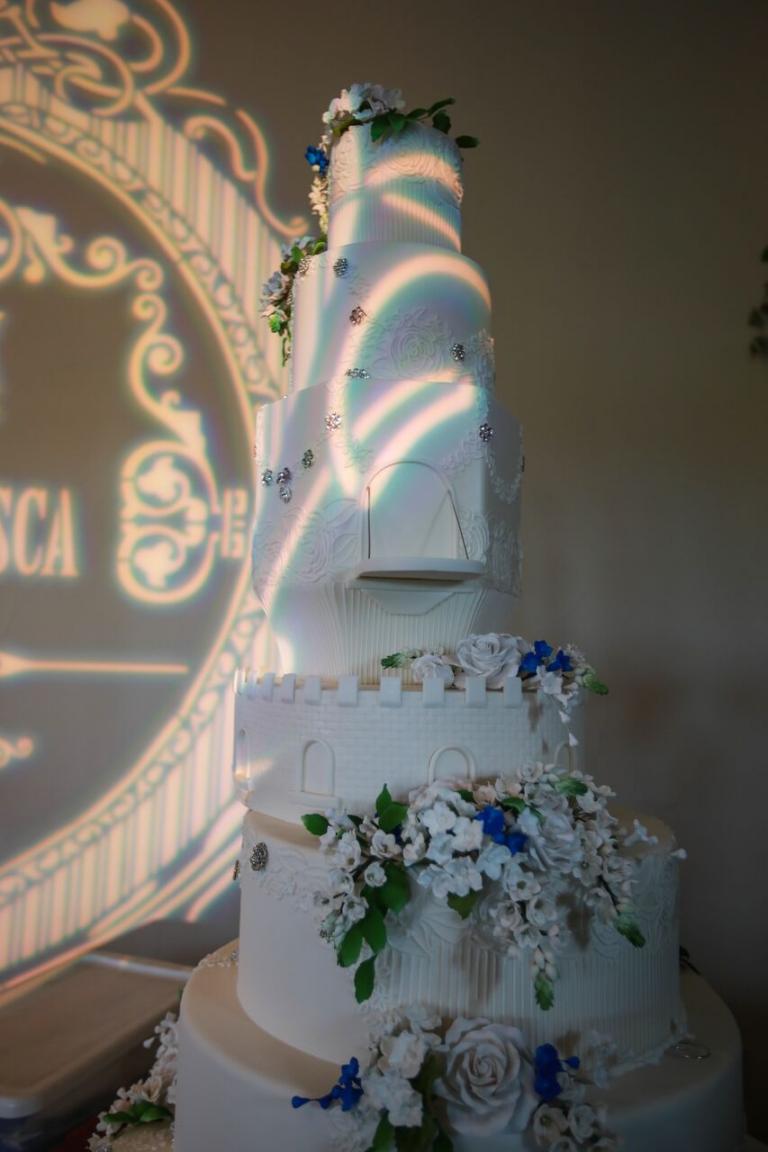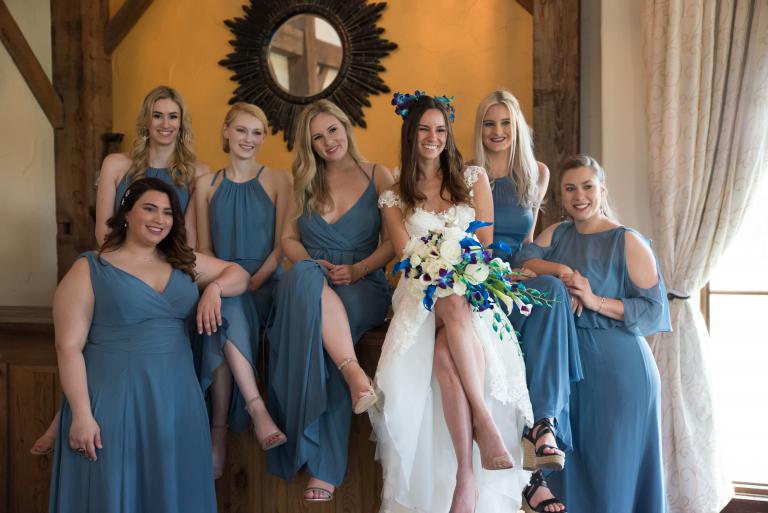 How was your experience with the Galia Lahav brand?

SPECTACULAR! From the very beginning, correspondence was impeccable. The initial salon visit was magical and ensuring as the staff helped me choose 4 other styles to try as well as the Emma and saved the Emma for last, showing a true attention to detail. The three dress fittings with Natalya that were to follow exceeded any possible expectation each and every time! Her exacting eye made my dress appear as if it were dripping off of me like an ice floe.
Where did you purchase the dress?

I purchased my dress at the beautiful flagship store in Los Angeles, California!
What did you enjoy the most about planning your wedding?

I really enjoyed getting the opportunity to have all the people I love in one place to celebrate love! It was beautiful to see the people who influenced and created the magnificent man I get to love and to see the people who positively sculpted my life all in the same room! It is also always fun to make a "Once Upon Dream" into reality and throw a Gatsby!
What advice would you give to all our future GL brides?

My advice would be to really enjoy the entire process, starting from the first email! There are so many possibilities, your imagination gets to be wild for a bit; let it! Dresses are meant to be loved and are made with a lot of love so you should love the process. Have fun!!!
Was your wedding the way you dreamed it?
Finish your registration for {City} Trunk Show