FREE SHIPPING & RETURNS WORLDWIDE!

DUTIES & TAXES COVERED WORLDWIDE
Find your nearest boutique
Our #GLBride of the Week is Erin Barrett, who said "I Do" to her fiancé Brody in our GALA-802 gown. The couple held their nuptials at the historic Murrieta's Well Winery in Livermore California with a romantic rustic-style wedding. In the following interview, Erin shares with us her unforgettable wedding day memories and the moment she knew our GALA-802 was the one. As told by Erin:

How did you meet your husband? Tell us a little bit about your relationship.

I met my husband at a high school bonfire over 10 years ago. In many ways we are extremely opposite, but one thing that has always remained the same is our unconditional love for one another. We endured a tragic accident that I wouldn't wish on anyone, but somehow we both remain grateful for the experience as it bonded us closer than we could have ever imagined.
How did he propose?

For my 27th birthday we went wine tasting with a small group of family and friends. Brody is very private so I never expected him to propose in front of the most beautiful Domaine Carneros winery in Napa! It was such a special moment.
How did you start planning your wedding? What were the first steps?

The first steps to planning our wedding were figuring out a rough budget, followed by looking for venues that fit our personality. We wanted to be married somewhere that felt familiar to who we are and would convey our energy as a couple.
Did you do any beauty or fitness prep for your big day?

I am a huge fan of hydra facials! I have naturally oily skin, so I prepared my skin by getting a series of hydra facials and switching my products to the Tatcha Vitamin-C series. I became so obsessed that I still use their products today! Also, lots of H20, of course.
What was your wedding theme?

I didn't want a wedding theme, but I wanted to convey a feeling. We wanted our wedding to feel feminine, relaxed and romantic. The bridesmaids all wore different dresses alternating beaded and chiffon fabrics in blush and nude tones, and we had a beautiful mix of flowers varying in greenery, white roses, dahlias and pink lavender throughout the florals.. With light gold accents of course!
How did you choose your location?

We really wanted to have our wedding somewhere small and intimate that had the perfect effortless ambiance. We chose a modern rustic winery in Livermore, CA called Murrieta's Well.
How did you decide on your bridesmaid style?

I wanted my girls to look AMAZING! I have always wanted my bridal party to be in beautiful more elegant dresses with full makeup and to not downplay them at all. They had classy curled ponytails and I let each girl choose their own dress within the parameters of blush and nude tones.. That was it!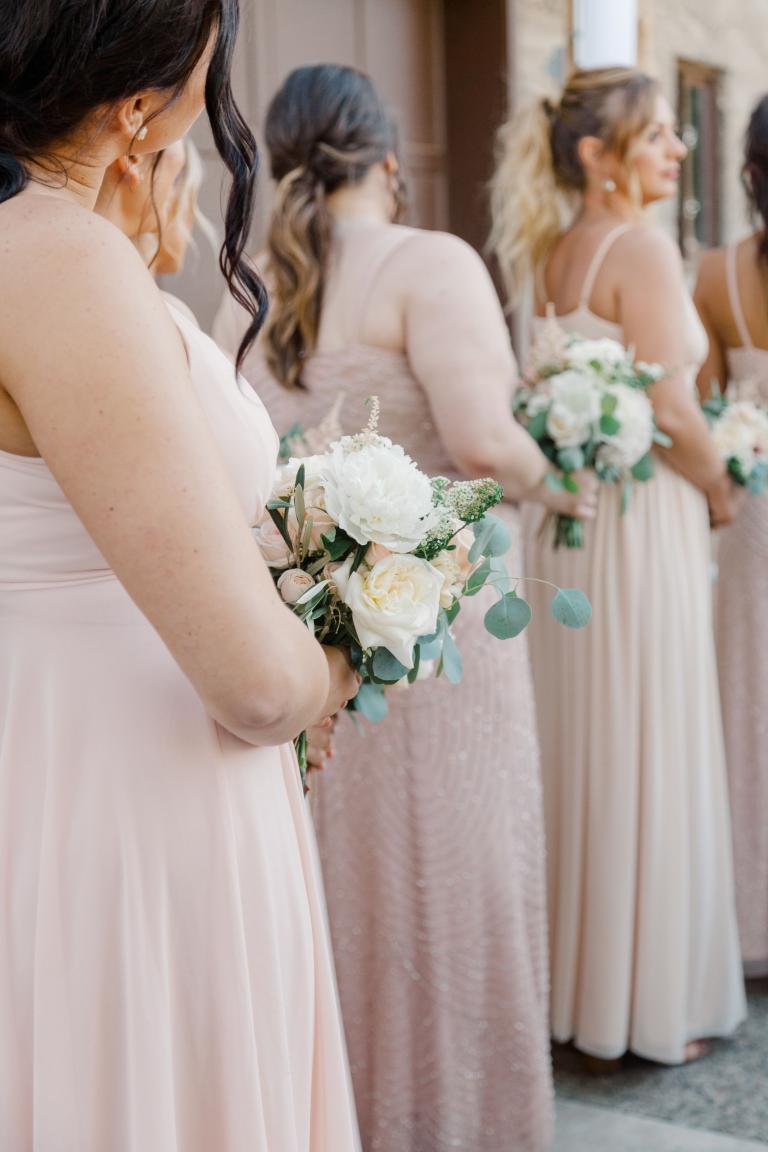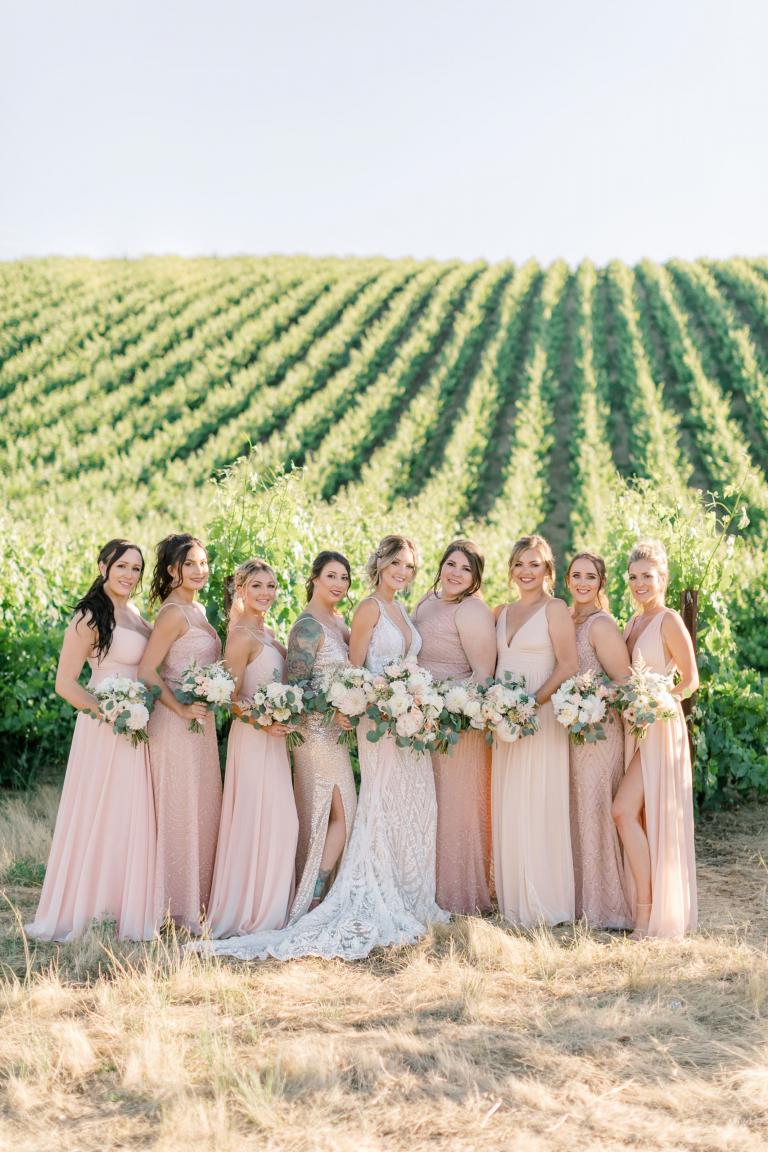 How did you find your perfect dress?

 I had wanted an Israeli wedding dress since I attended fashion college in 2009. I had found the designer Julie Vino while doing a college fashion project and really fell in love with the Israeli wedding dress style. A good friend Nicole worked at Kinsley James in Walnut Creek and told me to look at Galia… I fell in love with my dress months before I ever got engaged and told her I knew that was my dream dress! I tried on so many dresses from different boutiques and designers and finally tried on the Galia 802 at the very end – there was no question that the dress I had fallen in love with nearly a year prior was the perfect dress for me.
How was your experience with the Galia Lahav brand?

Absolutely amazing! The dress came much more quickly than expected and the quality is amazing.
What was the most important thing for you and your husband when planning your wedding?

The most important thing to us was that the entire experience made everyone feel at home. We didn't want to do anything that people wouldn't expect; everything was upbeat and fun but we never strayed too far away from the seriousness our marriage holds to us. We wanted the night to have memorable moments but remain low key and effortless.
What was your first wedding song?

 Our first dance song was Leroy Sanchez's cover of Perfect.
What did you enjoy the most about planning your wedding?

The most enjoyable experience for me was watching my husband build giant 6' tall 3D light up letters using my dads tools. My dad passed away a few years ago, so for my husband to make an effort to use tools of my dads to build something that would be at the wedding was so special. He said he thought of it as my dad's way of helping with the wedding.
What advice would you give to all our future brides?

Don't let the stress of it all stray you away from why you are doing this. At the end of the day your wedding is about your marriage and the commitment you are making. No one will remember the cake or flowers, but they will forever continue to see your marriage grow with time and I believe that should remain the focus of the entire planning experience.
What moment from your wedding will you never forget?

 I will never forget hearing my husbands vows. Many people don't get to see the soft side of him, so for our guests to hear the side of him that only I know was so special. 
Nadine Goudici
Catherine Leanne Photography
The Good Folk Film Co.
Murrieta's Well
Amy West Floral
AG Productions
Bay Area Beautiful
Kinsley James Couture Bridal
Men's Warehouse
Minted
Pleasanton Rentals
Finish your registration for {City} Trunk Show