FREE SHIPPING & RETURNS WORLDWIDE!

DUTIES & TAXES COVERED WORLDWIDE
Find your nearest boutique
Our GL Bride of the week is Erika Brown, who wore our GALA 704 as she wed her fiancé Justin. They tied the knot in Arlington at the Marionfield venue with a timeless wedding ceremony. In the following interview, Erika shares with us the best parts of planning her wedding and the moment she fell for her GALA 704 gown. As told by Erika:

How did you meet your husband? Tell us a little bit about your relationship.

Justin and I met way back in middle school and had always been friends. Senior year of high school we decided to become more. We were your typical American love story as he was the captain and quarterback of the football team and I was the captain of the cheer squad. We went our separate ways before school ended when I learned he was going away for scholarship, but we never lost sight of each other. We decided about two years ago that we never wanted to be apart again!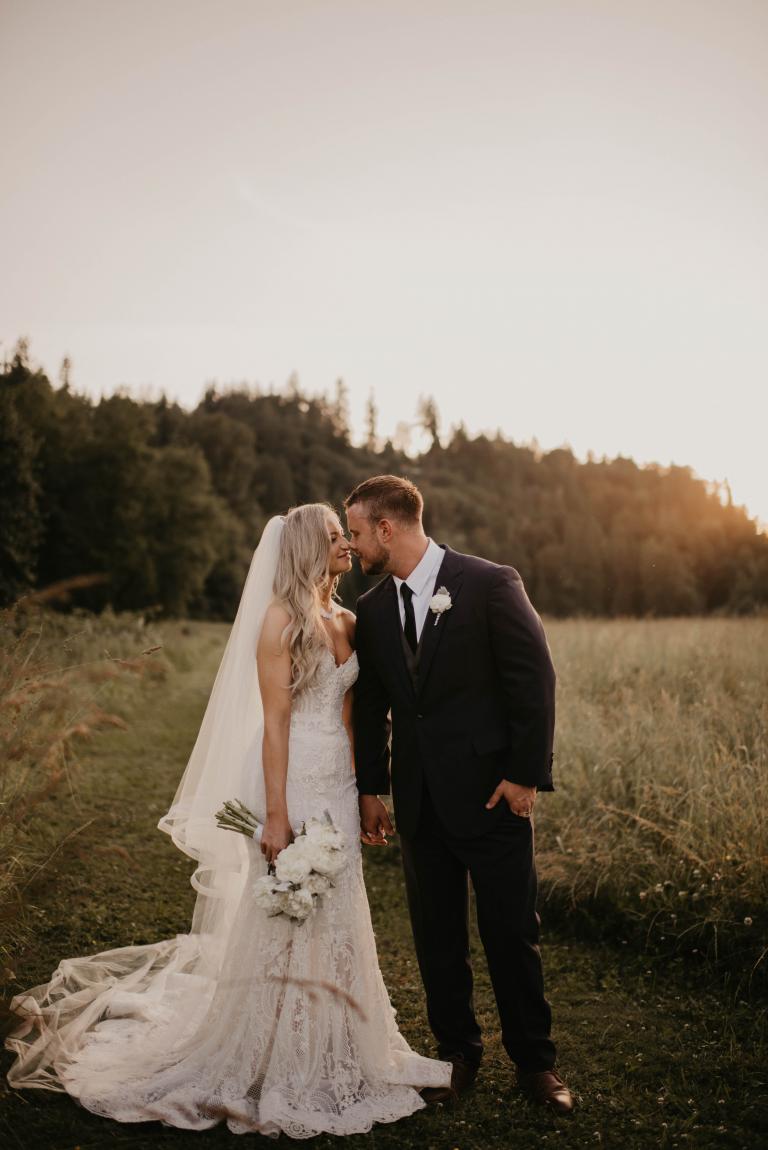 How did he propose?

It was perfect and I couldn't have asked for more. My family is from Minnesota and we have a cabin in Park Rapids. It is my absolute favorite place in the world! We were there on vacation and we decided to go down to the dock to take a picture by the lake. He then asked me if I truly knew how much he loved me and before I knew it he was down on one knee. With my mom and my papa on the shore watching, he asked me to marry him. It was simple and so sentimental!
How did you start planning your wedding? What were the first steps?

Our first steps were finding a venue. I wanted a very romantic and elegant wedding, so we went with a beautiful historic farm venue close to where we live. We decided we wanted to go with a summer wedding and this particular venue gets booked fast, so our date was kind of picked for us based on availability. With the venue locked down, my vision started coming together. We had a wedding coordinator who was a complete lifesaver ( Jessica from eventful moments). She was able to guide me along and show me what my next steps should be to complete the feel I was going for.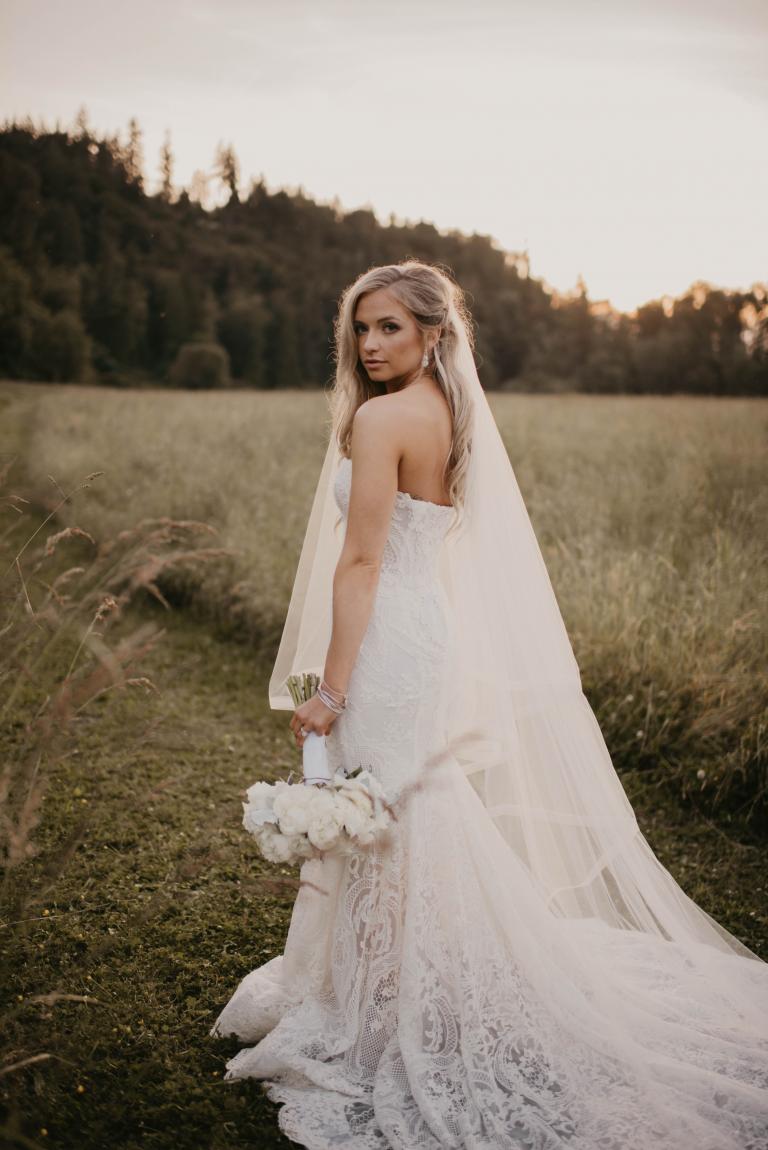 Did you do any beauty or fitness prep for your big day?

Yes! I had routine facials and even dermaplaning. I started a new skin routine which included a cleanser, toner, retinol cream, and a vitamin C cream. Planning and stress takes a lot out of your skin so a routine is key! I tend to eat pretty healthy as it is so I didn't really change my diet much, just cut out any unnecessary treats. My now husband is a gym junky so I started going to the gym with him more and running. He helped me with strength training as well!
What was your wedding theme?

Our wedding theme was timeless romance. Lots of candles and greenery. We did all white peonies, hydrangeas, and garden roses. I love the idea of a neutral wedding, so that's what we did. Everything was either white or a very light grey and of course lots of flowers!
How did you choose your location?

We wanted a venue close to home so we could have everyone important to us there. We looked at 4 other venues, but once we walked inside Marionfield, it was over. It's beautifully redone and the fact that it's deemed a historic structure was really cool to me.
How did you decide on your bridesmaid style?

I wanted to find something that wasn't your typical bridesmaid dress. It was important to me that all of my girls love their dress and feel beautiful in it. I went with a long tulle lace dress from morning lavender in a soft grey color. It was perfect and complemented everyone!
How did you find your perfect dress?

I knew from day one I wanted a Galia Lahav dress, I went into dress theory Seattle with the intention of trying GALA 704 on. I tried on a couple of others but once I put 704 on there was no hiding that this was my dress. Before I fully walked out of the dressing room my aunt even told my mom " Wow, this is the one!". It was like it was meant for me!
How was your experience with the Galia Lahav brand?

My experience was perfect! My dress even came early which was a great surprise!
What was the most important thing for you and your husband when planning your wedding?

It was very important to us that our wedding be a memorable one. We wanted all of our guests to walk out thinking " that was such a fun wedding!".
What was your first wedding song?

Keeper of the stars- Tracy Byrd
What did you enjoy the most about planning your wedding?

All the little details. Watching your wedding come to life week by week and then finally seeing it all come together is amazing!
What advice would you give to all our future brides?

Take it in as much as you can. When they open the doors for your grand entrance, take a peak at all the guests there to celebrate your love. Most importantly, HAVE FUN!
What moment from your wedding will you never forget?

I will never forget Justin's vows that he wrote for our first look. We read them privately before the ceremony which was perfect. At that moment you could feel all of our stress just melt away. Justin and I are always very silly with each other so I will never forget our couples shoot. You can see the silliness in some of the pictures taken because we were having so much fun just being together!
Finish your registration for {City} Trunk Show