FREE SHIPPING & RETURNS WORLDWIDE!

DUTIES & TAXES COVERED WORLDWIDE
Find your nearest boutique
Our #GLBride of the week is Elizabeth Cardillo, who wore our Queen Gia and New Suzanne on her special day. Surrounded by family and friends, Elizabeth tied the knot with her fiancé Raj at the luxurious Aria hotel with an elegantly themed wedding. In the following interview, Elizabeth shares with us the moments she'll cherish forever and the experience of finding two dream dresses for her wedding day. As told by Elizabeth:
How did you meet your husband? Tell us a little bit about your relationship.

Raj and I met on an online dating app. He was visiting Los Angeles from Sydney, and we happened to match. I never tried online dating before and he was my first blind date. I was incredibly nervous. Obviously, it all worked out perfectly – our last first date! He was and still is the perfect gentleman.
How did he propose?

Raj proposed in Mykonos Greece on my 28th birthday. He had a private dinner set up on the beach and we celebrated afterward with a lot of champagne. After leaving Mykonos, we then went to Santorini, Monaco and St Tropez.
How did you start planning your wedding? What were the first steps?

We started planning right away, on vacation! I had already dreamt of my fairytale wedding so I had some ideas started in my head. We also knew it was either going to be in Las Vegas (our favorite getaway city) or Beverly Hills (home). Locating the right wedding planner was our first move, and we were lucky enough to find Emily Reno Events on Instagram. She was a Godsend. Our wedding was a 3-day event! The first event was an all-out Indian 'Sangeet' party honoring Raj's Punjabi Culture. Day 2 and 3 was our American Wedding Ceremony and Reception.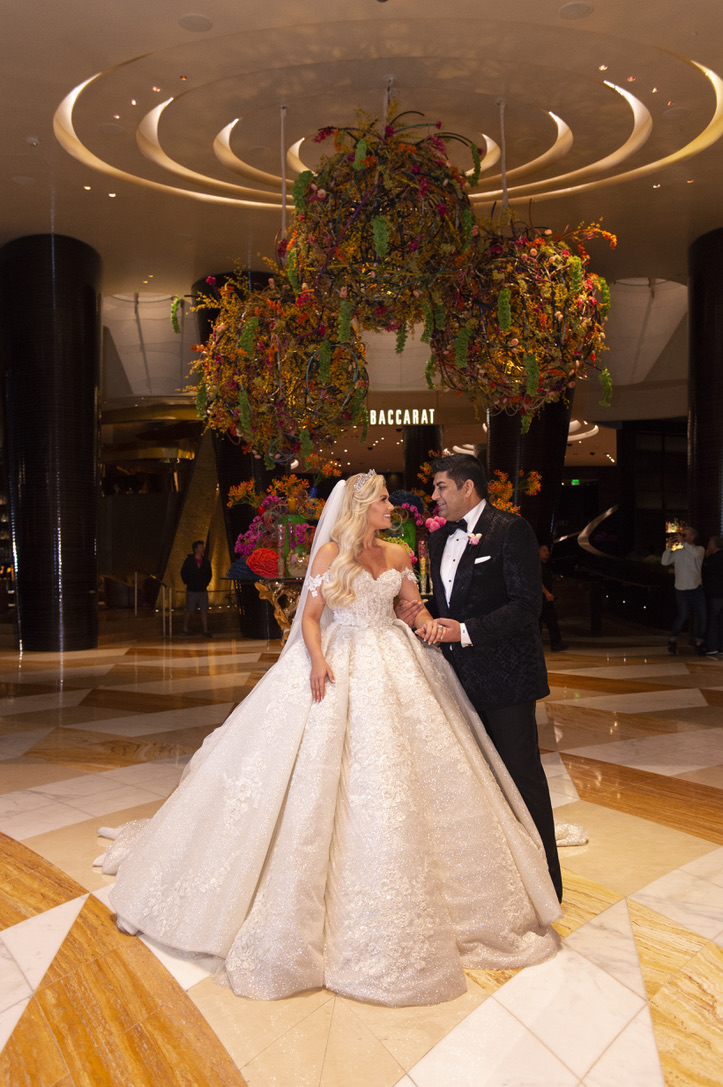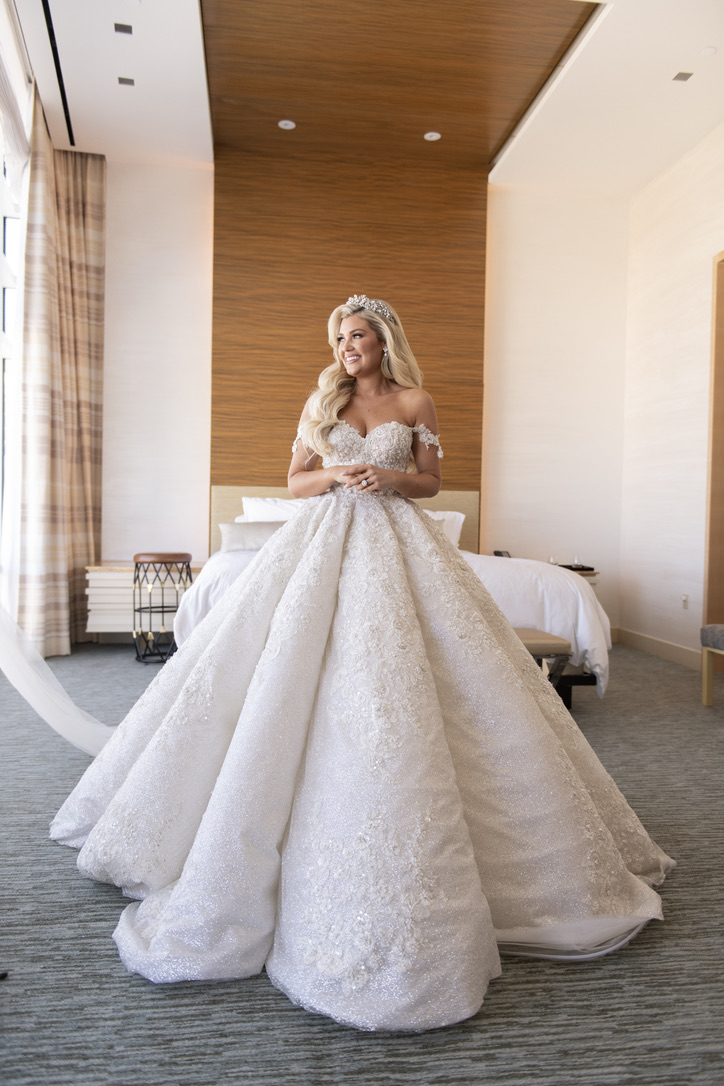 How did you choose your location?

Raj is from Sydney, Australia and I am from Pittsburgh, Pennsylvania with many friends spread throughout the U.S. We wanted a fun location for our diverse family and friends. An easy, fun and memorable time for everyone was key. Las Vegas has always been Raj and I's favorite getaway city. We wanted to wow our guests traveling from all over the Globe and we knew Vegas would help us do just that!
How did you decide on your bridesmaid style?

I really think my group of friends are the most beautiful girls in the world! Out of 14 bridesmaids, 8 of them competed in Miss USA. All 14 girls are stunning and I wanted them in gowns that represented that.
How did you find your perfect dress?

I had heard of Galia Lahav and driven by the LA store many times – I knew the beauty of these gowns.  When I walked into the store and saw the Queen Gia ballgown, I was blown away  – my dreams came true! I knew I wanted a ballgown for the ceremony and a more fitted gown for the reception. Anthony, my stylist, chose New Suzanne  as my second look and I was in love immediately.
How was your experience with the Galia Lahav brand?

Perfection! From start to finish, I was treated so well. My experience working with Galia at my first appointment was one I'll never forget – she is a true genius (plus so beautiful and kind on top of that)! Kaila, the LA Store Manager and Anthony, my Stylist, also made my entire experience magical. They have since become my friends and even came to our wedding as guests.
What was the most important thing for you and your husband when planning your wedding?

We wanted our parents to feel special and loved throughout the wedding weekend. We also wanted our guests to have an incredible, memorable experience.
What was your first wedding song?

"A Whole New World" From Disney's Aladdin.
What did you enjoy the most about planning your wedding?

The time I spent with Raj discussing details and coming up with fun creative ideas together. I also loved working with our planner, Emily Reno!
What advice would you give to all our future brides?

Try to relax and just enjoy the planning process. Cherish the months before the wedding day because the actual day goes by so fast. Hire the best photographer and videographer you can find, these will be your memories forever!
What moment from your wedding will you never forget?

Seeing Raj waiting for me at the alter! We didn't do a first look, so this was our first time seeing each other. I'll never forget seeing him tear up.
Finish your registration for {City} Trunk Show