FREE SHIPPING & RETURNS WORLDWIDE!

DUTIES & TAXES COVERED WORLDWIDE
Find your nearest boutique
Our #GLBride of the week is Derya Yilmaz, who married her love Batu in our GALA 104 gown. Surrounded by fresh flowers and stunning ornate architecture, the couple held their summer garden wedding at the historic Bosphorus Palace Hotel in Istanbul, Turkey. In the following interview, Derya shares with us how she planned her dream summer wedding and found the perfect dress to complement the occasion. As told by Derya: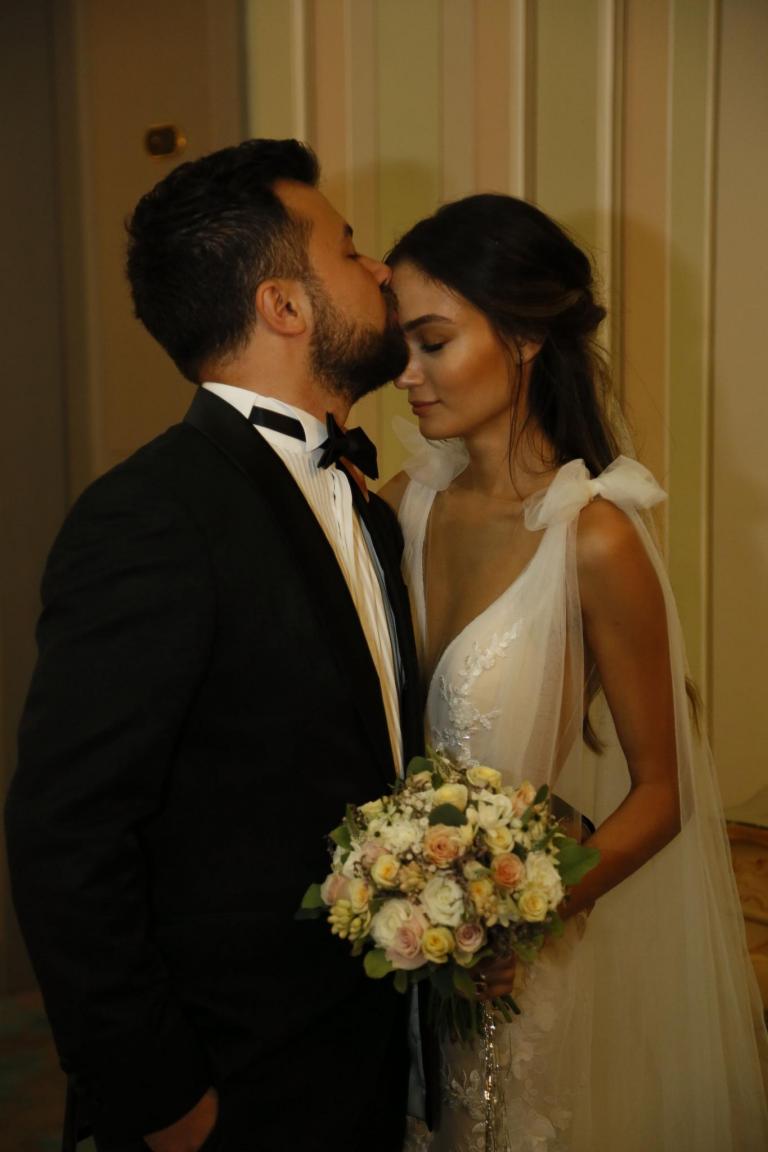 How did you meet your husband? Tell us a little bit about your relationship.

My husband's family was really close friends with my best friend's family. So, I always knew about him, especially since I was single for a while, my friend would always joke and say that she was going to set me up with him. A couple years later, Batu ended up messaging me on Facebook saying he was coming to Philly for school and wanted to know where he should stay. One thing lead to another and we started talking almost every day. That summer I went to Turkey and he was the person to greet me, with a bouquet of daisies in his hand—it's my favorite flower now. We met up and hung out together for most of my stay. A few months later, he came to Philly for school and the rest is history…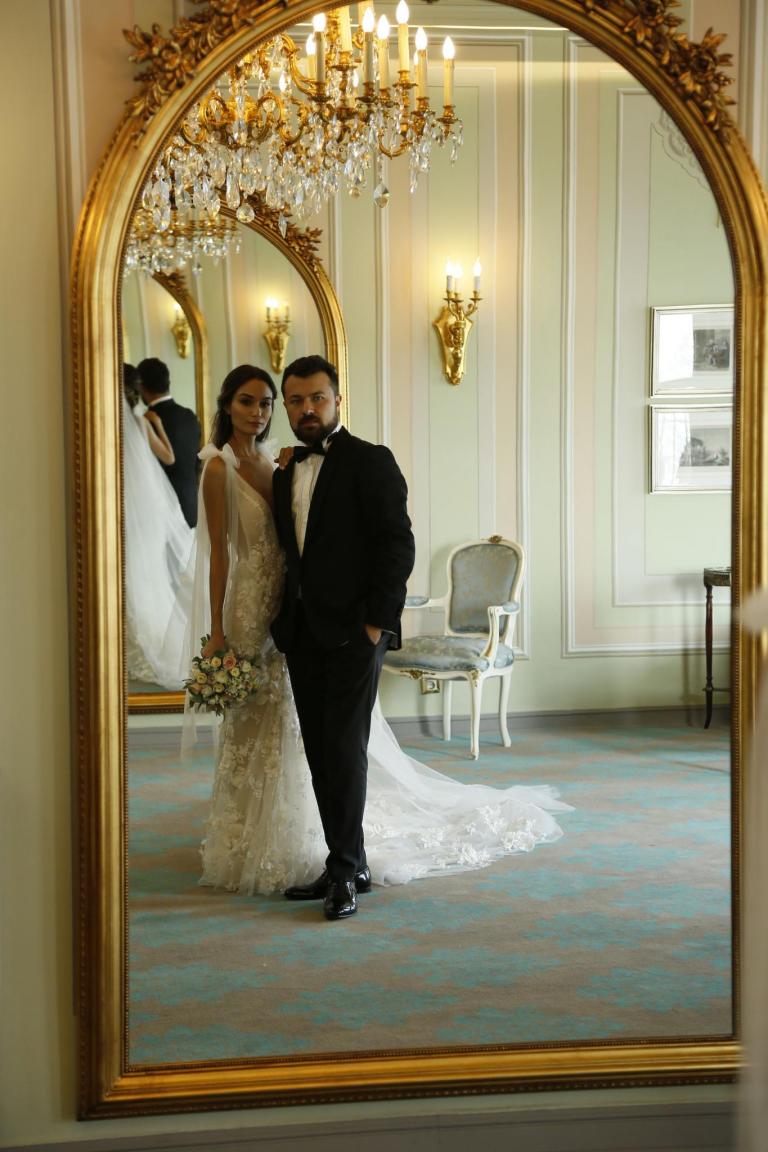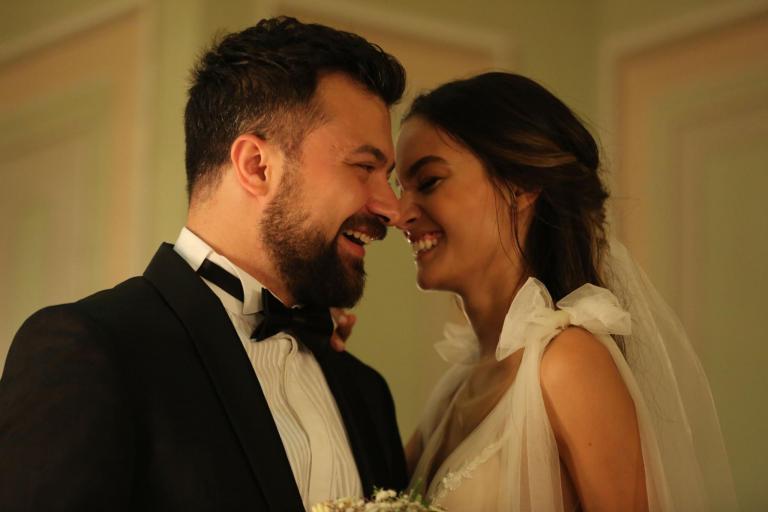 How did he propose?

That day I had dressed up because we were planning on going somewhere. I didn't try too hard though so when I walked downstairs my twin was like "Derya you should put some makeup on and fix your hair," and that was completely normal for us, so I did what she said. When I came back down, she told me that she wanted me to take pictures of her in our backyard and I said okay. I was just about to grab a random pair of shoes and walk out, but Zehra said "no don't wear those, wear these. They match, and I'll take pictures of you too." So, again, I did what she said, completely oblivious to what she was trying to do. She brought me next to the cluster of evergreens in our backyard where I took pictures of her. A couple minutes later, Batu walked outside, all dressed up, except for his shoes. He was wearing my dad's old gardening shoes. Imagine, jeans, a nice button down, and blazer, and an old pair of gardening shoes. Next thing I know, he's down on one knee and he asked me to marry him. I think, even before I said yes, I asked him "in those shoes?" I still laugh when I remember it.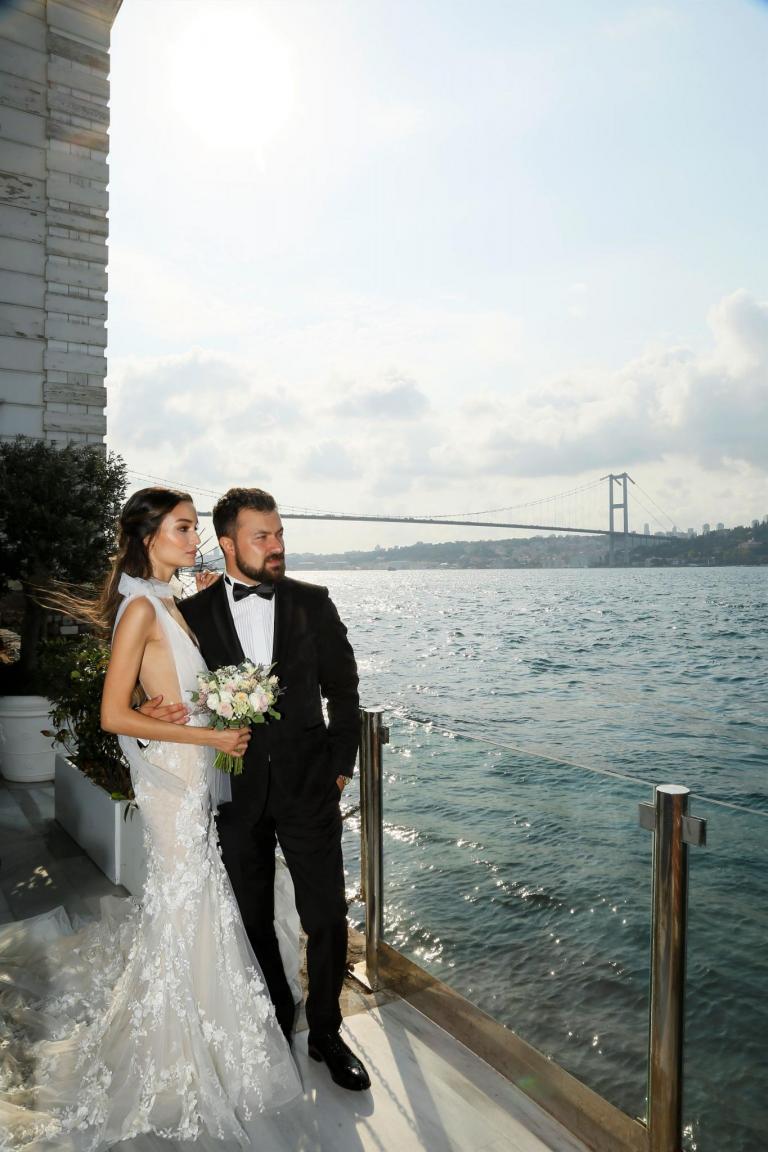 How did you start planning your wedding? What were the first steps?

Batu and I always had planned that our wedding would be in Turkey, because his family lived there and my family could use it as an excuse to have a nice vacation afterwards. Because I was going to have a wedding halfway across the world, I started off doing what made the most sense…Google'ing. After going over everything we wanted, with my fiance, I Googled "the best wedding venues on the Bosphorus," and started my search. I made a list of all of the places that appealed to me and then did a detailed search with my fiance. We started narrowing down venues, doing more searches, calling Batu's parents (who live in Istanbul) to see if they had anything in mind and even having them go take a look and meet with the coordinators. His parents were super helpful from day one and we couldn't have done it without them!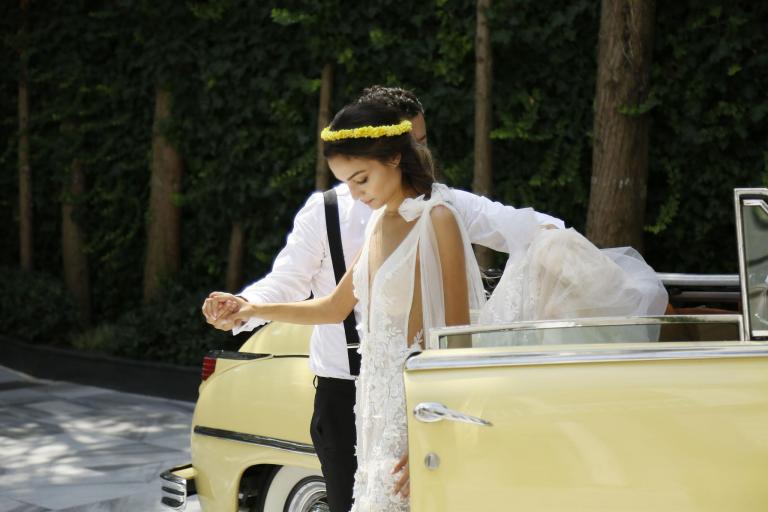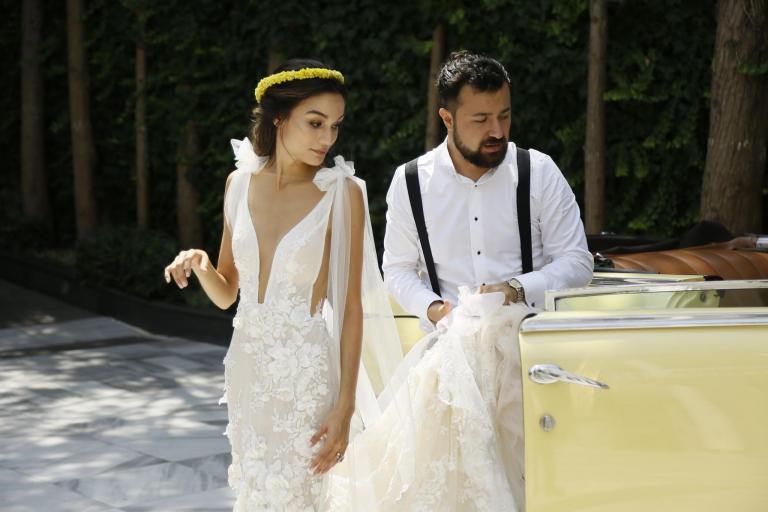 Did you do any beauty or fitness prep for your big day?

I had stopped working out because I didn't have time so a few months before my wedding I started again. I joined Solidcore, which was amazing. On top of that, I started working out with my brother-in-law, who's a professional soccer player. His workouts were high-intensity high impact and they were crazy. We would workout anywhere between 30 to 45 minutes and it was always a challenge, but it was so rewarding. I worked out 3 times a week.

I also started insanely breaking out. I always had issues with acne, but I go to my dermatologist regularly and have been using creams since I was 18, so it was super frustrating when I started breaking out again. But all of the pre-wedding stress ended up showing up on my face, which made me even more stressed. I started using my face creams twice a day and changed my face wash. I also started hydrating more and stayed away from unhealthy food. Working out also helped with the stress—definitely one of the best ways to de-stress.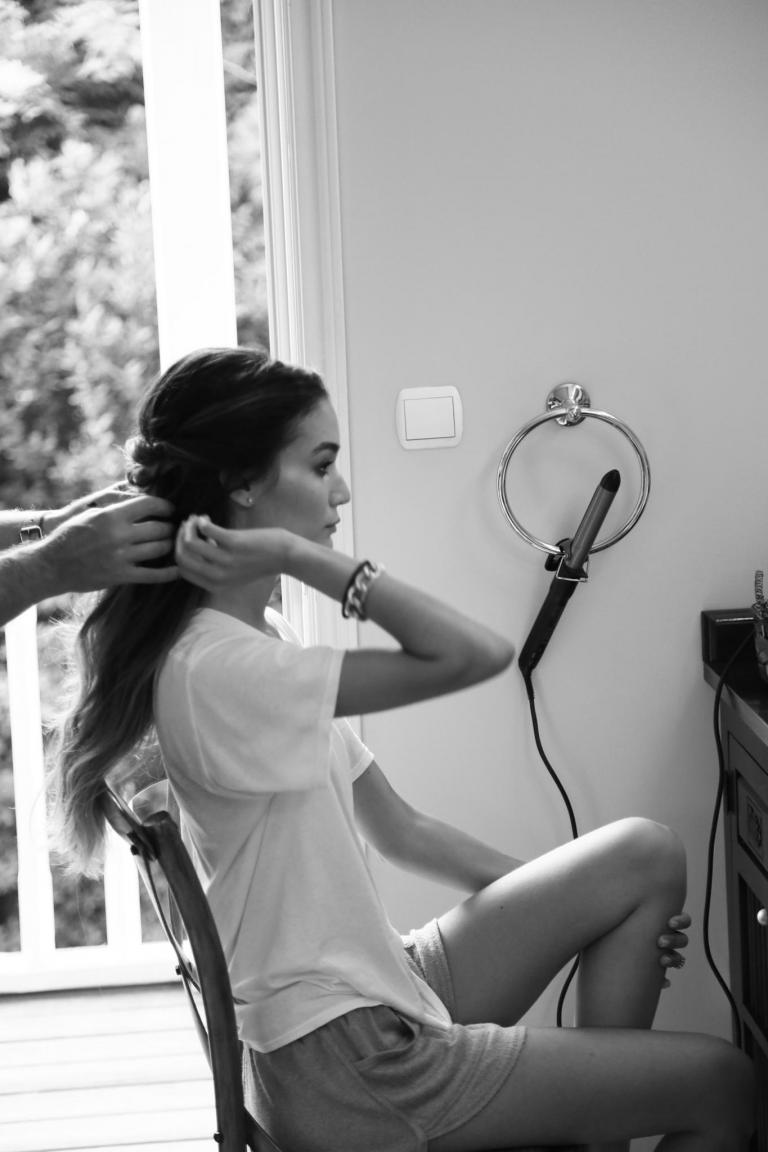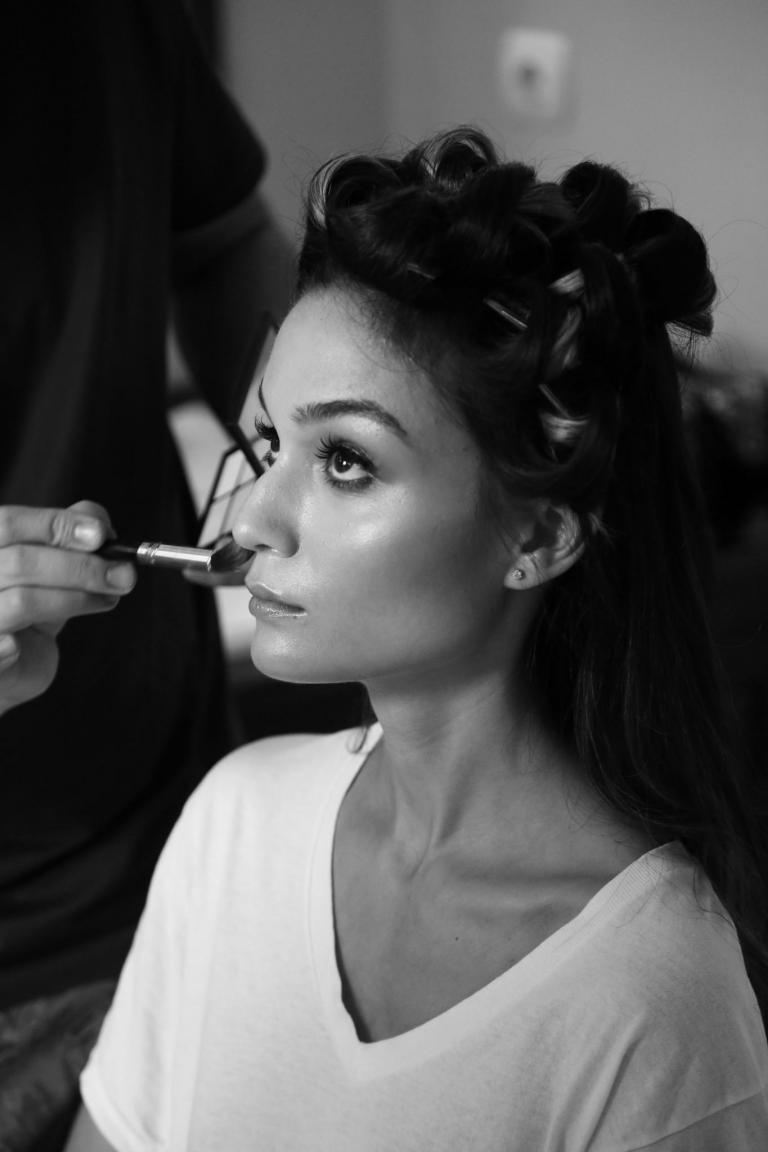 What was your wedding theme?

I didn't really have a specific theme in mind. I just knew I wanted bright flowers with gold accents. I was having a summer wedding so I just wanted everything to feel alive and make you smile when you walked into the garden. I also wanted colors that were going to stand out against the white marble of the floor and fountain. It was really hard to find the type of flowers I wanted in Istanbul, in the specific shades I wanted them. So, I had to change my plans a little bit and compromise on some of the flowers, but it all worked out in the end!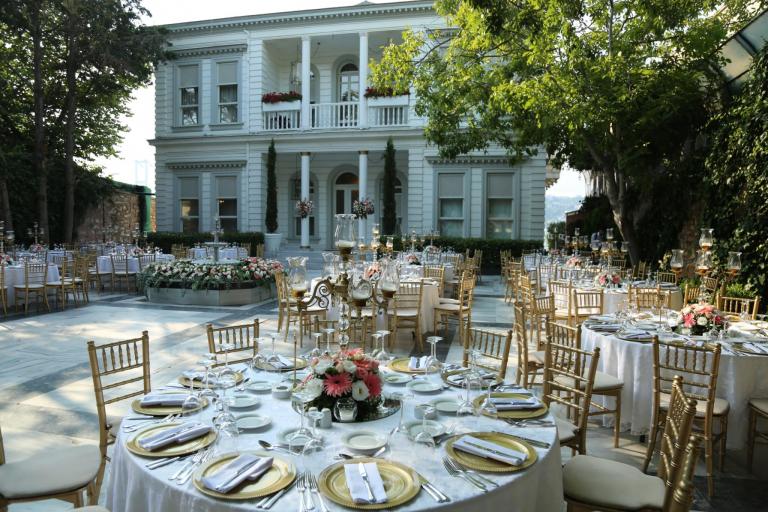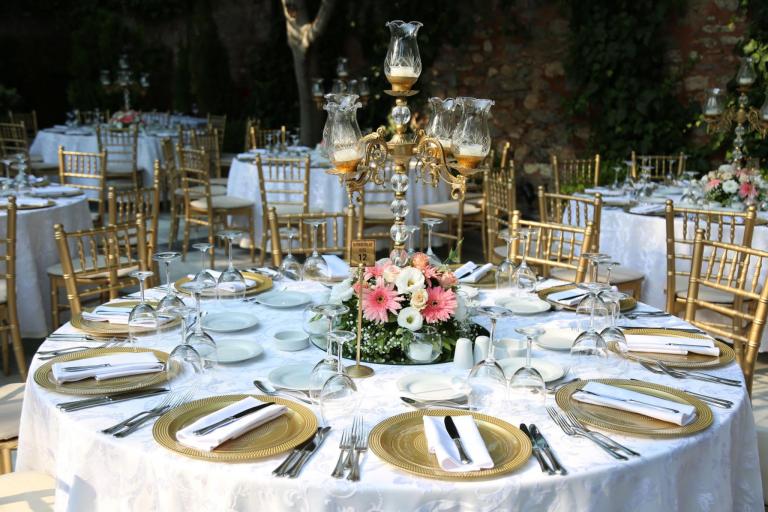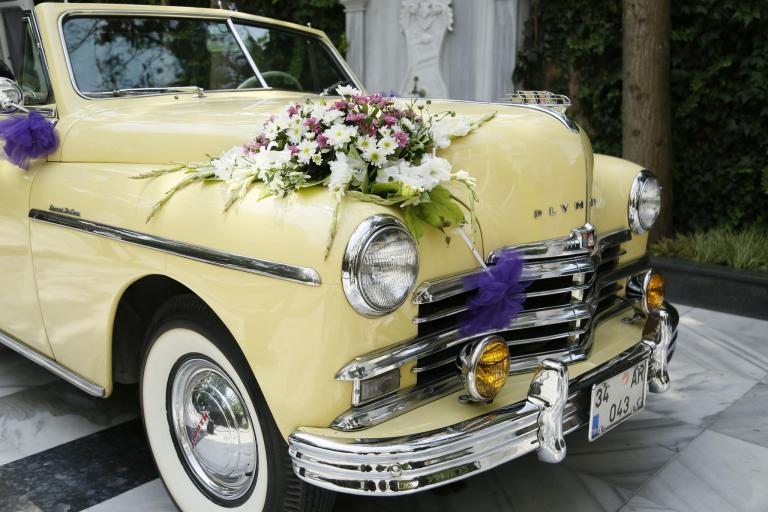 How did you choose your location?

Bosphorus Palace Hotel was actually one of the last places I happened upon on my Google search. The search lasted for a couple of weeks, and I found myself looking at the same places over and over again. And then, after one more search, I came across the hotel, and I loved the garden and the fountain, and all of the marble work. The fact that it was right on the water meant that it automatically met one of our top requirements. After telling Batu's parents about the location, they went to check it out. We did Facetime, saw some pictures, and decided that it was a perfect fit. It would fit our guest count, had a nice dancefloor, it had views and was an outdoor venue. Not to mention, it was a historical place, left over from the Ottoman Period, and had tons of details that added to its character. The fact that it was a boutique hotel that we could close for all of our out-of-the-country guests made it that much better.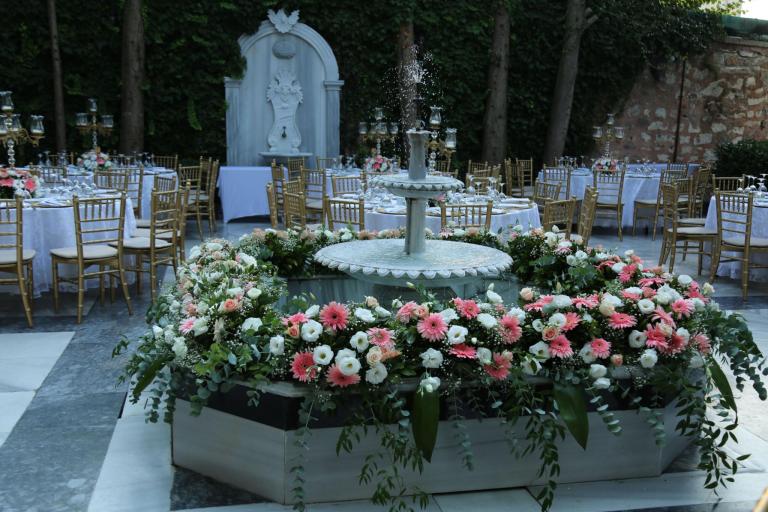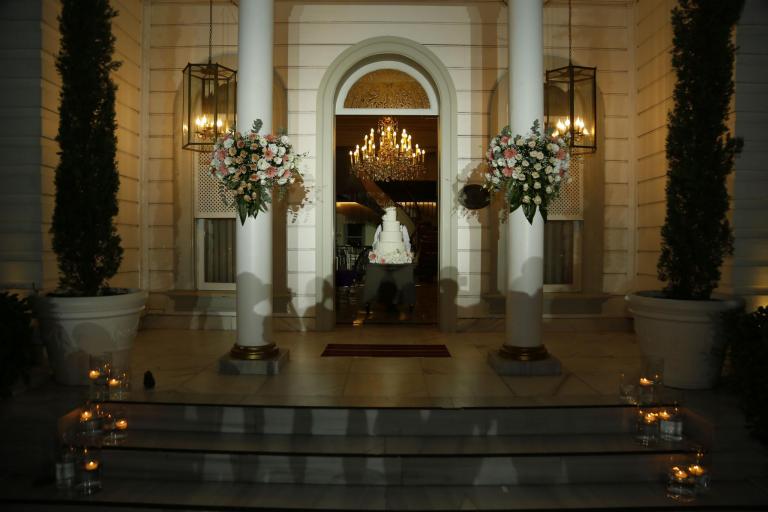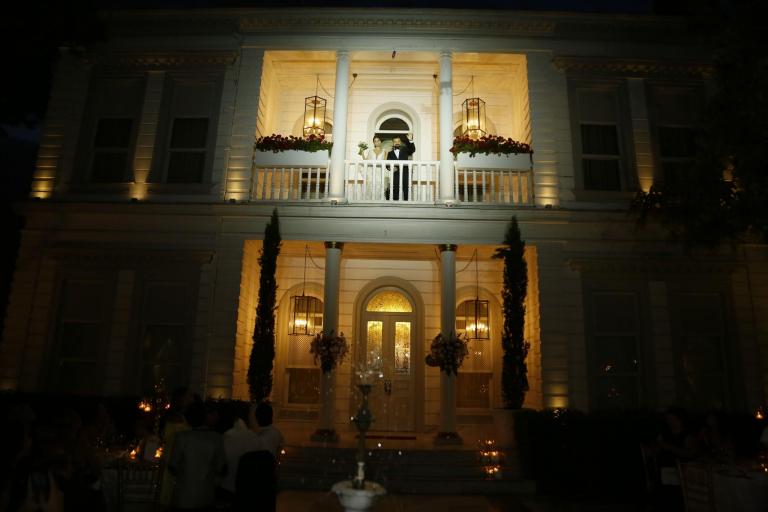 How did you decide on your bridesmaid style?

The first thing I knew I needed was light, flowy dresses. I didn't want my bridesmaids sweating in the heat and feeling uncomfortable. I also wanted long dresses just because I never really cared for short ones. The color was based on the tones of my flowers. My bridesmaids definitely have different body shapes so I needed something that would look gorgeous on everybody. I brought 4 of my bridesmaids to try on dresses. They all tried on different ones and we narrowed down our favorites and after wearing them again, we chose the one. It was a group effort. I've never been one to believe that you should force a dress on someone, especially since they're going to be wearing it the entire night and you want them to feel comfortable and pretty.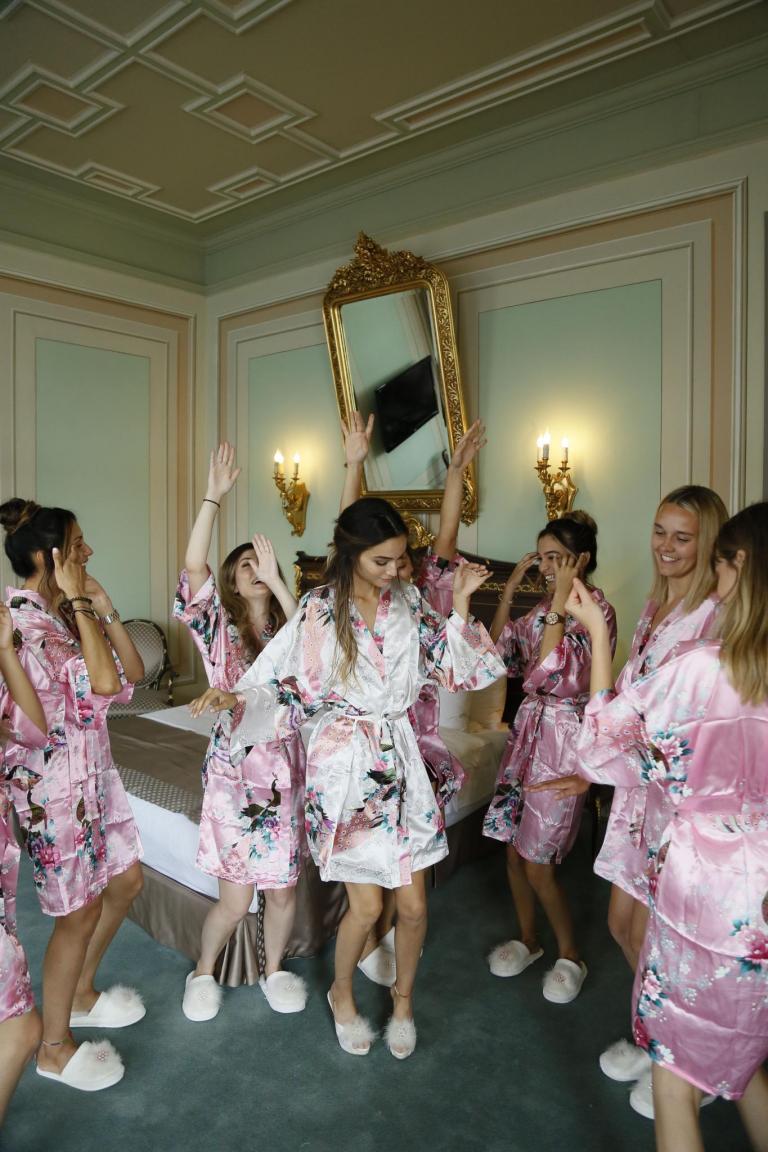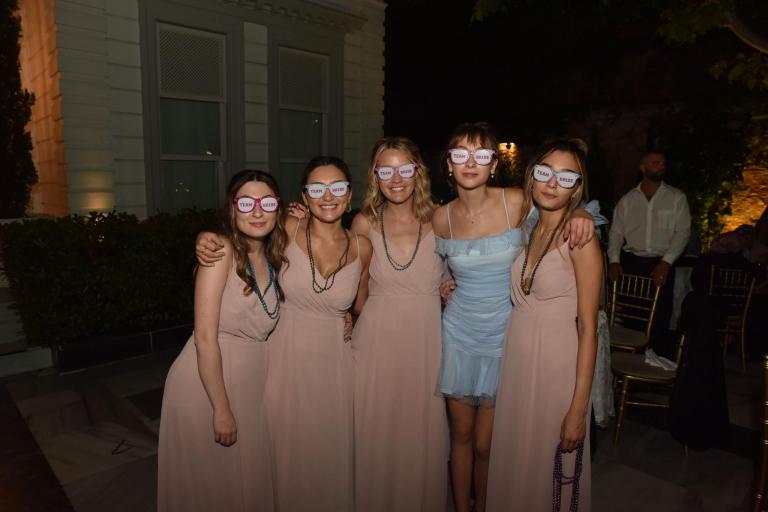 How did you find your perfect dress?

I went to a specific boutique that sold Galia Lahav because I had two dresses in mind that I had to try. My dress wasn't either. But, after trying on, and loving the dresses that were on my list, the bridal attendant told me she had one more dress that she had pulled and that she thought that was going to be the one. "It just came in," she said. So, I tried it on. The last dress. And it was the one. My mom cried, so I cried, and that was it. That was my dress.
How was your experience with the Galia Lahav brand?

Every dress was special in its own way. Every dress was beautifully done. Even after I got my dress, I was like "maybe I should have gotten that other dress," because they were all so gorgeous and looked so good! In the end, I made the right choice and ended up getting a dress made by the brand I always dreamt of my husband seeing me in.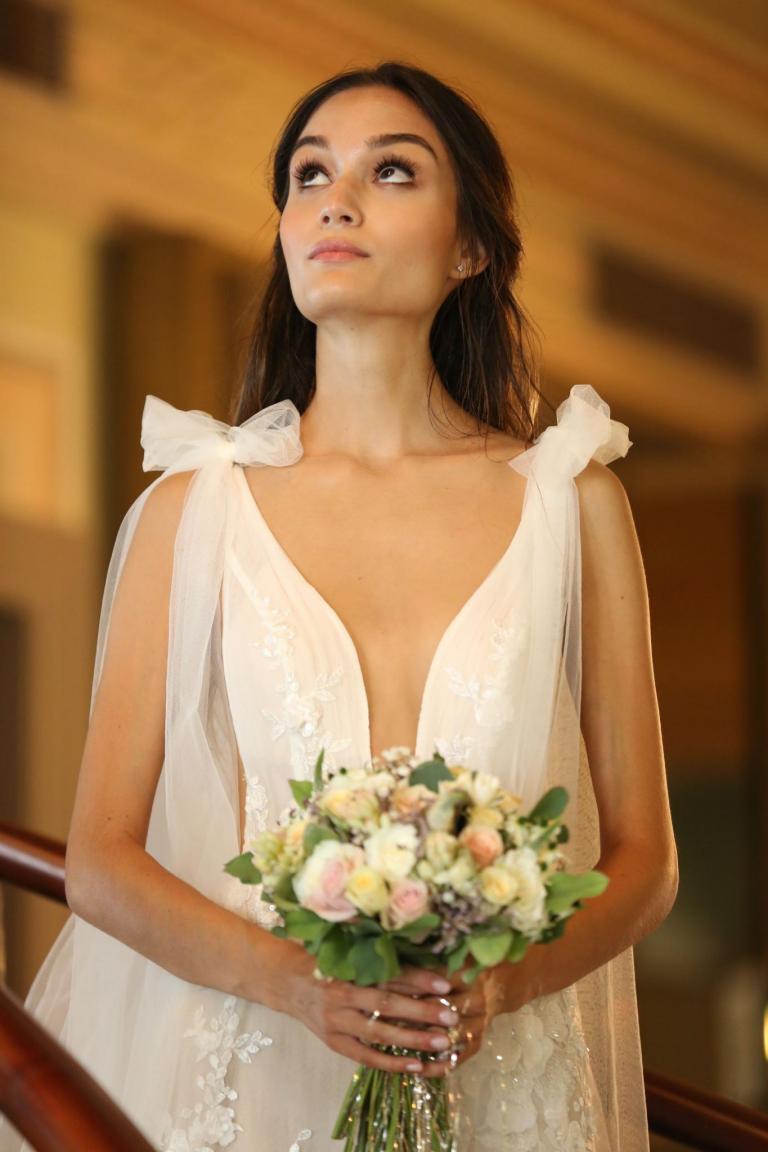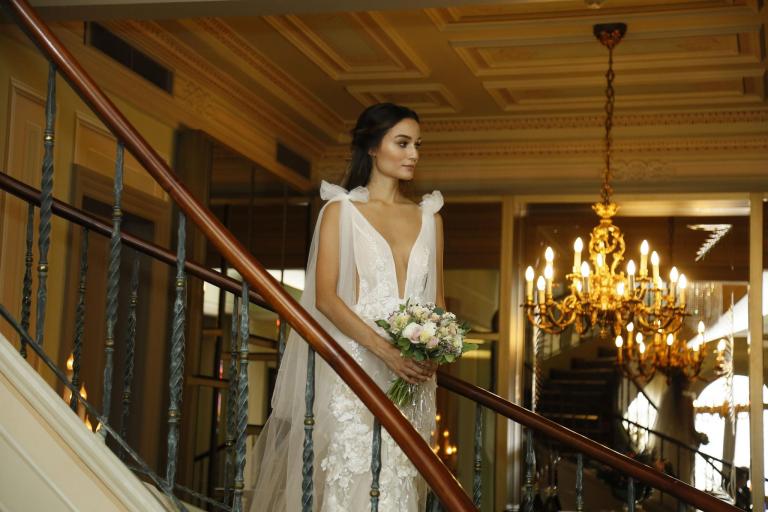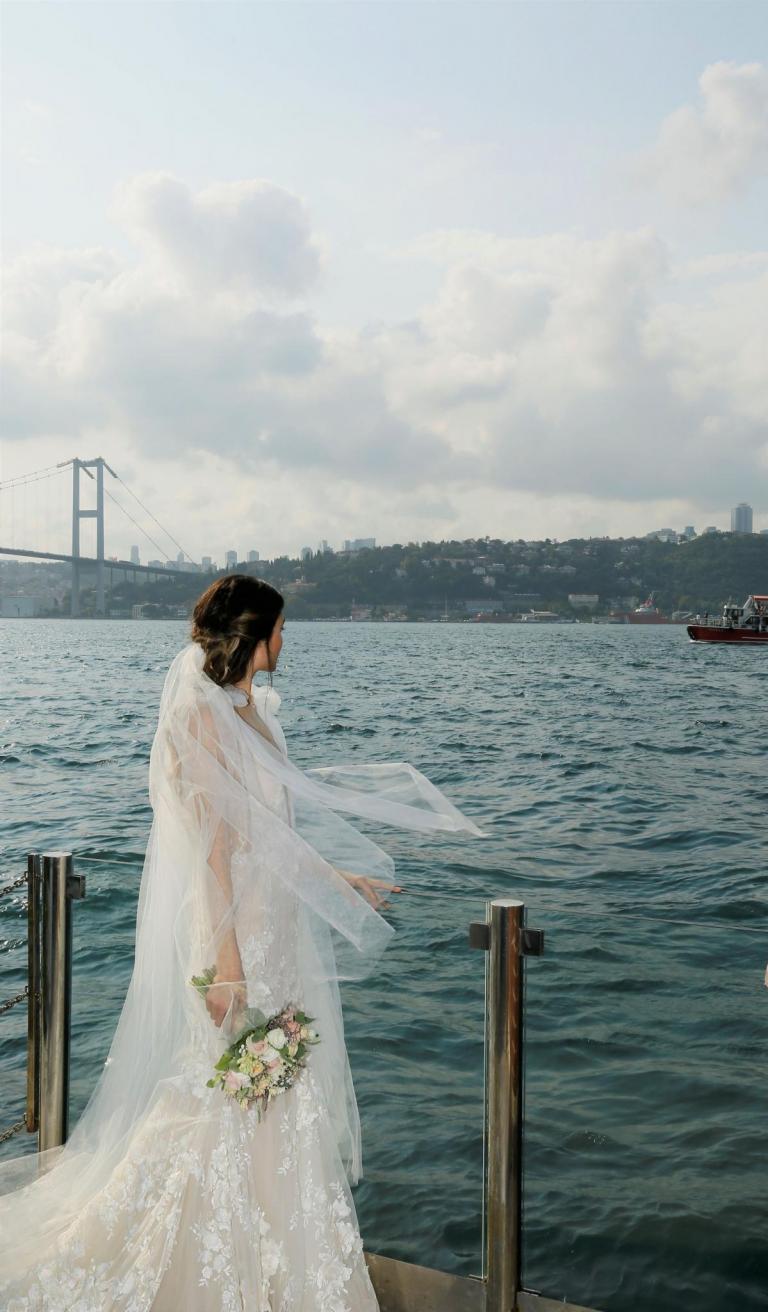 What was the most important thing for you and your husband when planning your wedding?

There were two things that we definitely wanted from the get-go. The first was that we wanted to be as close to the Bosphorus as possible. Since we were going to have a destination wedding in Istanbul, we wanted to take advantage of the views that we don't have in America, so being close to the water and having views of the bridges was a must for us. Second, we had to have a big dancefloor. Both of us and our families LOVE to dance; rarely anybody sits and watches, so the size of the dancefloor was also another major check off the list.
What was your first wedding song?

Our first dance song was Tencere Kapak by Kenan Dogulu.
What did you enjoy the most about planning your wedding?

Honestly, mostly everything other than the menu tasting was stressful, especially since my wedding was in another country. I was really lucky to have Batu's mom though, because she took a lot of the stress upon herself. The menu tasting was easy, not stressful, and delicious. We decided to keep with the Ottoman history of the venue and go with an Ottoman inspired menu. It was also the first time we saw the venue in person, so it was just a really nice experience.
What advice would you give to all our future brides?

Don't stress about the little details! Nobody—including yourself—is going to notice that the color of your flowers isn't the exact tone you wanted, or your linens aren't the exact material you would have preferred etc.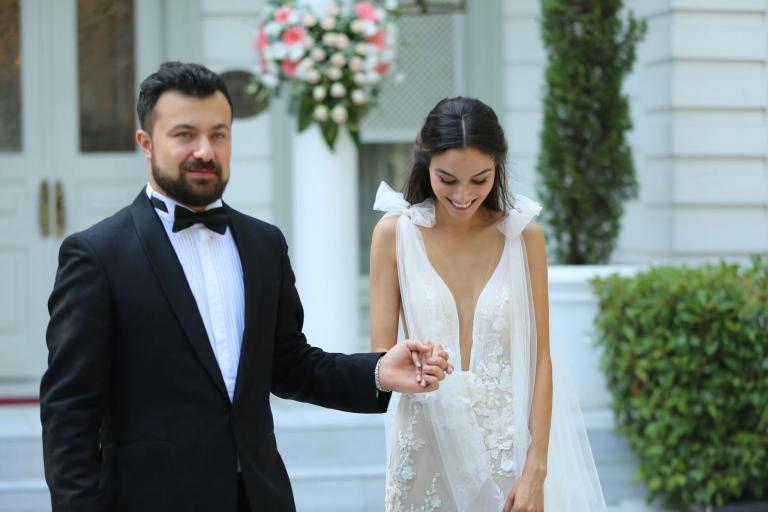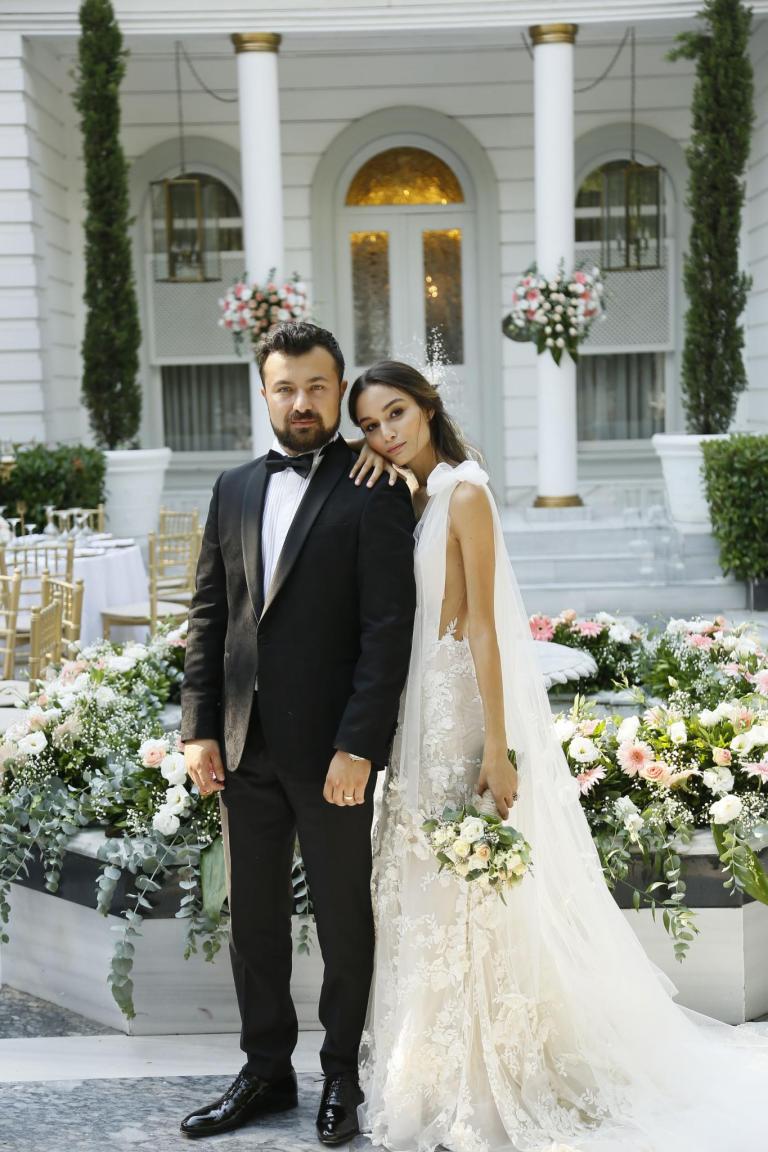 What moment from your wedding will you never forget?

There are a bunch of things that I'm never going to forget, but one thing that was especially different than weddings we have in America was our pre-wedding celebration, the day of. Traditionally, in the Turkish culture, the groom and his family and friends come and get the bride from her house. There's a huge procession with horns blazing, drums and clarinet players, flares, dancing…All I remember hearing, when I was almost finished getting my hair done, was the horns of the cars approaching the house. It was endless, loud, and exciting. Then the drums started, the dancing…they lit flares in the backyard as I walked down the stairs and waited in the room for Batu to come. It was just something else.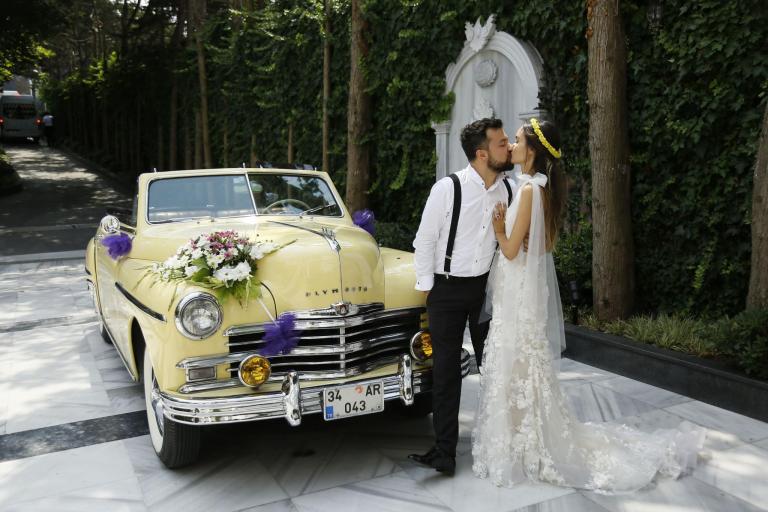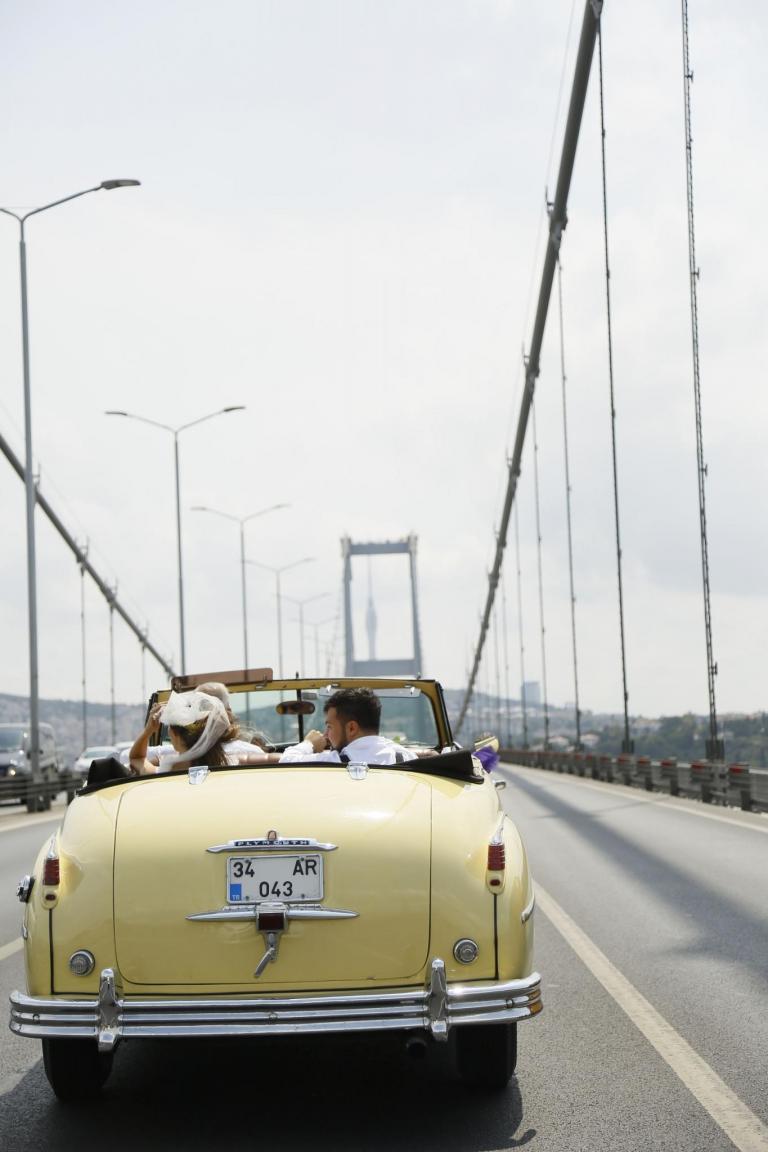 Venue: Bosphorus Palace Hotel
Photography and Videography: Oz Produksiyon
Florist: Ege Lale Cicek
Bridal and Bridesmaid bouquets: Istanbul Cicek Sariyer
Makeup and Hair: Cagdas Ulucay 
Bridal boutique: Bridal Reflections 
Bridesmaid dresses: Bridal Garden
Groom's Tuxedo: Damat
Finish your registration for {City} Trunk Show