FREE SHIPPING & RETURNS WORLDWIDE!

DUTIES & TAXES COVERED WORLDWIDE
Find your nearest boutique
Our #GLBride of the week is Derin Sule, who made it official with her fiancé in our Delphine gown. Surrounded by family and friends, the couple held their topical beach themed wedding along the memorizing Aegean coast of Turkey. In the following interview, Derin shares how she brought California vibes to the Aegean coast and the miracle of finding her dream dress. As told by Derin: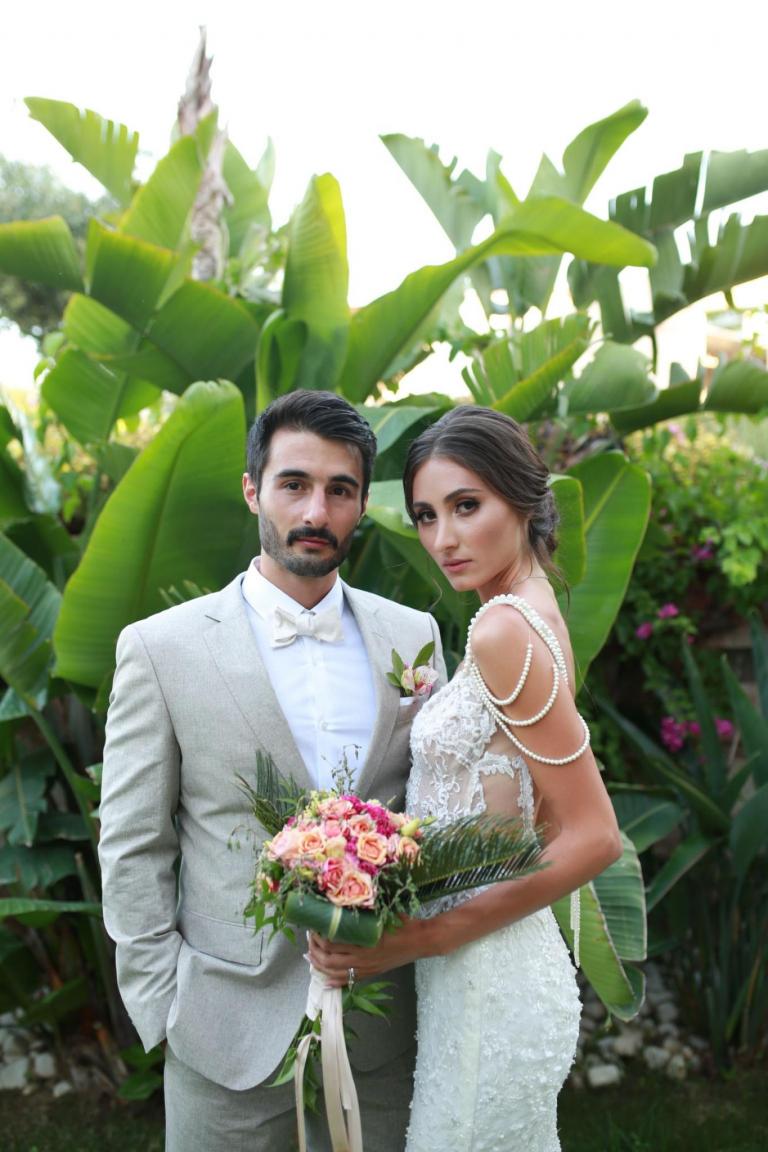 How did you meet your husband? Tell us a little bit about your relationship.

It was exactly five years ago when we first met at the gym. From my husband's side of the story, it was love at first sight! The moment he saw me, he knew that I was the 'one'. It took him months before he can finally find the courage to meet me! I would never have imagined that a muscular, tough-looking guy as he was could turn out to be such a loving and warmhearted person! He truly is my best friend, my one and only companion in life. Despite our differences (I mean, opposites really do attract!), it is our love, passion and common interests that sticks us like glue. In other words, we complete each other! In the second year of our relationship, we have decided to move to LA to pursue our dream. Along the way, our little puppy, Matcha, has joined our family. Today, we live in San Francisco and we are looking forward to starting a whole new chapter in our story as Mr. & Mrs. Orhon!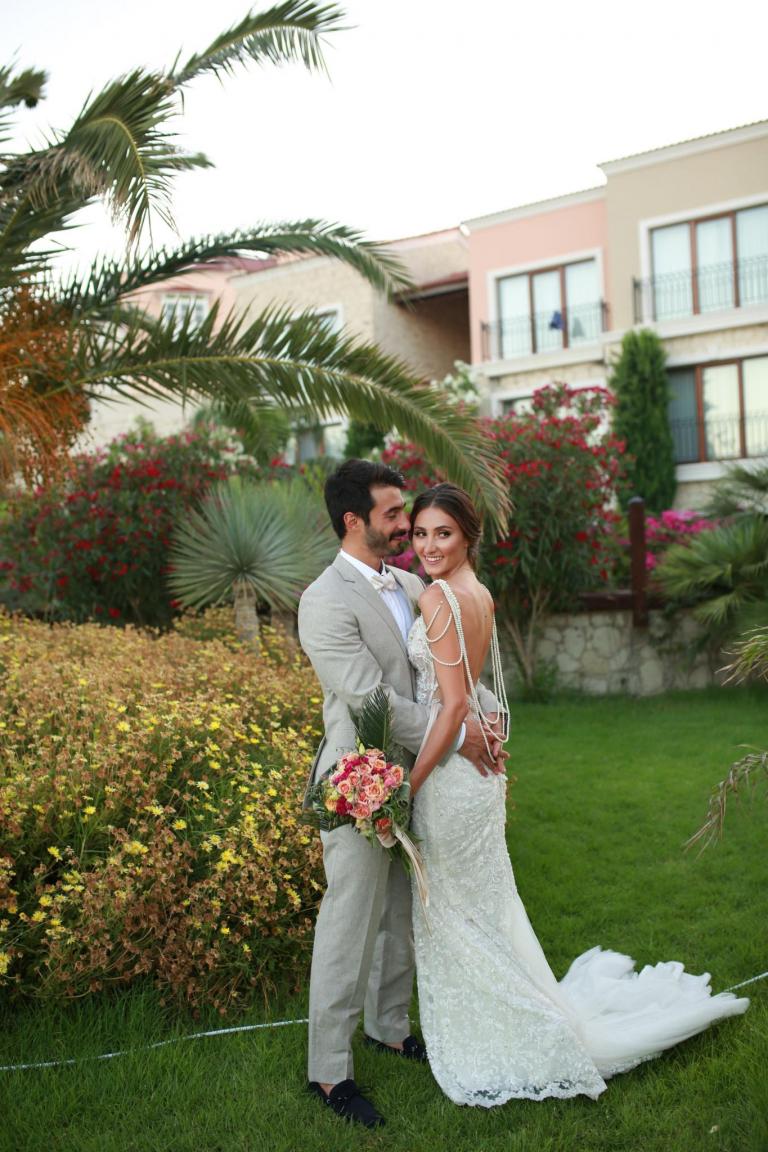 How did he propose?

Before moving to our new home, we wanted our last day in LA to be worth remembering. We planned the entire day to spend in our favorite places. Right before sunset, we were walking down at Venice Beach. For a second, my husband stayed behind to set the drone to capture our final hours. When I turned my back, he was down on his knees, holding a box with my ring in it. There has never been a single day that I didn't know what he was planning but that day was surprisingly an exception! I was in tears of joy when he asked, "Will you spend the rest of your life with me?". Of course, it was a big YES! We were applauded and congratulated by a large audience at the beach which made it even more special. We are still so glad to have the drone footage of that unforgettable moment!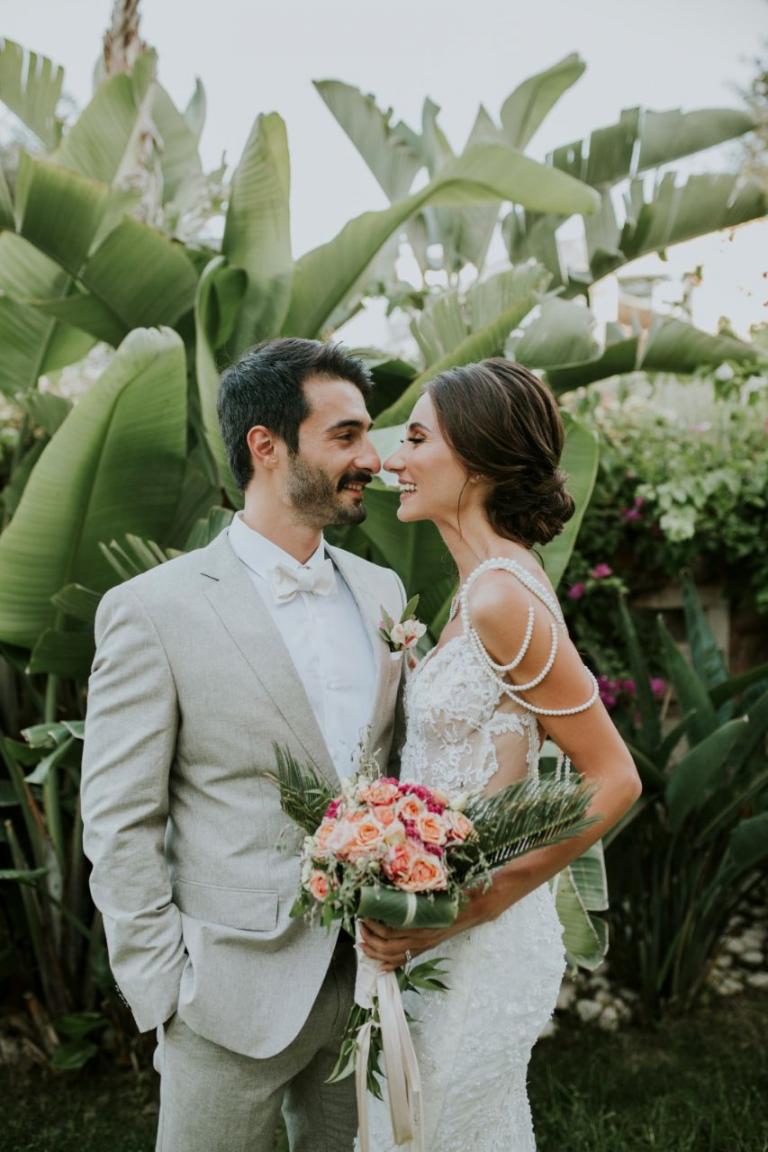 How did you start planning your wedding? What were the first steps?

Right after announcing our engagement to family and friends, we started planning our wedding by setting the date for the big day! Next, we compiled a list of destinations where we would like to get married, such as Tulum, Santorini, Portofino, etc. Of course, we also had to make an approximate budget and think about the logical sense of each option before finalizing our decision. Meanwhile, I also started my research on wedding decorations, themes and color schemes to gather inspiration. I spent countless hours on Pinterest, Instagram and wedding pages! After agreeing with the venue and the wedding planner, it was time to create our wedding website and start inviting our guests.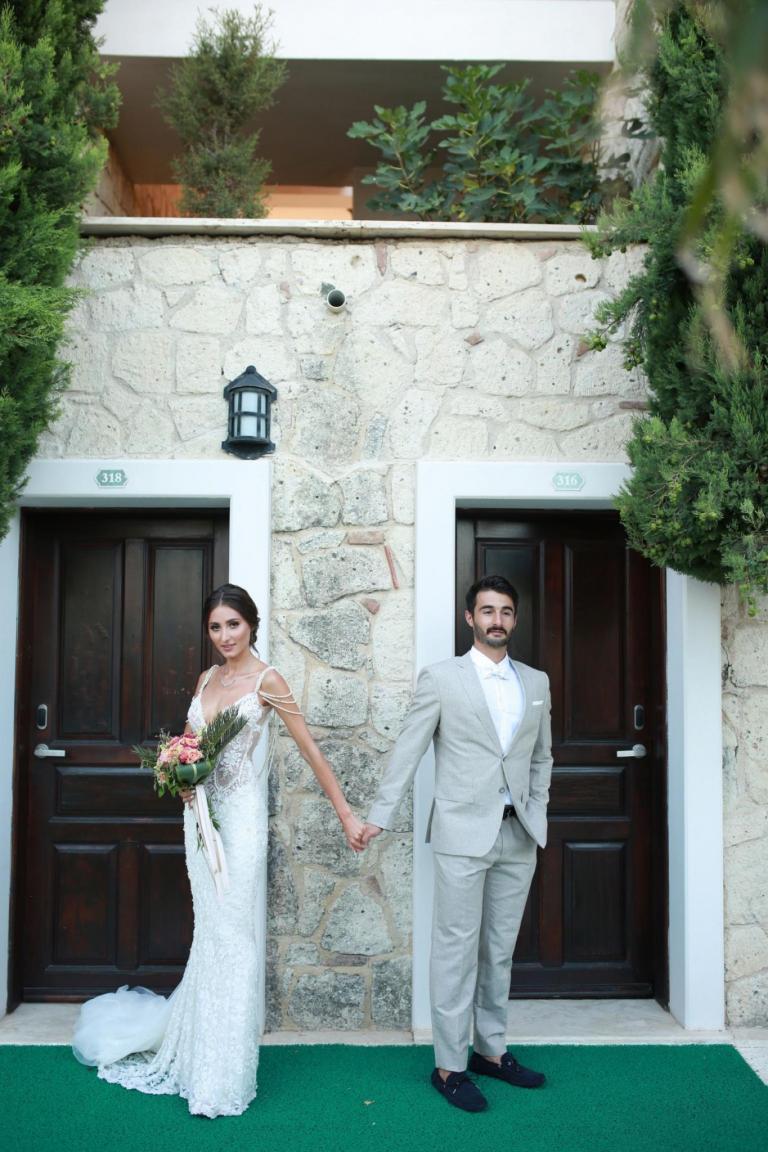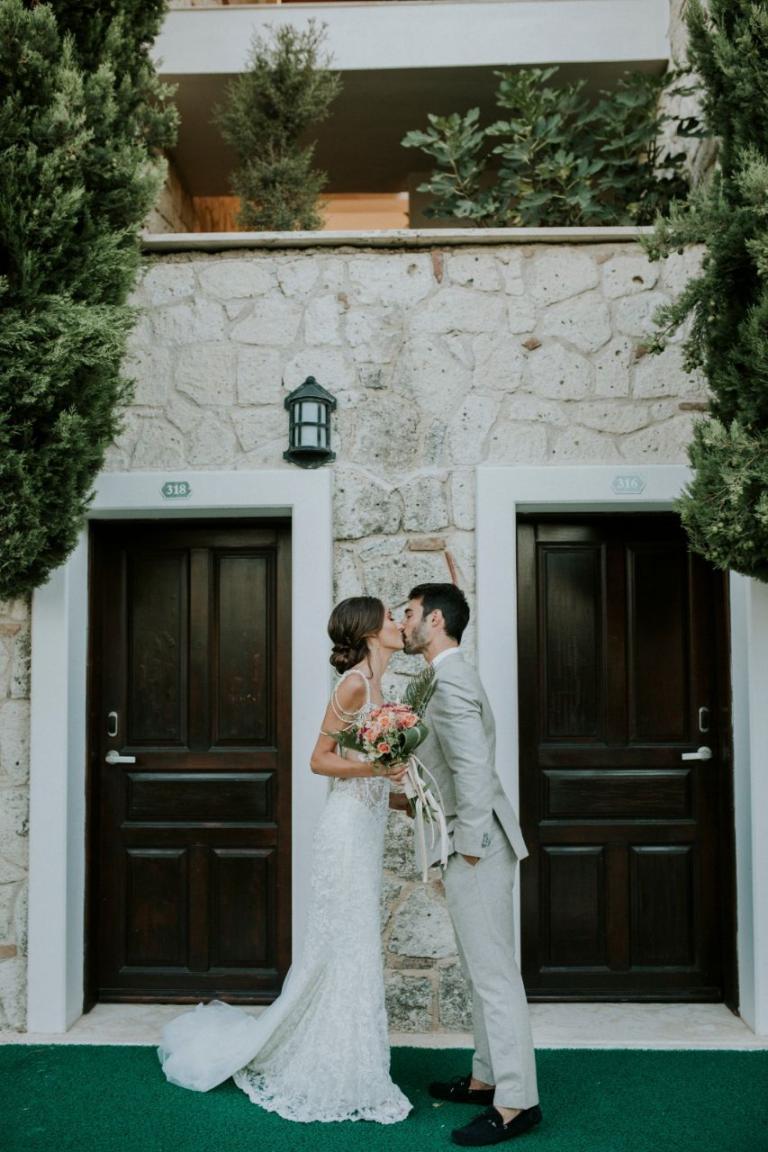 Did you do any beauty or fitness prep for your big day?

Not at all! Eating healthy and fitness has always been an essential part of my lifestyle. First of all, I absolutely love cooking! I think it is very important to be informed about what you put in your body. I always make sure to shop for the finest and freshest ingredients. As a pescatarian, I eat huge portions of fresh fruit and veggies every single day, but I also try to add fish to my meals every once in a while. I work out 4-5 times a week, mainly doing HIIT, cardio, and yoga.

To be honest, before the big day, I didn't feel the need to change my daily routine as I was already happy with my shape. However, I tried to keep my portions and occasional cravings under control. For beauty, I looked into eyelash extensions and some facial treatments but since I have never had any skin problems, I didn't really want to risk trying anything new before the wedding.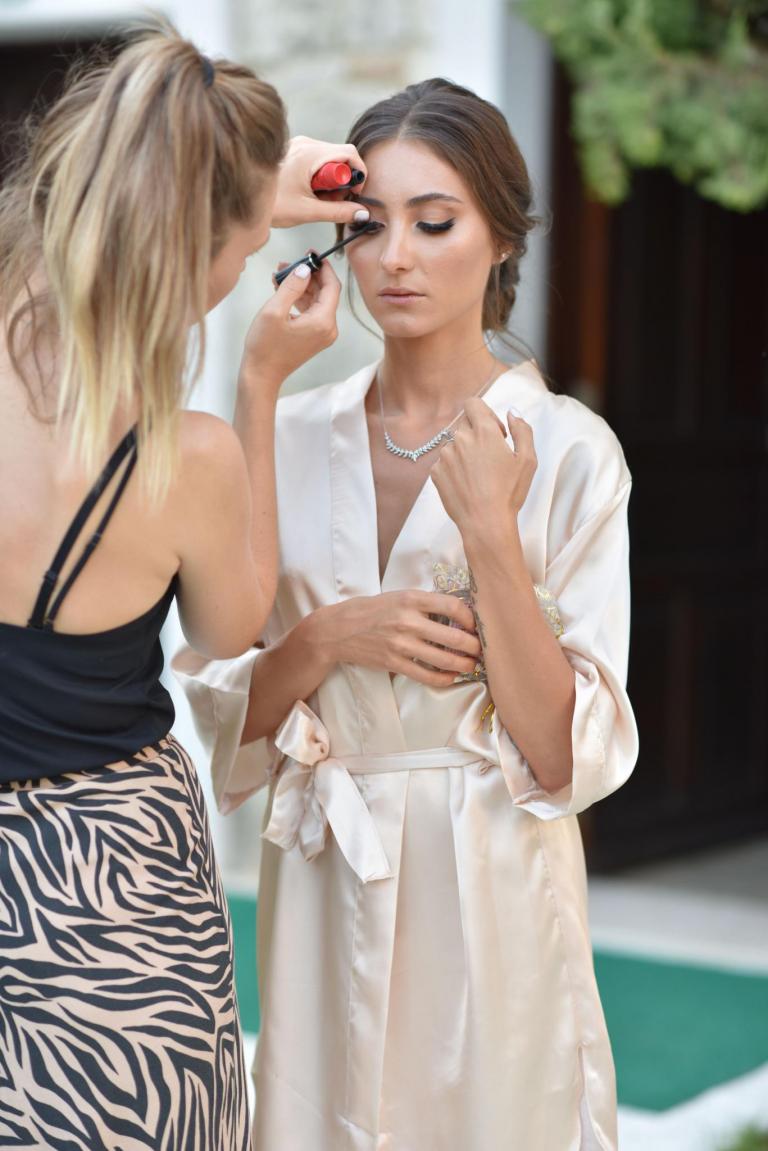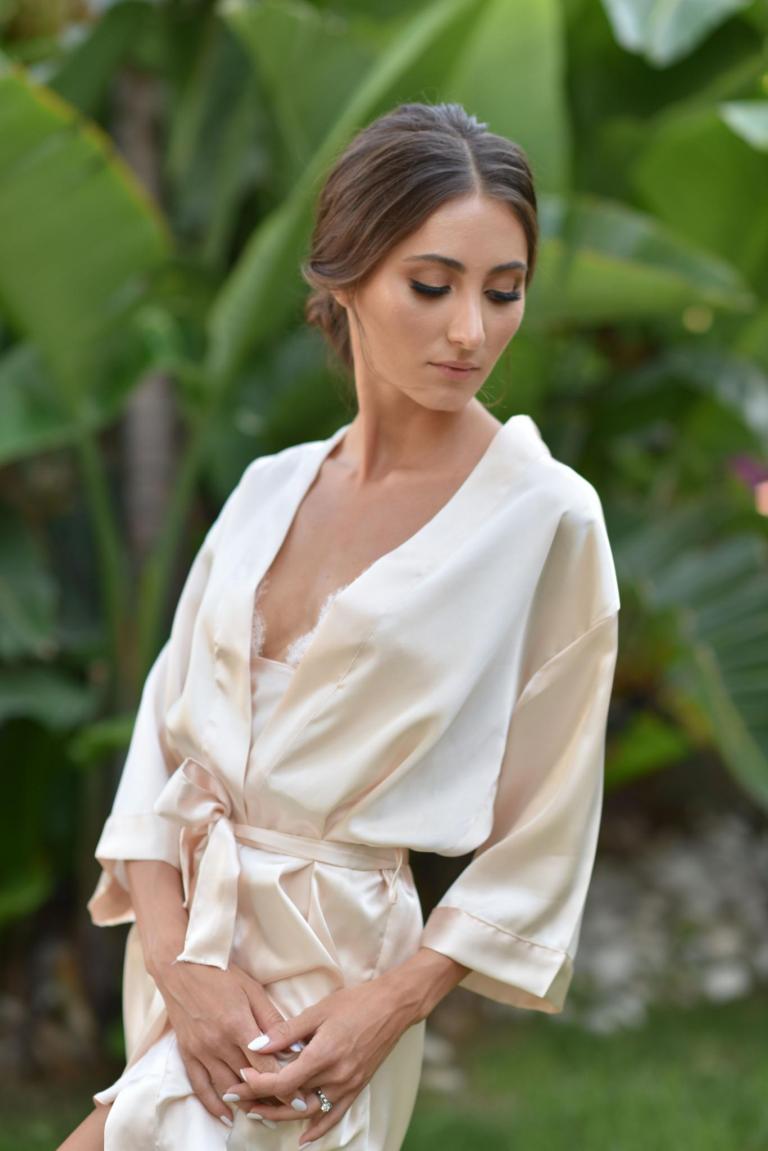 What was your wedding theme? How did you choose your location?

Ever since I was a little girl, I dreamed about my own fairytale where my prince charming and I would say yes to our happily ever after on a dreamy, white sand beach! After thorough research, we ended up planning our wedding in Alacati, Turkey. Our decision was mainly based on the fact that it was our favorite place in our home country, but also it was a lot closer to where most of our friends and family reside. We knew that it would be unfair to ask our guests to fly a long distance just for our wedding. So, we thought, 'Why not plan our wedding right on the beautiful Aegean coast and bring all the tropical, Californian vibes with us instead?' and that is exactly what we did!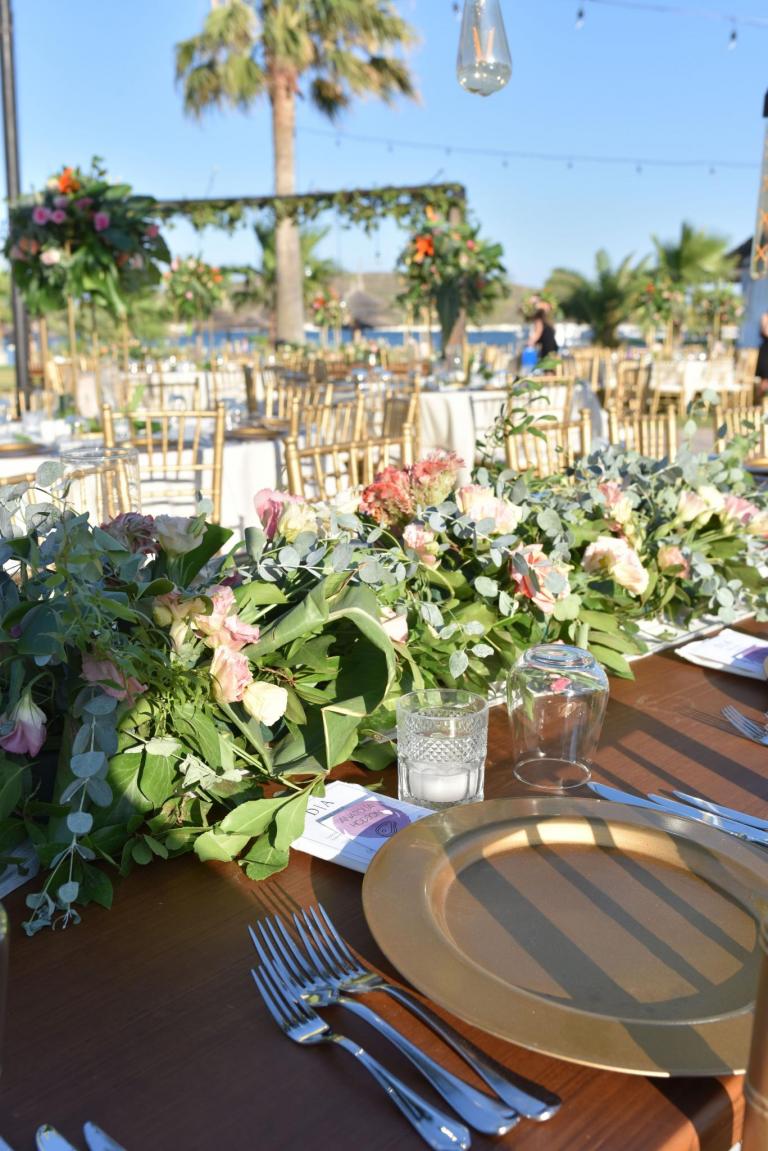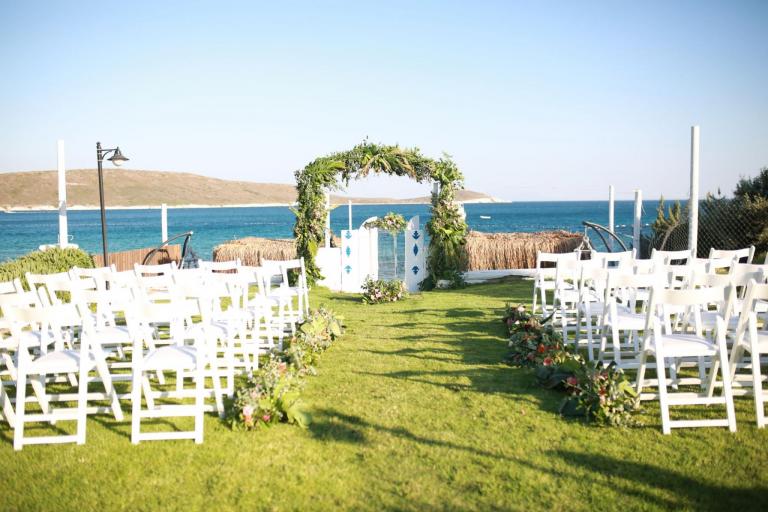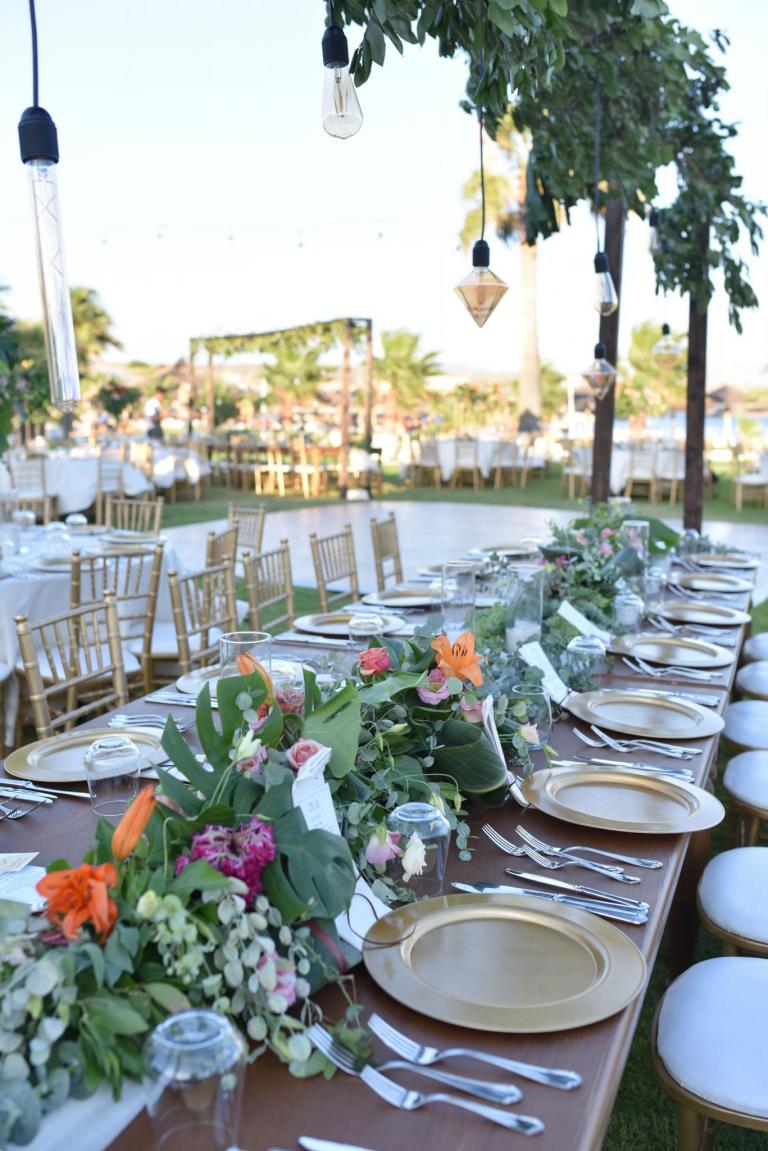 How did you decide on your bridesmaid style?

Our wedding was anything but traditional. I didn't want any bridesmaids or to restrict anyone by setting a style based on my taste. I already had my oldest and best friend by my side all day! Also, I had the support of my cousins, who are, as an only child, like a sister to me, and my little sister-in-law.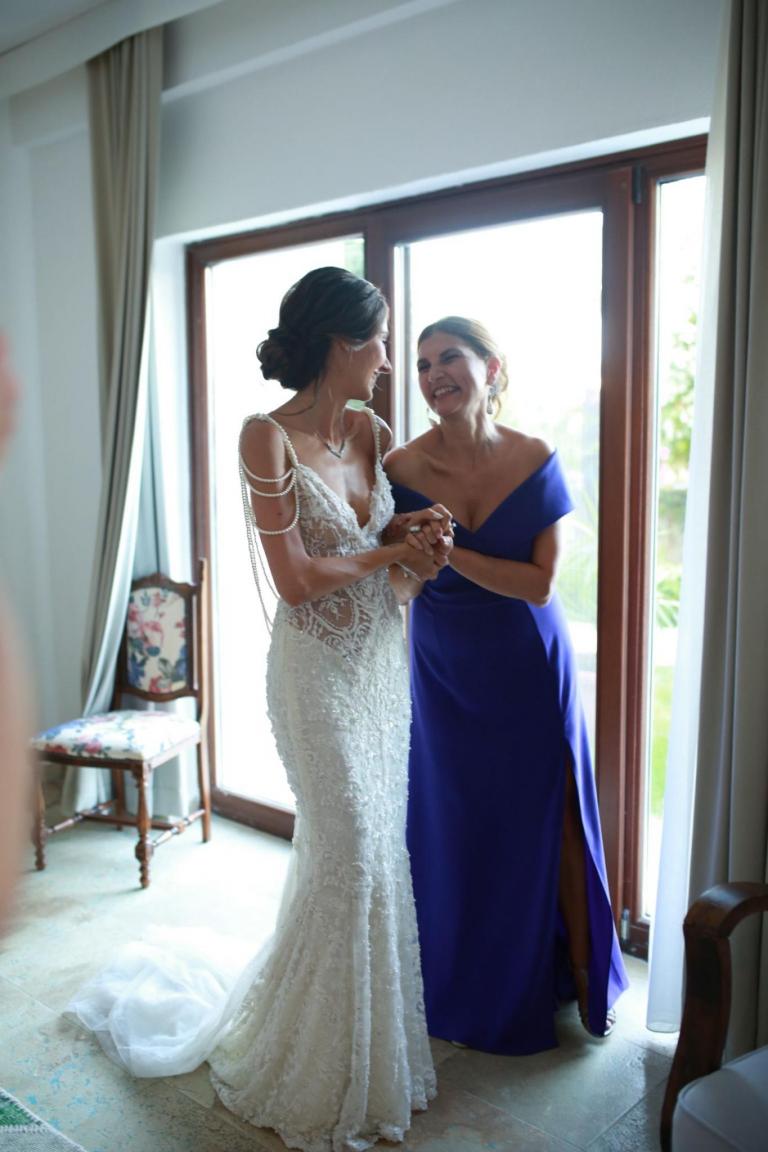 How did you find your perfect dress? How was your experience with the Galia Lahav brand?

I was just getting started to search for my wedding dress. My first appointment ever was with Galia Lahav in LA. Before coming in, I already had an idea of what I was looking for but after seeing all those sparkling dresses I wasn't so sure anymore: I wanted them all! It was a place from heaven, so elegant and dreamy. After admiring each and every dress, I picked some of my favorites to try on, and Anthony, who was the greatest help, also brought a few models which he thought would look great on me. I liked most of the dresses but none of them was the one and we didn't have enough time. So, a few days later, I booked another appointment. The moment that I put on the first dress my search was over! It was the most perfect dress and I was in love! It fit me like a glow as if it was tailor-made just for me. With butterflies in my stomach, I left the store to discuss it with my husband. On my way back to take this gorgeous dress back home with me, I was devastated by a call from Anthony. Apparently, right after I left, someone else bought my dress! My heart was broken. I knew that no other dress would ever look or feel the same, but I had to keep looking because eventually, I would need a dress! 

A few months later, my fiancée and I were visiting New York for Christmas. I wanted to take advantage of this opportunity and booked appointments with selected stores, including Bridal Reflections. I truly believe in miracles, especially after this unforgettable experience! There it was, the very exact dress that slipped through my fingers a few months ago in LA, waiting for me in New York! It was meant to be. I am so grateful to be among the very few brides who are destined to wear their dream dress at their wedding!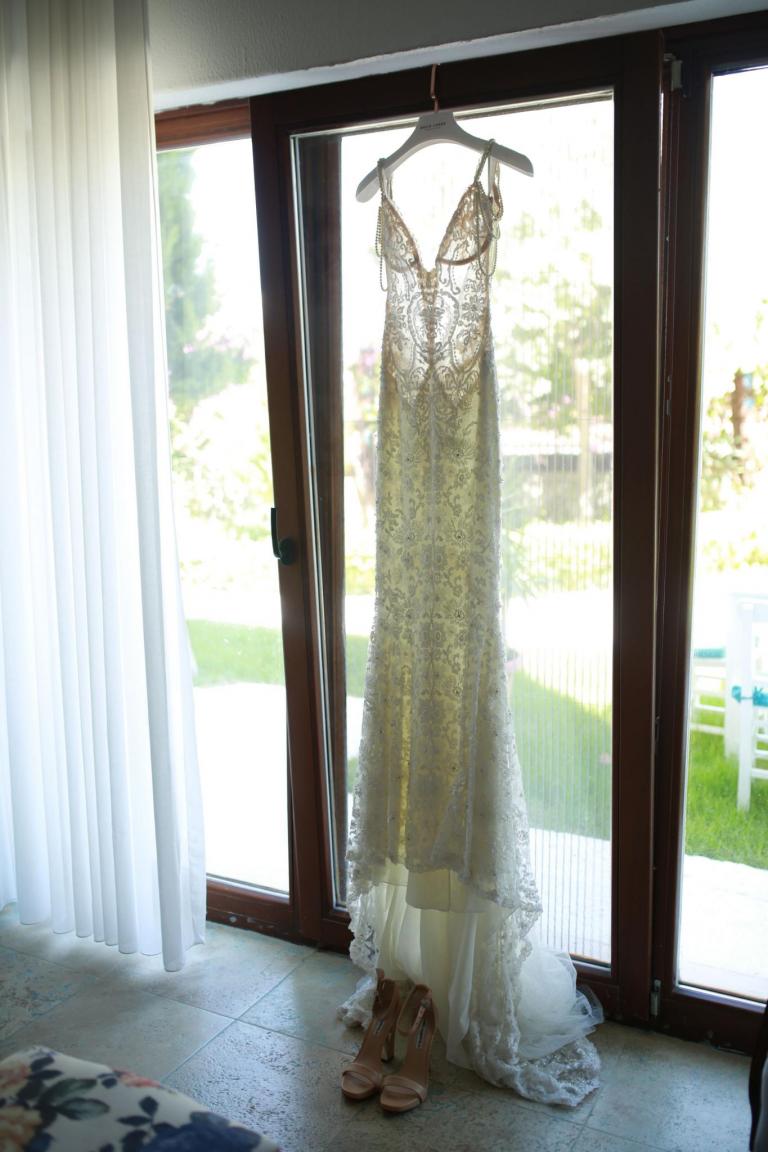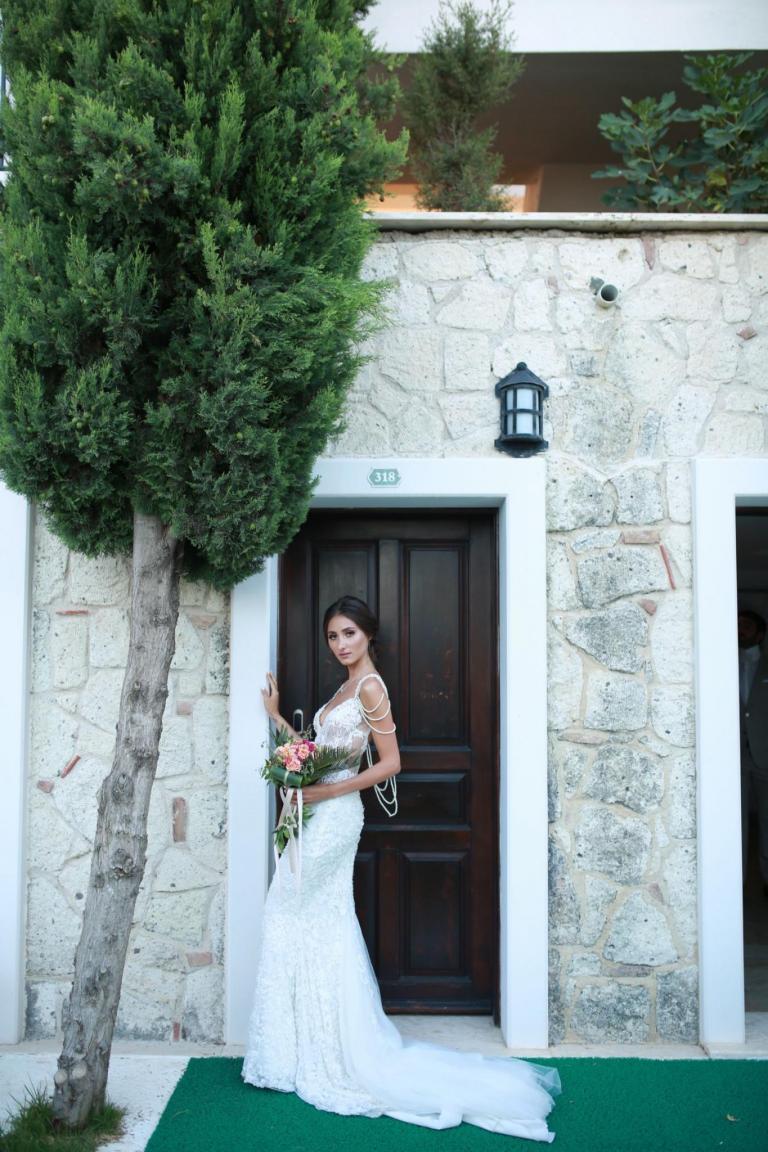 What was the most important thing for you and your husband when planning your wedding?

I think we both agreed on the importance of the wedding location and venue. The second important thing for us was probably the menu! As gourmet foodies, we wanted to give our guests a five-star experience by a top-notch menu that we have created with our rewarded chef. Our menu was prepared by using only the seasonal and local items, such as zucchini blossoms, artichokes, and lavender. Every plate was a piece of art, both visually and taste-wise. Yet, as a woman and the bride, the décor was as equally important for me!
What was your first wedding song?

We walked down the aisle to Can't Help Falling in Love by Kina Grannis (you may recall from the wedding scene on Crazy Rich Asians) and the song for our first dance was At Last by Etta James.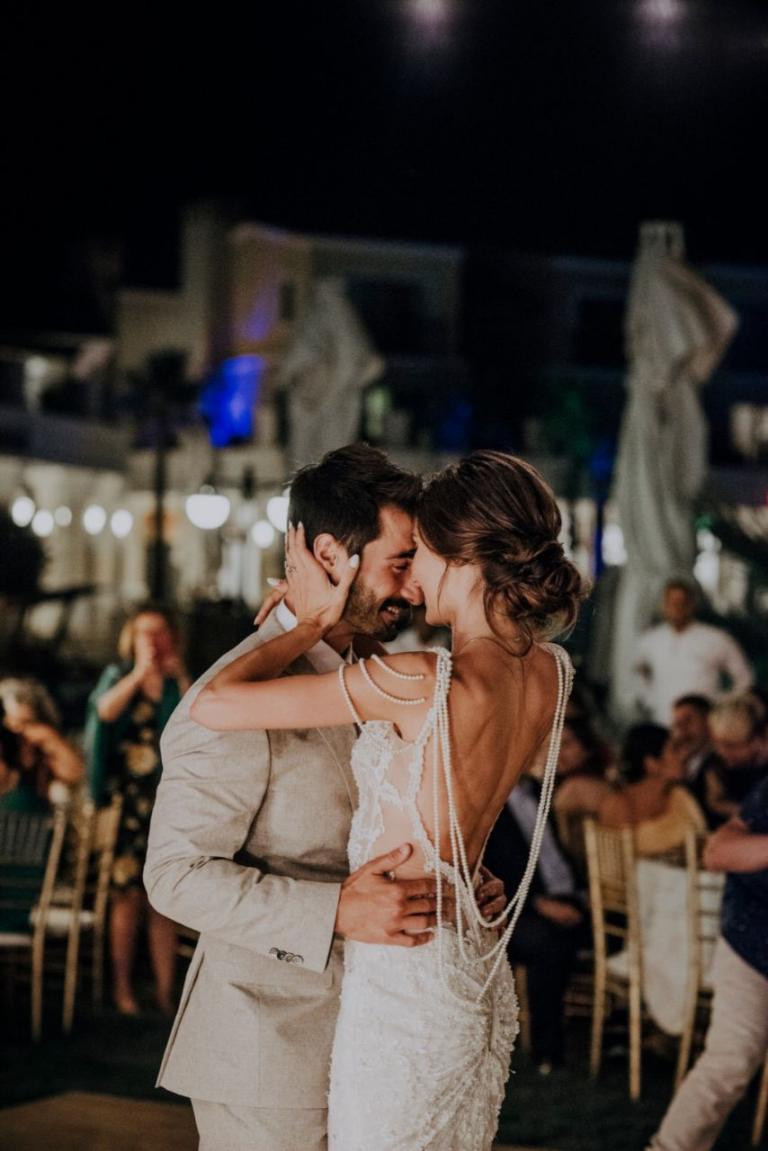 What did you enjoy the most about planning your wedding?

For all the stress of undertaking the planning and decision-making, I really enjoyed taking my time to indulge in all the décor ideas, wedding magazines, Instagram pages and being pampered all the time as the bride-to-be! Sipping my coffee while making to-do-lists, organizing the images I saved from social media by category and creating our website was probably my favorite parts of the planning. Trying to oversee every nitty-gritty detail and having to make millions of decisions all the time was very exhausting and overwhelming, even for someone like me who is a control freak. So, starting early and keeping everything organized actually saved me a lot of time! Searching for my dream dress and our wedding bands, which we also got from New York, were among the best moments we shared as a couple, for sure!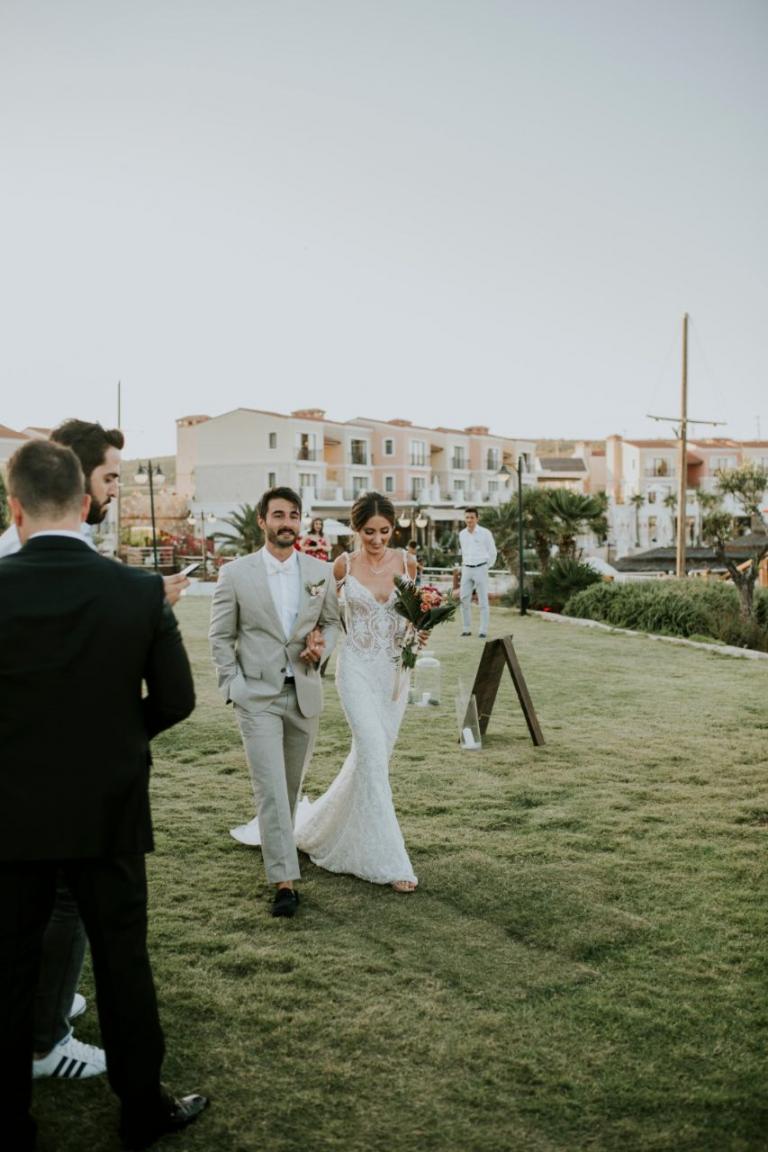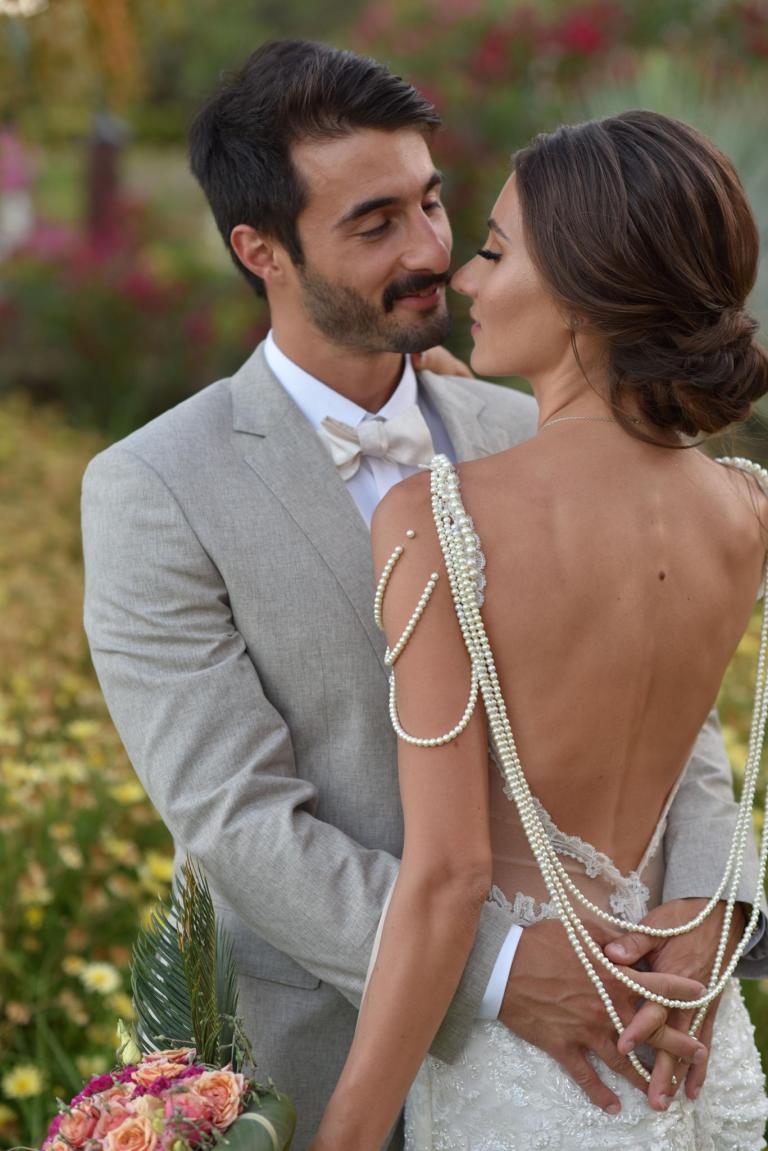 What advice would you give to all our future brides?

My biggest advice would be to never let anything, or anyone get to you. It is your big day and you only get to live this moment once. Just enjoy every moment of this wonderful journey. Remind yourself that nothing is worth stressing over. It is important to make peace with the fact that things will likely go wrong, and it is totally okay. One of the things that I wasn't prepared for was the uncomfortable conversations with family members and the unstable dynamics of our relationship. Be prepared to see everybody's true colors, including yourself! Whatever happens, always look on the bright side and have a backup plan. Don't hesitate to ask for help and delegate responsibilities. If you can, hire a wedding planner and let them worry about all the logistics. For me, planning a wedding thousands of miles away and trying to manage everything from a distance was painful. I honestly don't know what I would do if I didn't have our wedding planner! They have all the knowledge and wisdom that will guide you through the entire process. Last but not least, when shopping for your perfect dress, be open to trying on different models and styles that you would never imagine yourself wearing; you will be shocked to see how gorgeous you might look in them!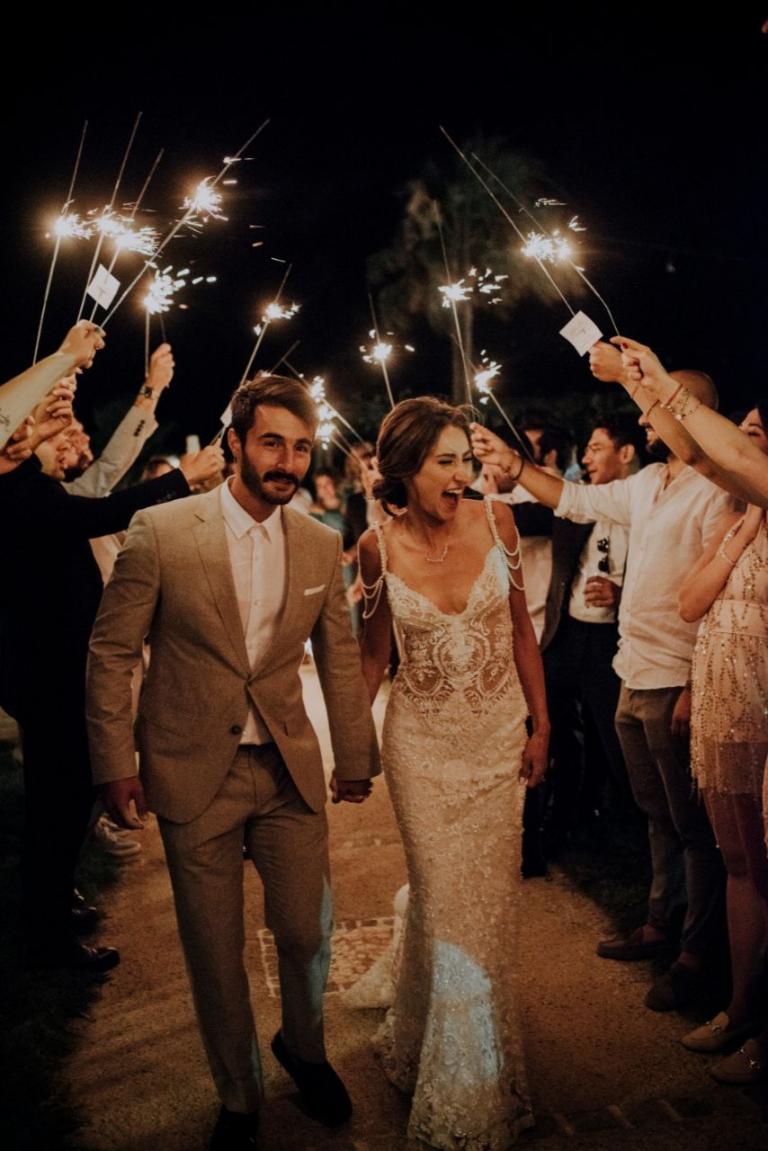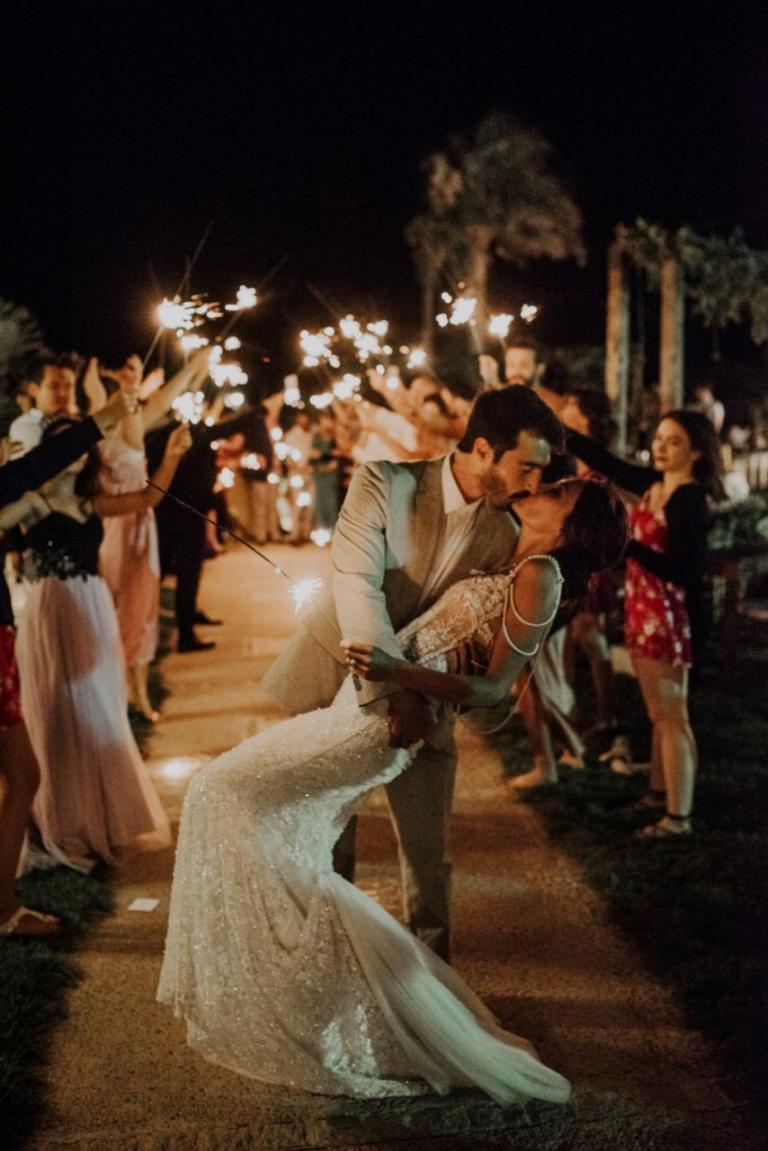 What moment from your wedding will you never forget?

Definitely the ceremony would be on top of my list! Walking down the aisle in the arms of the love of my life was beyond magical! It was a beautiful beach setting, right on the edge of the deepest blue sea and the sun was setting on the horizon. No matter how long you picture this perfect moment in your head, actually living it is a unique sensation that no words can ever describe! My heart was pounding out of my chest. As we were passing everyone by, we were overjoyed by watching all of their smiling faces and happy tears! Sharing one of the happiest and most sentimental days of your life with the people you love the most was priceless… I am so grateful for every moment of our wedding which was way above my expectations! It was truly an unforgettable night that will remain the main topic of every conversation for a very long time, especially our surprise Apple giveaway!
Finish your registration for {City} Trunk Show