FREE SHIPPING & RETURNS WORLDWIDE!

DUTIES & TAXES COVERED WORLDWIDE
Find your nearest boutique
Our #GLBride of the week the gorgeous Deidre Behar, who married her longtime best friend and love of her life in a customized Lidya gown. Surrounded by family and close friends, the couple exchanged their loving vowels in beautiful Maui with a glamourous white destination wedding. In the following interview, Deidre shares with us the most joyful moments of her wedding day and her experience of finding her dream dress with us. As told by Deidre: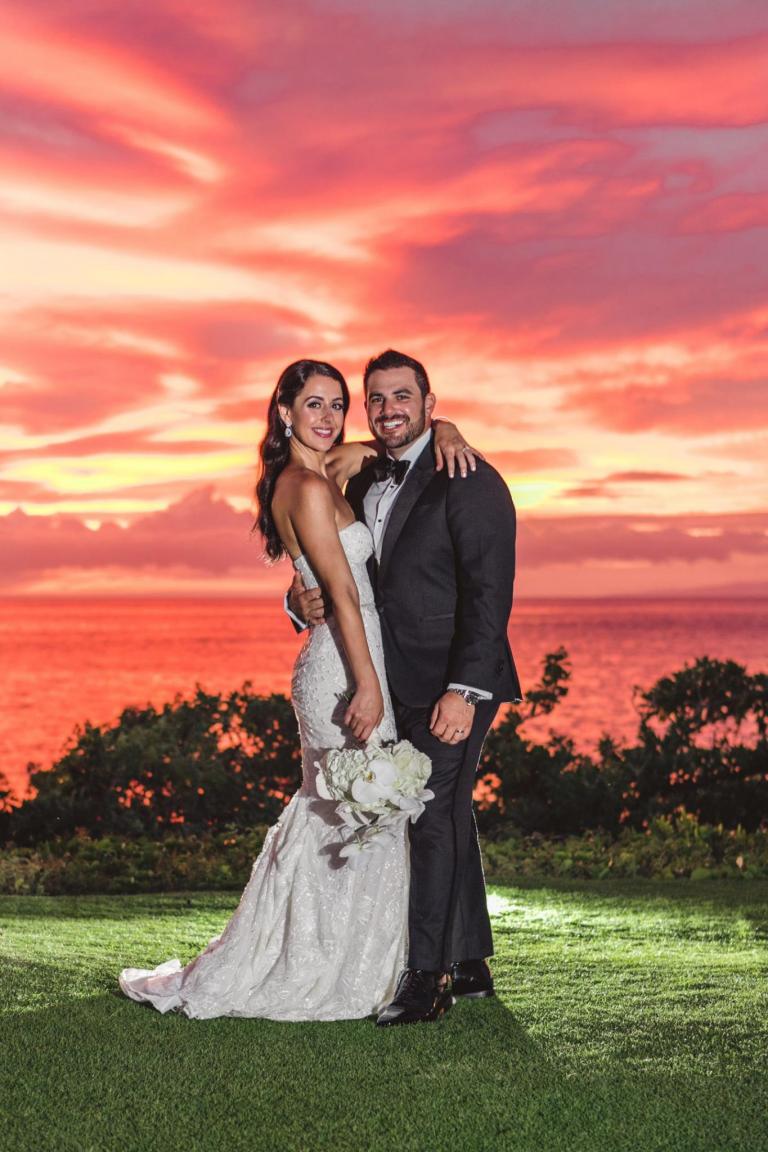 How did you meet your husband? Tell us a little bit about your relationship.

My husband, Max, and I first met when we were 9-years-old in elementary school in Westlake Village, California. At the age when most boys like to tease girls, Max had a heart of gold and always treated me with so much kindness and respect. I was the new girl in fifth grade, having just moved to the area, and it was challenging starting over at a new school. Max immediately befriended me and we realized we had similar senses of humor and interests.  We remained close friends throughout grade school, all the way through college.

After graduating, Max moved back to Los Angeles to attend law school, and he convinced me to go out on a date. We've been together ever since.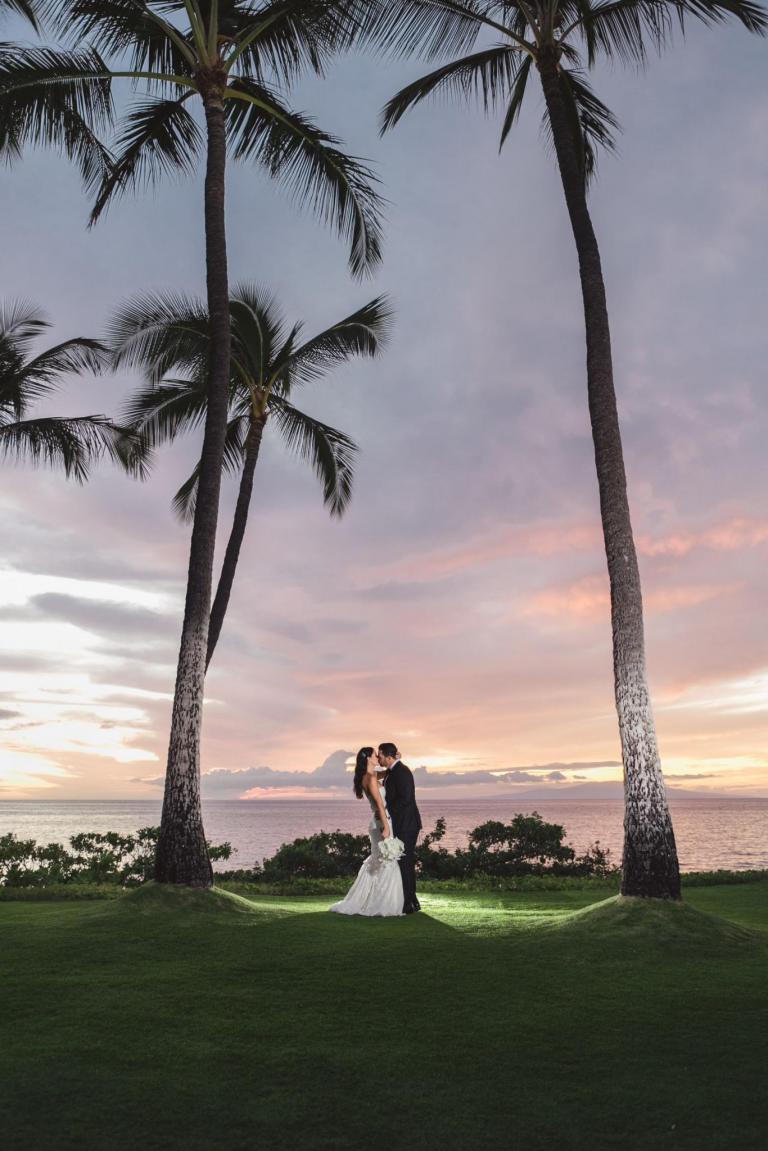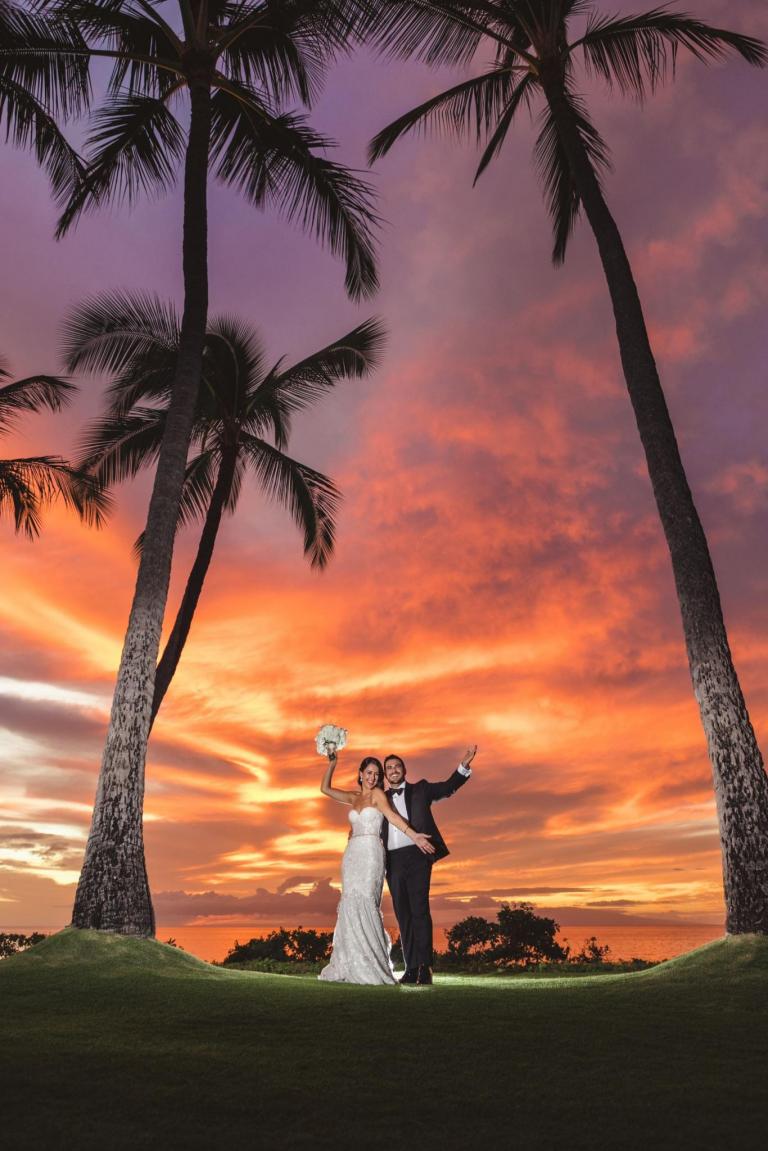 How did he propose?

Max impressively jumped through a lot of hoops to propose on May 5, 2018. Because I was previously committed to a work-related event during the day, Max and my younger sister, Siara, concocted a few innocent white lies to facilitate a plan that, by evening, would have my hair, makeup, and manicure ready in the special location he selected to pop the question — on the lake in our hometown of Westlake Village, California. 

The lie was that our close family friend, Grammy-nominated singer Leslie Grace, was in town visiting from Miami and wanted to have dinner with us at an upscale restaurant. We pulled up to the restaurant, and my sister immediately faked a work-emergency phone call and disappeared. Max suggested he and I wait for our table down by the water, which is when he proposed. My sister had been in the bushes all along snapping photos!

Immediately after, upon telling me that Leslie wasn't anywhere even near Los Angeles and we weren't having dinner there, Max told me another surprise awaited and we needed to get in the car to head to a new location. A quick five minute drive down the road, and he surprised me again by planning an intimate engagement party at the Four Seasons, Westlake Village, where we toasted to our future alongside our closest family and friends. Champagne, a decadent cheese board, and appetizers: the way to my heart! 

A beautiful twist: a year and a half later at our wedding, things came full circle when Leslie performed our first dance song live.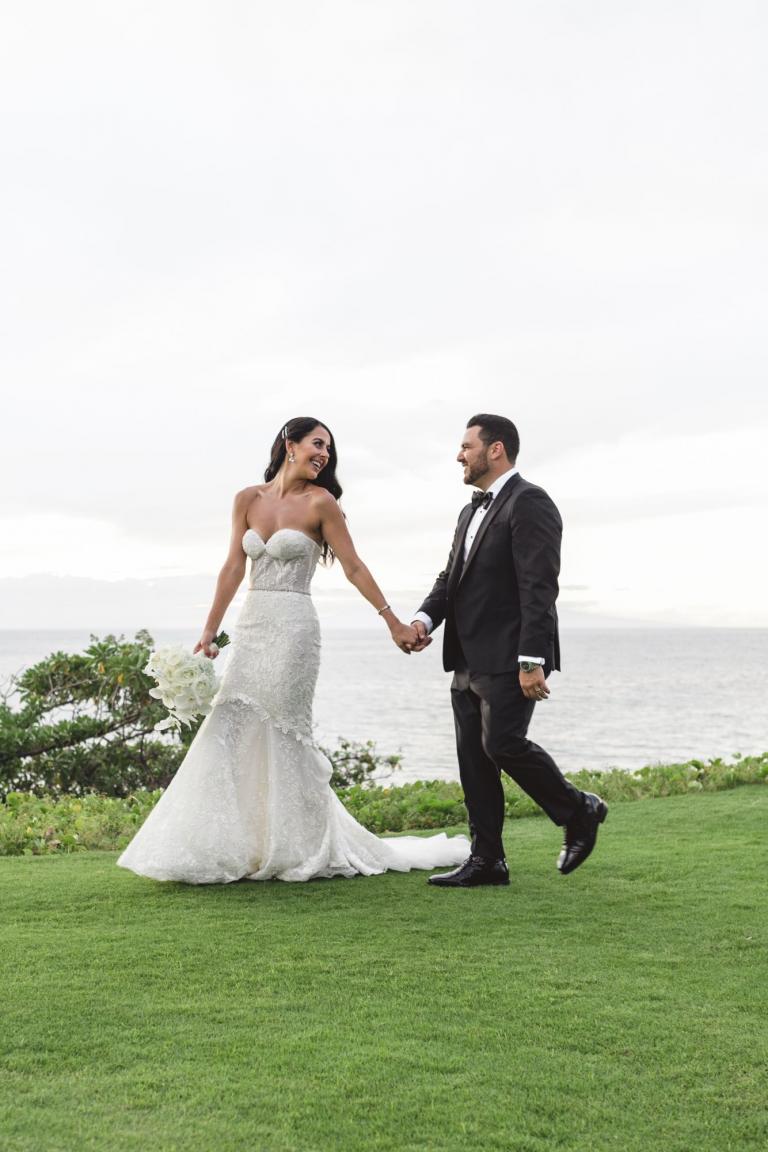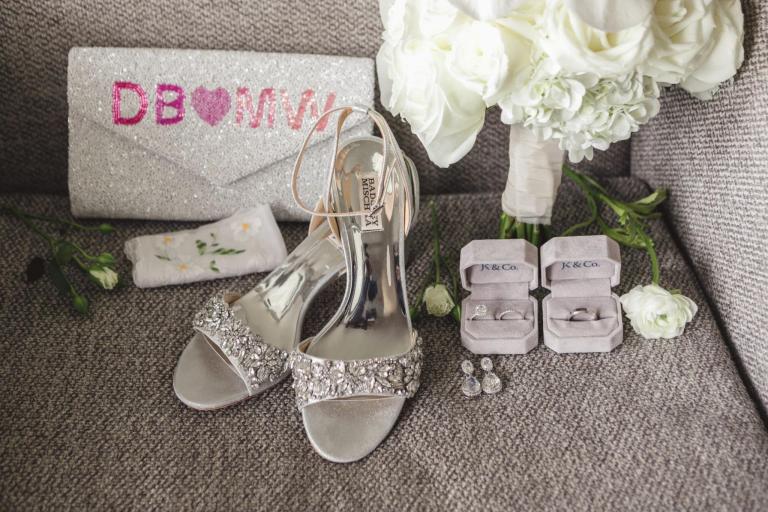 How did you start planning your wedding? What were the first steps?

We always knew we wanted to plan our dream Beverly Hills ballroom wedding — but instead, we wanted to put a very Deidre and Max twist on it: design everything as we normally would but, do it outdoors in Maui. A little crazy? Maybe, but we were up for the challenge, as was Lena Teboul, our fabulous planner with Moana Belle Events. We took a quick trip to Maui to meet with Lena and check out a few hotels in the Wailea area. We immediately knew the Andaz was our dream venue. Securing the hotel was a natural first step and everything else fell into place.
Did you do any beauty or fitness prep for your big day?

To be honest, not really. I always try my best to lead a healthy lifestyle (balanced diet, regular exercise, lots of sleep). In the two months leading up to the wedding, I eased up on the sweets – my weakness – and took a few more dance cardio and sculpting classes than usual, but truly, nothing out of the ordinary.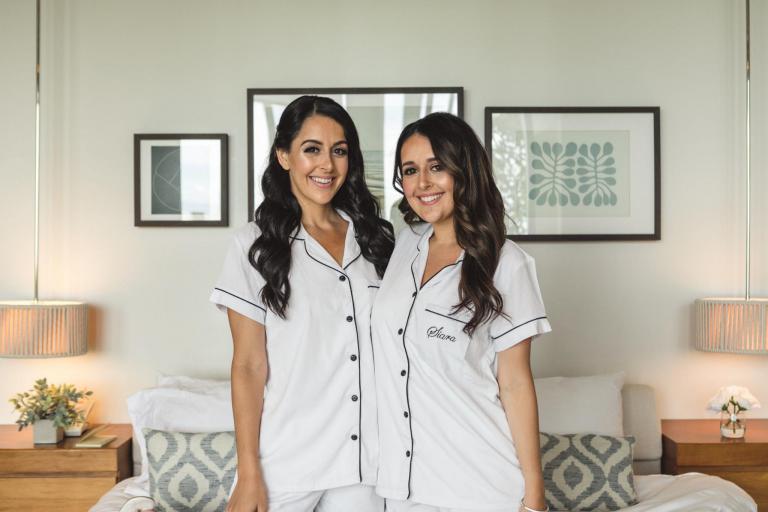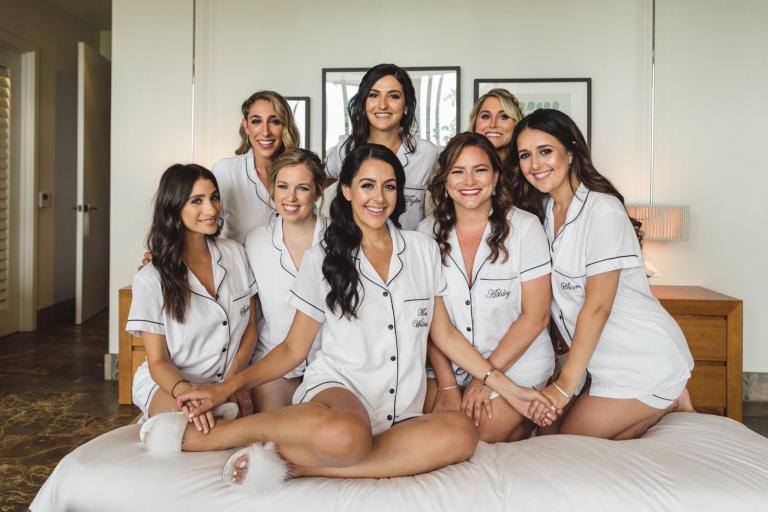 What was your wedding theme?

All-white glamour! For the ceremony, we wanted to create an atmosphere full of romance, glamour, and modern sophistication. To walk down the aisle (and avoid walking on grass in heels!), we added a white glossy aisle that led to the chuppah. The aisle was adorned with lanterns and pillar candles of different sizes which served as aisle markers. The lanterns featured a flowing base of white hydrangea, touches of green foliage, and phalaenopsis orchids. We also used gold fanfare chameleon chairs with white stretch knit covers. We were married under a custom-built "halo" structure chuppah, which was completely covered in vanilla orchids, roses, and hydrangeas.  

For our reception, we wanted the event to feel sleek, chic, and modern, so we stayed consistent with the all-white theme with minimal hints of greenery for dimension, and chrome and crystal accents. Following the ceremony, guests crossed the oceanfront lawn and entered the custom open-air canopy, built specifically to our guest count and desired qualities in an event space. Our vision for the night included taking in the sea breeze and glowing sunset during dinner and dancing under the stars, all while still feeling like we were in an enclosed designated space with lots of glamour. The canopy featured over a dozen suspended glittering chandeliers (modern and classic styles) and a white glossy dance floor in the center. The white pillars of the structure were adorned with white roses, orchids, and hydrangeas, and draped in luscious thick velvet fabric.

We ended the night in the hotel ballroom or solarium for an epic after-party! We piped and draped the room with white fabric and set up white couches and lounge vignettes to create a warm environment. Guests noshed on late night bites (like ice cream cookie sandwiches, waffle fries, and chicken fingers), sipped drinks from the main bar and espresso bar, and turned up on the dance floor to EDM and house music. We also passed out personalized LED light-up foam sticks and LED light-up animal ears and flower crowns as a fun touch.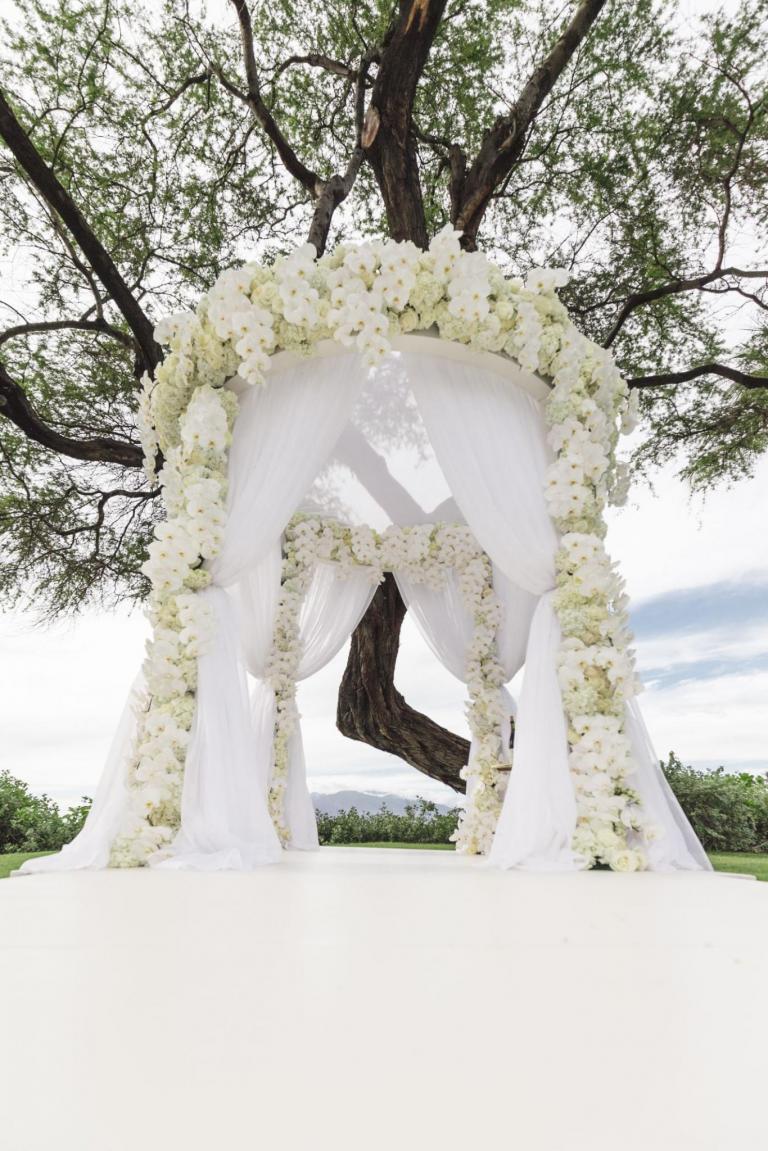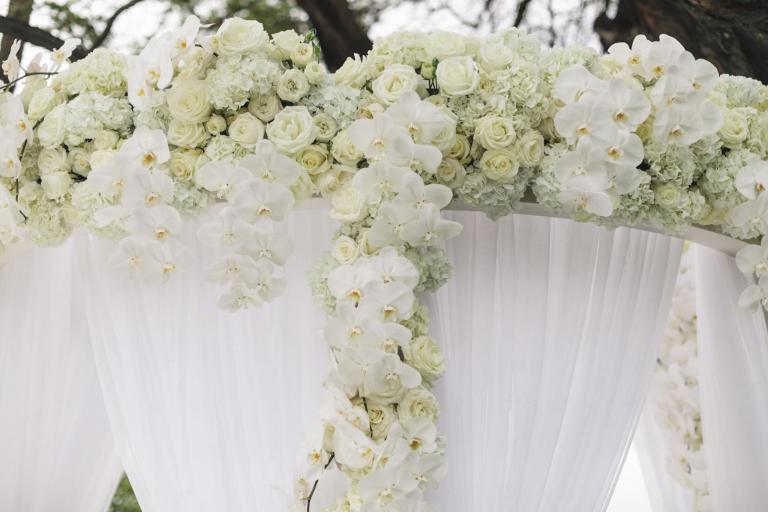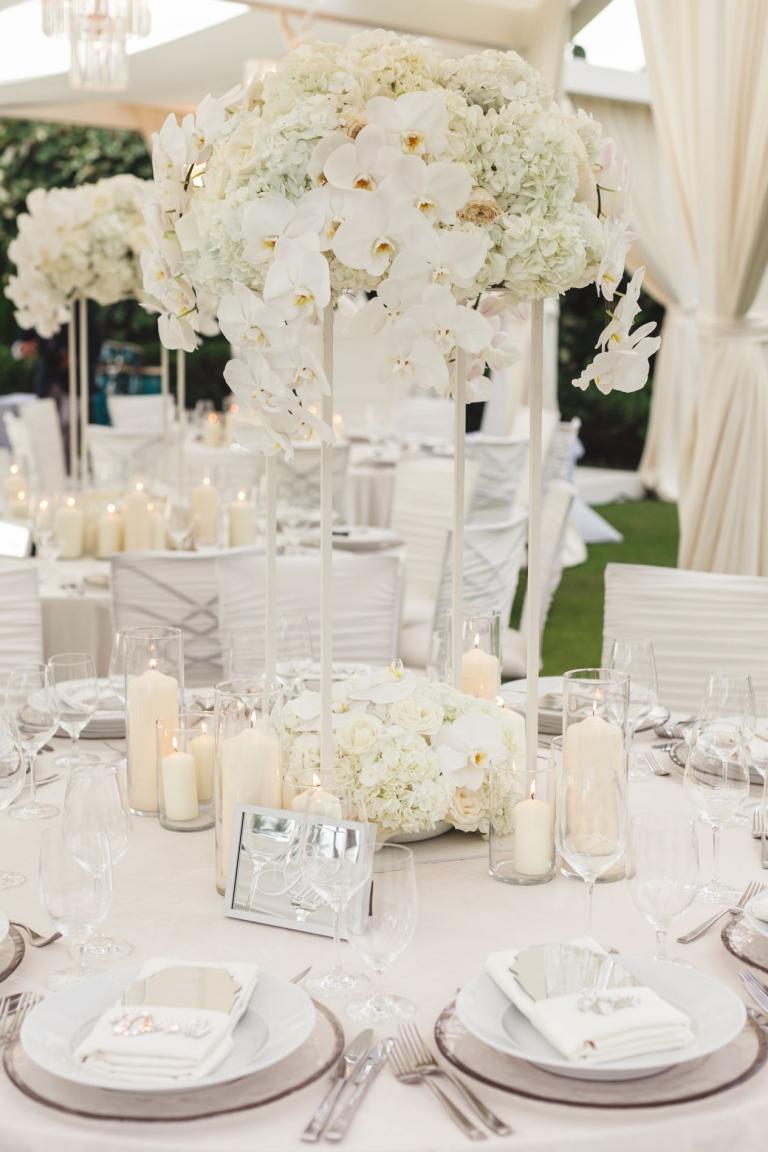 How did you choose your location?

Maui, specifically Wailea, has been a favorite travel destination for both Max and me our entire lives. We've always subscribed to the philosophy that everything is better when you're on vacation, so why not spend a week in a tropical destination with our closest family and friends? While we initially considered a wedding in Southern California, we quickly agreed that a Maui wedding felt more like us.

Specifically, we grew fond of the Andaz Resort in Wailea shortly after we started dating and it became our home away from home. The staff has become family to us. The style of the hotel is also very in-line with our taste: sleek, modern, and boutique. Fewer waterslides, more relaxation!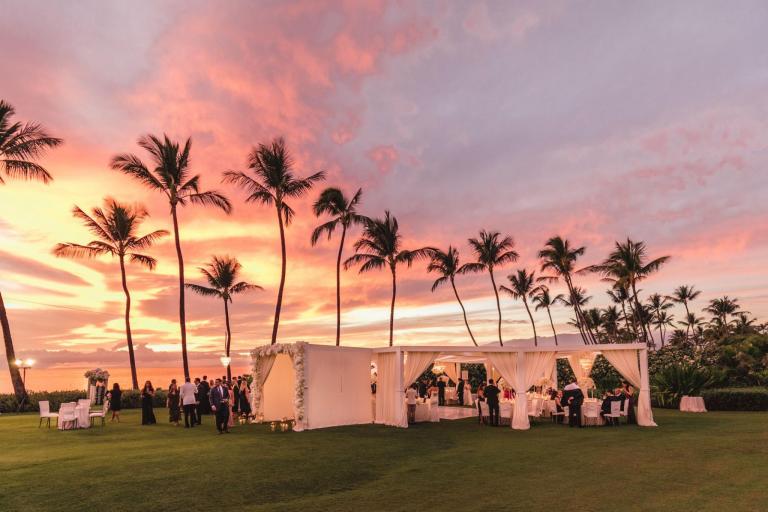 How did you decide on your bridesmaid style?

I wanted my gorgeous friends to select a fashion-forward gown they felt most comfortable in. I asked them to pick any floor-length, black-tie gown in the color bright white and as expected, they didn't disappoint. Everyone looked stunning in gowns that were unique yet collectively on-theme.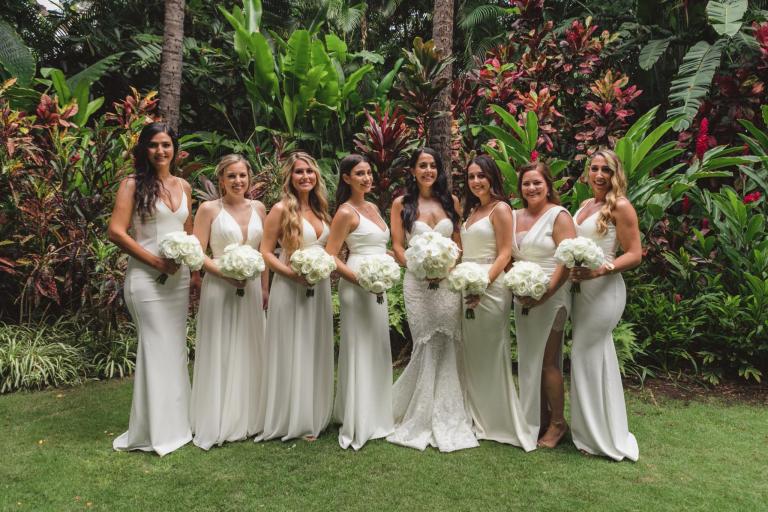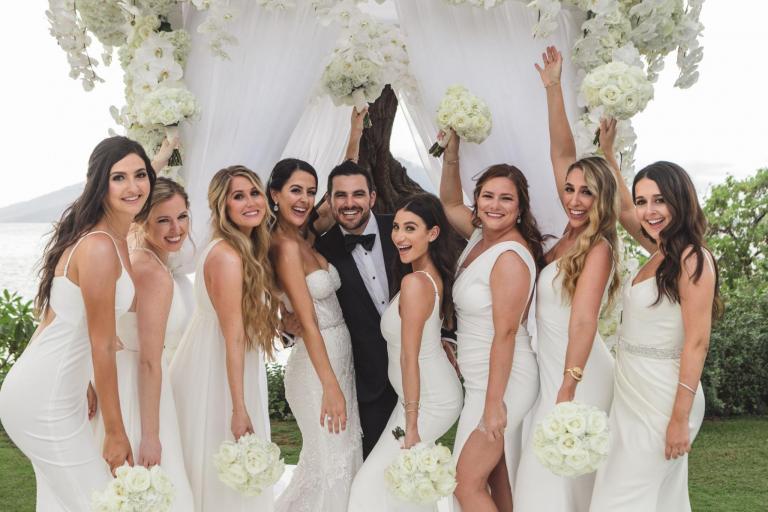 How did you find your perfect dress?

After trying on a handful of gowns around the Galia Lahav showroom with my incredible stylist, Kara, we both agreed that Lidya was the one. I loved how the sexy and sheer bustier top was juxtaposed by the classic and traditional lace floral details. It was the perfect gown for a few reasons:

I wanted a gown that I hope I'll still be in love with 20, 30, or 40 years from now. I'm so glad I chose the Lidya because it had subtle sexy elements, yet still felt very classic bridal.

Getting married in a tropical climate like Maui, I knew I needed a breathable and strapless dress. I love the look of long sleeves, but having a strapless gown was essential because October in Maui can be quite warm.

I love that Galia Lahav works with brides to customize their gowns. I am a sparkle-lover, so Kara brilliantly suggested adding galaxy tulle throughout the entire gown, which looked striking when it glittered in the sunlight. We also changed the gown from nude to ivory white.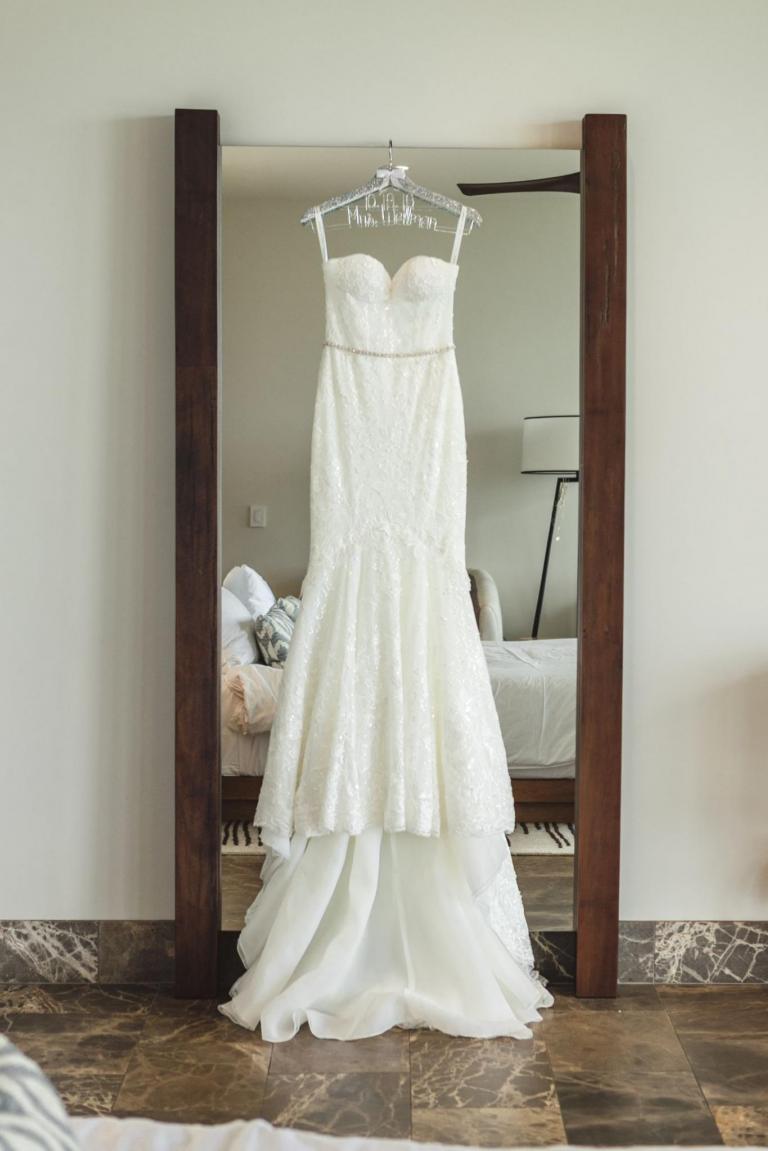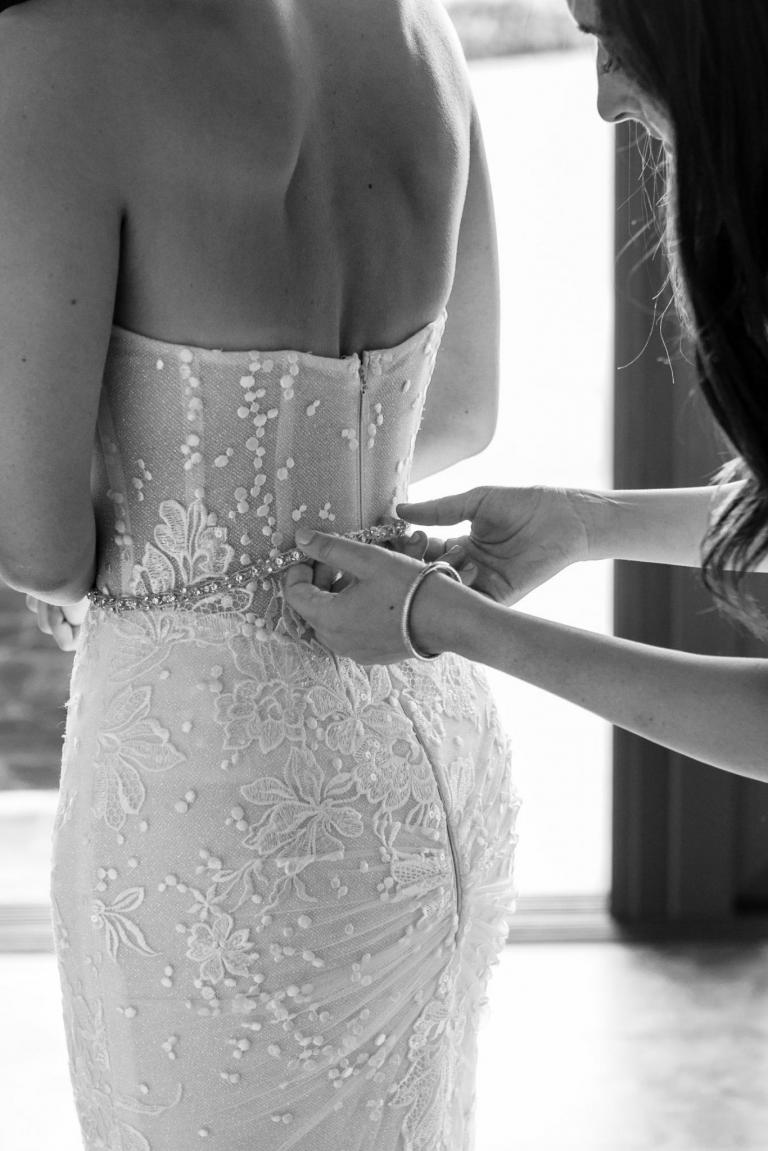 How was your experience with the Galia Lahav brand?

I visited a few boutiques in Los Angeles before I could secure an appointment with Galia Lahav, and as the saying goes: they saved the best for last! When I arrived at Galia's LA showroom for my first appointment, I was immediately greeted by my stylist, Kara, who would go on to become a dear friend of mine. From the moment we met, I knew she "got it." Kara has this magical unicorn quality where she's always 100% positive, enthusiastic, and here to be your biggest cheerleader, but never once made me feel uncomfortable by acting pushy, which many stylists at other boutiques tend to do. Instead, Kara chose to get to know me as a person, my style and we built from there. 

We ordered my gown in February, and it actually arrived ahead of schedule in August. Kara periodically checked in with me while my gown was being made to provide updates and assure me that everything was on track, which as brides know, is imperative. After two alterations appointments in September with the incredible seamstress Kelly, I was ready to go for my October destination wedding. 

But what's more, is the service. You'll carry the memory of shopping for your wedding dress for the rest of your life, and my experience with the entire Galia Lahav team was truly exceptional. Every time I stepped into their stunning showroom, every single stylist greeted me with a huge hug, asked about my upcoming celebration, and made me feel part of the Galia Lahav family. I can't wait for new brides to have that same, magical experience!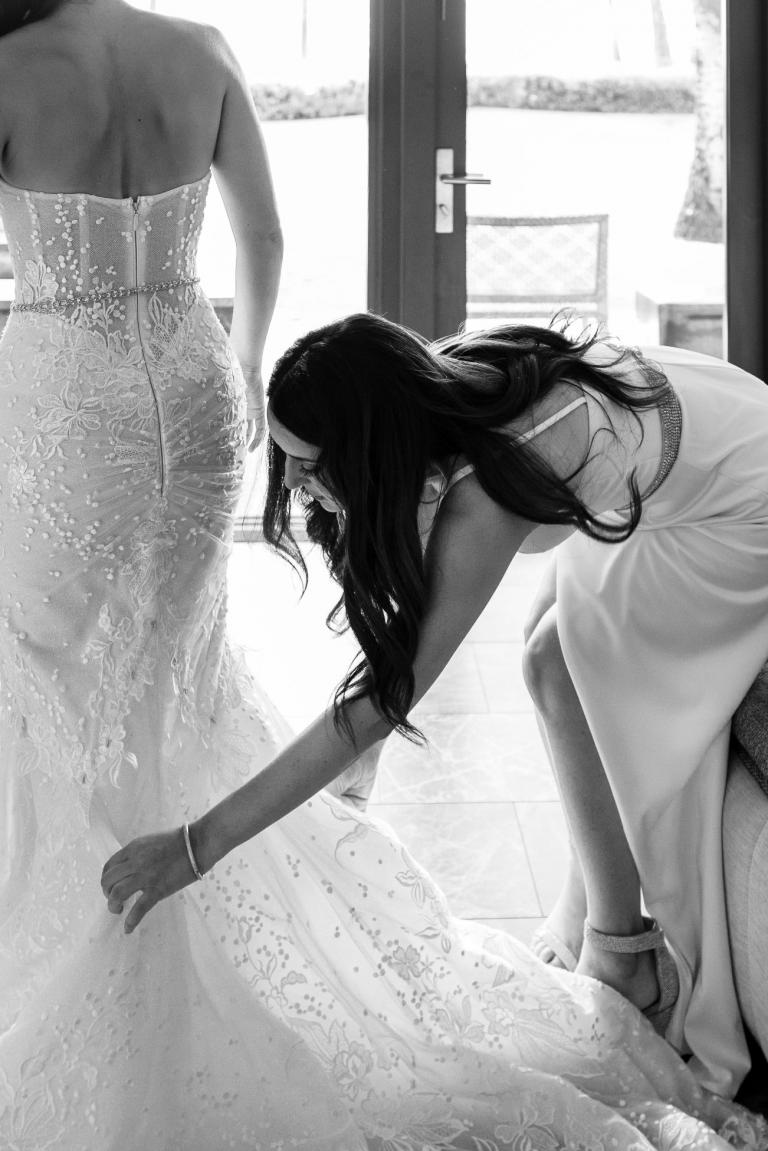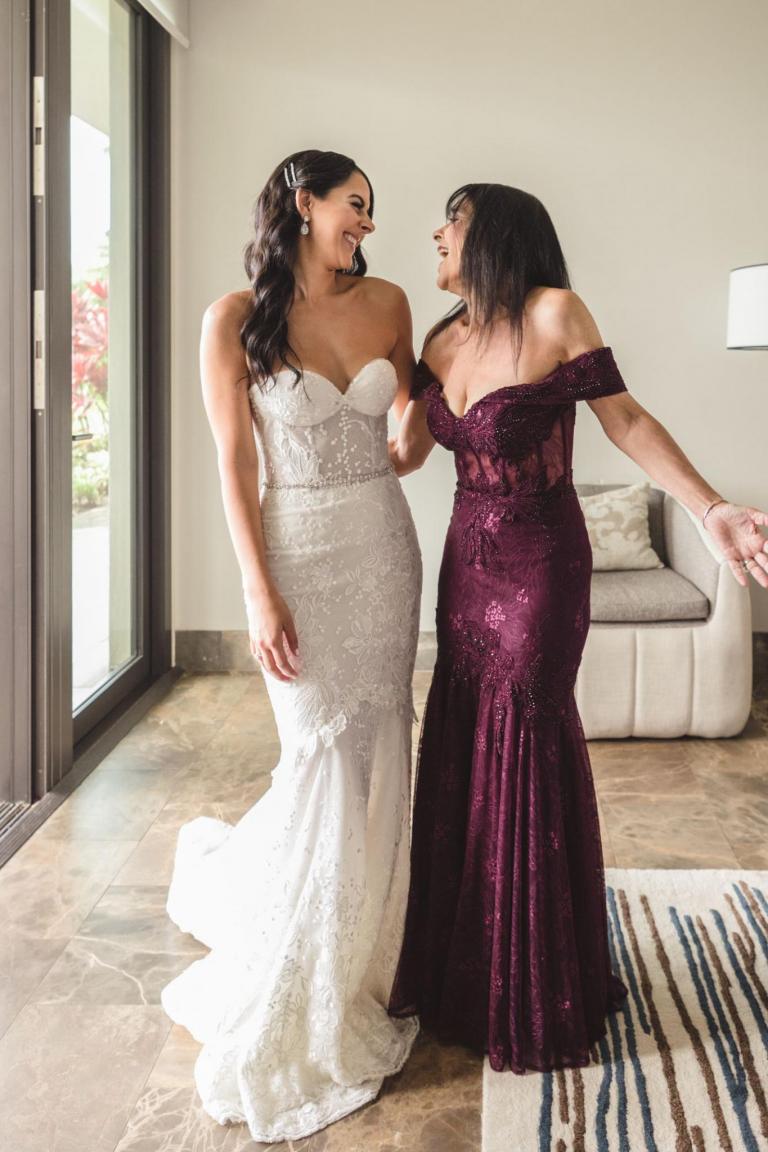 What was the most important thing for you and your husband when planning your wedding?

It was a huge goal of ours to make our guests feel valued: they took time off work and spent money to be with us on our big day. If you were gracious enough to fly to Maui, we promised to give you a week full of fun experiences. We kicked things off at the Andaz on Thursday with a cocktail party at sunset, overlooking the ocean. It was the perfect way to welcome all our guests, allow them to mix and mingle, and enjoy cocktails and appetizers. On Friday, we hosted a rehearsal dinner at the nearby Fairmont Hotel. Not only was the food delicious, but we loved giving guests the opportunity to spend time at another stunning Wailea resort. Of course, Saturday was our wedding, and on Sunday, we hosted a seaside brunch at the hotel. Nothing beats a Maui morning with tropical juice and comfort foods after a fun night of celebrating!

Flowers and entertainment were also equally high on our priority list. Nothing says romance to me quite like lush, showstopping florals. We worked very closely with our incredible floral designer, Mandy Grace, who conceptualized our entire floral dreamscape. As for entertainment, we knew we wanted to live music incorporated into our big day. During our ceremony, we had a string quartet play contemporary hits. During our reception, we had two instrumentalists (a drummer and a saxophonist) accompany our DJ. The musicians played on the dance floor which allowed them to groove with guests, which made for a high-energy and very interactive experience — everyone loved it!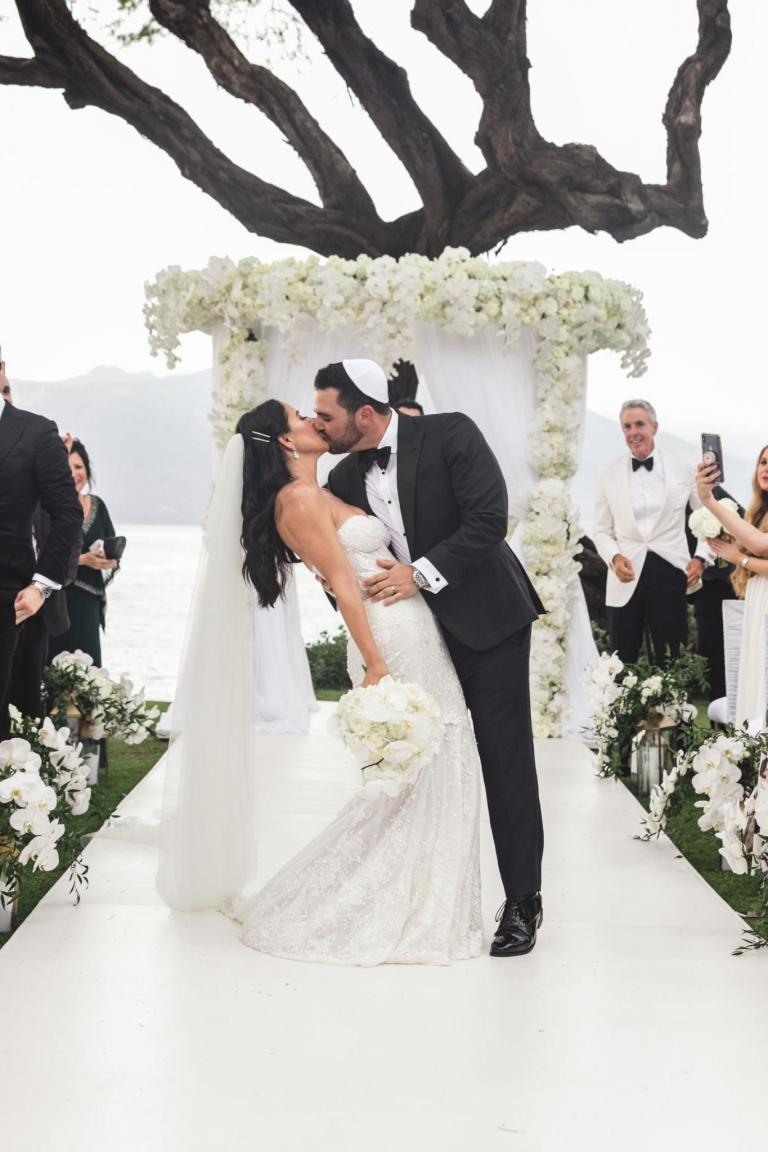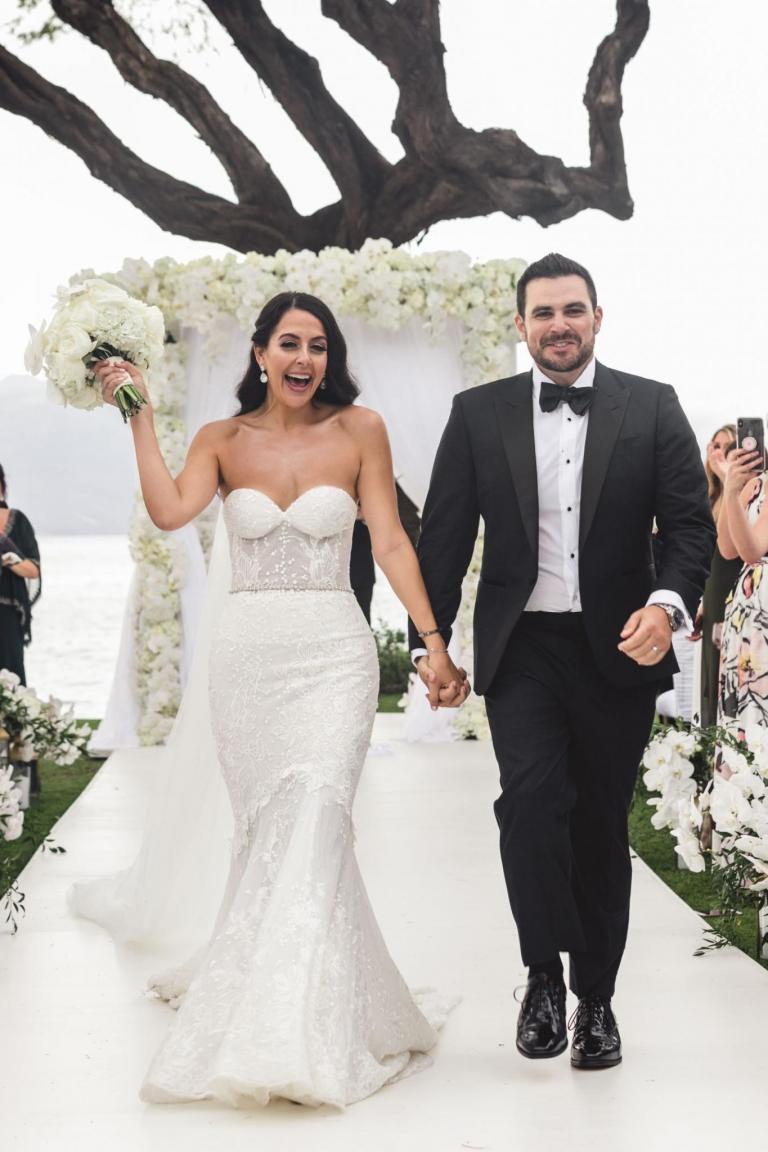 What was your first wedding song?

Perhaps the most special moment of the reception was our first dance. Our dear friend Leslie Grace, the Grammy-nominated singer who was at the center of the white lies to pull off our engagement, made everything come full circle as she performed live during our first dance. Accompanied by an acoustic guitarist, Leslie sang the most breathtaking version of Elton John's Your Song. Max and I cried as we danced, listening to Leslie's angelic voice which was full of passion and heartfelt joy. Leslie performed on the DJ booth riser, which was adorned with sparkler fountains that lit up during powerful moments of the song. We felt like we were slow dancing on-air in love!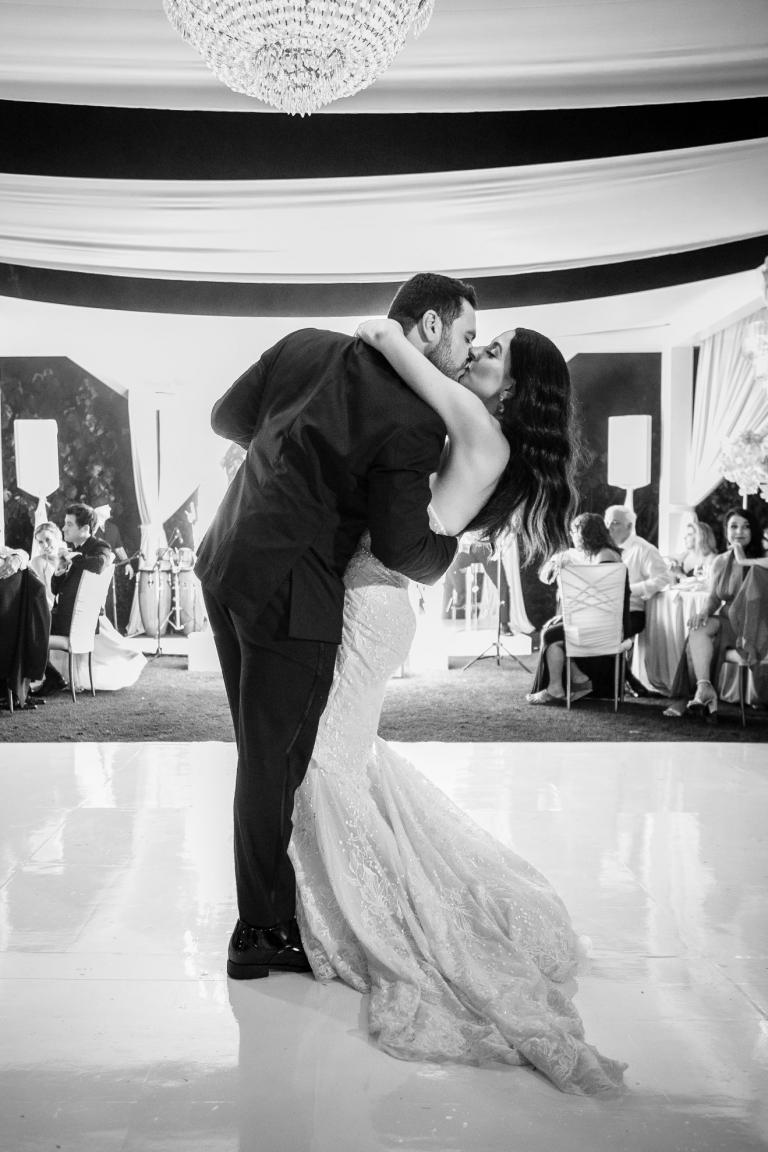 What did you enjoy the most about planning your wedding?

Truly, everything. Planning a wedding was such a fun, collaborative, and creative experience. I'm so grateful that my mom, dad, sister, and now-husband were super-involved and helped with making decisions that brought our vision to life. It also didn't hurt that we had an excuse to travel to Maui a few times in a single year.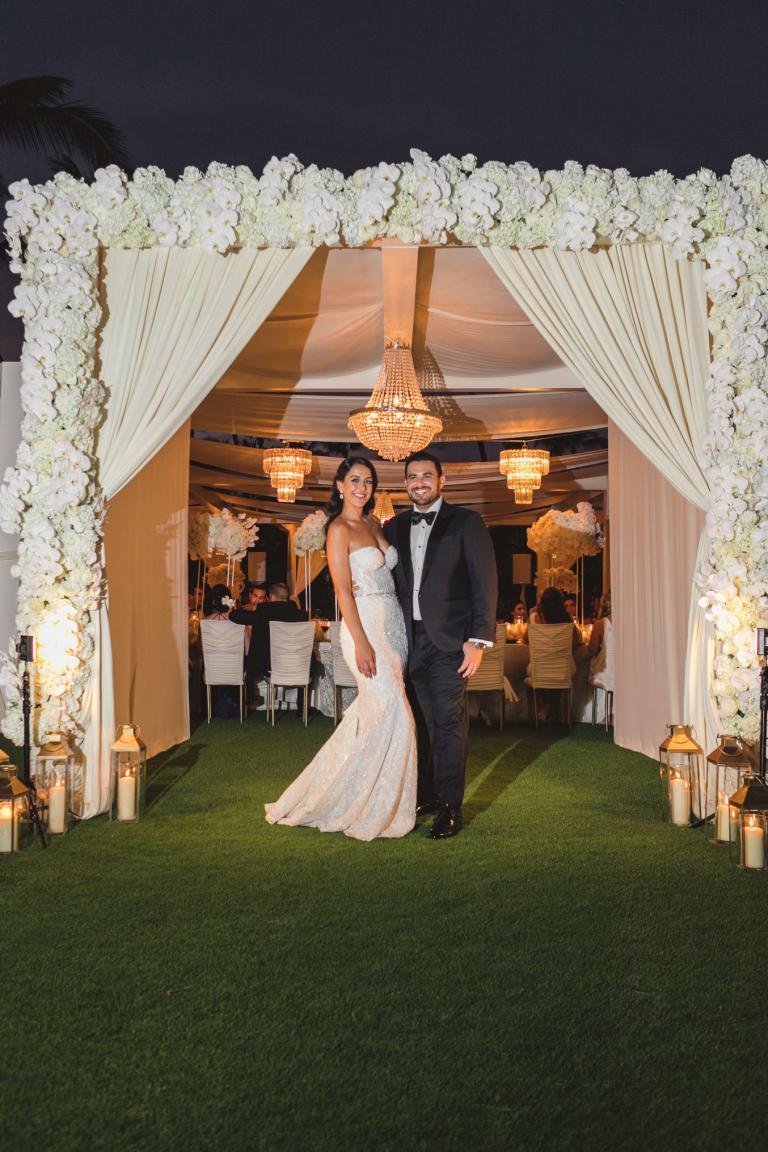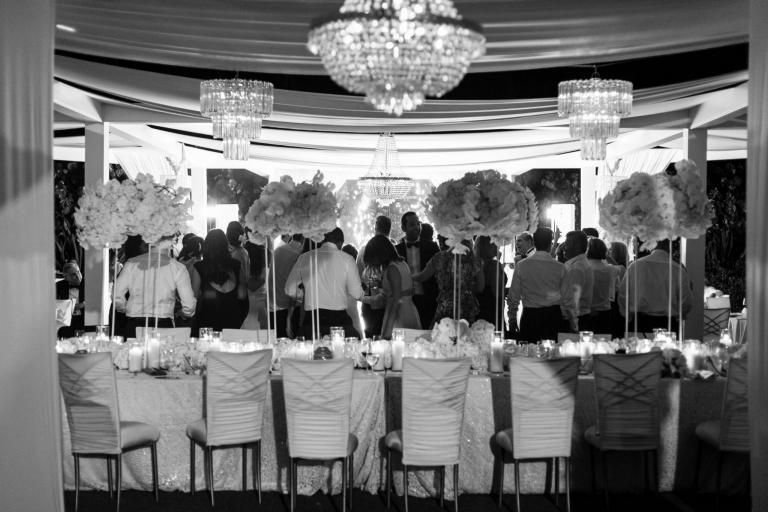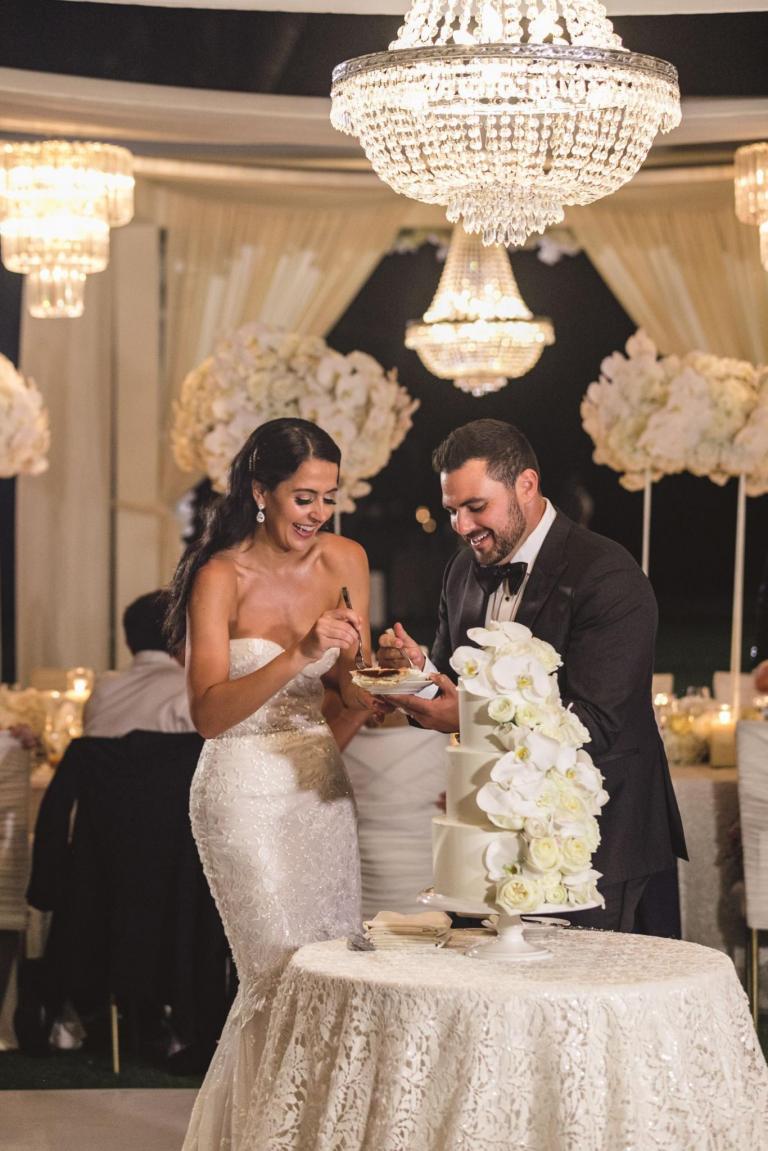 What advice would you give to all our future brides?

Here are a few tips we found to be helpful: 

There are no rules!

We did a black-tie beach wedding in Maui because that's what we wanted to do. Do whatever makes your heart happy and suits you as a couple.

Trust your gut!

This is your day and you're paying for it, so you may as well pay for exactly what you want. Don't be afraid to make polite suggestions to your vendors and tweak accordingly until you have your desired outcome.

Ask for mockups/images!

Do not assume anything. Ask your vendors for photo renderings or even a live demonstration/viewing of your decor ahead of the big day. 

Spend money on what's important to you, and know where to cut costs!

We knew we wanted our budget was mainly going to flowers, design, and entertainment. We saved by not doing things like a second wedding dress, wedding favors, a photo booth, a guest book, and ceremony programs. We also saved by ordering some items online. Do your research and get quotes from multiple vendors — ask if they can work with your budget. Chances are, they can and they will. 

Invest in YOU: don't skimp on the bride!

Of course, stay within financial reason, but I recommend you book a beauty team you love and buy a dress you love. You likely won't think about those extra few hundred dollars in years to come; but if you have to look at photos of yourself in a dress you didn't love, rocking hair/makeup that you didn't love, you'll wish you had managed your budget differently.

Spend the night by your partner's side.

If you stick together the entire night, you'll have the same memories, which is what the big day is really all about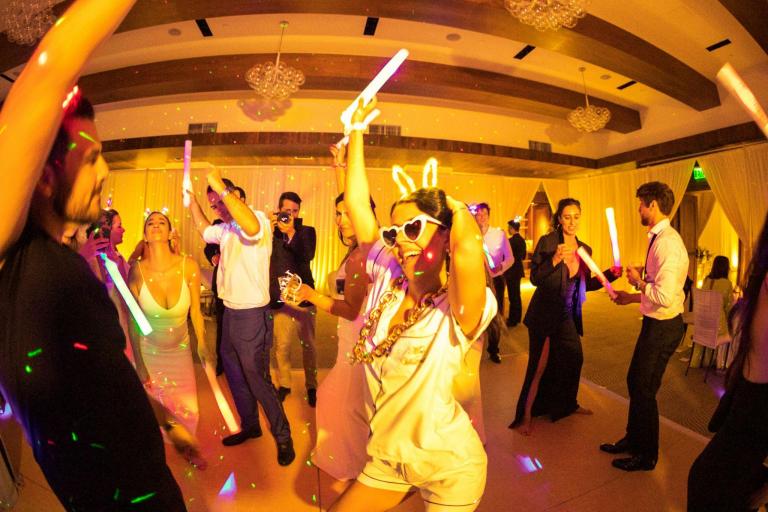 What moment from your wedding will you never forget?

The most memorable moment was exchanging vows. It was one of those moments you dream about your entire life and see it happen at the weddings you attend and in the movies you watch, but when it's your turn, it's truly an out-of-body experience. At the risk of sounding cliche, it felt surreal to be standing alongside my husband, committing ourselves to one another forever, in front of our favorite people at our favorite place on earth. It's something I'll never quite get over. 
Flowers: @mandygracedesigns
Event planning/ design: @moanabelleevents
Venue: @andazmaui
Photography/videography: @mikeadrian
Rentals: @inspirationhawaii
Beauty: @meiliautumnbeauty
Invitations: @fladedahs
Entertainment: @lesliegrace, @mauidjservices, 
Jewelry: @jkdiamondco
Groom's tux: @enzocustom
Calligraphy: @missbcalligraphy
Linens: @latavolalinen
Bridesmaids' dresses: @katiemaycollection, @lulus, @jovanifashions
Finish your registration for {City} Trunk Show