FREE SHIPPING & RETURNS WORLDWIDE!

DUTIES & TAXES COVERED WORLDWIDE
Find your nearest boutique
Our #GLBride of the week is the lovely Christina, who wore our GALA 601 down the aisle. In the middle of stunning Tuscan vineyards, Christina and her fiancé Max held their romantic nuptials at the picturesque Monaciano Estate. In the following interview, Christina shares with us her favorite wedding moments and how she found the dream dress she has always envisioned. As told by Christina: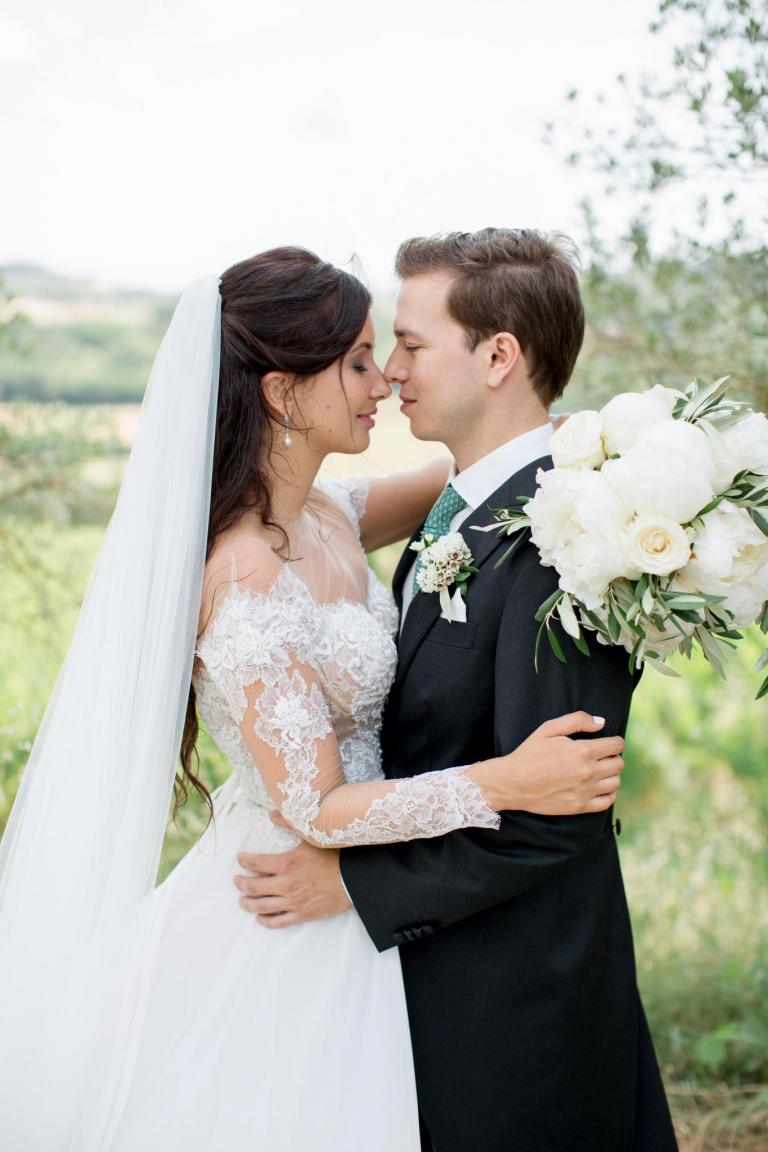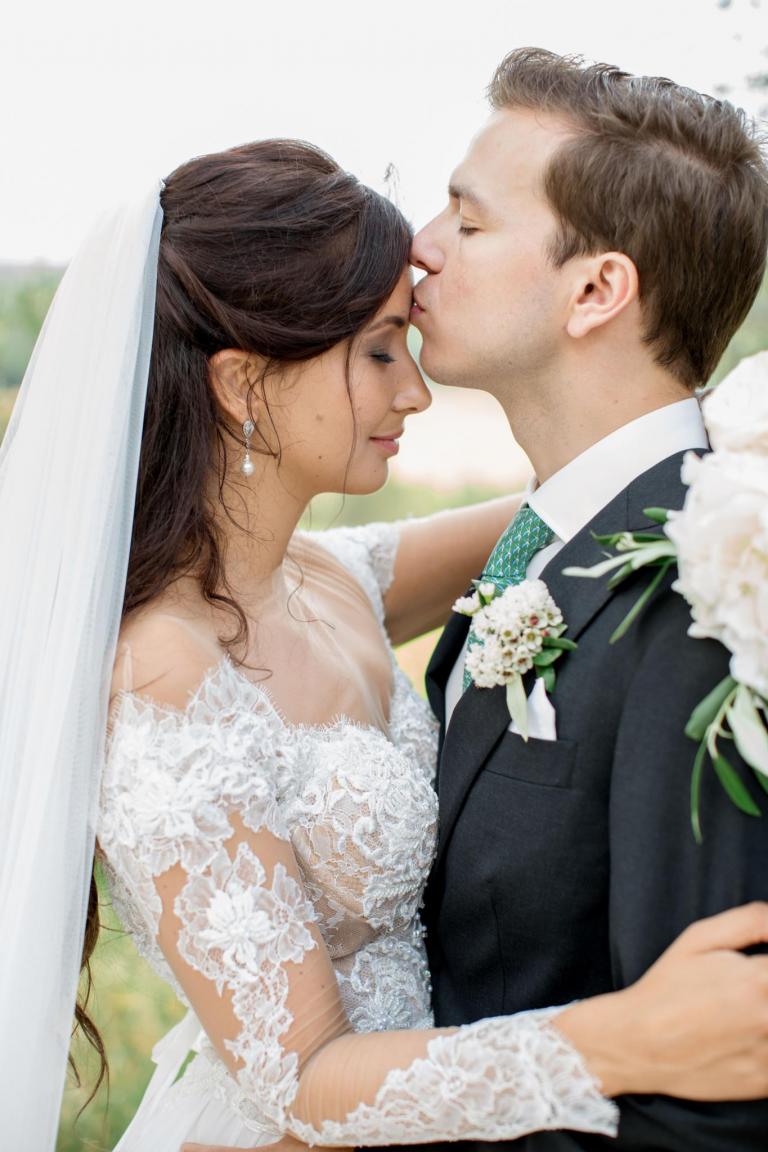 How did you meet your husband? Tell us a little bit about your relationship.

Max and I met when we started our undergraduate studies in Switzerland. We quickly discovered that we have a lot in common, such as our love for travel, winter sports and spending as much time as possible with our friends. Love sparked in a rather unromantic setting – when we were assigned to a project team as part of a course on Corporate Restructuring and got to spend a lot of time together on Excel models and PowerPoint presentations. Since then, we have lived quite a global life where our studies and work brought us from Switzerland to the US, Canada, Singapore, France, and Germany, with a total of 2.5 years in a long-distance relationship across continents. We took these opportunities to travel and further explore the world and now live in beautiful Switzerland, close to the beautiful Lake Zurich and the Alps and could not be happier.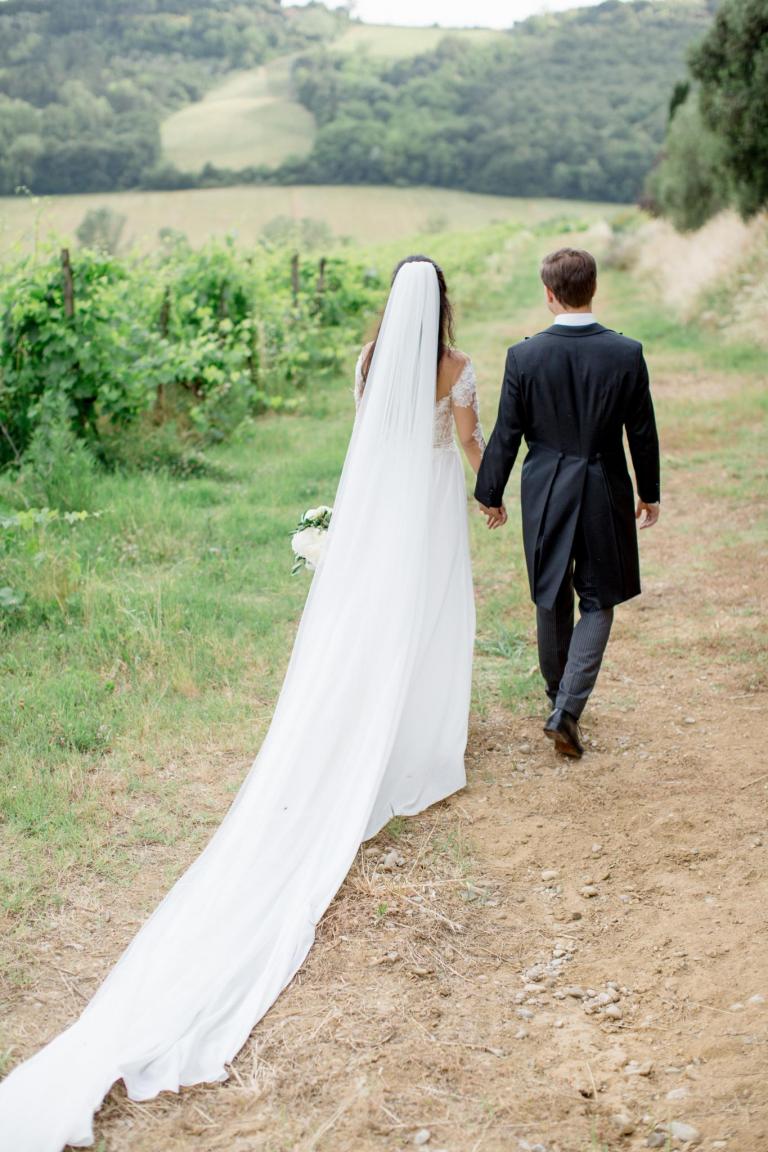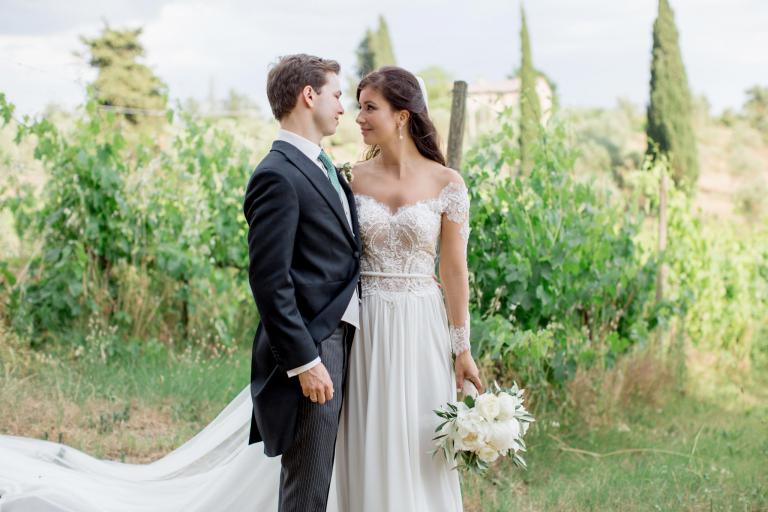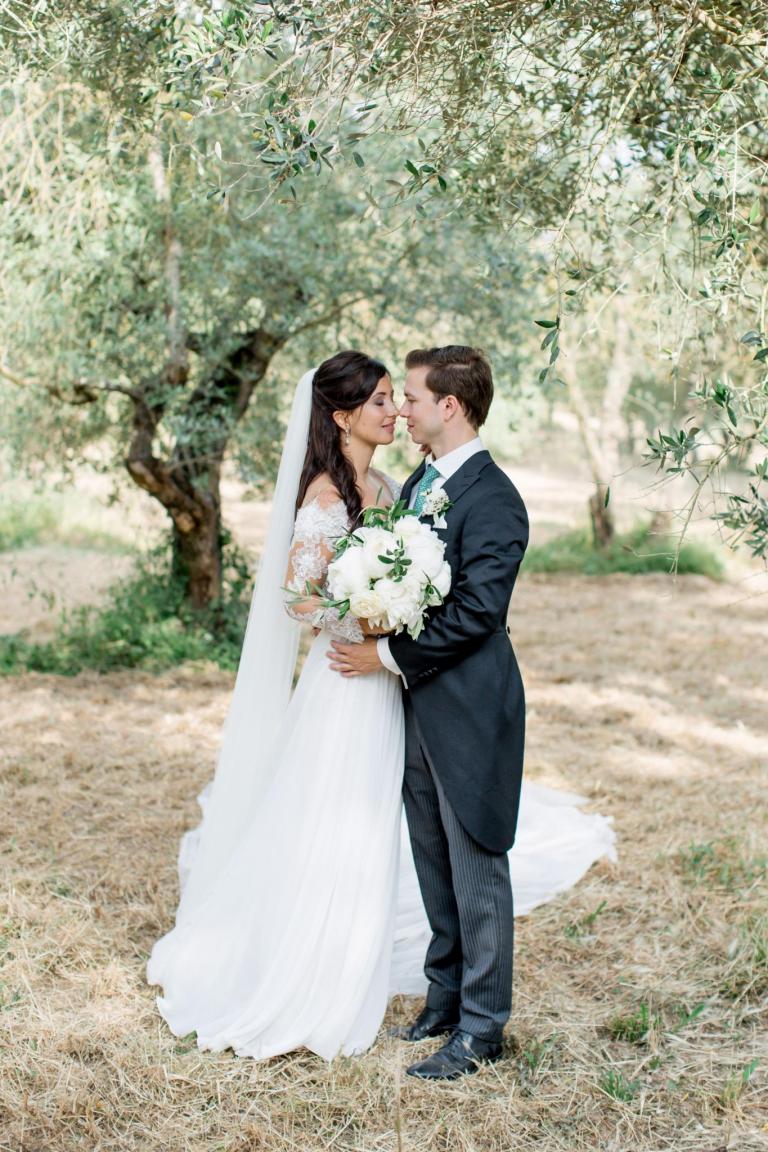 How did he propose?

After Max finished his MBA in Singapore, we moved from Germany to beautiful Zurich in Switzerland during the holiday break before Christmas and New Year's Eve. We had planned to celebrate the beginning of the new year with a group of friends, but in the late afternoon, Max announced that he has changed our plans and kidnapped me to a beautiful old hotel in Zurich. After a wonderful 7 course dinner, we went to our suite, which was lit with candles and had music playing – Max went down on his knee and asked the big question, which I obviously answered with Yes! He had thought of everything: A bottle of vintage champagne from my year of birth that we picked out on a trip to France, filming the entire proposal and watching the New Year's Eve fireworks over the lake in Zurich afterward. It was like a fairytale!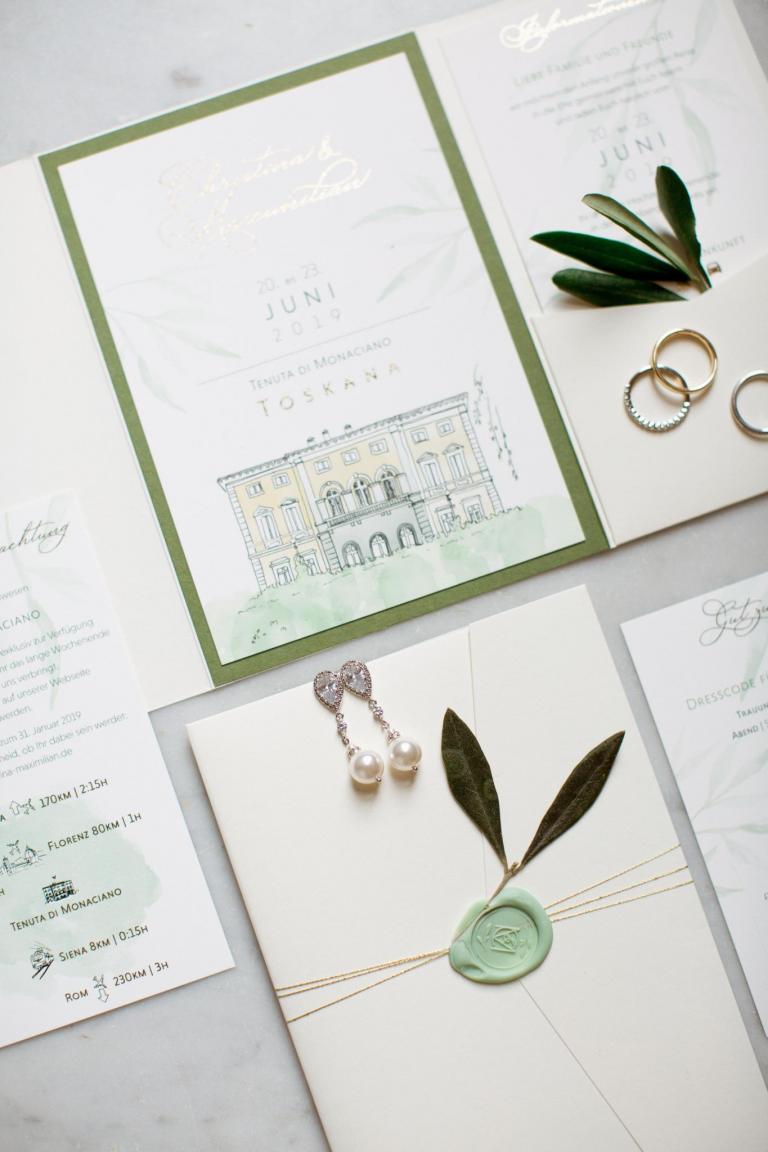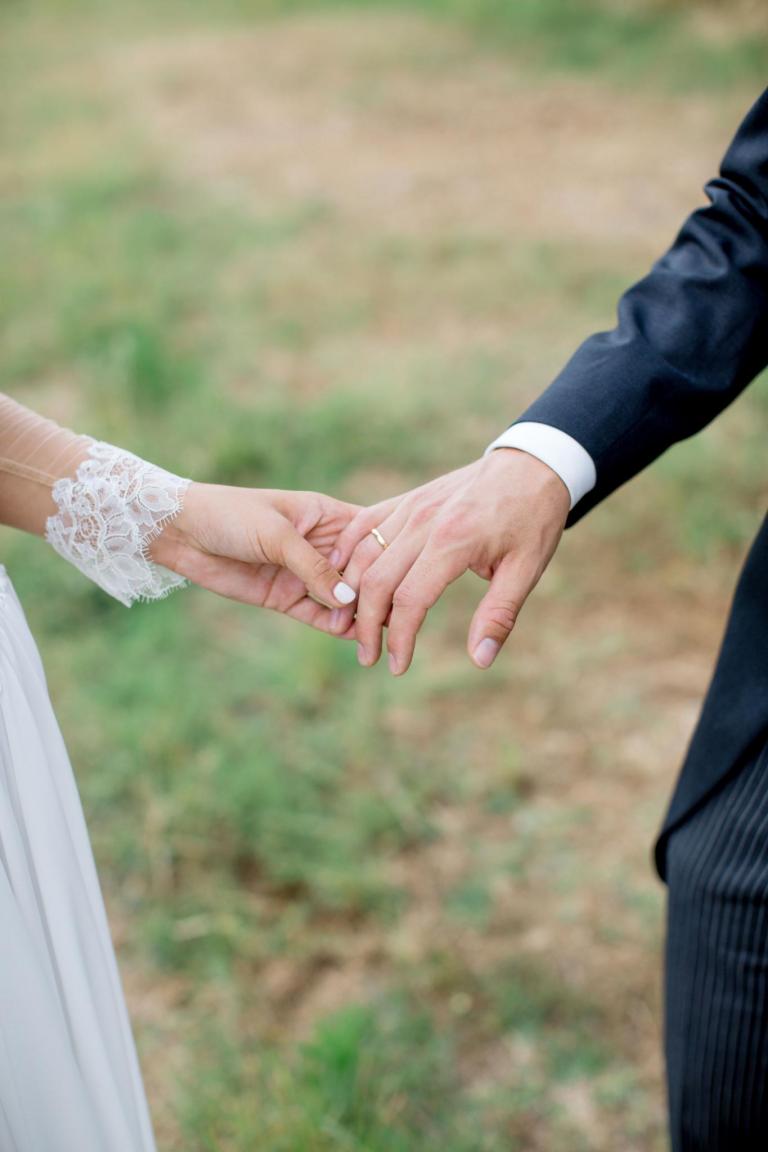 How did you start planning your wedding? What were the first steps?

The first visions we shared with each other for our wedding focused on a romantic and not-too-formal celebration together with our friends and family. As our guests are living all around the world, we quickly realized that our wedding would not be a one-day event, but rather a fun weekend getaway, which could be easily combined with our guests' summer vacation plans. This is how Tuscany with its beautiful country houses, delicious food, and wine as well as sunny temperatures came to our minds. We knew that we would need help locally, so our first step was to find a wedding planner. When we first spoke to Laura from Tuscan DMC, we immediately hit it off and we knew that she was our preferred partner to work with. We visited her in Tuscany, found our dream venue and everything else followed from there.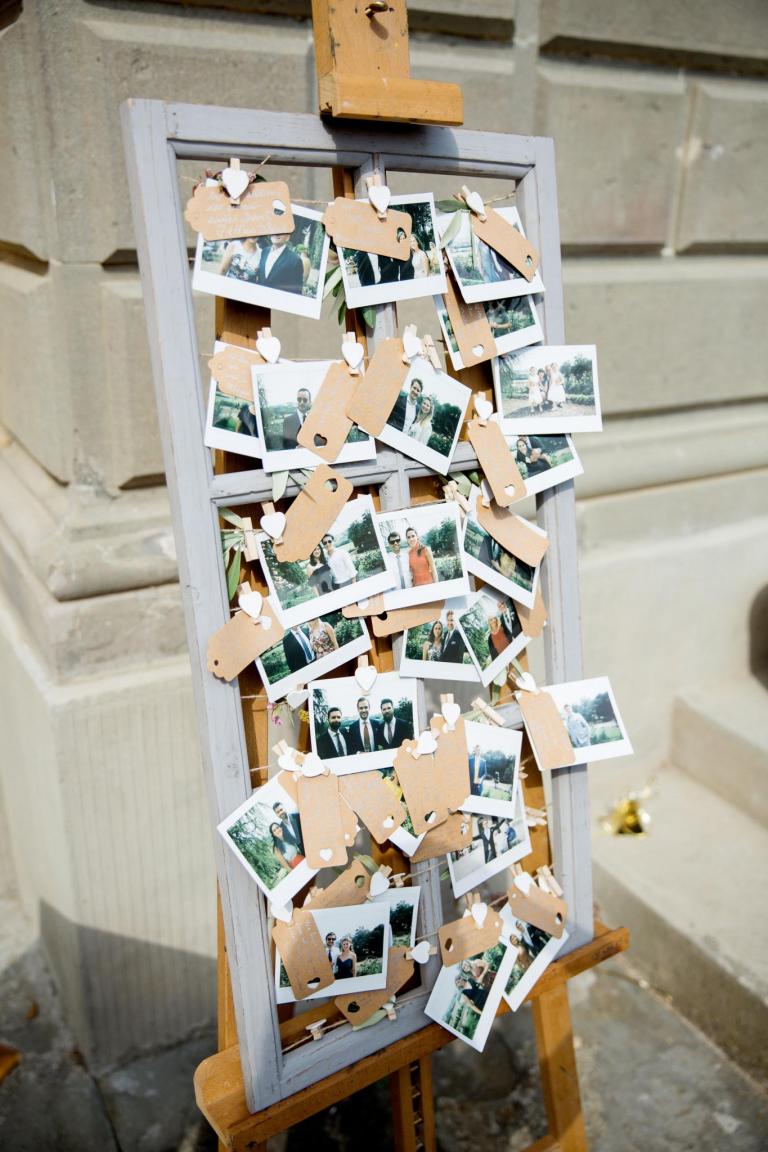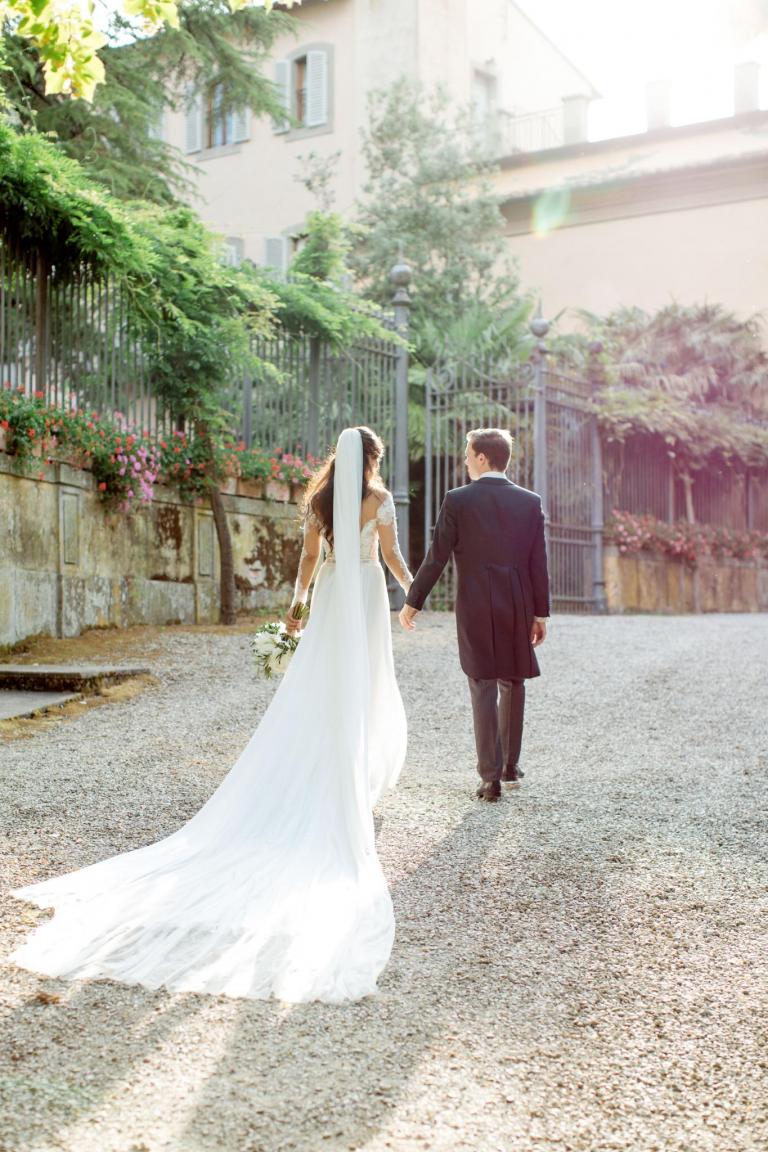 What was your wedding theme?

What we love most about Tuscany is its natural and rustic feel, which we tried to reflect in our wedding as much as we could, adding lots of white and gold elements to elevate the overall look to elegant country chic.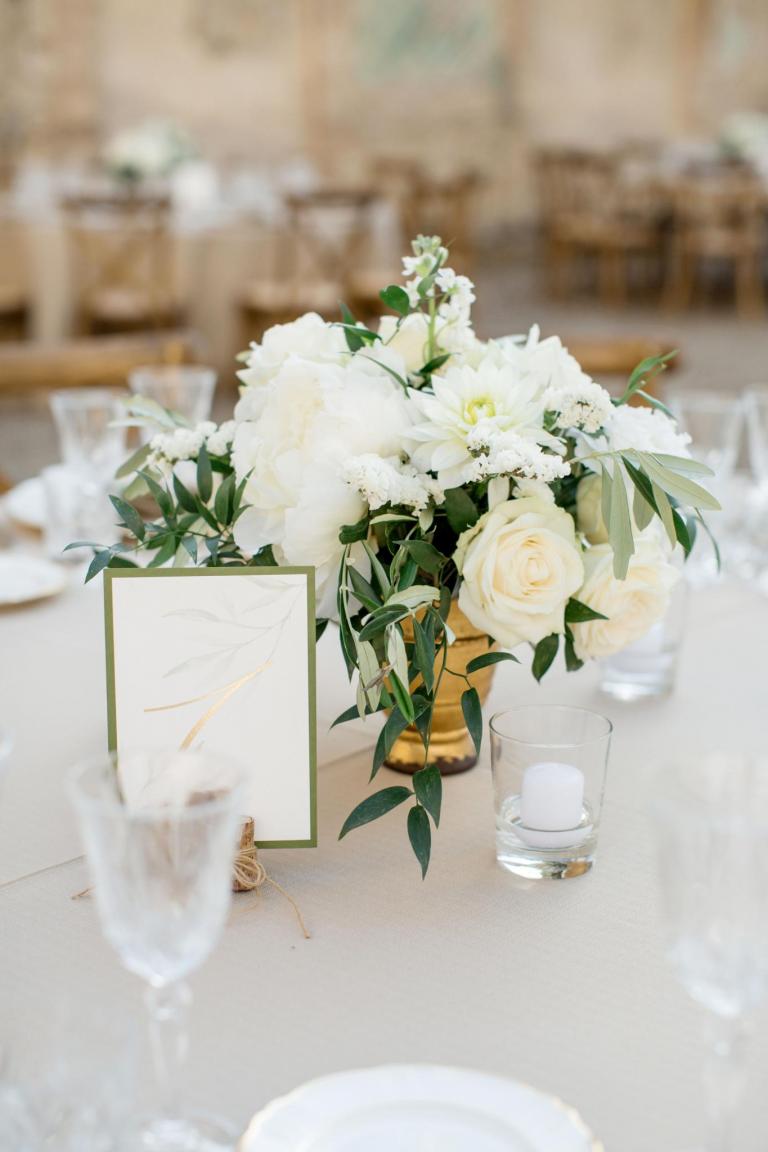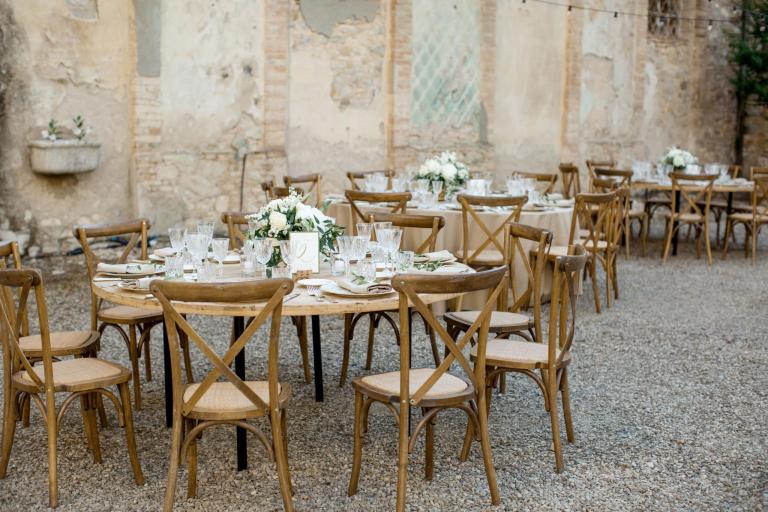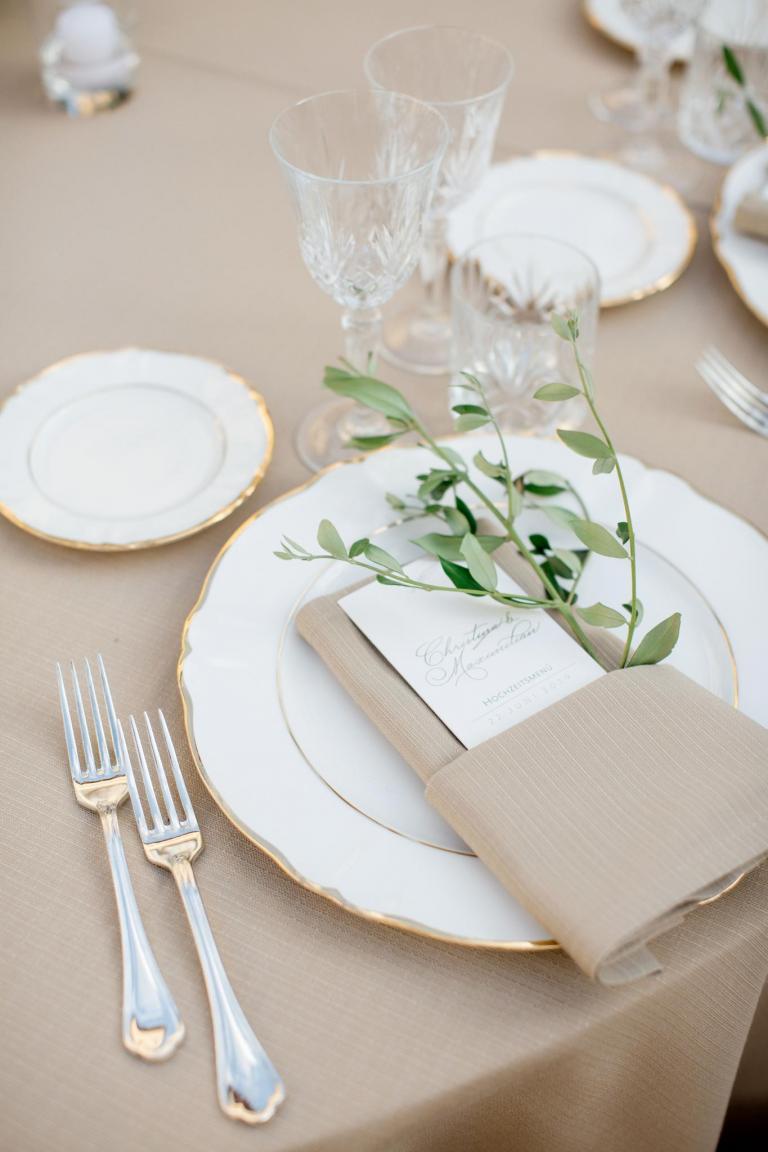 How did you choose your location?

Our core objective was to spend a memorable long weekend with all our guests – 110 in total – in one location, so we were looking for a place that could accommodate all people and offer lots of opportunities for fun events directly on site. 

It was love at first sight! Monaciano is a traditional Italian country estate near Siena, in the middle of beautiful Tuscan vineyards and olive trees and a picturesque villa at its heart. Around the estate, there are four old farmhouses with lovely holiday homes – including swimming pools, barbecues, and sunset views. We could immediately visualize our wedding weekend, with a colorful pool party, picnic dinner in the vineyards and the reception and party in the wonderful villa.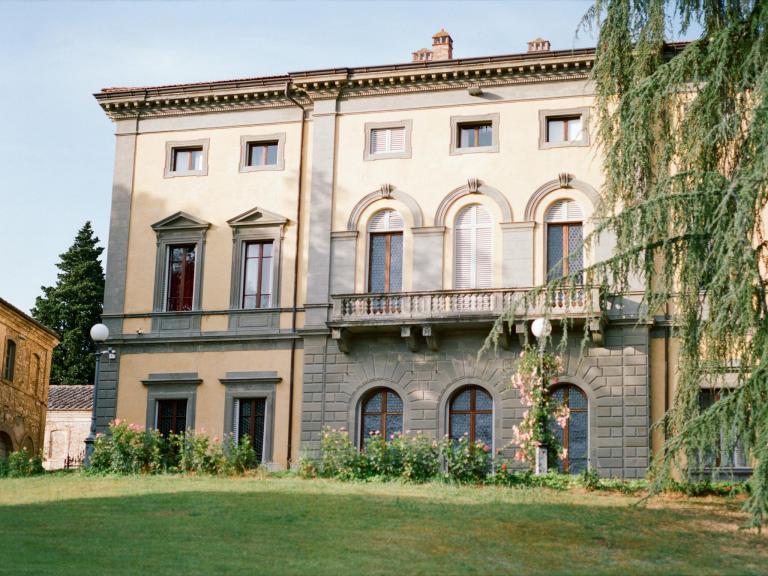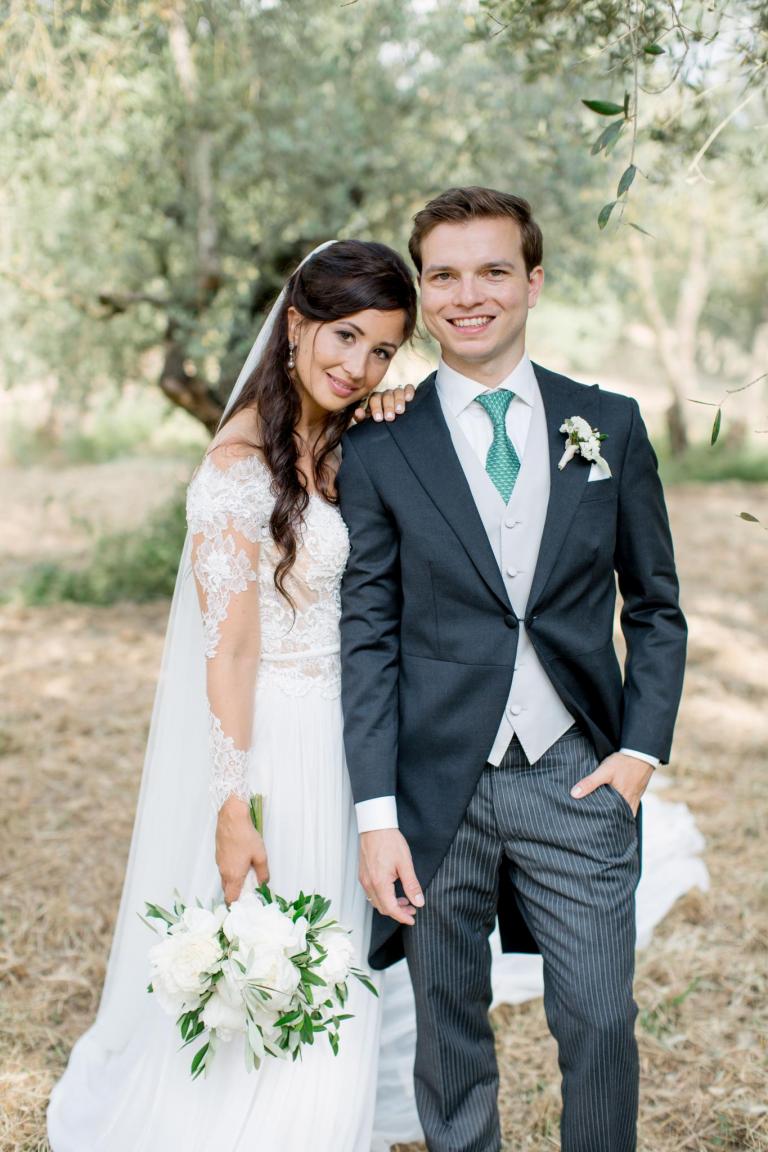 How did you decide on your bridesmaid style?

For me, the most important aspect of my maid of honor's style was that she felt comfortable in her role and her outfit – irrespective of any idea in my mind. She chose a light green dress, which made her look stunning.
How did you find your perfect dress?

Finding the perfect dress was quite a journey for me. Together with my husband, I went to multiple stores in Barcelona in order to better understand the particular style that we both liked. Once we agreed on long lace sleeves and a low-cut back, I visited stores in Milan, Madrid, Paris, and Munich in an attempt to find "the one". The first time I came across Galia Lahav dresses was in Hong Kong, where I fell in love with the delicate lace and beading. By the time I visited a trunk show at home in Zurich, I had a vision of my dream dress in my mind, which the lovely and talented team at Zoro Zurich helped me to put into reality.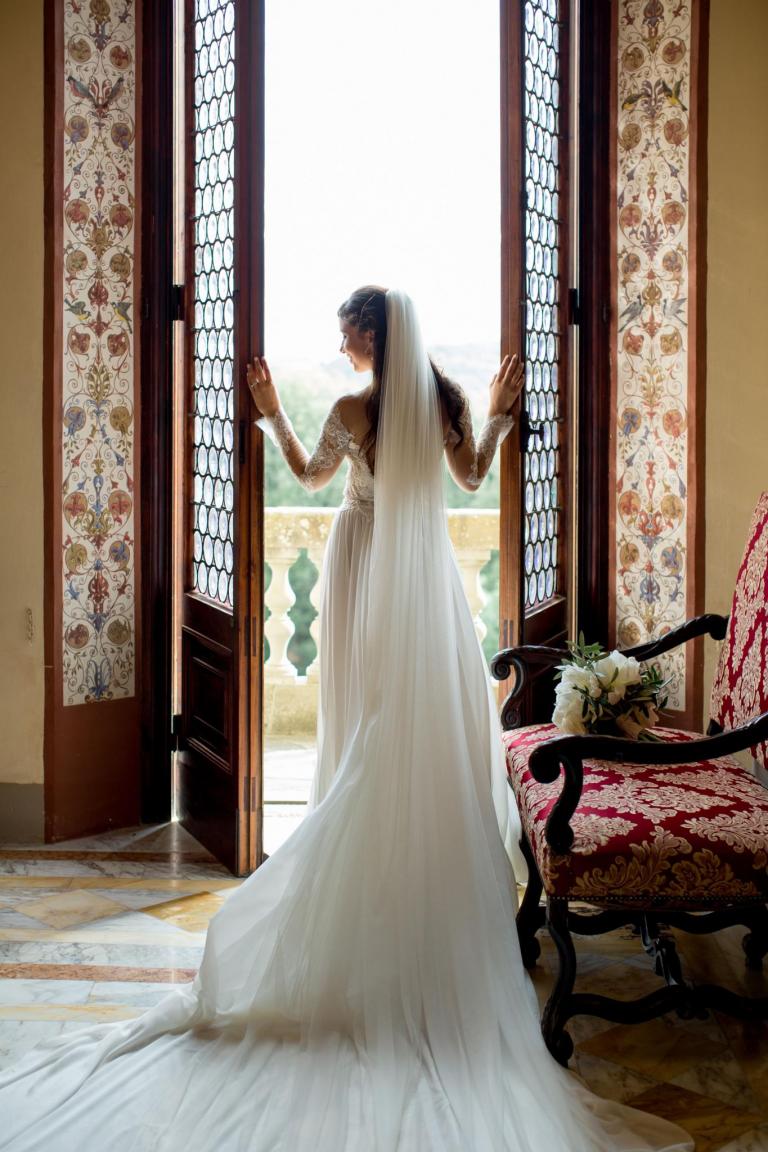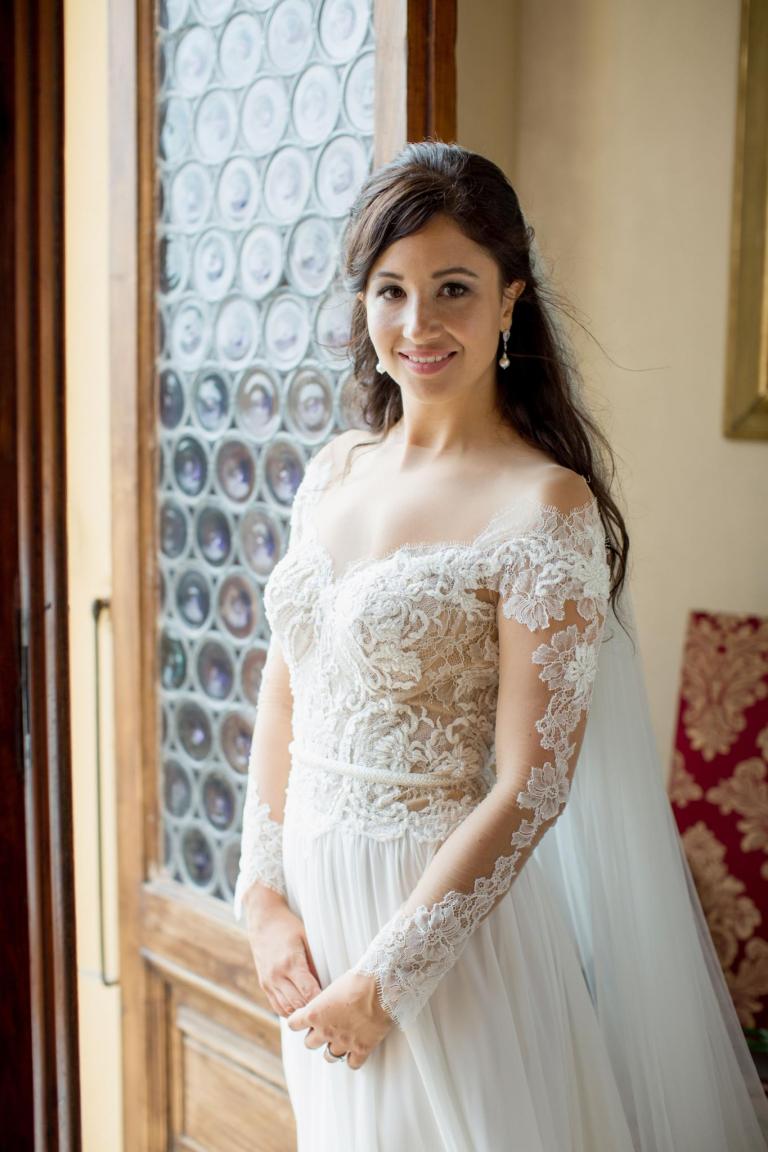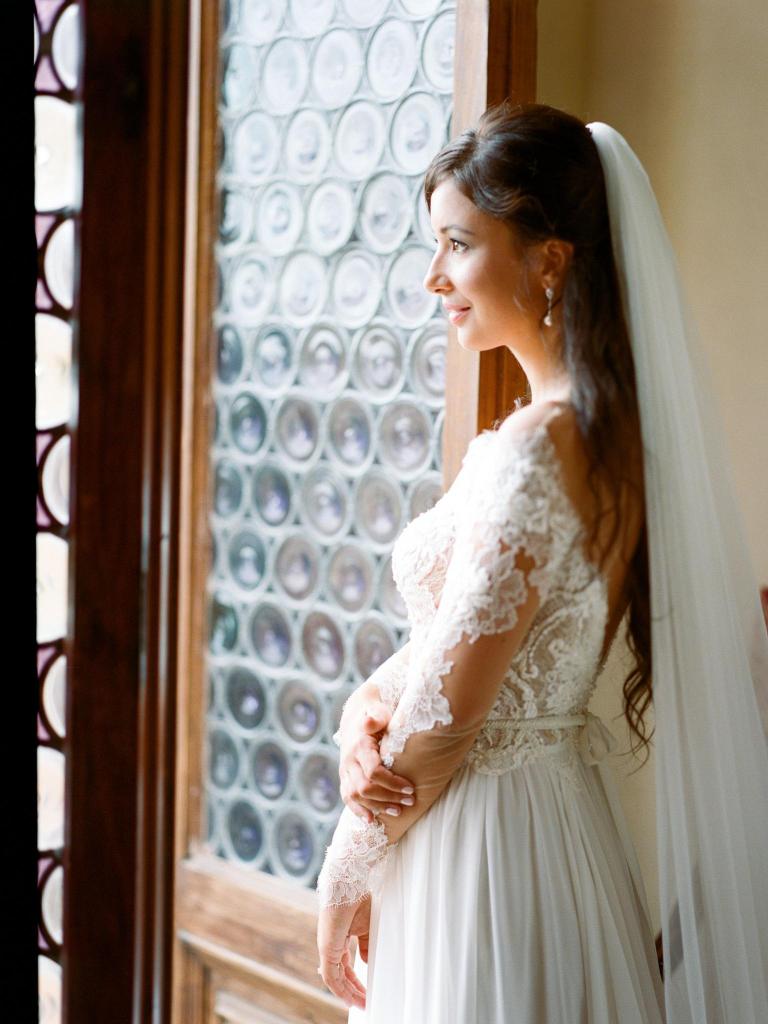 How was your experience with the Galia Lahav brand?

It was almost as magical as the wedding itself! Having a vision in my mind, I feared it might be difficult to alter an existing design to be almost completely unrecognizable, but everybody was very accommodating of my ideas and needs. We added hand-stitched sleeves to a formerly sleeveless dress, created a low-cut back where there was none before, but left the almost translucent silk skirt untouched for a very light finish. The 4.5-meter long veil was truly the tip of the iceberg, as it was surprisingly easy to wear during the wedding and had quite a jaw-dropping effect.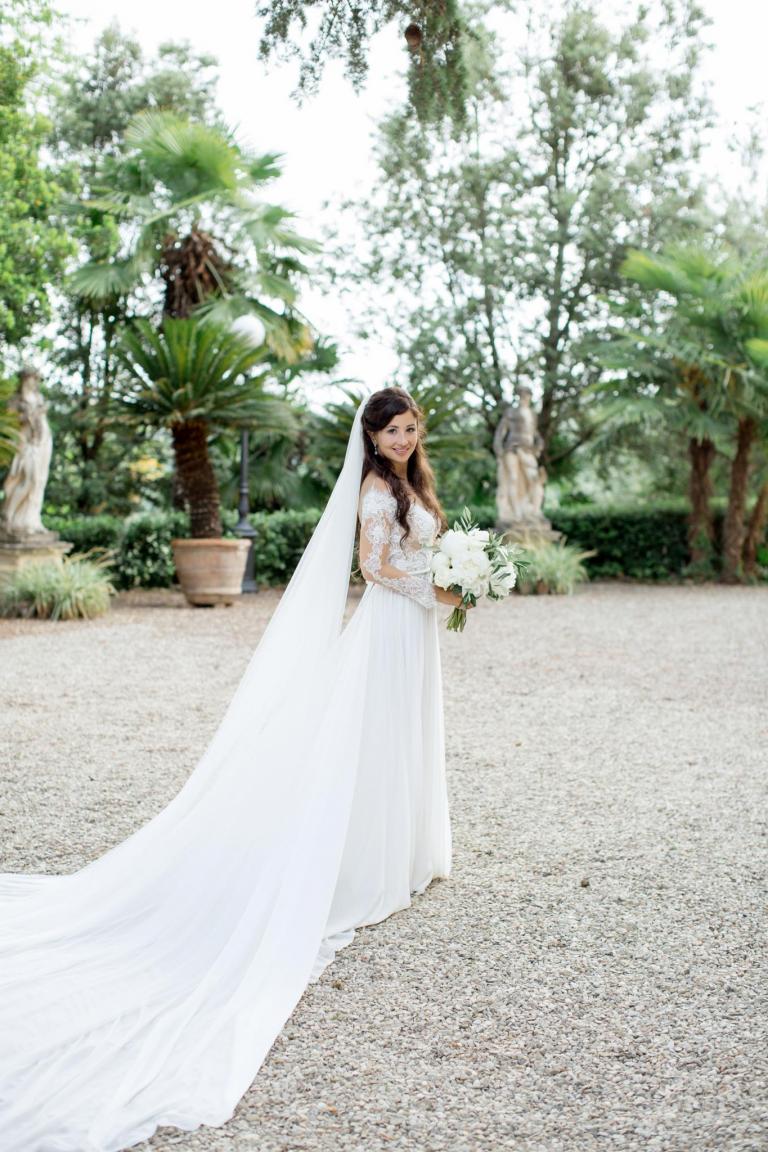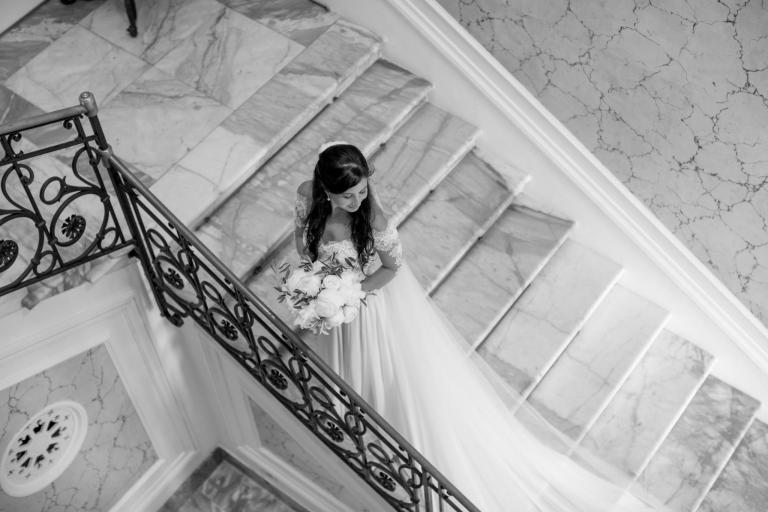 What was the most important thing for you and your husband when planning your wedding?

We aimed for creating a unique weekend for our guests, centered around our big day. We spent a lot of time to develop a schedule that allowed our group to get to know each other, to immerse themselves in the local culture and cuisine and to celebrate. There was a pool party with fun games, a picnic-style dinner in the Tuscan vineyards during sunset, a trip to the old town of Siena and a wonderful estate for our guests to explore – in addition to our wedding ceremony and party.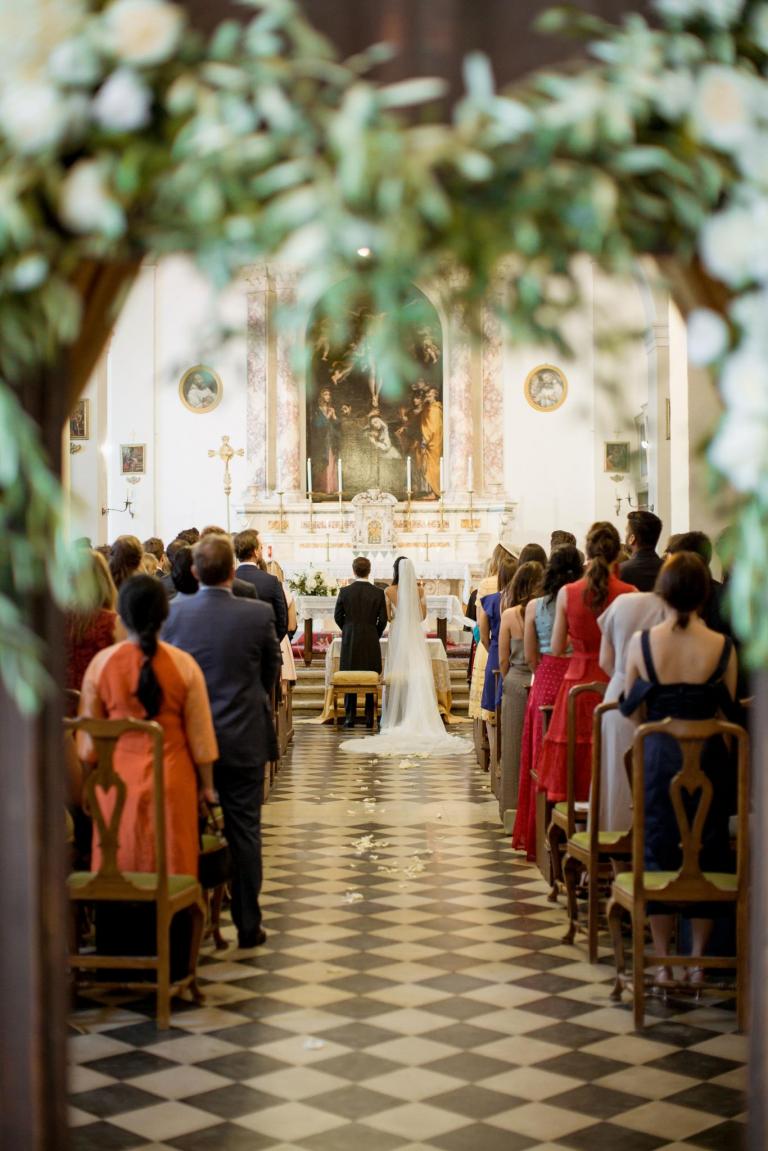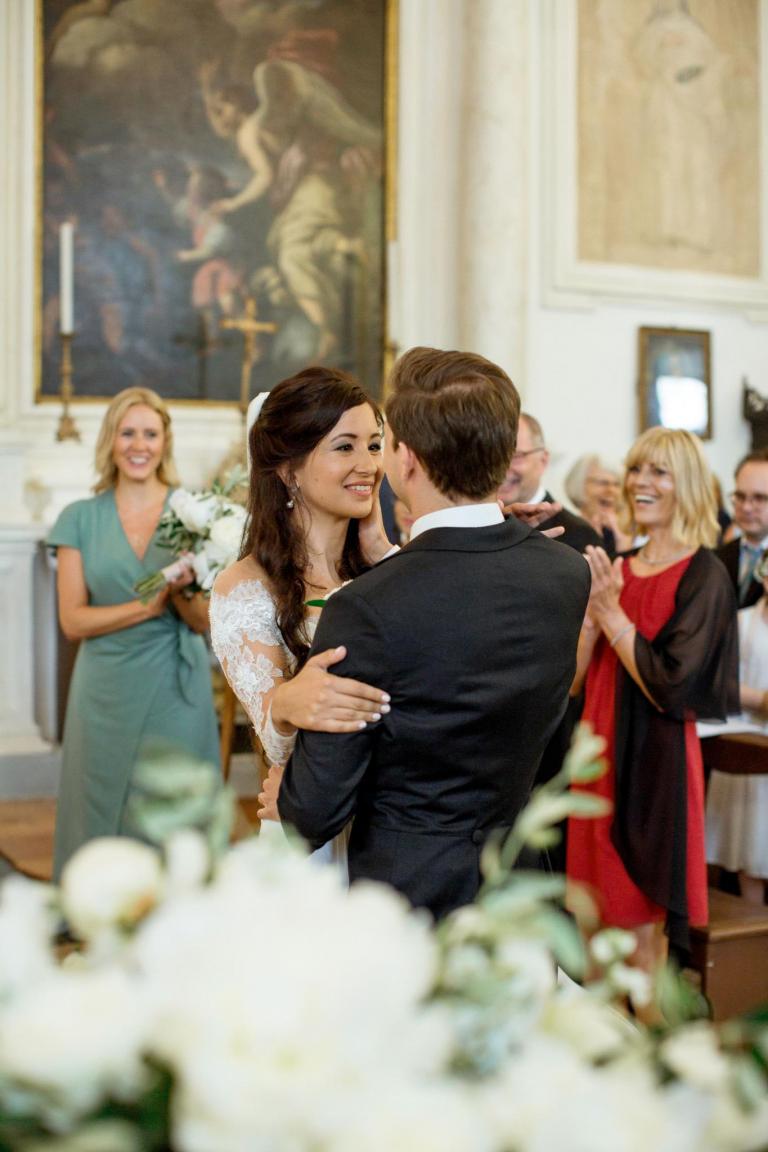 What was your first wedding song?

Funny story: We forgot the "first dance" part of the wedding until 3 days before! With both of us not being trained in ballroom dancing, we decided to follow our band's suggestion of "At Last" by Etta James, also because it was easy to dance to. Our guests may have noticed that we never practiced our dance, but luckily joined us on the dancefloor so that we could all move to the party music part together.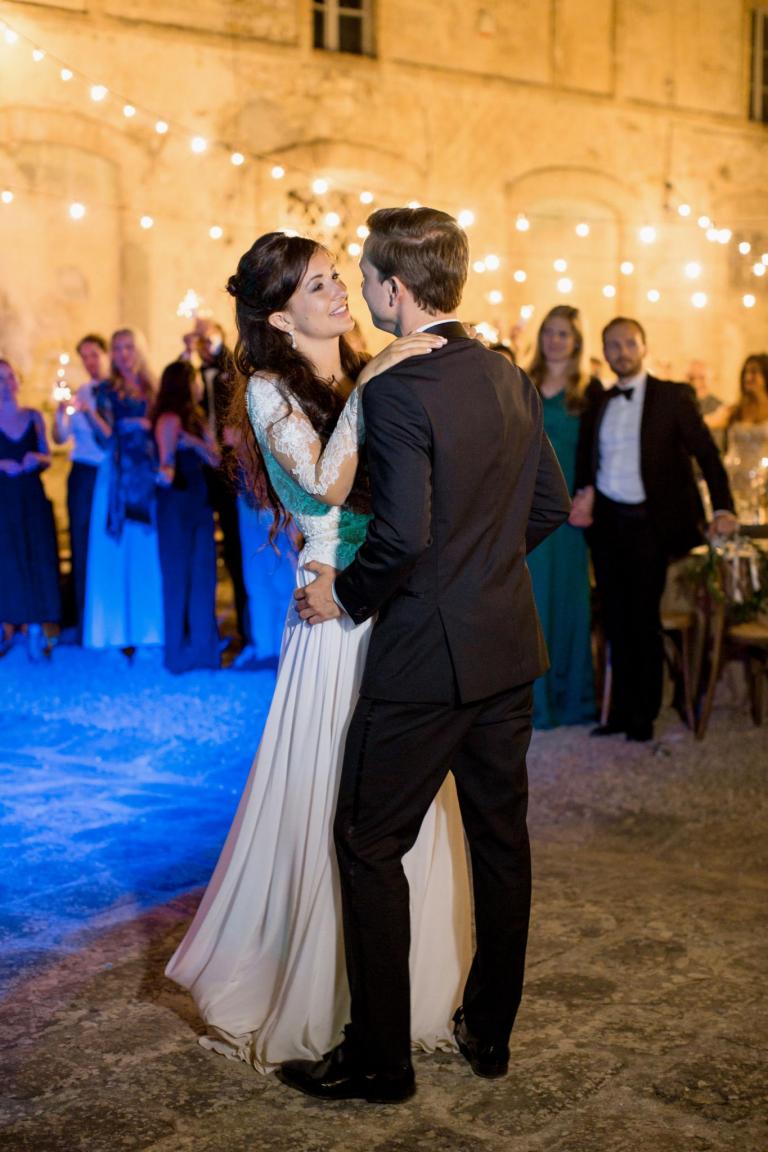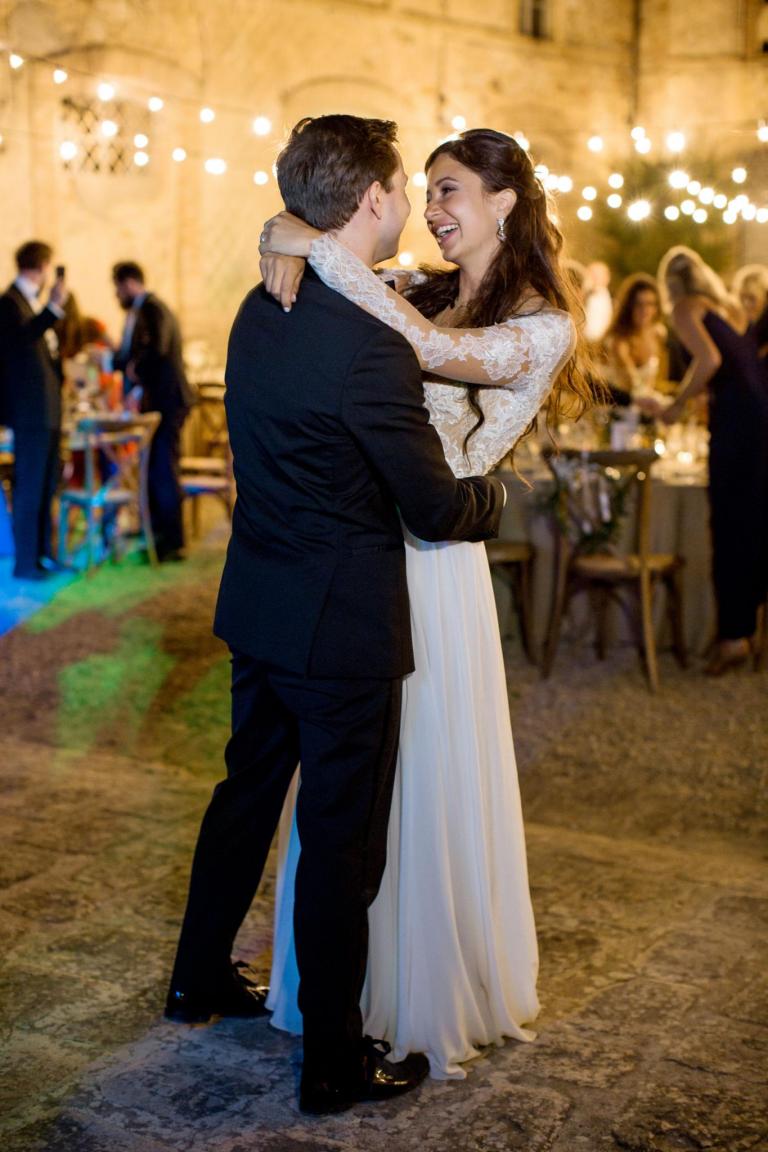 What did you enjoy the most about planning your wedding?

I loved the little details that made a difference to our guests. For example, as our group of guests was very international and quite a few spent 10+ hours on a plane to be with us, I wanted to honor their presence with a pole with signs to each of their hometowns. Seeing their faces light up when they found their home and providing them with an opportunity to connect to each other was the best reward for those little extra planning efforts! Same goes for packing welcome bags, choosing comfortable picnic blankets and a selection of fun floaties for the pool party.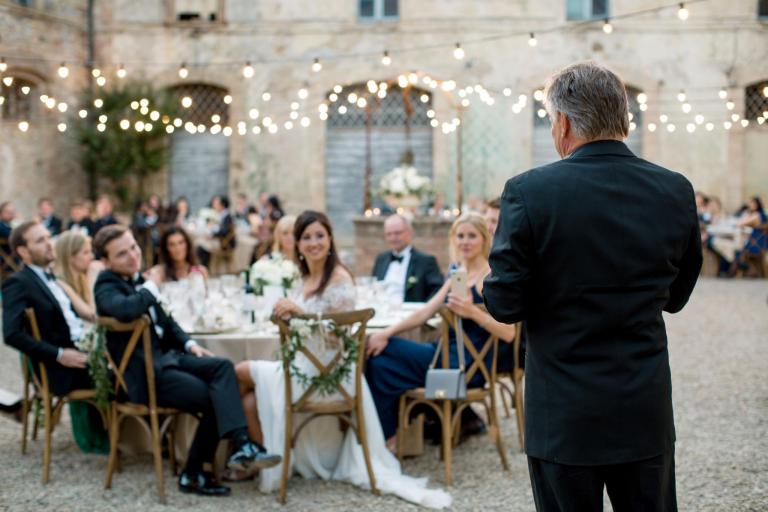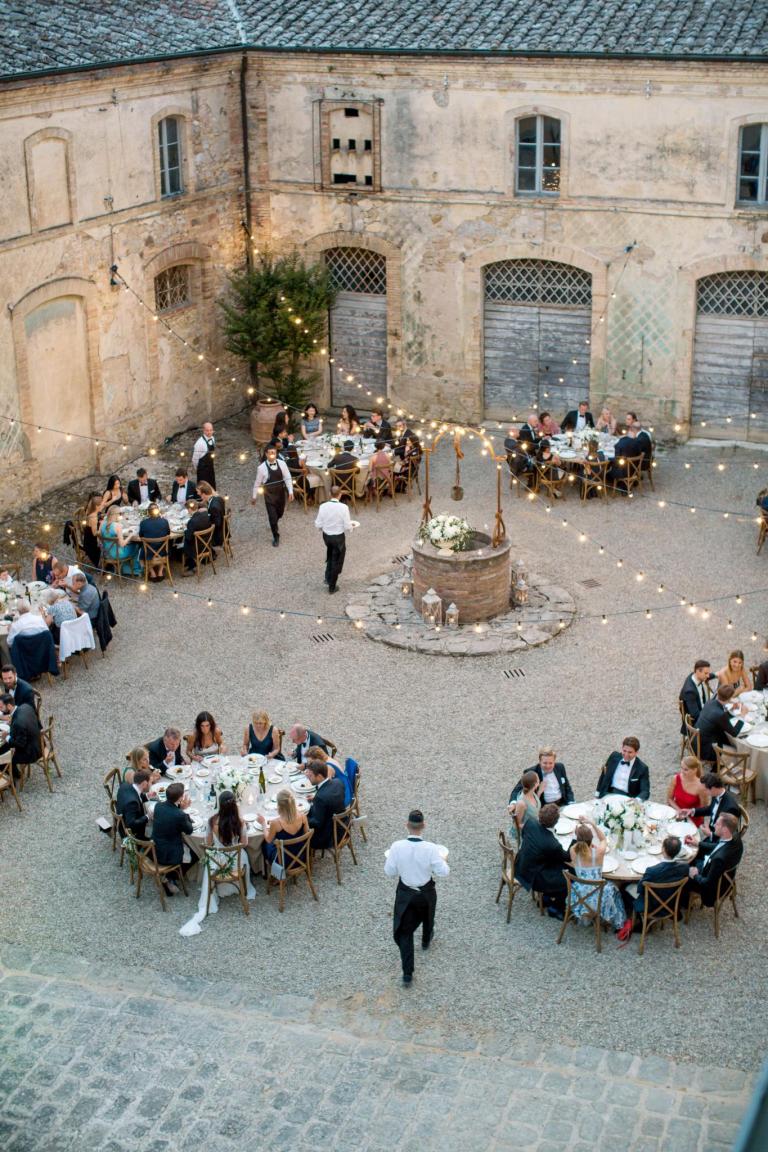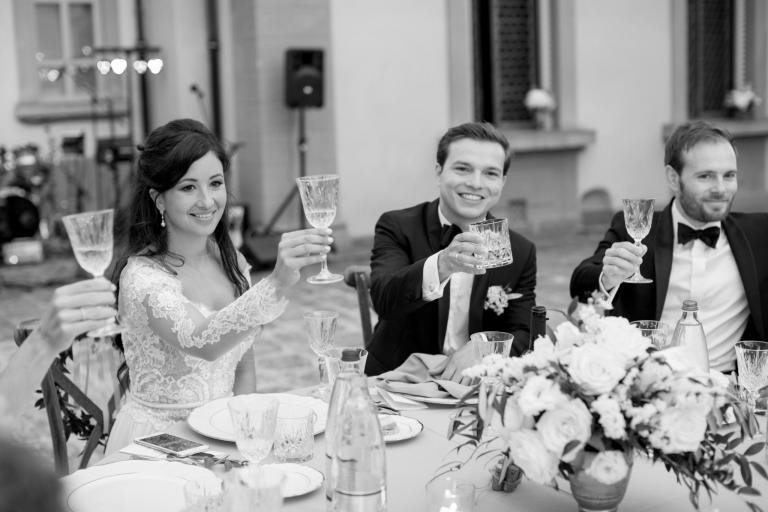 What advice would you give to all our future brides?

Yes, it is your big day, but focus your planning efforts on creating an event for your guests. Make them feel welcome and comfortable, add little personal surprises and plan ahead to accommodate any individual need – happy guests who take a million photos with you in your beautiful dress, eagerly listen to your dad's speech and dance until the early morning make your wedding truly memorable!
What moment from your wedding will you never forget?

There are so many to choose from! Aside from the traditional big moments – walking down the aisle, sharing the first kiss, listening to my husband's loving speech – I loved the unexpected moments that we shared with our guests. My favorite one is probably when we jumped into the pool at 5:30 in the morning after the wedding party with a group of our best friends and watched the sunrise together in the vineyards afterward. This memory will truly last forever!  
Finish your registration for {City} Trunk Show