FREE SHIPPING & RETURNS WORLDWIDE!

DUTIES & TAXES COVERED WORLDWIDE
Find your nearest boutique
Our GL Bride of the week is the beautiful Chloe Mack, who walked down the aisle in our Allegra gown to wed her fiance Alex. The couple held their romantic nuptials at the stunning Ashridge House in England. In the following interview, Chloe shares with us what made her wedding exceptionally special and the moment she found her dream GL dress.
How did you meet your husband? Tell us a little bit about your relationship.

I met my husband Alex when I was 16 years old. We have been childhood sweethearts ever since then, I didn't think it would end up in me marrying him, he is the most amazing human, my best friend, my soul mate, I love him more every day.
How did he propose?

Alex proposed on the 21.09.17 in Dubai on the rooftop overlooking the beautiful view of Dubai. I had no clue he was about to actually propose to me. I was so shocked when he took a picture of me looking out to the distance, to when I turned around he was on one knee with tears in his eyes asking me to be his wife I felt like I was dreaming it didn't feel real so natural from him and I will never forget those moments and then finally I saw my beautiful ring!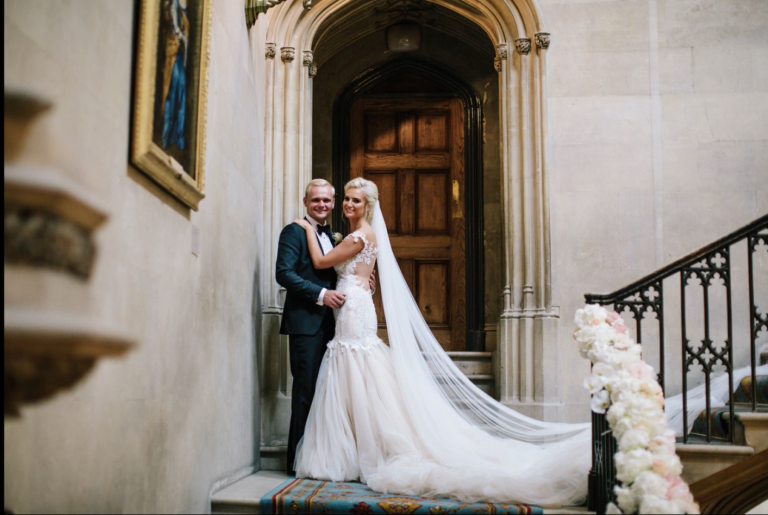 How did you start planning your wedding? What were the first steps?

We started looking at venues in the winter we found the beautiful Ashridge House we both fell in love and we looked no further. It was so traditional, the ground, the whole building just everything was breathtaking, and the stairs in the hallway, they just blew us away. I just knew I wanted to have that extra romance feel then just walking down an aisle every step I took was amazing with my father walking me down the beautiful stairs to the aisle to meet my fiancé at the end.
Did you do any beauty or fitness prep for your big day?

Beauty I just tried to drink as much water as possible and to eat really healthy and I was training for the marathon so I felt happy with the fitness side I was getting enough miles in for the big day.
What was your wedding theme?

My theme was blush and silver my dress was an amazing blush colour and Sharon custom made my dress so the bottom was more straight and the back was just amazing and the veil, so I tried to keep the colours subtle through the day.
How did you choose your location?

I had seen the location and Ashridge had always been in the back of my mind then when the day came to finally start looking I just fell so in love that I didn't even look elsewhere me and my partner just knew it was the one, I then showed my parents and they loved Ashridge to which was even more special.
How did you decide on your bridesmaid style?

Once I picked my dress and then had it custom I then decided I would have them a similar colour to my dress they draped at the back they were beautiful I also wanted my twin who was my maid of honour to feel more special so I made her back more longer just so she stood out a bit more I wanted her to feel special.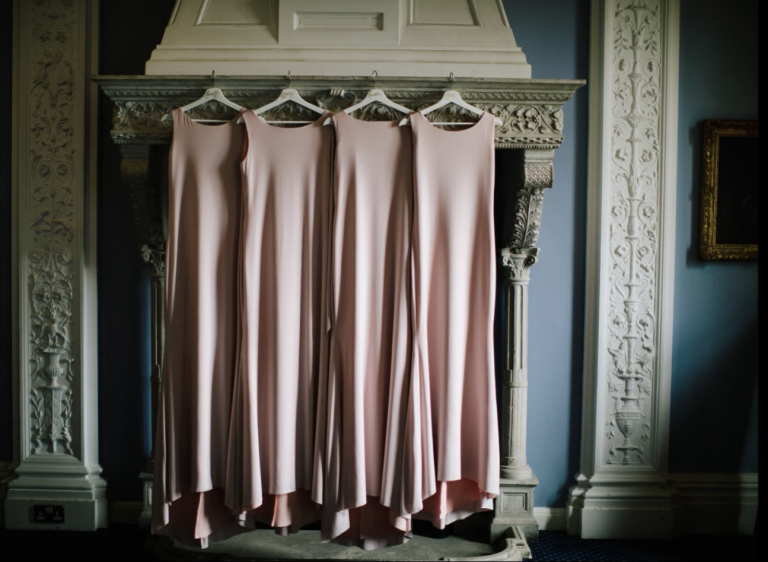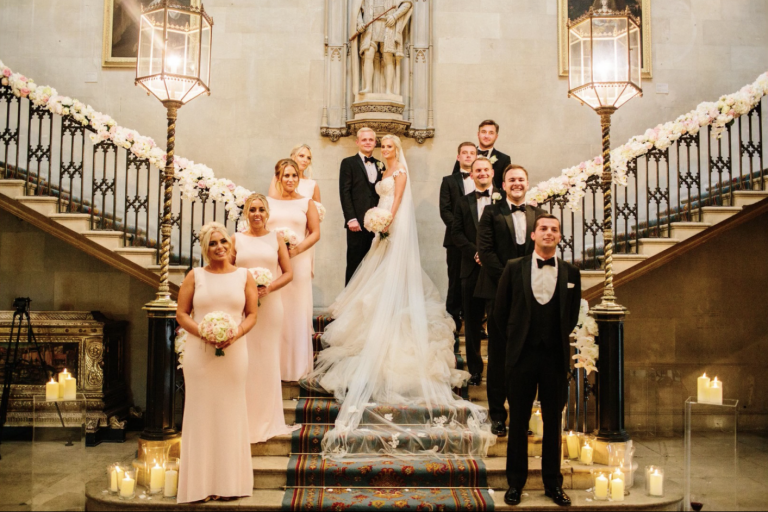 How did you find your perfect dress?

When I first had my appointment at browns brides, I had Gabriella who helped me so much she was amazing I told her what styles I liked and then from there I just started trying on the dresses. I fell in love with two styles. I remember coming back to show my twin sister Maisie the first dress and she cried, it was beautiful Sharon then walked in and he loved it, I then see out the corner of my eye a bride to be in the beautiful dress and I said to Gabriella please could I try that one next please, I then tried in the dress and I come out and come to the main mirror and just cried, then I got to put the veil on and I just fell more in love with the dress all my family cried, then Sharon come back in and said No this is it, I felt so honored he came back in and spoke with me about the dress. The more I was in the dress I didn't want to take it off the only thing was the bottom I wanted a more straight bottom and Sharon said that's absolutely fine he was amazing. Then I came out to the main mirror in browns and cried even more, I know the saying when you know you know with the dress. I then said yes to the dress and that was it. I then was so nervous for my first fitting as I didn't know exactly how the dress was going to look with the changes but it was more beautiful then I imagined.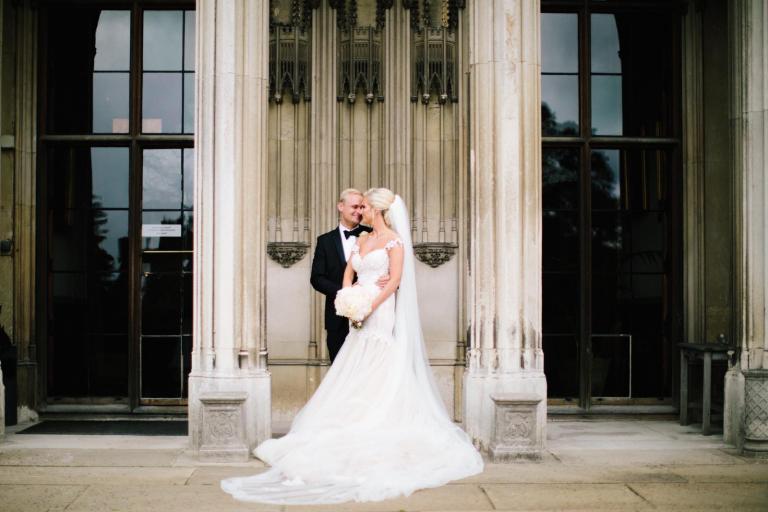 How was your experience with the Galia Lahav brand?

My experience with Galia was amazing I was really lucky to meet Sharon sever at browns he was so lovely and professional.
What was the most important thing for you and your husband when planning your wedding?

The most important thing was that we were both happy and he let me get on with everything from start to finish and on the day it was just perfect the flowers the cake my dress the suits the photos just everything went amazing on the day.
What was your first wedding song?

Our first wedding song was so high John legend my partner sent me the song and I cried the words was so beautiful and meaningful for us as a couple.
What advice would you give to all our future brides?

My advice would be to try not to stress, the day goes so fast and we took 10 minutes out from our day to just look around and tell each other we can't believe we are here finally married after all the amazing years.
What moment from your wedding will you never forget?

My favourite moment was walking down the stairs with my dad something I'll cherish forever. Seeing all the people from so high up to then finally meet my husband at the bottom and get married to start a new life together that was my favourite part of the day, also meeting so many amazing people and Jay Rowden my photographer was just amazing.
Finish your registration for {City} Trunk Show