FREE SHIPPING & RETURNS WORLDWIDE!

DUTIES & TAXES COVERED WORLDWIDE
Find your nearest boutique
Our #GLBride of the week is the gorgeous and talented Celina Jade, who wed her fiancé Han Geng in our Aelin gown. The couple held their romantic mystical wedding in beautiful Queenstown, New Zealand on the secret set of The Hobbit movie. In the following interview, Celina gives us a behind-the-scenes look of her wedding day, love story, and dream dress. As told by Celina:
How did you meet your husband? Tell us a little bit about your relationship.

We officially met at an awards ceremony in Mongolia.
How did he propose?

Han rented a catamaran in Santorini, it was a grey and cold day and he was super bummed about the weather. We were sitting in the cabin in the warmth and he started crying, I was so confused and worried and soon realized he was proposing to me. He was so adorable, as he kept apologizing for the weather which wasn't bothering me at all. I thought it was so beautiful anyway. After I said yes, we walked out to the deck and a school of dolphins came out of nowhere and swam alongside us, just as this was happening, the clouds broke and the sun came shining through, it was incredible!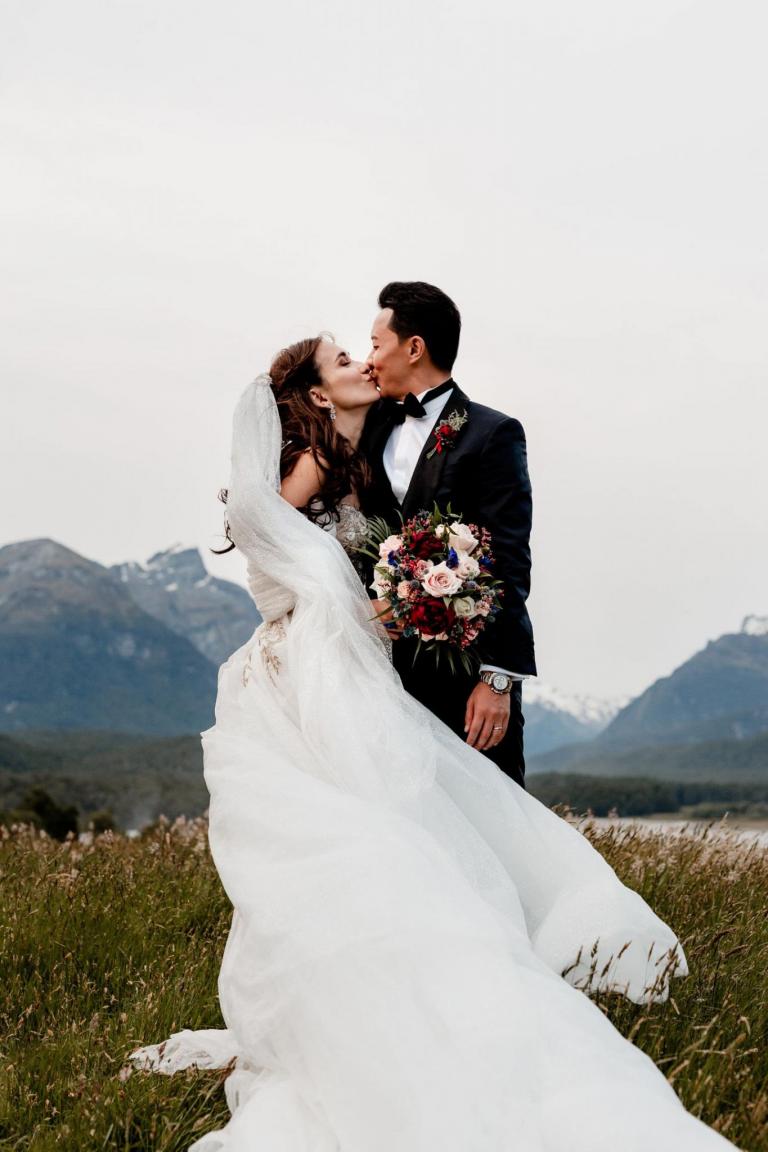 How did you start planning your wedding? What were the first steps?

The first step I took and the best step I took was calling up my dear girlfriend Nicole Froelich to tell her the good news about our wedding-to-be. She is a Destination Wedding Planner and her wedding in Morocco was the most magical and beautiful wedding I'd ever been to. Nicole has such incredible taste, she is highly efficient and organized and has such grounded energy. While I was freaking out at times, she was always calm, there for me, and creative in her ways of solving problems.

She sent me a few questionnaires in the beginning to get a better feel of what we'd like our wedding to be like and started sending me references, photos, places and when we settled on NZ, she found a local team to work with a Moment and they together looked at so many different venues for us to choose. I think that was the hardest part, finding a raw place in nature that was untouched. Who would've ever known that we'd end up marrying in a town called "Paradise".

I have Han to thank because he never settled for a venue if we didn't love it and also he was able to visualize our wedding at this location when no other wedding had ever been held there. The grass was completely overgrown, the trees were all-natural, there were fallen branches and he said, "This is it!" The trees look right!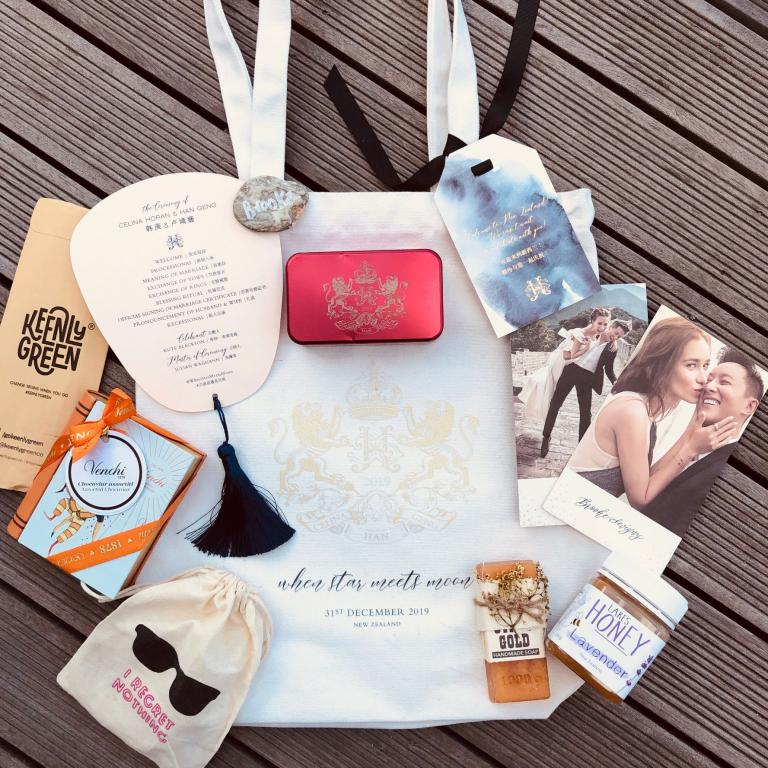 You come from a culture with such a unique and strong heritage, how did this impact the way you wanted your wedding to be?

I definitely wanted to honor my Chinese roots as my mom is Chinese so it was very very important to me to have a traditional tea ceremony preceding the western ceremony. I am so glad we did that, not only were we able to wear such wonderfully traditional outfits by the lovely and talented Guo Pei but we had such a good laugh with the games. Basically, the bridesmaids have to come up with a series of challenges to put the groomsmen through before the groom is allowed to take the bride away.

Also, the actual tea ceremony has so much significance because filial piety is such an important virtue in Chinese culture, I think it is very important to thank both parents as we wouldn't be who we are today and also acknowledge that marriage is the coming together of 2 families and not 2 individuals. I really really enjoyed this part of our wedding.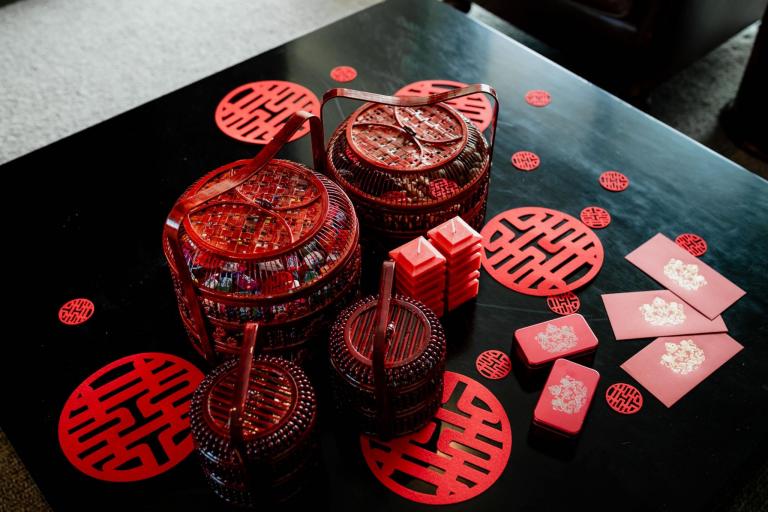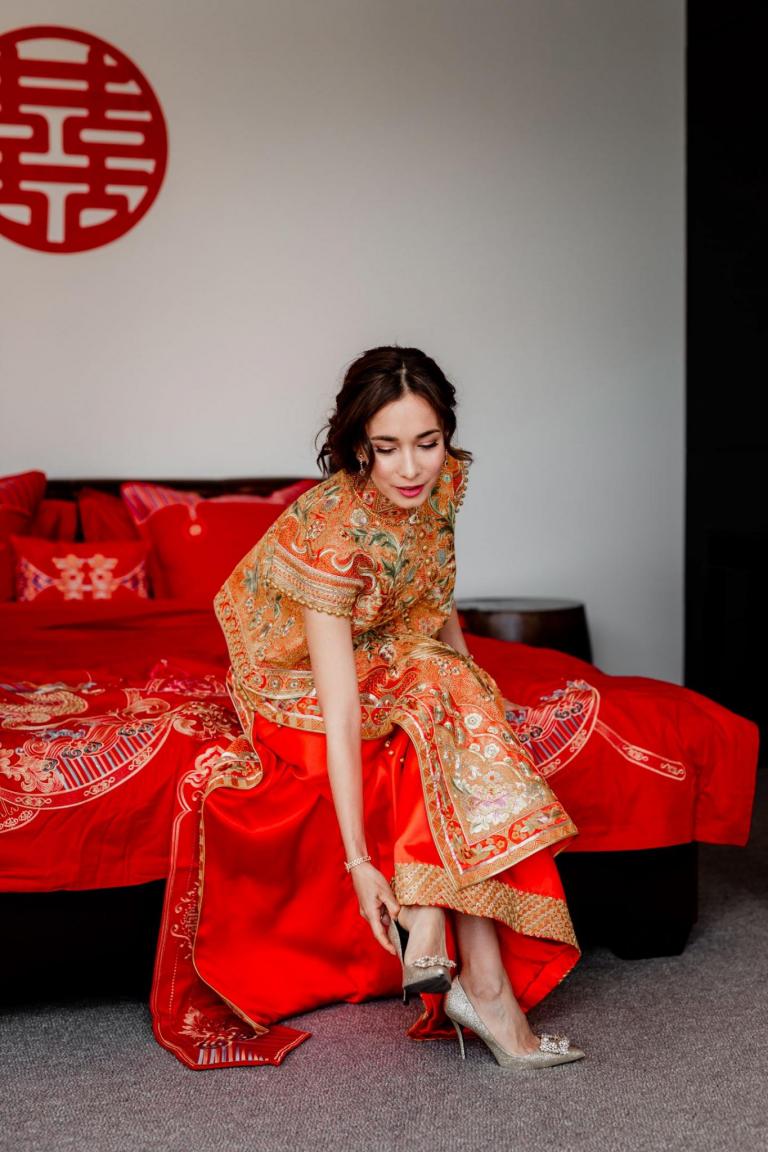 Did you do any beauty or fitness prep for your big day?

I was shooting a tv series for 3 months in Shanghai and was playing the character of a gym owner and fitness instructor, so because of that I was pretty fit coming into our wedding. I didn't really do much with my face, I just generally try to eat healthily. I'm that girl that takes 10 minutes to get out of the house.
What was your wedding theme?

Spiritual. Heartfelt. Nature. Mystical. Magical. Romantic. Dreamy. Our hashtag is #WhenStarMeetsMoon because my Chinese name means Moon and his Chinese name means Star. We had a quote that we shared on our wedding invitations which were "Just as the night sky wouldn't be complete without the stars and the moon, my life wouldn't be complete without you."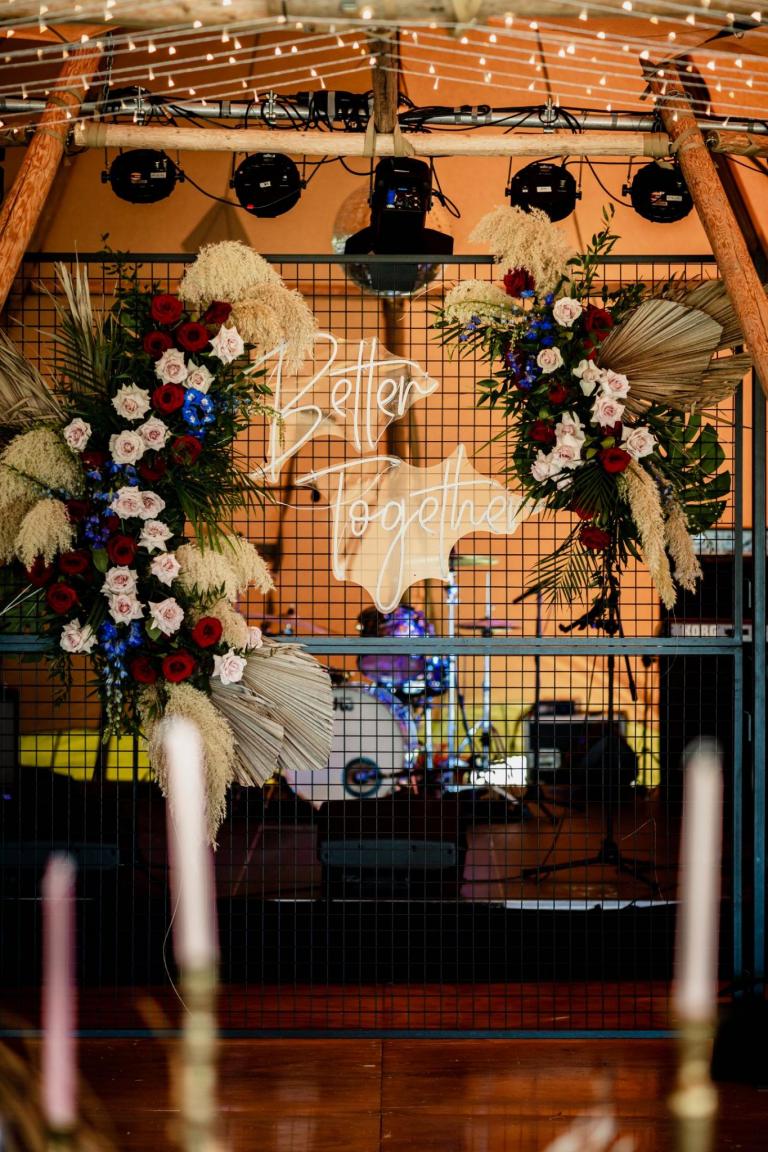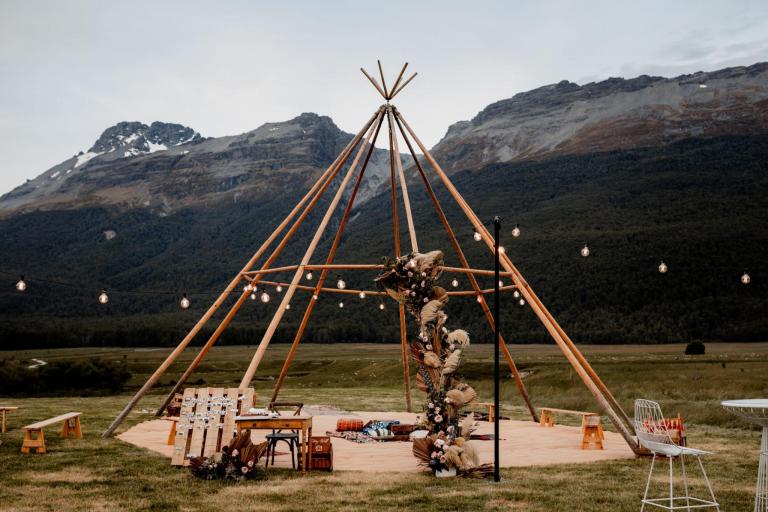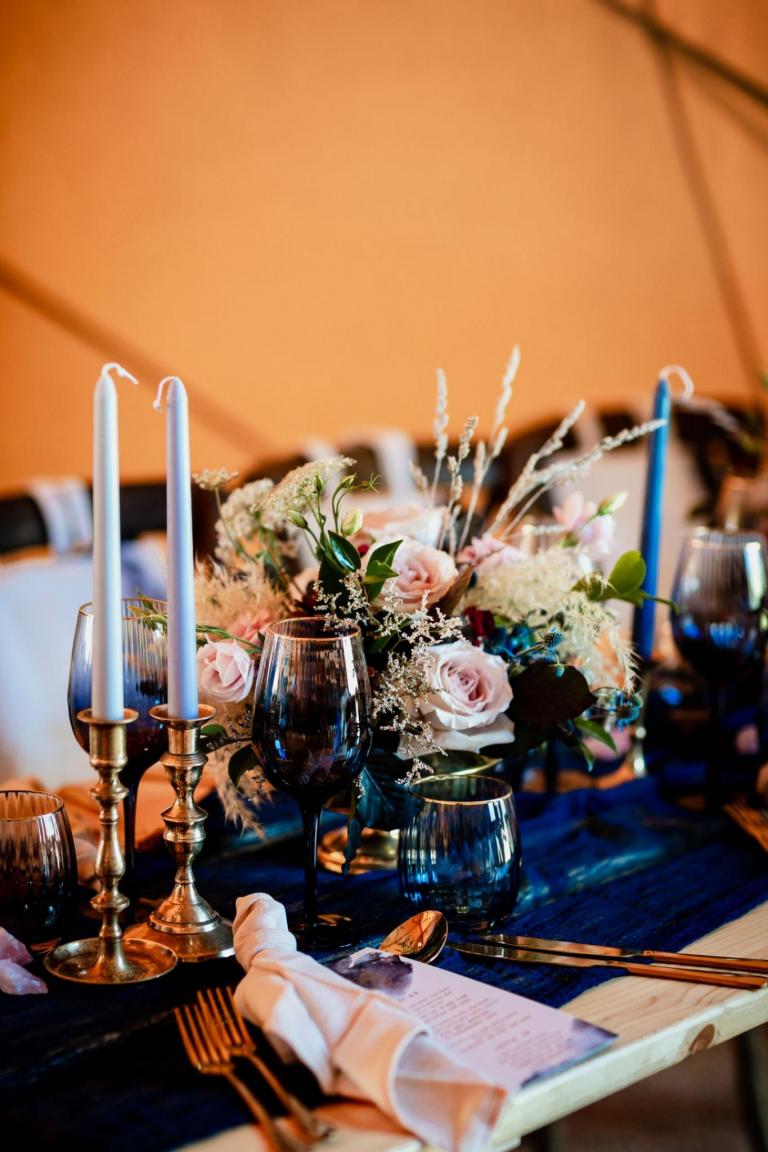 How did you choose your location?

Before we started dating, we used to talk as friends and he told me that he was shooting a movie in New Zealand and how much he liked it there.  He kept asking me to fly there to get to know each other better but I politely declined. After I said yes, we talked about our ideal wedding and we both wanted a forest wedding and looked everywhere for the perfect place, we wanted to be surrounded by beautiful untouched nature, our ceremony to be witnessed by old wise trees who've seen many seasons pass to bless us with their strong unwavering presence. I remember when we first arrived together in Queenstown for the wedding, he said "last time I was here I was pursuing you, this time I brought you here to marry you."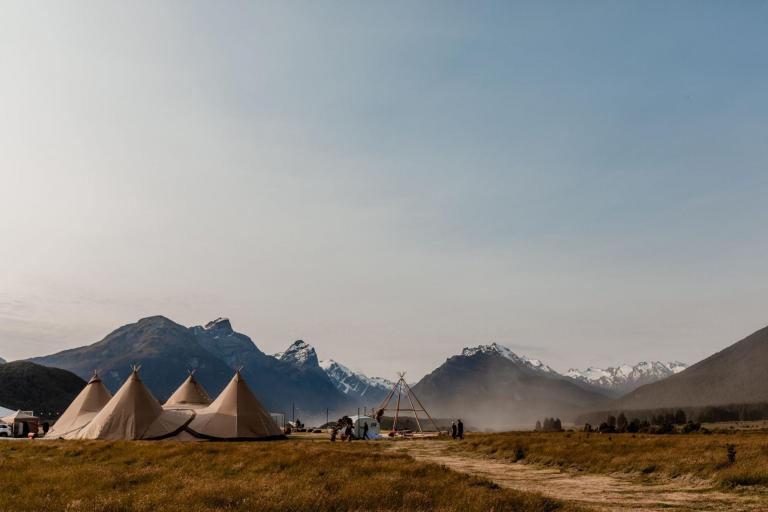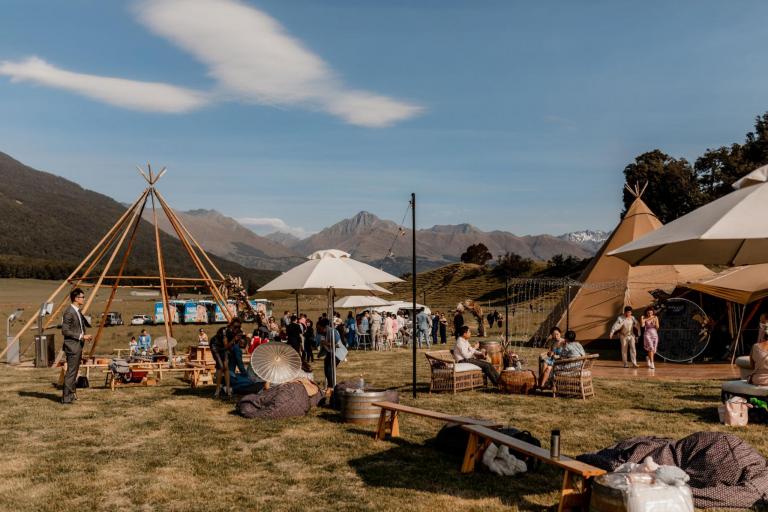 How did you decide on your bridesmaid style?

My bridesmaids are goddesses. They are such beautiful women inside and outside. I wanted them to shine and be their most beautiful self at our wedding. Catherine Deane was the perfect designer for my bridesmaids, she designed something that was flowy, romantic, sexy and my girls and guy (I had one bridesman) shimmered like stars on our big day.

Catherine herself is a good friend of mine and she has a heart of gold and I admire her so much as an entrepreneur and also as a woman. She is the epitome of being able to embrace and love your own femininity. I'm so grateful that even though she couldn't come to the wedding because she was in South Africa that her spirit was part of our wedding.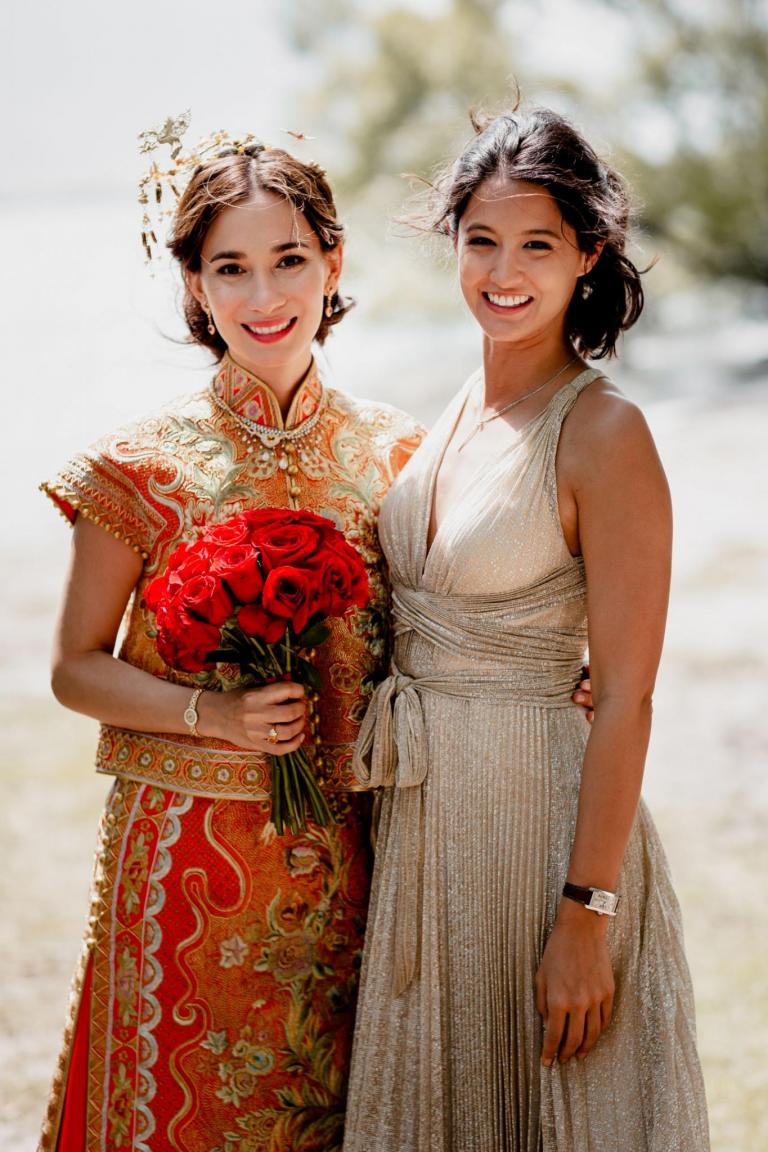 How did you find your perfect dress?

I have never been a girl who's fantasized about getting married or her wedding. I remember browsing through Instagram and seeing a sexy white lace wedding gown and thinking WOW, that dress is gorgeous. I followed the designer who I knew nothing about and she was the first-ever wedding designer I ever followed – her name is Galia Lahav. When my bridesmaids asked me who I would like to wear, I said, to be honest, there's a lady called Galia, she would be my dream designer. And dreams do come true!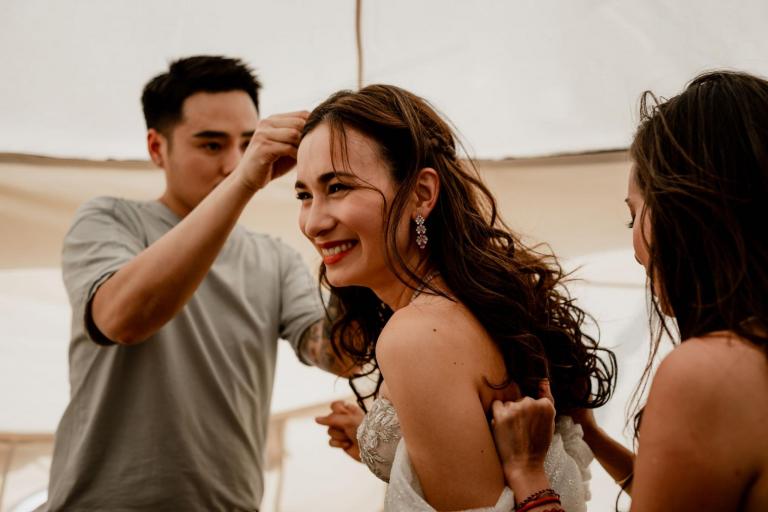 How was your experience with the Galia Lahav brand?

Galia and her team are absolutely amazing! They spent hours with me in Shanghai just before her Shanghai fashion show opening, to create the dress of my dreams. As an actress, I've worn many gowns and walked down many red-carpets, so I really wanted my wedding ceremony dress to be of a style that I'd never wear for work. I wanted a long long tail and since we only wear a wedding gown once in our lives, I wanted to wear it throughout the night but it'd be very inconvenient to be dragging a tail around, especially in the wild with the grass, rocks, and twigs on the ground.

Han is a great dancer so as you can imagine the first dance is very important to him. I had to think of a way to keep the dress on but make it short somehow for the dance. Galia is such a genius, she told me she used to design dresses for "Dancing with the Stars" in Israel, so she made a long dress for me for the ceremony and then made the exact same dress with a shorter tail for me to change into after the ceremony. Guests didn't even notice! This way, I could walk around and greet people and take photos easily.

What they didn't know was the surprise Galia had in store, the second dress is actually a 2 piece dress, in the middle of our dance, I ripped off the tail which was attached by velcro and danced with Han in a beautiful short see-through dress with the corset bodysuit underneath it. So Galia actually made 3 dresses for me! She really is incredible! So we had a grand ceremony, a romantic entrance to our reception and a sexy dance and afterparty. I would highly recommend her because she's really sincere in doing whatever it takes to make you feel beautiful and safe in her dresses. I am so glad she was part of our wedding, I have a soft spot in my heart for her and her team.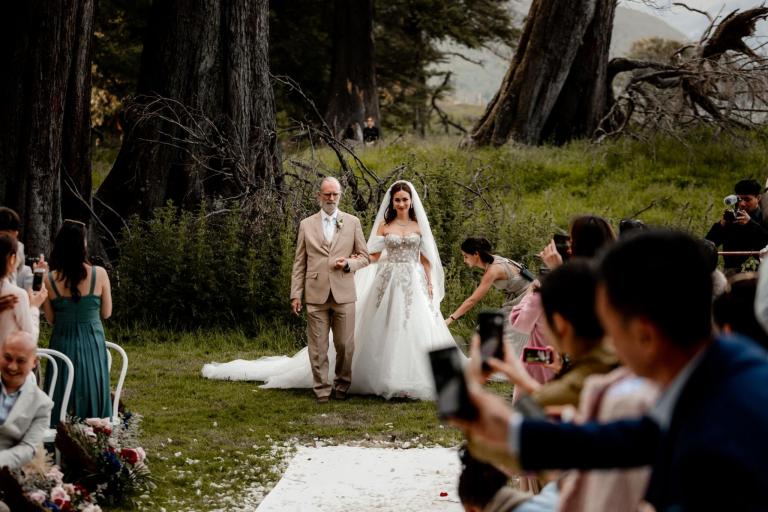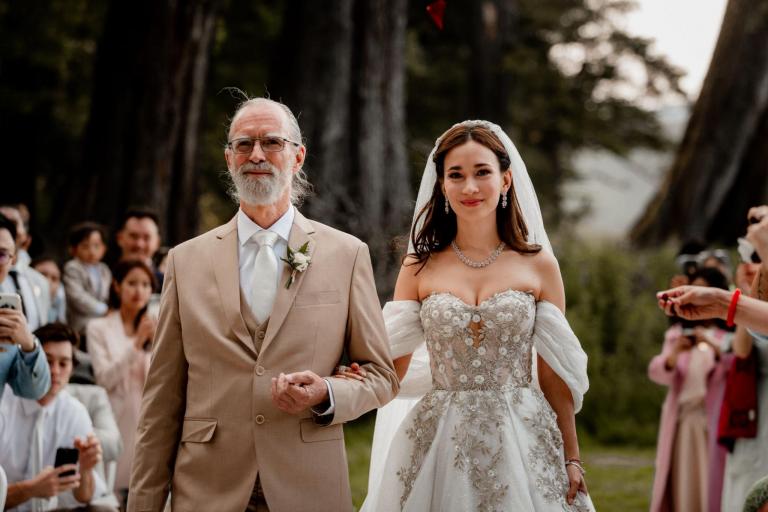 What was the most important thing for you and your husband when planning your wedding?

We really wanted our guests to have fun in an intimate setting! We wanted our wedding to be universal, spiritual, unifying, and meaningful to our guests, that they could take something away from the day too.  One of the best decisions we made was to have our dear brother Kute Blackson marry us, he's the best-selling book author of "You are the One" and a motivational speaker. He brought so much love, power, hope, and light to the ceremony. People cried and laughed and you could feel an opening of hearts amongst the trees.

Many people came to us and said "we believe in love again". Kute has that effect on people, he can help people see their own light and help them open their hearts. He's a spiritual being and a great teacher. We also wanted people to be able to fully let go of themselves at the wedding, which is why we didn't allow any press to come. We chose a place with no reception so people had to put down their phones and be completely immersed in each moment.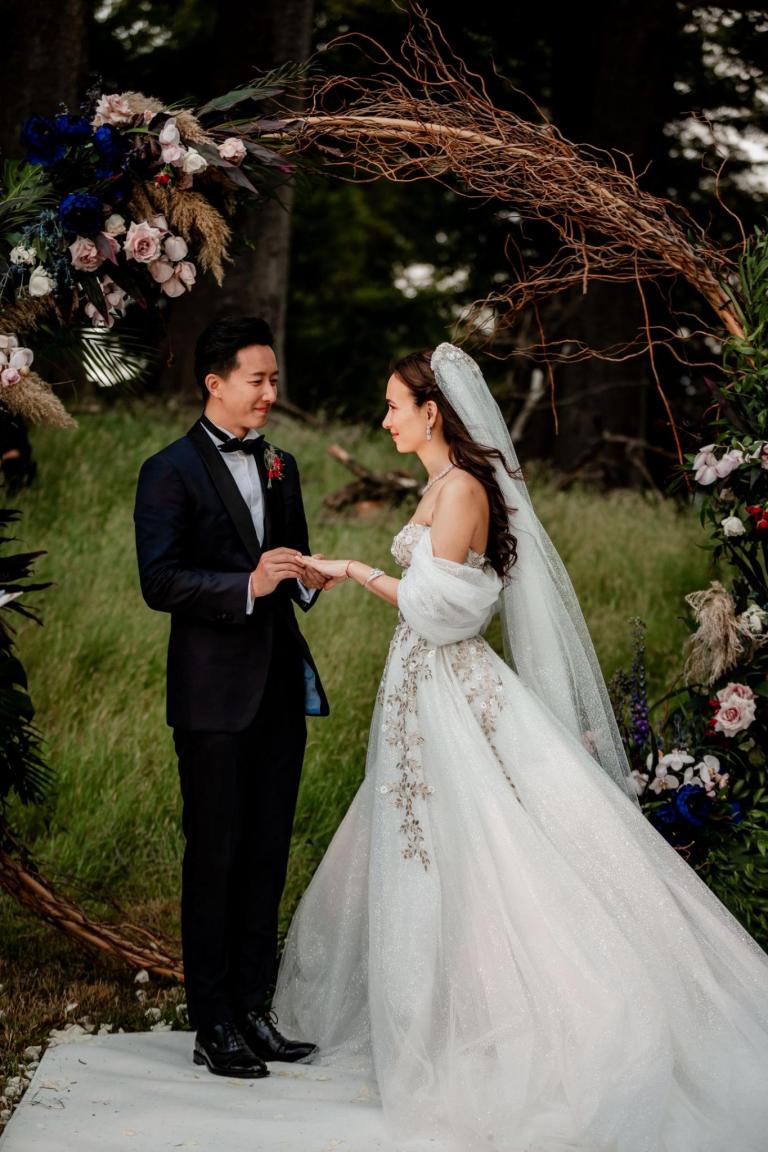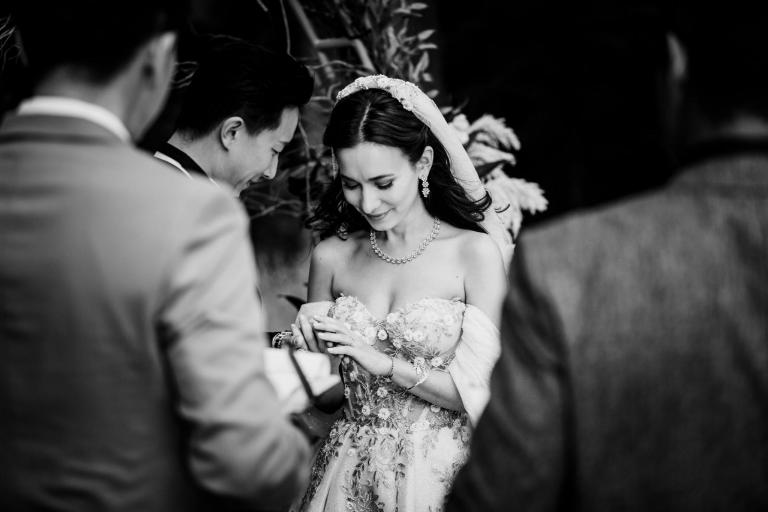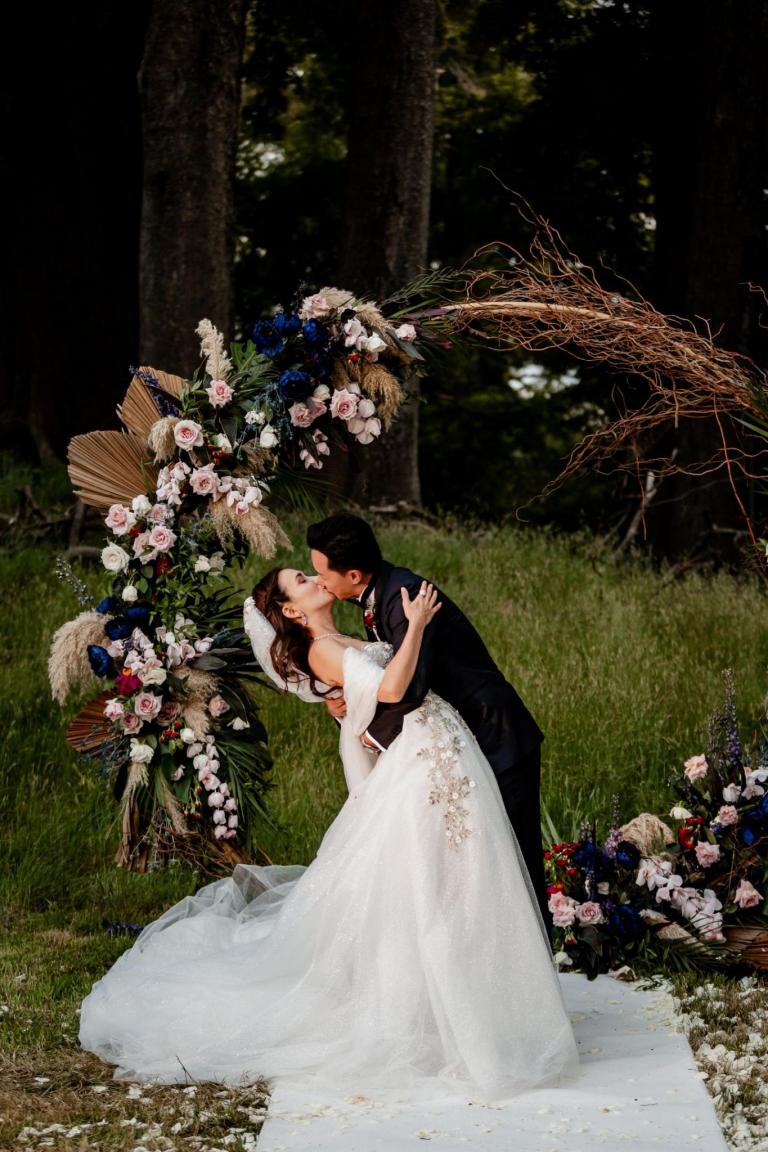 What was your first wedding song?

Our ceremony song was 我愿意,a duet we recorded together that we keep privately. It was the perfect song to walk down the aisle with because we were singing about surrender and love.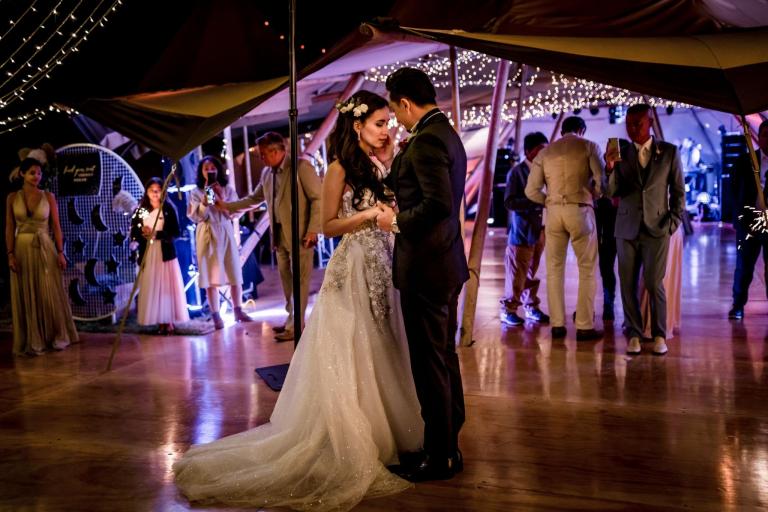 What did you enjoy the most about planning your wedding?

We loved planning all the details of the wedding together, we wanted people to have the true New Zealand Maori experience so we welcomed our guests with the Hakka dance performers. It was magical because we began our day at Paradise by thanking the natives there for letting us borrow their land to celebrate our special day. We enjoyed coming up with positive energy ideas like infusing our drinks with crystals and energy, coming up with games to bridge the language and cultural gap, making a newspaper rundown and teaching guests how to speak English or Chinese, making sure our wedding was environmentally friendly like having edible straws, putting an effort to give back and not create waste by sending the flowers to nearby old peoples' homes and sending our food waste for composting afterward at nearby farms.

All of these details brought us so much joy. Han and I never argued once over our wedding, it was like our baby. We really enjoyed bringing it to life and are so happy that we took the time to fully live each moment during the day and breathe it in. Thanks to Nicole Please & a Moment, we were able to fully enjoy the fruit of our planning.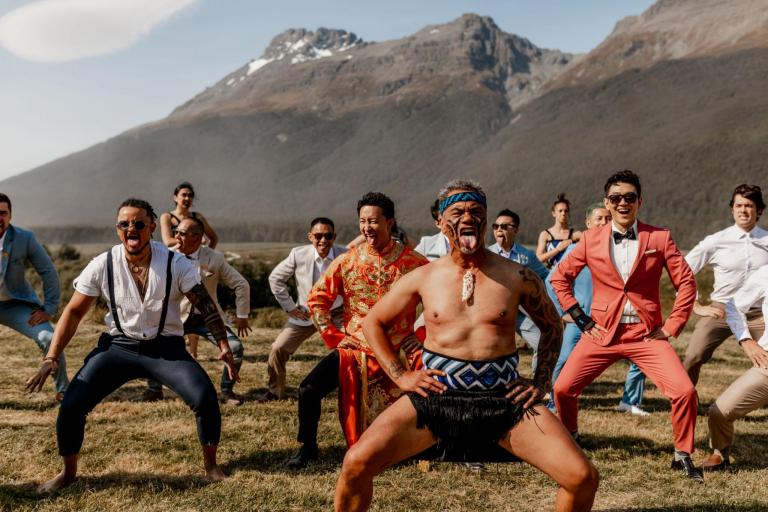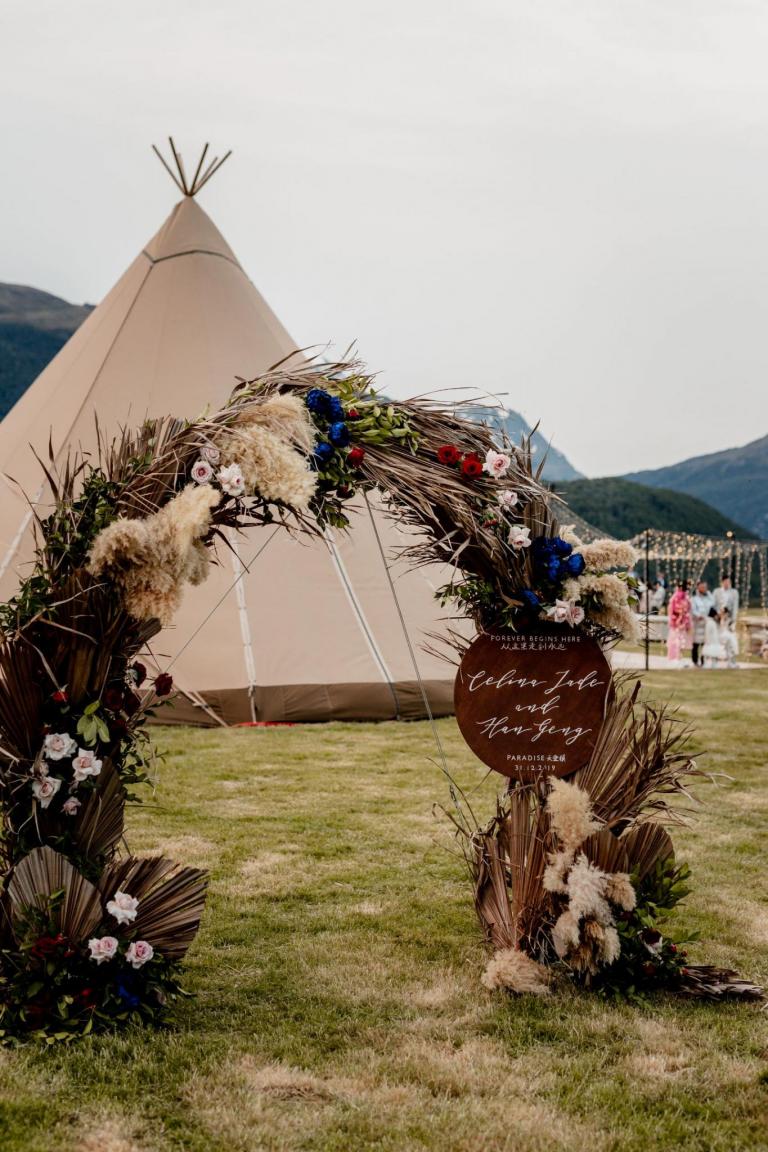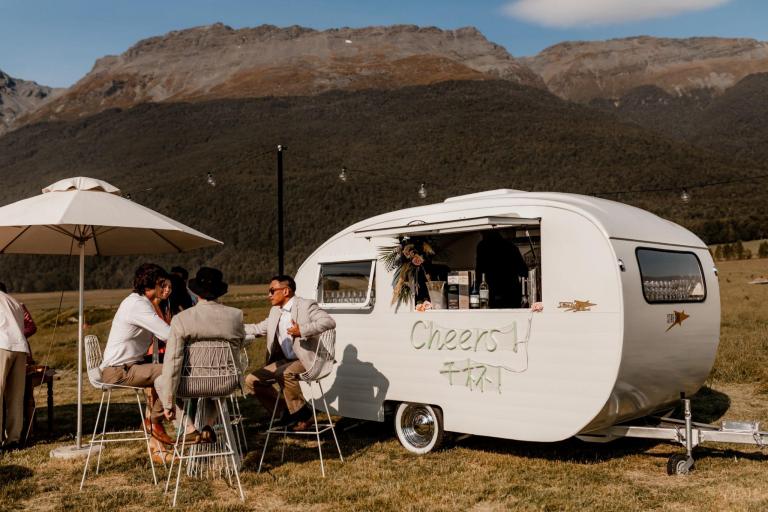 What advice would you give to all our future brides?

A wedding is an empty canvas, don't feel pressured to please anybody, paint something that is exciting for you both. Live your truth and start your lives together with the wedding day and don't freak out about anything that goes off-plan because it is the little errors that happen that make it fun and unforgettable too.
What moment from your wedding will you never forget?

The look of slight nervousness, deep love, and happiness on my husband's face as I walked down the aisle and into his future.
Finish your registration for {City} Trunk Show