FREE SHIPPING & RETURNS WORLDWIDE!

DUTIES & TAXES COVERED WORLDWIDE
Find your nearest boutique
This week's GL bride is the gorgeous Catelyn, who wore our G-104 as she married the love of her life. Surrounded by friends and family, the two made it official with a bohemian-themed garden wedding. In the following interview, Catelyn shares with us the details of her wedding day and what made our G-104 the dress of her dreams! As told by Catelyn:

A moment of your wedding day will you never forget?

My husband's reaction hands down! He's not one to show emotion really.  But once I got to the altar and my father placed my hand onto my husband's, that's when he bursted out with emotion – happy tears. Another moment was our grand entrance. Our guests were expecting us to enter the same way they came. Little did they know we had tricks up our sleeves – we had sparklers go off on the balcony. We had a birdseye view of everyone we loved cheering us on. It surprised our guests and it was epic!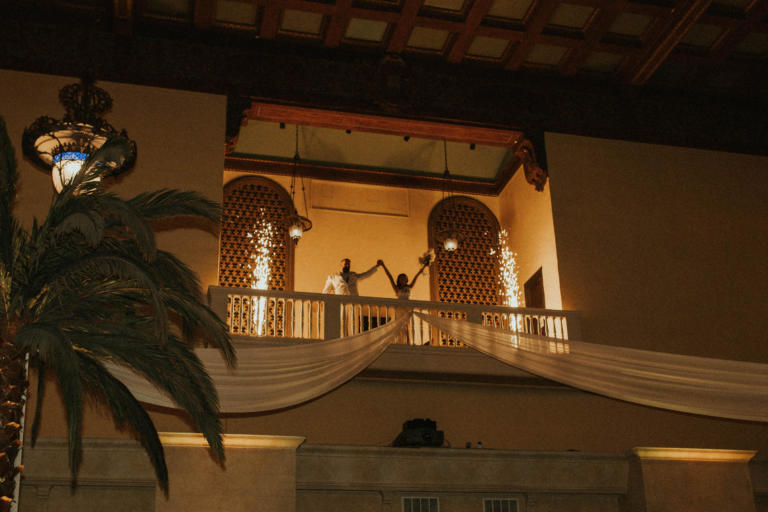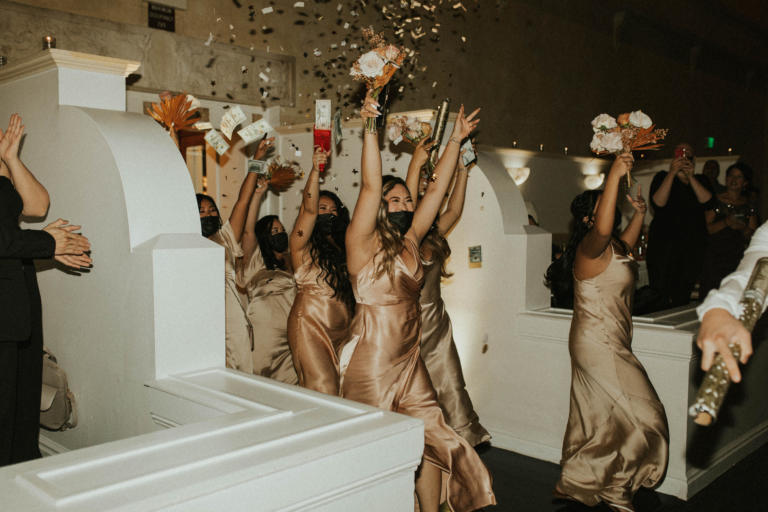 One thing you wish you knew as a new bride? What advice would you give to future brides?

My advice to future brides is to enjoy the engagement. As a former bride who had to postpone several times, we found the beauty in patience and continued to work on our relationship – which made it stronger before marriage. The first time around I had the pressure of getting things done. You spend many months planning a wedding that you lose sight of what's most important, the love of you and your fiancé.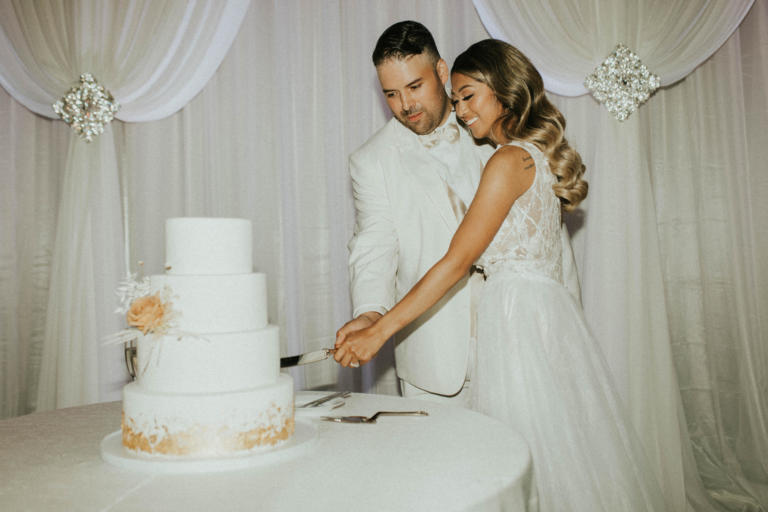 A detail that made your wedding special/unique?

The day my husband proposed to me he didn't have a ring at the time. He walked over to the kitchen and cut up an orange slice shaped as a ring and proposed to me with it. We ended up dehydrating orange slices and used them as name cards for everyone. Another detail was incorporating childhood photos on our table numbers. It was a heartfelt gesture since our guests impacted our lives in some way growing up. It's the sweet little details that made our wedding extra sentimental and we shared those stories with our guests during our toasts.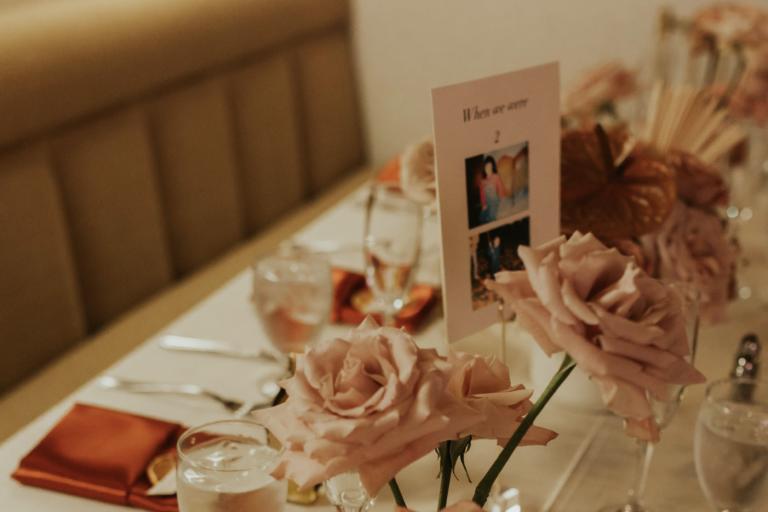 How did you know your dress was 'the one'?

I had a baby in the last two years. I felt that I was never going to find a dress that would make me feel confident in my body. But as soon as I tried it on my eyes lit up. I loved how it made me feel confident and beautiful at the same time. The details caught my eye, the lowcut back, the 3D floral applique, the silhouette, it was like wearing a piece of art. It was my dream dress and it fit like a glove.
How did it feel when you put on your dress the day of the wedding? What was everyone's reaction to the dress?

After my hair and makeup was done the final step was putting on my dress. Once I saw the completed look I felt like someone out of a fairytale. I nearly cried. I did during the first look with my dad, when he saw me it was such an emotional moment. "Stunning", "You chose the best one", "Dreamy" are just few in a hundred compliments people gave me about the dress.
Would you have done anything differently?

I loved everything about our wedding. The only thing I would have liked to do was dance with my husband at the end of the night after all the guests had left. An empty ballroom, just the two of us, slow dancing to our favorite song.
What was your favourite part of the wedding to plan/you were most looking forward to?

Besides saying our "I do's", I would say seeing my vision come to life. Pinterest was my bestie when it came to wedding inspiration. Once we finalized all the details with our vendors and the day came, I kid you not, our reaction to seeing everything pieced together was the best feeling. All the planning was worth it and we were thankful to have a great team of vendors behind it. They understood the assignment.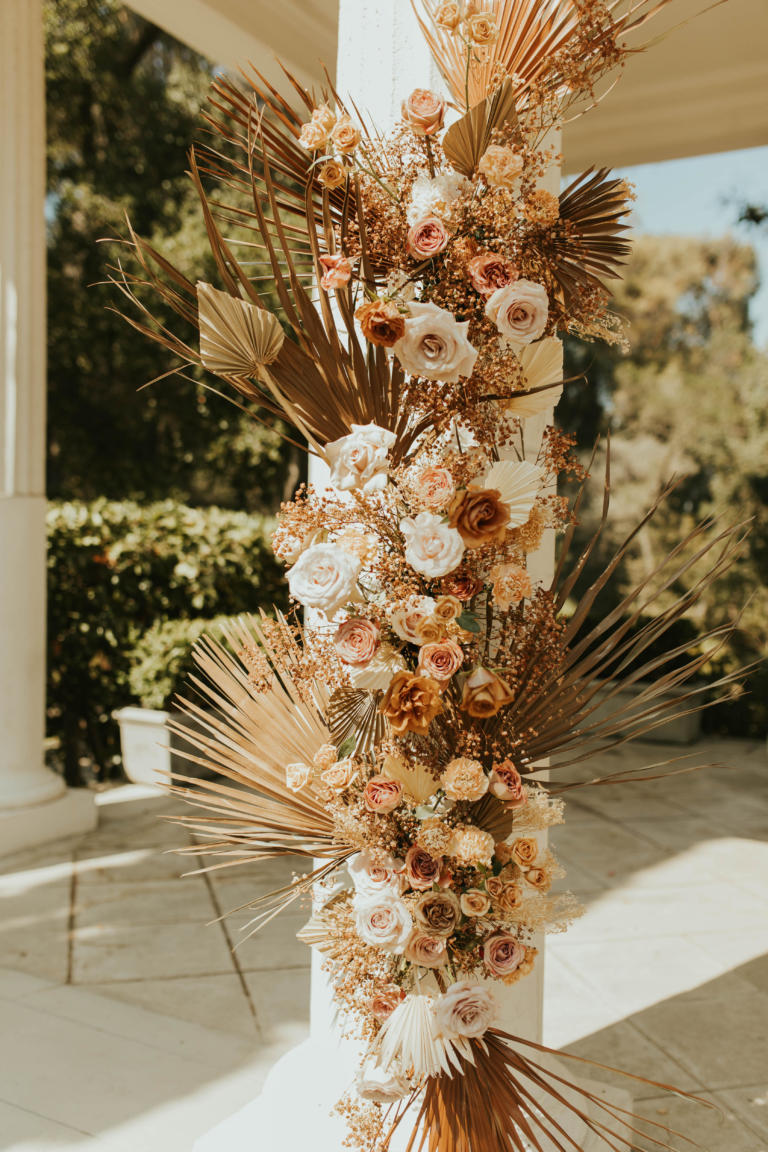 How did you meet your husband? How did he propose?

I met Glen when I was 21 years old. My cousin and I went into a random Bar on a Sunday night in San Francisco. Glen happened to be the bartender. My cousin and I had a few drinks, a pizza, and sang Taylor Swift the entire night. We chatted with Glen and he was kind enough to let us stay as he closed down. The next day I got a message on Twitter from Glen saying I left my jacket at the bar and if I didn't pick it up he'd take it to Goodwill. That's when I knew I had to go back to get my favorite jacket. Obviously, I stayed for a drink, had a few conversations and left with his number. Fast forward to 5 years of dating he proposed in our home in San Francisco. He professed his love for me and at the time he didn't have a ring. Glen being vegan, ironically cut up an orange, got down on one knee, and popped the question while holding up an orange slice. "This is the most vegan thing ever!" I cried while laughing. I said I do and he then placed it on my finger. It was intimate and so special. One of the best days leading up to the wedding.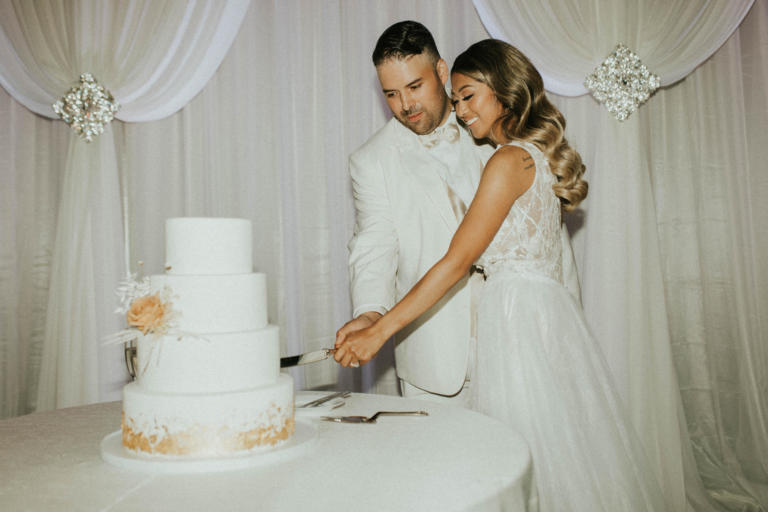 How did you find working with the team at Galia Lahav?

I found Galia Lahav on one of the Instagram accounts I followed when I initially started wedding planning. The dresses looked so beautiful and each one I saw was unique. I ended up giving it a try and was obsessed! My gown was one of my favorite things about our wedding. I could not have picked anything better. I've gotten so many compliments. Every time someone asks where I got my dress I tell them Galia. I advise any future bride to go to Galia Lahav.
How did you find working with the team at Galia Lahav?

I tried on a total of 9 dresses before finding "The One", and she was a 10 out of 10.
Finish your registration for {City} Trunk Show