FREE SHIPPING & RETURNS WORLDWIDE!

DUTIES & TAXES COVERED WORLDWIDE
Find your nearest boutique
Our GL bride of the week is the successful health and fitness blogger Cassey Ho. Cassy is the founder of 'Blogilates' the #1 female fitness channel on YouTube with over 500 million video views and 4 million subscribers. She recently got married wearing 2 of our custom made gowns and agreed to share with us some of her wedding experiences. As told by Cassey:
How did you meet your husband?

Taken from our website…

"In 2008, Sam Livits was working as a finance tutor at Whittier College's Center for Academic Success (CAS). Across campus, Cassey Ho had just received a B- on her finance test and knew she could do better. As fate would have it, Cassey marched across campus and straight into CAS, demanding to meet with a tutor who could help her rid of the scarlet lettered minus that should have been a plus. And who was there to meet her? Sam. The two fell in love over numbers and began their love journey of a lifetime."


How did you he propose?

That evening Sam told me we needed to go take Instagram pics at this cool cliff he found. So right before the golden hour, I got ready, put on my new dress, and did my hair & makeup! Once he walked me to the edge of the cliff, he bent down to get his camera and said something along the lines of "Oops, I forgot my camera." He was probably confused because all I said was "Oh ok!" (I don't know, the scene was too pretty to get mad!) Then…I saw a black box. And I was like umm (Because we ALWAYS discuss everything and we definitely did NOT discuss what was about to happen!) He got on one knee and asked: "Will you marry me?" And all I could say was…"Wait, is this real?", "You're kidding right?", "Hold on, this isn't fake?!" He was like, "NO CASSEY! THIS IS REAL!!!!" And at that moment, I started crying, he slipped on the most beautiful ring I had ever seen, he turned me around, and I saw my sister and her boyfriend snapping pics and shooting video from behind a well-positioned bush. IT. WAS. UNREAL. So there it is guys. I got engaged in Kauai to the love of my life. It feels like a dream but Sam reminds me that it's definitely real.
How did you find your perfect dress? And how did you decide to buy it?

I found my perfect dresses at Galia Lahav! I knew from the beginning that I wanted two – one grand, magical fairytale one for the ceremony and one svelte and whimsical one for the reception! When I saw the train on the Ms. Elle – I knew I had to try it on. The backless look was so elegant and sexy and the beaded details were so luxurious. It was so nice to be able to further customize my gown by adding a deep v cut out in the front and also side cutouts. It truly made it mine! I also am so in love with my Lidya. It hugged my waist perfectly and made me look like a mermaid walking on land! I also added flowy off the shoulder sleeves to this dress which made it sooooo magical. I love my GL dresses SO MUCH.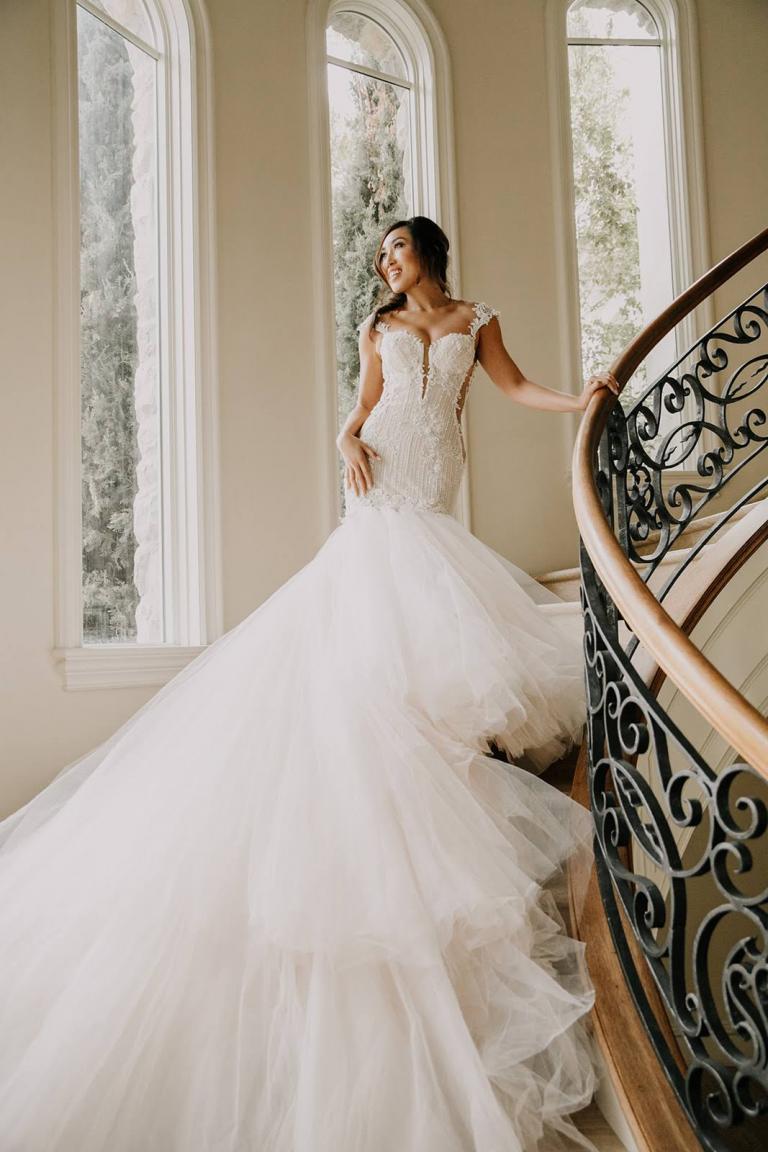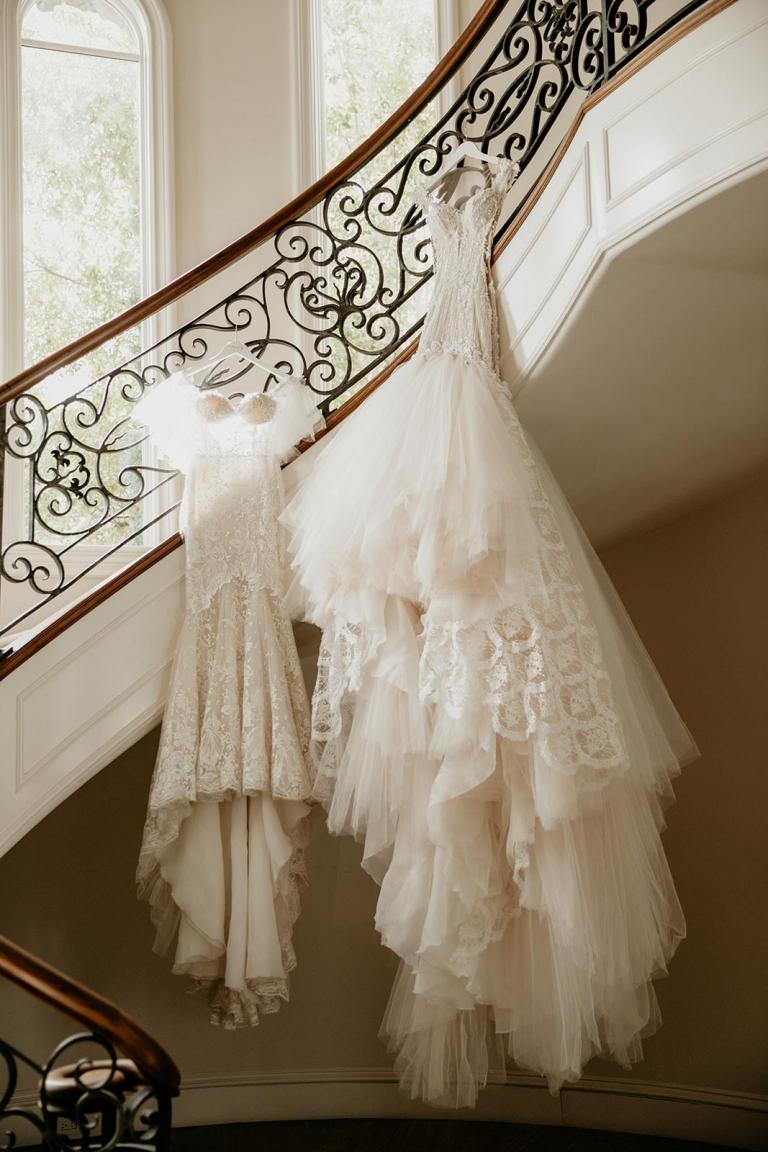 Where was your wedding?

We chose The Solomon Estate in Rancho Mirage, CA. We were looking for a private estate that could feel like a castle on the west coast. We wanted our guests to step into a new world for the evening…into our "Enchanted Oasis."
What was the theme? Did it require special planning? Share with us.

Our theme was "Enchanted Oasis". We wanted our guests to be transported into a magical world in the middle of the desert for the evening. We also wanted to try a theme that had never been done before! Enchanted Forest and Boho Desert is done a lot, and they're beautiful, but I wanted to experiment with something new! Our colors were tones of blush and plum along with LOTS of greenery and Gold accents.
Which was your favorite part?

My favorite part was the FEELING of the entire evening. I was swimming in love and magic. The best night of my life EVER.
How was your experience with the Galia Lahav brand?

I am so impressed with my entire GL experience. From the very beginning, every member of the team was soooo kind, so helpful, and so caring. I always felt like I was around the top people in the bridal industry, so I never feared that anything would go wrong. I found GL on Instagram! I love seeing all the new designs every day. Even though my bridal journey is over, I still love looking at all the amazing creations Galia comes up with!
Where did you purchase the dress?

We got the dresses at the Galia Lahav LA store!
What did you enjoy the most about planning your wedding?

I just loved the creation of it all – fine tuning the details to create an unforgettable and unique experience for our guests! I enjoyed the planning process immensely! It never really stressed me out…any problems we ran into, especially with a budget, it forced me to get even more creative.
Was your wedding the way you dreamed it?
Finish your registration for {City} Trunk Show