FREE SHIPPING & RETURNS WORLDWIDE!

DUTIES & TAXES COVERED WORLDWIDE
Find your nearest boutique
Our #GLBride of the week is Carly Ann Miller, who walked down the aisle to wed her fiance Casey in our GALA 708. The couple had an elegant beach wedding on the shores of the Turks and Caicos where they first met, and a beautiful reception in Seattle. In the following interview, Carly shares with us the details of her wedding, and why she chose our GALA 708 for her special day.
How did you meet your husband? Tell us a little bit about your relationship.

This is actually a really fun story. In 2012 I went on vacation with my best friends from college to the Club Med in the Turks and Caicos Islands. Casey, my now husband, was working there and was in charge of the beach.  I thought he was cute but I was there for a girls trip. Then, one year later, I started working for Club Med but in Cancun, Mexico. When I arrived, I was informed there was one other American working there but he was home on vacation. 6 days later he returned from vacation and come to find out, it was Casey. Not only were we both from America, we were both from Seattle, Washington. Small world. We were best friends for the first 10 months but then we both got positions back in Turks and Caicos for the following employment season, back where I initially met him, and long story short, we ended up dating. A little fun fact, my parents worked for Club Med for 9 years and met while they were both working for the company. I soon found out I was actually conceived in Turks and Caicos, so it all came full circle.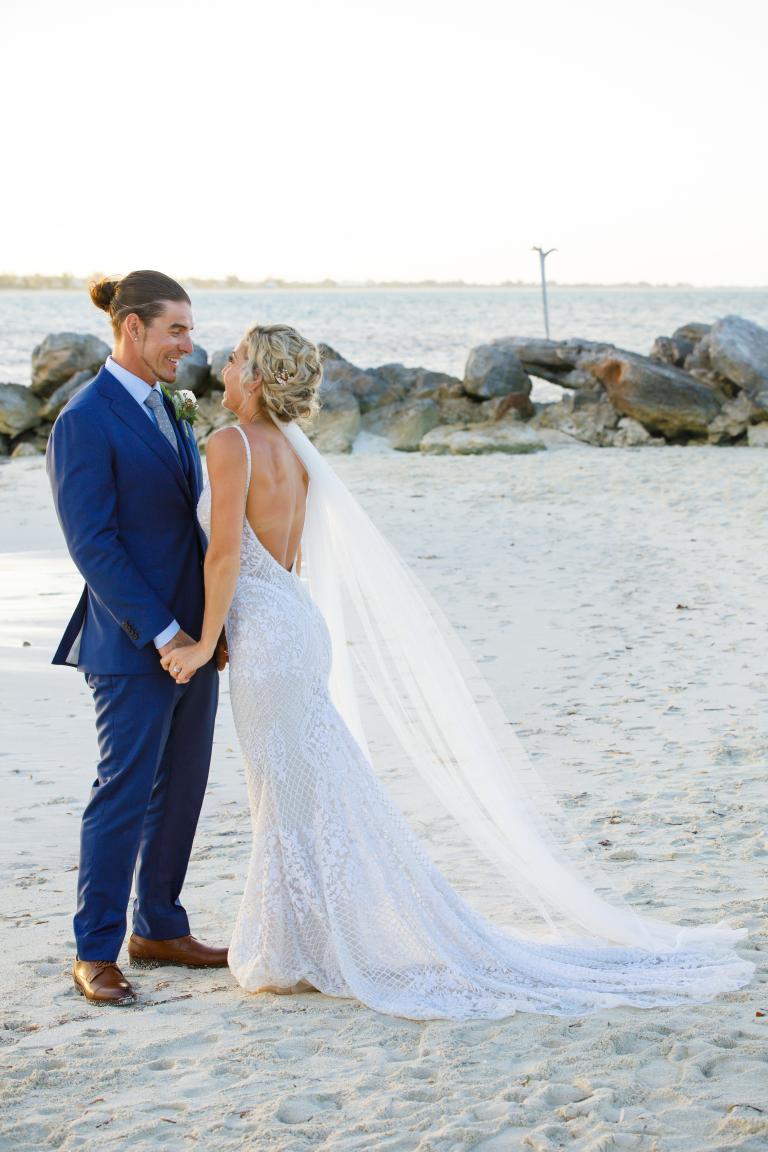 How did he propose?

Our first kiss was while playing dominoes, so one night while we were playing dominoes with both our families, he placed his dominoes down on his turn and it read "Will marry you me? Yes or Yes." He was so nervous he had them all placed out of order but I clearly got the message. It was a COMPLETE shock to me.
How did you find your perfect dress? And how did you decide to buy it?

I went to a one other dress store before going to "The Dress Theory" in Seattle. I didn't get the "wow" factor. When I walked into The Dress Theory, I felt like I had walked into a dream. Come to find out, the section of the room I was completely dreaming in was Galia Lahav. I tried on only her dresses and then they said they had one that had arrived that day and had not been taken out of the box yet. Sure enough. I walked away with the dress. I was speechless.
Where was your wedding?

We went back to Turks and Caicos, where is all began, and had our closest family and friends with us. We were married at our friend private home on his private beach. I was barefoot, my dress was sparkling in the sun setting light, and our first look as I walked down the aisle.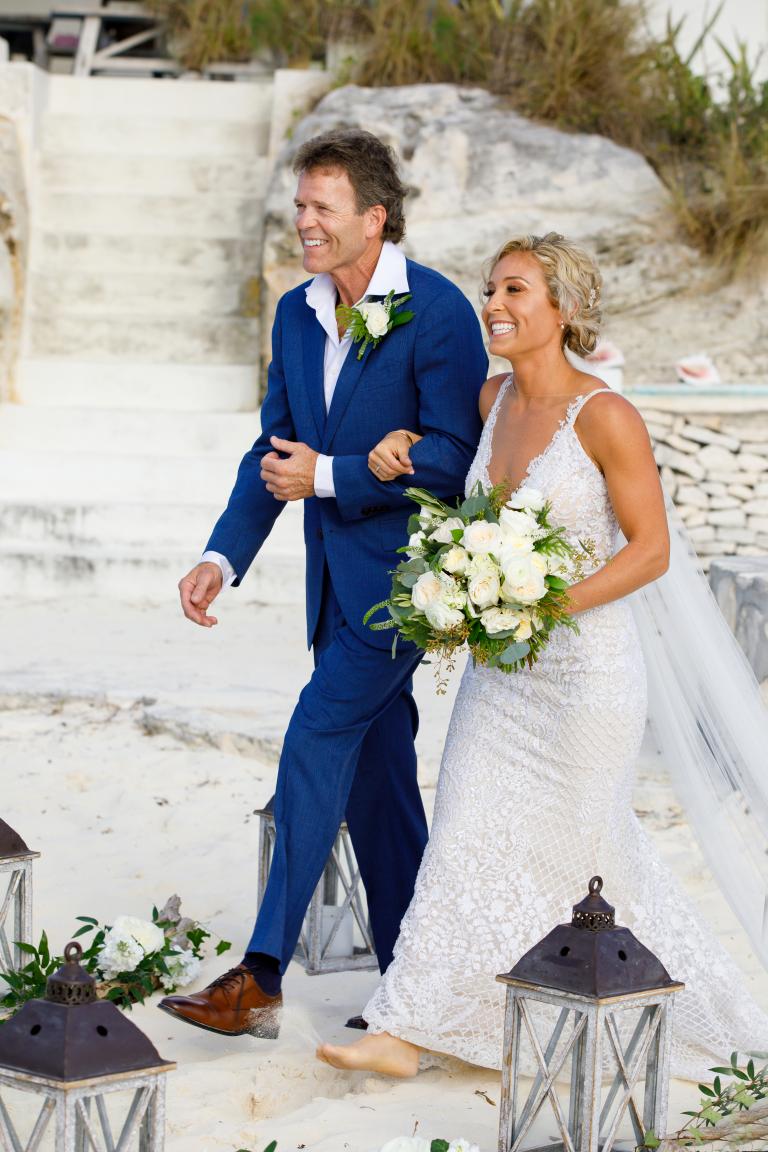 What was the theme? Did it require special planning? Share with us.

The only word that can describe our is a DREAM. I know many brides say that but I cannot even begin to explain the day. Our theme was beach elegant and it did require a bit of planning. Since it was a destination wedding we spent about 13 months planning. All our family and guests stayed at Club Med (where we met and worked) and we hired an AMAZING wedding coordinator to literally do everything for us! My mom and flew down about 4 months before the wedding to meet everyone in person and finalize menus and details. We also had a travel agent at the resort for the week helping with everyone's arrivals and departures. Thankfully we had a wonderful "team" to help us get through the week seamlessly! We also hired an incredible videographer team to capture EVERYTHING. Since our guests were there for a week we had a boys golf day, a welcome cocktail evening, a day outing on a private boat, and then a beach party day all leading up to the big day. It was a DREAM week.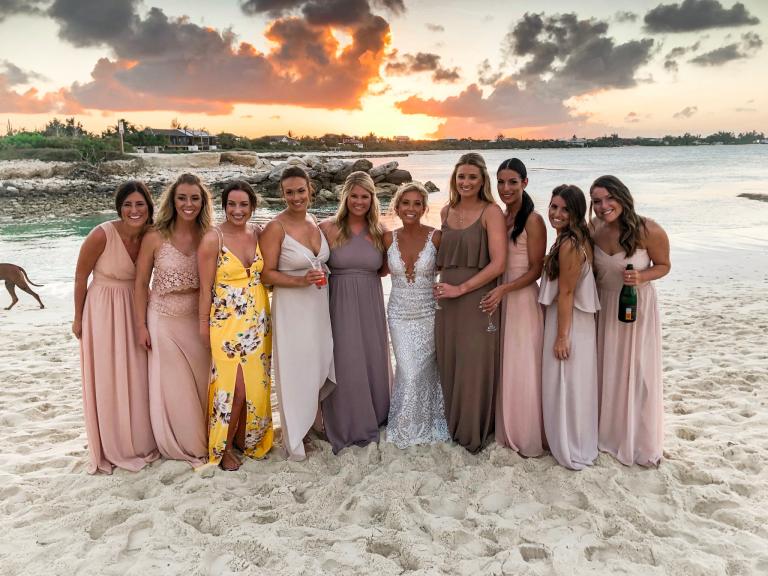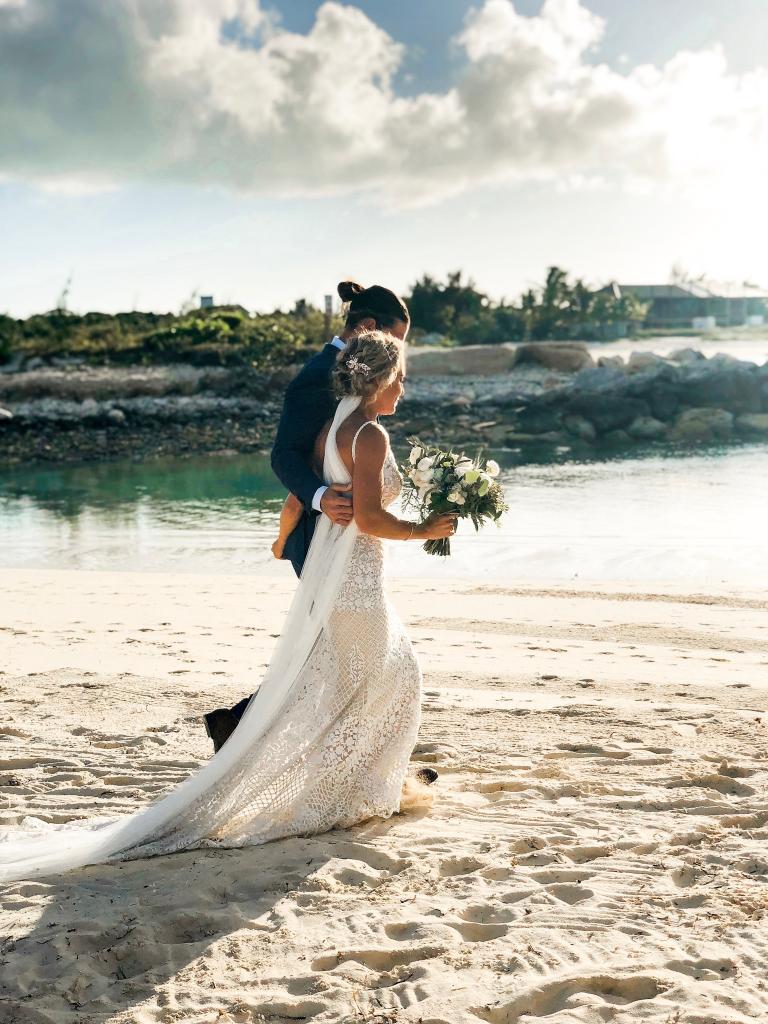 How was your experience with the Galia Lahav brand?

UNREAL! I got to wear my dress twice because we did a wedding reception back in Seattle and I can guarantee I will find another reason to wear it again.
Where did you purchase the dress?

The Dress Theory in Seattle.
What did you enjoy the most about planning your wedding?

Since it was a week-long event, I loved being able to plan things to thank our family and friends for traveling so far and celebrating us.
What advice would you give to all our future GL brides?

Hire a videographer because photos will not do the dress justice. Seeing live video of your PURE and AUTHENTIC happiness is something I cannot describe. And let's be honest, as women we DREAM about our dress for YEARS! Having that evening caught on camera to see you in the stunning gown is something that needs to be remembered forever. The dress speaks for itself, but the smile you get to wear while in it is something else.
Was your wedding the way you dreamed it?
Finish your registration for {City} Trunk Show