FREE SHIPPING & RETURNS WORLDWIDE!

DUTIES & TAXES COVERED WORLDWIDE
Find your nearest boutique
Our #GLBride of the week is the lovely Candice Lee Wilson, who said 'I do' to her fiancé Kyle in our GALA 104 gown. The couple held an intimate outdoor ceremony at the breathtaking Stratus Vineyard in Ontario, Canada. In the following interview, Candice shares the details surrounding her elegant wedding and how she found the dress of her dreams with us. As told by Candice:
How did you meet your husband? Tell us a little bit about your relationship.

Tinder. Neither of us had been in a relationship for several years and are pretty career-driven people. I had moved from a small town in Ontario to Australia, New York, and Montreal for my education and to build my career in fashion. Kyle had similarly moved from Ottawa to Nova Scotia and to Toronto for his education and career in tech. We were both happily single and living in different cities, but interested in settling down for something special.
How did he propose?

Kyle planned an incredible weekend away at a cottage on Lake Muskoka. We opened some wine and were catching up when he called me over to look at something besides the fireplace. He got me distracted and then popped down on one knee and pulled out the ring. I was so overwhelmed with excitement that I hardly remember what he said!
How did you start planning your wedding? What were the first steps?

We took our time looking for the right venue, but once we had that booked, we quickly found our other fantastic vendors based on great recommendations. Picking the right photographer was important to me and Brandon Taylor's style and approach were the perfect fit. We're thrilled with how everything came together!
Did you do any beauty or fitness prep for your big day?

Fitness has always been a priority for me, but I was more intense a few months leading up to the wedding. Bootcamp and pilates are my go-to's. Skincare: I wash my face every evening (no exceptions, even on those late nights), serum + moisturizer twice a day, I'm a big supporter of sunscreen and spray tans.  
What was your wedding theme?

Intimate and elegant vineyard.
How did you choose your location?

We wanted a smaller wedding at a venue that would showcase some of our favorite life experiences, naturally, we thought of wine country. Stratus Vineyards provided us with the most stunning and modern property that really felt like 'Us'. Our evening wedding outside by the vines with the setting sun made for a beautiful ceremony. While dinner in their tank room lit only by candles made the meal at one long table with family and friends truly special.
How did you decide on your bridesmaid style?

I had worked my way through a few Bridal magazines and social media and began to feel inspired by all-white or ivory dresses. I loved how beautifully soft and very contemporary the dresses looked going against the traditional theme of "only the bride wears white". With the guys in tuxes and a backdrop of lush vines, I wanted the bridesmaids to stand out.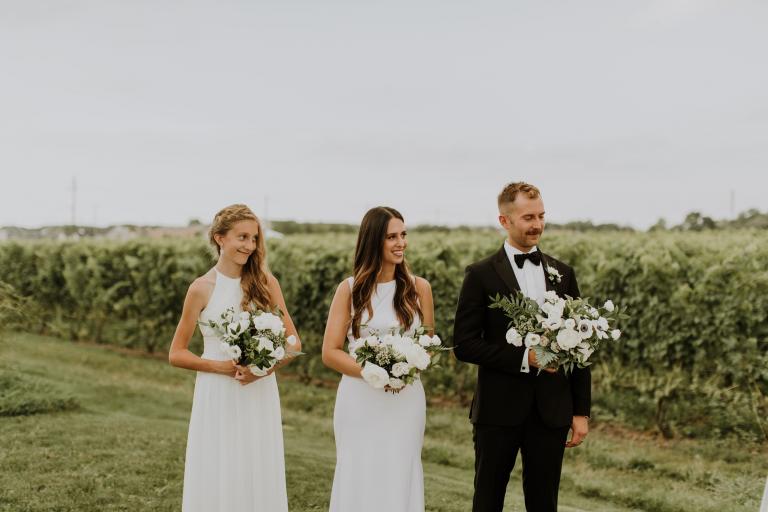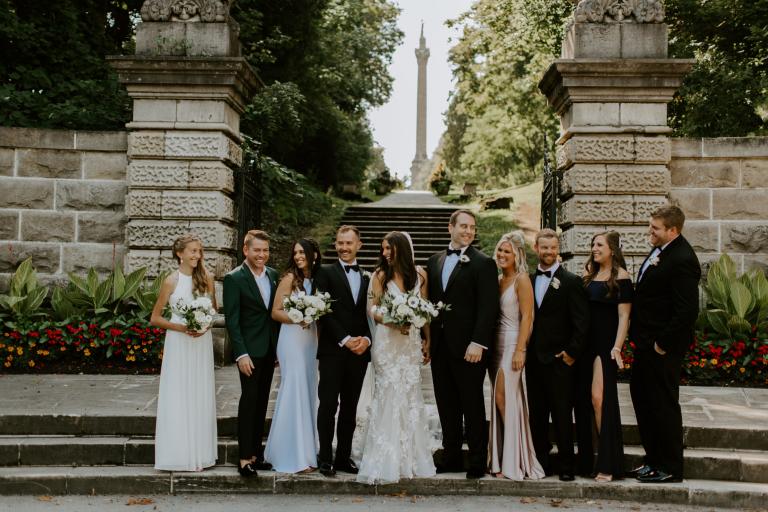 How did you find your perfect dress?

Ever since I was a little girl who insisted on dressing herself. I've always been obsessed with clothing and style. After getting engaged, I started looking for inspiration and had some very specific details on my list: form-fitting, dramatic train, texture, and low back. After trying on a few gowns, I realized a plunging neckline was the most flattering. Before visiting White for the Galia Lahav trunk show, I was very close to creating a custom wedding dress. As soon as I put on this gown, my mom and I knew it was the one. Galia Lahav had designed the dress of my dreams, it had all the details I was looking for and more: silk floral appliques, luxurious fabrics, and the fit was amazing. The shoulder veils were a beautiful surprise – It absolute perfection!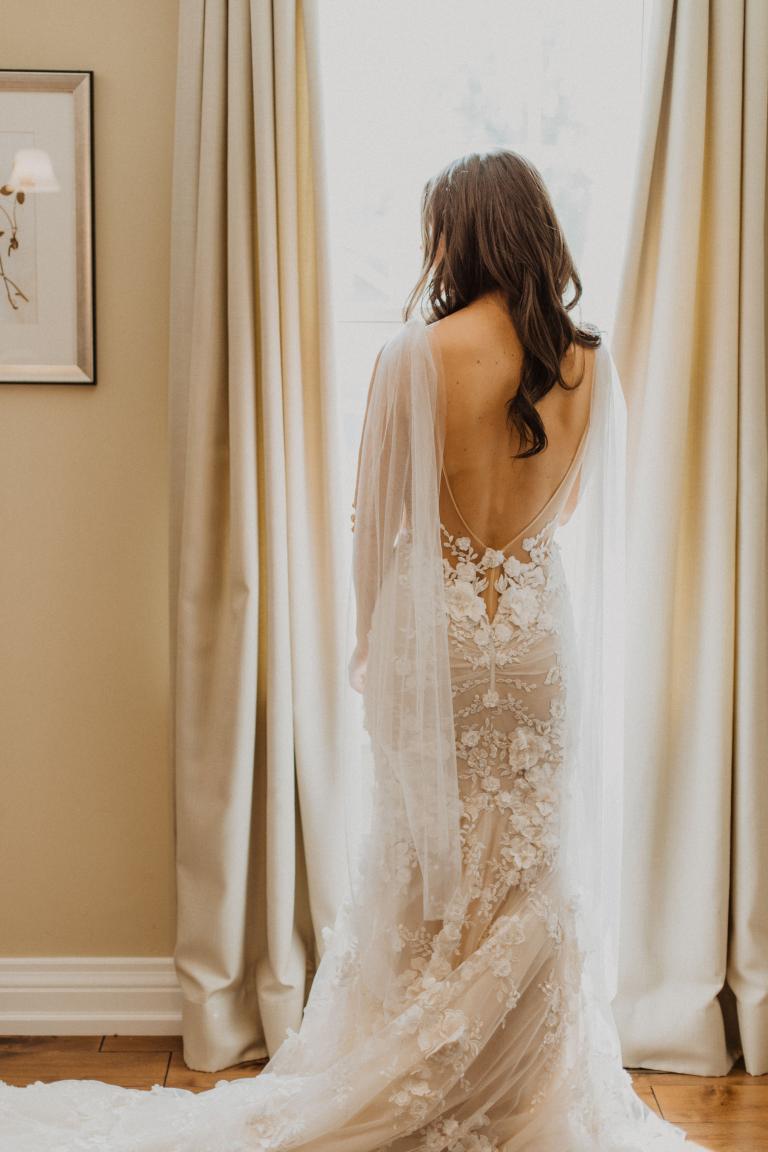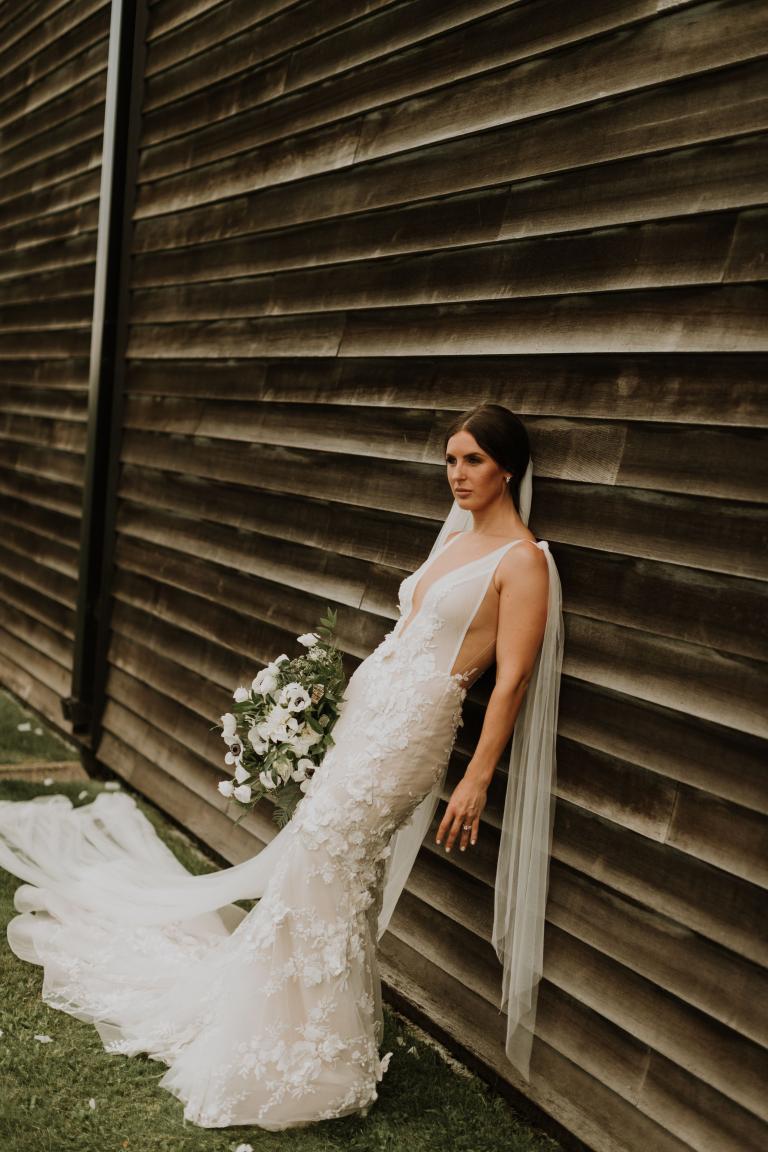 How was your experience with the Galia Lahav brand?

Exceptional – My dress was delivered 3-4 months earlier than expected! I felt romantic and classic in my gown and loved how it was uniquely stylish. The intricate details were stunning for our wedding photos. I also had the best Man of Honour who was always there to help with the train and veil.
What was the most important thing for you and your husband when planning your wedding?

With all of our guests traveling to be with us, it was important that we got the chance to spend quality time with them and that they enjoyed their weekend at Niagara-on-the-Lake.  
What was your first wedding song?

La Vie en Rose – Louis Armstrong
What did you enjoy the most about planning your wedding?

We loved our time with friends and family: the engagement party, our bachelor and bachelorette trips, the shower, the wedding weekend, and family celebrations. Our favorite part was seeing so much of the most important people in our lives.  
What advice would you give to all our future brides?

Slow down and enjoy every moment. Make your decisions on what you and your partner want – It's YOUR wedding! Our families were unbelievably supportive. Don't feel pressured to do all the traditional parts of a wedding. Pick and choose what is most meaningful to you! The weekend and big day will fly by, so it's important to spend as much of that time with your partner as possible. 
What moment from your wedding will you never forget?

Standing in front of our friends and family feeling loved and grateful as we start our life together.
Finish your registration for {City} Trunk Show