FREE SHIPPING & RETURNS WORLDWIDE!

DUTIES & TAXES COVERED WORLDWIDE
Find your nearest boutique
Our #GLBride of the week is the stunning Brittney Levine, who tied-the-knot with her fiancé Ryan in our Summer Bella gown. The couple held their wedding at the lush and beautiful Middleton Place in Charleston, South Carolina. In the following interview, Brittney shares with us the wedding moments she'll never forget and how our Summer Bella became the dress of her dreams. As told by Brittney: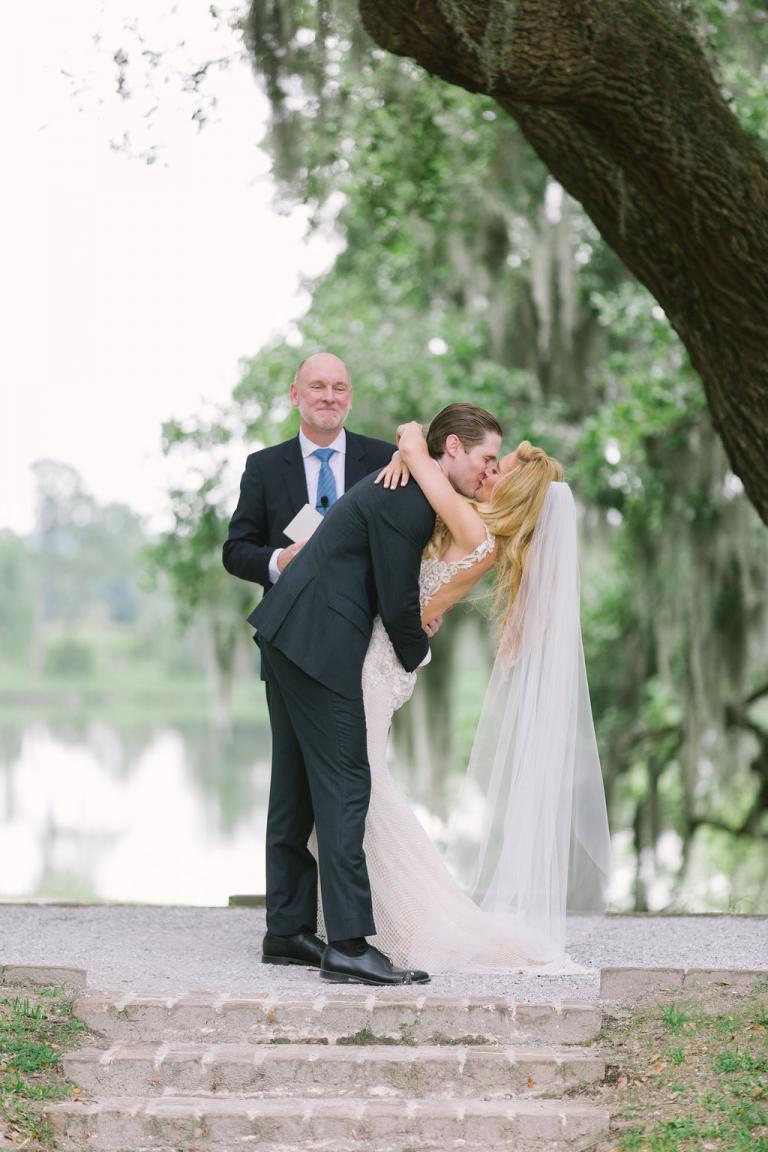 How did you meet your husband? Tell us a little bit about your relationship.

We connected through one of my best friends, who had told me for over two years that I needed to meet him, while I was dating someone else.  Moral of the story – always listen to your friends. We eventually met at one of her famous Christmas parties. It was a pretty electric encounter – I spotted him across the room and after he came over and introduced himself — that was it.

Our initial encounter was during that awkward time between the holidays where you're spending time with family; we both had small vacations planned and couldn't go on a date right away.  We thus started emailing each other during our respective vacays and even though it had only been a few days (a big joke between my family now!), between his writing and his candor, I knew something was different.

Ryan is an incredibly supportive partner – always pushing me to be the best version of myself and take every opportunity head on.
How did he propose?

Ryan worked so hard to create the most memorable and beautiful day for not only myself, but our families.  We have a favorite spot in Rowayton, Connecticut, where he proposed out on the furthest point on the pier. He initially told me we were going to a "work thing," but when we got there it was us and the water – so incredibly peaceful and unforgettable.   

After a lightning proposal (he was pretty nervous!), he pulled out a swan limoge box that held the ring in it.  My gram and I were very close before she passed and she loved swans. He wanted her to be present and apart of our proposal in some way, so this meant so much to me, knowing he included her in the engagement – something she would have been so happy about.  Ryan then pulled champagne and glasses out of the rocks and had two chairs set up there for us. Directly after, we went to Rowayton Seafood and joined our parents for oysters, cocktails, and dinner thereafter. I will never forget that day!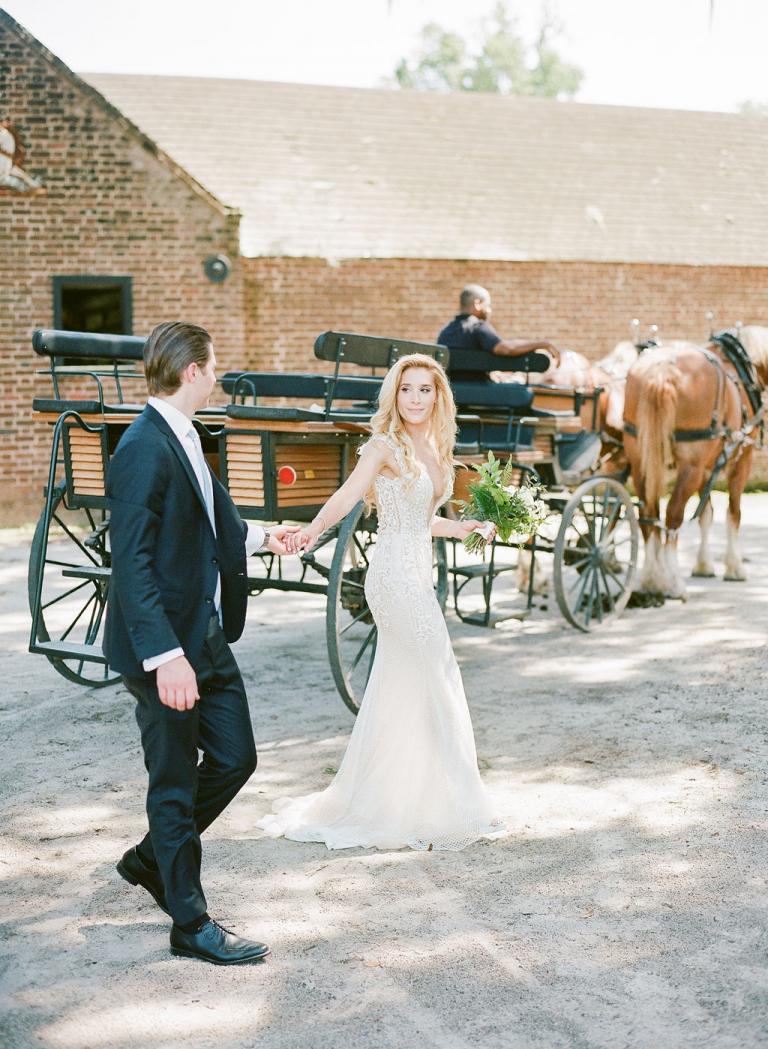 How did you start planning your wedding? What were the first steps?

Being in the events and television industry, I have had the fortunate (and unfortunate J) opportunity of planning many different events.  Planning an event for yourself is a whole different ballgame.

My mom is an incredible planner and has a plethora of visions that come to her surrounding design and detail.  We love to be unique and different and loved "setting the tone" with our invitations that were hand-delivered in birch boxes by Tricia and her amazing team at Fourteen Forty.

After booking our venue in Charleston, the next steps were to align ourselves with our wedding planners.  In Charleston, you're required to have a licensed Charleston-based wedding planner. We spoke to a few and knew that Francesca and Blake of Pure Luxe Bride were incredible, came highly recommended and on our same page!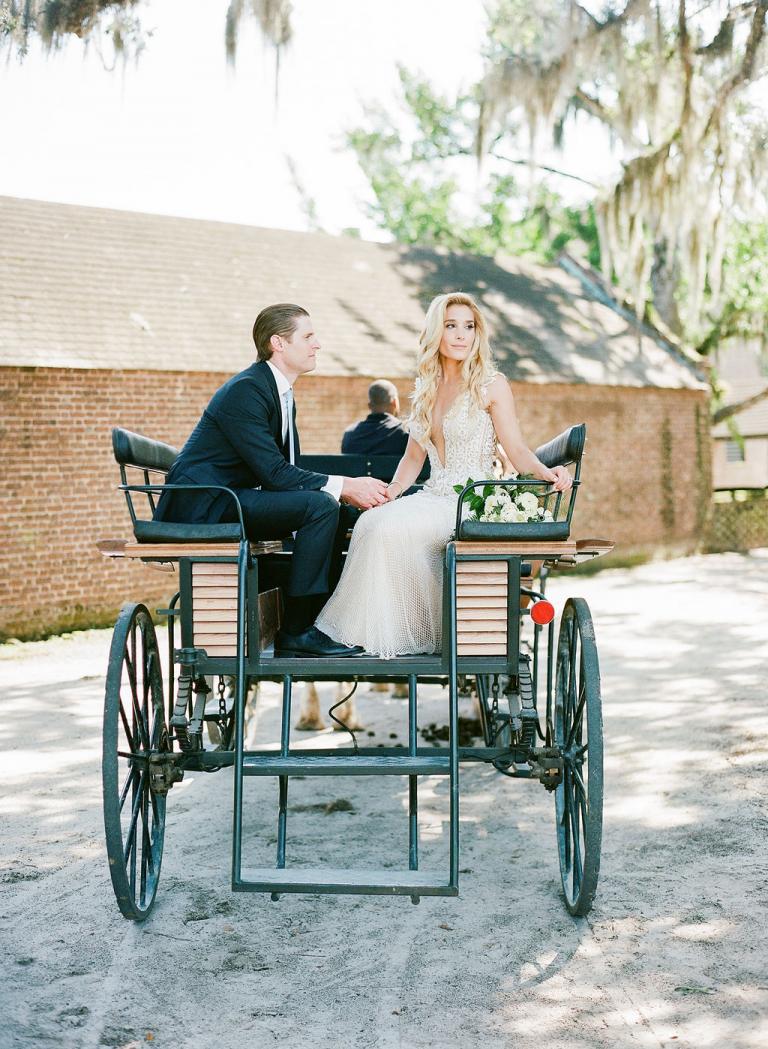 Did you do any beauty or fitness prep for your big day?

The blatant answer is YES!  I love Oasis Day Spa in the city and have been going to one of their best specialists, Sandra Lakatos, for years for the Elemis BioTech facial.  This treatment has dramatically changed my skin! 

About a month before the wedding I also did a Clear & Brilliance treatment at New Look New Life Surgical Arts.  This really helps to get the dead skin cells off your face, allowing new ones to resurface.  There is also little downtime, which is an added plus!

In terms of fitness, I definitely tried to step up my game.  My neighbor and podcast co-host's Bevin Prince's SoulCycle class in NYC is a must – if you can get in!  I also love Shapehouse and tried to go once a week leading up to the wedding.  The sweat is so detoxifying but also really helps to calm and center you.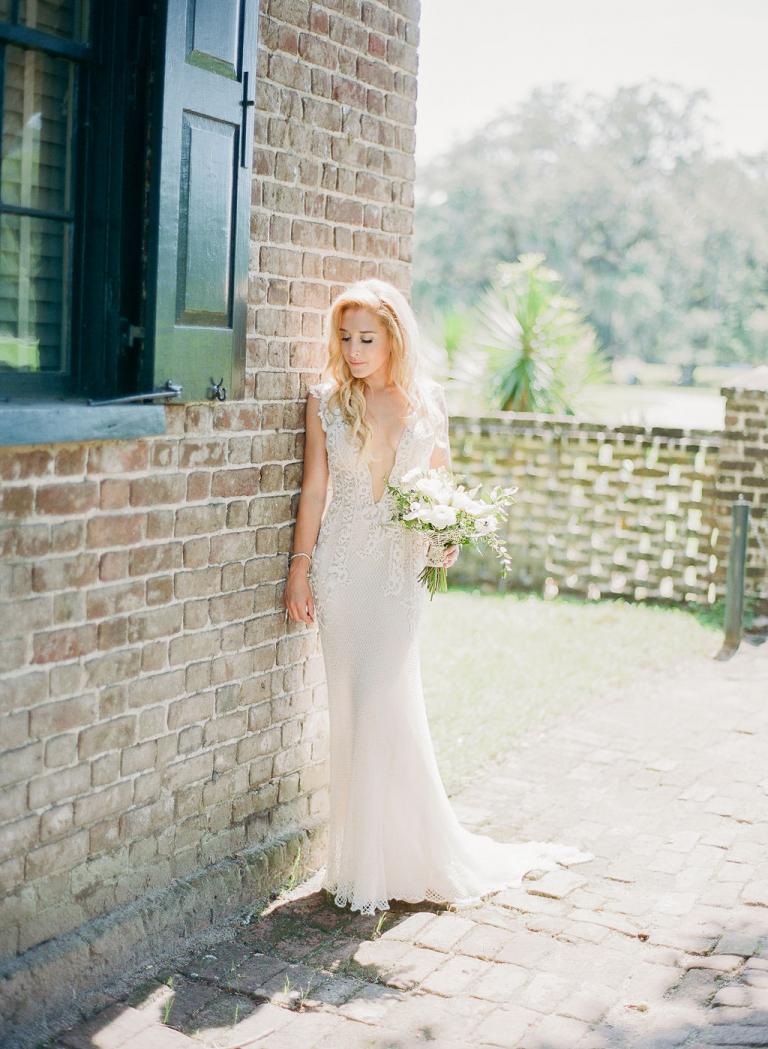 What was your wedding theme?

Stemming off of the beautiful grounds and gardens of Middleton Place, we wanted to portray an enchanted garden.  Our florist, Lori Rose of Petaloso, was completely on board in creating the most stunning floral installations over three of our long farm tables, which appeared as if they were floating in mid-air.  Our escort card table also played off of Middleton's Butterfly Lakes where she created an actual tree in between the cards adorned with butterflies. We wanted to stick to clean neutral colors- creams, whites and splashes of greenery.
How did you choose your location?

Almost five years ago, Ryan and I went on our first trip as a couple to Charleston.  We both love history and wanted to visit Middleton Place. While walking through the grounds, we couldn't voice our exact thoughts at the time (too soon!), but we were both thinking the same thing.  What an amazing place to get married.

 After we got engaged, Ryan actually suggested Charleston and I immediately said no.  I didn't want to inconvenience our guests and family, however after we learned everyone was on board, we hit the ground running.  Middleton was everything we were looking for in terms of the beautiful gardens, Ashley River, and vast history that the plantation held.  The animals were an added plus!
How did you decide on your bridesmaid style?

I wanted my girls to feel comfortable to wear whatever black dress they wanted.  They're all so beautiful and I totally trust their style in terms of picking something out.  Absolute knockouts.
How did you find your perfect dress?

I have always admired Galia Lahav and the most beautiful collections of dresses that I've seen each season.  The dress I picked out was actually the first wedding dress I tried on and it was an absolute dream at Bridal Reflections in New York!  My mom and godmother had also picked out the same dress, so I guess you could call it fate 🙂 The team there was so helpful and accommodating and the fitting process was pristine.  I definitely tried on others, but nothing compared to how I felt in the Summer Bella dress. 
How was your experience with the Galia Lahav brand?

Nothing short of amazing!  The staff at Bridal Reflections in New York was so wonderful to work with and kept me in the loop of every detail.  After trying on the actual dress, the exquisite custom work was beyond evident!

The tailoring was the most important part, where again the team at Bridal Reflections made everything fit like a glove!
What was the most important thing for you and your husband when planning your wedding?

It was very important for us that with our guests traveling to the wedding, they felt comfortable and had the best time!  Great food, drinks, and dancing were at the top of our priority list.
What was your first wedding song?

The National – "I Need my Girl." 
What did you enjoy the most about planning your wedding?

It's A LOT to plan a wedding – it definitely wasn't all roses and laughter, but there were some really fun aspects.  If I could pinpoint one thing, I think it would be the time we were able to spend with our family and friends throughout it all.  From going down to Charleston with our families for wedding meetings, the tasting, photos, Toronto bachelorette trickery, to just sitting in the car with Ryan and listening to music we wanted played during the day – a lot of fun memories.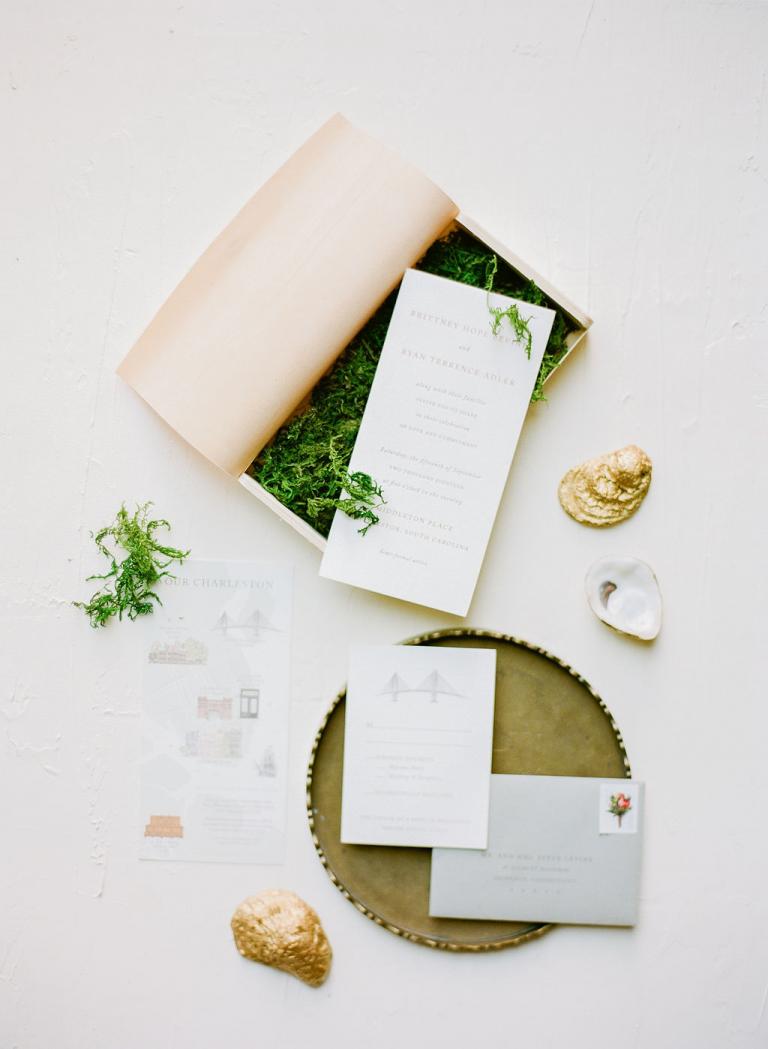 What advice would you give to all our future brides?

Stick to your gut – if there's something that's very important that you want to do on your day, do it.  We had wanted to come out to a fun dance song, not do traditional announcements and then have some dancing before dinner.  This was not encouraged several times, but we knew our crowd and how much they liked to dance. It ended up all working out, but we're glad we stuck to our decision in the first place!
What moment from your wedding will you never forget?

I can't pinpoint just one!  At one point during our ceremony, Ryan and I came down from under the Middleton Oak to the middle of all of our friends and family.  Our officiant and Ryan's mentor, Steve, asked everyone to put a hand on the person next to them and become all connected as one. The feelings, emotions, and vibes uniting everyone in attendance was beyond palpable and moving.  An indescribable shared moment, for sure. 

Ryan's written vows.  And, our wild dance floor – if you have the ability to book The Charleston Wedding Band – do it, now!
Finish your registration for {City} Trunk Show