FREE SHIPPING & RETURNS WORLDWIDE!

DUTIES & TAXES COVERED WORLDWIDE
Find your nearest boutique
Our #GLBride of the week is the stunning Barbara Meier, who celebrated her nuptials in a custom-made Galia Lahav wedding gown. Barbara and her fiancé Klemens held their wedding in Venice Italy at the breath-taking waterfront hotel, St. Clemente Palace Kempinski. In the following interview, Barbara shares with us the moments she'll never forget and the process of creating her very own wedding gown. As told by Barbara: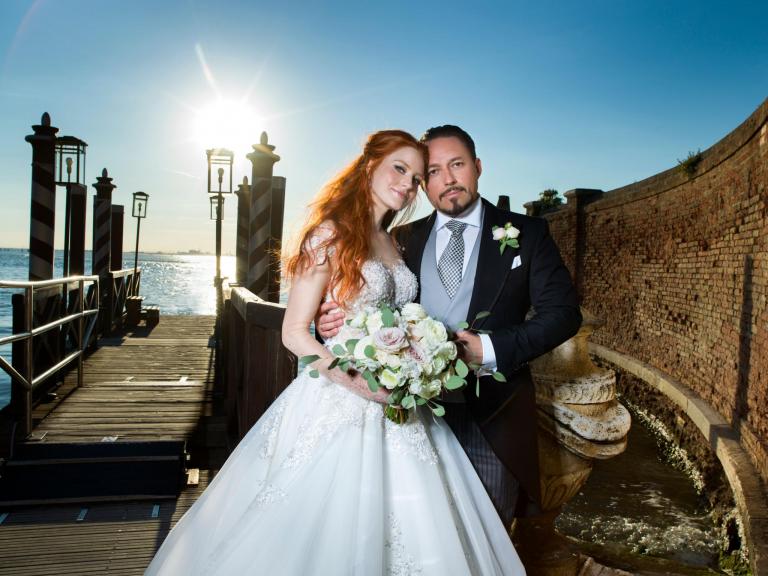 How did you meet your husband? Tell us a little bit about your relationship.

We met at the German Movie Awards. A common friend introduced us to each other and from that moment on we both knew, that this connection would be something very special for us! 

We didn't meet again for some months after that day; but when we saw each other again, that very special feeling returned! We just knew that we were made for each other!

Our relationship is very special, as we both have very busy jobs and work a lot. But we always make sure we manage to see each other a lot.

The thing I like the most about Klemens is his humour. We both laugh a lot together and when we are together it never gets boring. Even after 4 years of relationship, I enjoy every second I spend with my husband.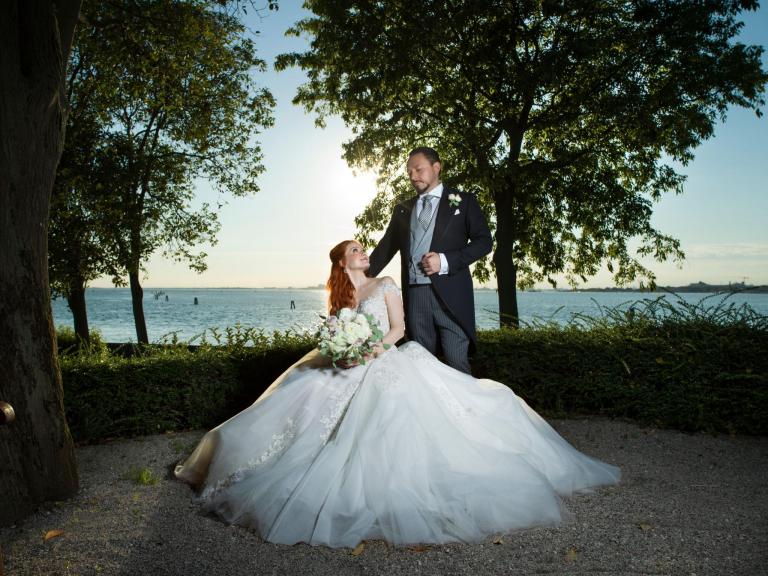 How did he propose?

We went to the Opening Ceremony of the Cannes Film Festival and were watching the Opening Movie. After the Ceremony, we went to the restaurant of one of the nicest hotels at the Croisette and had a late dinner. The restaurant was fully packed and in the middle of the room a harp player was playing her harp. After the main course, my husband remarked, that we have always so much stress and not enough time just for the two of us. He then clinked his glass with his knife and with that signal, everybody in the room (including the harp player) left without saying a word. One minute later we were completely alone in the room. The hotel manager came to us, lifted a cloche and presented the ring. My future husband Klemens knelt down on his knees and asked me if I want to marry him. I was completely surprised and overwhelmed with emotion. Of course I said "yes" immediately!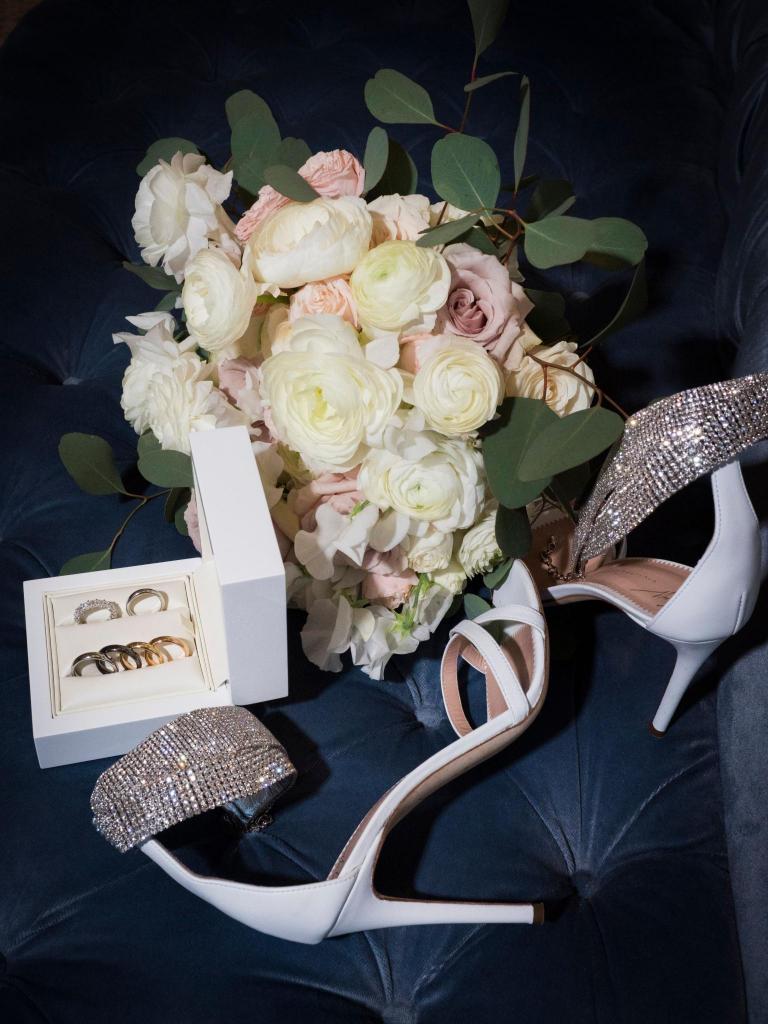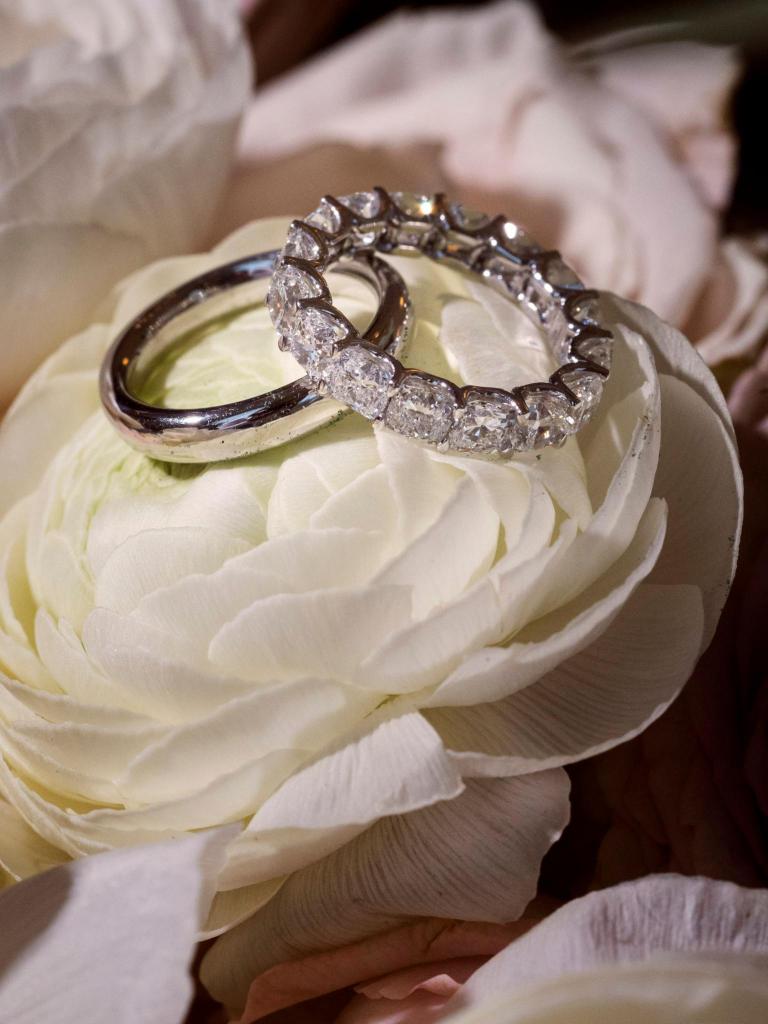 How did you start planning your wedding? What were the first steps?

The first step was to find the perfect location. We knew we wanted a very special place and as we had been there before and loved it, we decided to rent a whole island in the Venice lagoon with a hotel on it (the St. Clemente Palace Kempinski). With the location, we also set a limit for the number of guests. We had rooms for about 300 people and thought this would be the perfect number for us, as we have so many friends and family around the world but still wanted to keep a private feeling.

Then we tried to find a wedding planner we really trust. We chose our friend Sabine Königsberger from Eventboutique in Venice. After these first two big decisions, 1000 more followed. We had to find artists, bands, chose the dinner menus, find a decorating team, design print invitations, and many more decisions.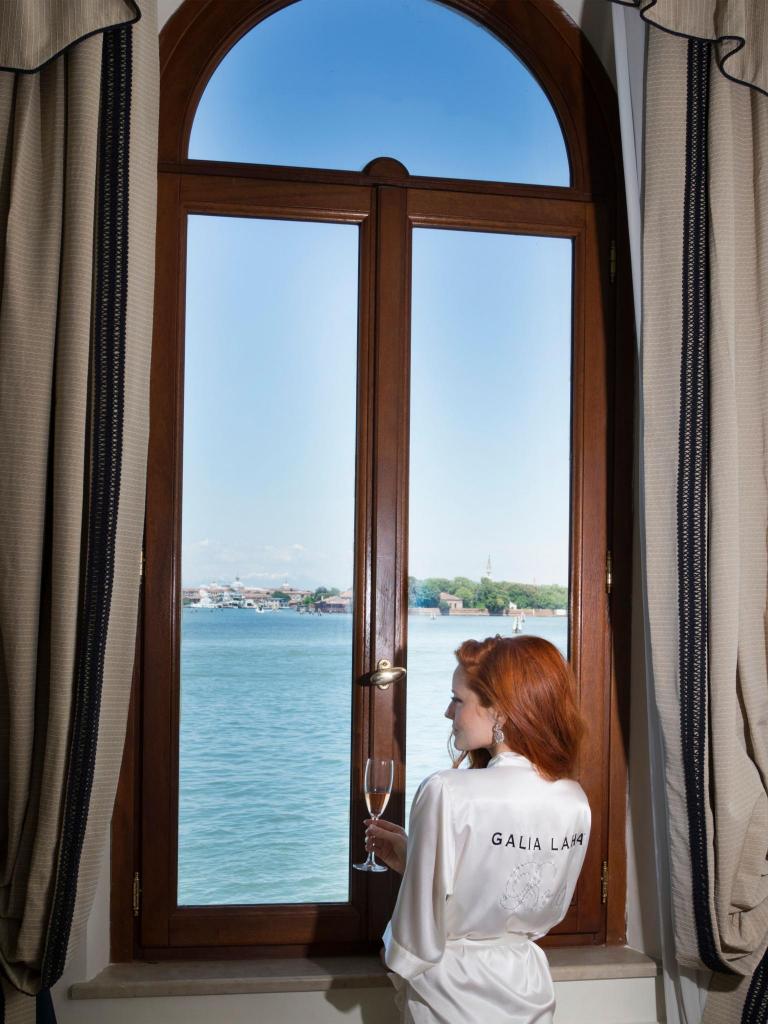 Did you do any beauty or fitness prep for your big day?

Of course, the last days before the wedding I did some extra workouts and special beauty treatment didn't drink alcohol and didn't eat after 6 pm.

But as I have worked as a model and in front of cameras for the last 12 years, I am used to do a lot of fitness and always care about my skin and health. It's part of my job. That, of course, helped me in the wedding preparations a lot, as I didn't have to start testing new beauty routines.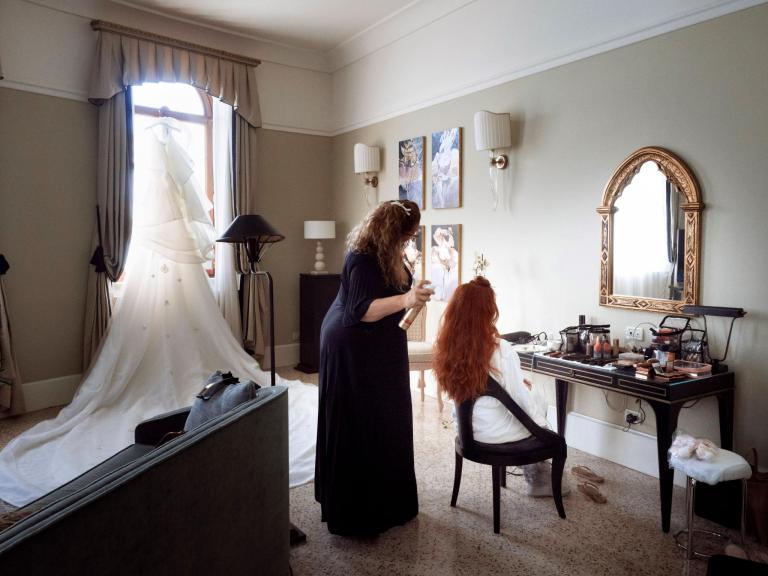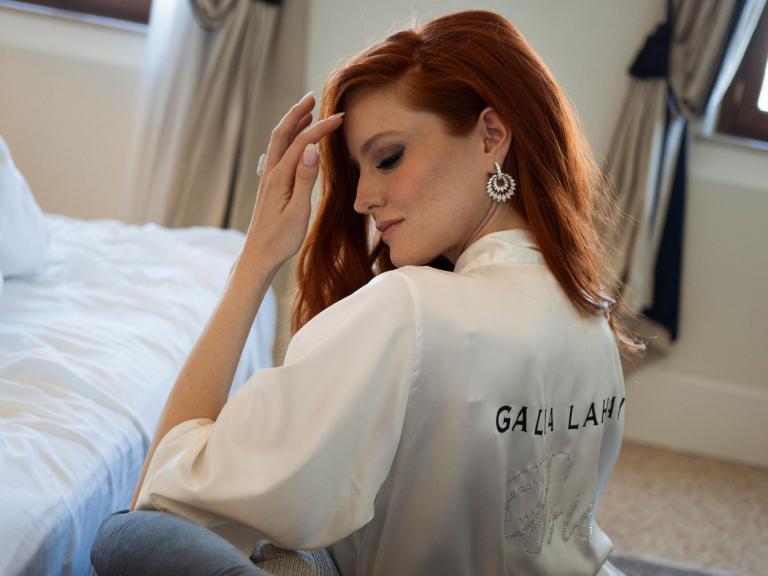 What was your wedding theme?

The evening before the wedding, we had an amazing dinner in the garden of St. Clemente Kempinski with all our guests. The theme was "The Venetian Secret Garden" and had been conceived by Vincenzo Dascanio, the best decoration designer in Italy. Masked artists led the guests who were dressed in white and gold into "another world." Flower decorations and hundreds of candle-chandeliers were arranged between trees, the guests sat at super long curved tables and served local food from Italy. To top it all off, the 3 Italian Tenors sang for us and the guests after dinner.

On the wedding day, we had no special theme, but all the guests came in black tie and as we were in Venice, everything felt a little like time travel. Almost nobody was using their mobile phone, all the guests forgot about time or their jobs and just enjoyed the very special atmosphere, Venice gives to people. We celebrated in a huge glass tent that was set up for our special day (we wanted to avoid plastic, wherever possible). The tent also had chandeliers and an uncountable number of white flowers hanging from the ceiling. 

Furthermore, we tried to find sustainable and eco-friendly options, whenever possible. We didn't use straws, had no fireworks, no balloons, local food, local flowers, fair fashion bridesmaids dresses, just one gift from all the guests together to avoid unnecessary packing and almost no plastic.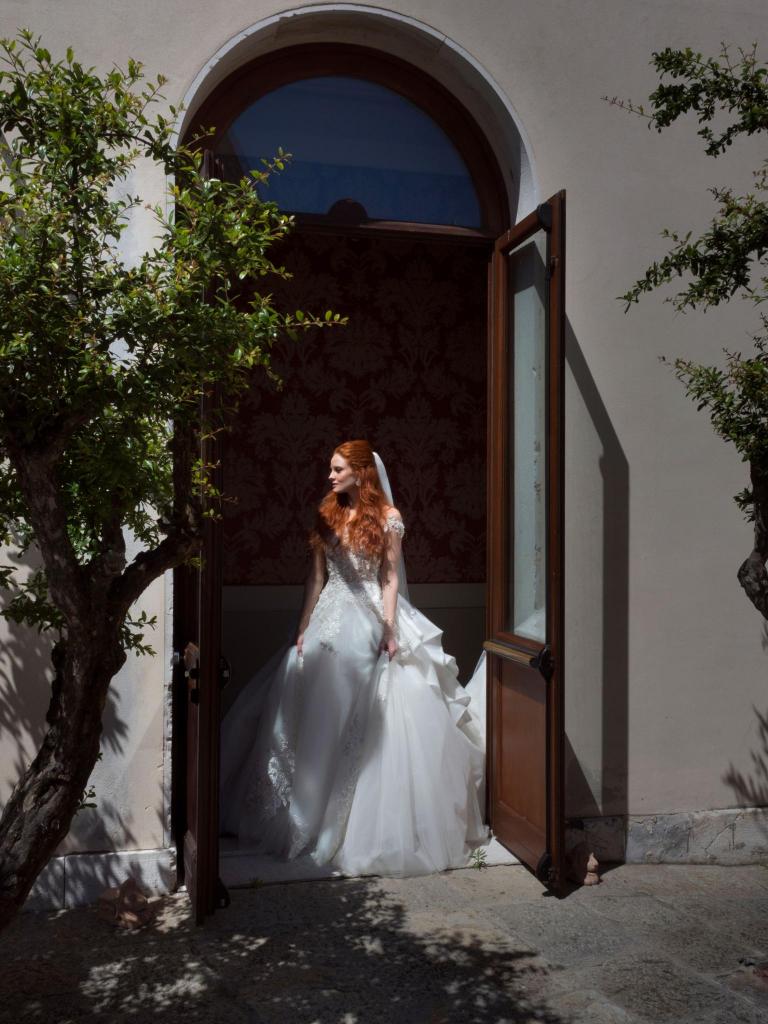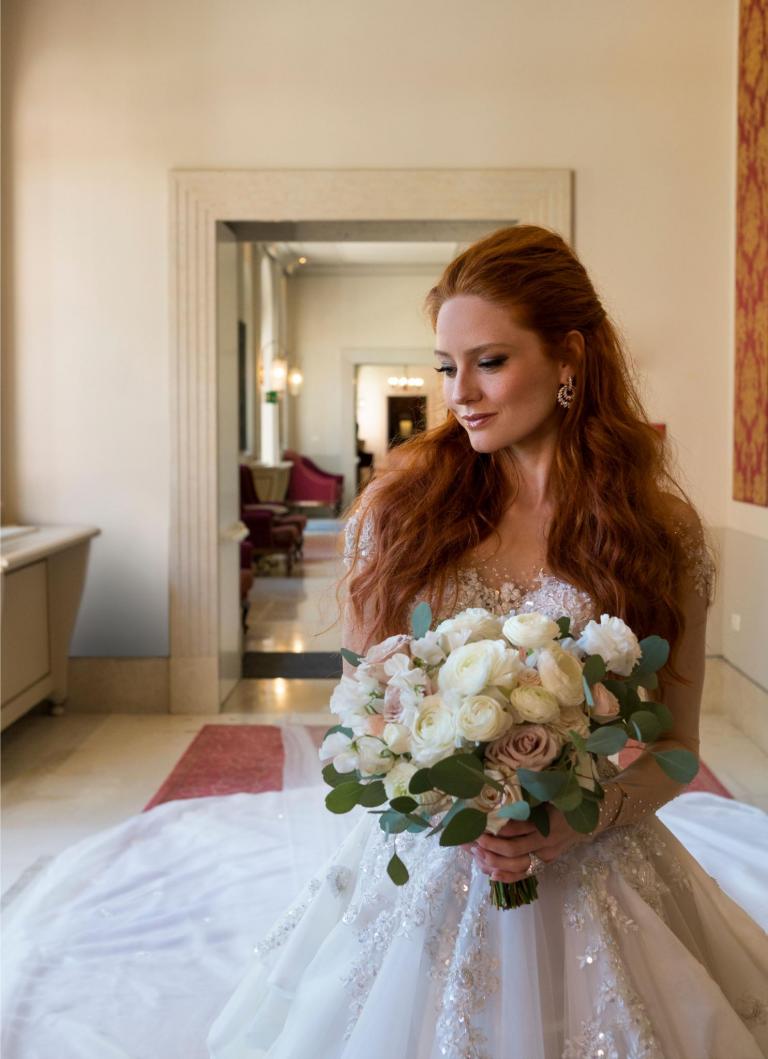 How did you choose your location?

One and a half years ago I was shooting a movie in Venice. A historical drama that is set in the 19th century. After the shooting, I spent two more days together with Klemens at St. Clemente Palace Kempinski. We were just enchanted by the very special atmosphere on this island. The moment you enter the island you forget all the stress and hectic in your life. When we visited the small chapel on the island, we both said to each other almost simultaneously: that would be a great place to get married! We were not even engaged, but somehow we already knew, that this was the perfect place. 

After the engagement, we thought about many different possibilities from the South of France to Vienna to a lonely beach, but we always came back to this special little island in Venice.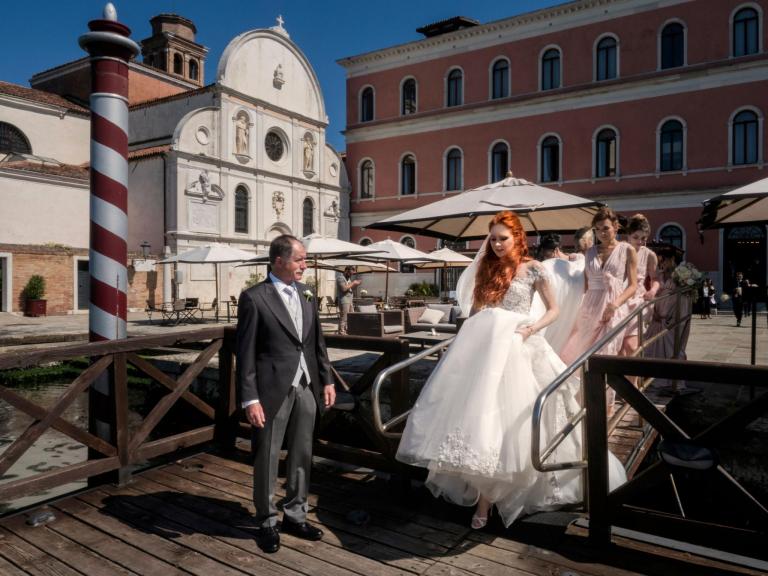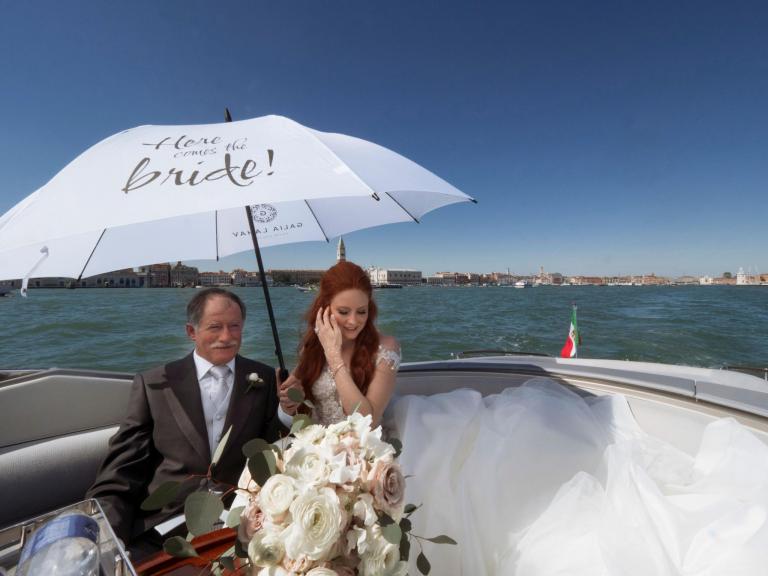 How did you decide on your bridesmaid style?

I am the Fair Fashion Ambassador of the German Ministry of Development and I'm also very passionate about helping save the environment in my personal life. On the day before the wedding ceremony, I wore a fair fashion dress and really wanted my bridesmaids to wear fair fashion dresses during the ceremony.

So my close friend Sasha Gaugel and I started to do some research. We found peace silk (the caterpillars don't have to die for this silk), organic color to dye the fabric and sequins that are made of recycled plastic bottles.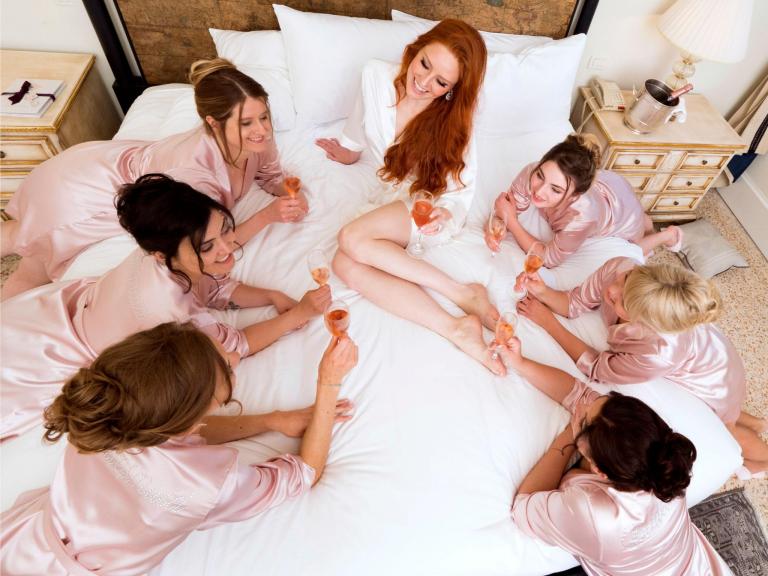 How did you find your perfect dress?

I started at the Galia Lahav boutique in Hamburg, Germany, as I knew the brand from some Red Carpet Stylings. After that, I visited many other stores of different brands together with my maid of honor. But in every boutique, we agreed: "The Galia Lahav dresses were better" So my decision for Galia Lahav was pretty easy. Then we started to work on the dress, as I wanted to have a custom-made dress with a very long train. I had some fittings in Hamburg, a Skype meeting with Sharon Sever who made the first sketch of my dress and finally fitting in Tel Aviv, as I really wanted to meet Sharon and Galia in person. The journey to get my perfect dress was magical and in the end, it was the dress of my dreams.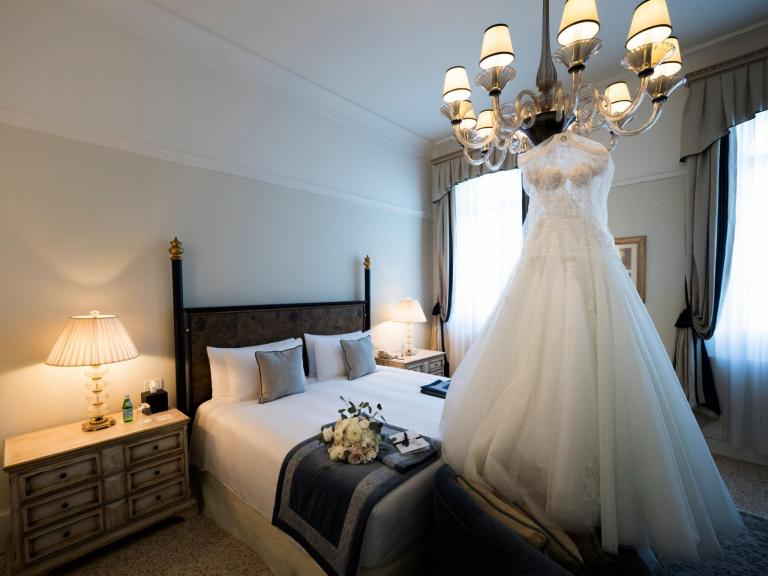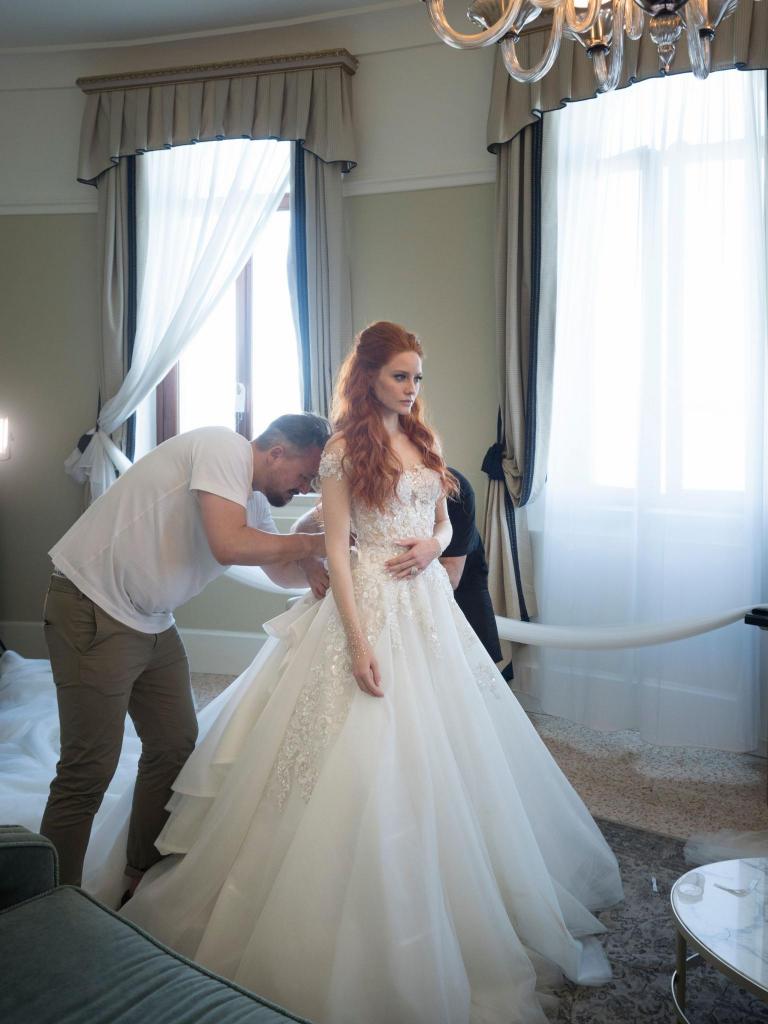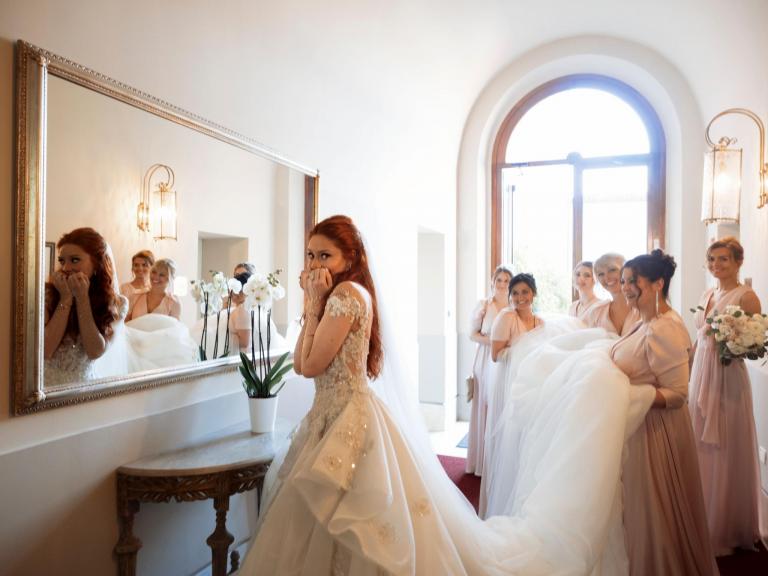 How was your experience with the Galia Lahav brand?

It was really amazing and everything felt very personal. Galia Lahav really takes care of their brides and won't give up until the perfect dress has been made. 

I couldn't imagine a better brand to work with on a dress. On the one hand, I had some very clear ideas for my dress, yet I also did not fully know what I wanted. They handled both situations with a lot of patience, creative ideas and love. I always felt welcome and we also found a special 2nd dress for me to dance the whole night.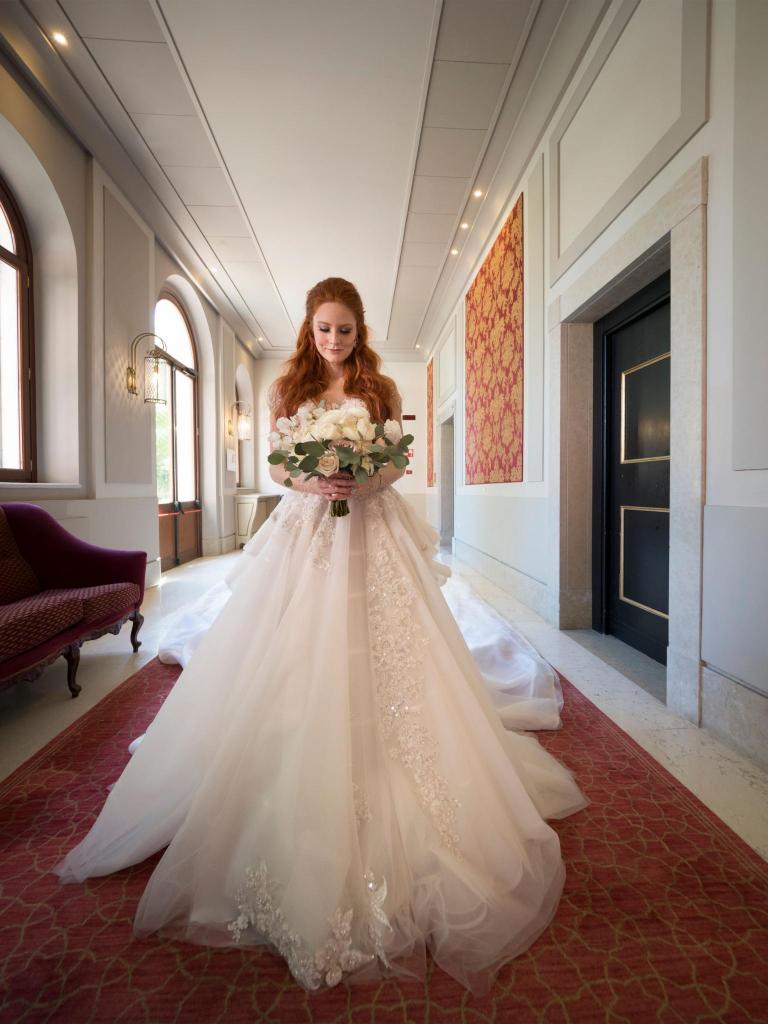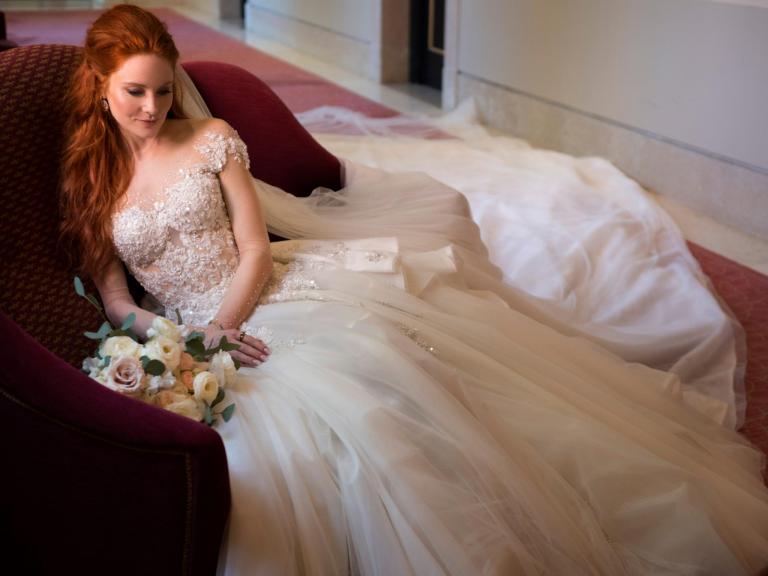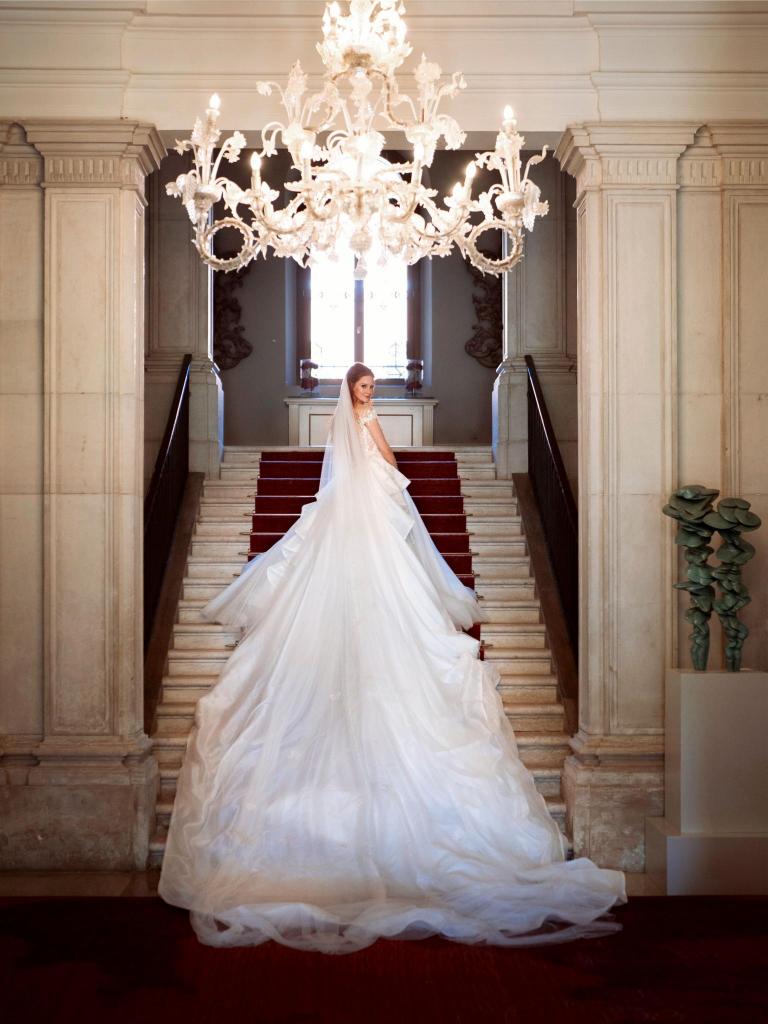 What was the most important thing for you and your husband when planning your wedding?

We wanted to keep a private atmosphere for our guests. We had guests coming from my small home village in Bavaria as well as some pretty famous friends from Hollywood. But we wanted everybody to feel relaxed, important and private. This was a little tricky during the ceremony, as we had a lot of paparazzi in front of the church. But as we rented the whole island with the hotel on it, we could guarantee that everybody could celebrate without being filmed the rest of the day. We took special care to really make everybody feel perfect.

The feedback from our guests after the wedding was just amazing. Everybody told me how happy they were and how many great people they got to know.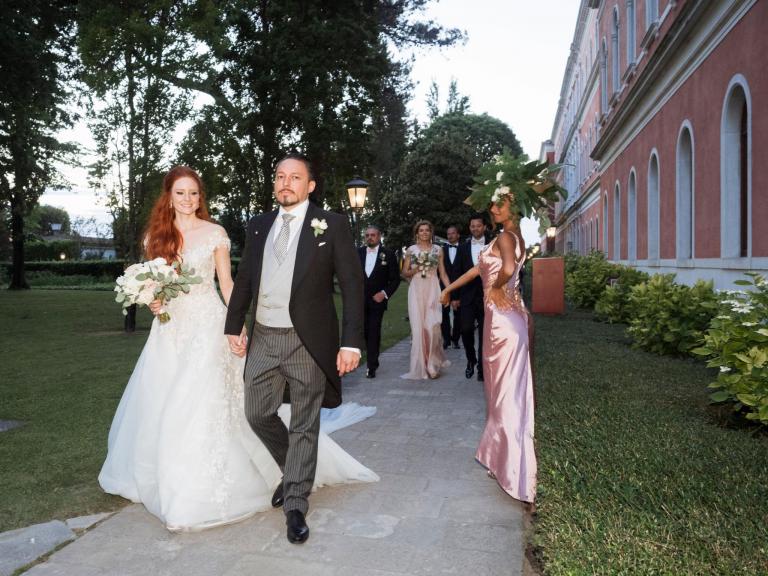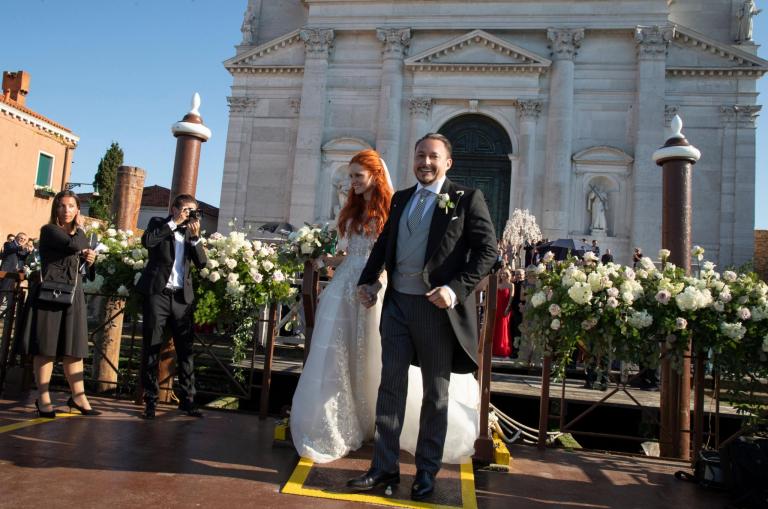 What was your first wedding song?

"Can't help falling in love" from Elvis Presley

It was the biggest love confession from Klemens to dance the first dance with me.

As I was one of the finalists of the German Version of "Dancing with the stars" and dancing had become a true passion of mine, I really wanted to do a traditional wedding dance as a first dance. Klemens just doesn't like dancing and had never really danced in his life. 

He did that little performance just for me and we included also some lifting figures and spins in the choreography. It was the most romantic moment of our wedding.

Besides that, we had another special song at our wedding: We had a tenor singing with a live orchestra "Ave maria" when I entered the church. When Martin Hurkens started to sing the first words, everybody in the church got goosebumps. 
What did you enjoy the most about planning your wedding?

I enjoyed everything! It took a lot of time and effort to do all the planning for such a big wedding besides the normal work. But it was really worth it.

I had so much fun, doing the seating plan, considering, who would get along well with whom trying to create new friendships. Also speaking and texting with all our friends to organize everything, designing the invitation, choosing the rings, doing different food- and wine-tastings, deciding about the dress code.
What advice would you give to all our future brides?

Relax and enjoy! Enjoy the preparation! It doesn't matter how stressful it is! This time never comes back. And even more: Enjoy your wedding day. Don't pay attention to anything that goes wrong! This is not important at all! It is just important that you have a good time and enjoy every second!

And of course: Buy a Galia Lahav dress! You will feel like a princess!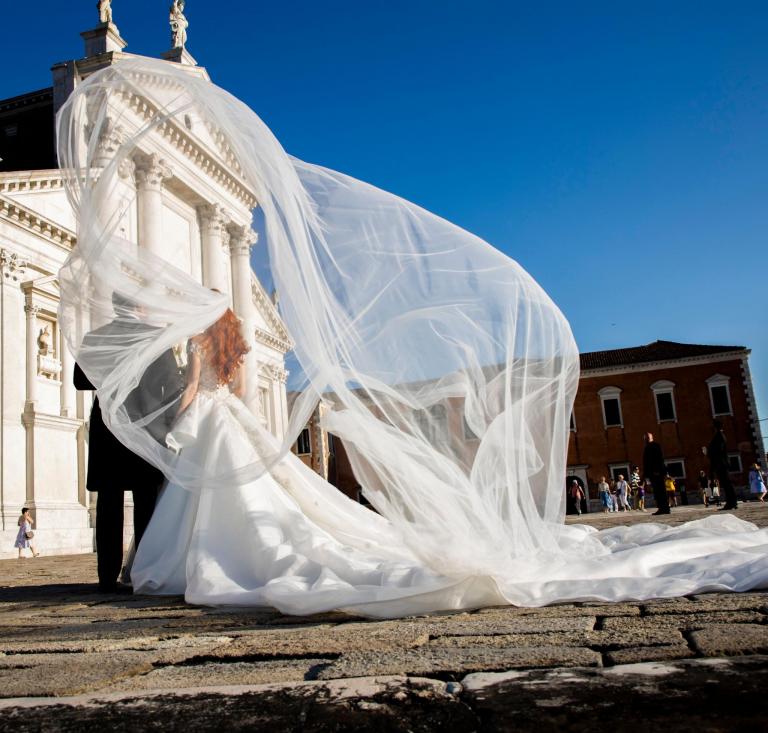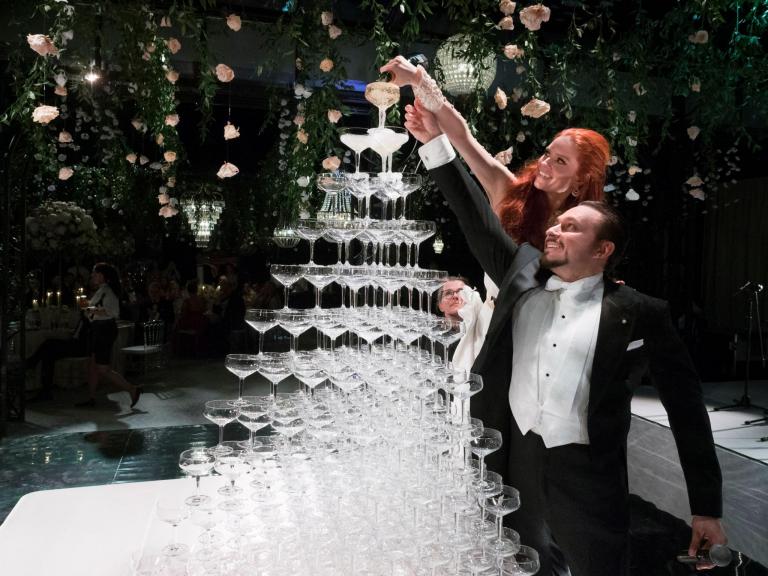 What moment from your wedding will you never forget?

The moment when we said yes to each other. Cause at the end a wedding is not about the music, food, dancing or decoration; it's about a promise that you give to your husband to be there for him in good times and even more so in bad times. And I'm not afraid of the bad times as I know, I found the man that I will love forever. And it feels so good and liberating to know that I also have someone who will be at my side, no matter what I will experience in my life. Besides that, we had a lot of unforgettable moments at our wedding: the second dance, I did with my father; the moment I entered the church with my dad and saw my future husband standing in front of the altar, the moment after the "yes" when the choir sang "Hallelujah", the next morning, when I woke up, knowing I'm a wife now. We and I guess most of our guests, will never forget these magical and special days in Venice! And Galia Lahav played an important role for me to really make me feel beautiful and comfortable the whole day! Thank you for making me the happiest bride in the world, or at least in Venice!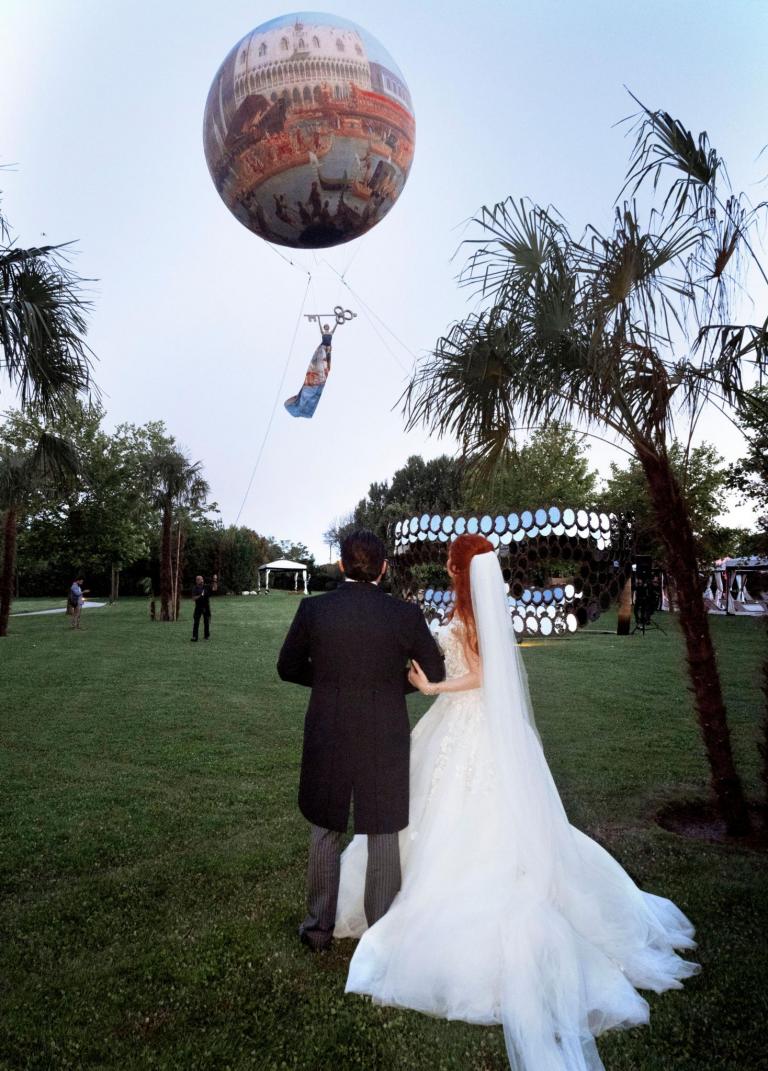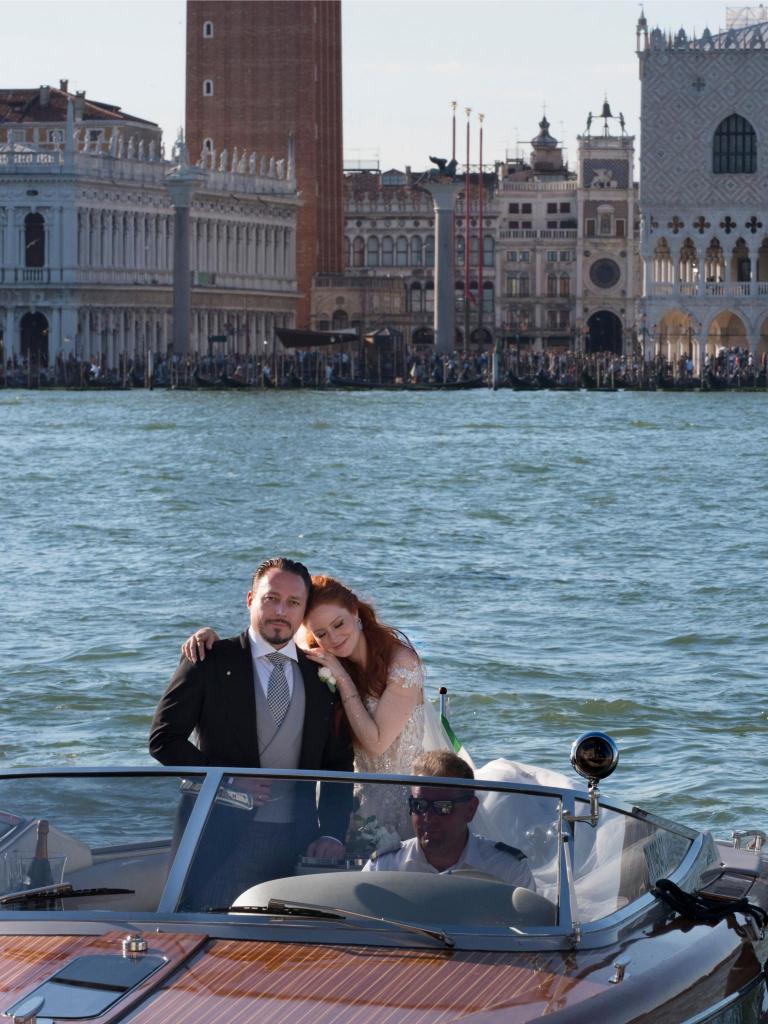 Finish your registration for {City} Trunk Show