FREE SHIPPING & RETURNS WORLDWIDE!

DUTIES & TAXES COVERED WORLDWIDE
Find your nearest boutique
This week's GLBride is the lovely Ayisha Raskin, who our G-104 and G-502 on her wedding day! Ayisha and her fiance celebrated with a beautiful blended wedding that showcased their cultures. In the following interview, Ayisha shares the moments she will cherish forever and how she became a GLBride. As told by Ayisha:
A moment of your wedding day will you never forget?

Walking down to the Ceremony Hall with a Scottish bagpiper leading me, and as the doors opened, seeing my husband's face down the aisle was a very sentimental moment for me.
One thing you wish you knew as a new bride? What advice would you give to future brides?

You will never get this time back so enjoy the planning. Make the day exactly how you picture it so you have no regrets later on. If you want to change or upgrade a few things- do it! Don't stress too much over things and ask your family and friends for support- they are here to help you and your hubby!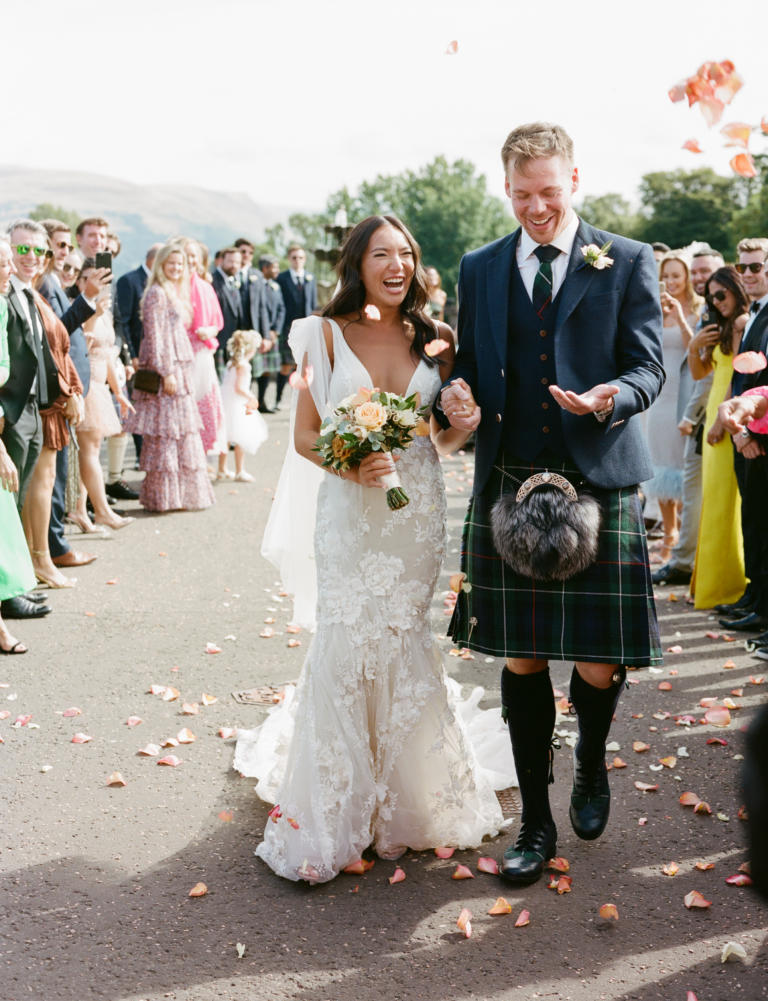 A detail that made your wedding special/unique?

We wanted to add personal touches throughout the Wedding wherever we could. Because we are a mix of cultures (My husband is Jewish/ Scottish & I am Chinese) we made sure to add in all elements of this such as having bagpipers to lead everyone to the different rooms, smashing the glass under a Chuppah for our Ceremony, each guest had a Chinese red lucky charm on their table setting.

Another special detail at our Wedding is that we have a lot of creative talent in our family & friend group. We wanted to make sure we made it super personal by having the people closest to us be involved in the Wedding too, so we had my husband's cousin write a poem and read out during the ceremony about how we first met. One of my bridesmaids is a trained musician so we had her play for our afterparty where she mixes live electric violin with DJ sets. Everyone went crazy!!!

We also surprised all our guests with a famous band called Red Hot Chilli Pipers who played top hit tracks such as Avicii- Wake Me Up on the bagpipes!!
How did you know your dress was 'the one'?

As soon as I tried on the G-104 dress, I knew it was for me! I wanted something a little bit different, and I always wanted to step away from the classic styles. When I tried my dress on for the first time I just thought, "WOW!"- the shape, the floral detailing with a little hint of sexy- it was perfect. I felt like it really showed my personality and suited the Wedding venue well in Scotland.

For my second dress, I knew I wanted something light, sparkly, and easy to dance in and that's what G- 502 was. I never thought I would get a second dress but after having something tightly fitted, I wanted something I could dance the night away in. I instantly tried this dress on one a year after we postponed our Wedding date and I had to order it on the spot. It was just so different from my first one and was everything I was looking for in a night dancing dress!
How did it feel when you put on your dress the day of the wedding? What was everyone's reaction to the dress?

Once I put the dress on, I felt a mixture of emotions, I was blown away with how amazing it was when I first tried it on, but on the day itself with my hair, shoes, and makeup, and finally the dress, it took my breath away. I was so happy and grateful that I chose this beautiful dress. Everyone complimented the gown so much on the day.
Would you have done anything differently?

I wouldn't change a thing. The entire day played out perfectly.
What was your favourite part of the wedding to plan/you were most looking forward to?

EVERYTHING! I work in Events so I am used to planning every little bit of detail. I loved the whole planning process, from choosing kilt colours to match the bridesmaids, the entertainment schedule (we wanted the Wedding to be a party for our friends and family and that's what we gave them!!), the food tasting was amazing!

Because we were in lockdown and a lot of the planning was done overseas, we didn't see what everything looked like until the Wedding Day so this was what I was most looking forward to, seeing everything come together.
How did you meet your husband? How did he propose?

I was on a night out with some friends 7 years ago. My husband was on his way home and stopped by to hang out – ended up going on a massive night out with us. The next day, I was invited on a friend's boat by my friend whom I did not know anyone (apart from my friend and now, husband) I made a great first impression on boat day by meeting Iain's friends by having a mix of seasickness with being very hungover. My husband never left my side and we have been inseparable ever since.

The proposal happened on 16th, February 2020. We were at home surrounded by our dogs, and he popped the question on our balcony. It was perfect.
How did you find working with the team at Galia Lahav?

Trinity Bridal in Hong Kong where I bought my two dresses was truly amazing! The service was super and Cynthia was amazing looking after me for the 2 years whilst I chose both dresses. I did also get my veil from the Galia Lahav Miami showroom where I met the staff there and they were so friendly and professional.
How many dresses did you try on before you found it?

I must have tried on around 50 or more dresses from different brands, in all different shapes. Everything that I thought looked amazing online and the first vision that I had of my perfect dress didn't have the same outcome when I came to try it on.

I would go with a couple of my girlfriends to the showrooms to try them on. None of them gave me the 'wow' factor. One day I booked a showroom called Trinity Bridal which sold a few different brands. I had an idea of what Galia Lahav dresses I wanted to try on from their social media accounts, but they didn't have the first one that I showed them a photo of. So, from then I kept an open mind and thought to just try a few and see how they felt. And just like that, it got so hard to pick a dress as all of them fitted so nicely and looked terrific on.
Finish your registration for {City} Trunk Show